I don't know about all of you but I'm still not ready for the weekend. I did get most of my groceries the other day but still not done. I forgot to buy the meat to make the raviolis, I still haven't baked one cookie (though Mr. John will be helping in this area), need to finish up some shopping and oh yea, I work all week! I'm really not stressed – I'm a list driven person and I keep making lists, crossing stuff off the lists, making new lists and making lists of lists! It will all get done and it will be great! (right? someone please agree with me)
Our Christmas Day eats consists of 2 meals – brunch and dinner. Since we are all "older" now, we sleep in until about 8:30 or 9, make a pot of coffee (a must), and start opening gifts.
And as if we didn't eat enough on Christmas Eve, here we go again!
Menu
a.m.
Mimosas
Juice
Fresh Fruit
Sausage and Egg Bake
Cinnamon Rolls
Coffee
p.m.
Homemade Spinach/Meat Raviolis
Homemade Sauce
Vino
Cookies
I only make raviolis once a year at Christmas… and they are a family fav – so later this week I'll be making about 100 of them. Here is what they looked like last year….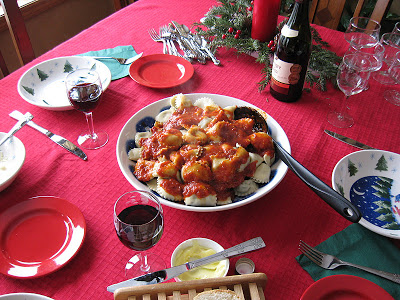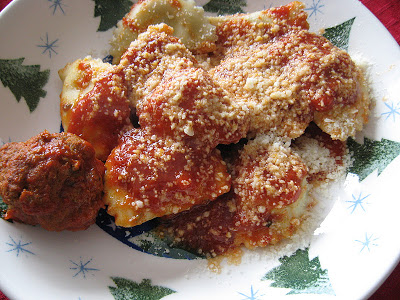 Bonus – Here's Danielle's cutey cat Oxford in his Christmas "outfit" – I couldn't resist sharing 🙂 He's one cool cat!