Wow, image this Cranberry Orange Walnut Bread on your holiday table.  You and your guests will love the tangy fresh cranberries, orange zest and the crunchy walnuts.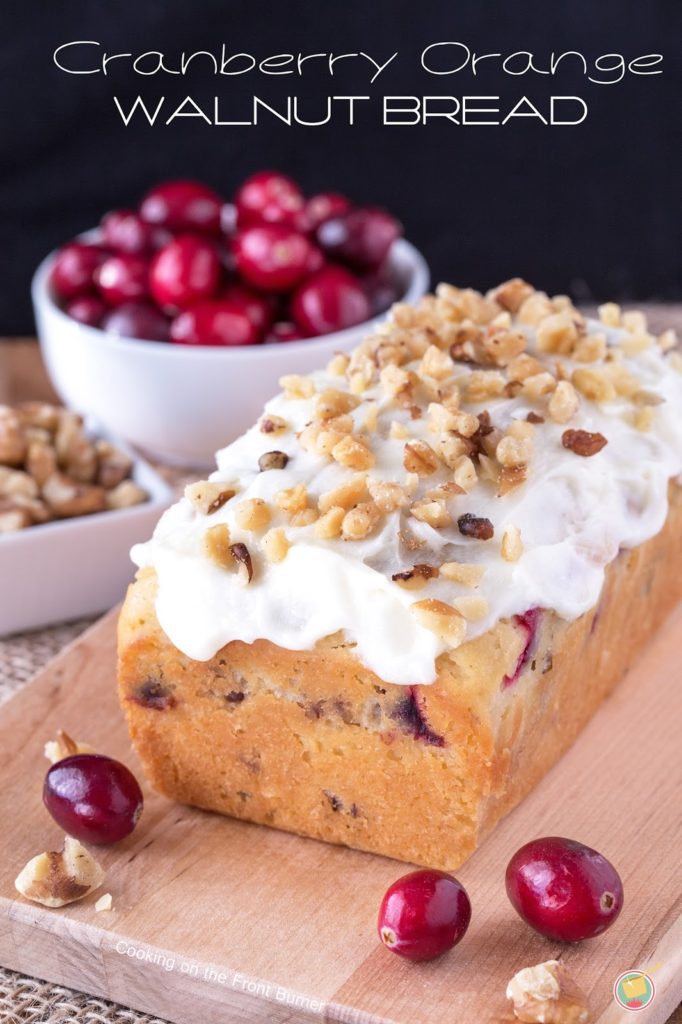 You might have noticed a few cranberry recipes on the blog this year.  I love these little berry guys!  They get to strut their stuff this time of year, all lined up pretty in the produce area just begging for a ride home!  Well a bag (or two) have definitely made it into my cart.  This latest recipe of Cranberry Orange Walnut Bread is perfect for snacking, breakfast or even sharing!
You can make just one big loaf but as I mentioned, sharing is good (and appreciated) too!  With the 3 smaller ones I made, we had one to share on Thanksgiving at our daughter's, the DIY Guy's work place and well, we had one for our house as well!
I know my fresh cranberry days are coming to an end.  I think I may be making these again and freezing them (before frosting).  I'm sure I'll be wanting a little taste of tangy berries into the next year!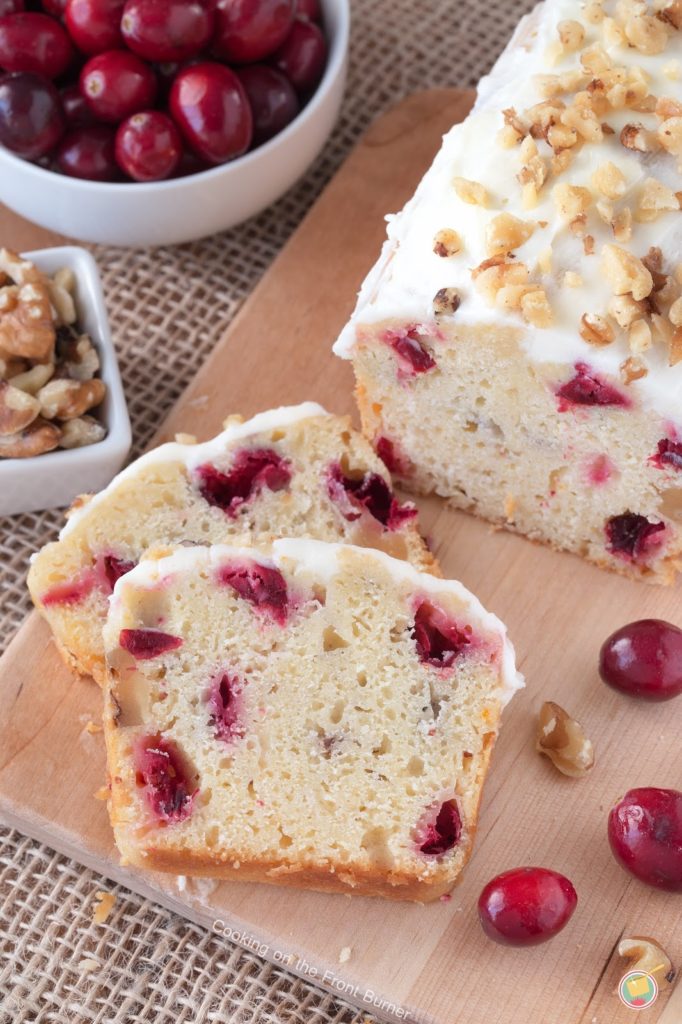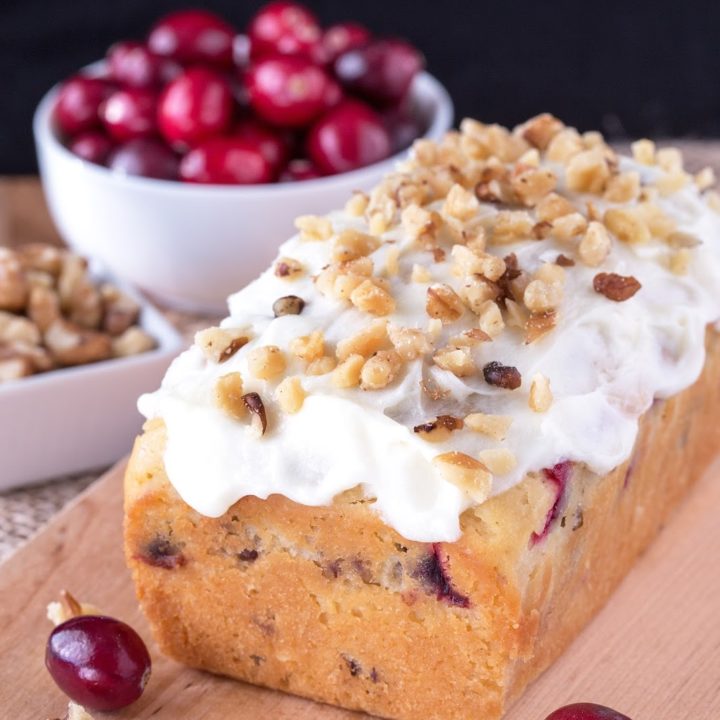 Cranberry Orange Walnut Bread
Your taste buds will be loving this cranberry orange bread
Ingredients
Bread
2 cups flour
1 cup sugar
1 ½ teaspoon baking powder
1 teaspoon salt
1 stick butter (frozen for easier grating)
Zest of 1 orange
¾ cup orange juice
2 eggs
½ cup sour cream
2 teaspoon vanilla
1 ½ cups fresh cranberries cut in half
½ cup roasted walnuts chopped roughly
Frosting
3 oz. cream cheese softened
2 oz. of soft butter
1 cups sifted powdered sugar
walnuts for garnish
Instructions
Preheat your oven to 350. Line 3 small loaf pans with parchment paper - be sure to leave 2 ends that overlap the long side edges (makes removal easier)
In a large bowl whisk together the flour, sugar, baking powder and salt. Grate the frozen butter into the mixture then use a pastry cutter until it resembles coarse meal. Set aside
In a medium bowl whisk the zest, orange juice, eggs, sour cream and vanilla.
Pour the wet ingredients over the dry ingredients and mix until just combined.
Fold in the cranberries and walnuts
Divide the batter between the 3 pans.
Bake for about 45 minutes or until a toothpick comes out clean.
Let cool on wire rack for 15 minutes; remove; cool on rack completely
Combine all ingredients and frost cooled breads
Sprinkle with walnuts
Store at room temp for several or days
Nutrition Information:
Yield:

24
Serving Size:

01
Amount Per Serving:
Calories:

1422
Total Fat:

70g
Saturated Fat:

40g
Cholesterol:

279mg
Sodium:

1130mg
Fiber:

6g
Sugar:

114g
Protein:

17g
Another cranberry recipe you may like- Orange Candied