This post may contain affiliate links. For more information, please visit my disclosure page.
No-Bake Gingerbread Cheesecake is the perfect easy holiday dessert! Individual no-bake cheesecakes, decorated festively for Christmas!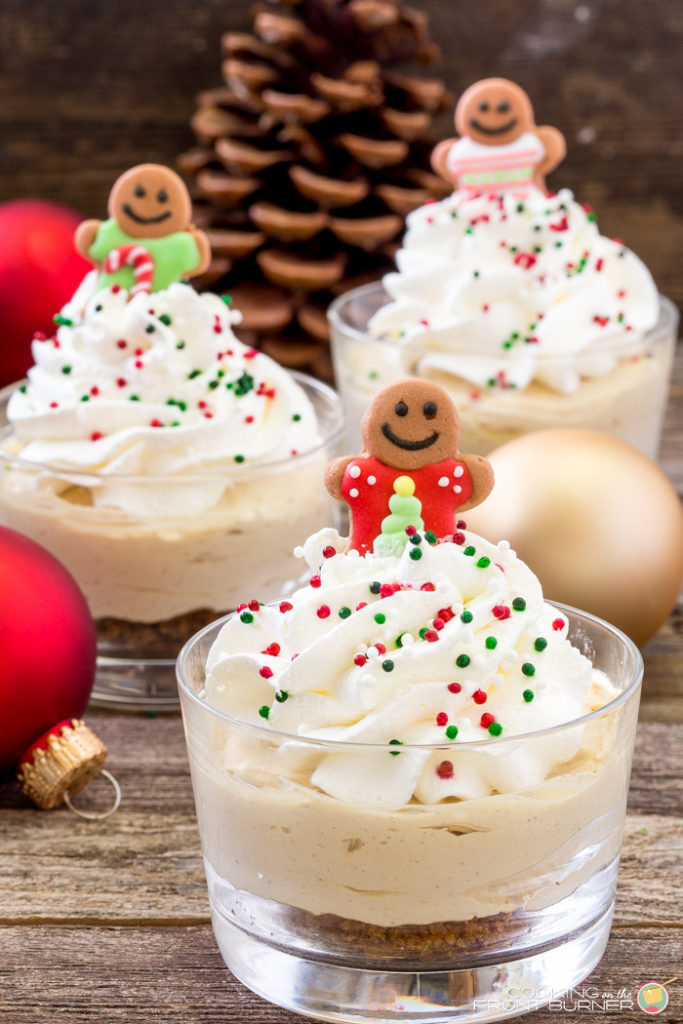 Stop the presses!  I hope you haven't decided all your holiday desserts yet because you are going to love this easy, mini no-bake gingerbread cheesecake recipe.  They come together quickly and make a great addition to your festive table that your family and guests will love.  So go ahead and still make all the cookies you want, but leave room for these super cute mini desserts!
I have to admit I haven't started baking yet.  We have some family favorites, like these Italian Pepper cookies (made with real pepper and recipe passed down from my grandmother), Triple Ginger Chocolate and a new one from last year called Triple Chocolate Peppermint.  I'll be breaking out the flour and getting these done soon.  Everyone in our family loves cookies and I definitely don't want to disappoint them!
On Christmas Eve, we have our friends over, and at the end of the night is when we break out the cookies.  Steph brings her family favorites and I have mine.  It's a great way to end the night.  Last year for something different I went to our local ice cream shop and bought some gingerbread ice cream that everyone loved.  So I know these mini cheesecakes will be a hit as well.
I think this is one of my favorite photos from my shoot.  Doesn't it look like this gingerbread man is lounging in a tub, taking a bubble bath? 🙂   Ha – little does he know he is about to get eaten!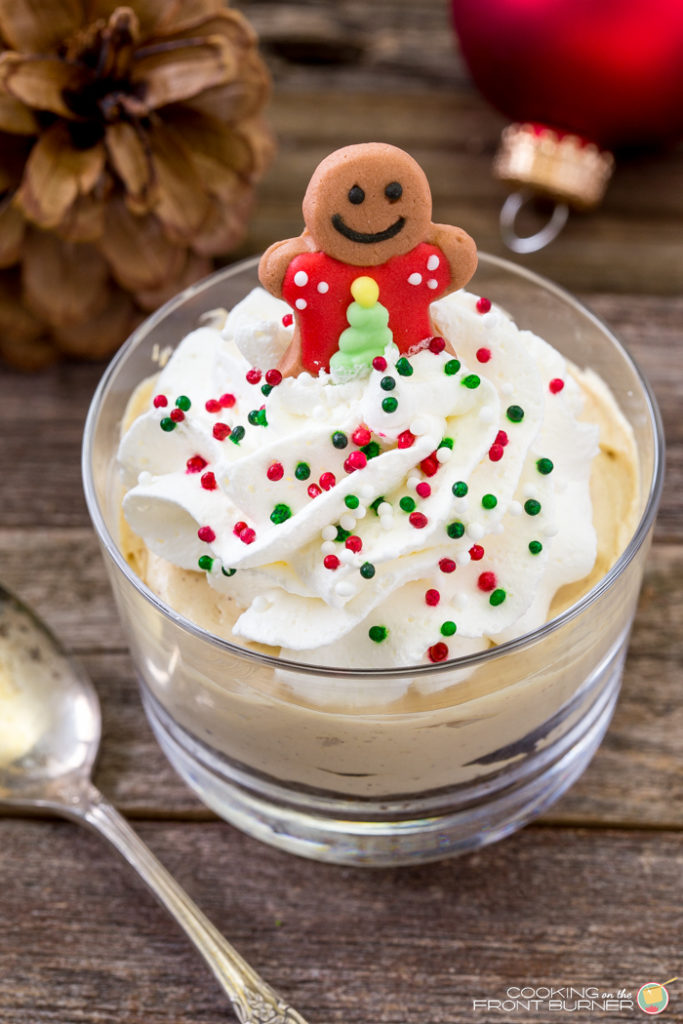 I hope this no-bake gingerbread cheesecake recipe makes your holidays a little more festive.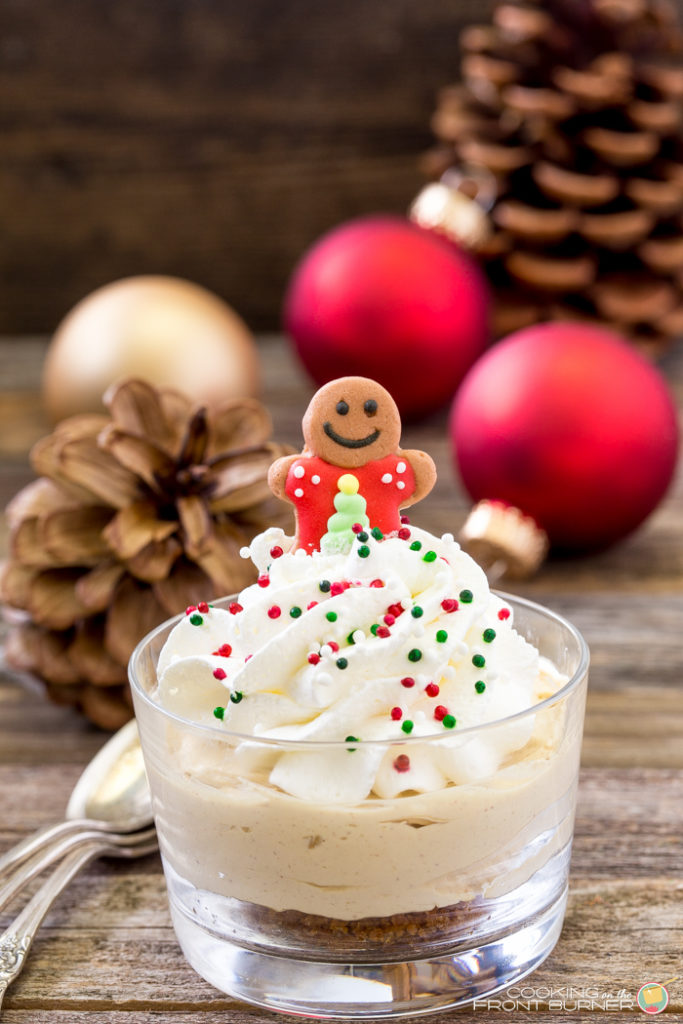 You can also serve these in different ways.  First up are these are plain with the mixture and cool whip topping.  They still look cute, right?  (A dusting of nutmeg would be a great addition)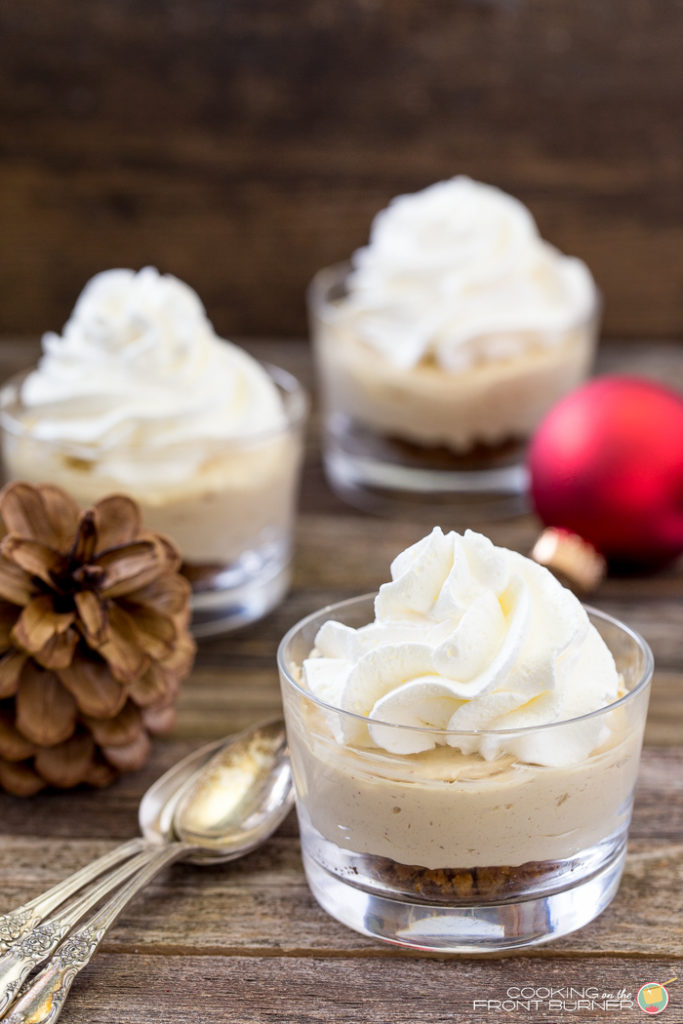 Next you can jazz them up a bit with sprinkles –  because you know everything is better with them!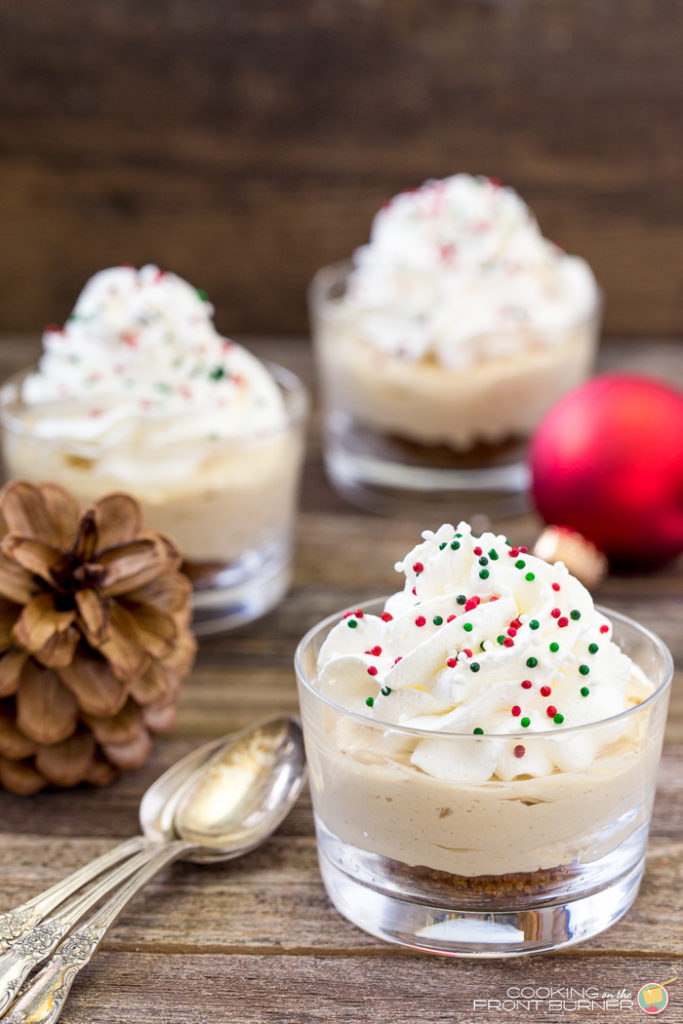 But to really make them festive, add a small gingerbread man (or gal!) on top – I found these at Target.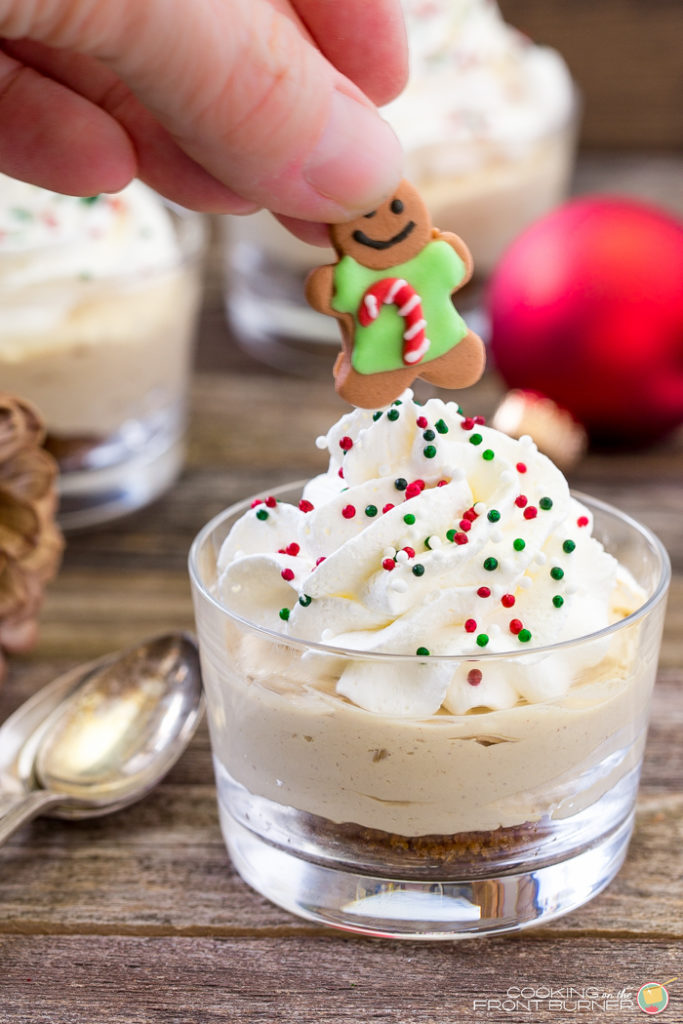 Grab a spoon and dig in to a festive mini no-bake gingerbread cheesecake!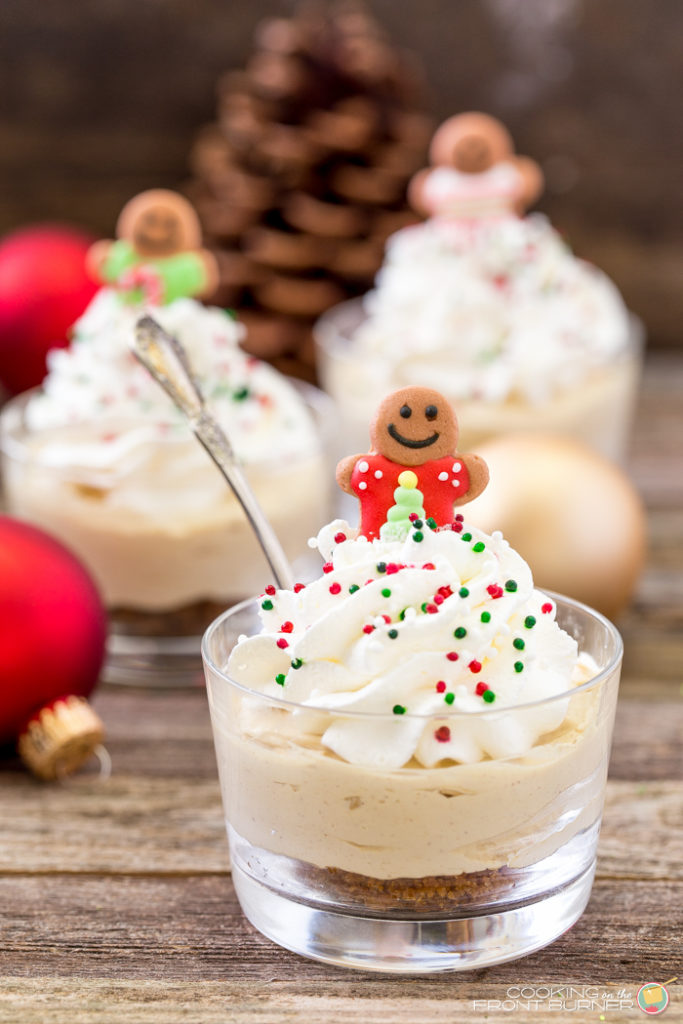 No-Bake Gingrbread Cheesecake
Looking for an easy and festive holiday dessert? These No Bake Gingerbread Cheesecakes are perfect!
Ingredients
1/2 cup crushed ginger snap cookies (about 10)
1 1/2 tablespoons melted butter
5 ounces soft cream cheese
8 ounces cool whip divided
1 1/2 tablespoons molasses
1/8 teaspoon ginger
1/4 teaspoon cinnamon
1/8 teaspoon nutmeg
2 tablespoons powdered sugar
sprinkles
small gingerbread candies
Directions
Combine the crushed ginger snaps with the melted butter and divide between six 4 ounce glasses
Place in freezer while making filling
In a medium bowl combine the cream cheese, 4 ounces of cool whip, molasses, ginger, cinnamon, nutmeg and powdered sugar
Mix well with an electric beater
Remove cups from freeze and divide mixture between cups (about 3-4 tablespoons in each)
Use remaining cool whip as a topping and top with sprinkles if desired
Let set about 2 hours in refrigerator before enjoying