No worries you can make these Easy Classic Popovers with a few tips and tricks. You will love the crispy outer exterior with a light and airy interior that are so light, buttery and just plain good!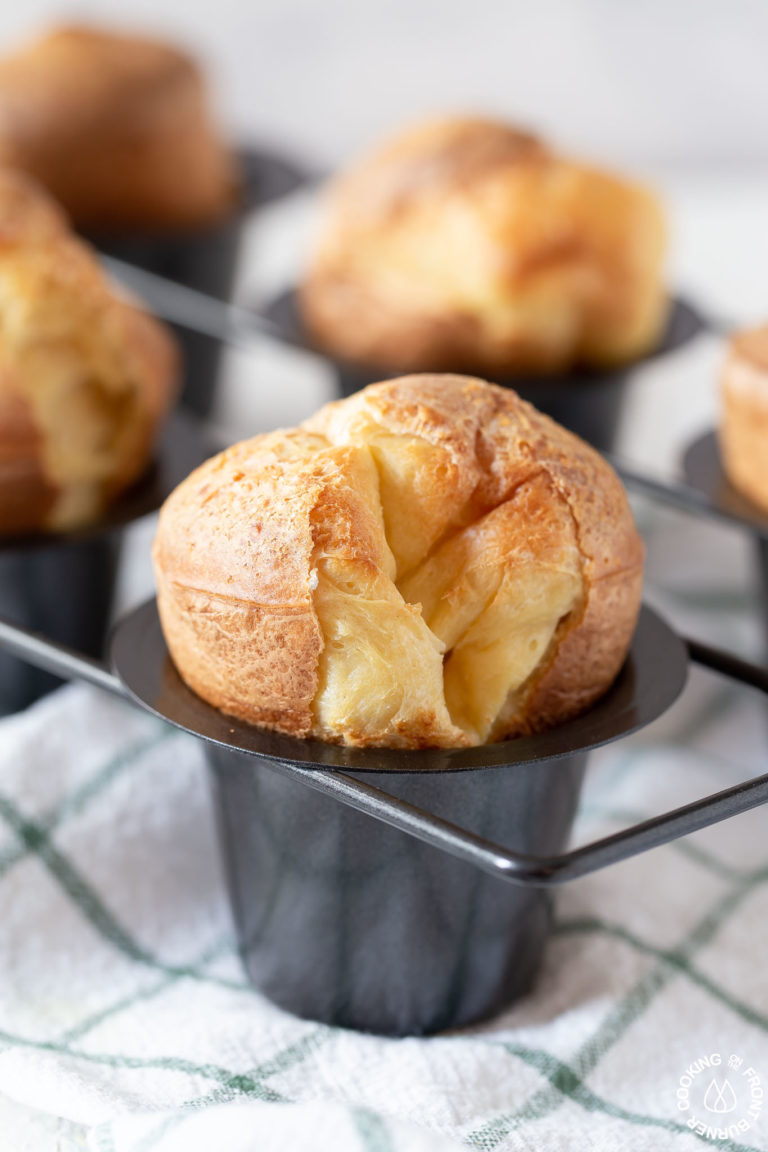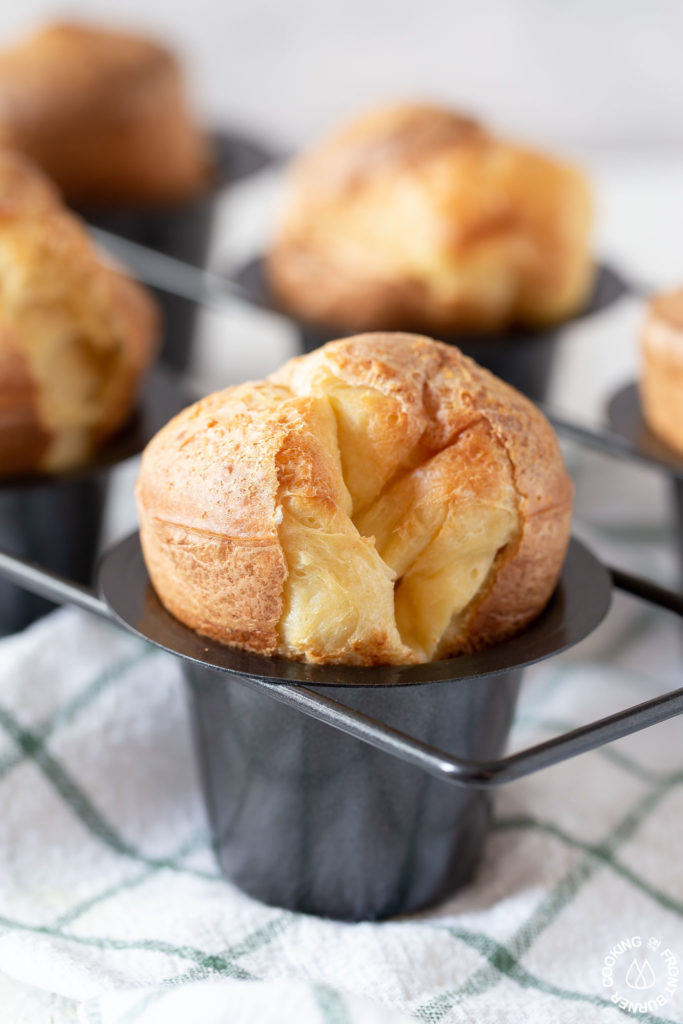 ~Easy Classic Popovers~
Today is a tale of two popovers with one being a hit and one being a major "flopover" fail! Sometimes when you first try something it just doesn't turn out but with persistence and determination, it will. I think I can, I think I can...
On July 4th we went to some friends to celebrate. I brought this salad and our friends provided a great meal including old-fashioned popovers. They were delicious and I knew I had to make a batch soon.
I found a great recipe, followed the directions exactly, baked with no opening the door to peek and when the timer went off... well let's just say the DIY guy called them muffin stumps! Being a good sport he tried one but said it gave him a stomachache. So back to the drawing board!
Don't be intimidated, with the right tips and tricks, making popovers can be easy to do.
First step was contacting my friend to get her recipe (which I should have done in the first place) and that was the charm. This batch came out exactly what I expected and were so good!
I am sharing my failure at the end of this post.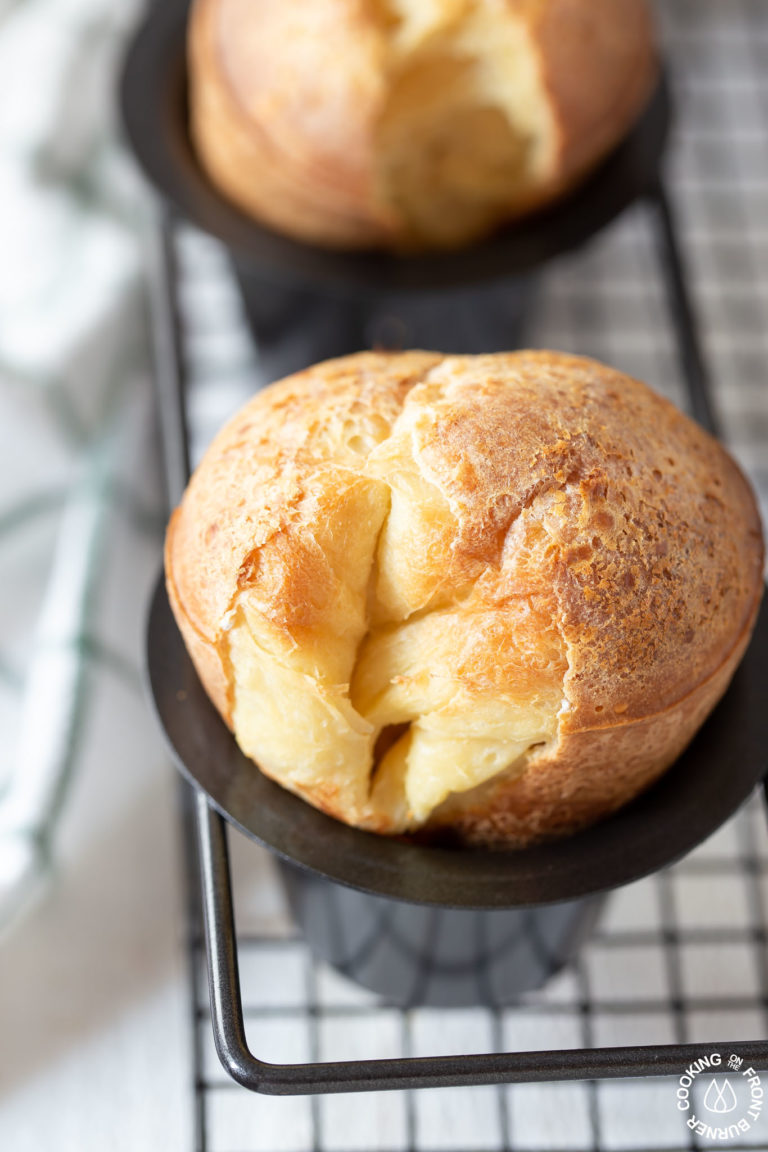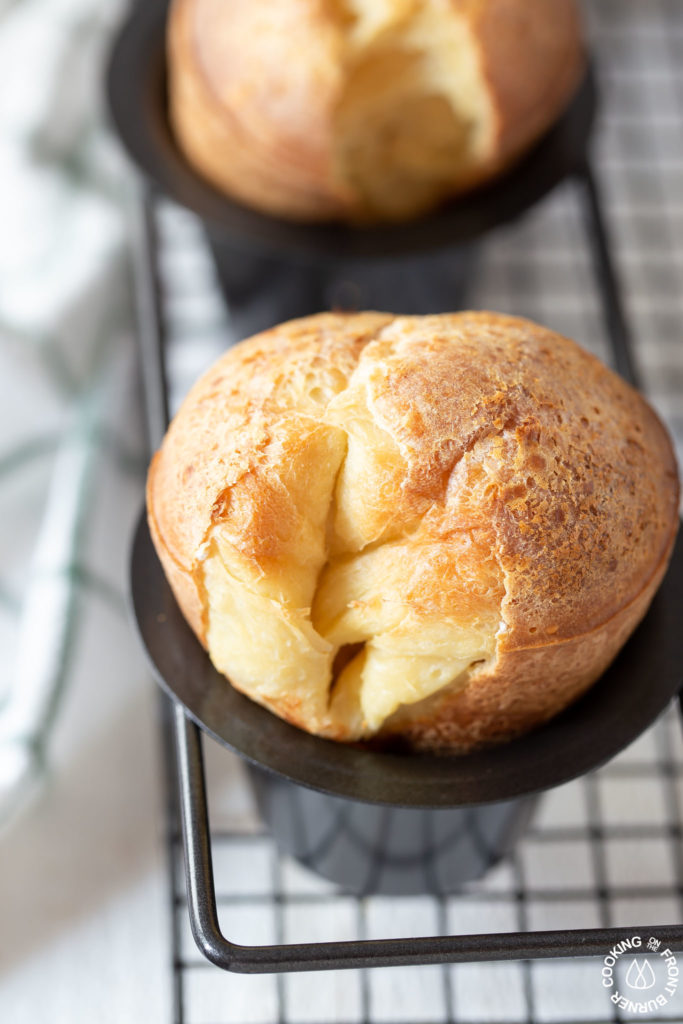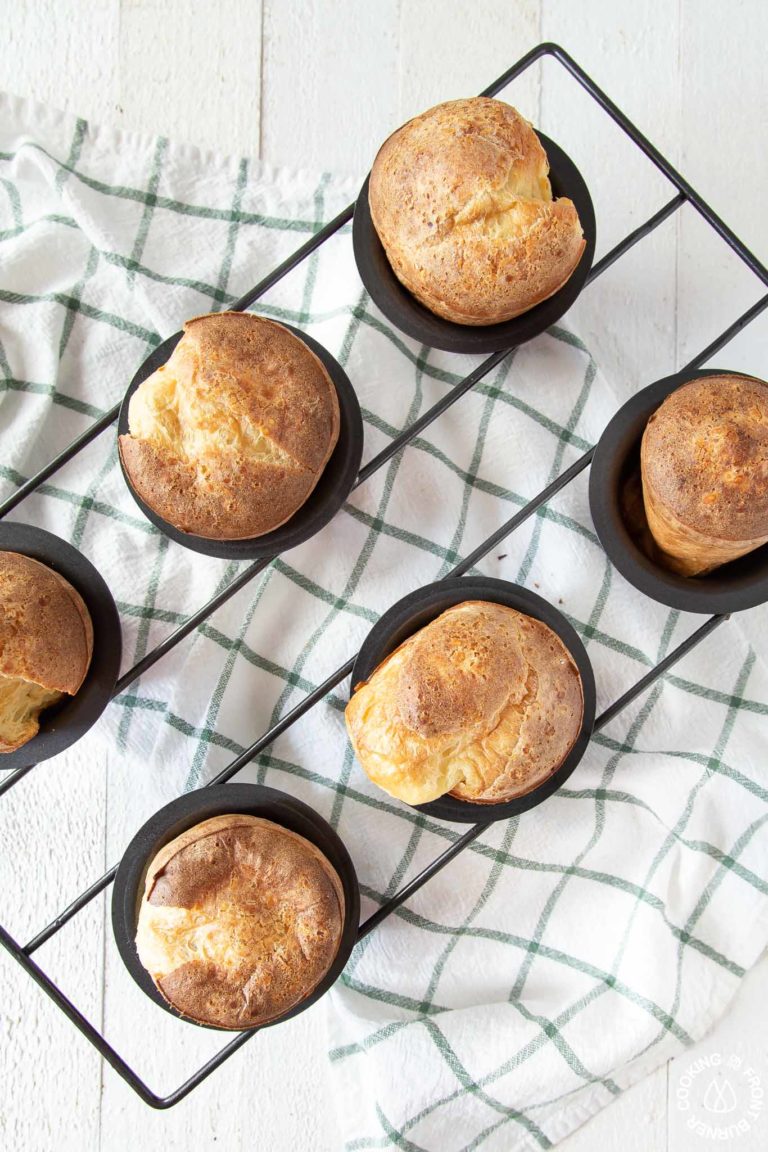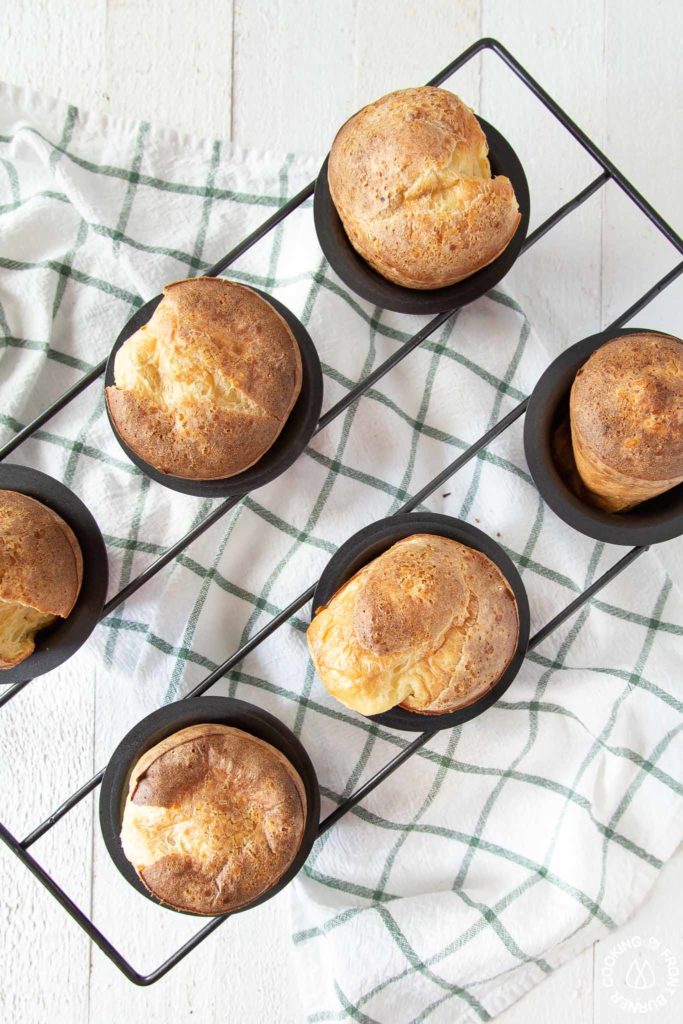 What ingredients do you need for easy classic popovers?
Whole Milk
Eggs
Flour
Salt
Vegetable cooking spray
What tips make the perfect popover?
To start with, be sure your eggs and milk are at room temperature (for this recipe, I made sure the milk was at about 76 degrees by microwaving). I placed the eggs in hot water to speed up the process too as the eggs should be warm to touch.
Just as you are ready to start making the batter, move your oven rack to the lowest level to make sure there is room for the popovers to puff. Place the popover pan in the oven to heat.
Froth the eggs and milk as directed. Combine the flour and salt in a separate bowl then whisk this mixture to the egg/milk being sure to mix only until just combined - you want small lumps.
Remove the hot pan from oven (it should preheat in oven about 8-10 minutes) and spray each cup with the cooking spray.
Fill cups about ¾ full and place in oven at the the initial temperature. The popovers will bake at this temperature for about 20 minutes then you will lower the temperature and continue baking.
This is the MAIN TIP! Do NOT open the oven at all during the baking process. Your popovers would deflate and you would be sad.
When the popovers are done, take each out and place on a wire rack, pierce with a small paring knife to let steam escape.
These are best enjoyed when served warm.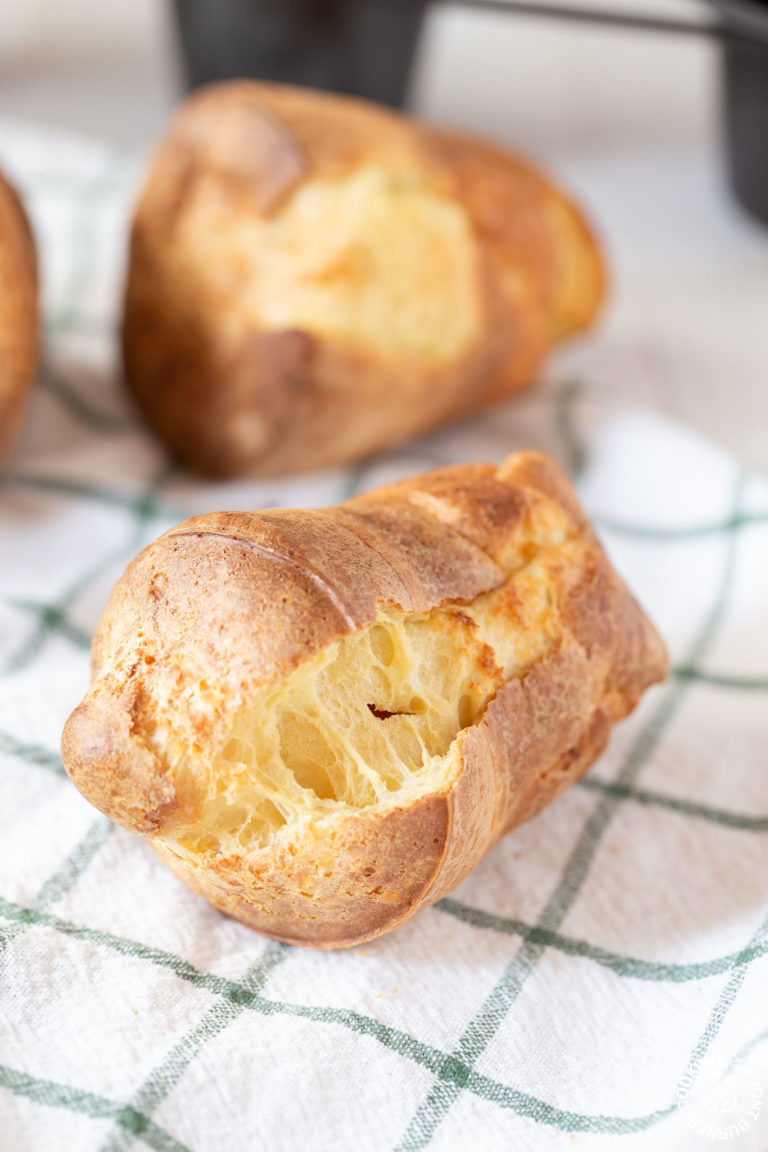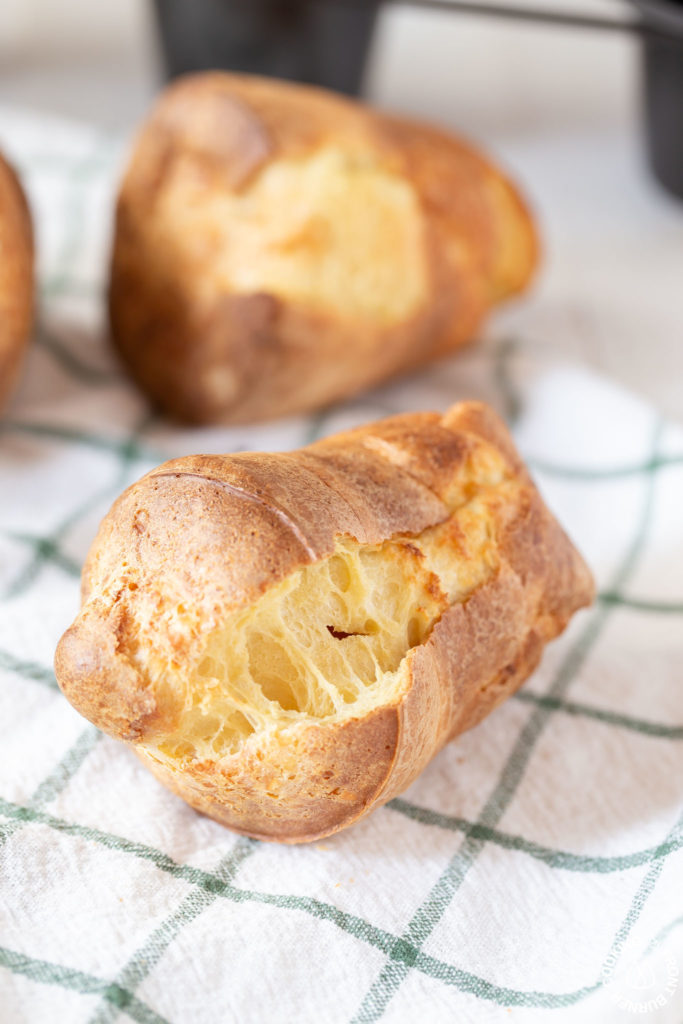 Popovers can be eaten plain, with butter or jam or both of those!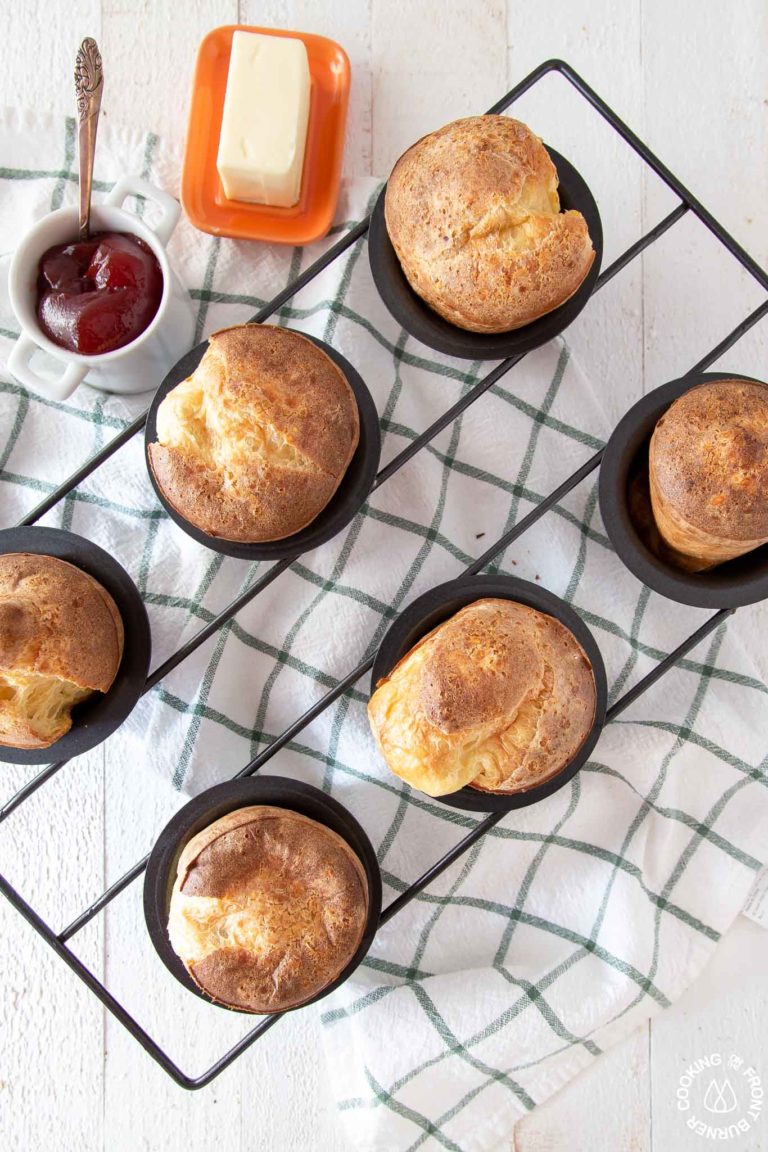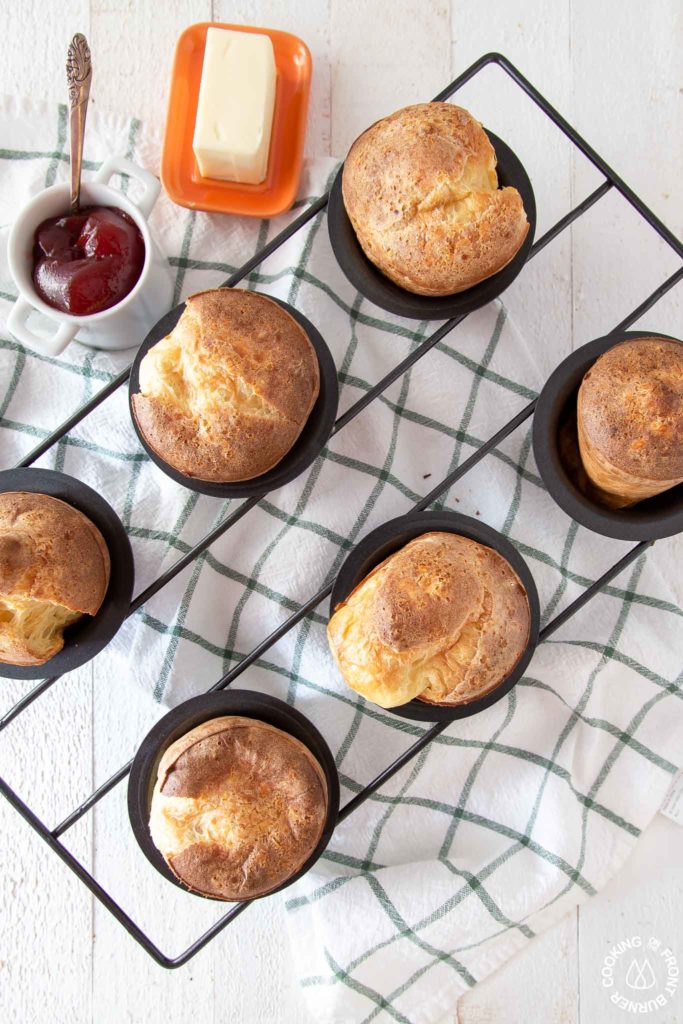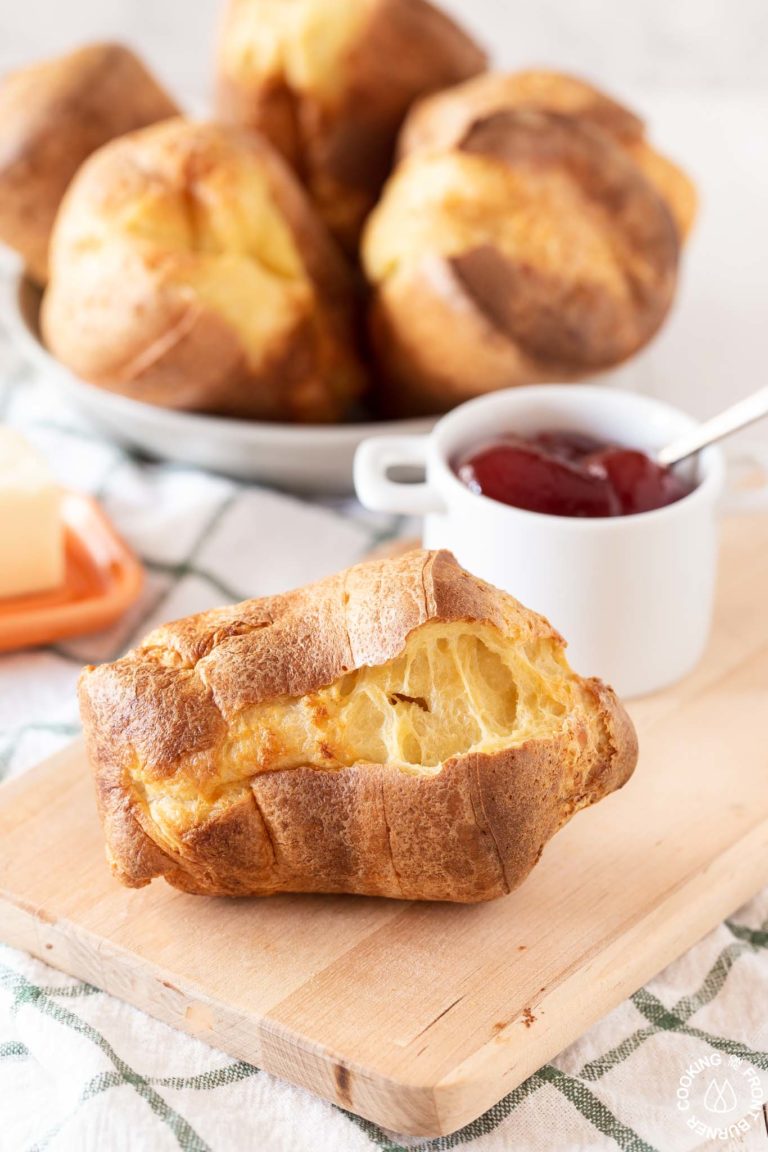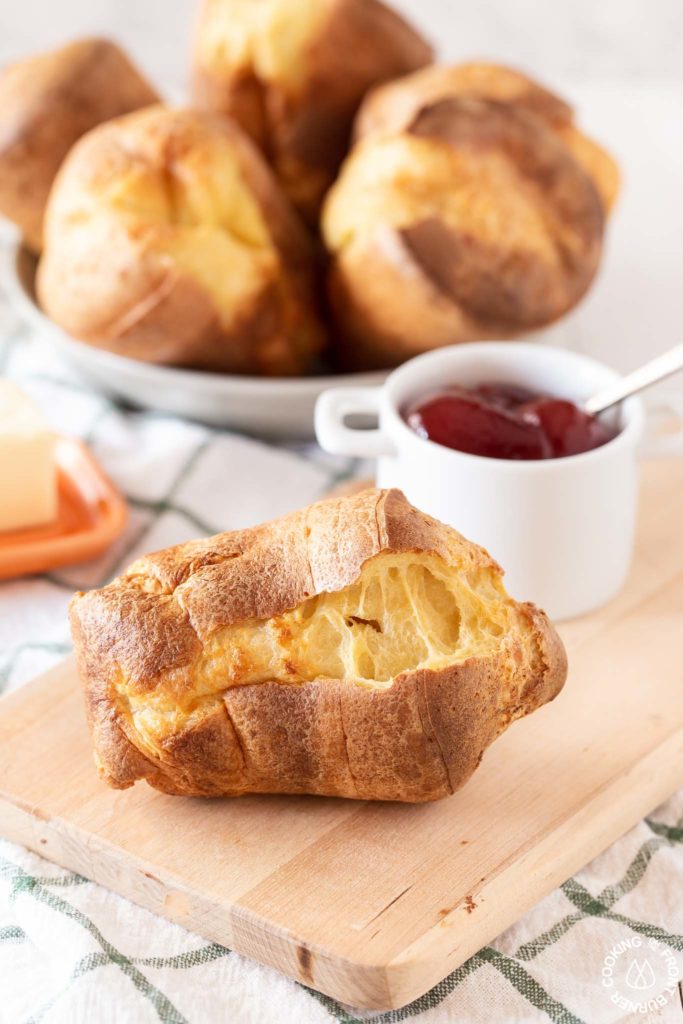 Ok, are you ready for the major fail? I really don't know what I did wrong as I followed the recipe for these lemon herb popovers, but fail they did and don't they look weird? They did not puff at all! Oh well, I have a keeper recipe now - thanks Sue!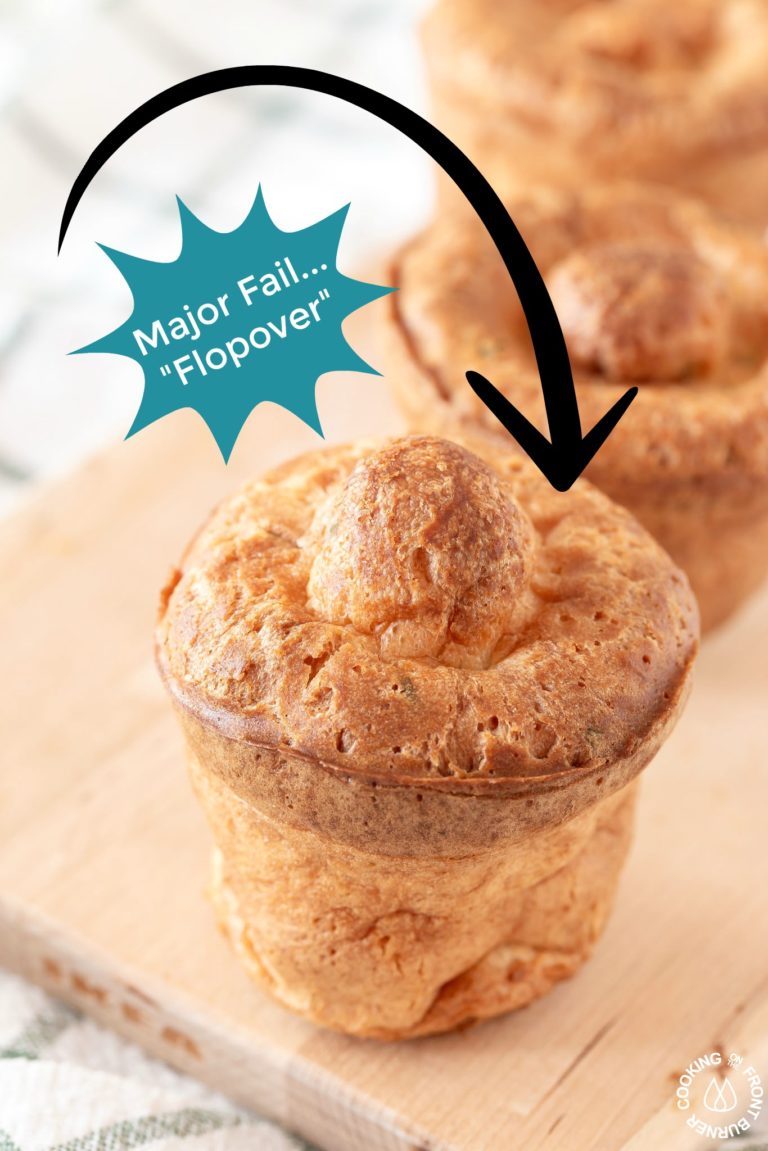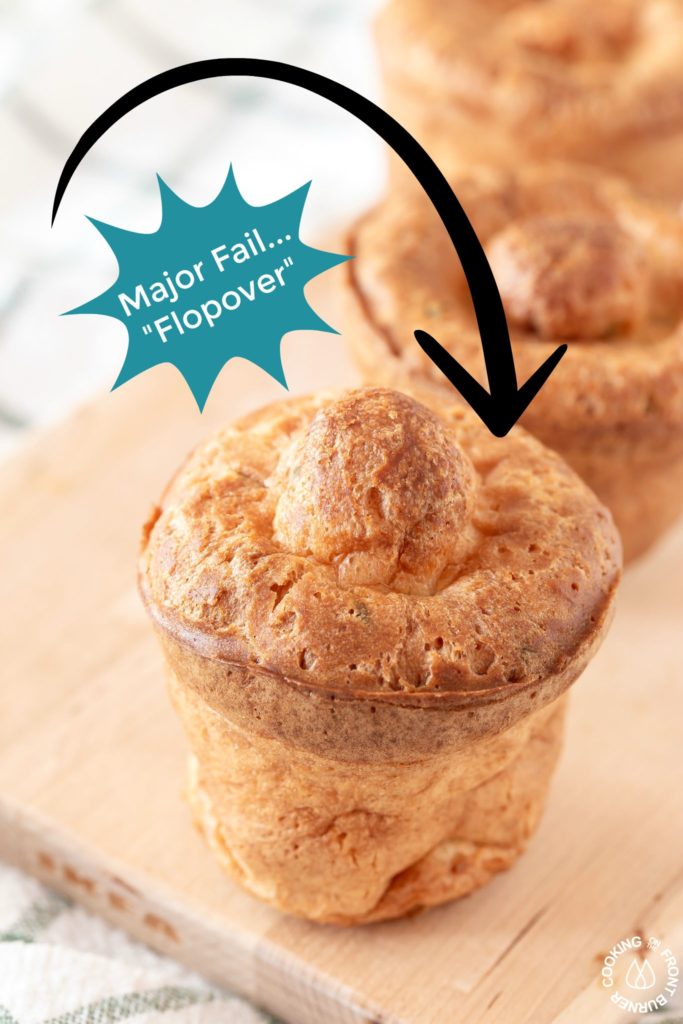 Popovers would go well with salads such as Lemon Caprese and Greek Lentil Salad.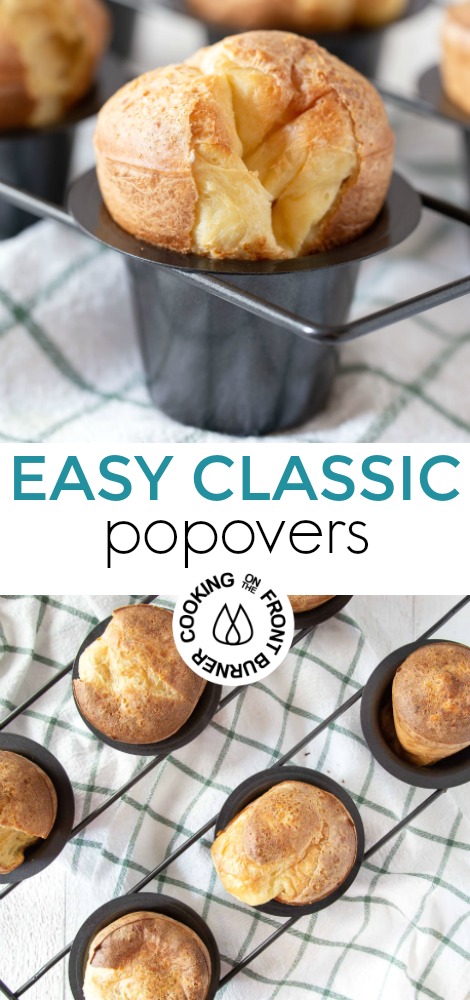 Get the Recipe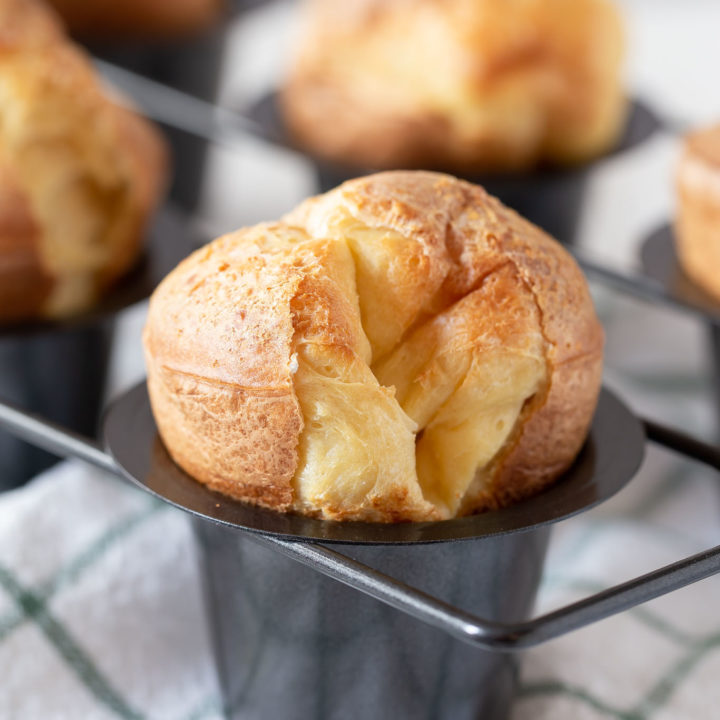 Easy Classic Popovers
Learn how to make classic popovers that are easy to do!
Ingredients
3 eggs, room temperature
1 ½ cups whole milk, room temperature
1 ½ cups flour
¾ teaspoon salt
Vegetable spray
Instructions
Place rack in oven on lowest position
Preheat oven to 450° and place popover pan in oven
Combine flour and salt in a bowl and set aside
In a medium bowl whisk together the milk and egg until very frothy (about 1 minute)
Add flour mixture to the eggs/milk and whisk until just combined with a few lumps left
Remove pan from oven and spray with vegetable spray
Fill cups ¾ full and place back in oven
Bake for 20 minutes then reduce heat to 350° and bake another 20 minutes (DO NOT open oven door at all during baking)
Take popovers out of pan and place on wire rack; slit with a small paring knife to let steam escape.
Serve immediately
Notes
It is very important to not open oven while baking or popovers will deflate. Allow entire baking time before removing.
Recommended Products
As an Amazon Associate and member of other affiliate programs, I earn from qualifying purchases.
Nutrition Information:
Yield:

6
Serving Size:

1
Amount Per Serving:
Calories:

194
Total Fat:

5g
Saturated Fat:

2g
Trans Fat:

0g
Unsaturated Fat:

2g
Cholesterol:

99mg
Sodium:

334mg
Carbohydrates:

29g
Fiber:

2g
Sugar:

4g
Protein:

9g
Nutritional information provided is computer-generated and only an estimate. You may want to do your own research with the ingredients listed if you have concerns about health or specific diets.
Other popover recipes you might enjoy:
About the Author
Recent Posts
Recipe Index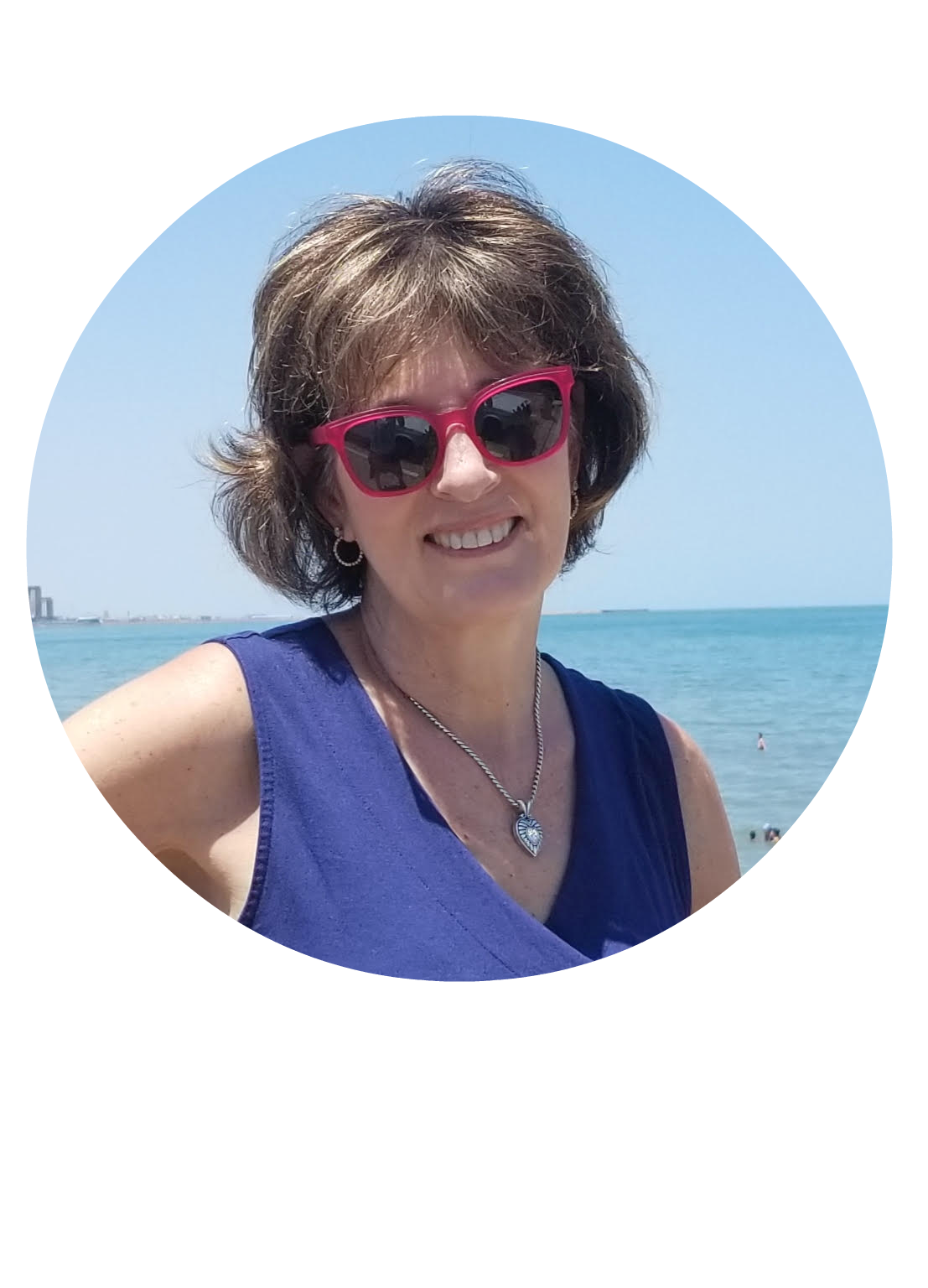 We are all about sharing our love of good food so on the blog you will find easy recipes to enjoy with your family and friends.  We hope to inspire you to host a gathering to create special memories.  Most recipes are step by step so you can feel confident in the kitchen.  Take a look around to find everything from breakfast to dinner and everything in-between!