These no-bake Double Chocolate Mousse Shooters make the perfect mini dessert.  They have an chocolate crumb crust, a dark chocolate truffle layer then topped with a creamy white chocolate mousse.  You can even have more than one, I'll never tell!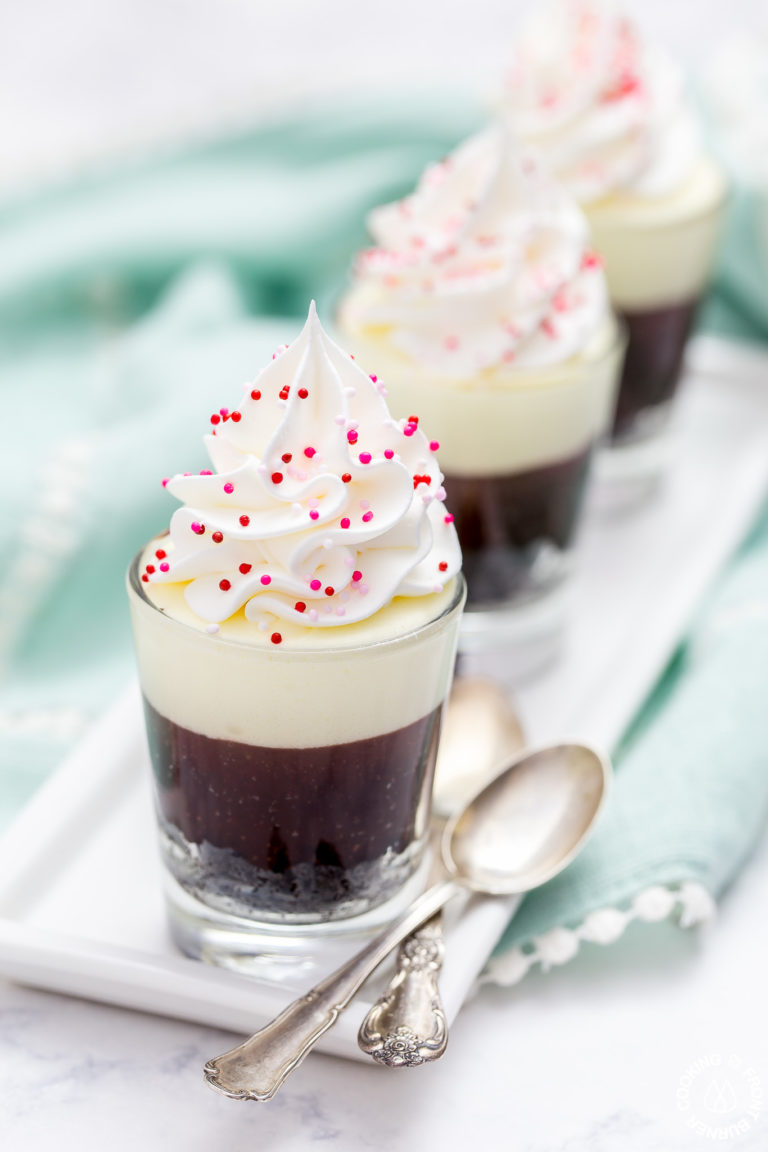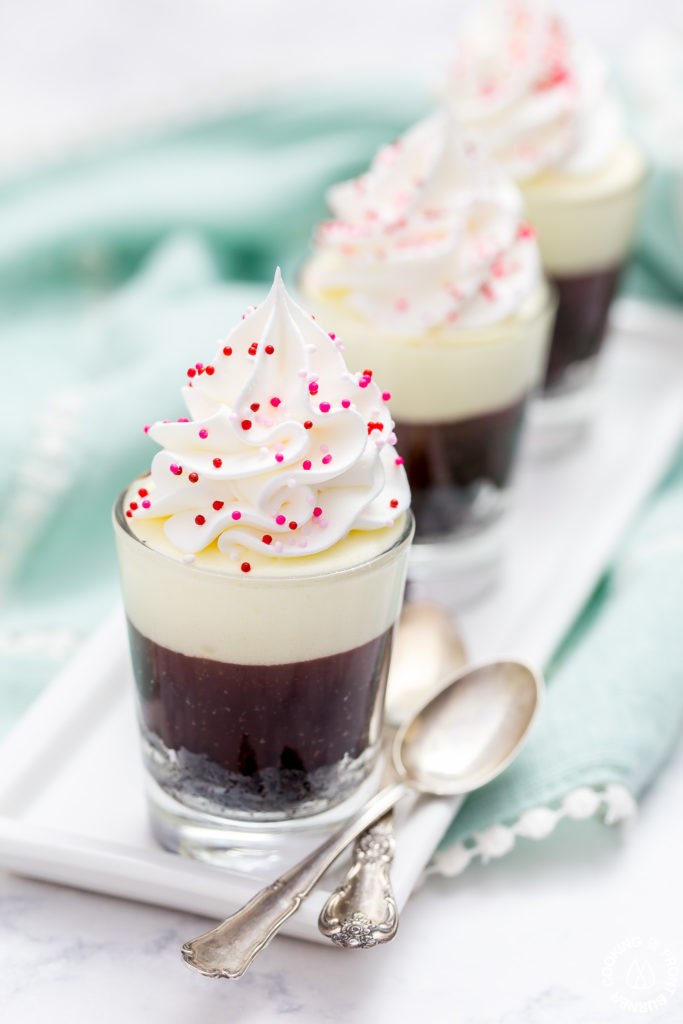 It's no secret that I love my desserts with something chocolate winning most of the time.  It's something I crave at the end of a meal and just a little dab will do it!  I've been known to have about a tablespoon of chocolate chips at the end of meal to fix that craving (anyone else do this?).  So today's recipe is perfect for just that little bite of something sweet and just in time for Valentine's Day.
I have a thing for serving individual desserts -  I think you can make a pretty presentation out of them and perhaps make a few different kinds for everyone to try a bit of something.  Some of my past individual desserts include these Lemon Raspberry Puffed Pastry Tarts and Cherry Chocolate Nutella Hand Pies.  Both of these desserts are also perfect for Valentine's Day in addition to these Double Chocolate Mousse Shooters.
You could serve these plain, add some raspberries or sprinkles (like shown above).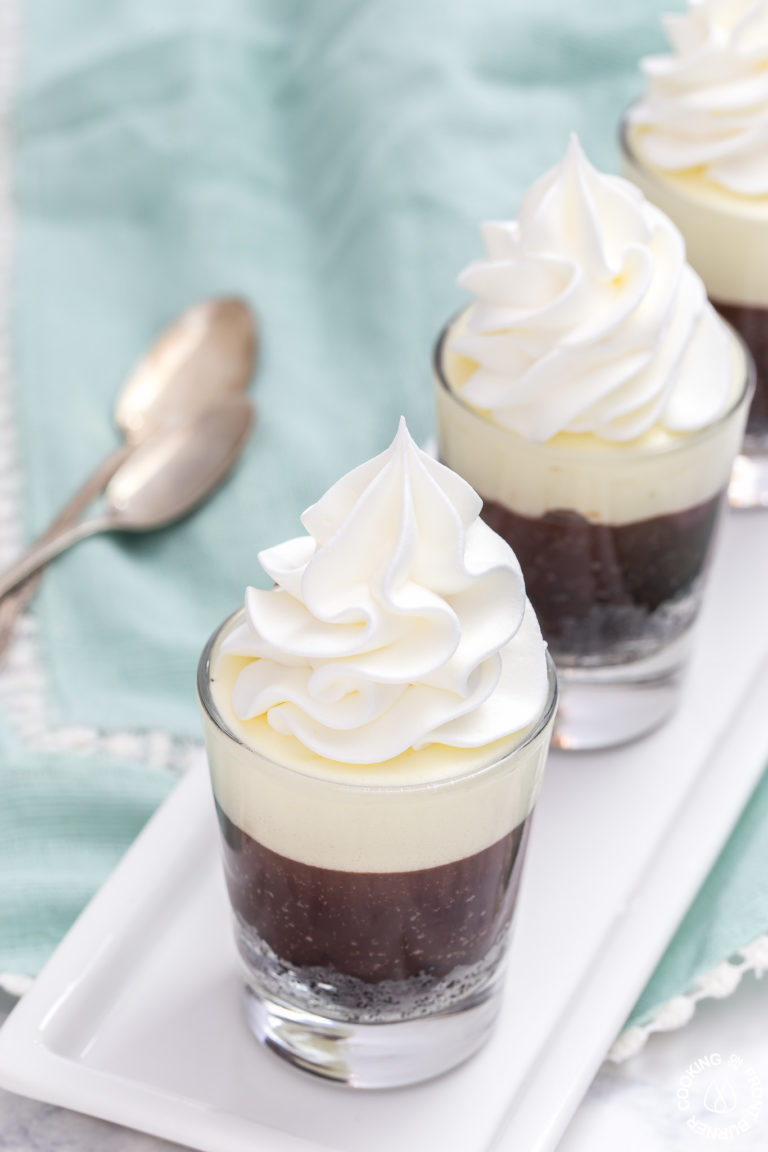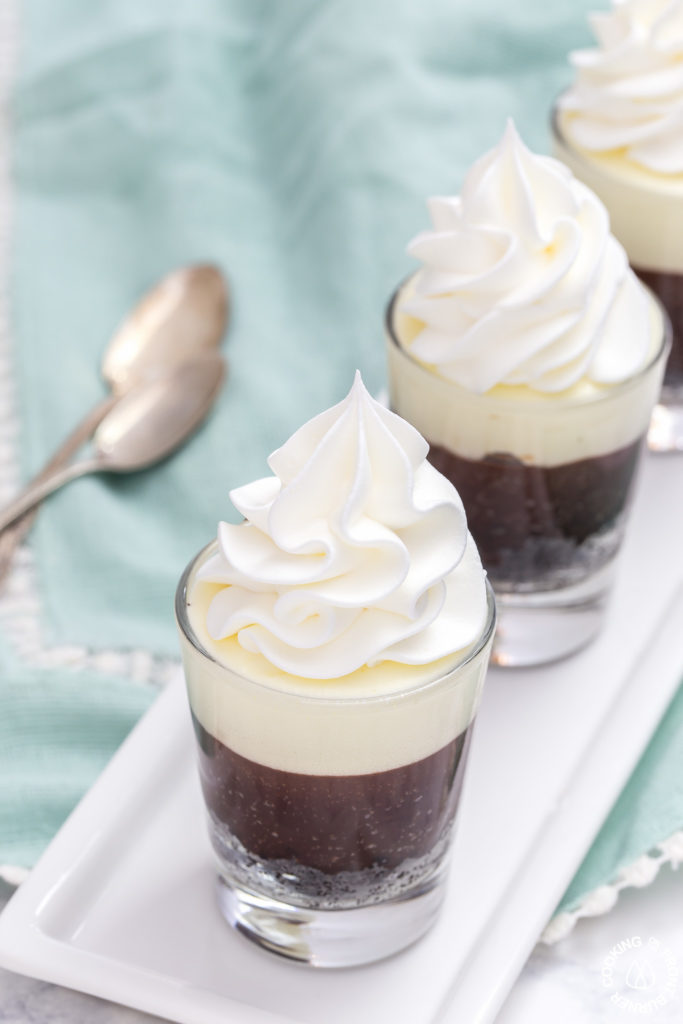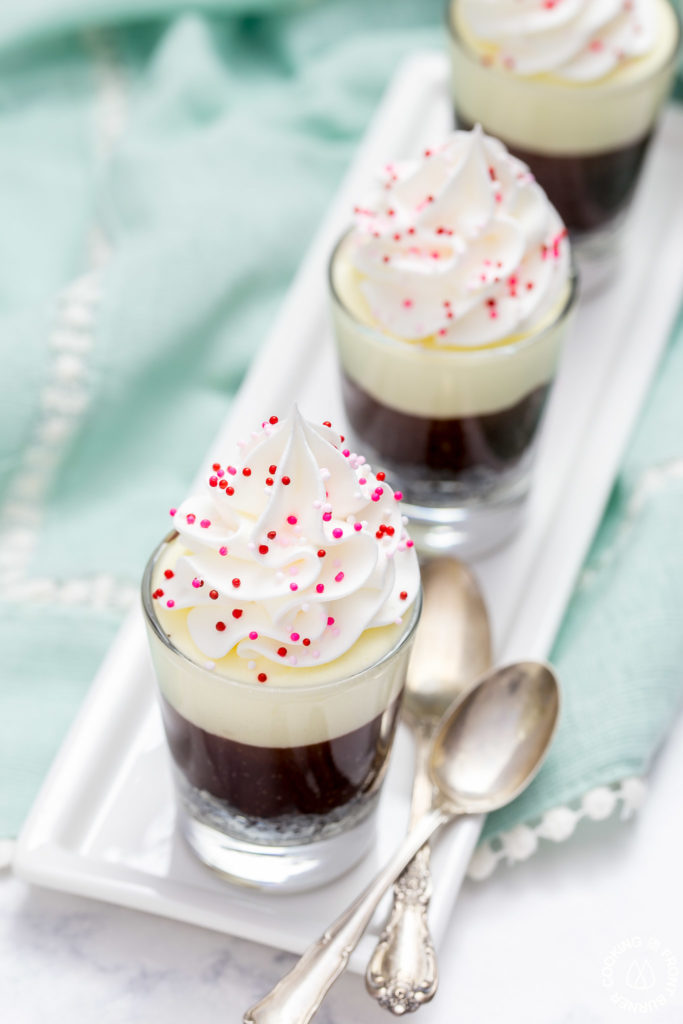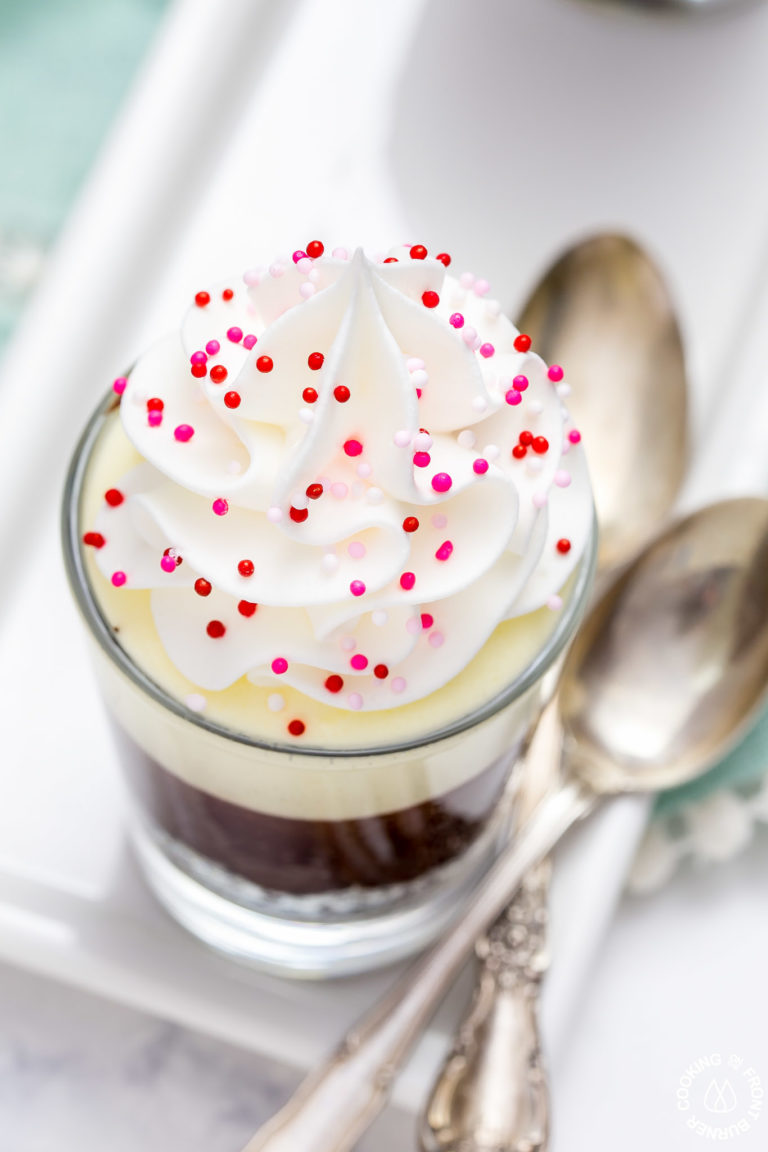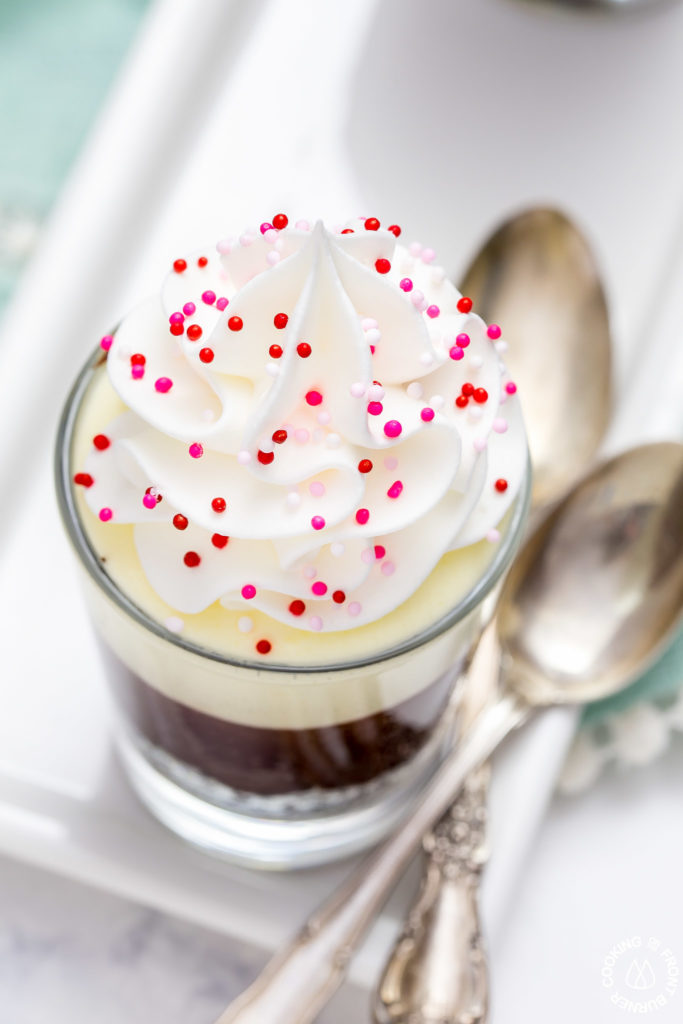 You are also in luck today because some of my other blogger pals are also showcasing their chocolate desserts.  I'm sure you won't know where to start so maybe you'll need to try them all!  I hope you find something to your liking and I'm sure your family and friends would love to be the recipient of a sweet treat.  Enjoy!
Chocolate Cheesecake Stuffed Strawberries
Easy Chocolate Pudding Cupcakes
Triple Chocolate Cupcakes
Chocolate Boston Cream Pie Cupcakes
Best Chocolate Fudge Recipe Ever
Raspberry Chocolate Tart
Chocolate Caramel Cheesecake Bites
No Bake Chocolate Dessert Lasagna (Lush)
Easy Ritz Cracker Toffee
Chocolate Nutella Fudge
Chocolate Mousse Truffle Shots
Chocolate Pound Cake
Red Velvet Bundt Cake with Kahlua Ganache
Flourless Black Bean Brownies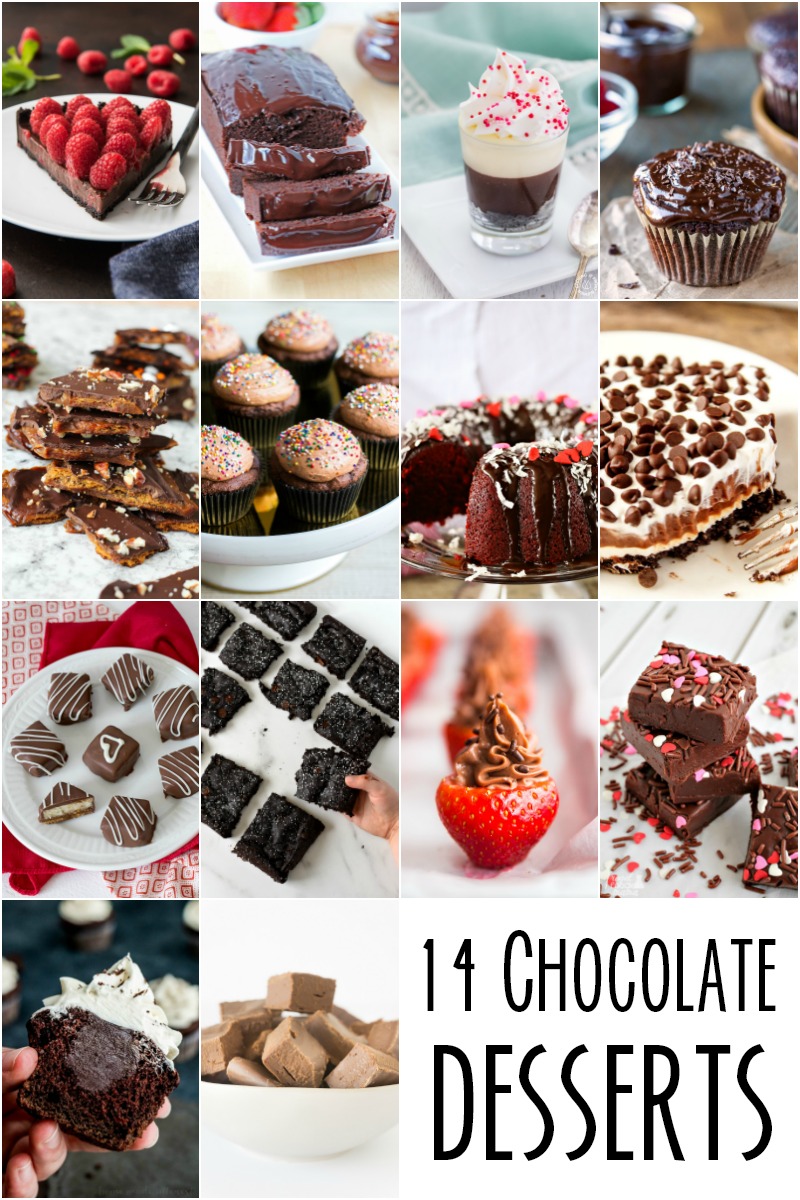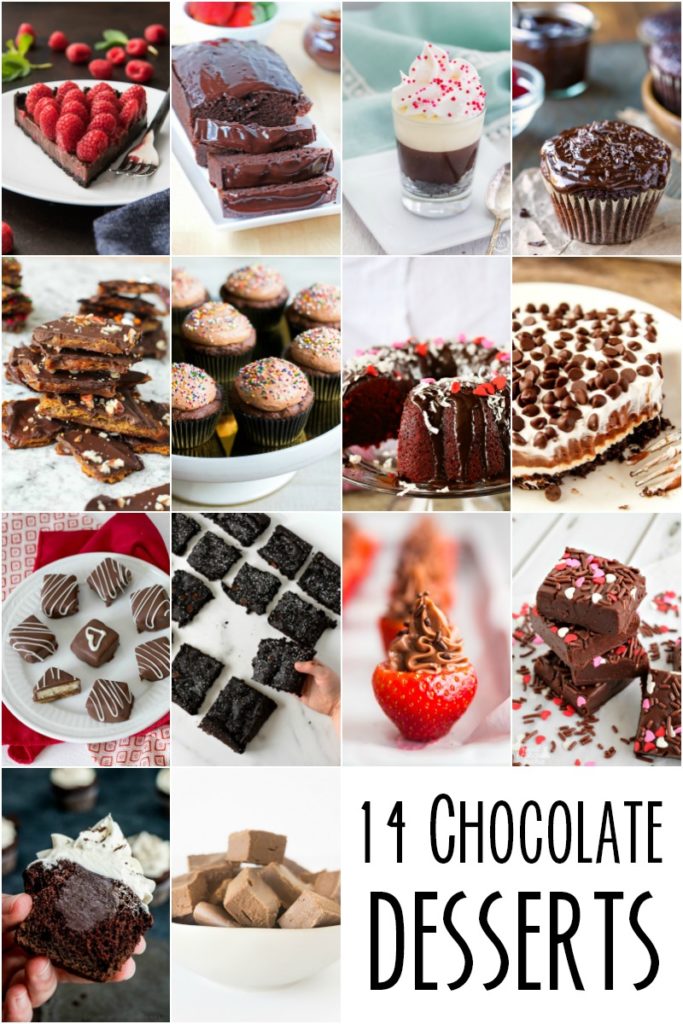 Get the Recipe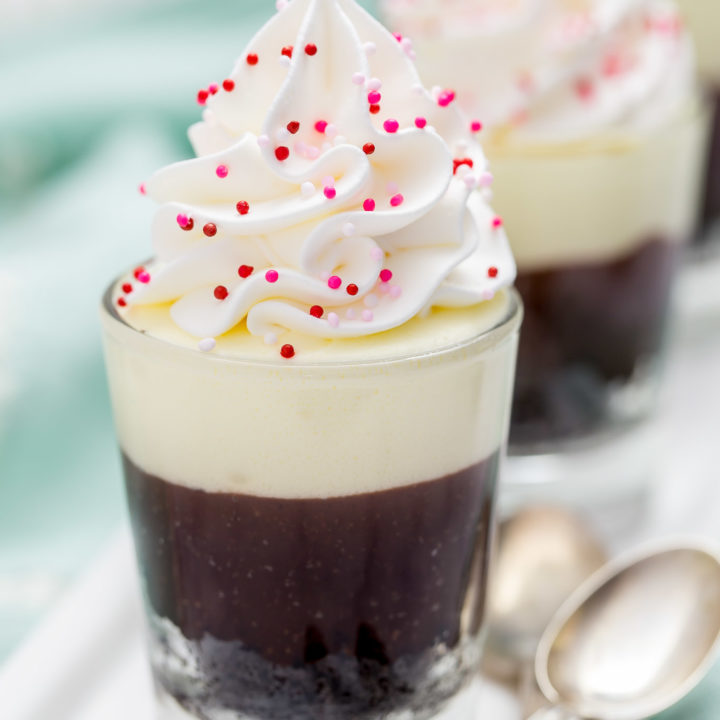 Double Chocolate Mousse Shooters
A mini dessert with a double shot of chocolate - the perfect little fix!
Ingredients
Crust -
1 ½ cups chocolate cookie crumbs,
⅓ cup melted butter
Chocolate Truffle layer -
12 oz. semi sweet chocolate chips,
1 cup whipping cream,
1 teaspoon vanilla,
2 egg yolks
Mousse Layer -
4 egg yolks,
¼ cup sugar,
1 cup whipping cream,
1 cup vanilla chips (white) ,
1 ½ cups whipping cream
Instructions
For crust, combine crumbs and melted butter and mix well. Place about 1 Tbl in bottom of shot glass (2 oz) and press down – I refrigerated the glasses at this point
For truffle: In double boiler (water should be simmering) heat chocolate chips stirring constantly until melted and smooth. Gradually add 1 cup whipping cream and stir constantly until combined (mixture may thicken up a bit but as you add the cream it becomes smooth again – just keep stirring)
Stir in vanilla and egg yolks – cook and stir 5-6 minutes until thickened and hot.
Place about halfway up the shot glass the chocolate mixture and refrigerate until firm (about an hour)
For mousse: beat yolks until thick and lemon color (about 3 minutes); gradually add in sugar and beat until combined.
Heat 1 cup whipping cream in a saucepan until just hot. Stir about half of hot cream into yolk mixture and then add it all back into saucepan – stirring constantly over low heat until thickened (do not boil)
Stir in vanilla chips until melted. Pour into bowl and cover and refrigerate until just chilled (about 2 hours)
Beat 1 ½ cup whipping cream until stiff peaks form. Fold vanilla mixture into whipped cream. Spoon on top of truffle mixture. Refrigerate at least 1 hour before serving. (you will have extra mousse leftover)
To serve, you could top with whipped cream, a dusting of cocoa and a raspberry. Or other fruit.
Nutrition Information:
Yield:

24
Serving Size:

1
Amount Per Serving:
Calories:

308
Total Fat:

23g
Saturated Fat:

14g
Trans Fat:

1g
Unsaturated Fat:

8g
Cholesterol:

104mg
Sodium:

64mg
Carbohydrates:

19g
Fiber:

1g
Sugar:

16g
Protein:

3g
Nutritional information provided is computer-generated and only an estimate. You may want to do your own research with the ingredients listed if you have concerns about health or specific diets.

About the Author
Recent Posts
Recipe Index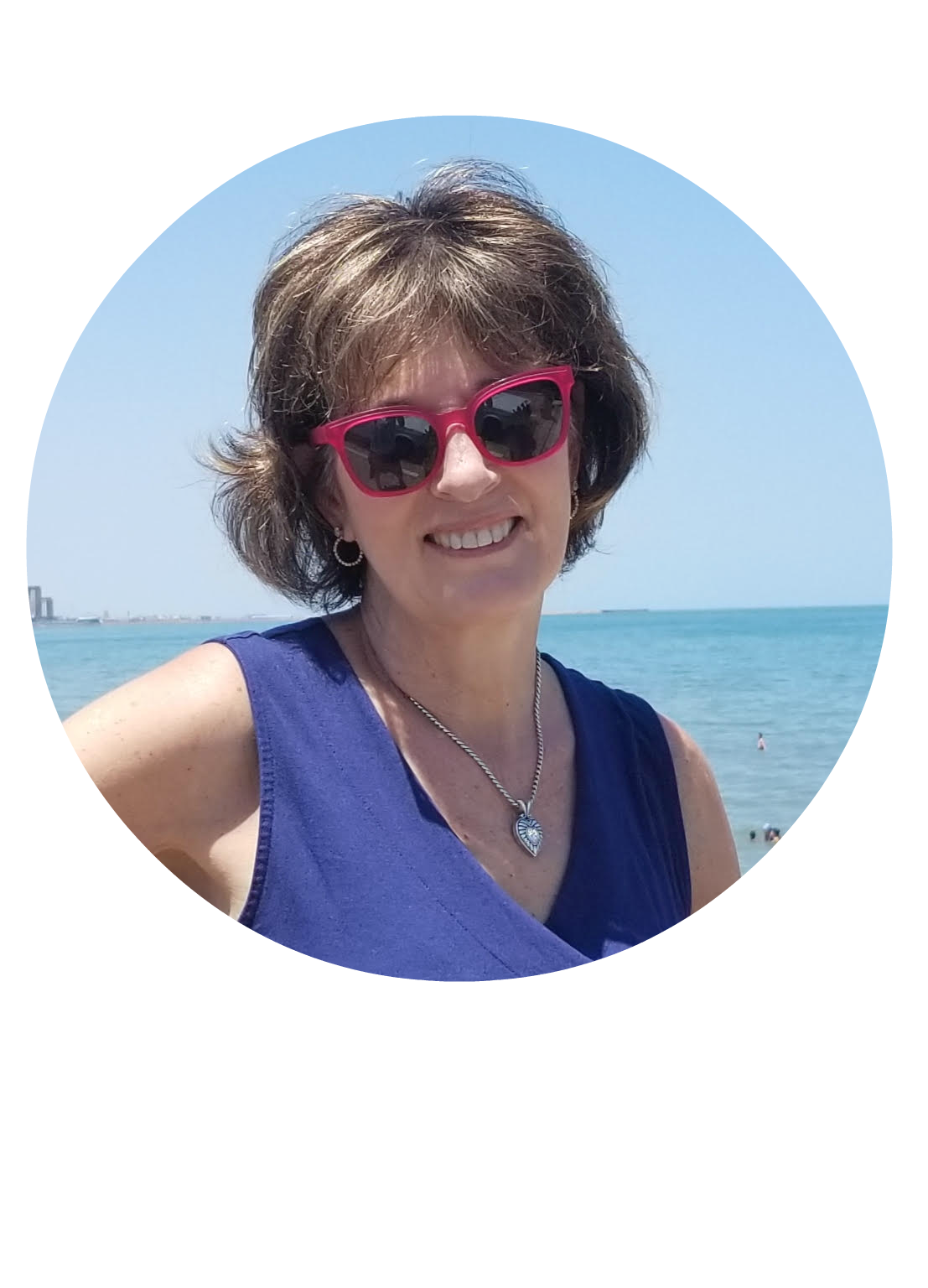 We are all about sharing our love of good food so on the blog you will find easy recipes to enjoy with your family and friends.  We hope to inspire you to host a gathering to create special memories.  Most recipes are step by step so you can feel confident in the kitchen.  Take a look around to find everything from breakfast to dinner and everything in-between!