This post may contain affiliate links. For more information, please visit my disclosure page.
Healthy is the name of the game with this Apple Sweet Potato Quinoa Salad with crunchy apples and pecans, roasted sweet potatoes, dried cranberries and quinoa.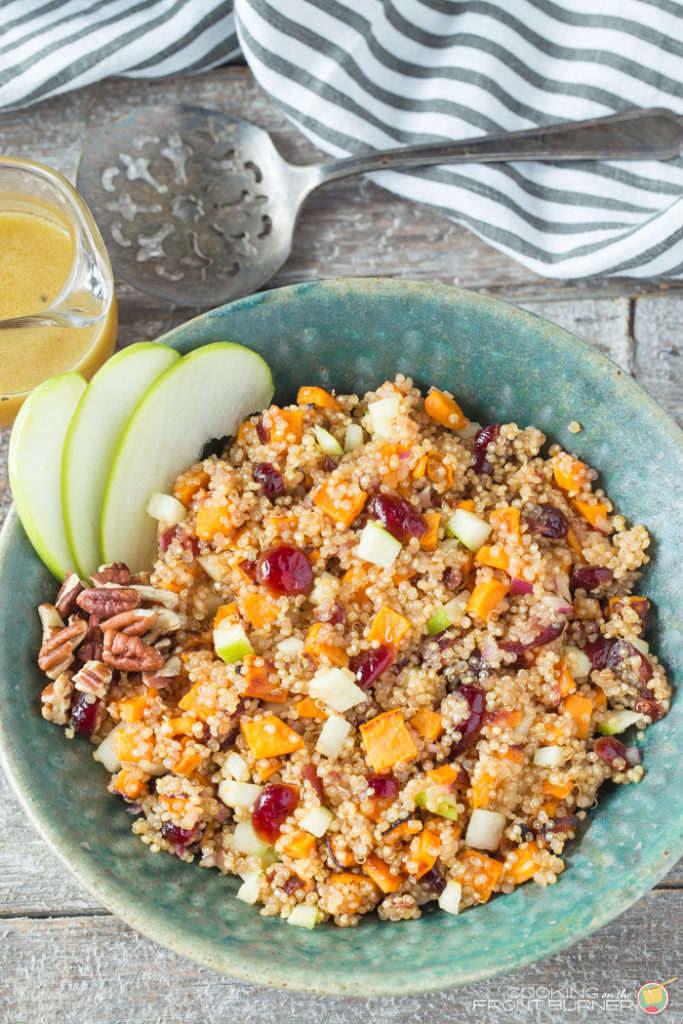 We are getting into one of my favorite times of the year – fall. The air is crisp, the leaves are turning colors and the holidays are coming. How does this Apple Sweet Potato Quinoa Salad sound for your table? It's the perfect vegetarian side dish that you, your family and guests will enjoy. The roasted sweet potatoes and crispy apples are married with a Maple Vinaigrette that will tantalize your taste buds!
There is just something about roasting veggies that I can't get enough of. I love the caramelizing that goes on that provides great taste and really brings the recipe to a new level. It just wouldn't taste the same with sauteeing, boiling, frying, etc. Roasting gets the edges get a little charred and the texture is crispy/tender. We enjoyed this salad freshly made (warm) but is also tastes good at room temperature or even cold the next day (maybe nestled on a bed of arugula).
So yes, fall is coming though I'm hoping to hold onto a bit of summer yet. The last couple of months we were so busy with plans almost every weekend and house projects. This was the year we needed to repaint and stain our deck and it was a HUGE undertaking (ugh). Just for the fun of it, I kept track of my hours and by the time it was said and done, I had 42 in! I even took vacation days to just get 'er done – I was that determined. Now we can enjoy sitting on the deck and not think about it again for about another 8 years. The deck floors need to be done sooner but the spindles last a long time – maybe we'll move by then LOL.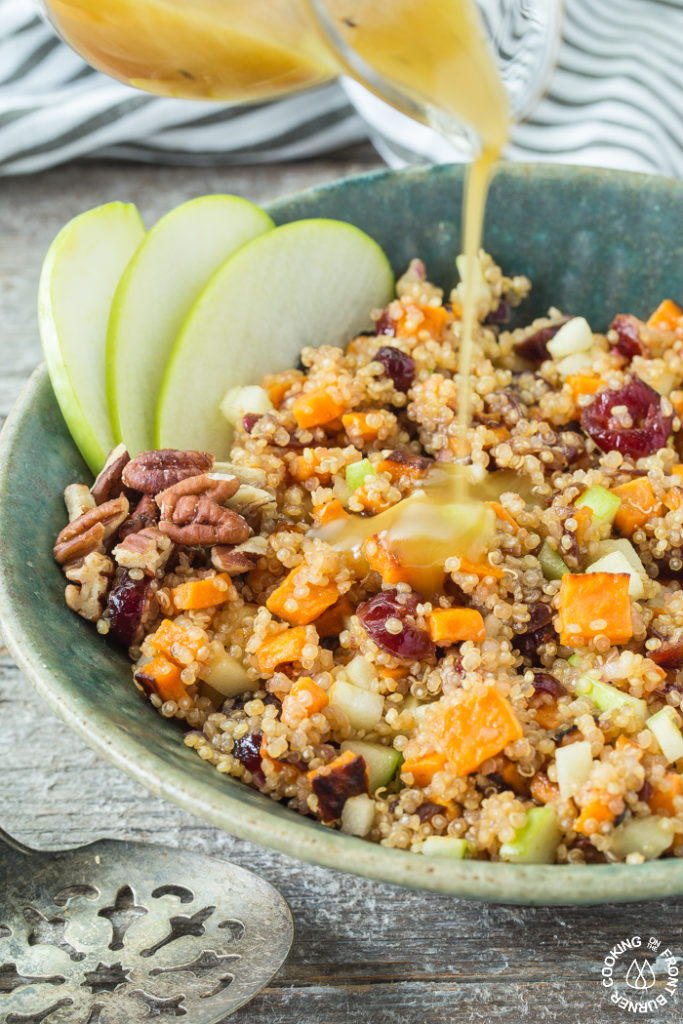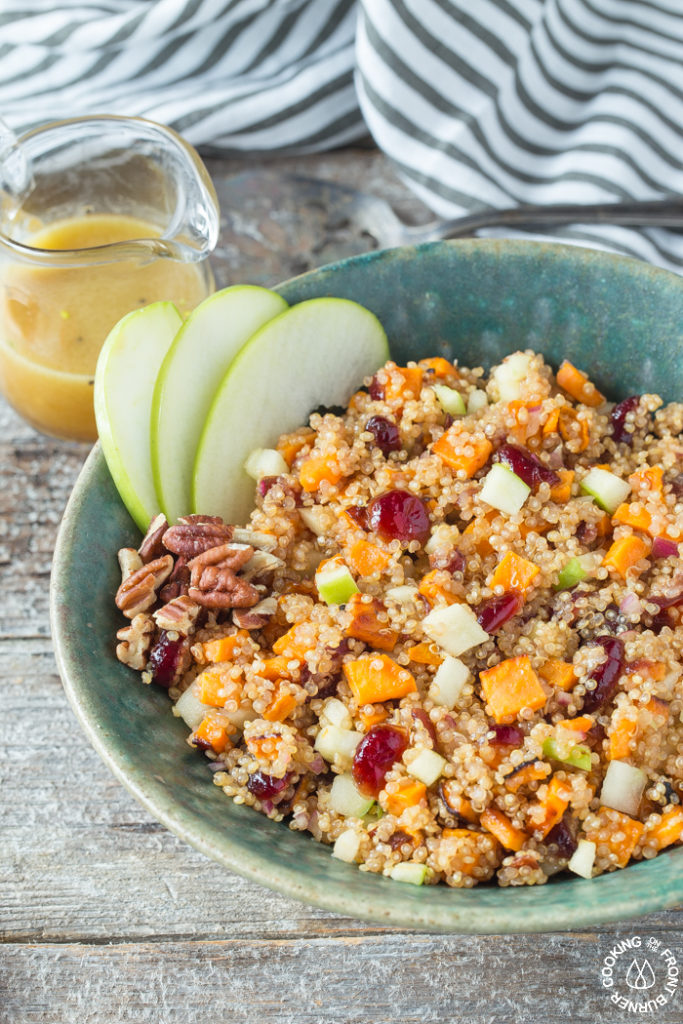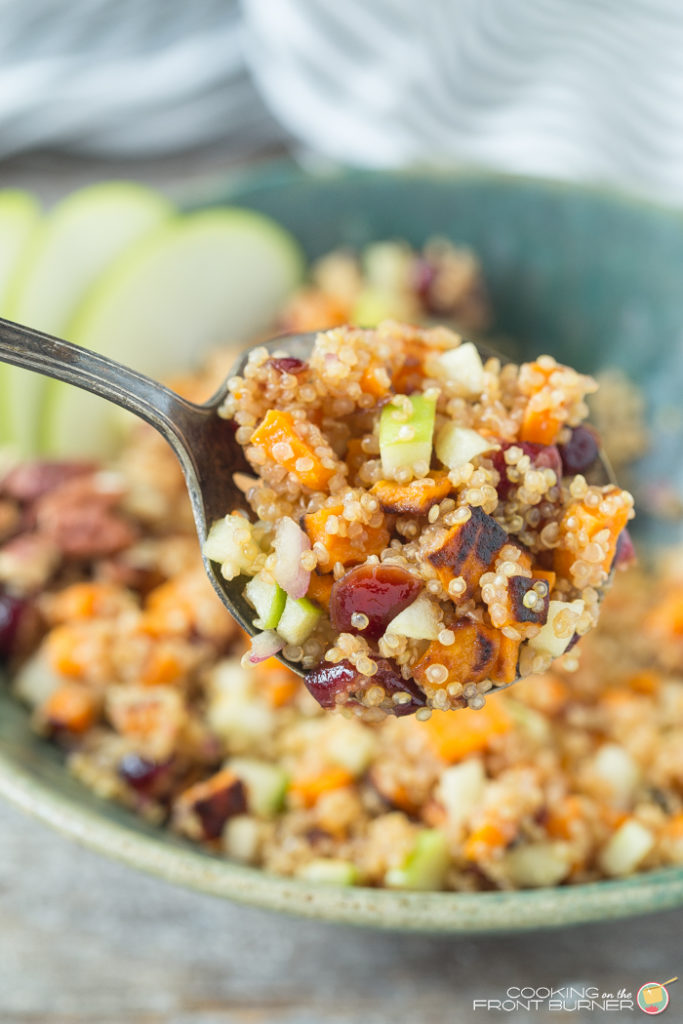 Apple Sweet Potato Quinoa Salad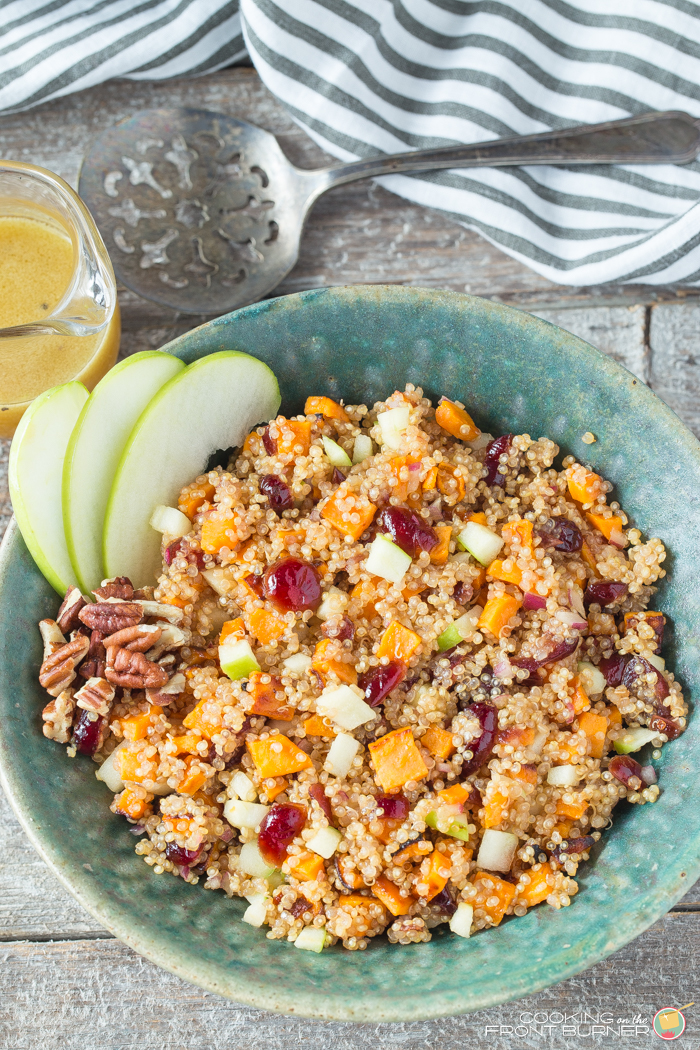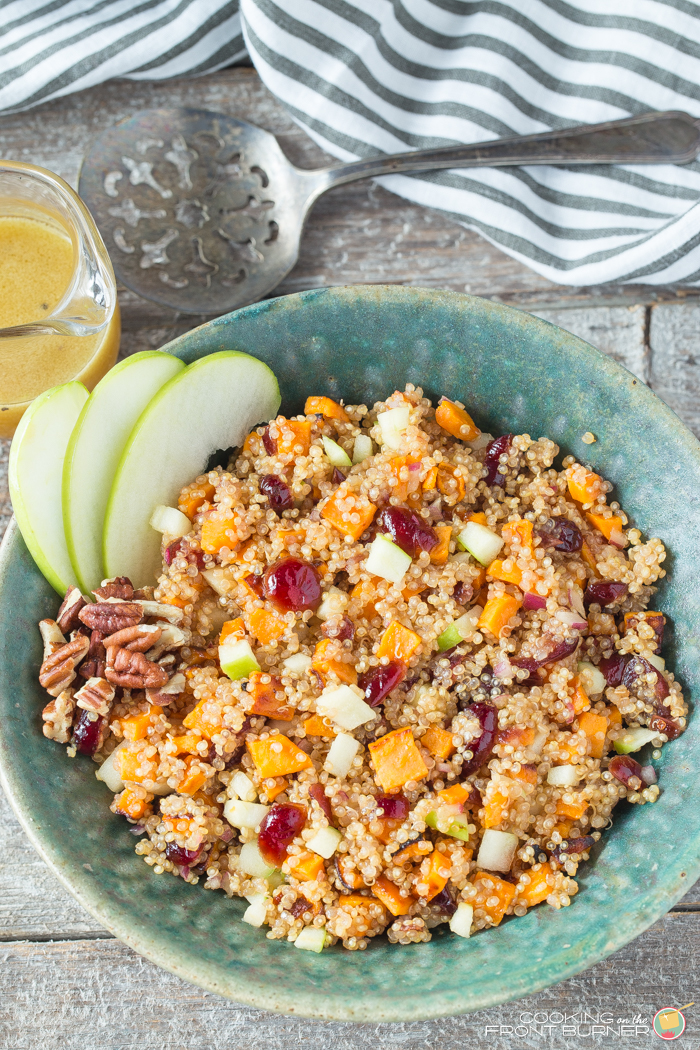 Your taste buds will love this tasty Apple Sweet Potato Quinoa Salad that is full of flavor and makes the perfect vegetarian side dish for dinner or holidays!
Ingredients
2 medium sweet potatoes, peeled and diced 1/4
2 tablespoons olive oil
1 granny smith apple, cored and diced 1/2
1 cup dried cranberries
1 cup quinoa (uncooked)
2 cups apple cider (or juice)
2 tablespoons minced red onion
1/2 cup chopped pecans, roasted
2 tablespoons maple syrup
1 teaspoon minced shallot
1 teaspoon dijon mustard
1/4 teaspoon salt
1/4 teaspoon pepper
1 tablespoon apple cider vinegar
3 tablespoons olive oil
Directions
Preheat oven to 400 degrees
Toss the sweet potatoes with the 2 tablespoons of olive oil and spread out onto a rimmed cookie sheet. Roast for about 15 minutes, stirring about every 5 minutes until lightly brown and soft
Meanwhile prepare quinoa (rinse well) then place cider and quinoa into a medium saucepan; bring to boil; turn to simmer then cover and cook about 15 minutes (toss your cranberries near the end of the cooking time)
In a medium bowl add the slightly cooled quinoa, cranberries, sweet potatoes, apples, red onion and toss well
In a small food processor combine the maple syrup, shallot, dijon mustard, vinegar and a bit of salt and pepper to taste Slowly add in the olive oil and mix well.
Pour vinaigrette over salad and toss
Top with the roasted pecans
Recipe Notes
Other side dishes you might enjoy: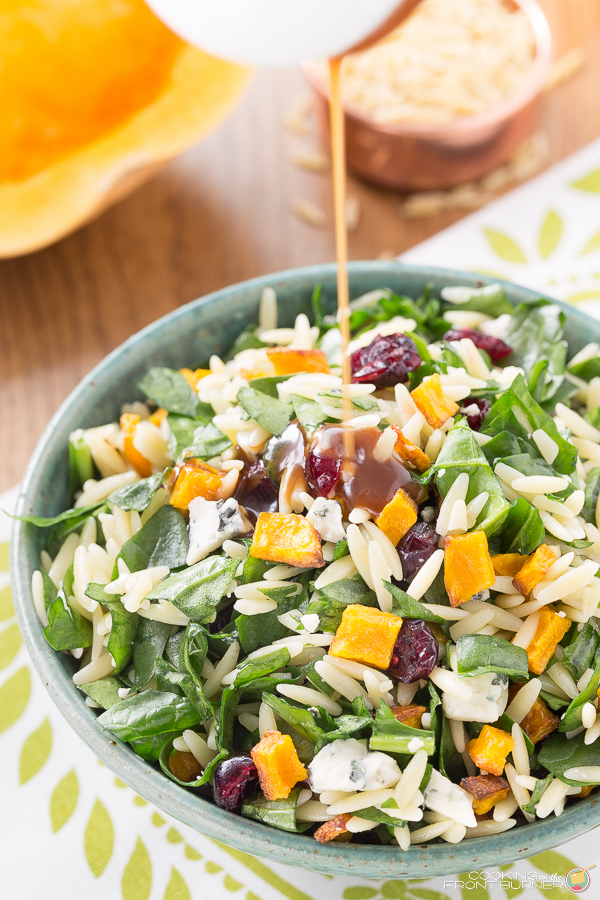 Roasted Butternut Squash with Cranberries