This tasty Skillet Focaccia Bread is quite easy to make and is topped with fresh rosemary, sea salt and olive oil. Just plan ahead a couple hours before dinner to enjoy this chewy, warm bread.
It is sure to become one of your go to recipes as it has simple ingredients that you may already have in your pantry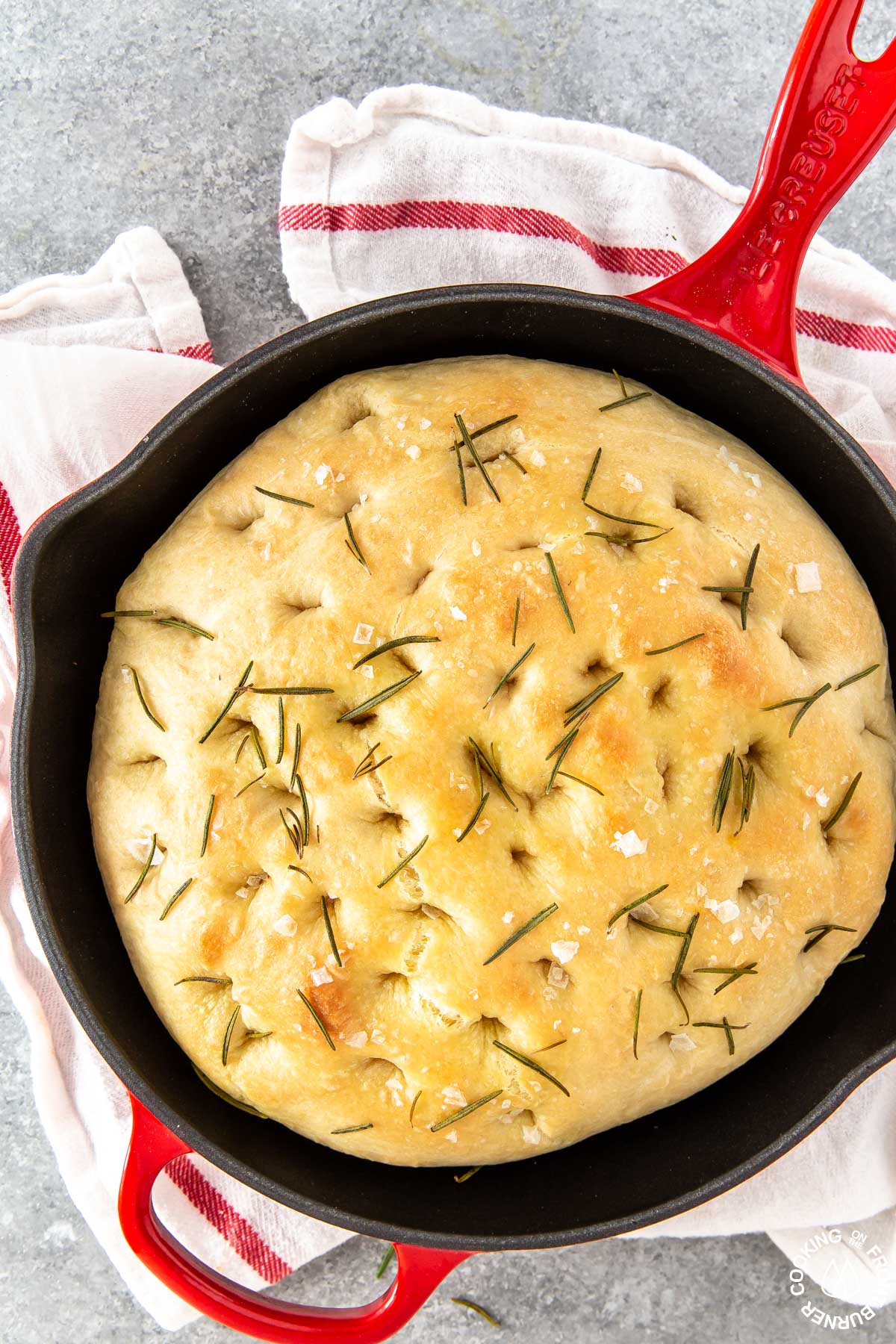 Some people are intimidated with making yeast bread. I used to be one of those people but if you follow these steps, I hope to get you comfortable with it.
While I have made yeast breads before, this was the first time I made a focaccia. It is drizzled with olive oil then sprinkled with fresh rosemary and a flaky sea salt (see tips) before baking. The texture of the bread is soft with a bit of chew from the crust.
Once this is baked, it can again be brushed with additional olive oil if you would like or not. Either way I hope you will enjoy this comforting bread! Let's get started.
Jump to: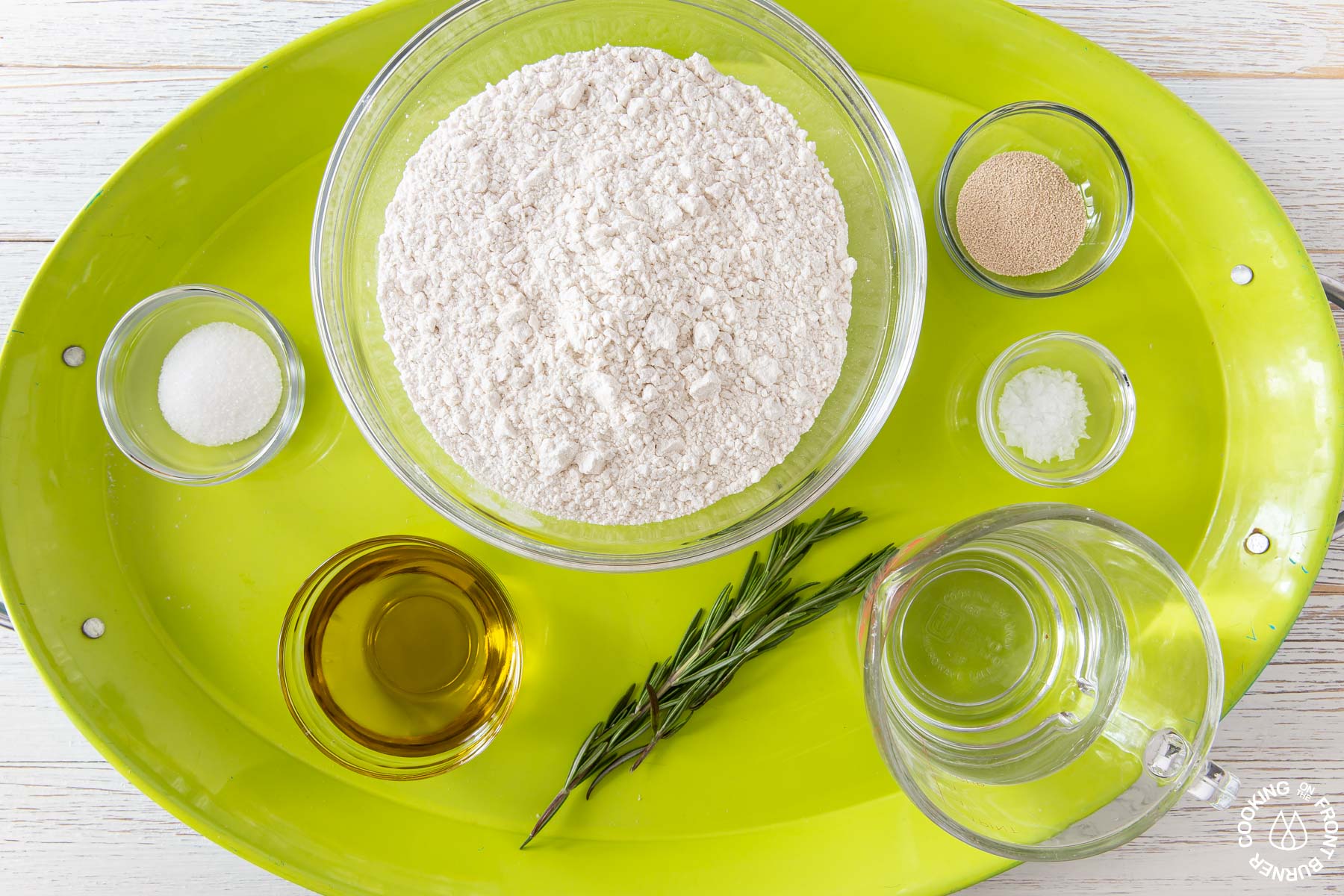 Ingredients
flour
dry yeast
sugar
virgin olive oil
sea salt
fresh rosemary
water
Step by Step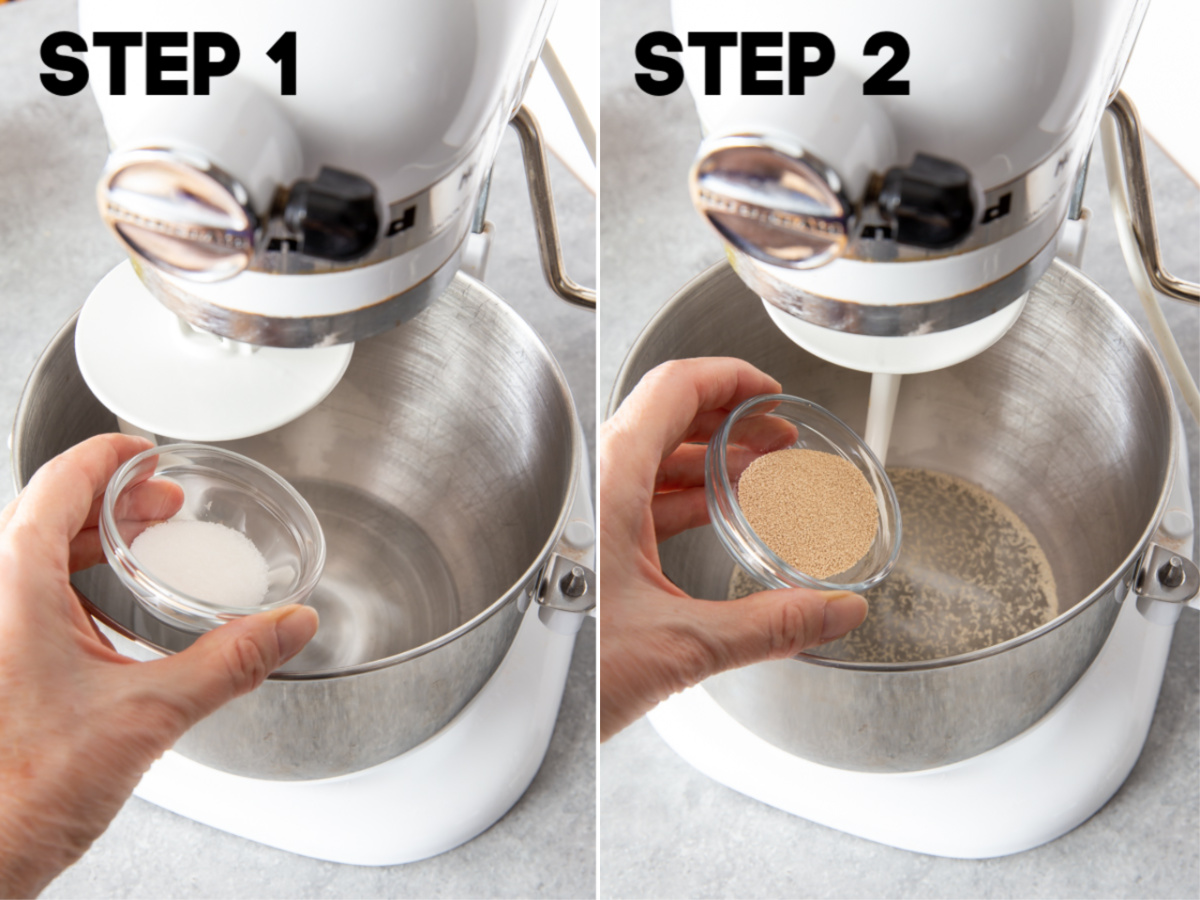 Step 1 - measure out water (about 110 degrees) and place in your mixing bowl, add sugar and stir
Step 2 - sprinkle the yeast over the water and give it a stir and let proof for about 5 minutes until it looks foamy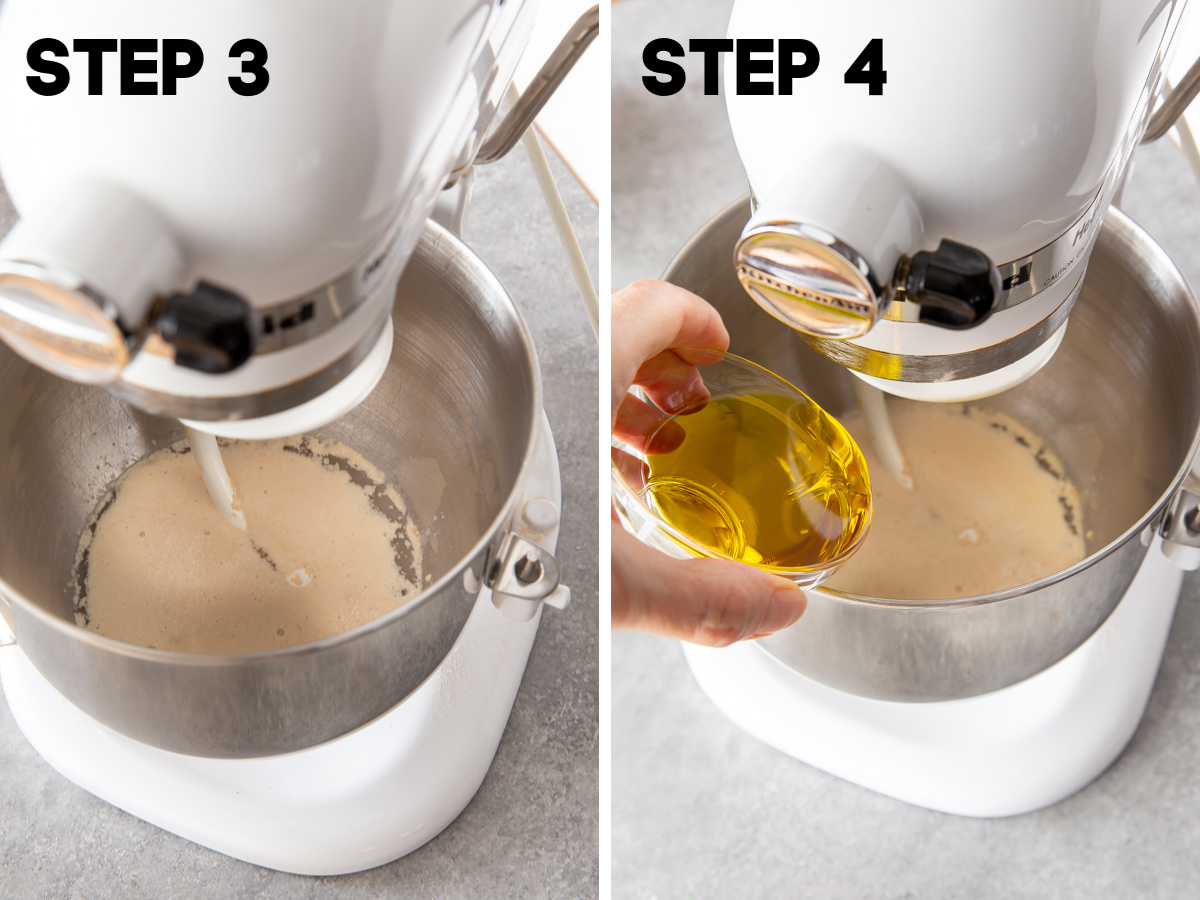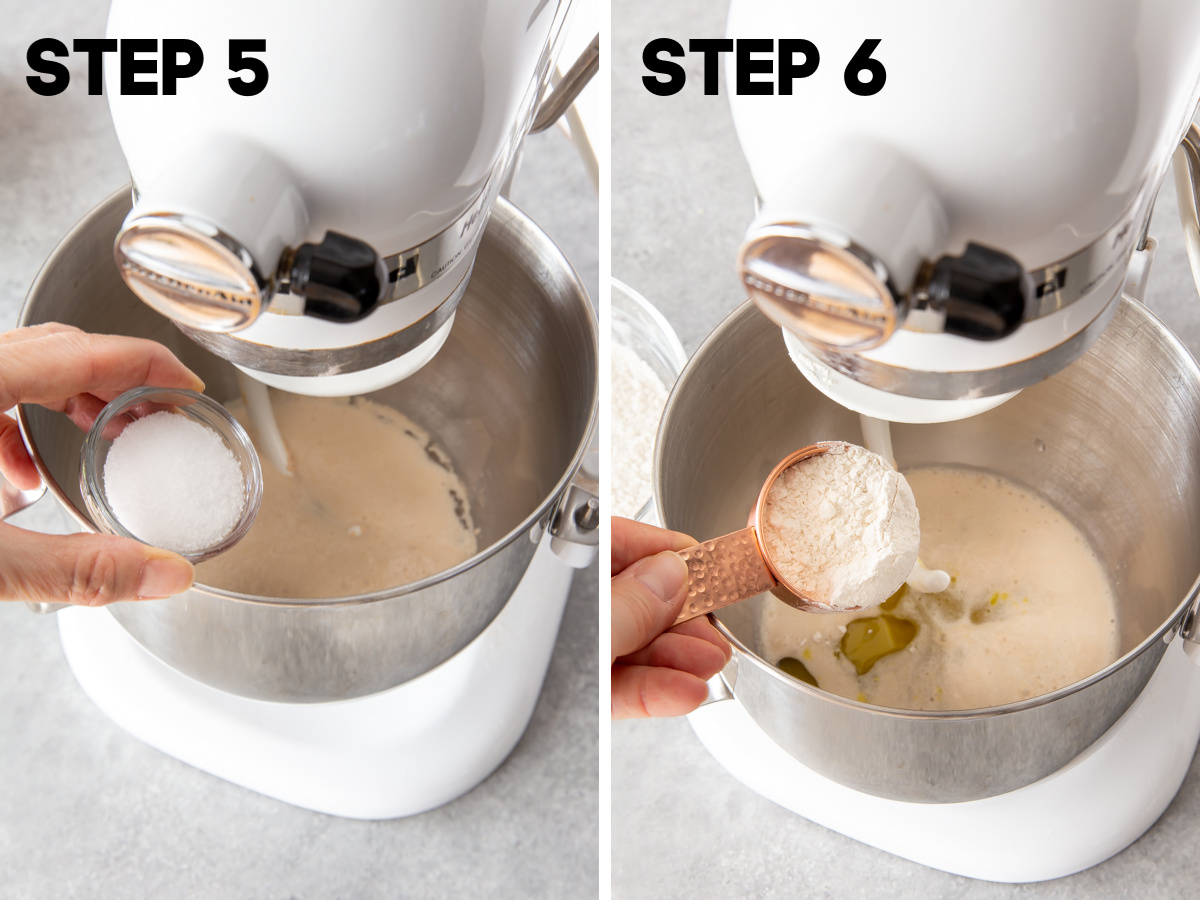 Step 3 - the yeast is ready by seeing the foam on the top of the water
Step 4 - add in your olive oil
Step 5 - add in the sea salt; mix on a low setting
Step 6 - slowly add in flour with your mixer on a medium-low setting; once all incorporated continue to mix for about 5 minutes (if dough is not forming into a ball and is sticky, you may need to add up to a ¼ cup of flour)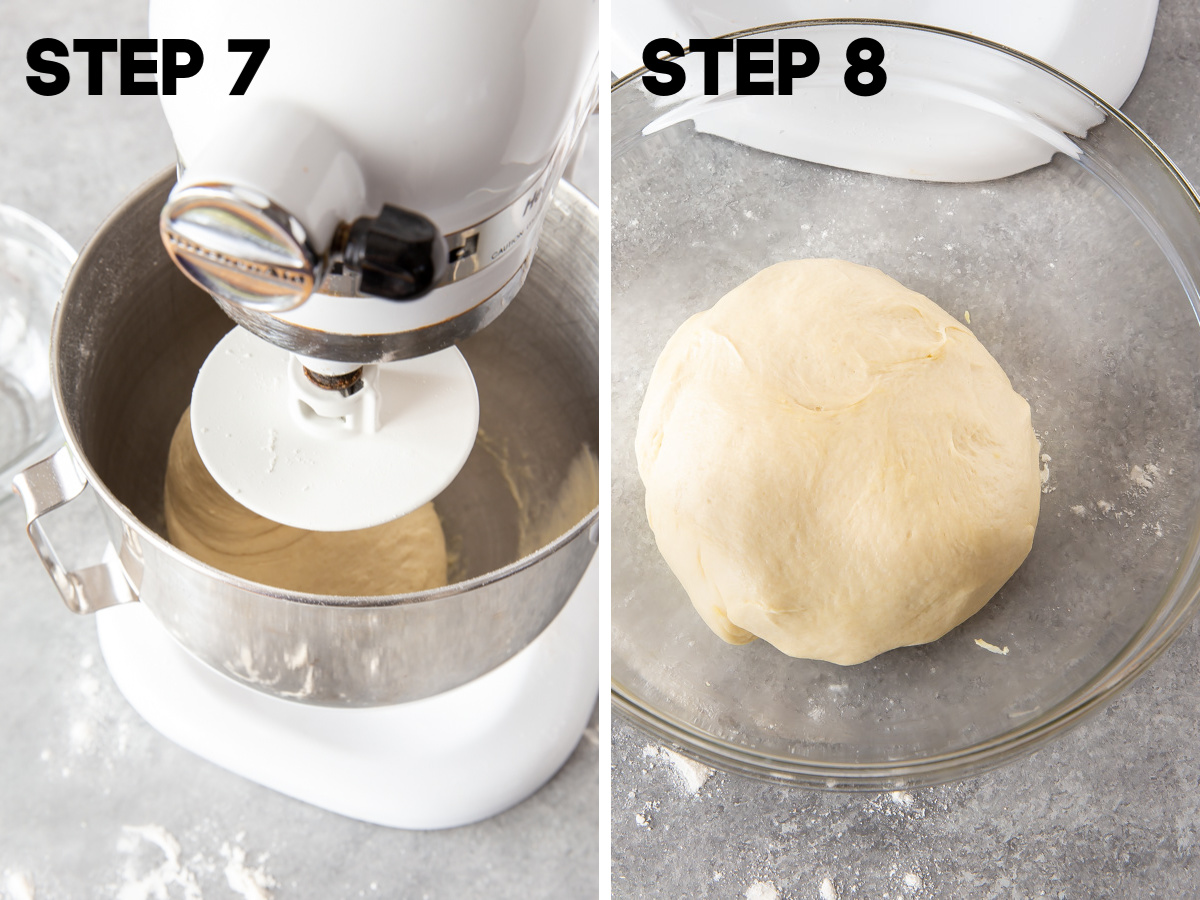 Step 7 - once the dough is mixed it will be gathered around the hook on your mixer
Step 8 - shape dough into a ball and place in a bowl that has a bit of olive oil in it then flip so oil side is on top; cover with a damp towel and let rise about 45-60 minutes until double in size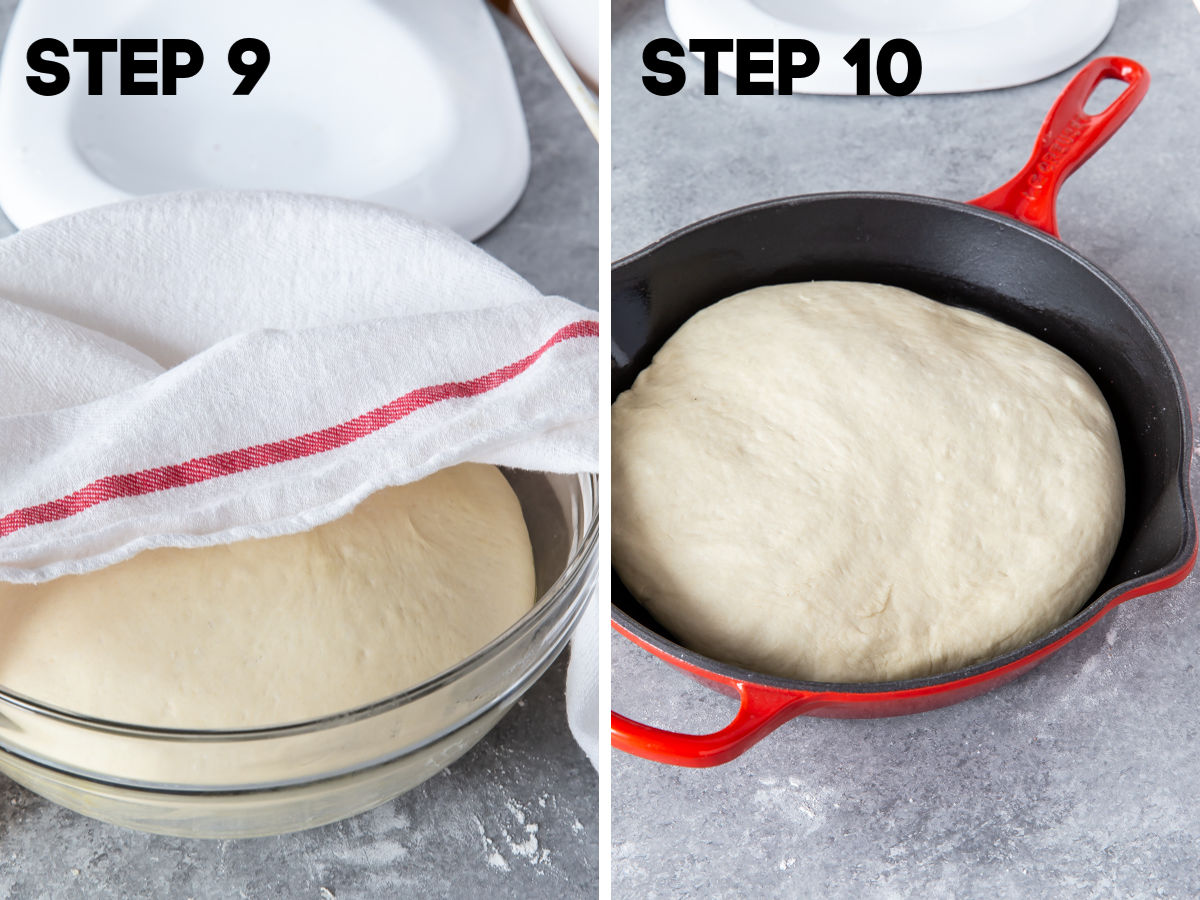 Step 9 - final picture of risen dough
Step 10 - remove dough from bowl and place in a 10" skillet that has been rubbed with olive oil (use your fingers to stretch it to edges; cover again with a damp towel and let rise for 20 minutes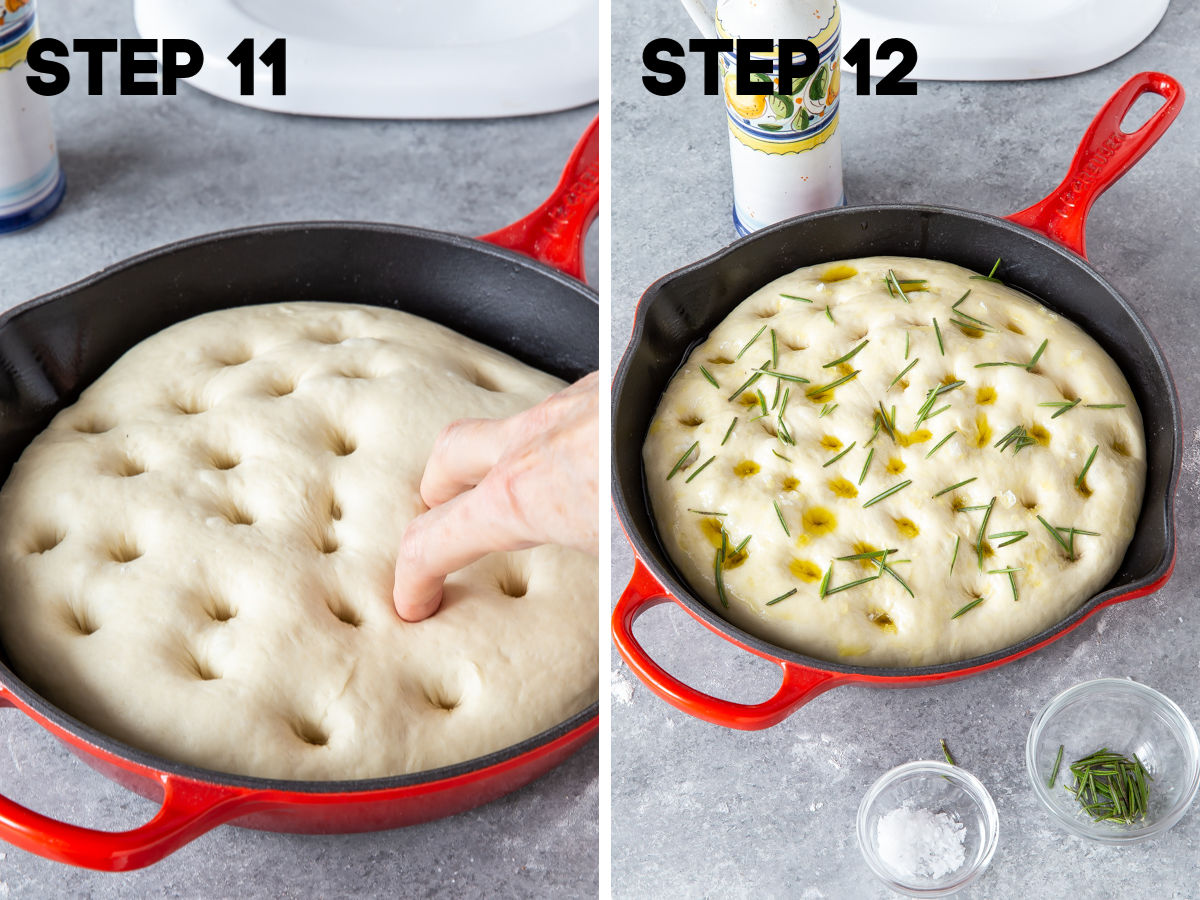 Step 11 - Preheat your oven to 400 degrees; after the second yeast rise, use your fingers to poke holes in the dough - be sure to poke down to the bottom
Step 12 - Brush the dough with olive oil and sprinkle with flaked sea salt and fresh rosemary; bake for 20 minutes
A close up shot of the final product.

Tips and variations
I have found that placing hot water in your mixing bowl and letting it sit for about a minute (then dumping out) helps in the proofing process
I would recommend getting a cooking thermometer to make sure your warm water is about 110 degrees to start with - if the water is too hot, it will kill the yeast and if too cold, won't start the process
This recipe has not been tested with regular table salt - if you decide to use that I would cut the amount in the dough in half (for dough only - do not sprinkle table salt on top of bread). I used Maldon Salt.
If you do not have fresh rosemary, fresh thyme or sage would work
If you only have dry herbs, it would be best to use a small amount and add to the dough (dried Italian seasoning, basil, oregano, etc.)
I did add a bit of olive oil after baking but it would have been fine too if left off.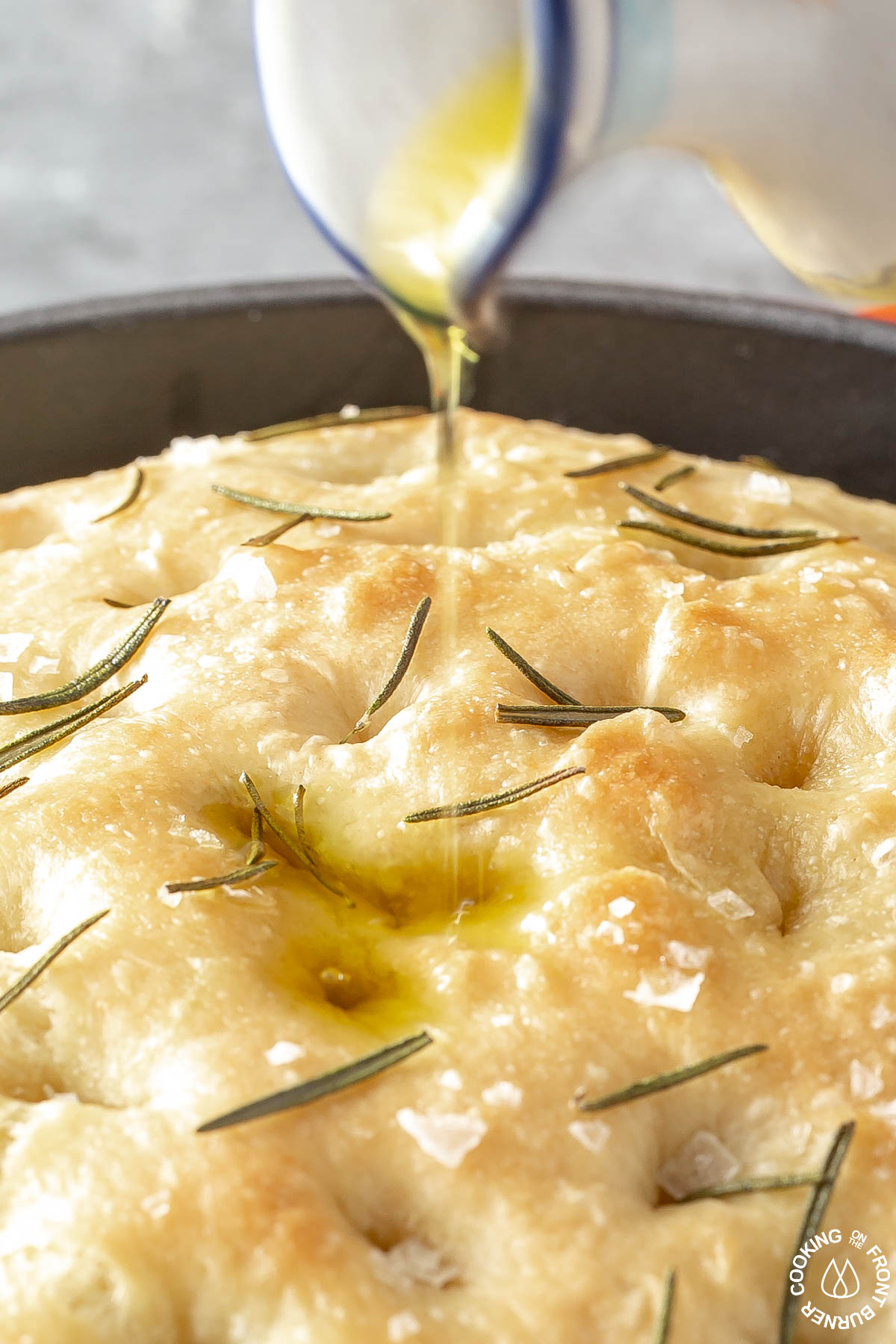 Storage
The bread is really best when served warm out of the oven. After it cools and sits after an hour or so, the top crust gets a bit soft - not that that is a bad thing, but we liked the crispy texture. It can be stored in a airtight container for 2 days. If you would like it warm again, place in a 350 degree oven for about 5-7 minutes.
Recipes to serve with bread
We seem to enjoy bread with casseroles and soups. A few recipes that come to mind: Baked Ravioli Skillet, Creamy Tuscan Tortellini Soup and Pizza Tortellini Skillet.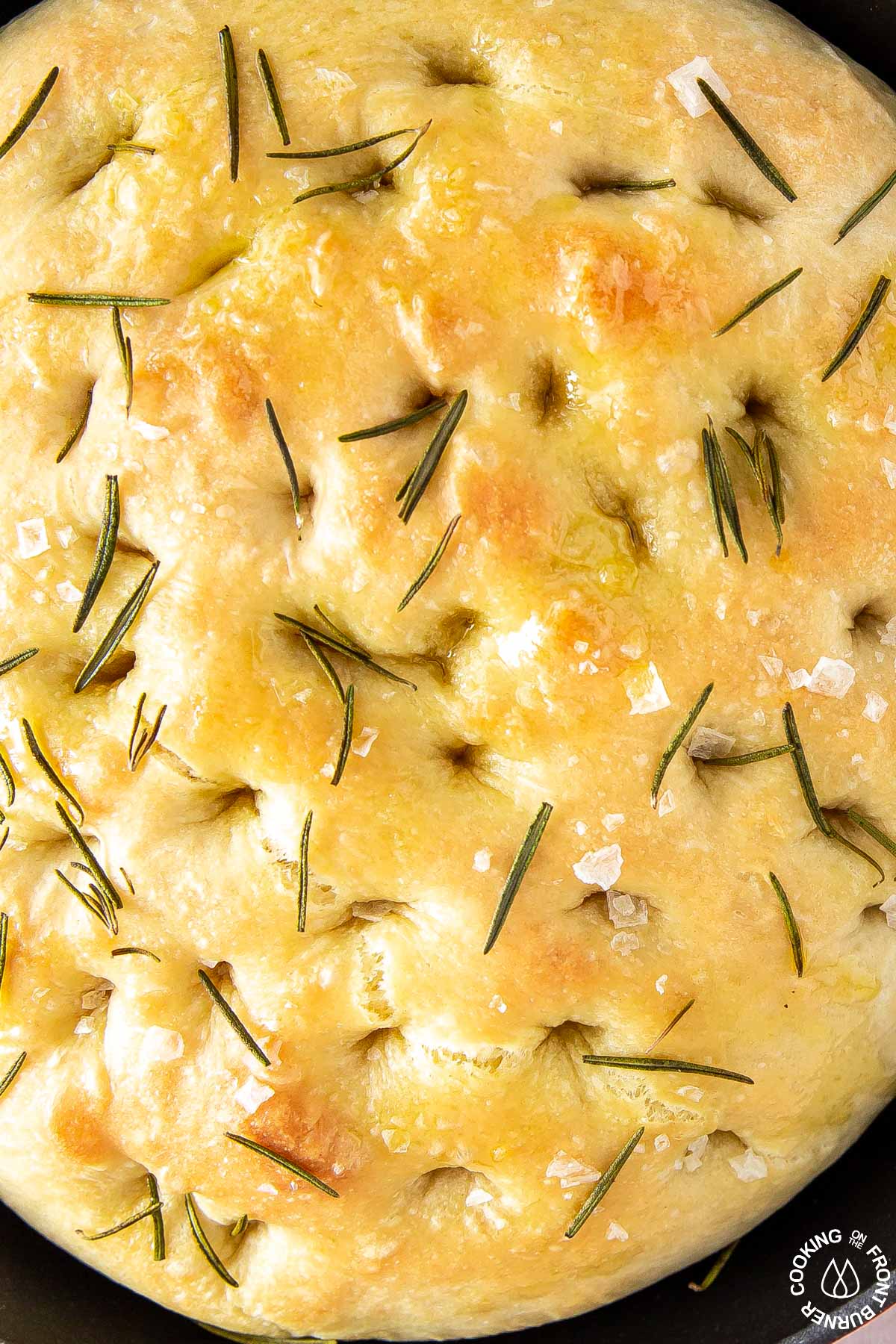 Be sure to pin this recipe to make later!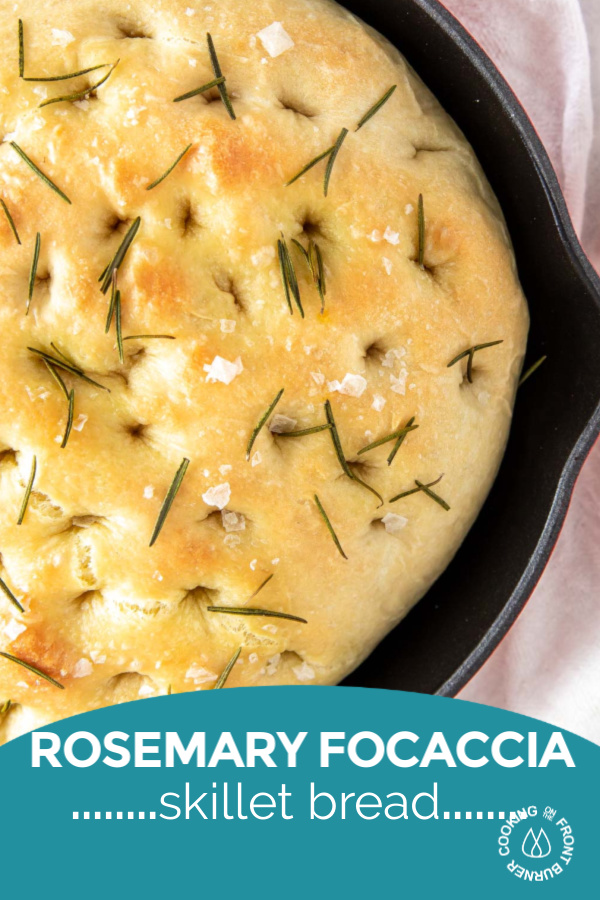 Get the Recipe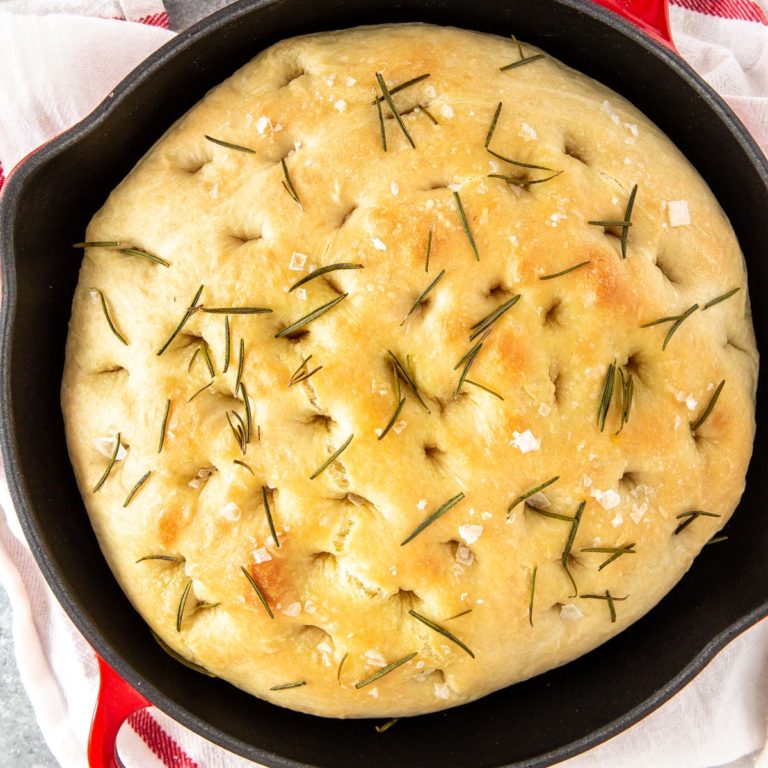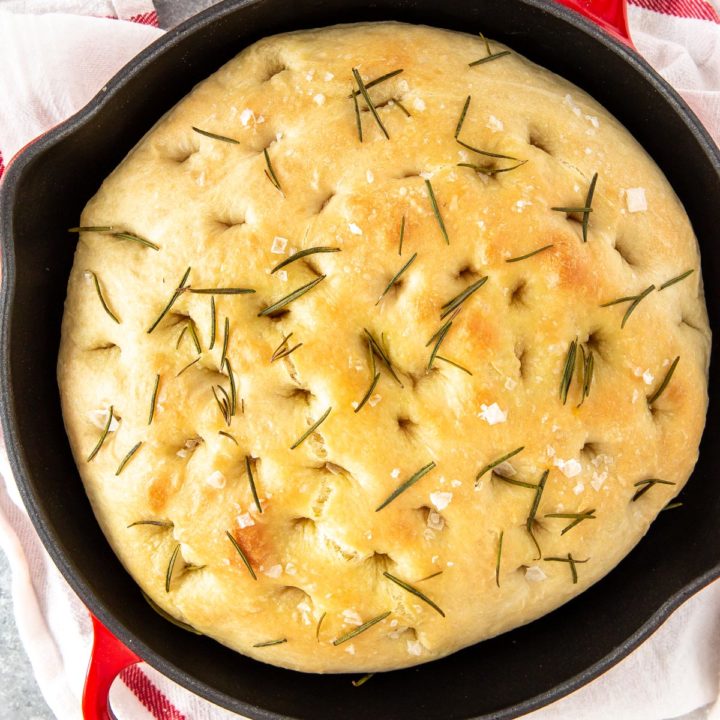 Skillet Focaccia Bread with Rosemary
A chewy bread that is perfect to serve alongside any meal
Ingredients
1 ⅓ cup warm water (about 110 degrees)
2 teaspoons sugar
2 ¼ teaspoons dry yeast (one package)
3 ½ cups flour
¼ cup olive oil, plus more for drizzling if desired
1 teaspoon flaky sea salt, plus more for sprinkling
1 tablespoon fresh rosemary leaves
Instructions
In your mixing bowl, add the water and sugar; stir then sprinkle yeast on top and stir again
After about 5 minutes your yeast should be foamy on top of water
Add in olive oil and salt on low setting
Gradually add in flour on a medium-low setting until it forms into a ball and mix about 5 minutes (if sticky add up to ¼ cup flour)
Remove dough from mixer and place in a bowl that has a light coating of olive oil. Flip and then place a damp cloth on top
Let dough rise about 45-60 minutes (until about double)
Place of light coating of olive oil in a 10" skillet
Place dough in skillet and use your fingers to spread to edges
Place damp cloth on top and let rise for another 20 minutes
Meanwhile preheat your oven to 400°
Remove cloth and use your fingers to poke holes throughout dough, be sure to poke all the way down
Brush with olive oil, sprinkled with fresh rosemary and sea salt (do not use table salt)
Bake for about 20 minutes until lightly golden
Remove, drizzle with additional oil if desired; serve warm
Notes
See step by step instructions in post
Nutrition Information:
Yield:

12
Serving Size:

1
Amount Per Serving:
Calories:

178
Total Fat:

5g
Saturated Fat:

1g
Trans Fat:

0g
Unsaturated Fat:

4g
Cholesterol:

0mg
Sodium:

179mg
Carbohydrates:

29g
Fiber:

1g
Sugar:

1g
Protein:

4g
Nutritional information provided is computer-generated and only an estimate. You may want to do your own research with the ingredients listed if you have concerns about health or specific diets.
Other recipes that would be yummy with focaccia bread:
I was inspired to make this recipe from Gimme Some Oven
About the Author
Recent Posts
Recipe Index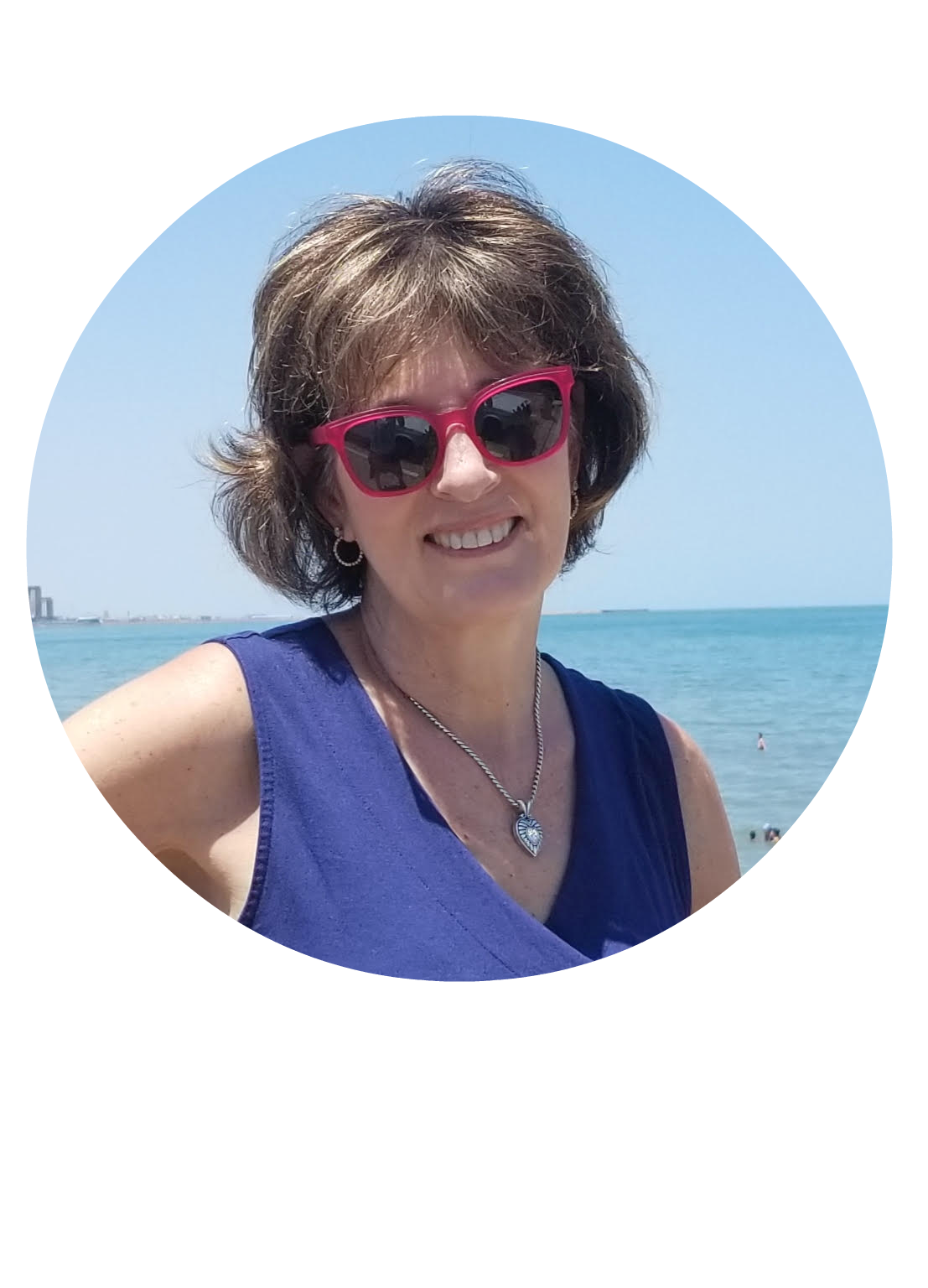 We are all about sharing our love of good food so on the blog you will find easy recipes to enjoy with your family and friends.  We hope to inspire you to host a gathering to create special memories.  Most recipes are step by step so you can feel confident in the kitchen.  Take a look around to find everything from breakfast to dinner and everything in-between!