This Baked Spinach Ravioli Bake can be made and served in one skillet. Bonus, it can be on the table too in 30 minutes!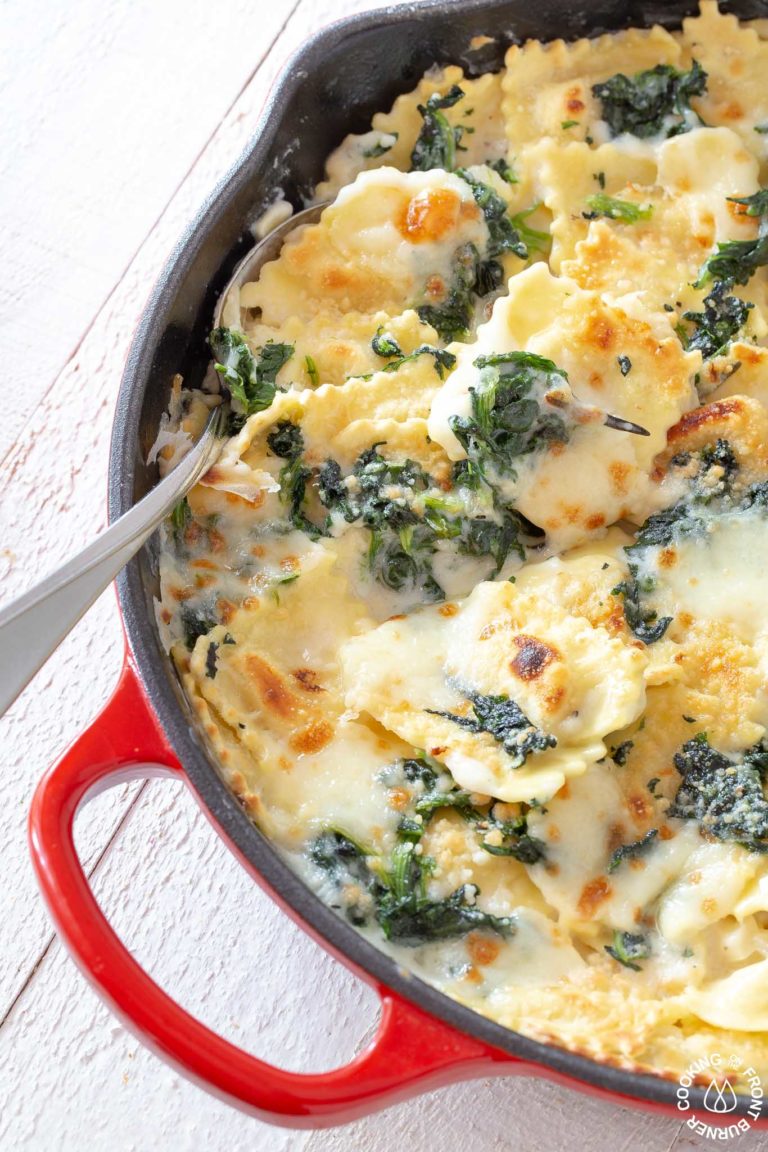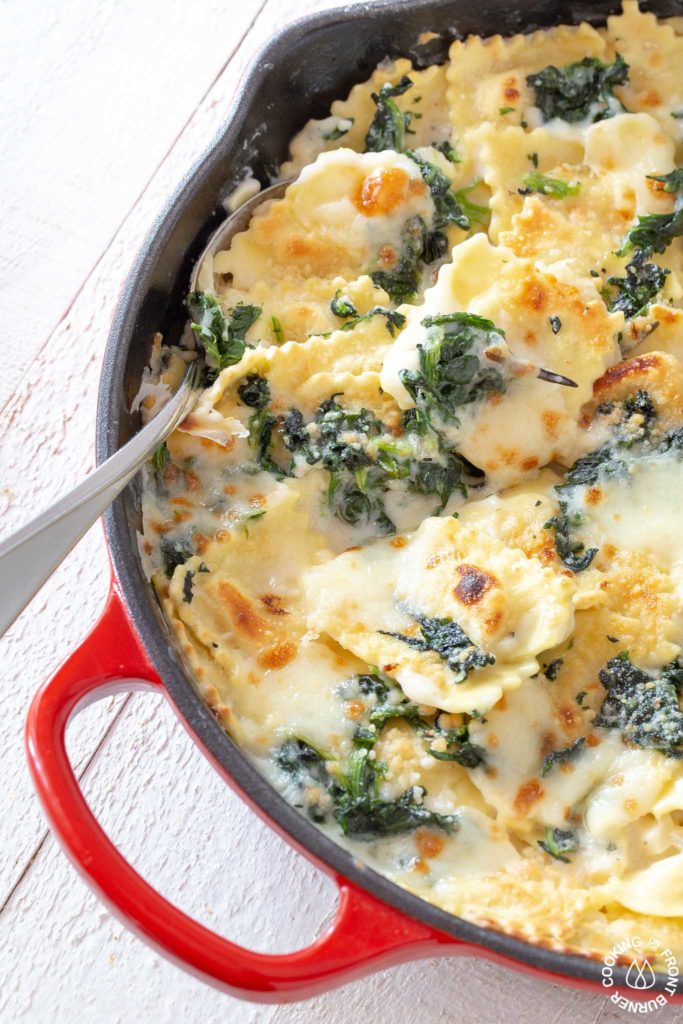 ~Baked Spinach Ravioli Skillet~
Don't you just love a fast and easy meal to serve your family? Especially when it can be made and served in one skillet?
Today's recipe can be one of your go to meals when you need something fast. It's a hearty meal to serve up any time of the year.
Skillet meals are prepared and served in one pan. Easy peasy!
This bake is similar to lasagna and is a great meatless meal the entire family will enjoy. It is super creamy and cheesy.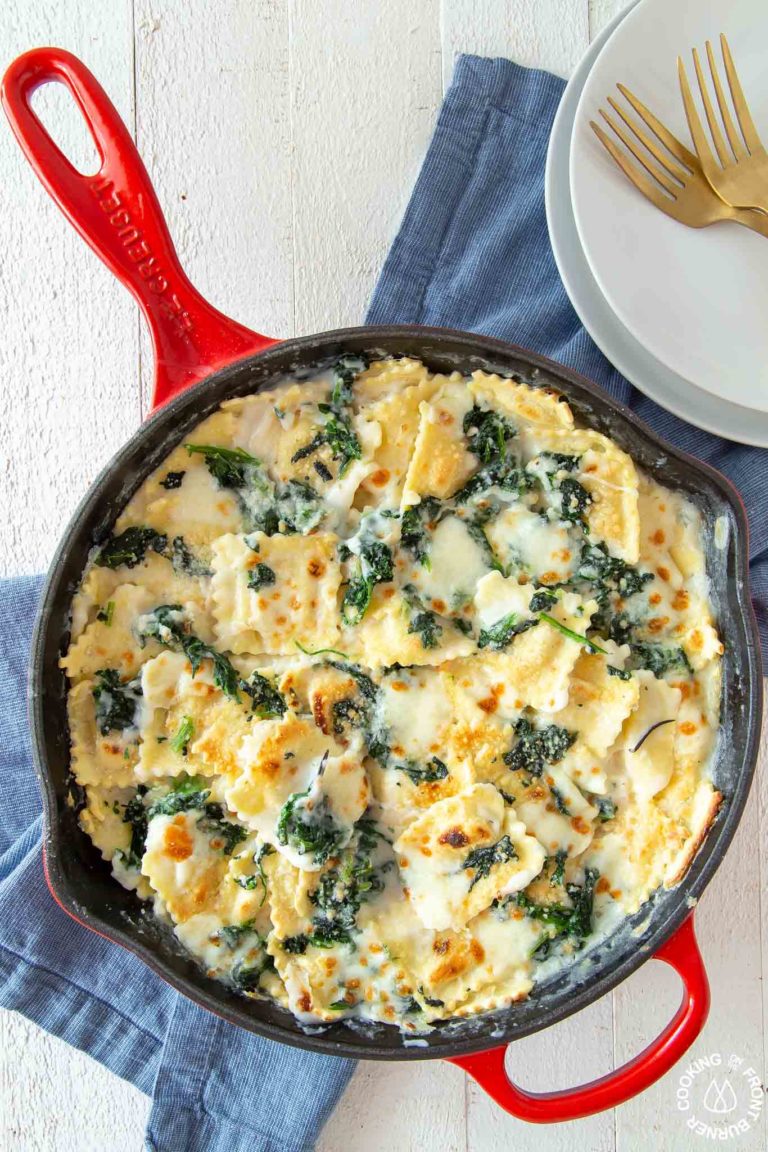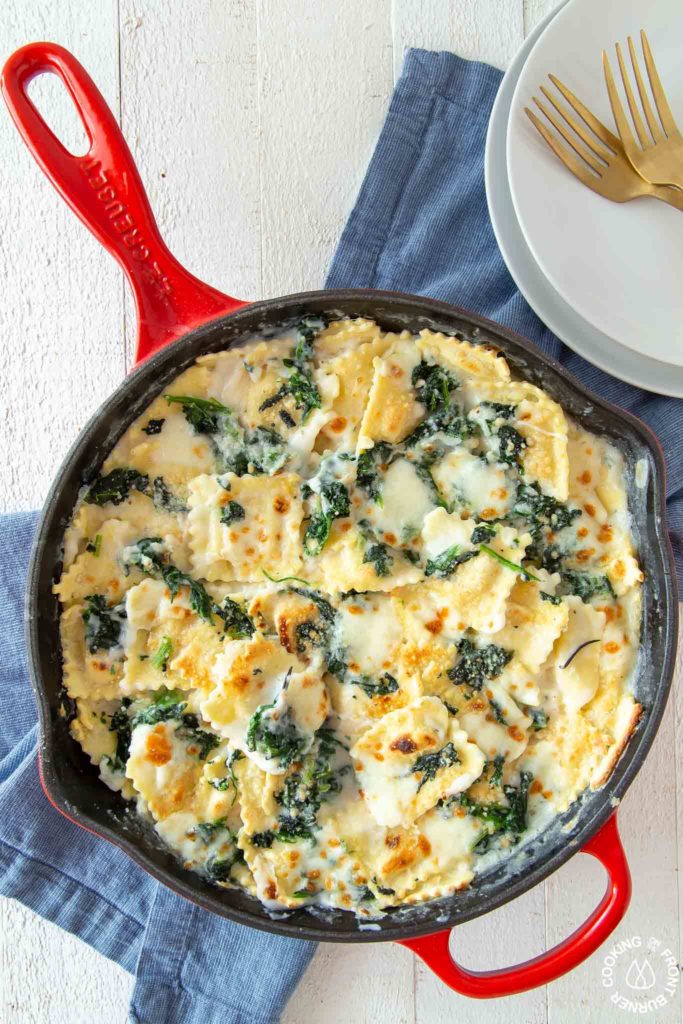 What ingredients will you need for this pasta bake?
Packaged Cheese Ravioli
Frozen Spinach
Whole Milk
Onion
Butter
Garlic
Flour
Fresh Rosemary
Salt
Pepper
Mozzarella Cheese
Parmesan Cheese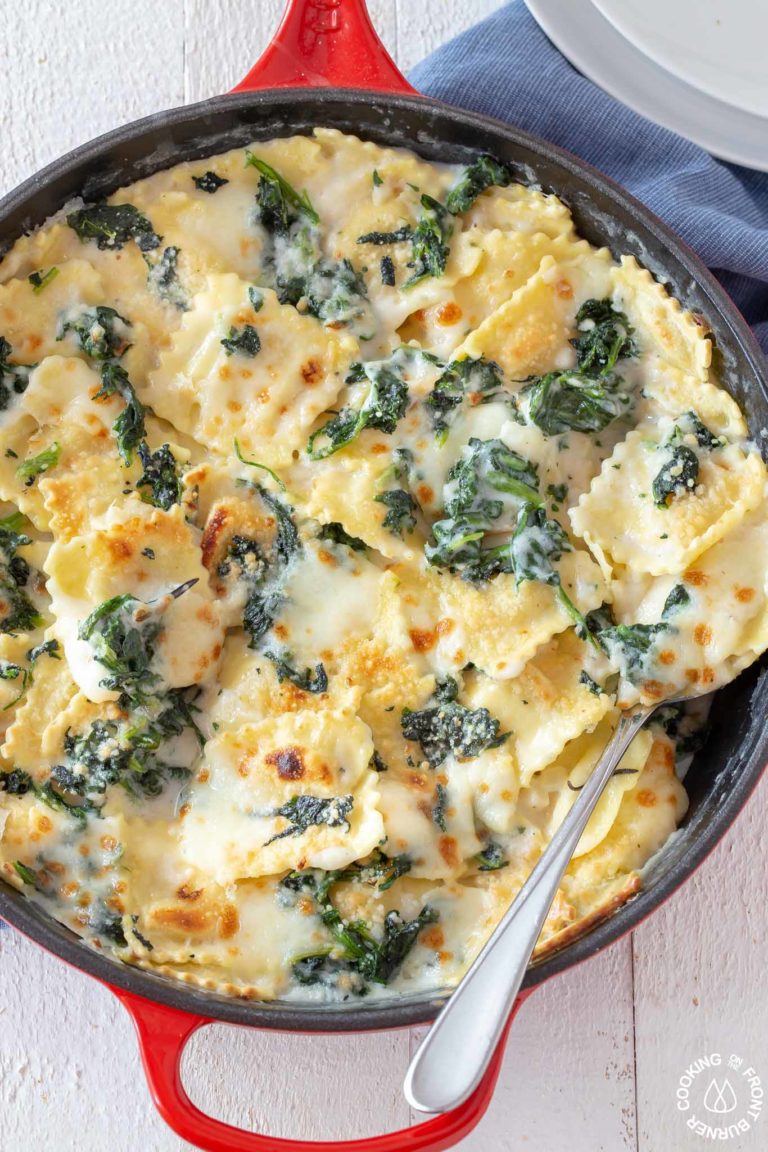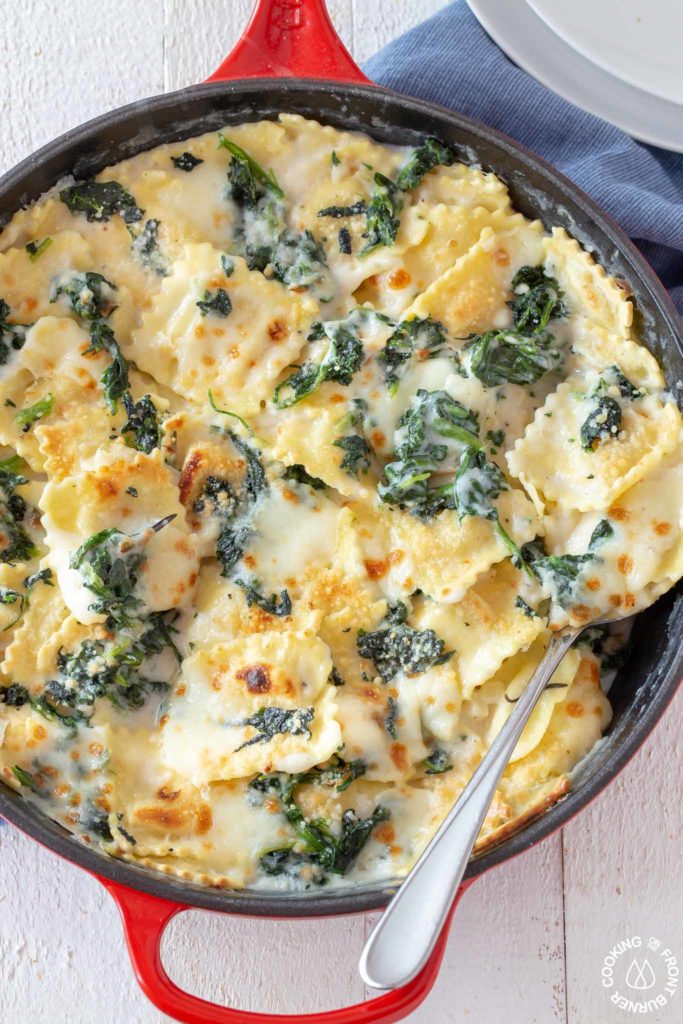 How do you prepare a skillet bake?
This recipe starts by sauteing onion and garlic in butter then making a sauce with the flour and butter.
The ravioli will cook in this sauce and when it is done, you will add the thawed frozen spinach, top with cheese and broil until the cheese starts to melt. Be sure to use a skillet that can be placed under the broiler.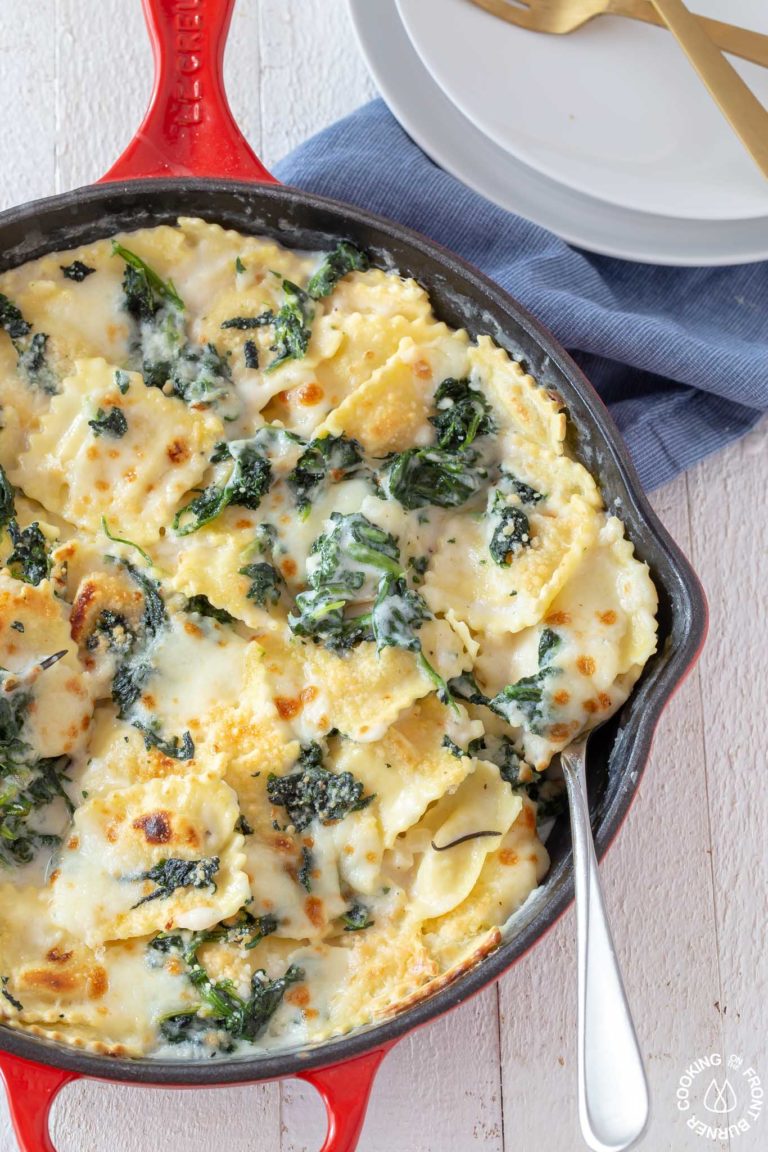 What can be served with a pasta bake?
Well, glad you asked! Since I love using my skillet, this No-Knead Bread would go perfect alongside this dish. Bread and pasta go great together. It can be started in the afternoon to serve with the pasta.
Another side dish would be to serve a salad. If you want to keep with the Italian theme, then I would suggest a Lemon Caprese Salad. It is a bit on the lighter side and won't compete with the hearty pasta.
For dessert, let's still keep with Italian and serve these Mini Cannoli Bites. They can be made in 10 minutes.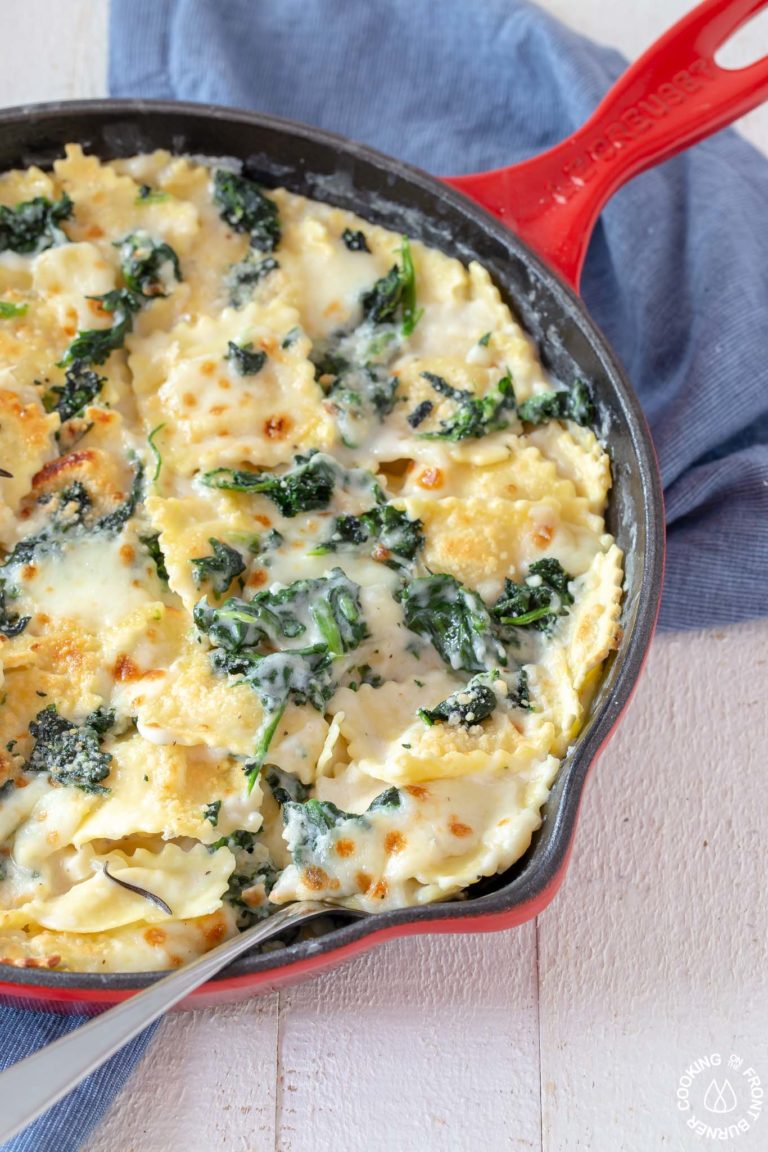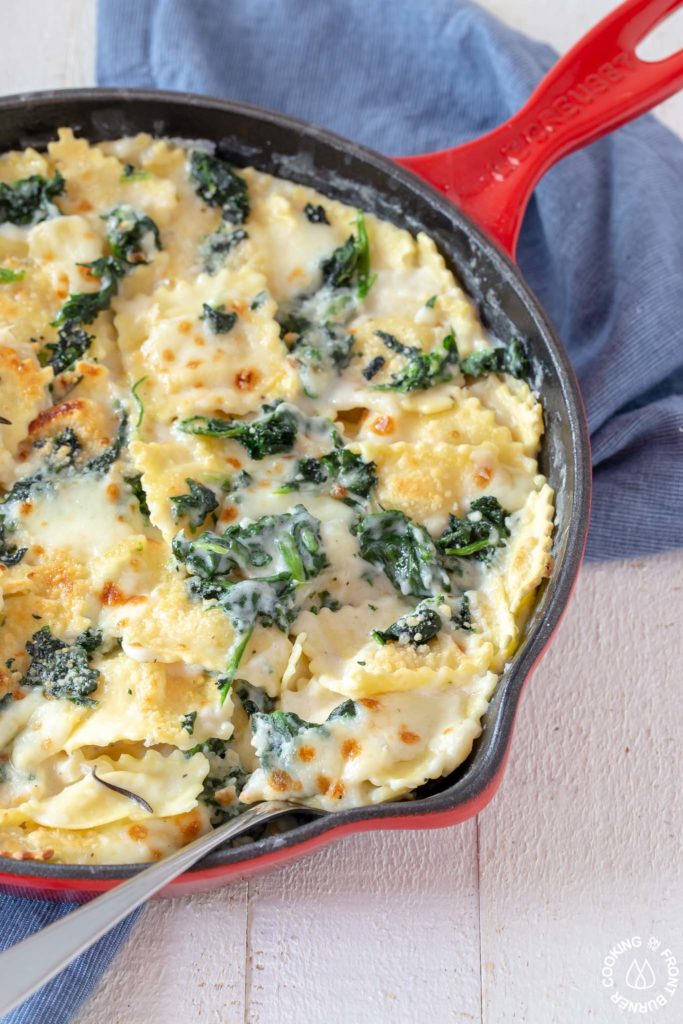 If you are wanting to try some other great pasta bakes, be sure to check out these too.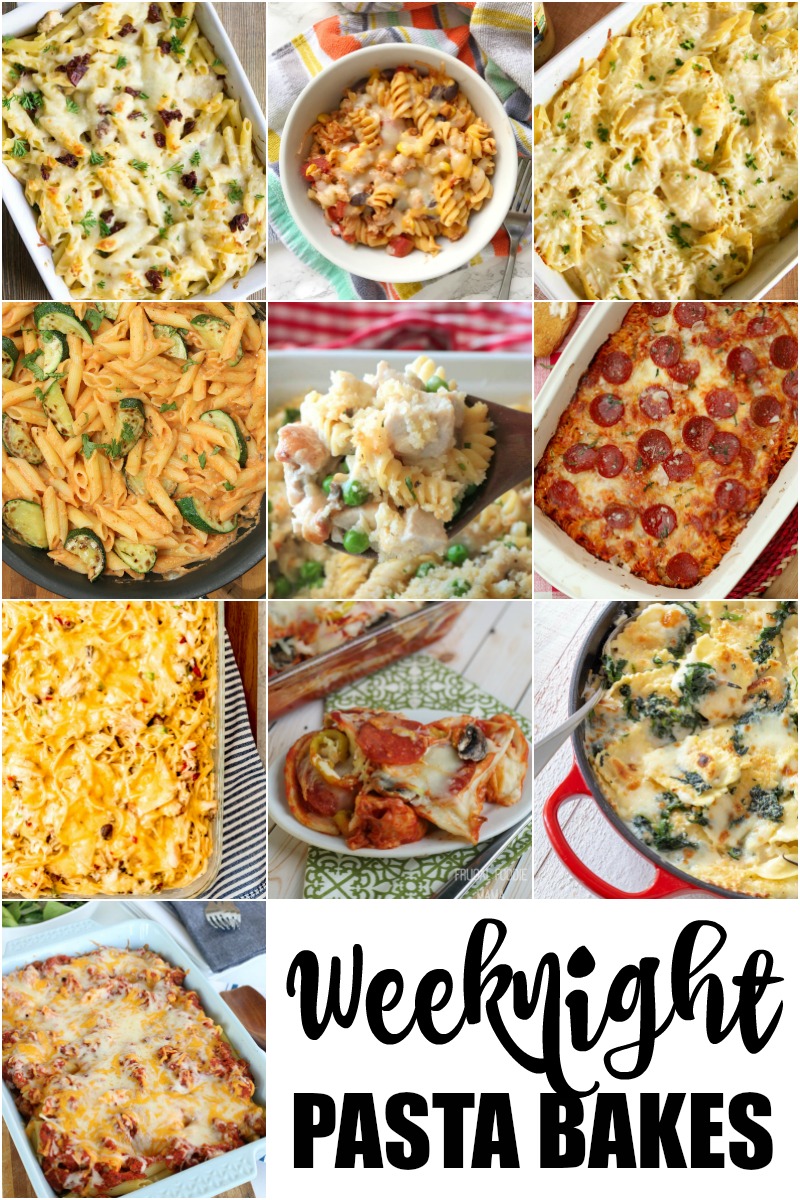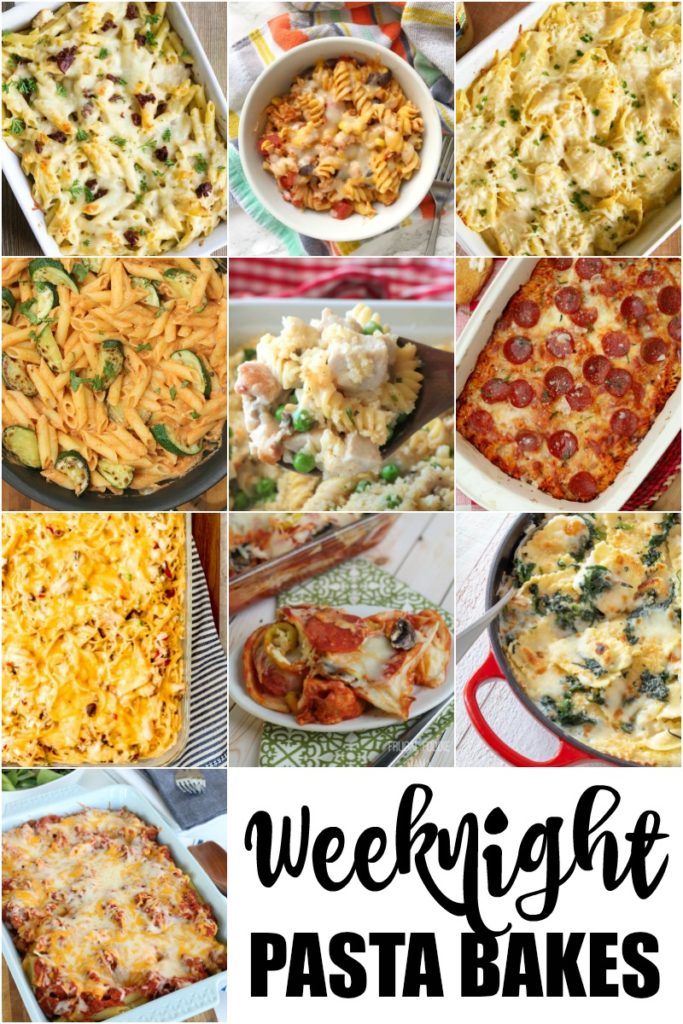 Turkey Casserole
Baked Pasta with Sriracha Cream Sauce
Chicken Spaghetti Casserole
Chicken Sausage Pasta Bake
Pepperoni Pizza Pasta Bake
Pizza Pierogi Casserole
Baked Spinach Ravioli Skillet
Fiesta Pasta Bake
Chicken Alfredo Stuffed Shells
Chicken Glorioso Pasta Bake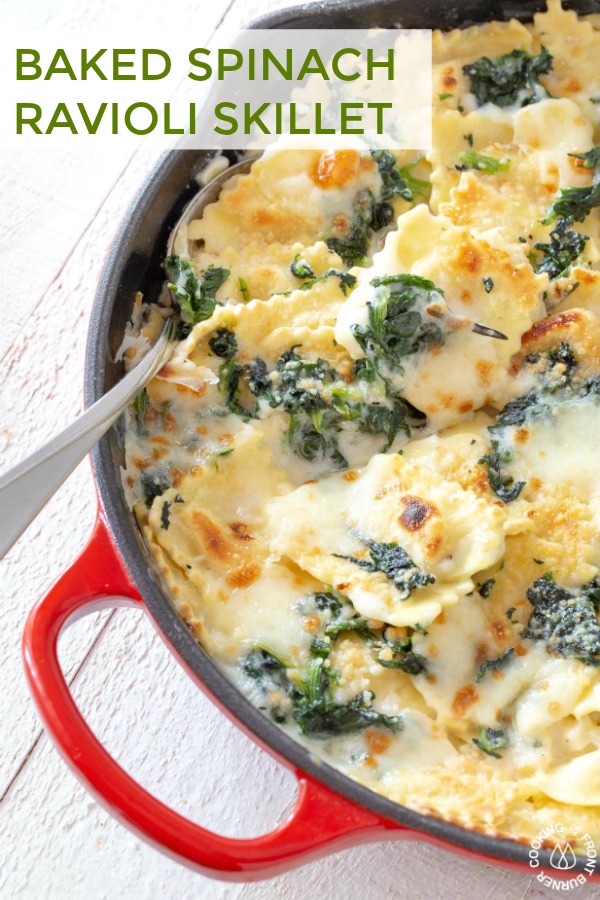 Get the Recipe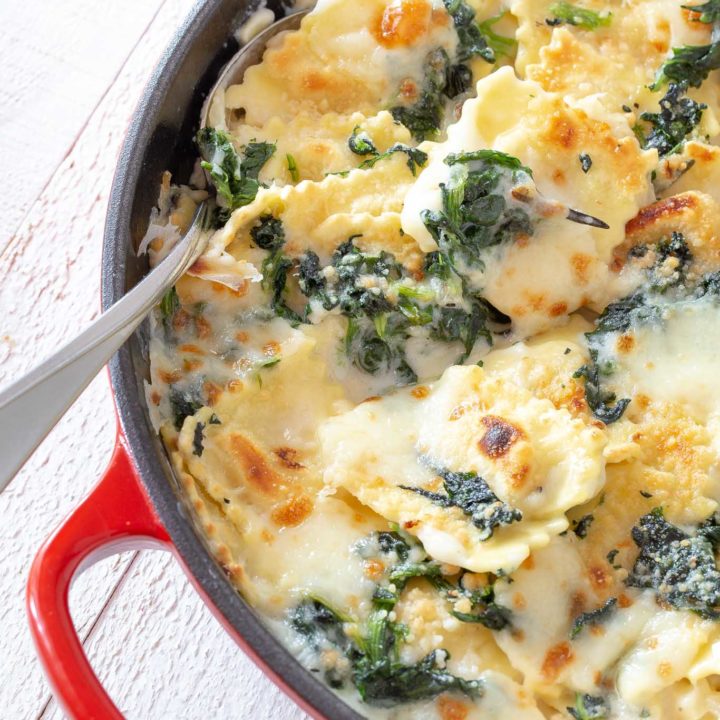 Baked Spinach Ravioli Skillet
You will love this creamy and cheesy pasta dish that can be on the table in 30 minutes!
Ingredients
4 tablespoons butter
⅓ cup onion, chopped
2 cloves garlic, minced
2 sprigs fresh rosemary
2 cups whole milk
2 cups water
¼ cup flour
18 ounces refrigerated ravioli
10 ounces frozen spinach, thawed and squeezed dry
2 ounces mozzarella cheese cut into cubes (not fresh)
¼ cup parmesan cheese
Instructions
Preheat your broiler.
Melt the butter in a large ovenproof skillet over medium-high heat. Add the onion, garlic and rosemary and cook, stirring often, until the onion is soft and just starts browning, about 6 minutes.
Sprinkle in the flour and cook, stirring, until smooth and bubbling, about 2 minutes. Stir in 2 cups water, the milk, ½ teaspoon salt and a few grinds of pepper. Bring to a boil, then reduce the heat to a gentle simmer. Stir in the ravioli and cook, stirring occasionally, until the ravioli are tender and the sauce thickens, 5 to 7 minutes.
Remove from the heat. Discard the rosemary sprigs and stir in the spinach. Sprinkle with the mozzarella and grana padano. Place the skillet under the broiler until golden and bubbling, about 5 minutes.
About the Author
Recent Posts
Recipe Index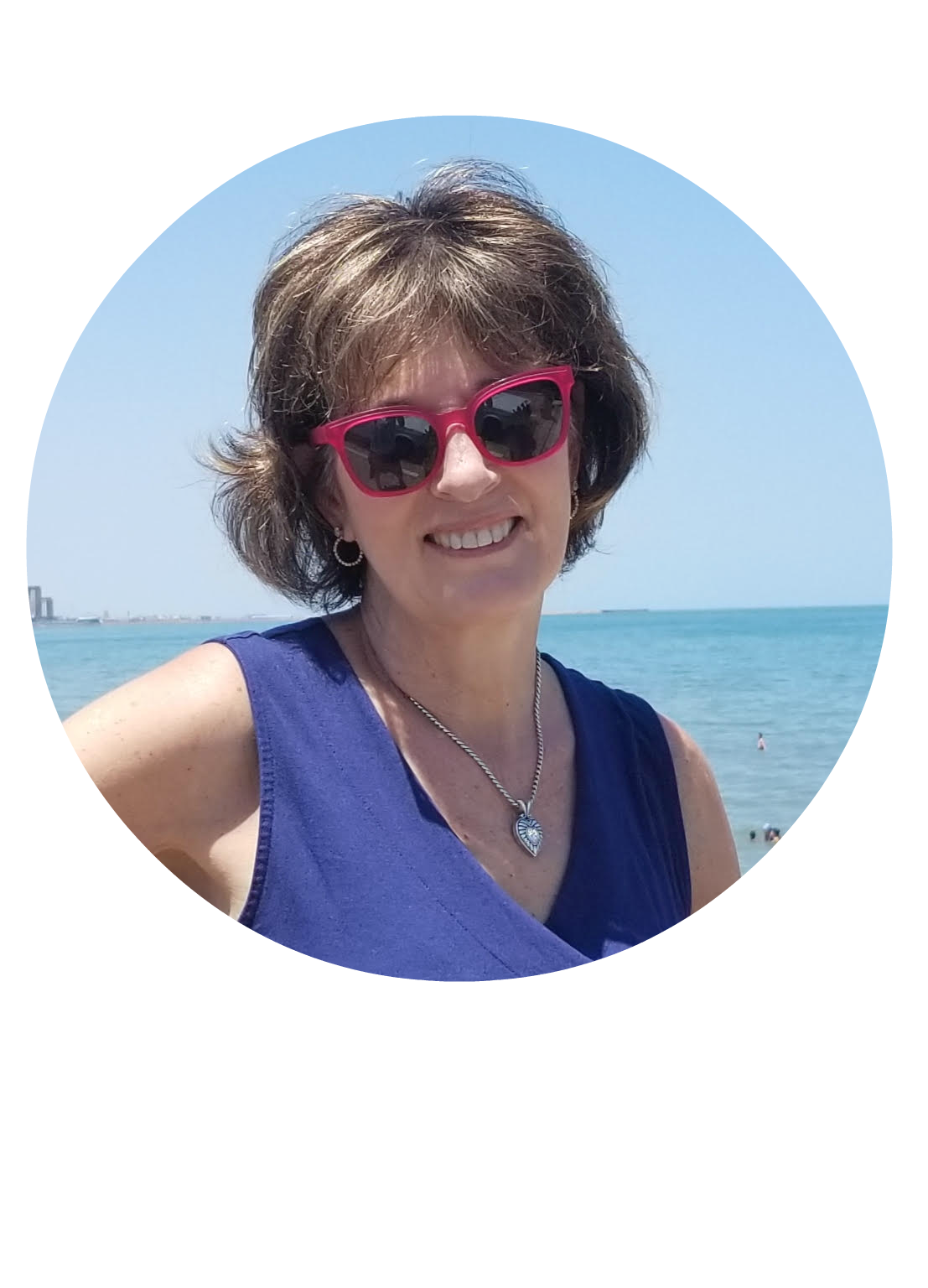 We are all about sharing our love of good food so on the blog you will find easy recipes to enjoy with your family and friends.  We hope to inspire you to host a gathering to create special memories.  Most recipes are step by step so you can feel confident in the kitchen.  Take a look around to find everything from breakfast to dinner and everything in-between!