Chocolate Chip Banana Bread is a classic recipe that is super moist and loaded with ripe bananas, oatmeal and chocolate chips. Enjoy for snacking, breakfast, or any time you want to treat yourself.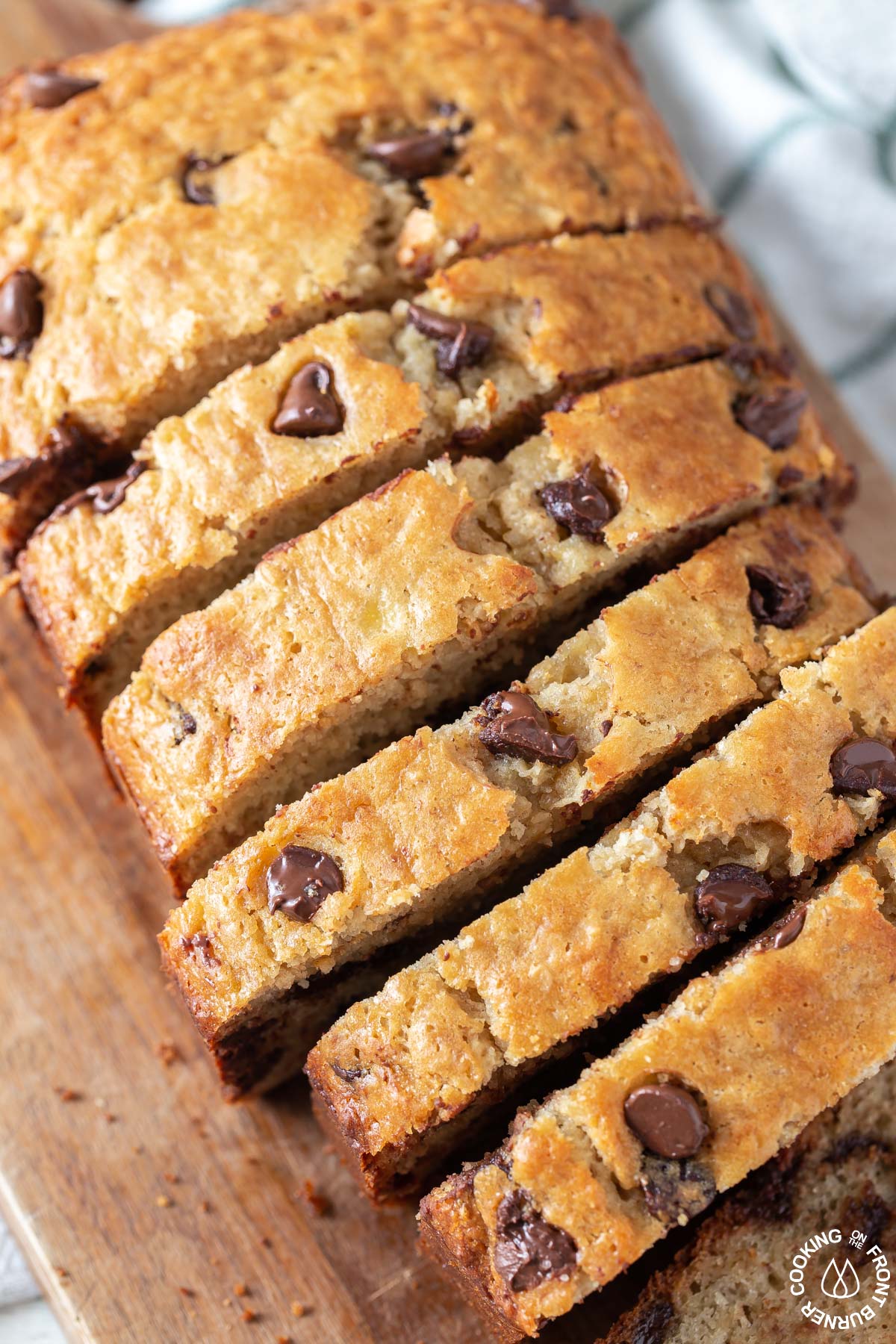 Hold up on throwing away those overripe bananas! If you are like me, you buy them and slowly watch them go from yellow to black without a plan and then try not to feel guilty about tossing them away.
This has happened to me more than a few times these past weeks. I'm trying to stock up on fresh food but for some reason the bananas tend to stick around longer than they should.
That's all going to change today with this recipe I'm sharing. And if you don't have the time to deal with them right away, they can be frozen until you are ready. I never knew that was an option but have been enlightened by a friend!
Jump to: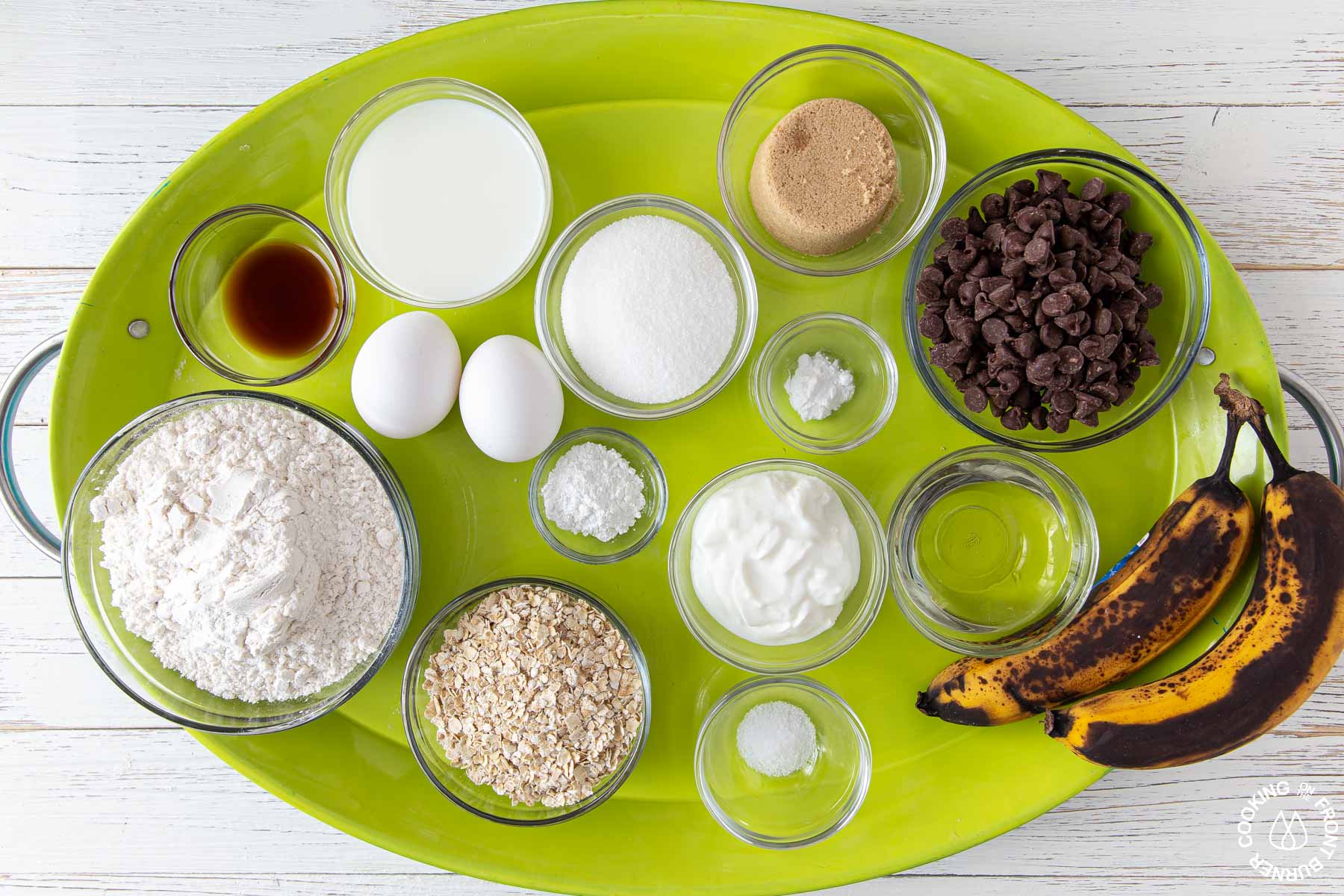 Ingredients
flour
eggs
oatmeal
ripe bananas
coconut oil
yogurt
sugar
brown sugar
milk
vanilla extract
baking powder
baking soda
salt
chocolate chips
Step by Step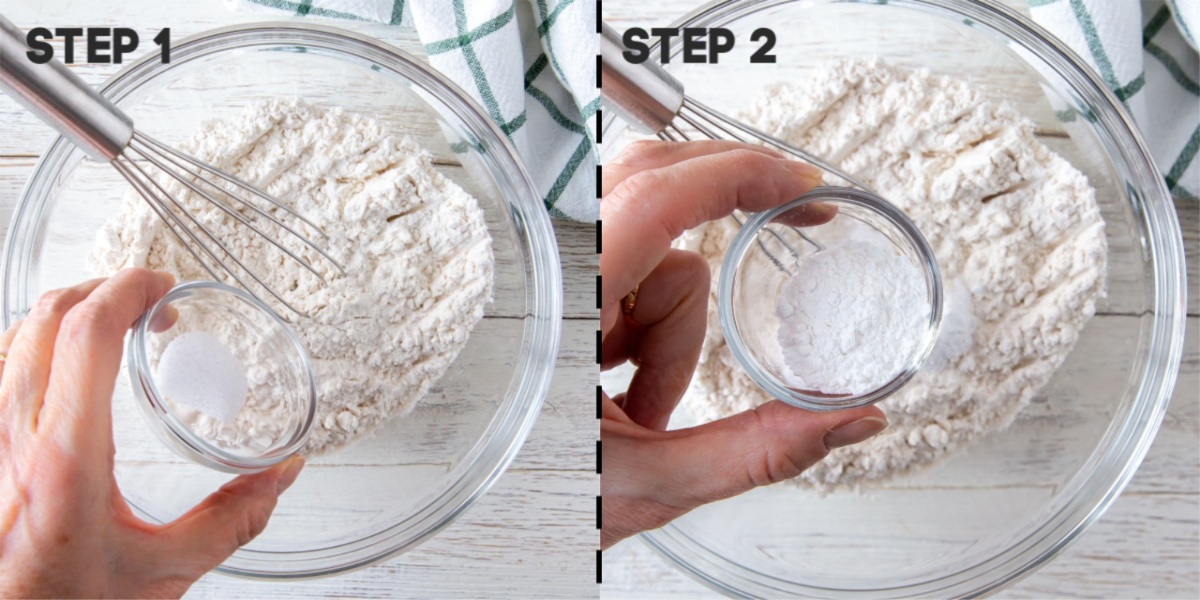 The first thing you will do is mix the dry ingredients and set them aside
Step 1 - mix salt with flour
Step 2 - mix baking soda and salt with flour; set aside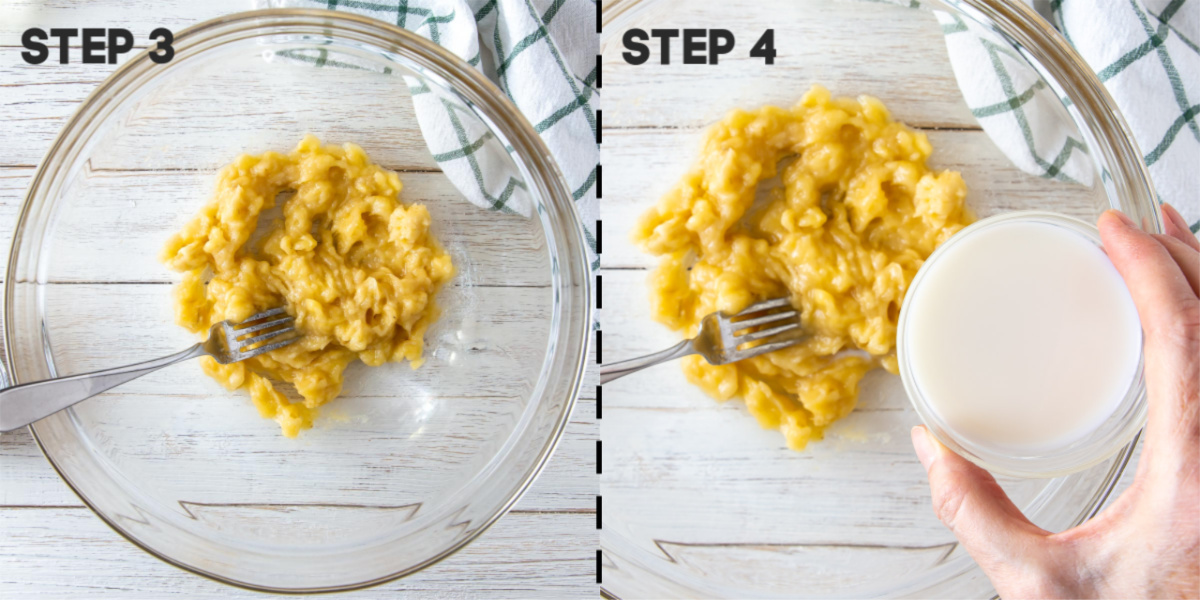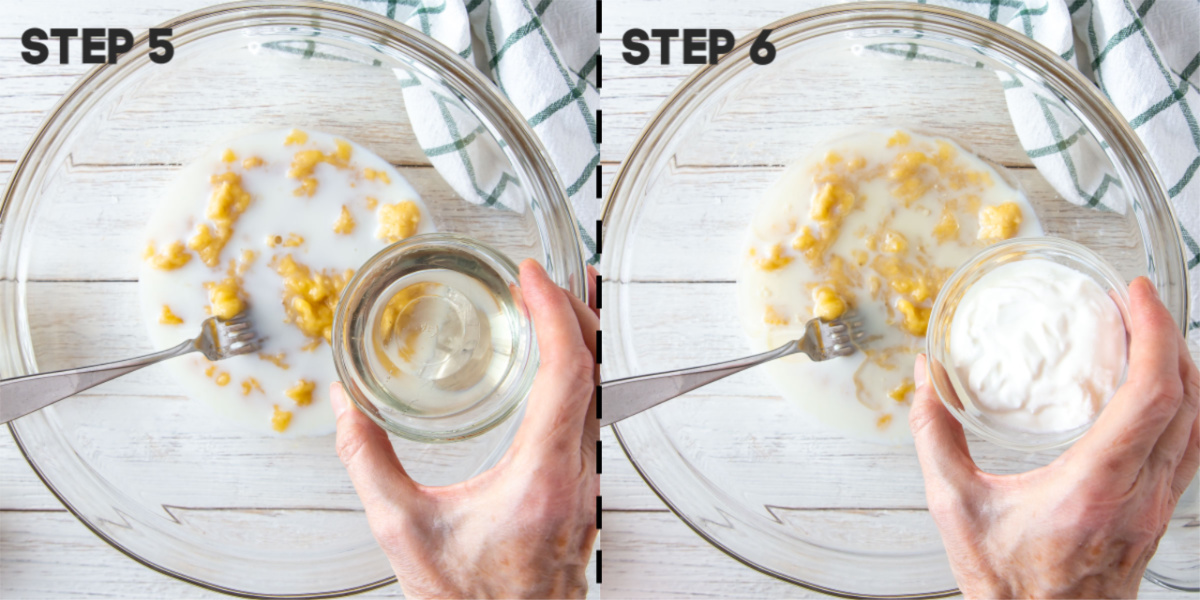 Step 3 - mash the ripe banana with a fork until it has just a few lumps - it should be nice and creamy
Step 4 - add milk
Step 5 - add in coconut oil (or other as mentioned in tips)
Step 6 - add in yogurt then mix until smooth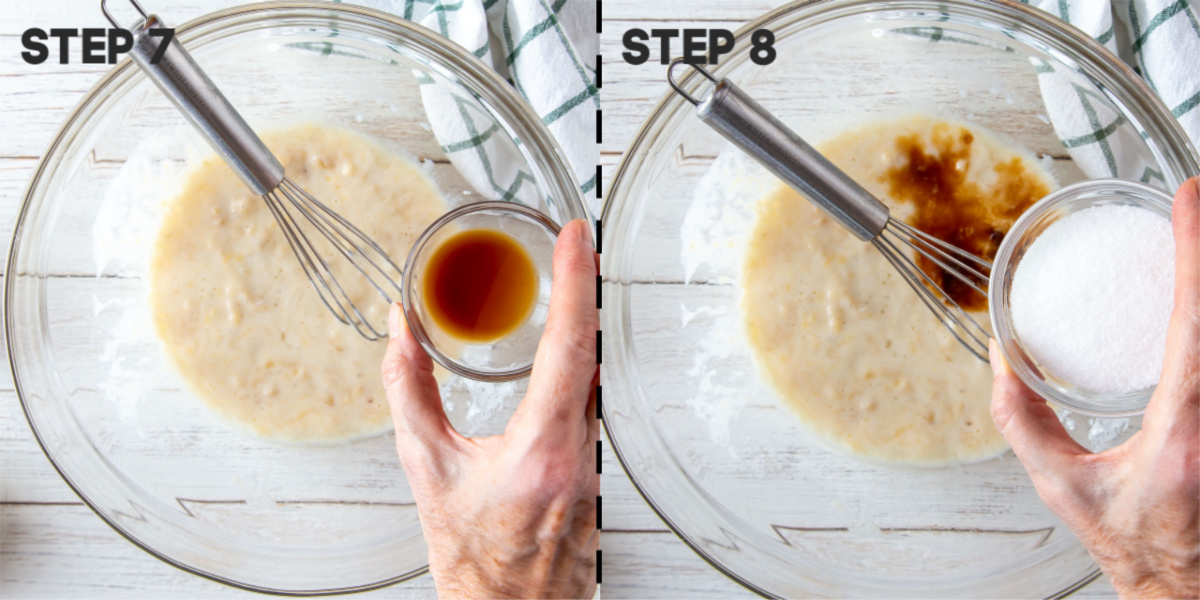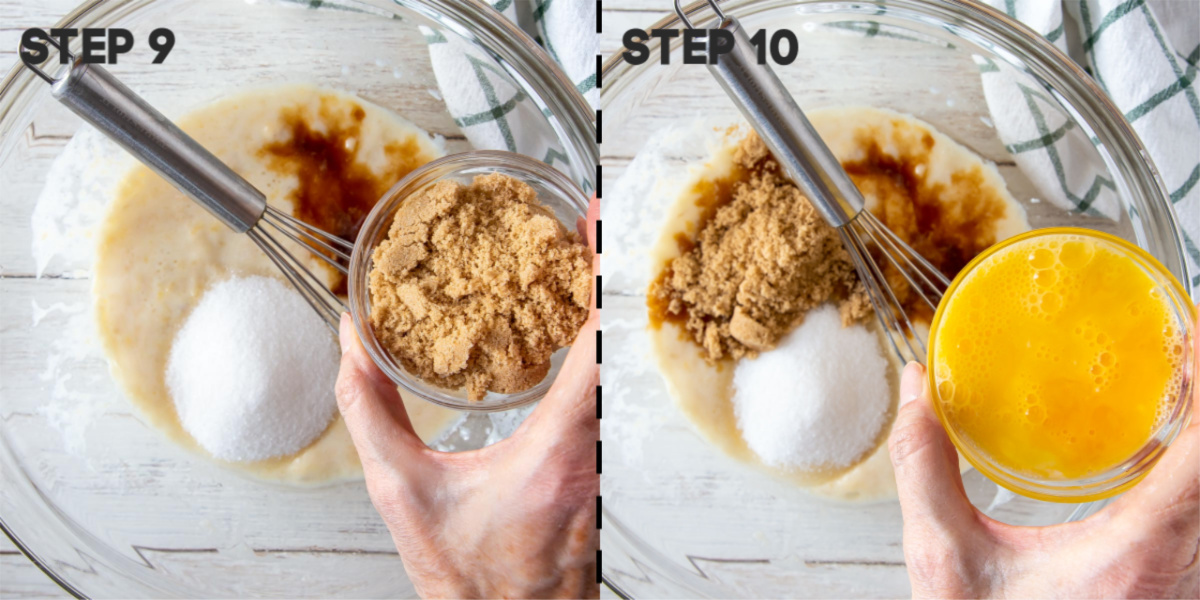 Step 7 - add in vanilla to smooth batter
Step 8 - add in granulated sugar
Step 9 - add in brown sugar
Step 10 - add two slightly beaten eggs and mix until smooth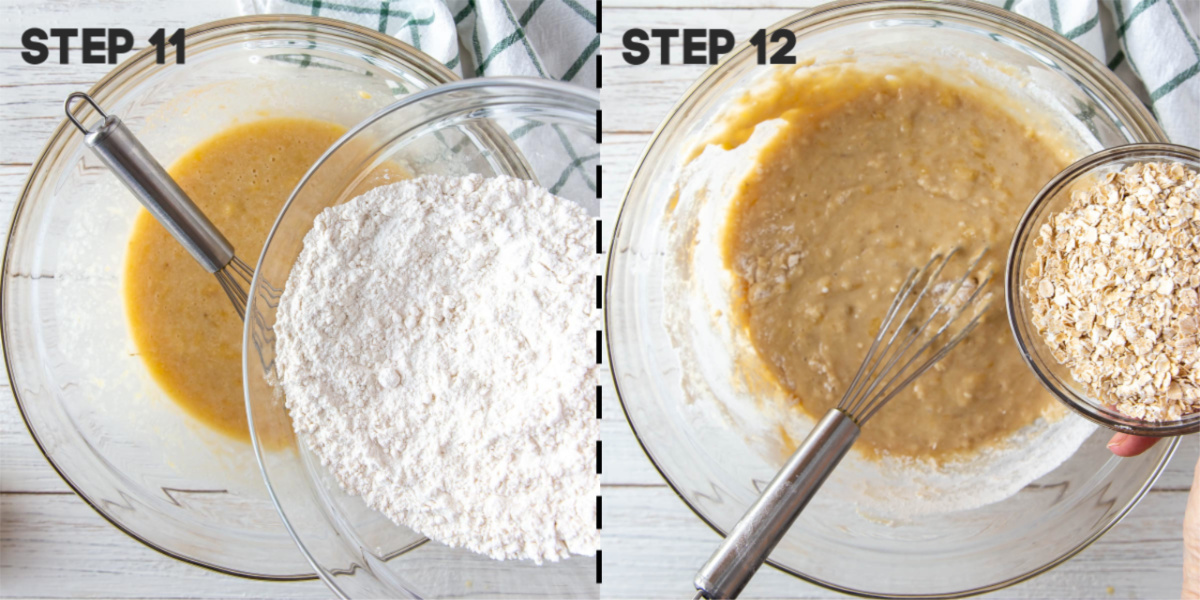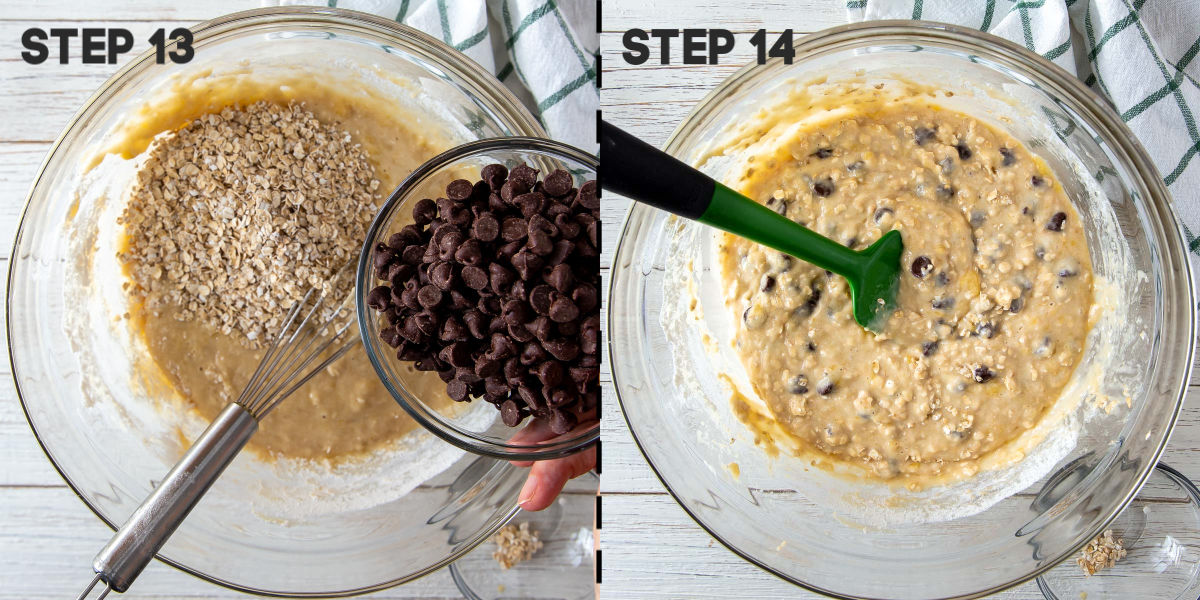 Now it is time to add the dry ingredients to the wet ones.
Step 11 - gradually add in flour a little at a time to the wet ingredients stirring until smooth
Step 12 - add in the oatmeal
Step 13 - add in the chocolate chips
Step 14 - mix with a spatula or wooden spoon until the batter is combined well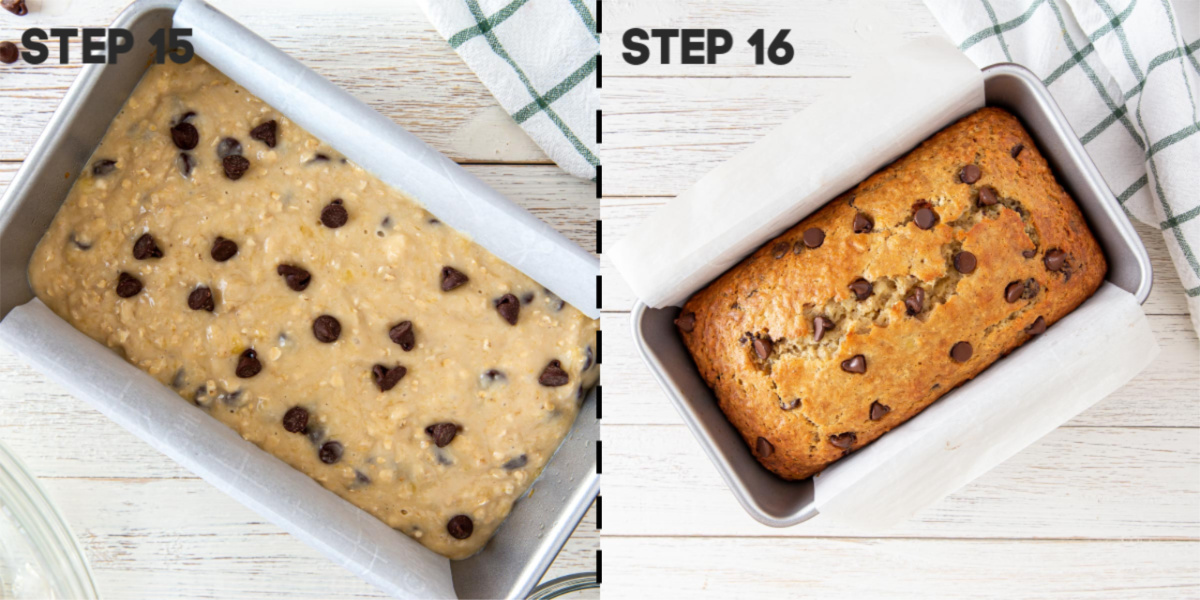 You are now ready to bake your bread!
Step 15 - place batter into a loaf pan and sprinkle additional chocolate chips; bake at 350 for about 50-55 minutes
Step 16 - enjoy after it cools down down - those chocolate chips can be hot!
Tips and Variations
The best bananas should be streaked with black and the darker the better (look at mine at top of page)
Ripe bananas can be frozen until ready to use (just thaw)
Old fashioned oatmeal can be used in place of quick oats
Sour cream can be substituted for the yogurt
Instead of vanilla yogurt, plain or even banana flavor could be used
Canola or vegetable oil can be substituted for the coconut
As an added crunch, add up to a ½ cup of walnuts or pecans
As shown in Step 15, you will notice that I have placed parchment paper in the loaf pan. This prevents sticking and is used an a "handle" to remove from pan
We really loved the texture of the bread - it was so moist and had great flavor. The chocolate chips really added a bit sweetness but not too overpowering.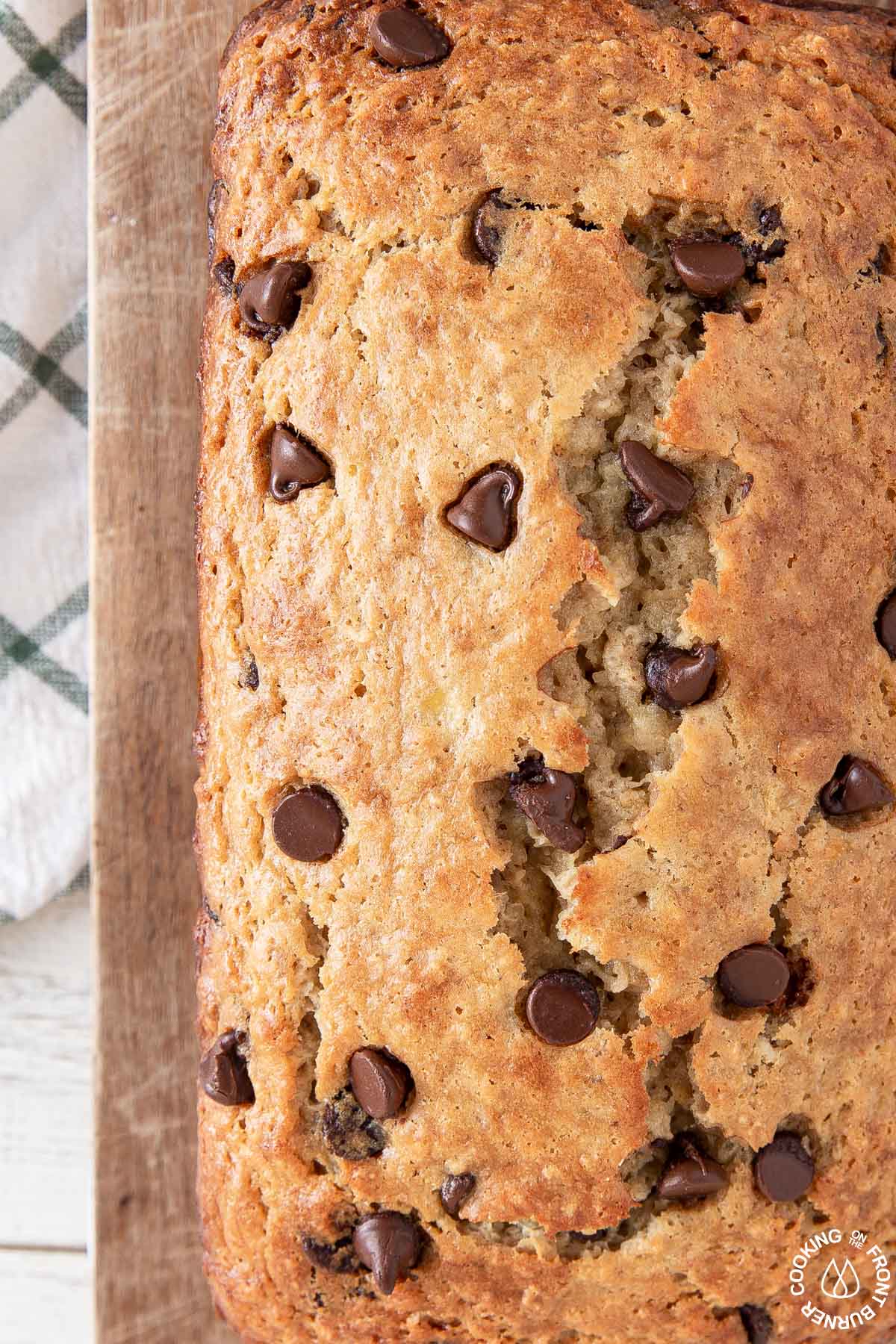 We couldn't wait for it to cool down to take a slice!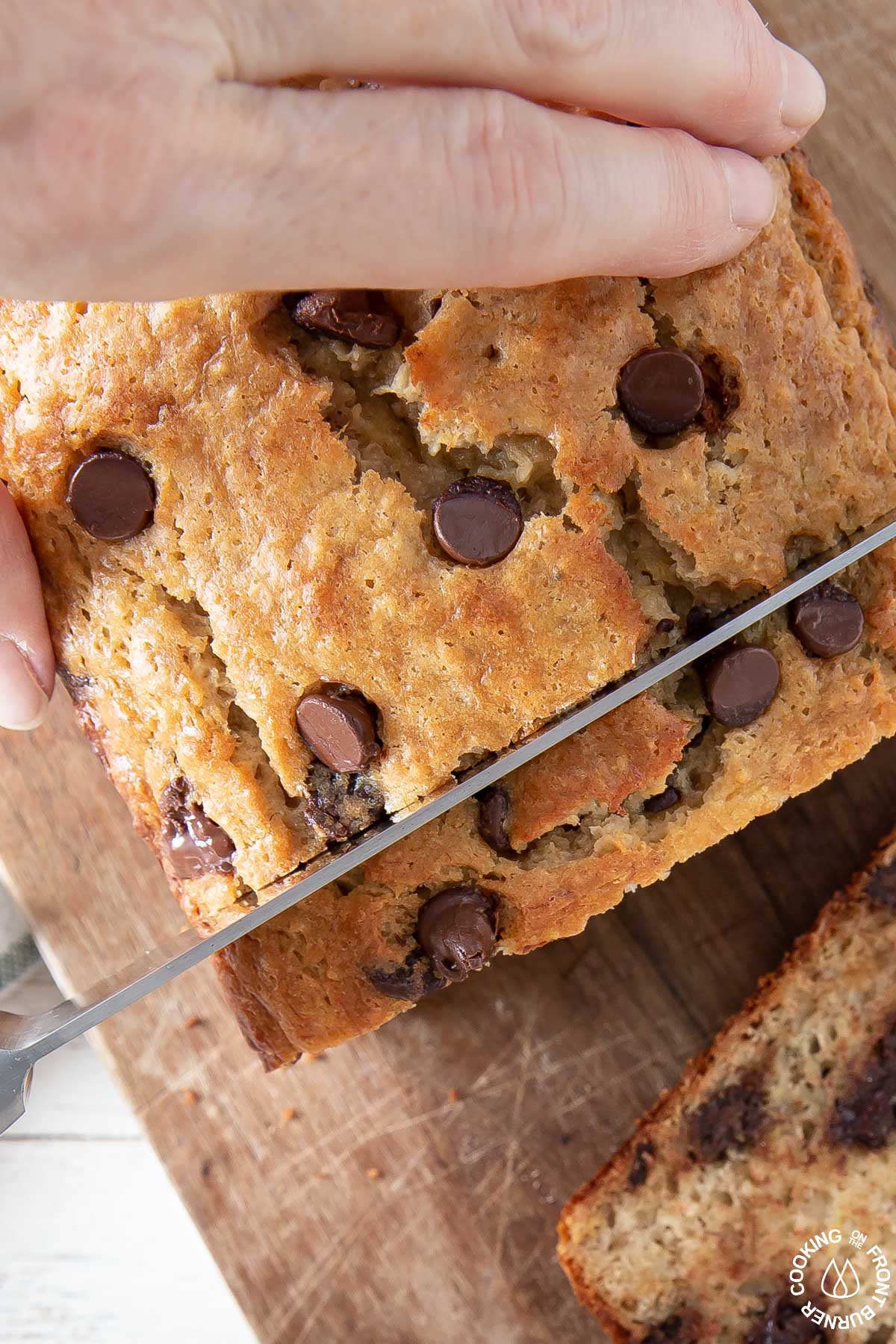 Oh so good!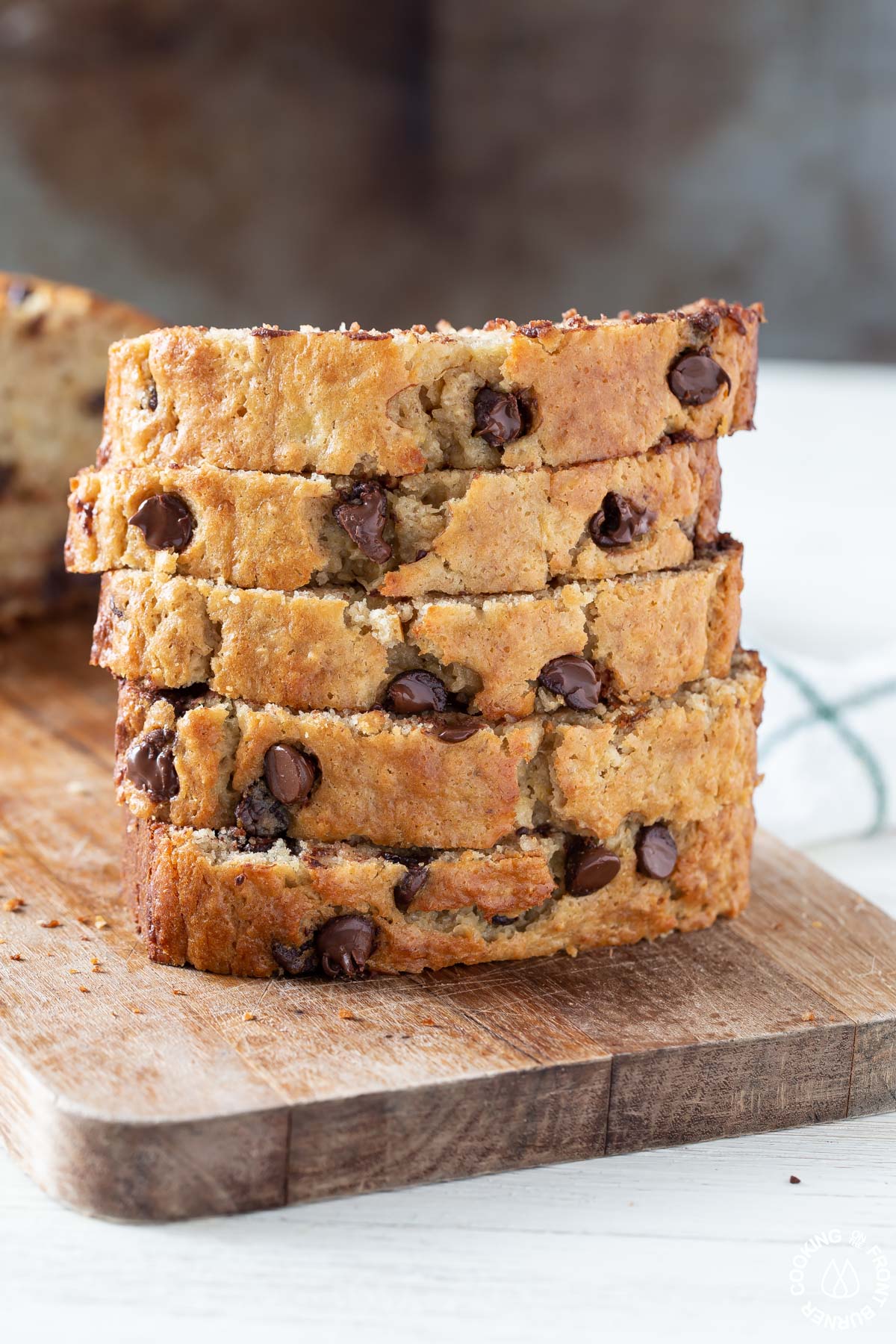 Storage
Banana bread will keep for 3-4 days on your counter if wrapped in plastic wrap. If you prefer to store in the refrigerator, again keep it wrapped tight and it should last for about a week. Freezing would be an option too lasting about 2-3 months.
Related Recipes
Other quick bread recipes you might enjoy.
Be sure to pin this recipe!
Get the Recipe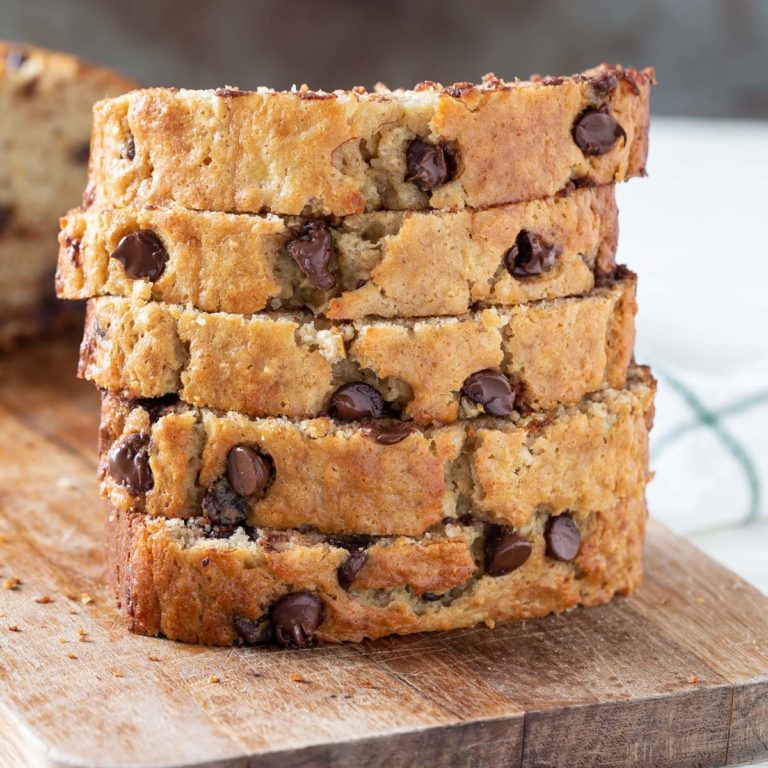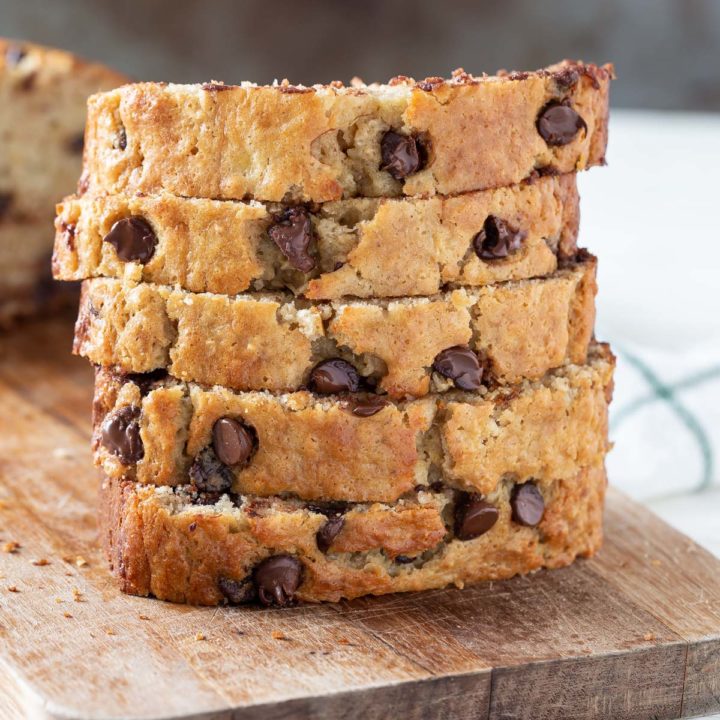 Chocolate Chip Banana Bread
Additional Time:
15 minutes
Total Time:
1 hour
15 minutes
A delicious banana bread with chocolate chips and oatmeal - perfect for a treat!
Ingredients
1 ½ cup flour
1 ½ teaspoon baking powder
¼ teaspoon baking soda
¾ cup quick oats
2 ripe bananas
⅓ cup milk
⅓ cup vanilla yogurt
¼ cup coconut oil (if solid, melt)
1 teaspoon vanilla extract
2 eggs
⅓ cup granulated sugar
⅓ cup brown sugar
1 cup chocolate chips
Instructions
Preheat oven to 350°
Place a big of parchment paper in a 9x5 loaf pan (see picture in post); spray with cooking spray
Combine the dry ingredients with a whisk - flour, baking powder, baking soda and salt
Combine the wet ingredients - mashed bananas, milk, yogurt and oil - mix well
Add in vanilla, eggs, white sugar and brown sugar
Slowly add the dry ingredients to wet; fold in oatmeal and chocolate chips
Pour batter in loaf pan and bake for 50-55 minutes until a couple crumbs are stuck to a tooth pick
Remove from oven and cool about 15 minutes then remove from pan to cool additional time (best if really cooled before cutting)
Notes
Plain yogurt can be substituted for vanilla.
Canola or vegetable oil can be substituted for coconut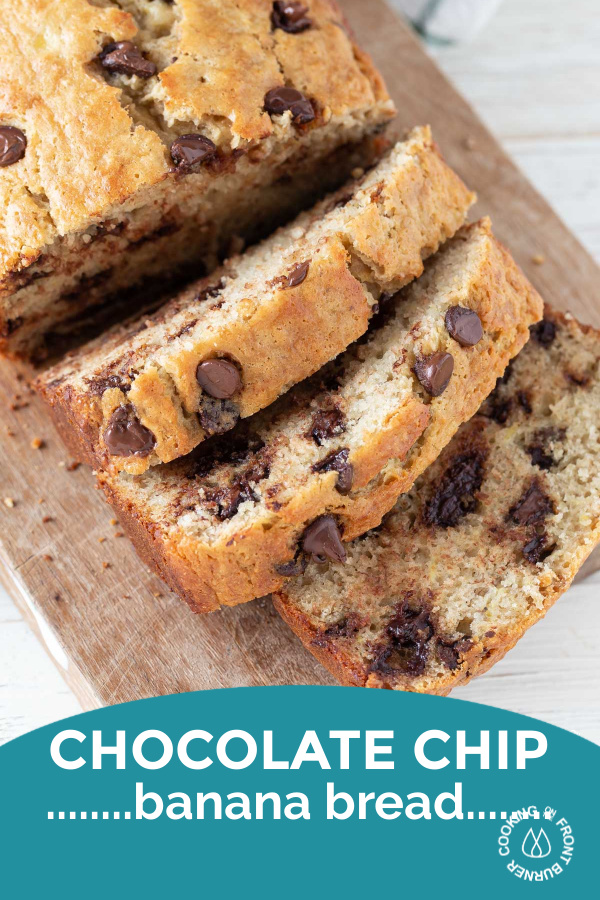 About the Author
Recent Posts
Recipe Index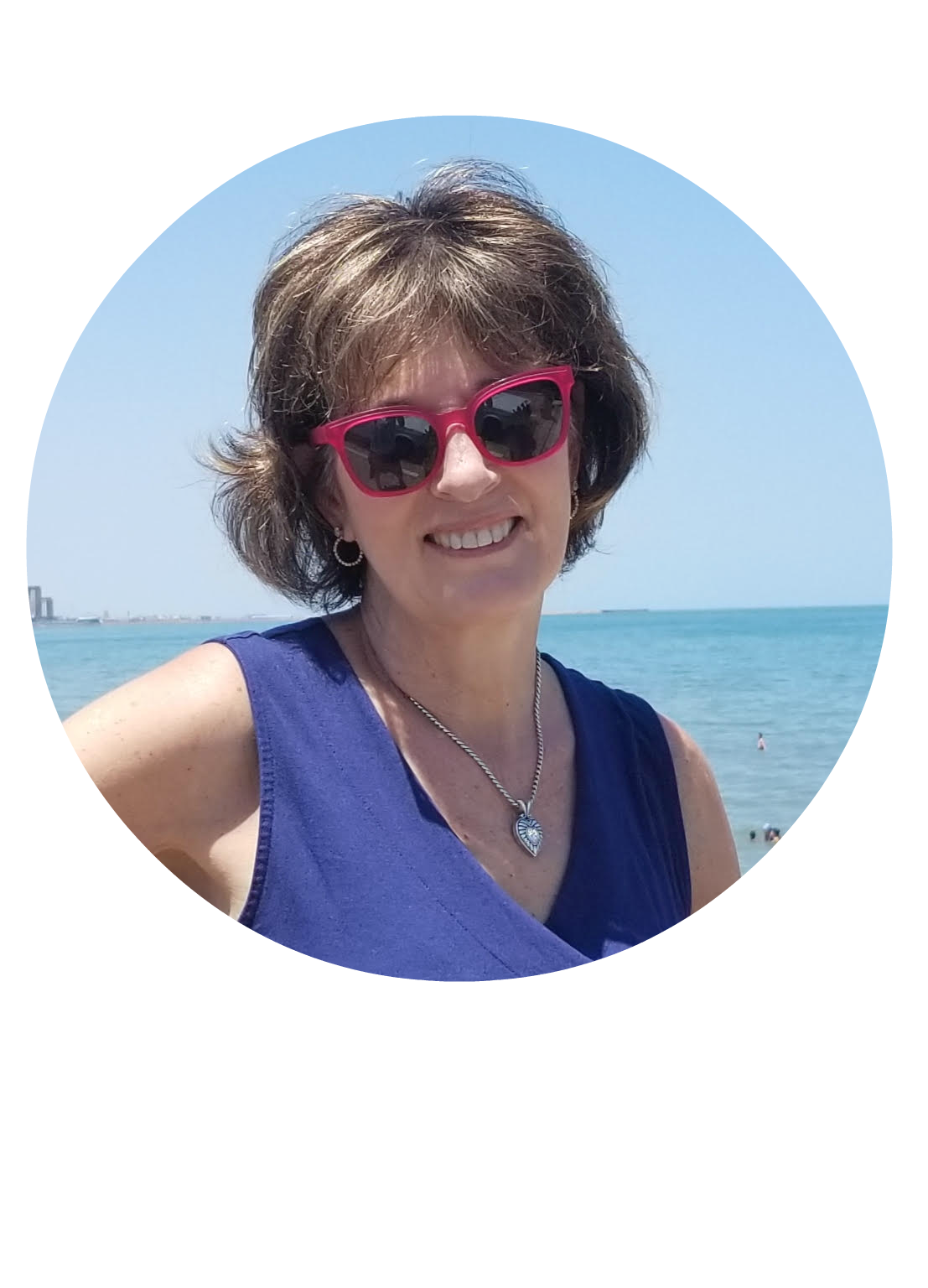 We are all about sharing our love of good food so on the blog you will find easy recipes to enjoy with your family and friends.  We hope to inspire you to host a gathering to create special memories.  Most recipes are step by step so you can feel confident in the kitchen.  Take a look around to find everything from breakfast to dinner and everything in-between!