This easy and simple homemade how to make crepes recipe is perfect for sweet or savory treats. You only need six ingredients that you probably already have in your pantry!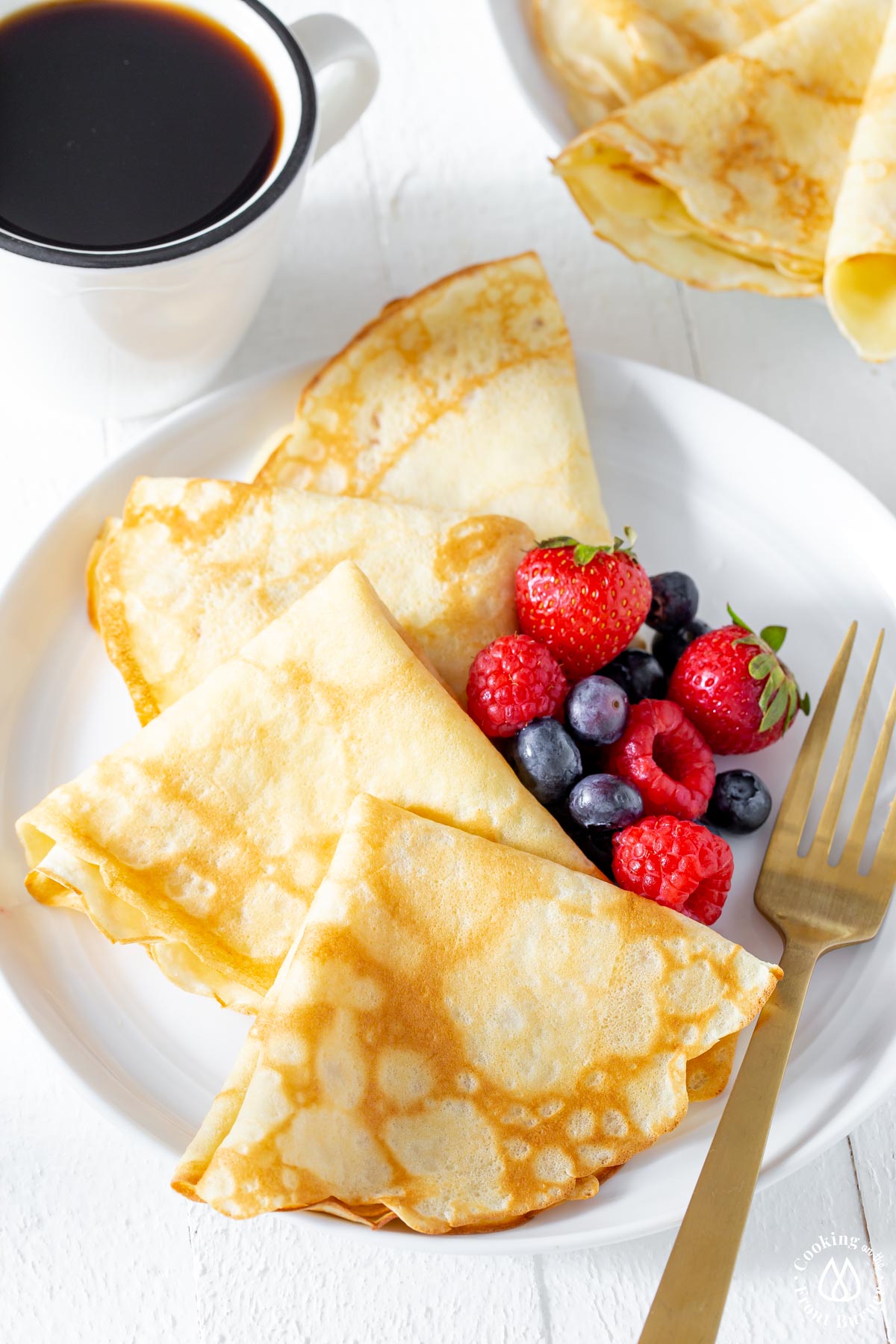 Today we are learning how to make crepes. While they might seem intimidating, they are not hard to do. Just follow along step-by-step to create these light pancake like treats.
So far I only have sweet crepes on the blog such as Raspberry Vanilla Crepes and Lemon Curd but hope to get some savory ones going soon!
Ingredients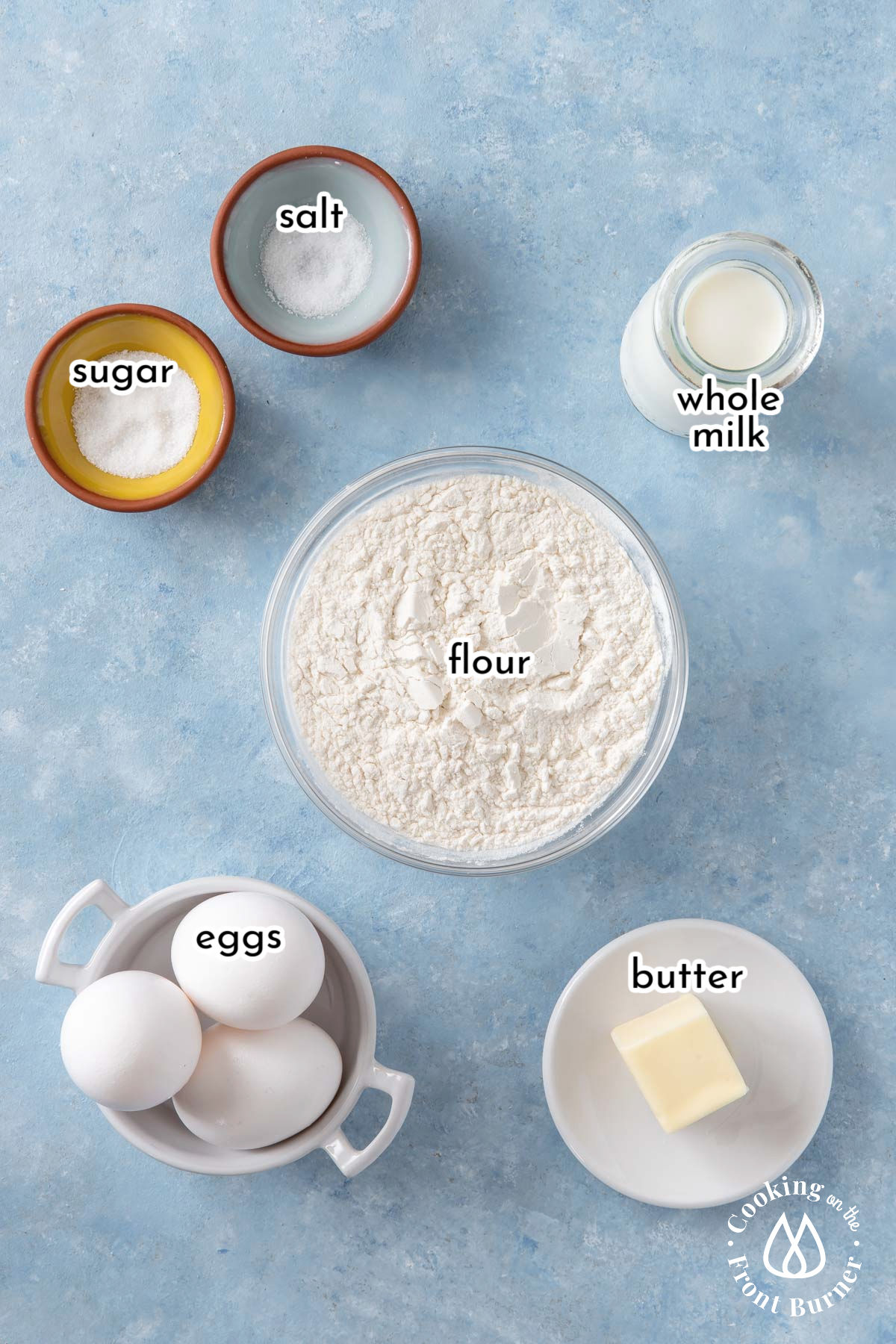 flour - this recipe has been tested with white flour (not whole wheat)
eggs - use large eggs
butter - I used salted
whole milk - this is recommended or use 2% (not skim or 1%)
salt - kosher or regular table salt
sugar - white granulated
Please see recipe card for instructions and quantities.
Instructions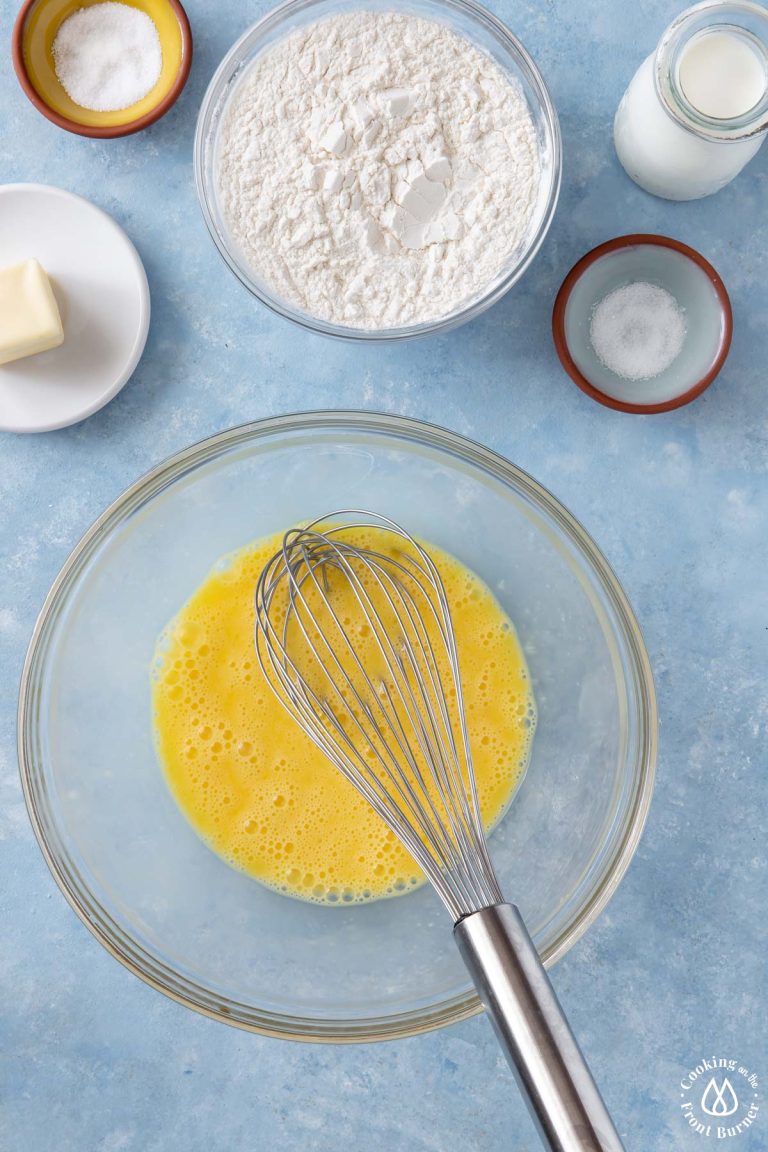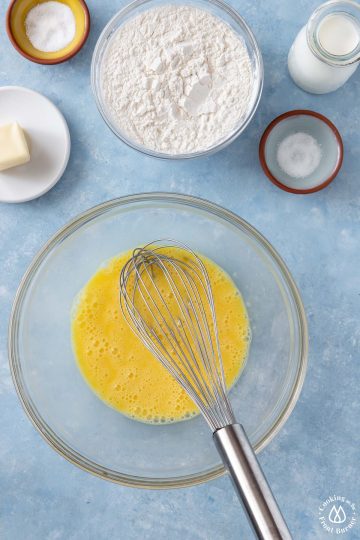 In a medium bowl whisk together the eggs until well blended (no whites or yolks showing separately)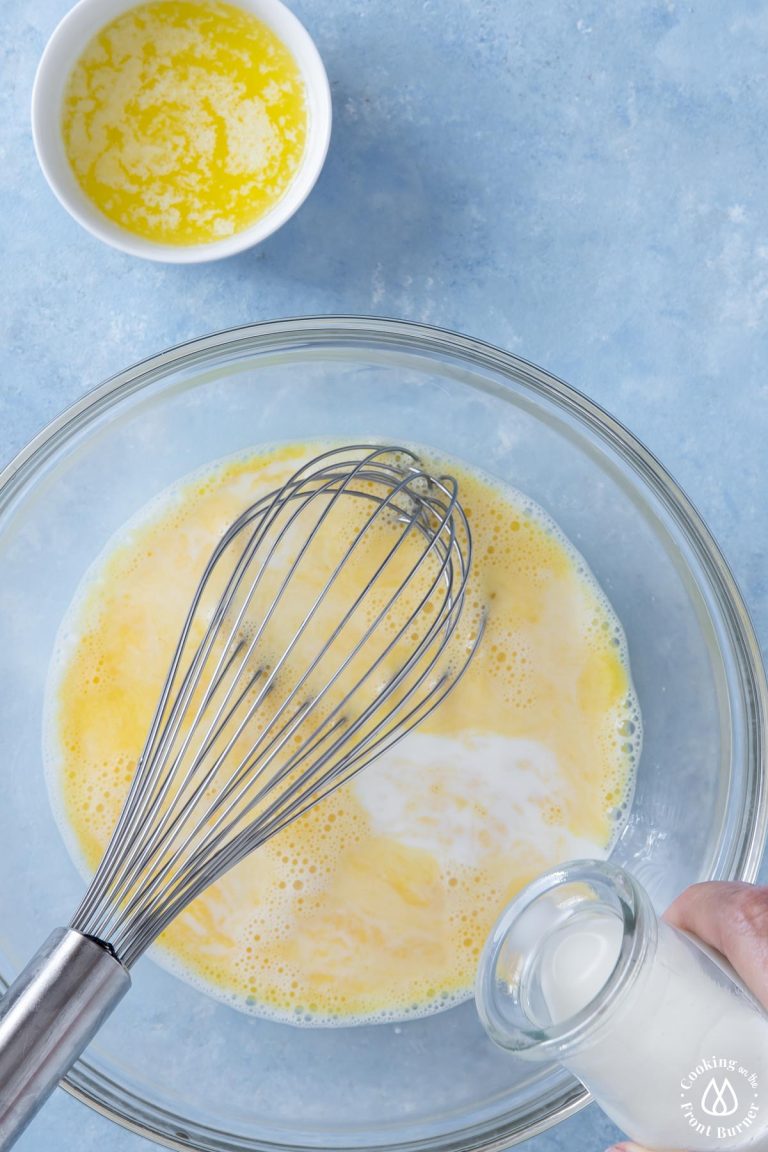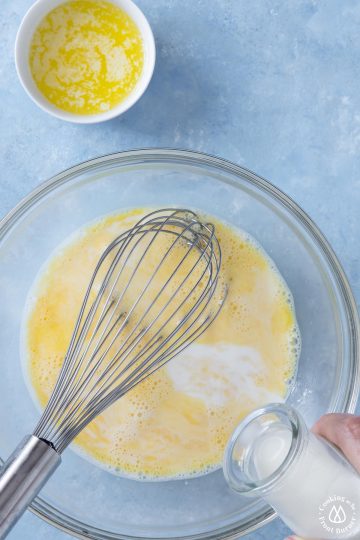 Next pour in the milk and melted butter and whisk until well combined.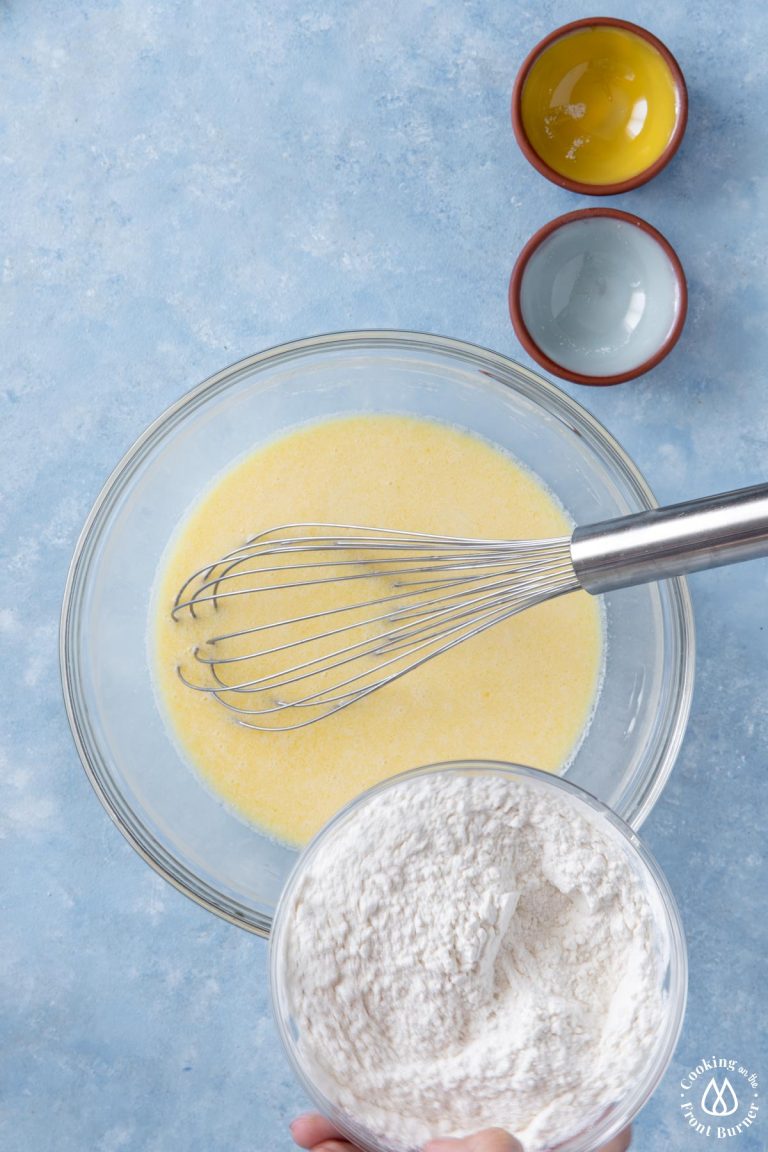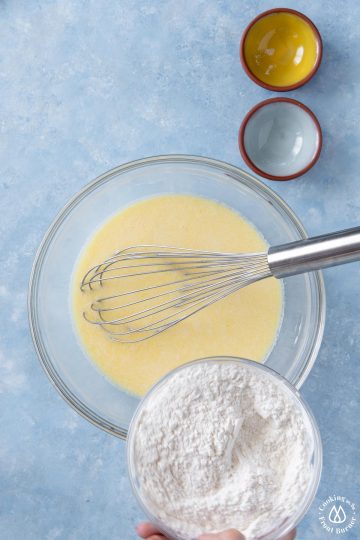 Combine the flour with salt and sugar and add to the egg-milk mixture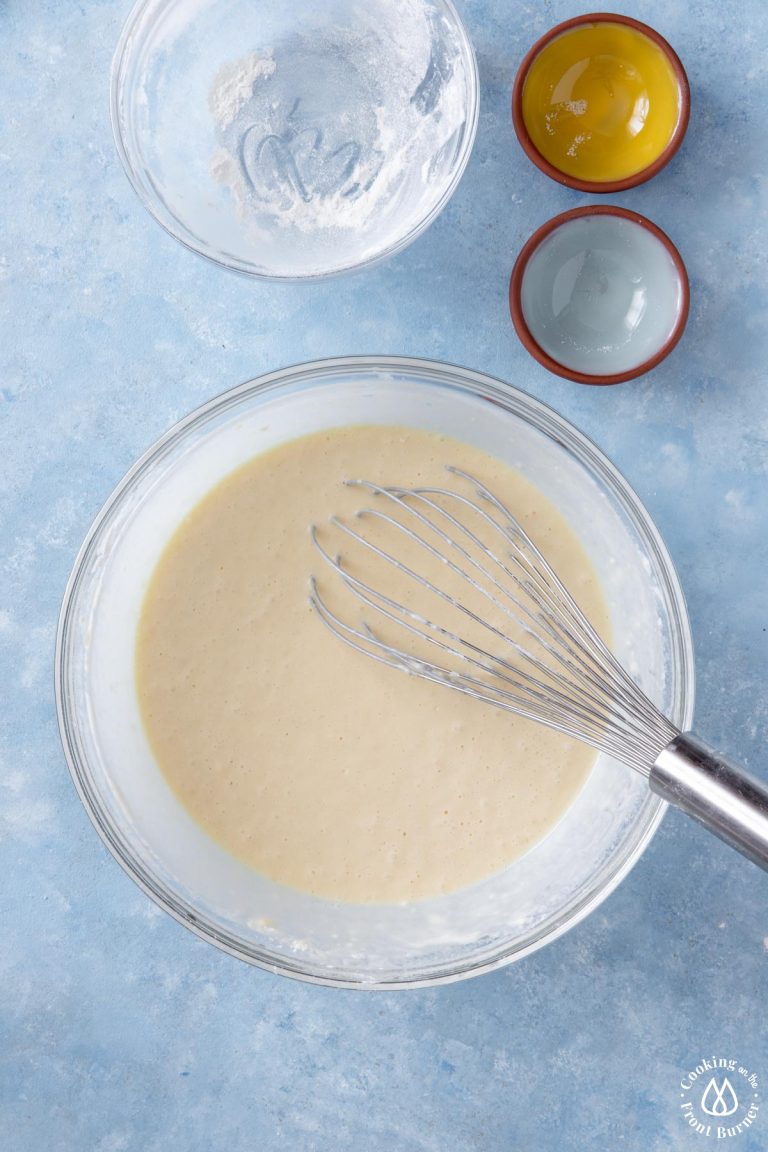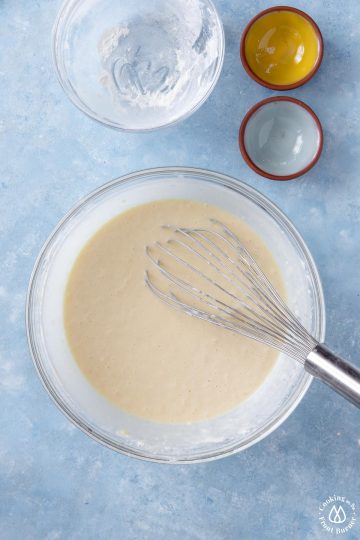 Use a whisk to completely incorporate the flour with the mixture. There might be a few lumps but that is ok.
Important Tip: at this point the batter should rest (see FAQs) for at least 30 minutes (on the counter). You could make the batter a day ahead and keep refrigerated until ready to use, just take it out of the refrigerator about 30 minutes prior to using.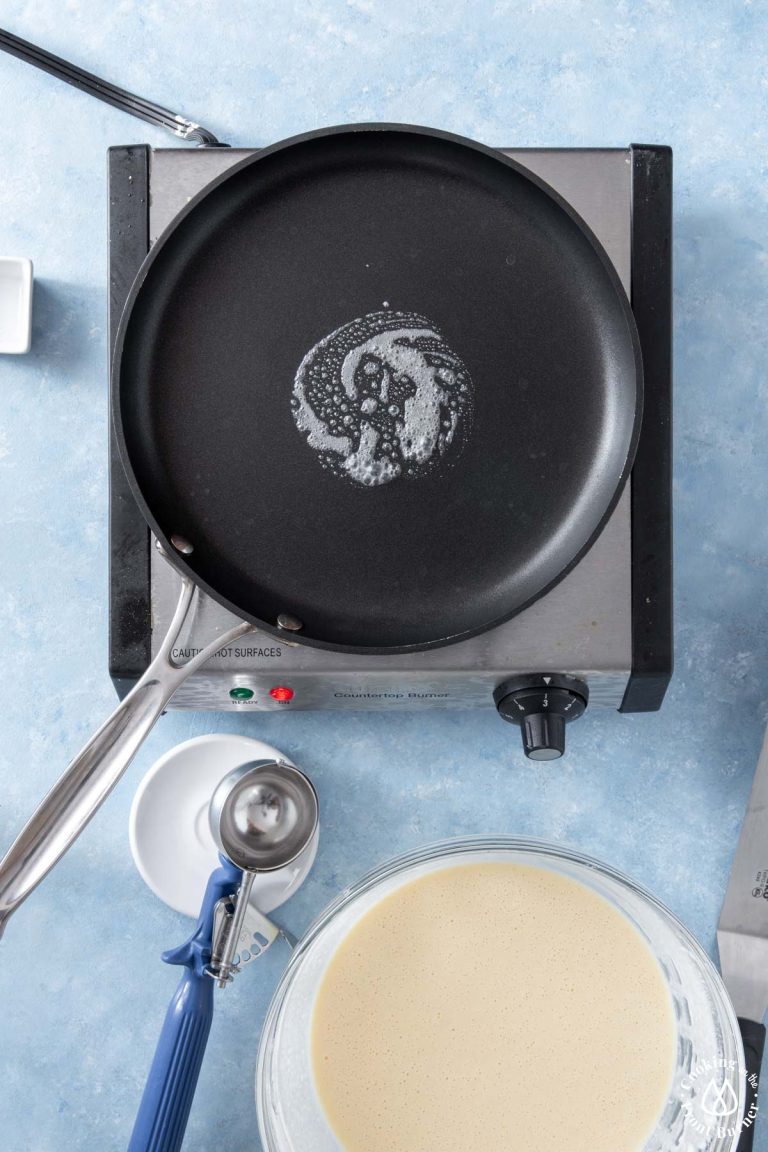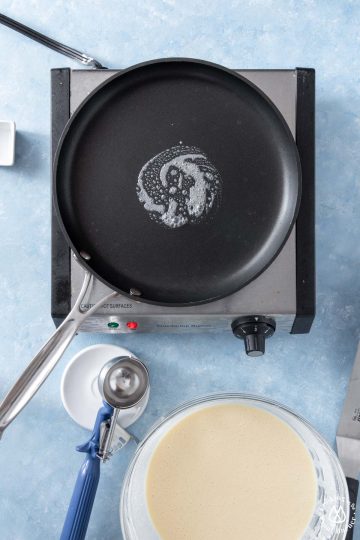 Using crepe pan over medium heat add a dab of butter and once it melts remove it with a paper towel to just leave a residue in pan.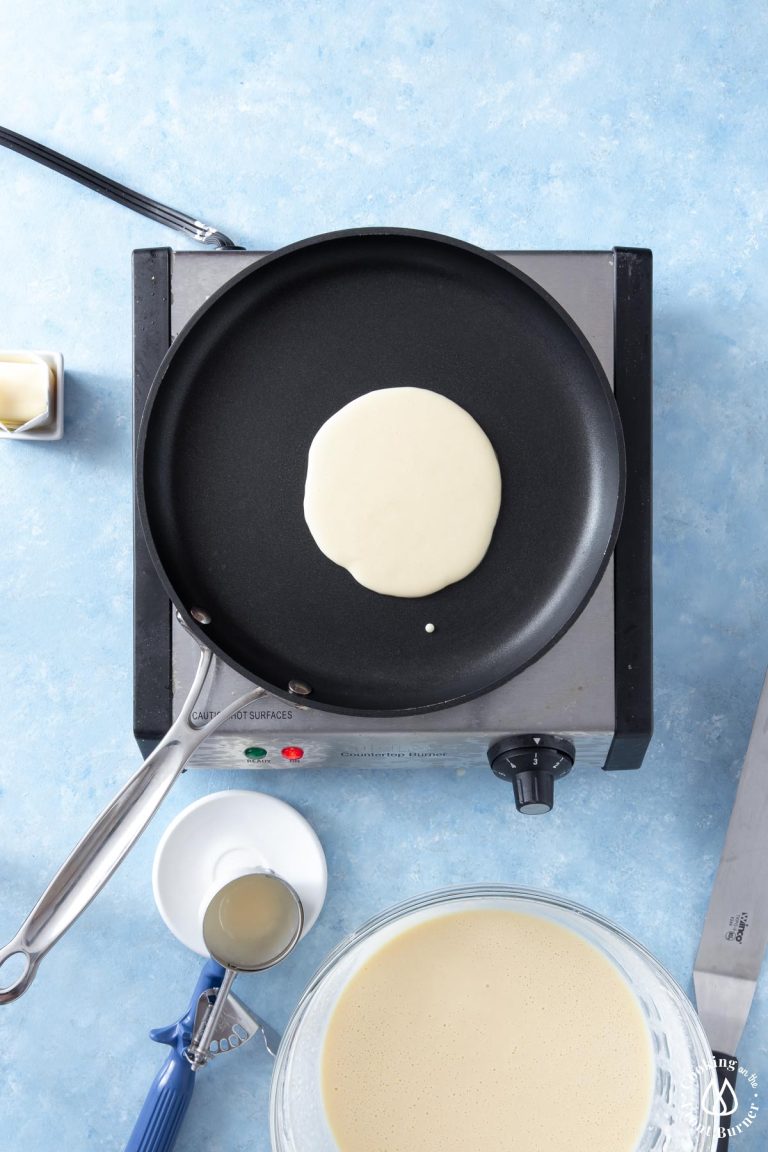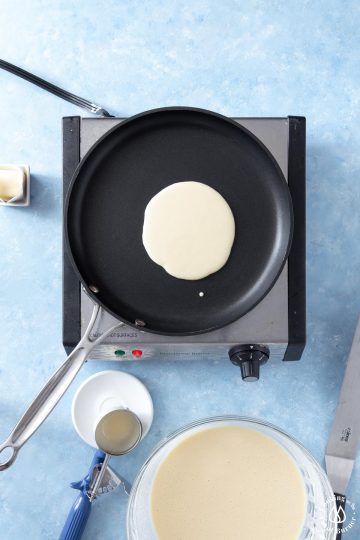 Place about an ounce of batter in hot pan and quickly swirl around to get it to edge.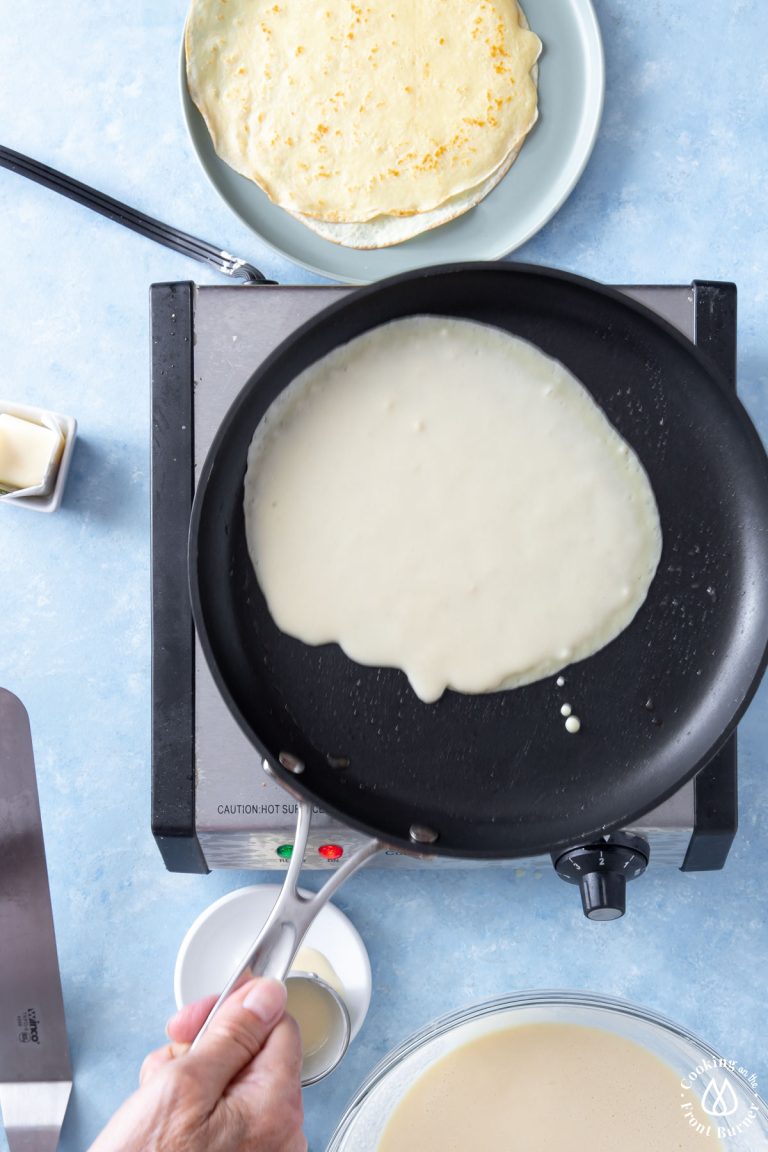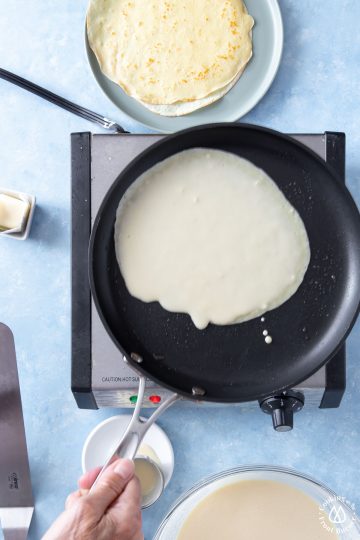 As stated, once the batter is in pan, quickly tilt and swirl it around to get it to edges (this will be off the burner). Place back on burner and cook for about 1-2 minutes until bottom is light brown and top dry.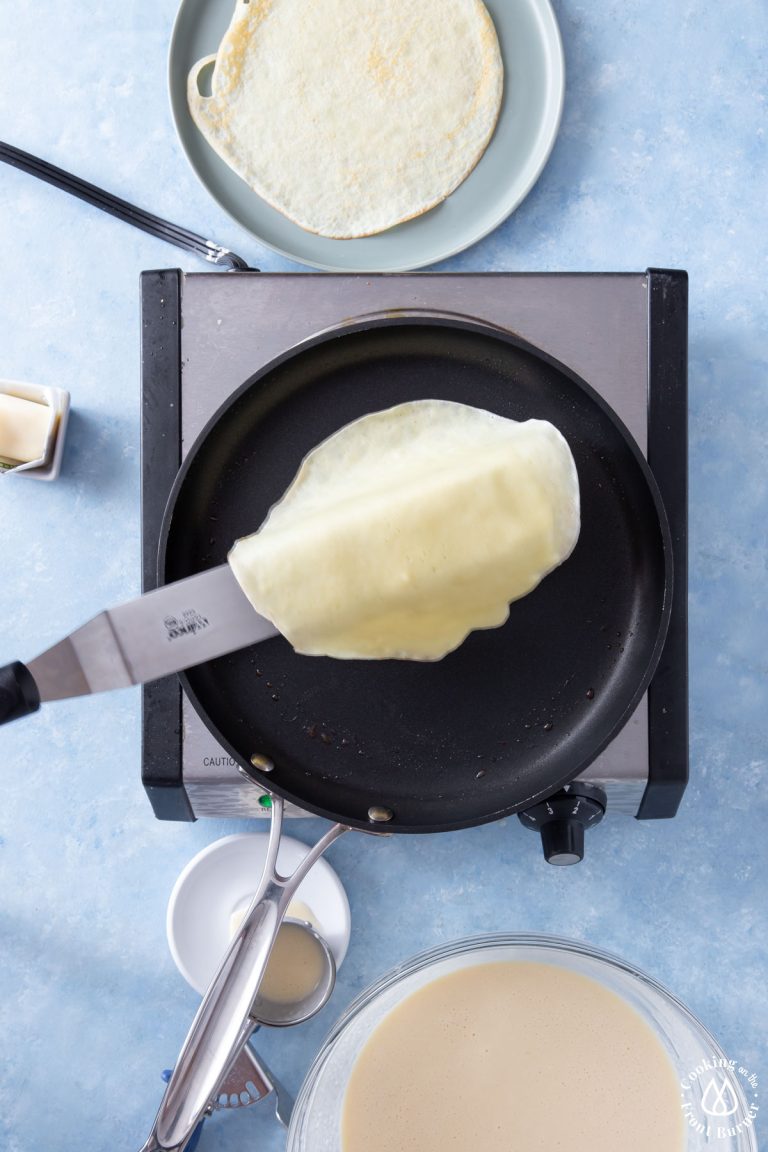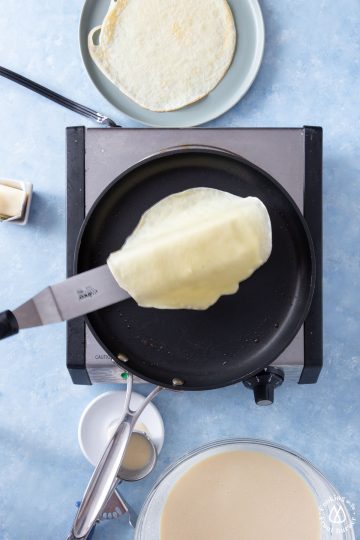 Use an offset spatula to lift and flip over to other side (use fingers to help with edge). Cook for another 30-60 seconds until brown. Repeat with remaining batter adding the butter step in between.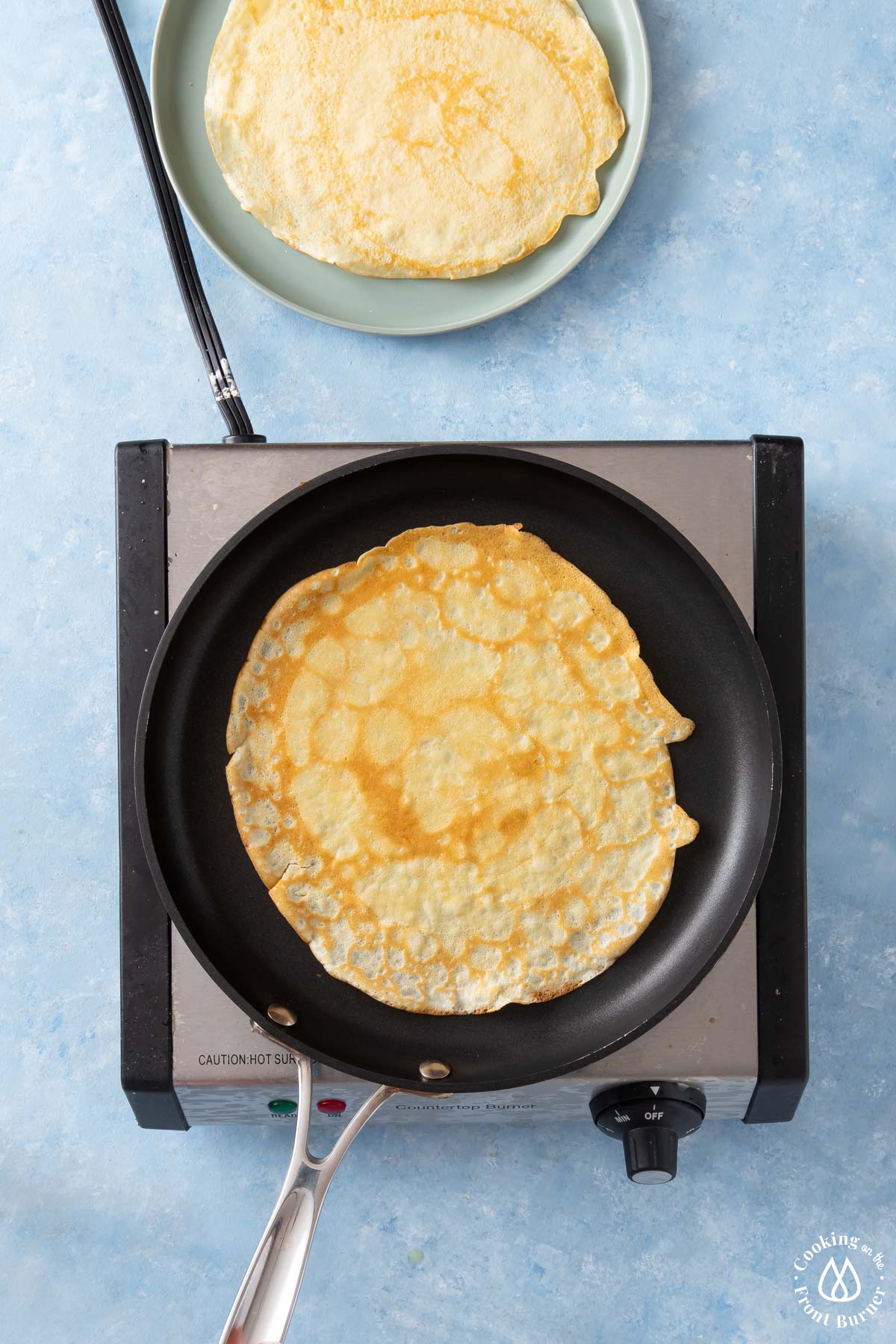 The crepes can be stacked on top of each other after cooking. See Top Tips for ensuring your success!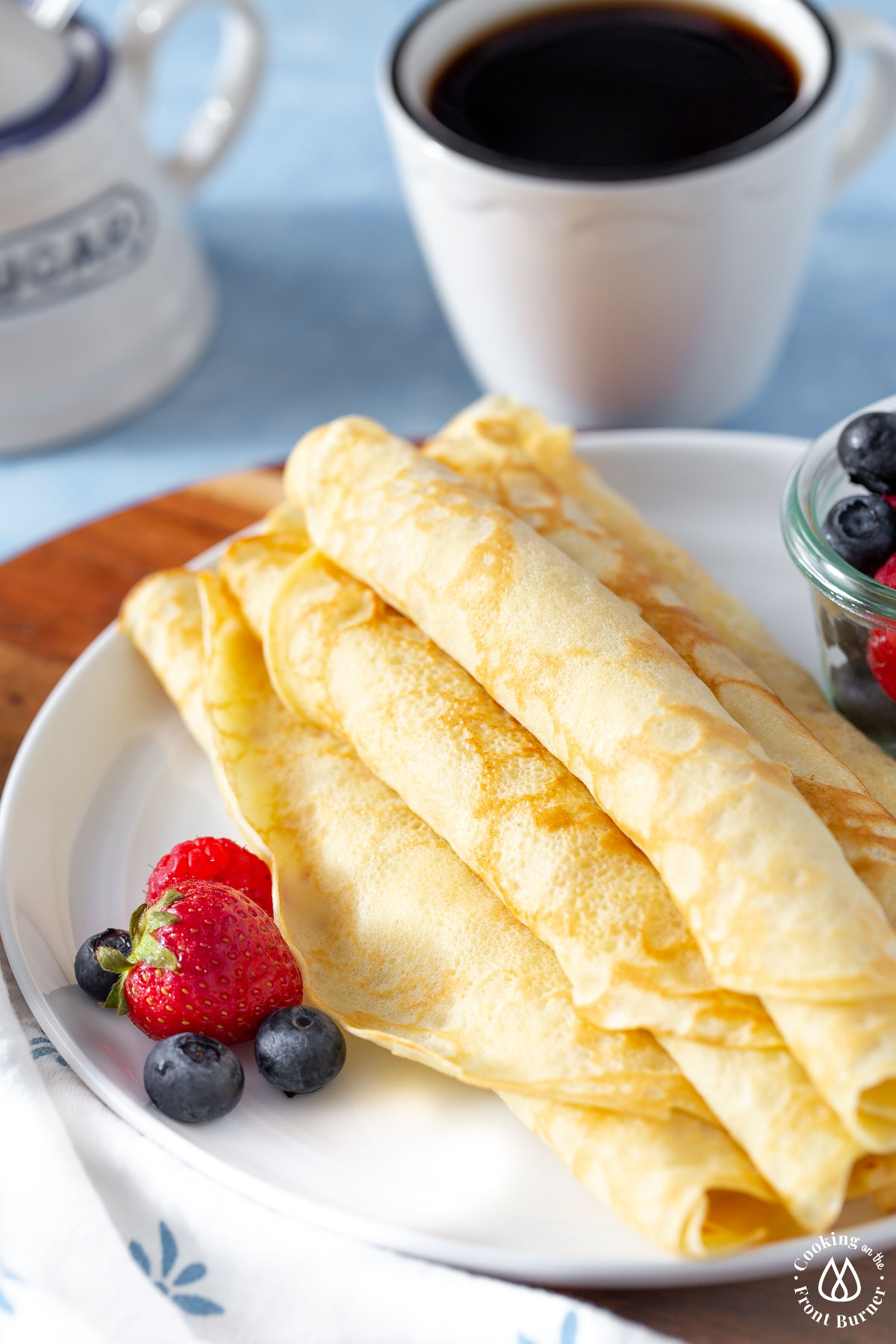 Recipe FAQs
Why should crepe batter rest?
This is an important step. The flour must fully absorb the liquid and a minimum of 30 minutes will accomplish that. It also will make sure the crepes aren't rubbery.
Can I make crepes ahead of time?
Yes, you are able to do this. Just stack them on top of each other, cover with plastic wrap (when cooled) and keep in the refrigerator for up to 3 days. Remove from refrigerator and let come to room temperature to use.
How thick (or thin) should crepe batter be?
The batter should resemble the consistency of heavy cream. If your batter is too thick, add more milk a little at a time to achieve this consistency.
Equipment
I used this crepe pan to make them. If you do not have one, any 8" non-stick pan will work. I also used an offset spatula to help flip them over.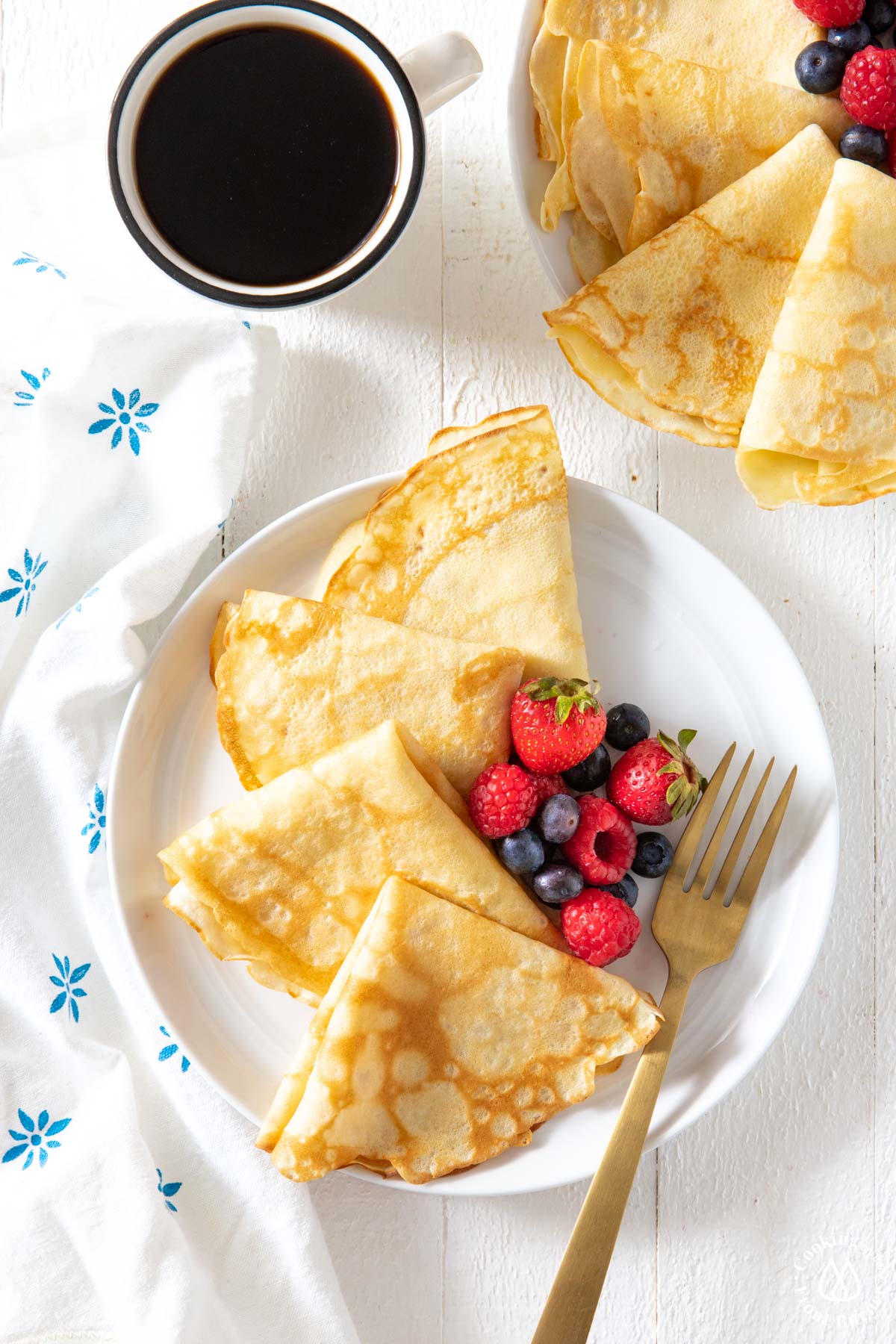 Top tips
I'm hoping the step-by-step photos and Recipe FAQs help with making these crepes. Also follow these tips for additional help.
To test if your pan is ready to use, sprinkle a couple drops of water on top. If it sizzles, it is ready to use
You will not want the pan to be too hot when you place the butter so that it doesn't instantly turn brown and burn (this make take some trial and error - after I do the butter I immediately place the batter and swirl)
Only flip when the bottom is brown and the top appears dry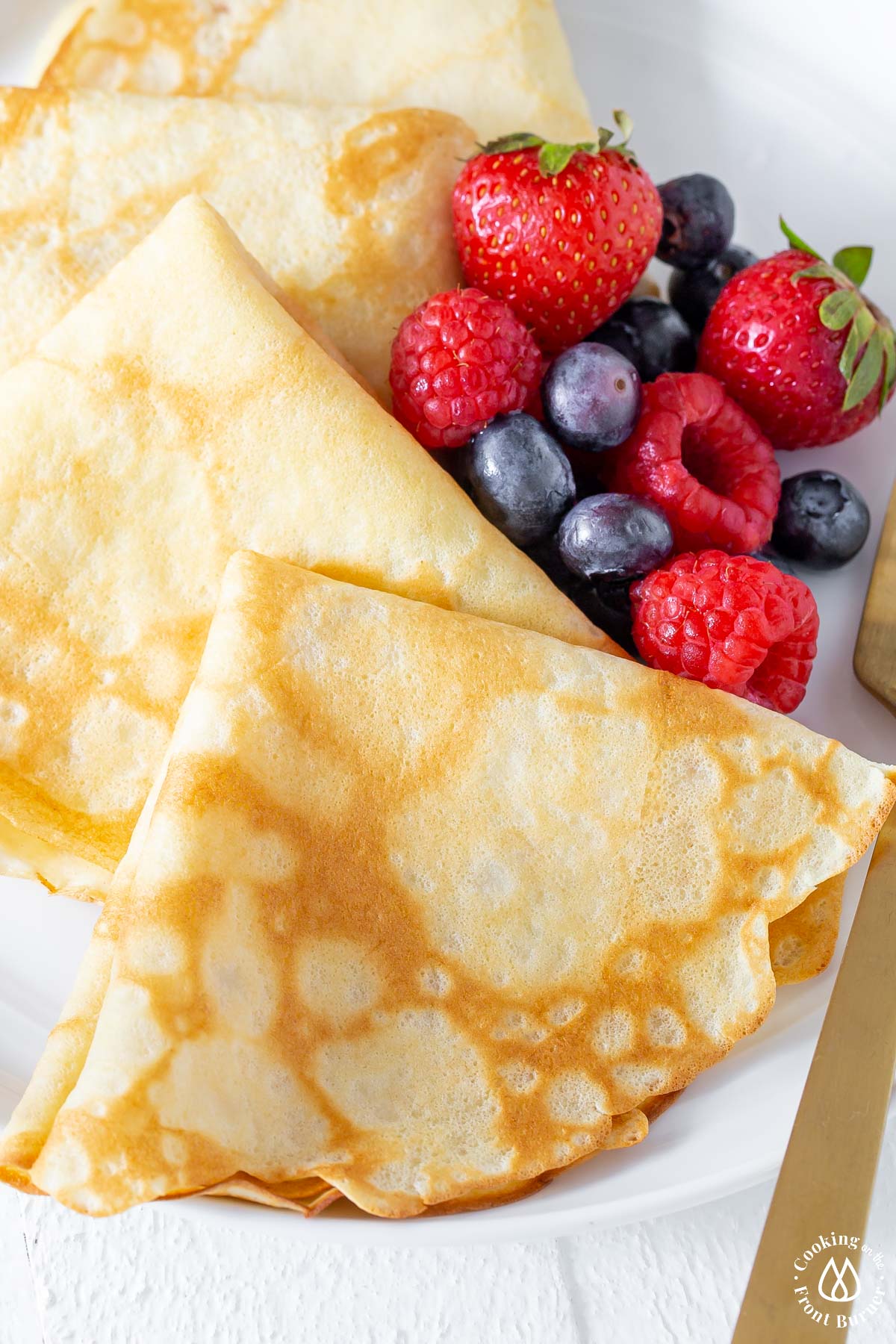 Crepe Fillings
Sweet - fill with whipped cream and fresh berries, try jams, lemon curd, pie fillings, maple syrup, cinnamon and sugar mixture to name a few
Savory - scrambled eggs, sauteed vegetables, pesto and fresh tomatoes. I'll be coming up with some savory recipes soon!
Get the Recipe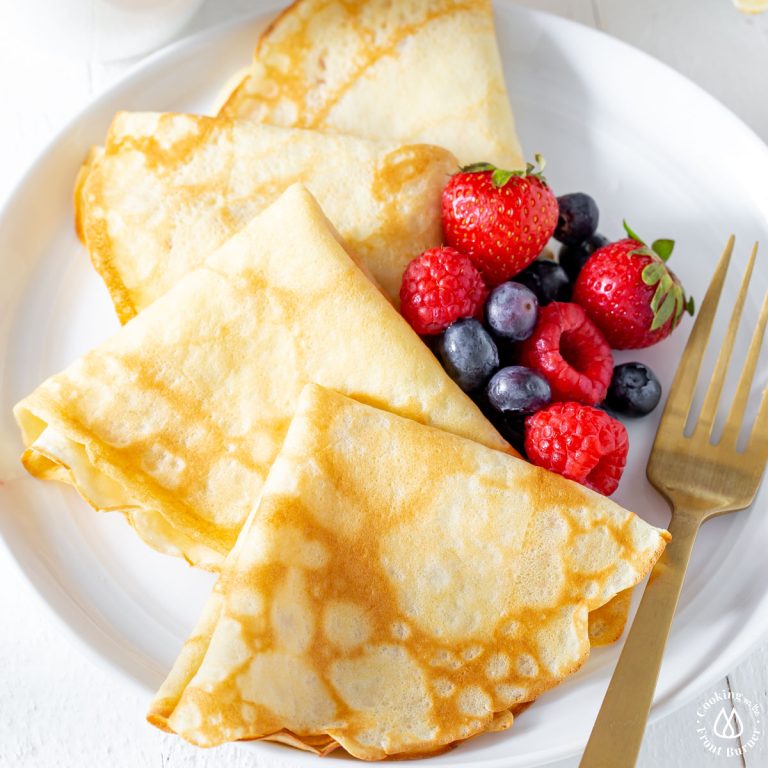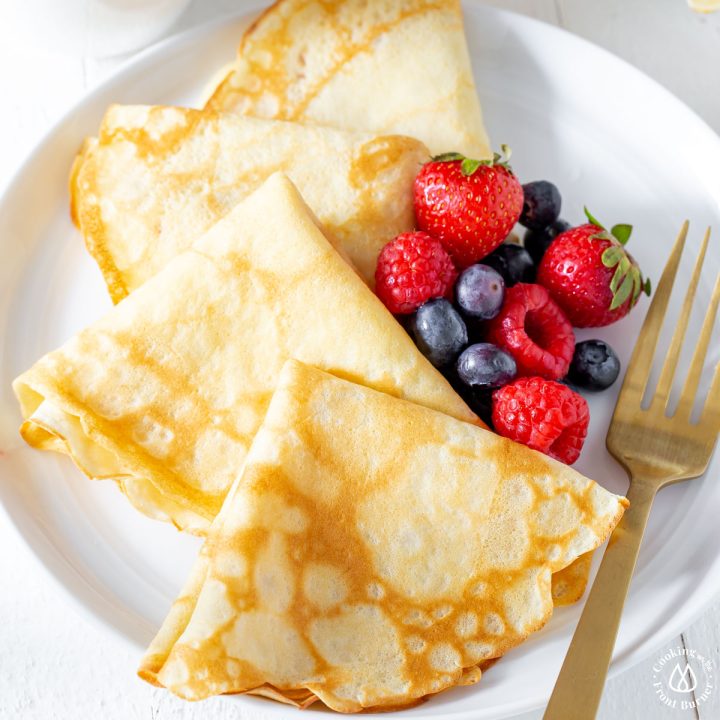 How to Make Crepes
Additional Time:
30 minutes
These homemade crepes are thin and delicate with a buttery taste that can be used for sweet or savory recipes.
Ingredients
3 large eggs (room temperature)
2 tablespoons butter, melted
1 ½ cups whole milk (slightly room temperature)
1 ½ cups flour
1 teaspoon sugar
½ teaspoon salt
Instructions
In a medium bowl whisk the eggs until mixed
Add the milk and melted butter with a whisk until well combined
In a small bowl combine the flour, salt and sugar
Whisk the flour mixture into the egg-milk mixture until combined (may be a few small lumps left)
Let the mixture rest for at least 30 minutes on the counter then whisk again
Place a crepe pan or non-stick pan on a burner over medium heat and heat until hot
Brush some butter on pan then wipe off with a paper towel (it will leave some residue)
Place about an ounce of batter in middle of pan and immediately swirl it around to edges (pan will be off burner)
Place pan back on burner and cook for about 60-90 seconds until brown on bottom side
Use an offset spatula to lift and turn over the crepe and cook on other side for about 60 seconds
Place on a plate and continue with other batter; brushing and removing butter (step 7)
Notes
Please see above the step by step instructions
Nutrition Information:
Yield:

12
Serving Size:

1
Amount Per Serving:
Calories:

112
Total Fat:

4g
Saturated Fat:

2g
Trans Fat:

0g
Unsaturated Fat:

2g
Cholesterol:

55mg
Sodium:

135mg
Carbohydrates:

14g
Fiber:

0g
Sugar:

2g
Protein:

4g
Nutritional information provided is computer-generated and only an estimate. You may want to do your own research with the ingredients listed if you have concerns about health or specific diets.
I was inspired to make these crepes from Zoe Bakes and her Manicotti Crepes.
About the Author
Recent Posts
Recipe Index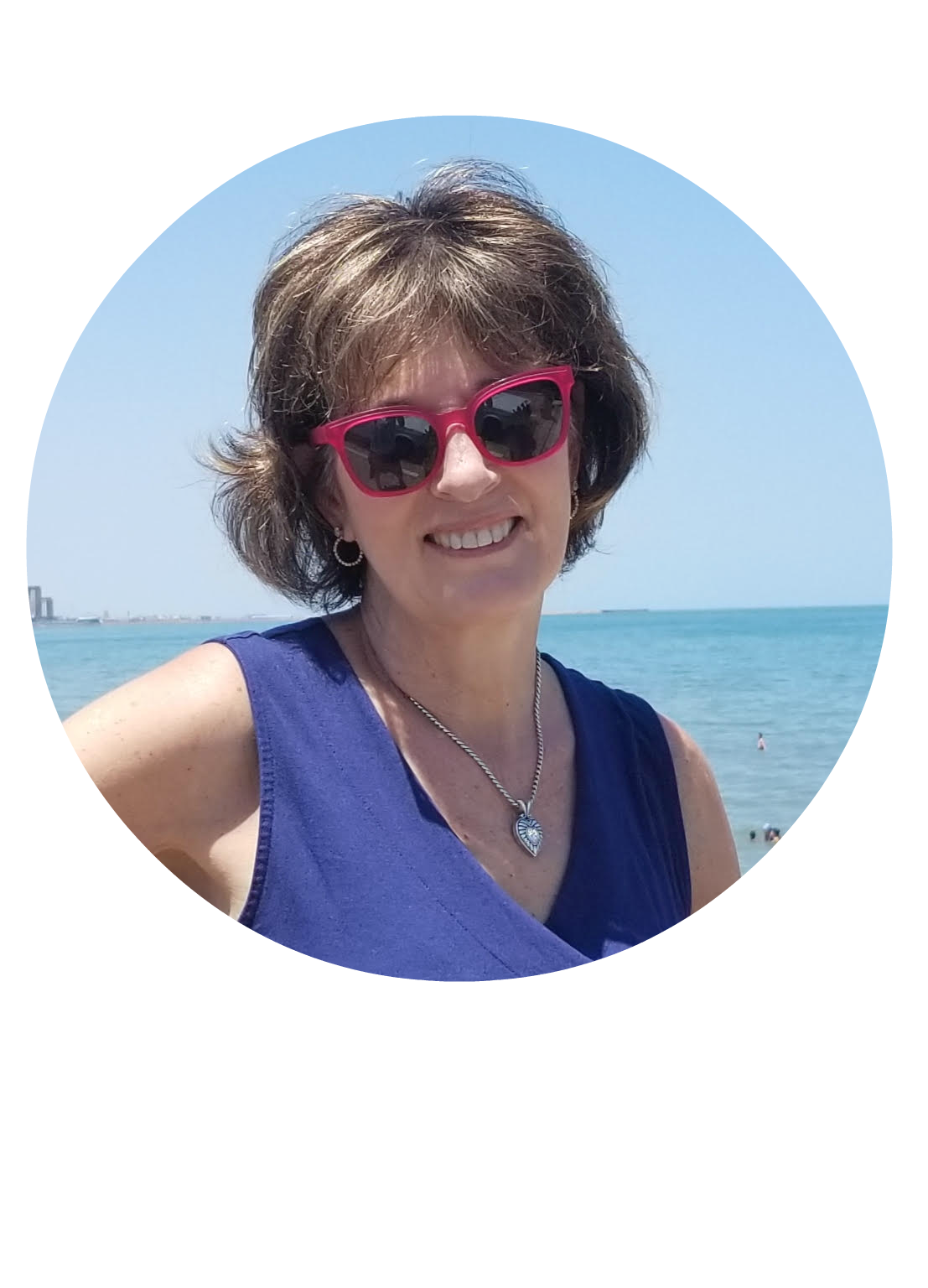 We are all about sharing our love of good food so on the blog you will find easy recipes to enjoy with your family and friends.  We hope to inspire you to host a gathering to create special memories.  Most recipes are step by step so you can feel confident in the kitchen.  Take a look around to find everything from breakfast to dinner and everything in-between!