Just in time for fall, these Puff Pastry Pumpkin Spice Rolls are a festive treat for breakfast or brunch. These flaky rolls are swirled with pumpkin spice, brown sugar and topped with a maple cream cheese glaze sprinkled with pecans.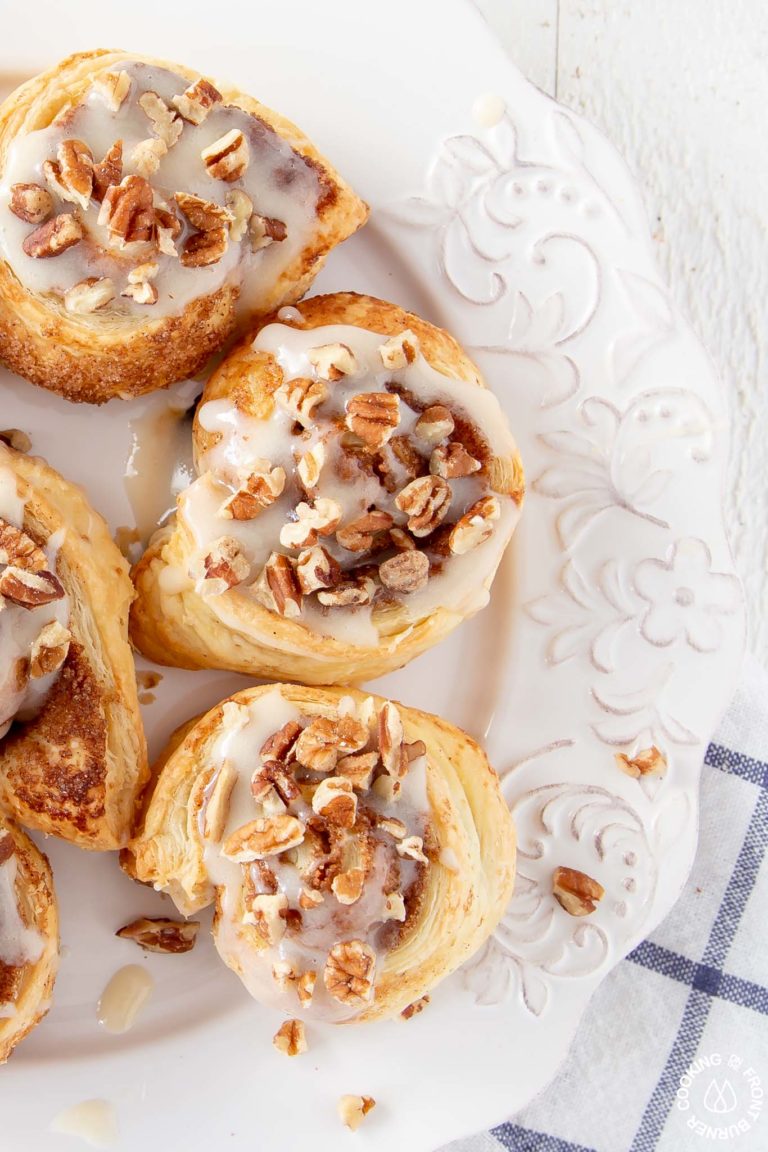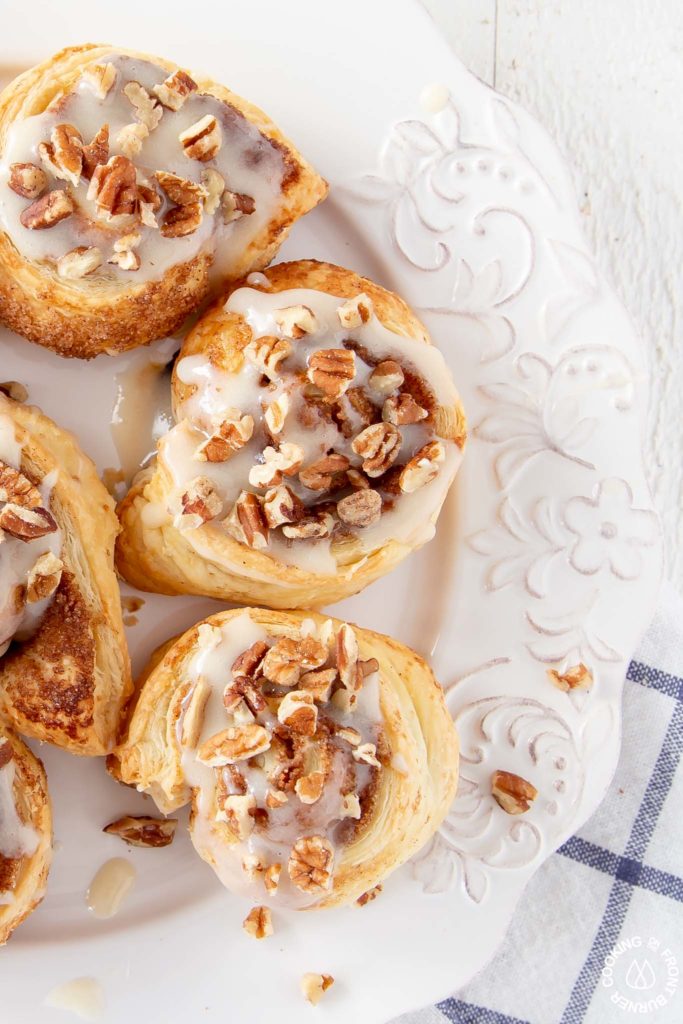 Puff Pastry Pumpkin Spice Rolls
If you are looking for an easy and delicious recipe, these pastries are calling your name! They are perfect for entertaining or just simply plan to serve at breakfast or brunch any time.
Pumpkin spice anything is season now and since these are quick from prep to serve, you will definitely want to serve them soon and often.
You just might form an addiction to these puff pastry pumpkin spice rolls. The flaky crust and swirls of pumpkin spice are fantastic!
Summer is still lingering a bit, but I'm in the mood for fall days with the fresh smell of autumn leaves and of course pumpkin.
And you could just eat the rolls out of the oven, but the maple glaze and crunchy pecans are what makes them so special.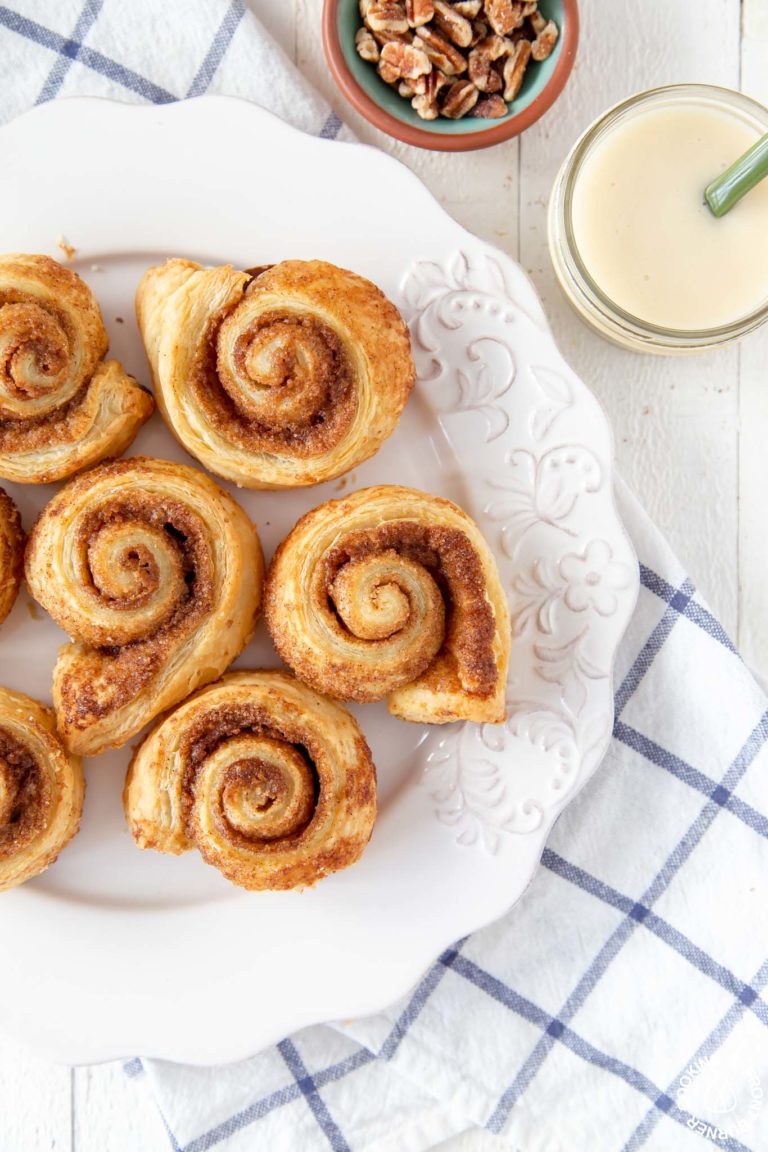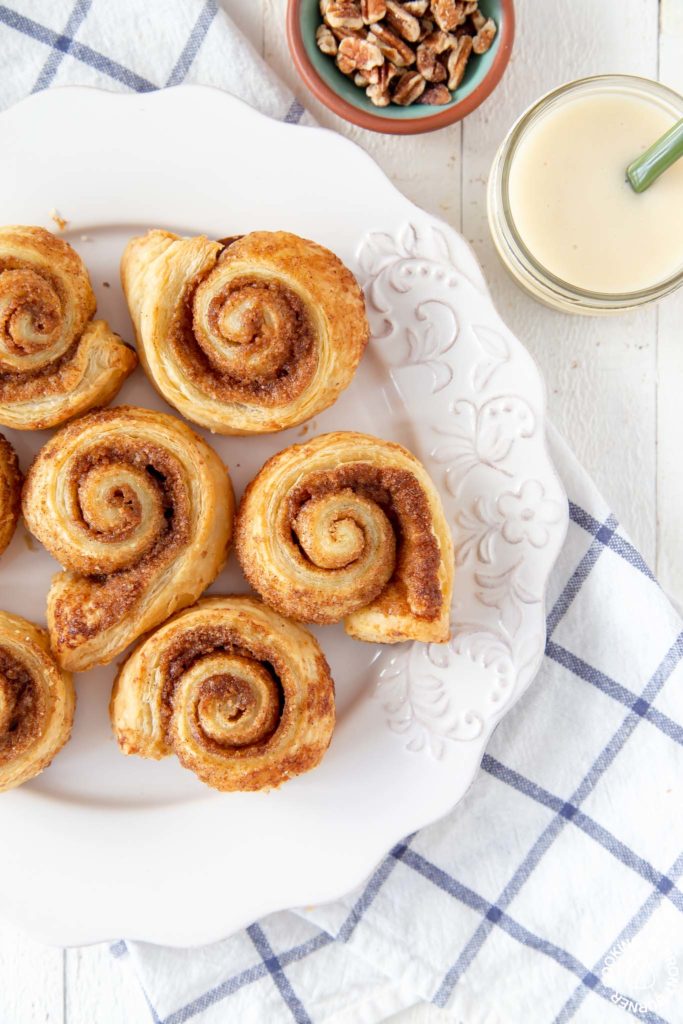 See the flaky layers with the spice swirls?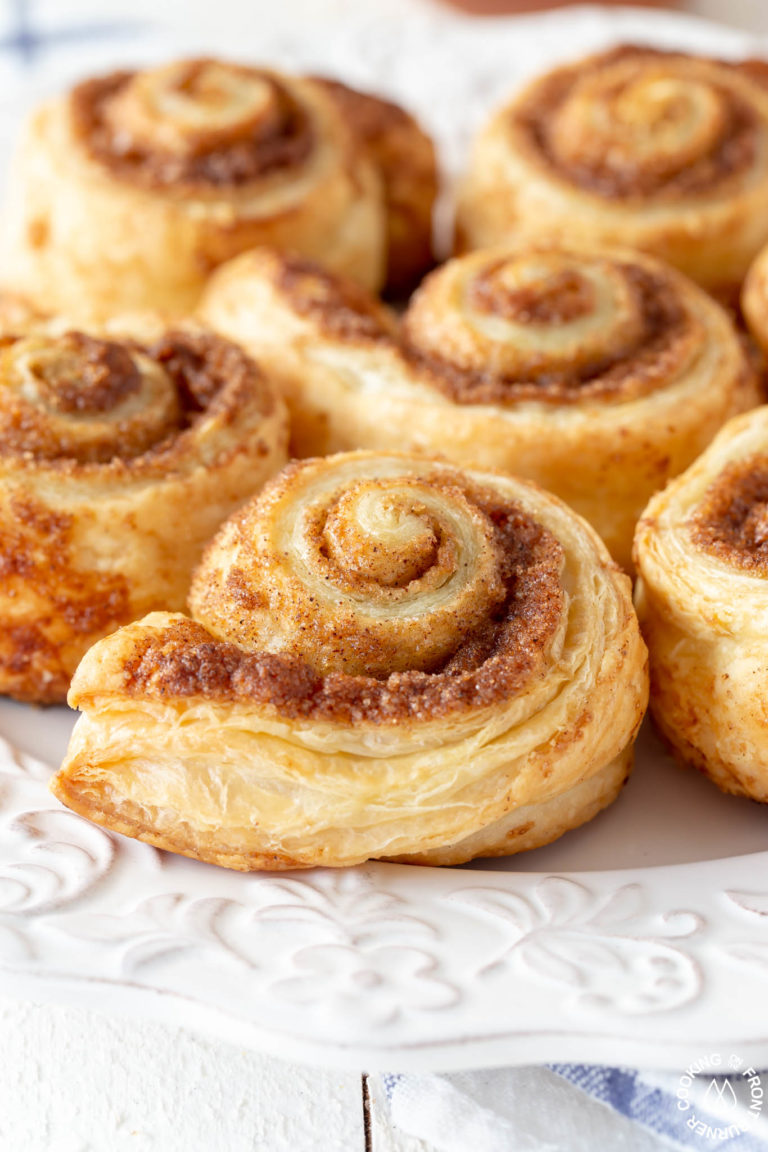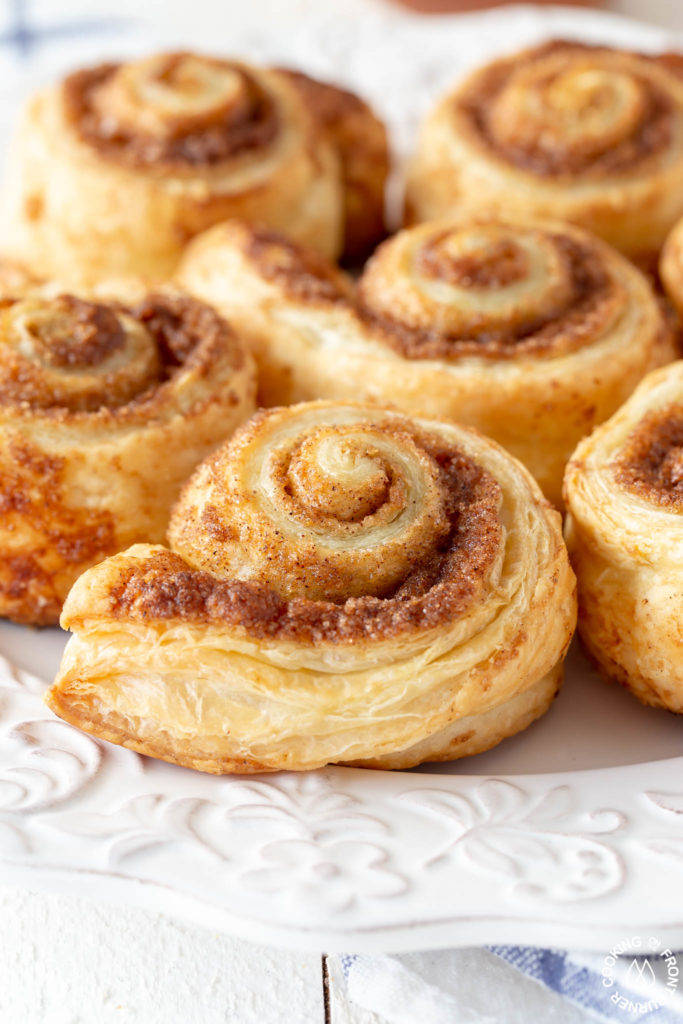 What ingredients will you need for pumpkin spice rolls?
Puff Pastry
Pumpkin Spice
Butter
Brown Sugar
Maple Syrup
Powdered Sugar
Cream Cheese
Pecans
Once the rolls are done and cooled slightly, add the glaze and chopped pecans.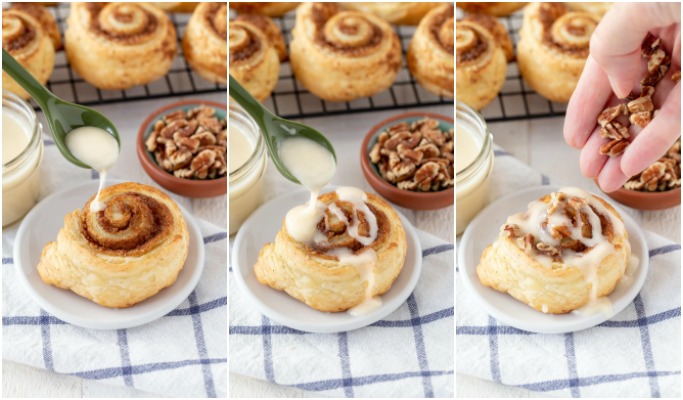 How do you make puff pastry pumpkin spice rolls?
Start by defrosting the puff pastry. This will usually take about 30 minutes on your kitchen counter. Once it is ready to go, preheat your oven to 400 degrees.
Next take the dough on a floured surface and roll in a 12x9 rectangle, brush with melted butter and sprinkled with the brown sugar and pumpkin spice.
Starting at the long end, roll up and cut them into 8 equal slices. Place on a cookie sheet that has either parchment paper or a silpat mat. Bake for 20 minutes.
Allow the rolls to cool slightly then drizzle the cream cheese mixture (make this while pastries are baking). Top with chopped pecans.
The rolls can be stored in an airtight container on your counter for about 3 days (bet they don't last this long!)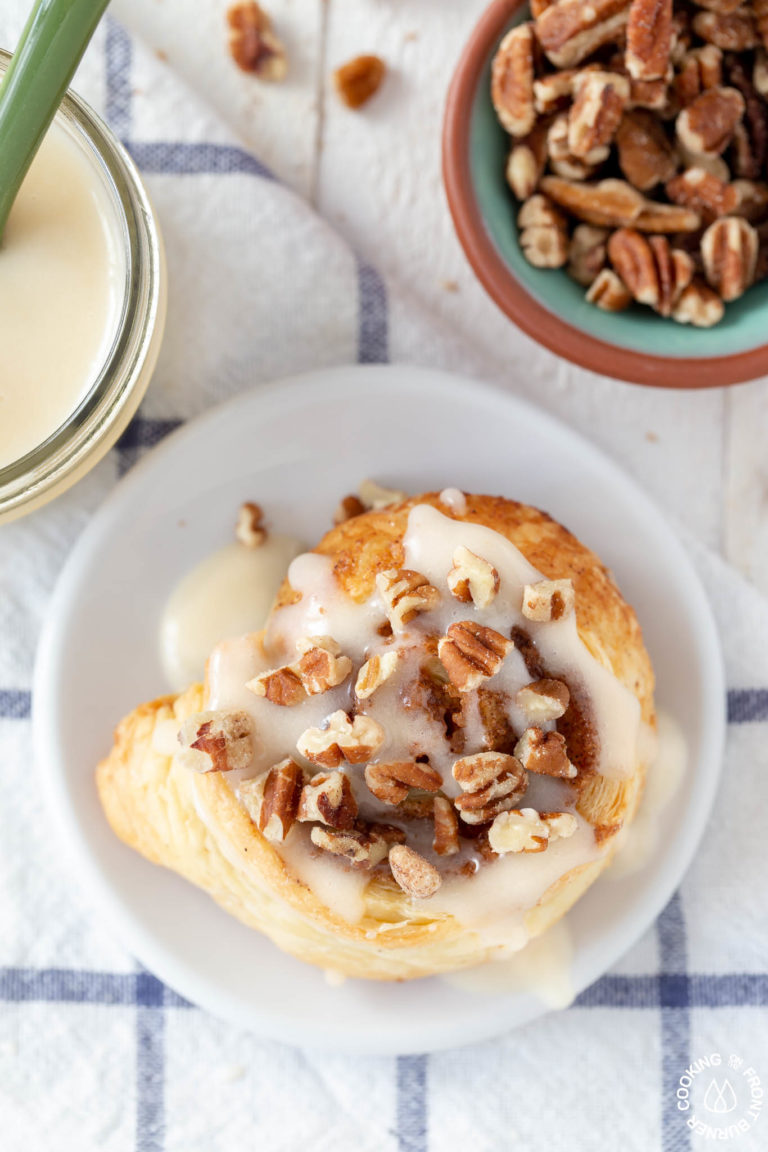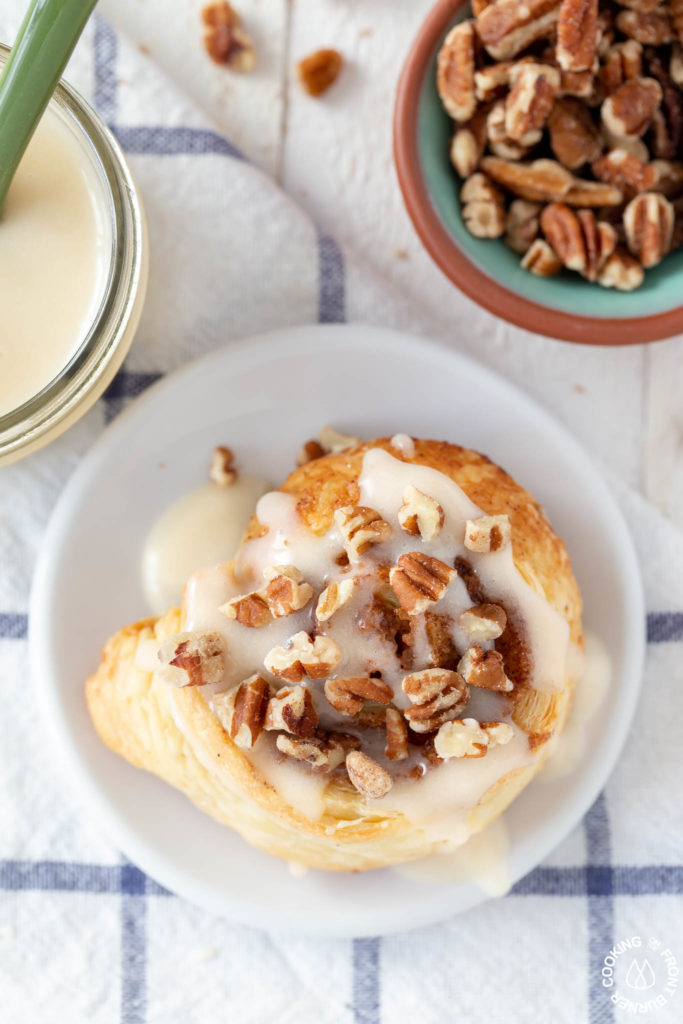 Now as you may know, puff pastry comes in the freezer section of the grocery store and with two to a packet. Since it is just us empty nesters here, I decided to make only 8 using one sheet of pastry. Wondering what I'm doing with the other one? Stay tuned for a savory recipe soon!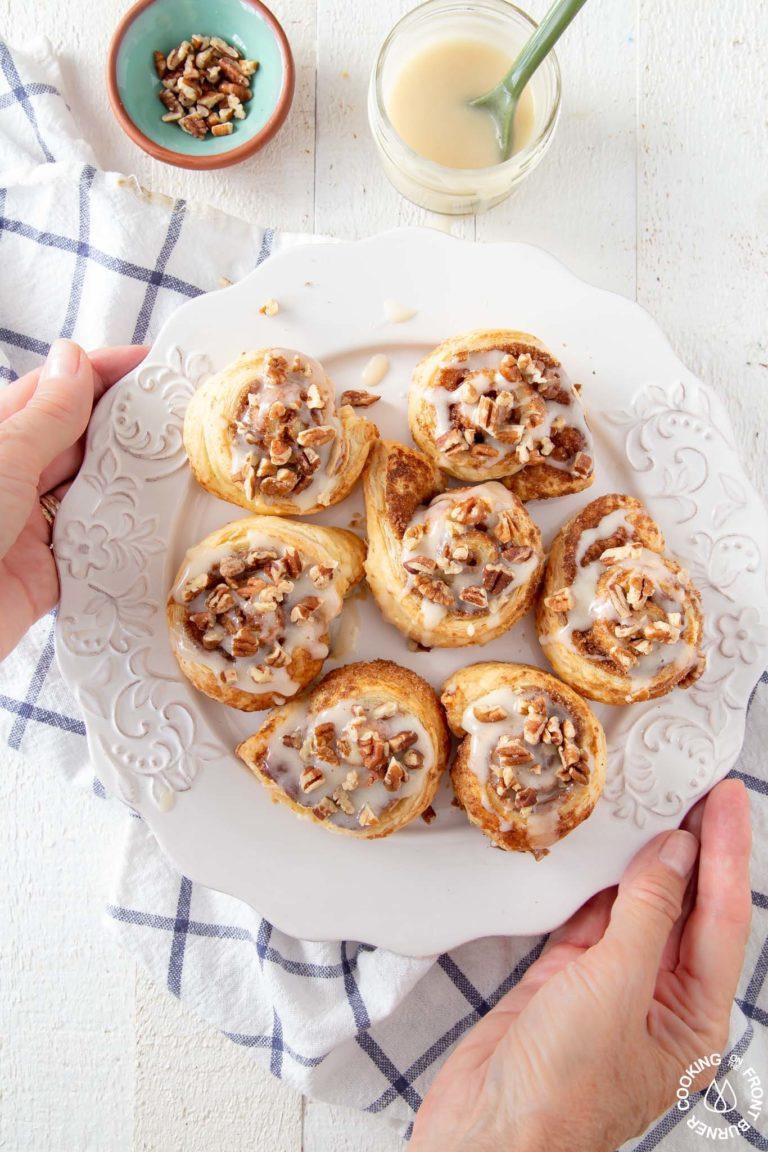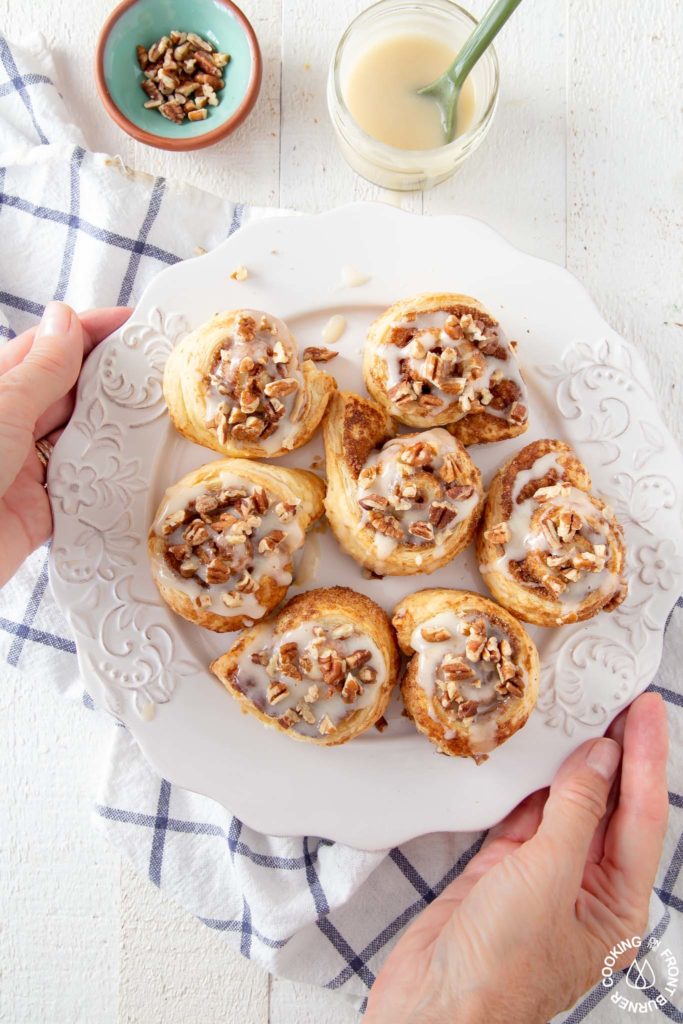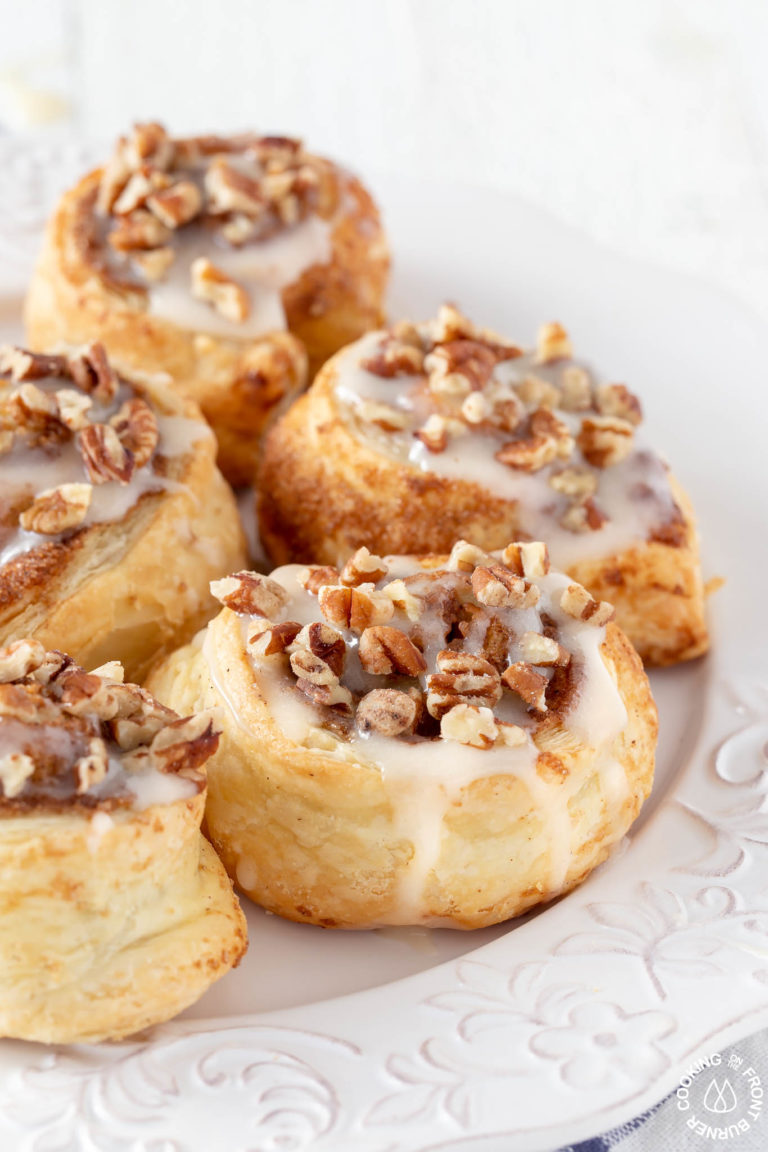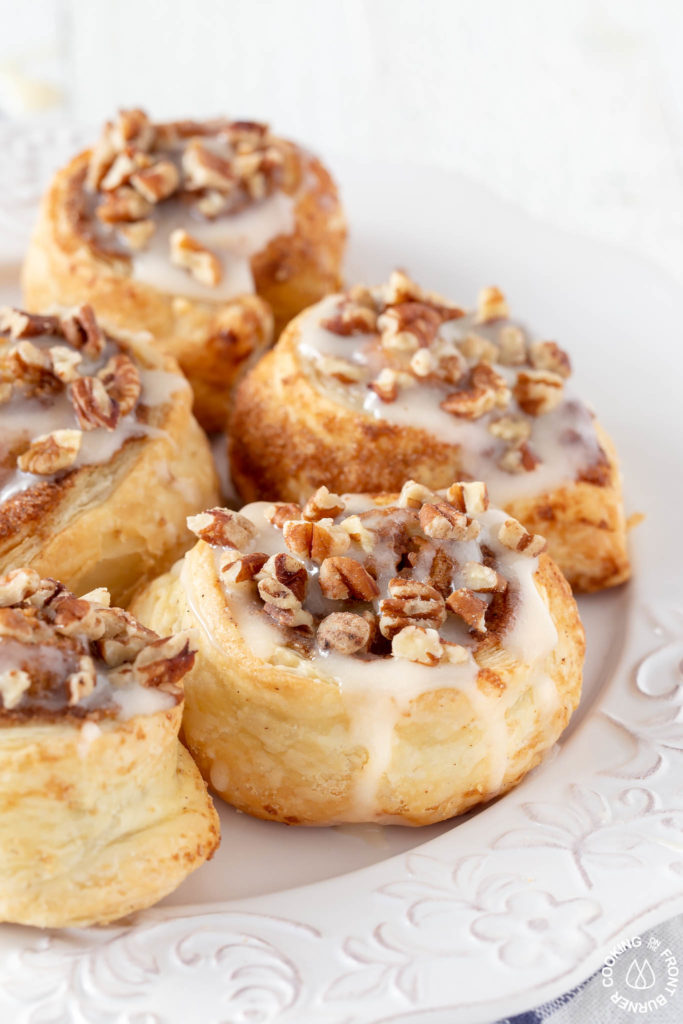 I find using puff pastry is so versatile and have used it in many other recipes (I know you can make your own but why 🙂 !
The pastry works well for savory and sweet treats like Egg and Ham pastries, Blueberry and Peach Tart, and individual Banana Splits. I would love to know what you have made with it too. Let me a message in the comments.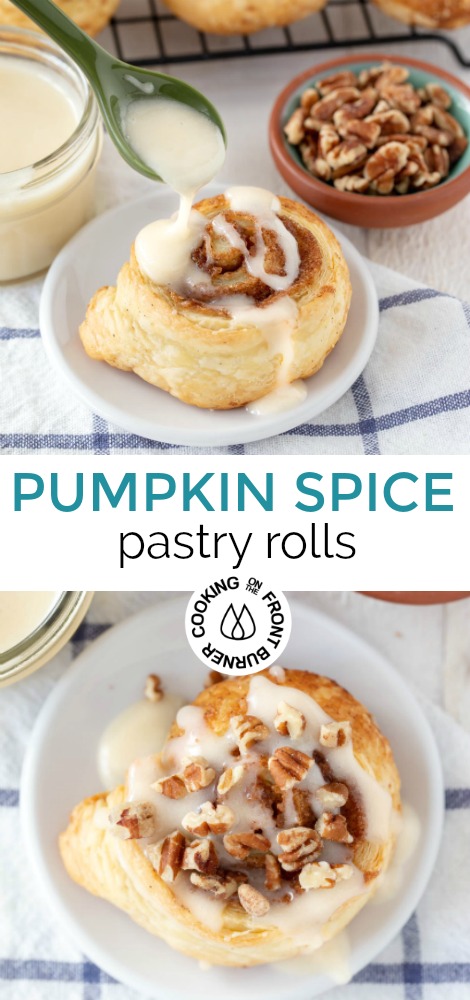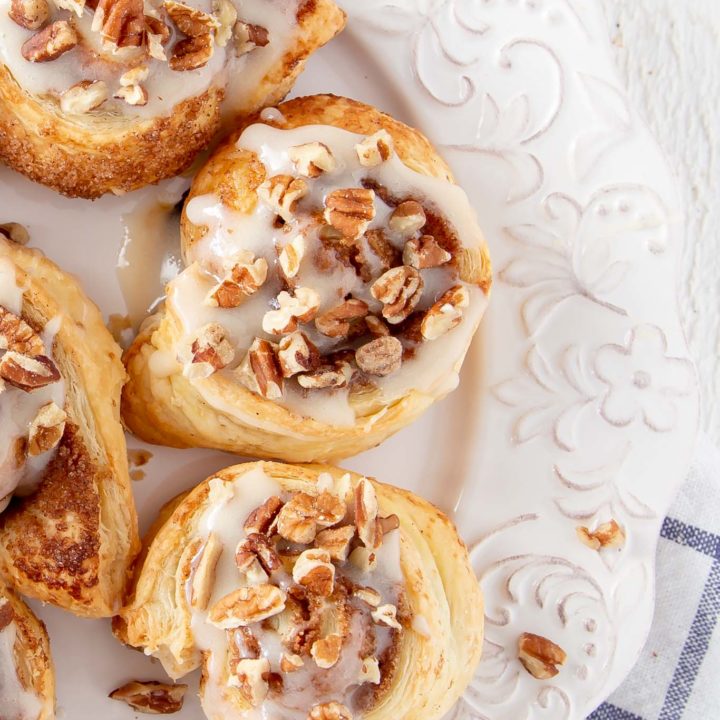 Puff Pastry Pumpkin Spice Rolls
Pumpkin Spice Rolls are so easy to make with puff pastry!
Ingredients
1 sheet puff pastry, defrosted according to package
1 tablespoon butter, melted
¼ cup brown sugar, packed
1 teaspoon pumpkin spice mix
¾ cup powdered sugar
1 tablespoon maple syrup (I used pure)
2 tablespoons cream cheese, softened
¼ cup pecans, chopped
Instructions
Preheat oven to 400°
On a floured surface roll the pastry to a 12x9 rectangle
Brush with melted butter.
Combine the brown sugar and pumpkin spice mix then sprinkled onto the melted butter.
Pat the mixture gently
Roll up from the long end and cut into 8 equal slices
Place on a baking sheet that is lined with parchment paper or a silpat mat
Bake for 20 minutes until golden brown
Prepare glaze while rolls are baking
Combine the powdered sugar, maple syrup and cream cheese
Let rolls cool slightly then glaze and top with pecans.
When
Recommended Products
As an Amazon Associate and member of other affiliate programs, I earn from qualifying purchases.
Other recipes using puff pastry that you might enjoy:
About the Author
Recent Posts
Recipe Index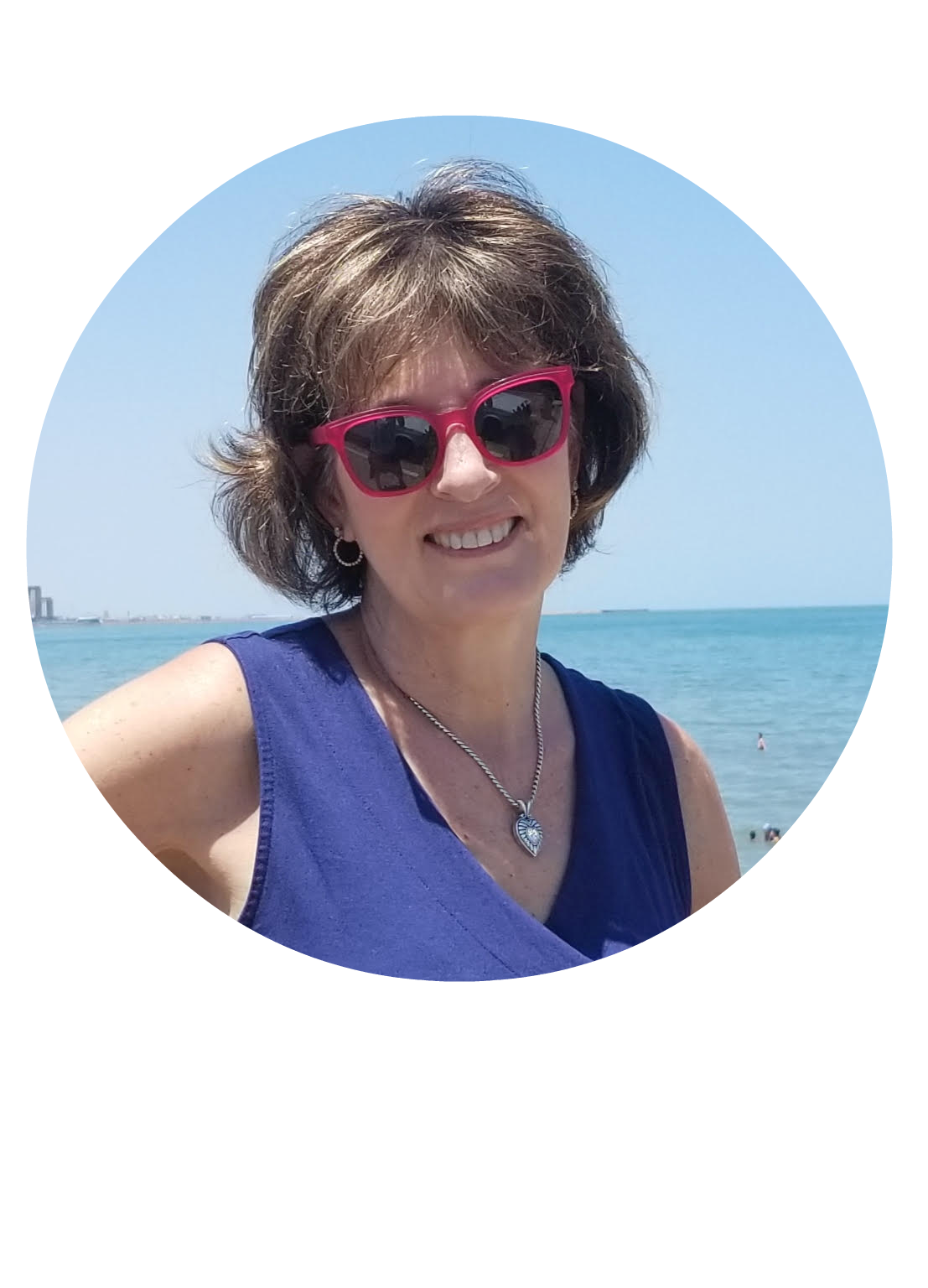 We are all about sharing our love of good food so on the blog you will find easy recipes to enjoy with your family and friends.  We hope to inspire you to host a gathering to create special memories.  Most recipes are step by step so you can feel confident in the kitchen.  Take a look around to find everything from breakfast to dinner and everything in-between!