Sweet potato rounds with goat cheese are the perfect easy holiday party appetizer! This sweet potato goat cheese appetizer is beautiful and easy to make topped with creamy goat cheese, crunchy pecans, sweet dried cranberries and drizzled with honey.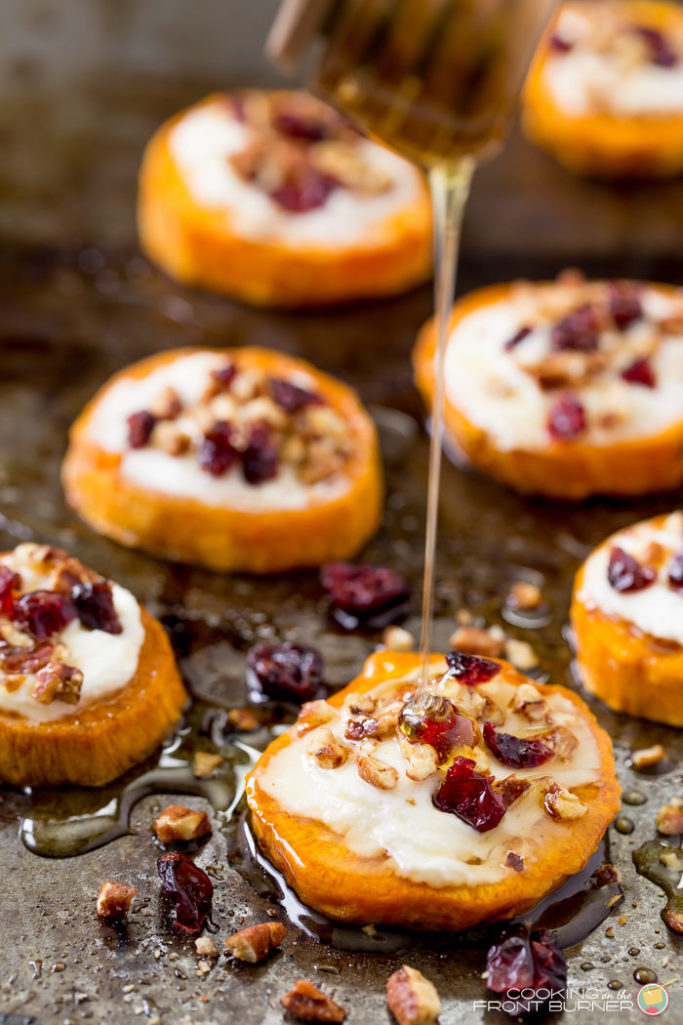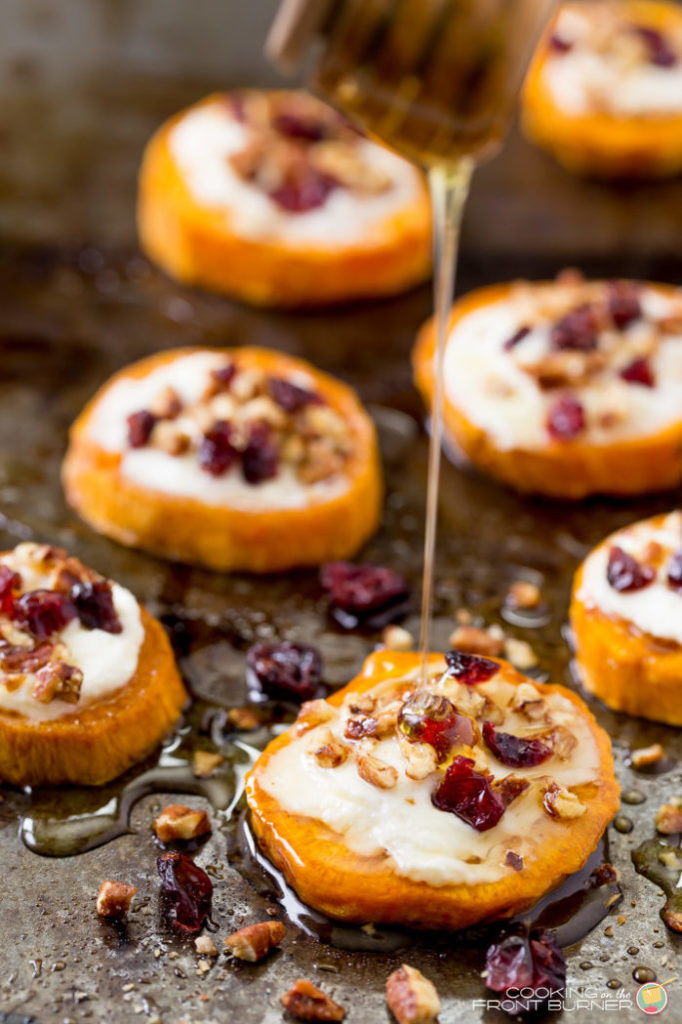 Sweet Potato Goat Cheese Appetizer
With a couple big holidays coming up curious minds want to know - are you a fan of sweet potatoes? I am for sure and I like them mashed, baked, roasted, french fried and in gumbo (oh wait that is Bubba shrimp!)
Kidding aside, I like them anyway they can be prepared. Love the sweet flavor and if I can resist over dousing them in butter and brown sugar, they are pretty healthy too.
Prepare these appetizers for all your holiday parties!
Today I'm sharing how to prepare them as a tasty appetizer. The rounds are roasted, spread with a creamy goat cheese filling, topped with pecans and craisins and then drizzled with some honey.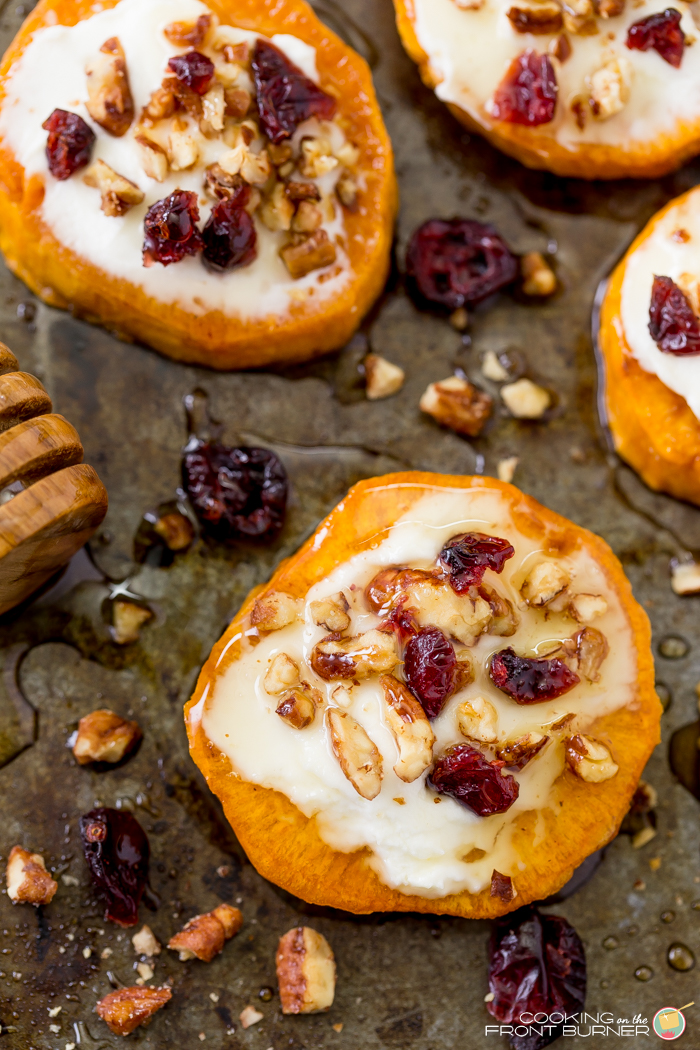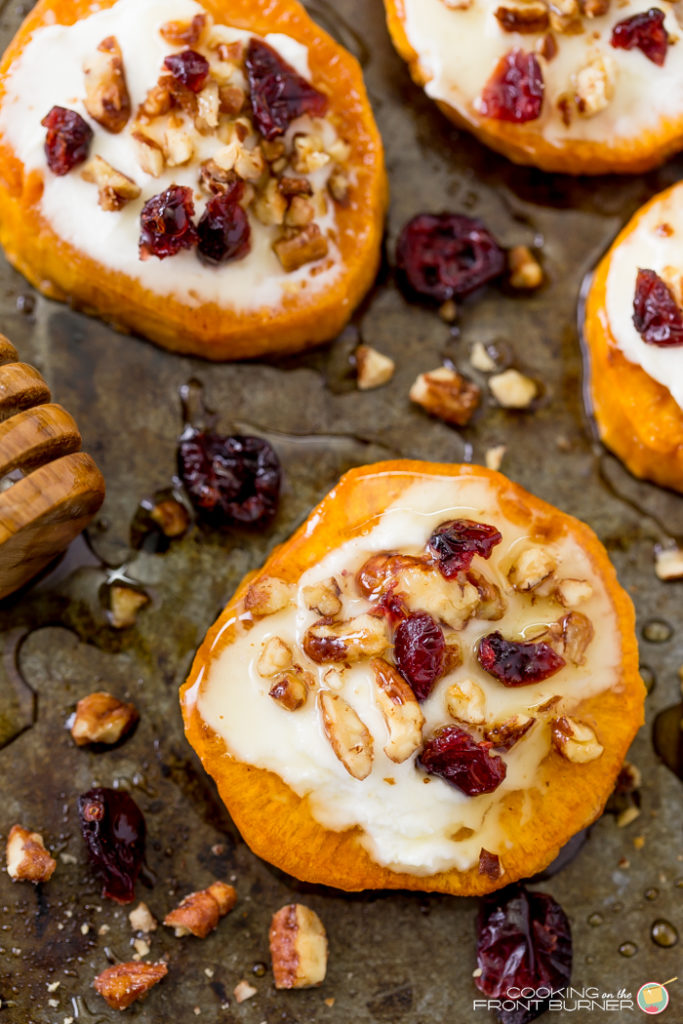 What ingredients will you need for sweet potato rounds?
Sweet Potatoes
Olive Oil
Sugar
Cinnamon
Goat Cheese
Cream
Honey
Candied Pecans
Dried Cranberries
Honey
Salt
Did you also know that you can serve sweet potatoes for breakfast? Our family likes this Sweet Potato Hash recipe that is cooked up with shallots and peppers all made in one skillet. Just add eggs and you have a complete meal.
For the meal lovers, I've also created a version using sausage (the DIY Guy loves this one). No meal is complete for him unless it has meat - your guys the same too?
So what is on your holiday plan? Do you like to graze the whole day? Start with some appetizers and tasty beverages? Make a big meal with all the trimmings and dessert? On Thanksgiving we usually have our meal around 1 p.m. We'll start our feast with some sort of pumpkin or squash soup, then move onto the bird with lots of side dishes.
Since we are usually full from the meal, dessert is more like mid-day and then we start with leftovers in the evening. I'm looking forward to getting together with the family and enjoying the day!
Useful tips for making this Sweet Potato Goat Cheese Appetizer:
Cut the sweet potatoes ahead and keep in water until ready to use (just drain and blot)
You could also bake the sweet potatoes a day ahead and keep in refrigerator until ready to assemble (store in single layer or with wax paper in-between)
The goat cheese mixture could also be made a day ahead
If you aren't a fan of goat cheese, substitute feta
Candied walnuts could be used in place of pecans
Kitchen items you might need - mandolin, cutting board, cookie baking sheet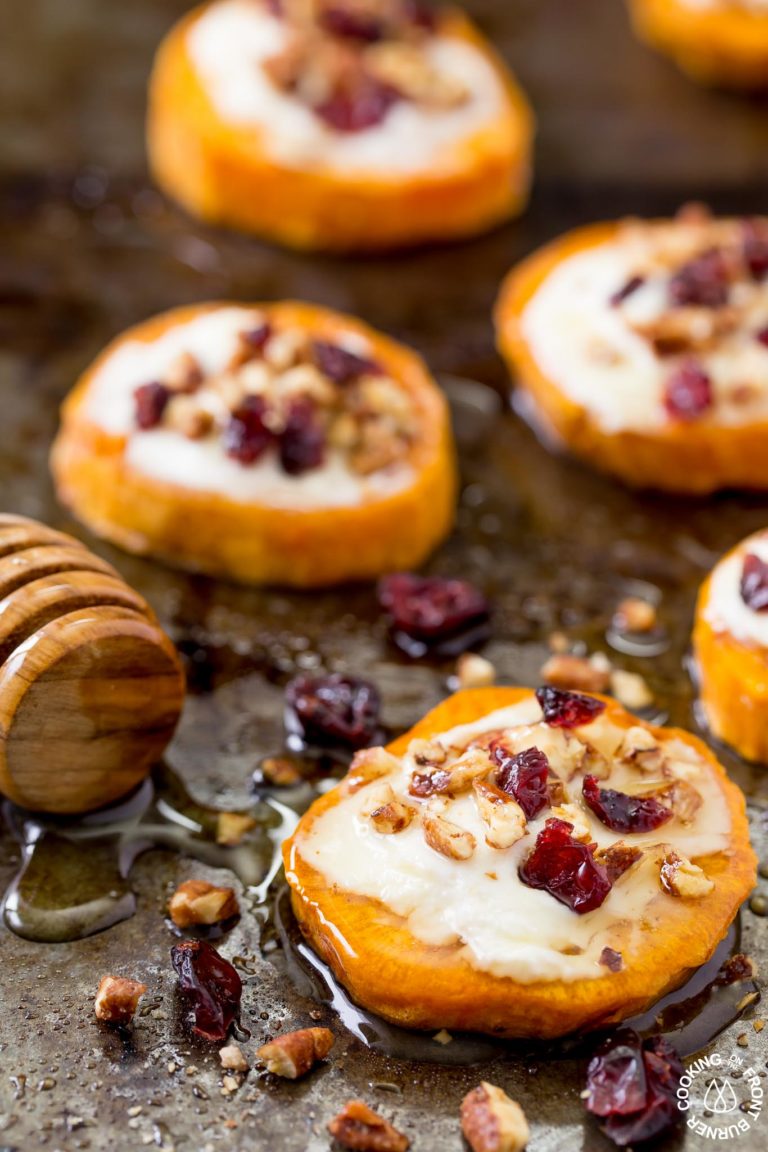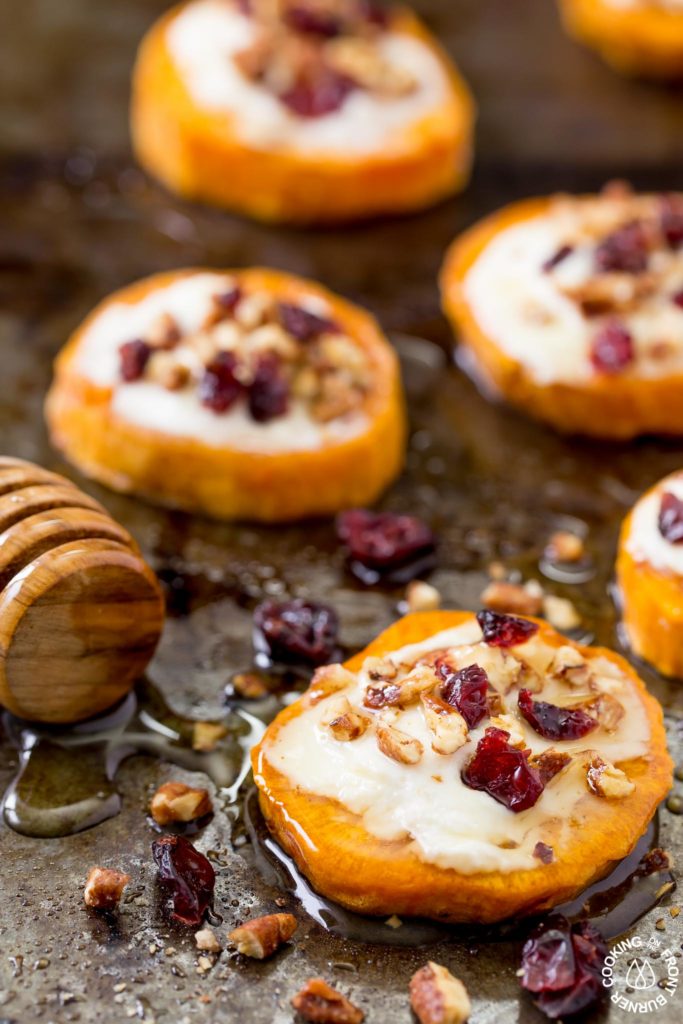 Can you make Sweet Potato Rounds ahead of time?
This is the most often question I get asked and want to share with you how to do this.
The first way to make a day ahead is to bake the rounds, cool, and store in the refrigerator. Store them flat in a covered container (if you need to stack place plastic wrap or wax paper between the layers)
Also make the goat cheese ahead of time and refrigerate.
About an hour before you wish to serve, warm up the rounds for about 10-15 minutes in a 350 degree oven. Also remove the goat cheese mixture to come to room temperature.
When rounds are heated, top them with goat cheese, pecans, dried cranberries and then drizzle with honey.
If you want to make and serve these the same day, make about 2-3 hours ahead, store in refrigerator in a covered container prepared with everything but honey drizzle.
About 30 minutes before serving, pull out of refrigerator and drizzle with honey. These will be served at room temperature which is totally fine. If you would like them warmer, follow method one above.
Hope this helps and feel free to send me a message if you have any other questions.
What other appetizers that would work well for Thanksgiving:
Be sure to save this pin to make later!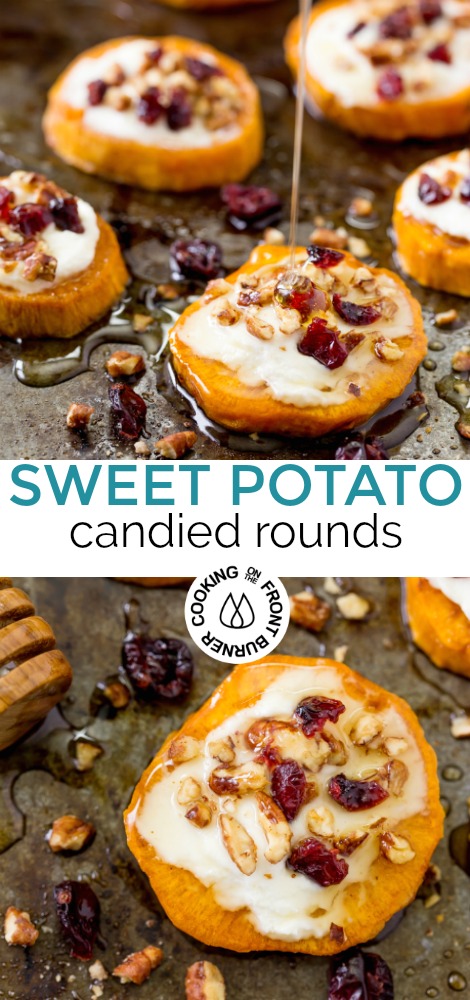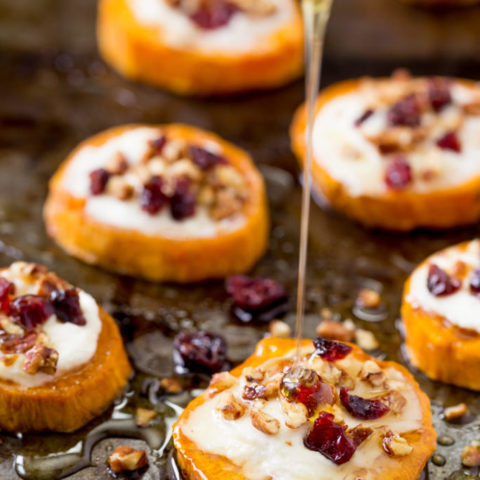 Sweet Potato Goat Cheese Appetizer
You are going to love these Sweet Potato Rounds with Goat Cheese appetizer! They are perfect for all your holiday gatherings.
Ingredients
3-4 medium sweet potatoes peeled and cut into ½" slices
olive oil
sea salt
1 tablespoon sugar
½ teaspoon cinnamon
4 oz goat cheese
1 tablespoon cream or half and half
1 tablespoon honey
¼ cup chopped candied pecans
¼ cup chopped dried cranberries
honey for drizzling
Instructions
Preheat oven to 400 degrees
Combine sugar and cinnamon and set aside
Brush each side of the rounds with olive oil and also sprinkle a bit of salt and the sugar cinnamon on each side
Place one side down on a heavy cookie sheet
Bake for 15 minutes; turn and baked for another 15 minutes
While baking, combine the goat cheese with the cream (or half and half) and honey with a mixer
When rounds are done, let cool a bit then add about a teaspoon of goat cheese mixture on each round, sprinkle with pecans and craisins
Drizzle with a bit honey and serve immediately
Nutrition Information:
Yield:

12
Serving Size:

2
Amount Per Serving:
Calories:

113
Total Fat:

5g
Saturated Fat:

2g
Trans Fat:

0g
Unsaturated Fat:

2g
Cholesterol:

6mg
Sodium:

112mg
Carbohydrates:

16g
Fiber:

2g
Sugar:

10g
Protein:

3g
Nutritional information provided is computer-generated and only an estimate. You may want to do your own research with the ingredients listed if you have concerns about health or specific diets.