These Raspberry Vanilla Cream Crepes make the perfect dessert for Valentine's Day or any time you want to impress that someone special.  The crepes have a creamy vanilla filling and the fresh raspberries add a pop of color.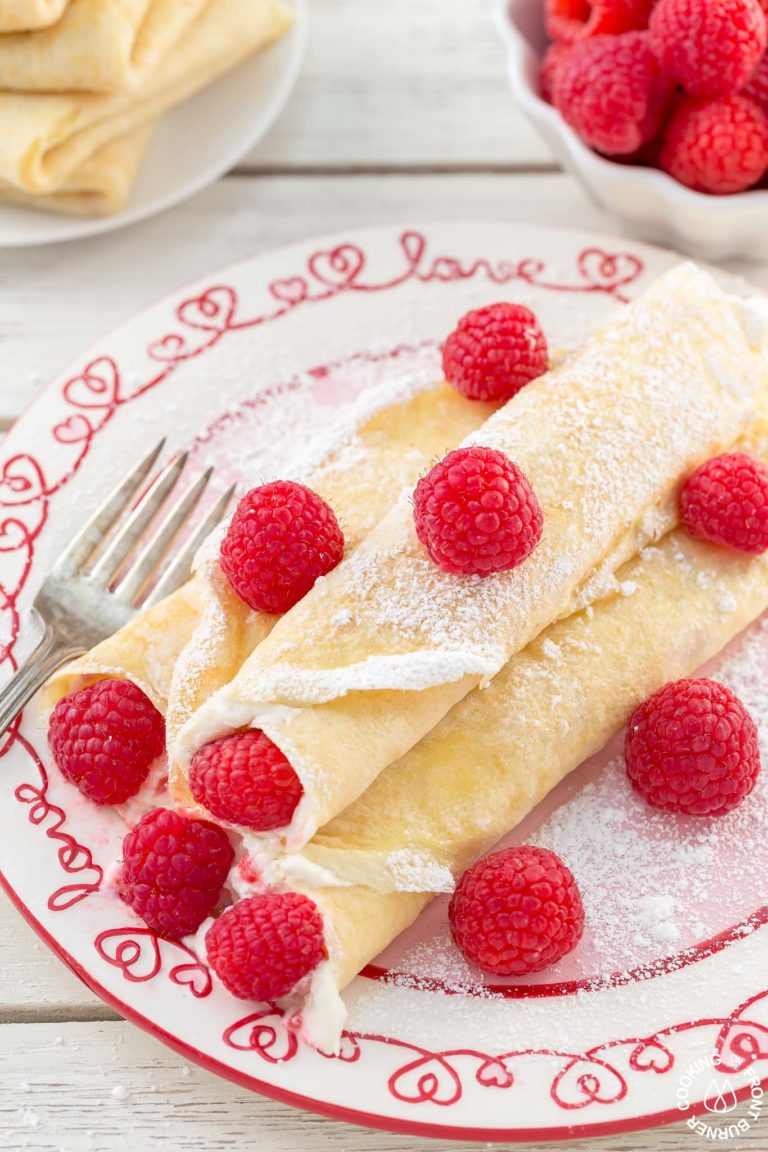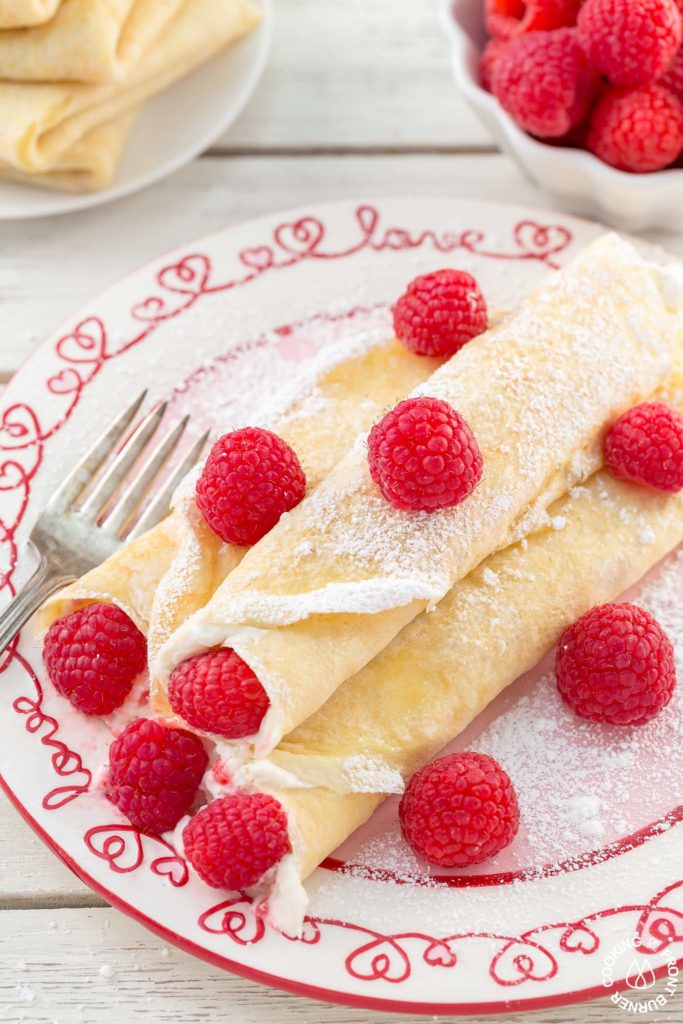 Have you ever made crepes?  Are you maybe a bit intimidated thinking they are so hard to do?  Well, if so, I totally get it.  I used to be one of those.  I love crepes and thought there was no way I could have them turn out as well as I've had them.  But I was wrong, way wrong.  Once you give them a try, you'll be whipping them up often.
Making crepes are like making a version of pancakes.  The batter is just thinner and you need to swirl it in a hot saute pan, flip 'em, remove 'em and then load them up as in these raspberry vanilla cream crepes.  You can also fill them with about anything you want.  I've made them with lemon curd and apples with caramel.  Next up I want to try a savory one.  This past July I was in Las Vegas having breakfast at Mon Ami Gabi and enjoyed an egg, bacon and cheese crepe.  It was delicious!  Be sure to stop by if you are ever in the area.
If you want, you could make the crepes earlier in the day, cover them and store in a refrigerator.  The filling could also be made ahead and just assembled when you are ready to serve.  I won't recommend keeping them longer than a day (or overnight) as they seem to get a big doughy when left that long.  I don't own an official crepe pan so I use my 10" non-stick skillet and it works just fine.  I went to our local kitchen store today to try and buy one but at $129 (it was a Le Creuset), I decided to pass!  I'll just keep using my skillet.
I hope you enjoy these raspberry vanilla cream crepes and shoot me a message if you need any help!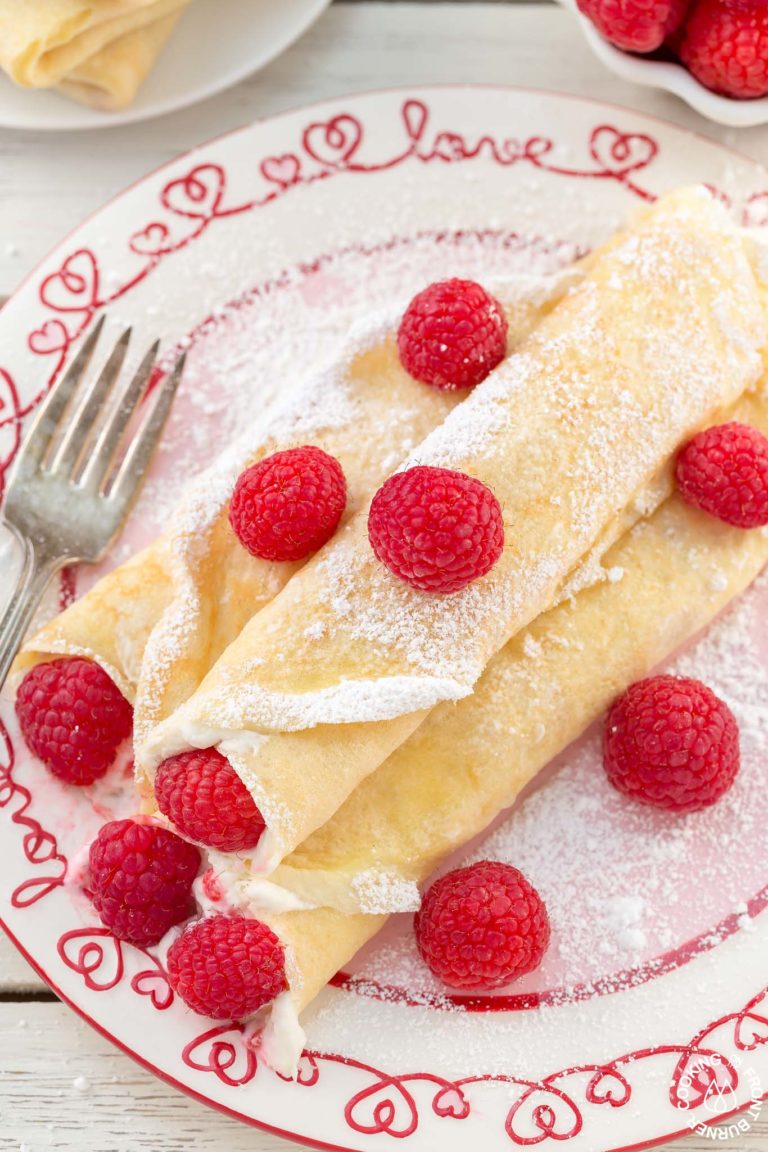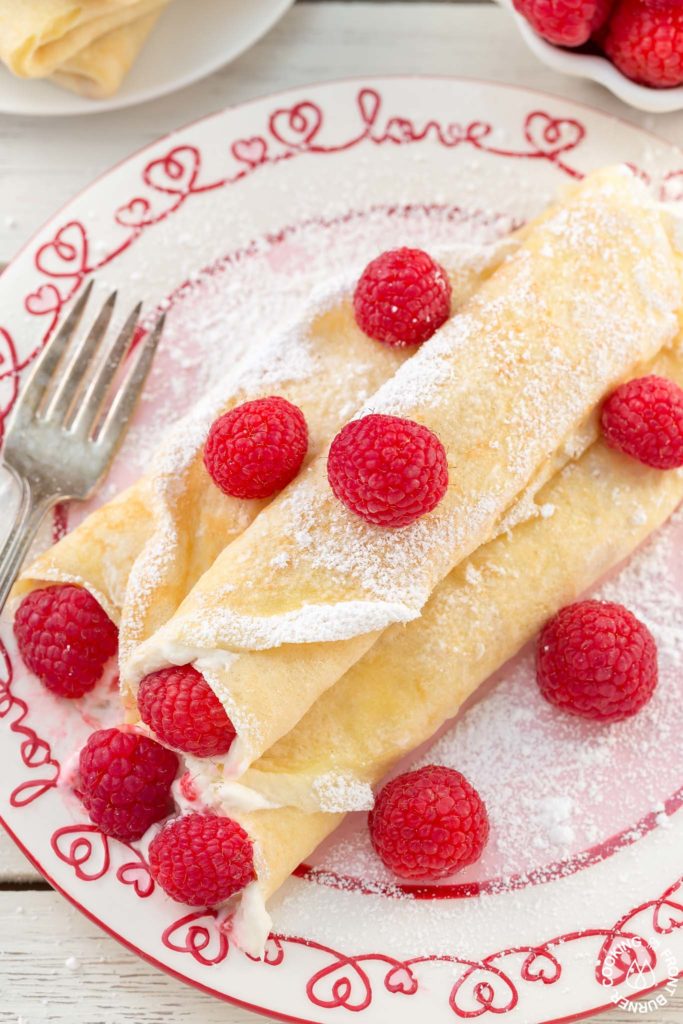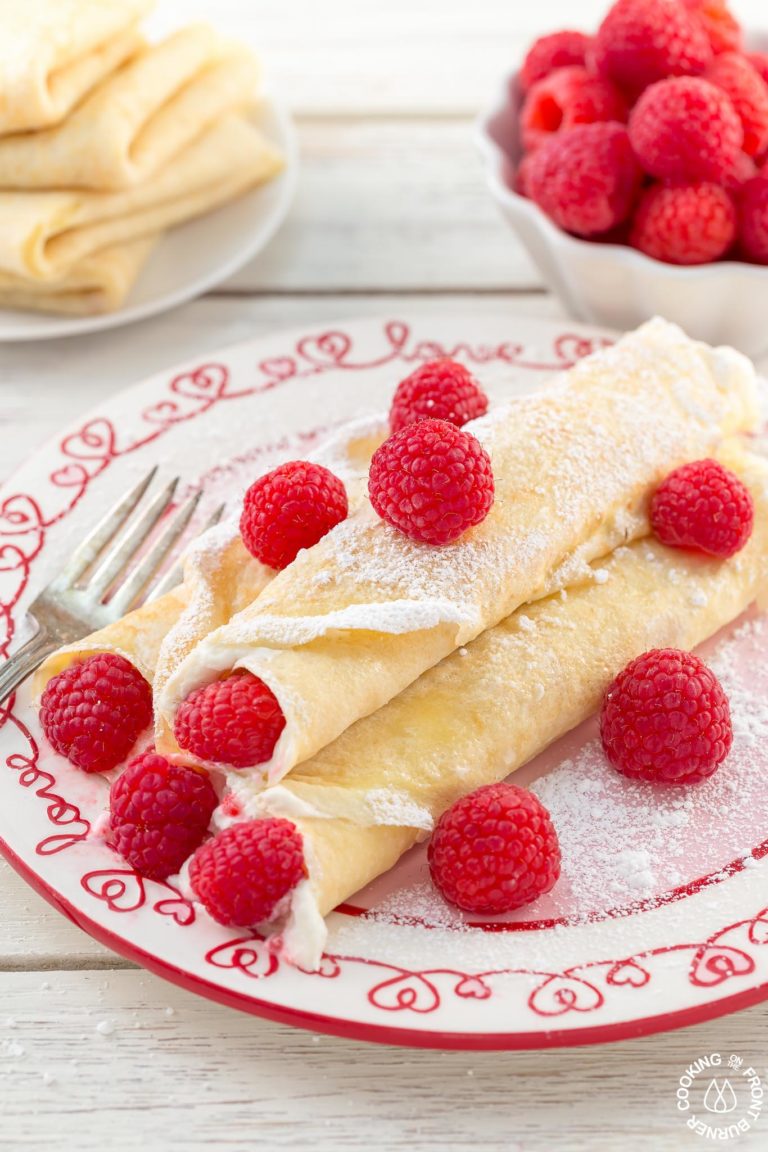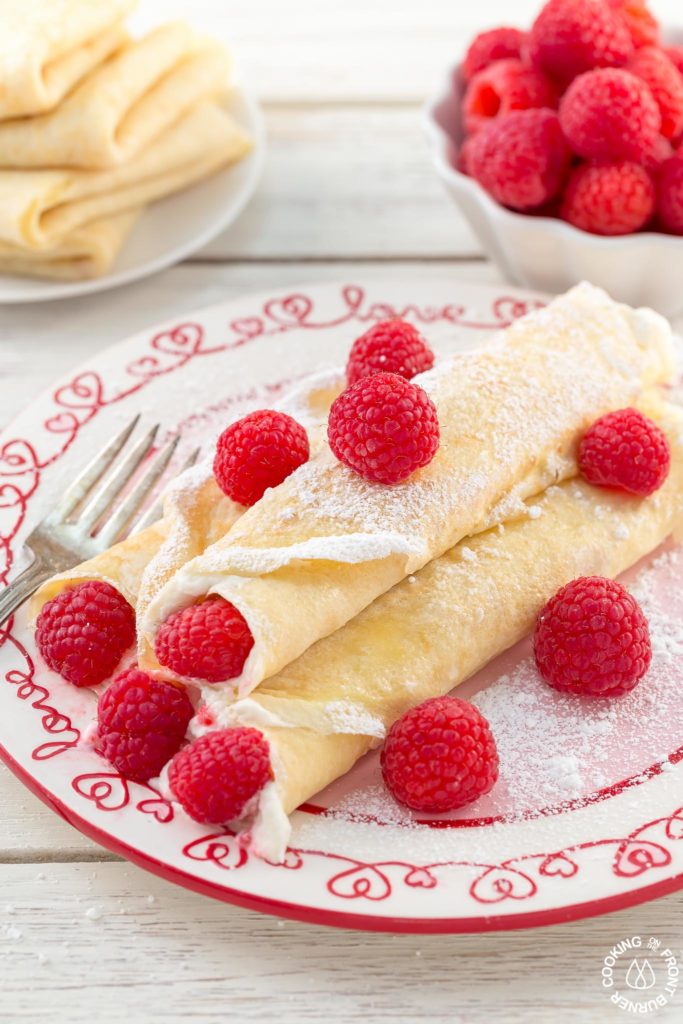 Powdered sugar is a good idea too.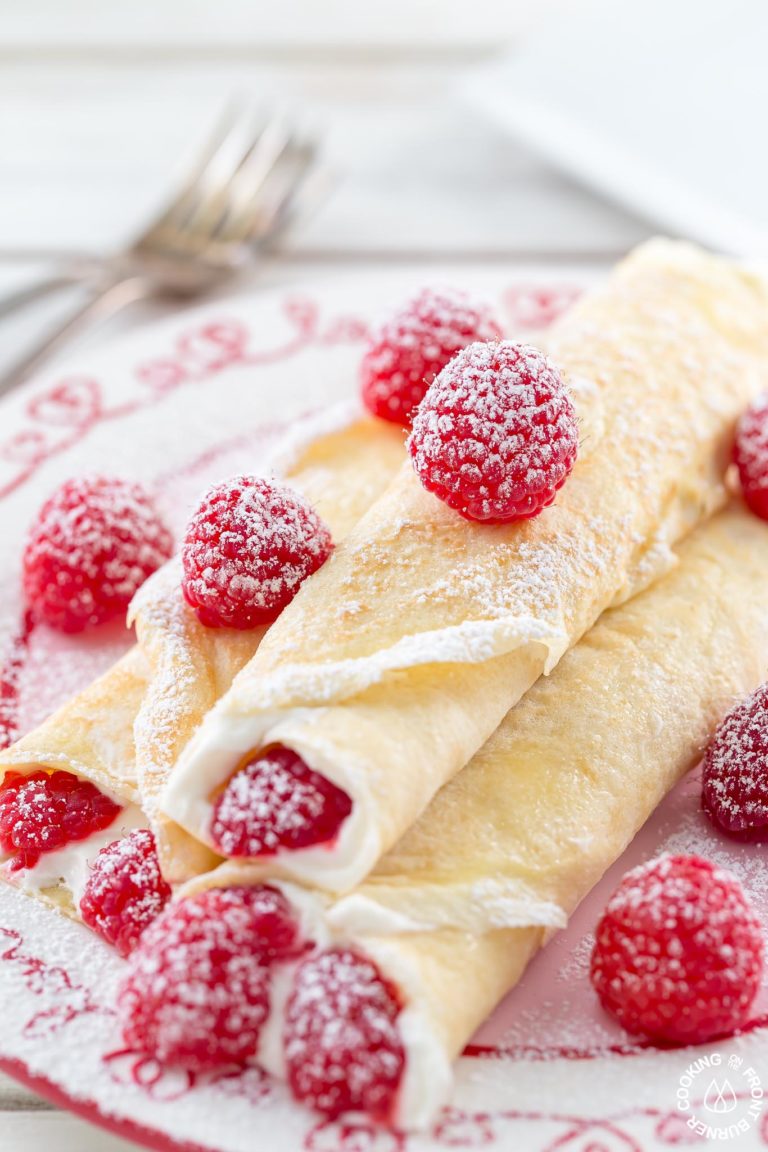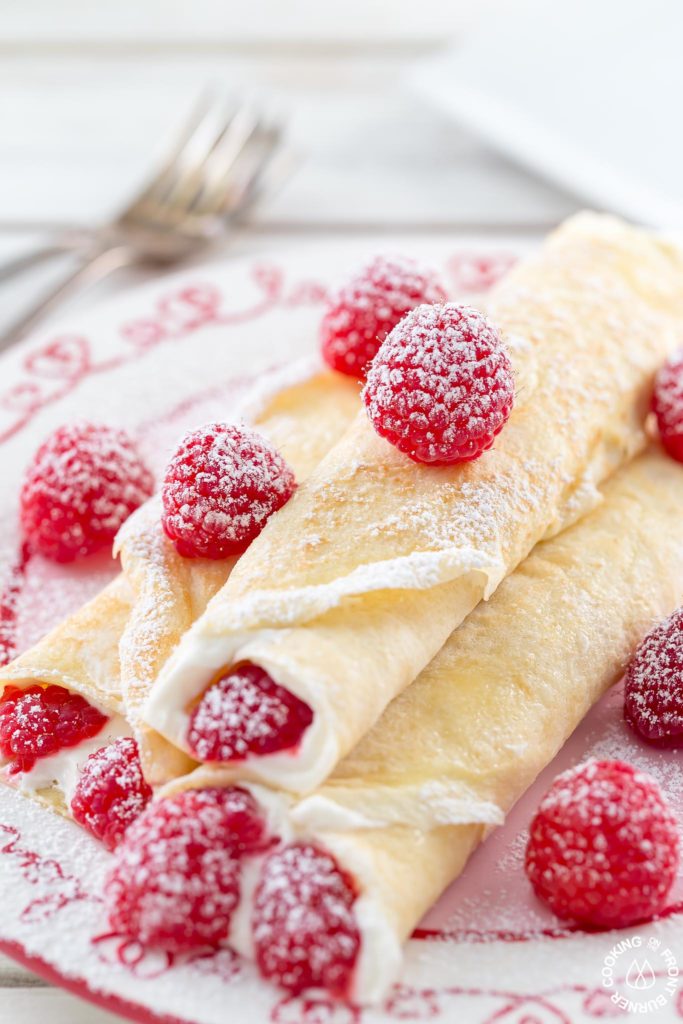 Use fresh berries!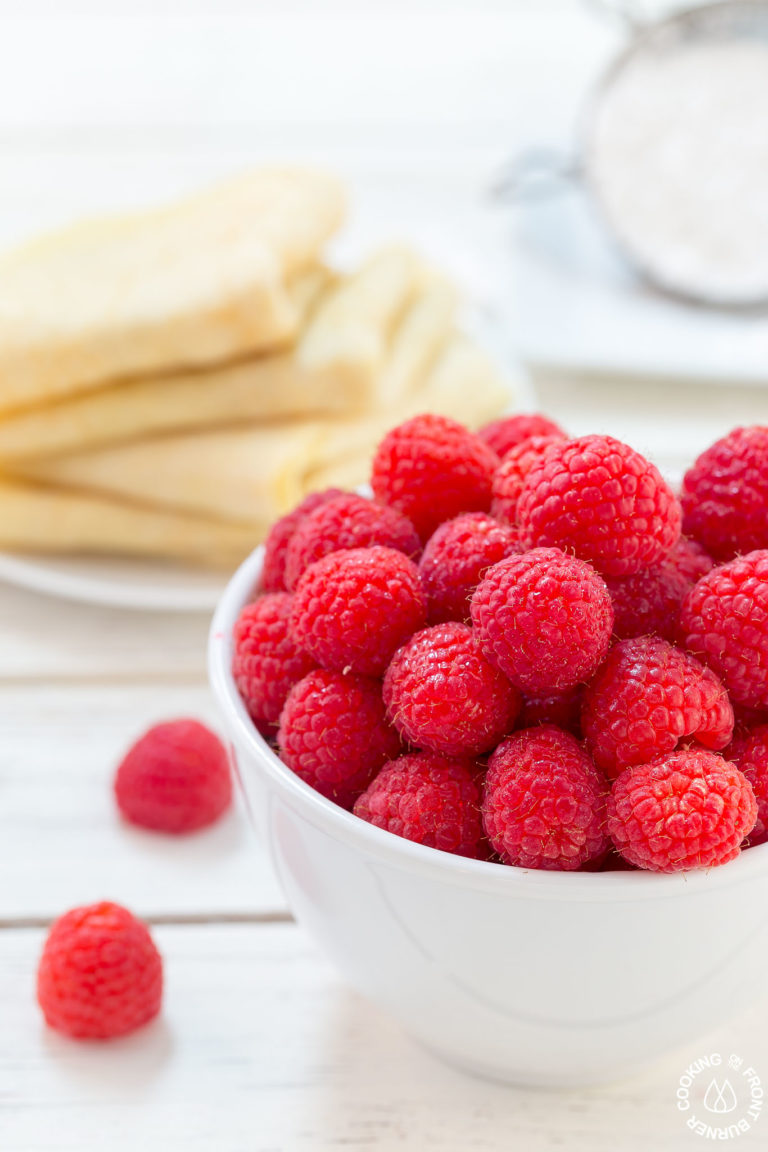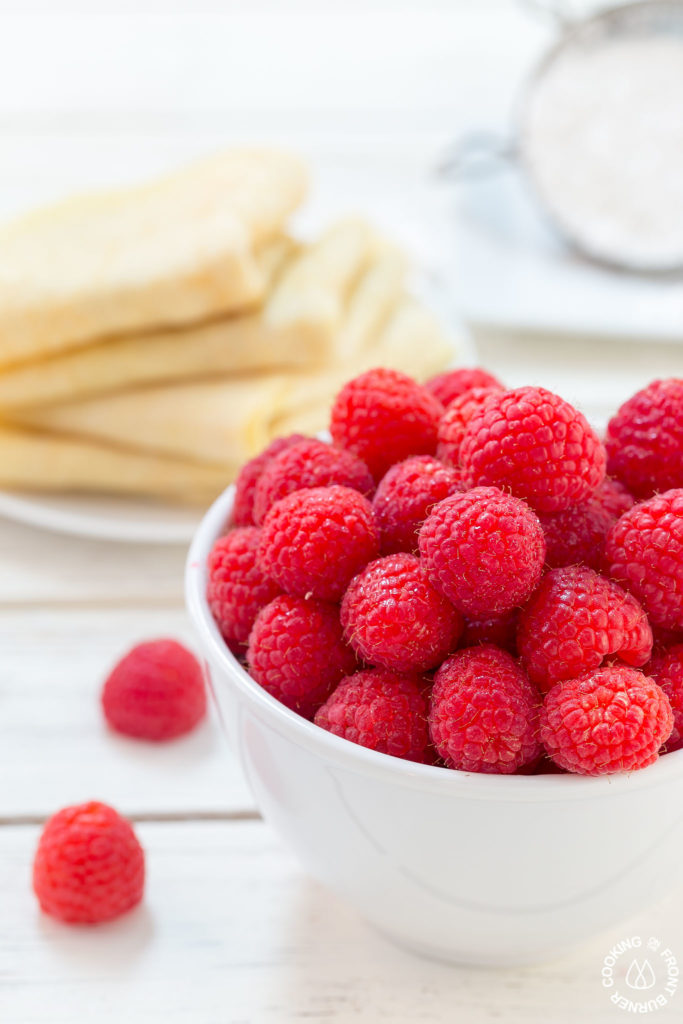 Get the Recipe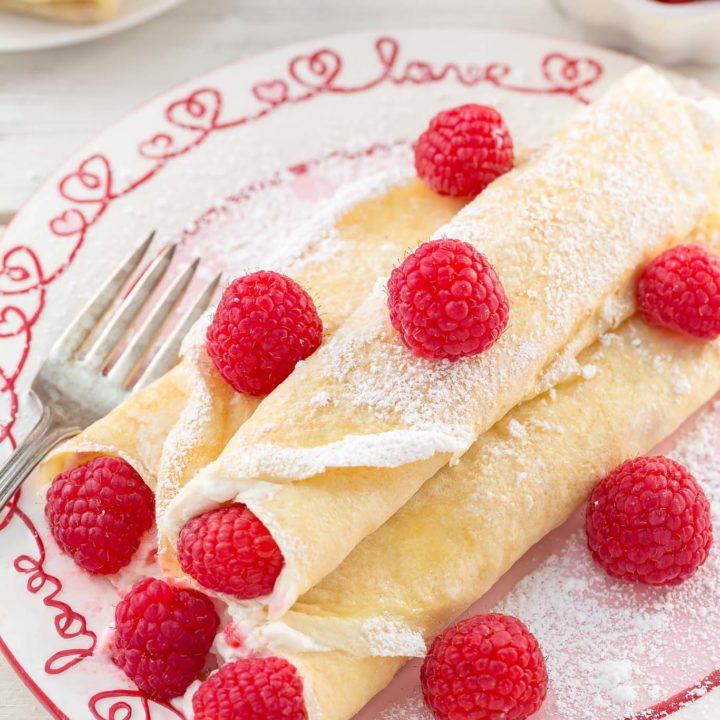 Raspberry Vanilla Cream Crepes
These delicate crepes are stuffed with a creamy filling!
Ingredients
1 ¾ cup flour
3 eggs
¼ teaspoon salt
2 teaspoons vanilla extract
1 teaspoon sugar
2 cups milk (I used 1% - do not use skim but other kinds will do)
2 tablespoons melted butter
Extra butter for skillet
8 oz. soft cream cheese
½ teaspoon vanilla
pinch salt
1 cup heavy cream
1 cup powdered sugar (divided) plus extra for dusting
fresh raspberries
Instructions
In a large bowl combine the flour, eggs, salt, vanilla, butter and sugar
Whisk in the milk gradually until it is a smooth batter with no lumps
Heat a lightly buttered 10" skillet over medium/high heat
Scoop about ¼ cup batter in center of pan then swirl and rotate so batter covers the bottom of the skillet
The crepes will take about 1-2 minutes per side until brown
Cook all crepes (lightly butter pan between making each crepe)
Make filling by beating the whipped cream with ¼ cup powdered sugar until stiff peaks form then set aside
In mixer beat the cream cheese until smooth then add in ¾ cup of powdered sugar, vanilla and salt and mix well
Fold in the whipped cream
Spread about 2-3 tablespoons of vanilla cream on crepe and roll up
Top with fresh raspberries and a dusting of powdered sugar
Notes
I was inspired to make the crepes from this site.
Nutrition Information:
Yield:

6
Serving Size:

2
Amount Per Serving:
Calories:

621
Total Fat:

37g
Saturated Fat:

22g
Trans Fat:

1g
Unsaturated Fat:

12g
Cholesterol:

199mg
Sodium:

382mg
Carbohydrates:

57g
Fiber:

1g
Sugar:

24g
Protein:

15g
Nutritional information provided is computer-generated and only an estimate. You may want to do your own research with the ingredients listed if you have concerns about health or specific diets.

About the Author
Recent Posts
Recipe Index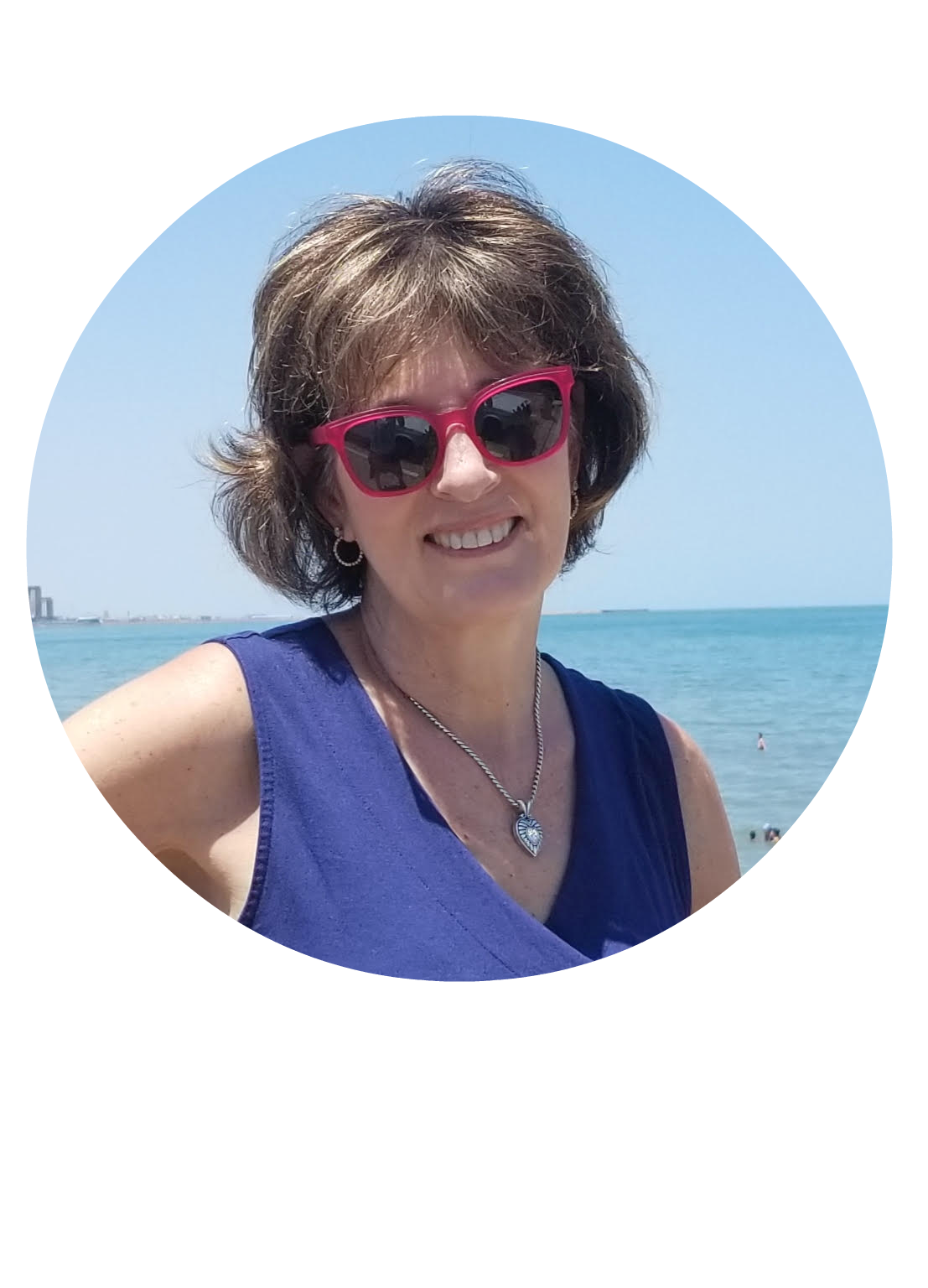 We are all about sharing our love of good food so on the blog you will find easy recipes to enjoy with your family and friends.  We hope to inspire you to host a gathering to create special memories.  Most recipes are step by step so you can feel confident in the kitchen.  Take a look around to find everything from breakfast to dinner and everything in-between!