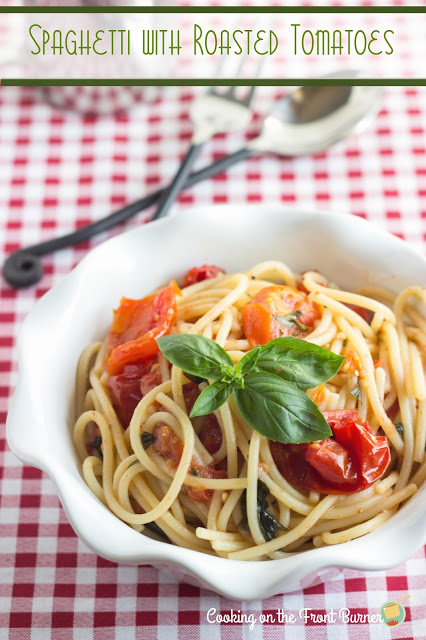 Happy Saturday! Today I'm happy to be guest posting today for Carrie at Frugal Foodie Mama as she celebrates her birthday week!! (oh yea, birthdays should be celebrated all week in my opinion!). Below is that post:
Hi, I'm Deb from Cooking on the Front Burner,I started blogging about 2 1/2 years ago as a way to keep and share recipes with family and friends. I think I can be called a recipe-o-holic. I love reading cookbooks as novels, subscribing to food magazines and searching other blogs for new recipes to try. If you are a dinner guest at my place, most likely I am making something new for you to experience. And when I'm not in the kitchen, I am probably (re)decorating my house, reading a good book or most recently spoiling our new granddaughter!
Carrie and I have been friends for awhile now and when she mentioned she loves Italian food – and since I'm Italian, I had the perfect recipe for her. This is one my favorite ways to use fresh summer tomatoes and herbs. We have a small garden where we only grow tomatoes, peppers and a few herbs for either Italian dishes or making salsa.
And another birthday wish to Carrie -thanks for having me!! It was great spending time at your place. Mangia!
Spaghetti with Roasted Tomatoes
Prep Time: 10 minutes
Cook Time: 45 minutes
Ingredients (serves 4)
12 roma tomatoes halved lengthwise
1 tsp sugar
1 clove minced garlic
1/4 cup chopped fresh parsley
2 tbls olive oil
1/4 cup chopped basil
2 tbls olive oil (additional)
2 tbls melted butter
S&P
Parmesan cheese
Instructions
1. Preheat oven to 400
2. Place tomatoes in a 9×13 baking dish (cut side up) and sprinkle with sugar and S&P
3. In a small bowl combine parsley, garlic and 2 T olive oil
4. Drizzle over tomatoes then drizzle additional 2 T olive oil
5. Bake for 35-40 minutes until soft
6. Meanwhile cook pasta
7. Place melted butter and basil in a large bowl, add cooked pasta, and cooked tomatoes. Toss and serve with parmesan cheese if desired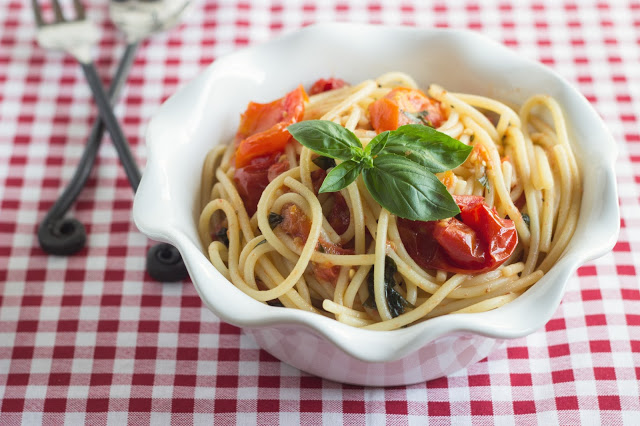 What's your favorite pasta dish???