When life gives you lemons, you make lemonade, right? But when one of your BFFs gives you homemade Limoncello you make Limoncello Cupcakes! I hope you are ready for another lemon recipe!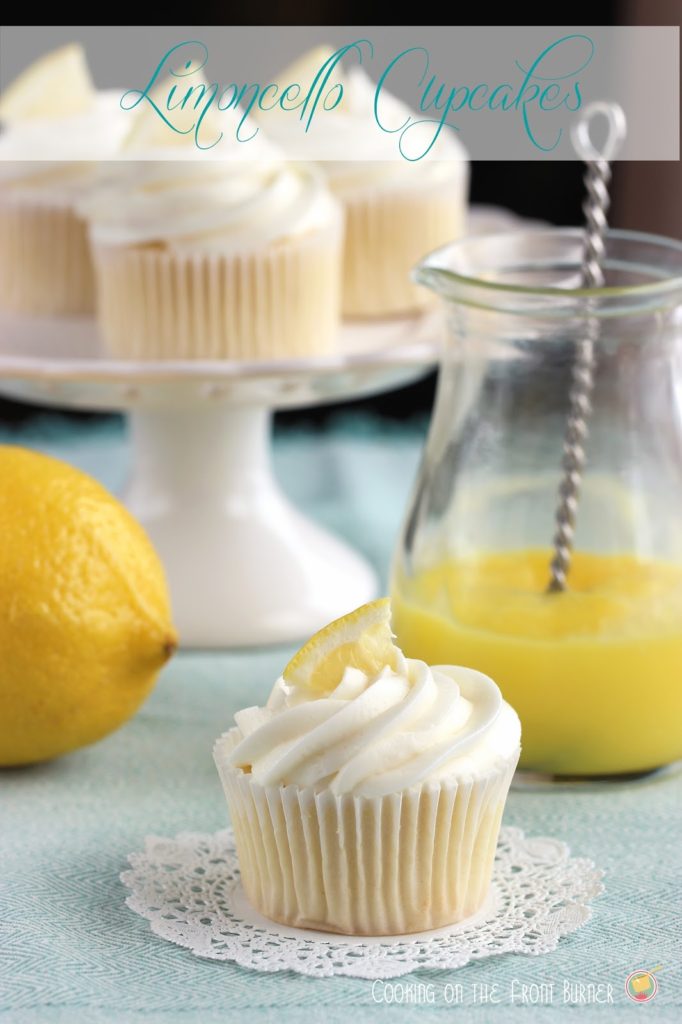 For Christmas my friend Steph gave me a bottle of her homemade Limoncello. I knew she had been working on making a batch and she was explaining how involved it was and then lo and behold I received my very own bottle! It was one of my favorite gifts….
….and I had the perfect recipe to try it out on. This cupcake recipe is one of my favorites – it is made from scratch with lemony cake, lemon curd and a lemony buttercream frosting – it a lemon explosion in your mouth! And you know I'm such a lemon lover.
Limoncello Cupcakes
Prep Time: 15 minutes
Cook Time: 20 minutes
Yield about 18 cupcakes
Ingredients
Cupcake
1 ½ cups flour
1 tsp baking powder
1/2 tsp salt
1/2 stick butter softened
2 oz cream cheese softened
1 cup sugar
3 eggs
1 T limoncello liqueur
1/2 cup buttermilk
1/4 cup lemon juice
zest of one lemon
Lemon Curd
1/2 cup fresh lemon juice
zest of 2 lemons
1/4 cup sugar
1 egg
1 egg yolk
Frosting
1/2 stick butter softened
6 oz cream cheese softened
4 cups powdered sugar
2 T limoncello
Instructions
For cupcakes – preheat oven to 325. Beat softened butter and cream cheese. Add sugar and mix until light and fluffy. Add eggs one at a time and mix well after each. Add limoncello and beat until well mixed. Sift flour, baking powder and salt. Alternate adding flour and buttermilk to butter mixture. Mix in lemon juice and zest until just combined. Pour into baking cups and bake at 325 about 20 or until toothpick comes out clean (this makes 18 cupcakes)
For curd: mix lemon juice, zest and sugar over medium heat until boiling. In separate bowl beat egg and additional yolk. Whisk lemon mixture into eggs (be sure to add a little bit at a time and constantly whisk so you don't end up with the eggs cooking. Add back to pan and cover over medium heat whisking constantly until thickened. Pour into bowl and place plastic wrap on top (after it cools a bit) and cool completely.
Frosting: beat butter and cheese cream until smooth; add limoncello and beat until smooth. Beat in powdered sugar until desired consistency.
To assemble : scoop out some cupcake with a melon ball scooper to make a small hole; fill with lemon curd and then frost as desired.
I made this cupcake special for my friend Jamie from Love Bakes Good Cakes who is celebrating her 2nd blog anniversary – stop by and wish her a happy blog-iversary! And feel free to link up your own cupcake recipe below.