This rustic Easy Blueberry Peach Galette is your summer's new dessert. The flaky pastry crust is oozing with juicy fresh peaches and plump blueberries. It is a simple, yet elegant for any gathering!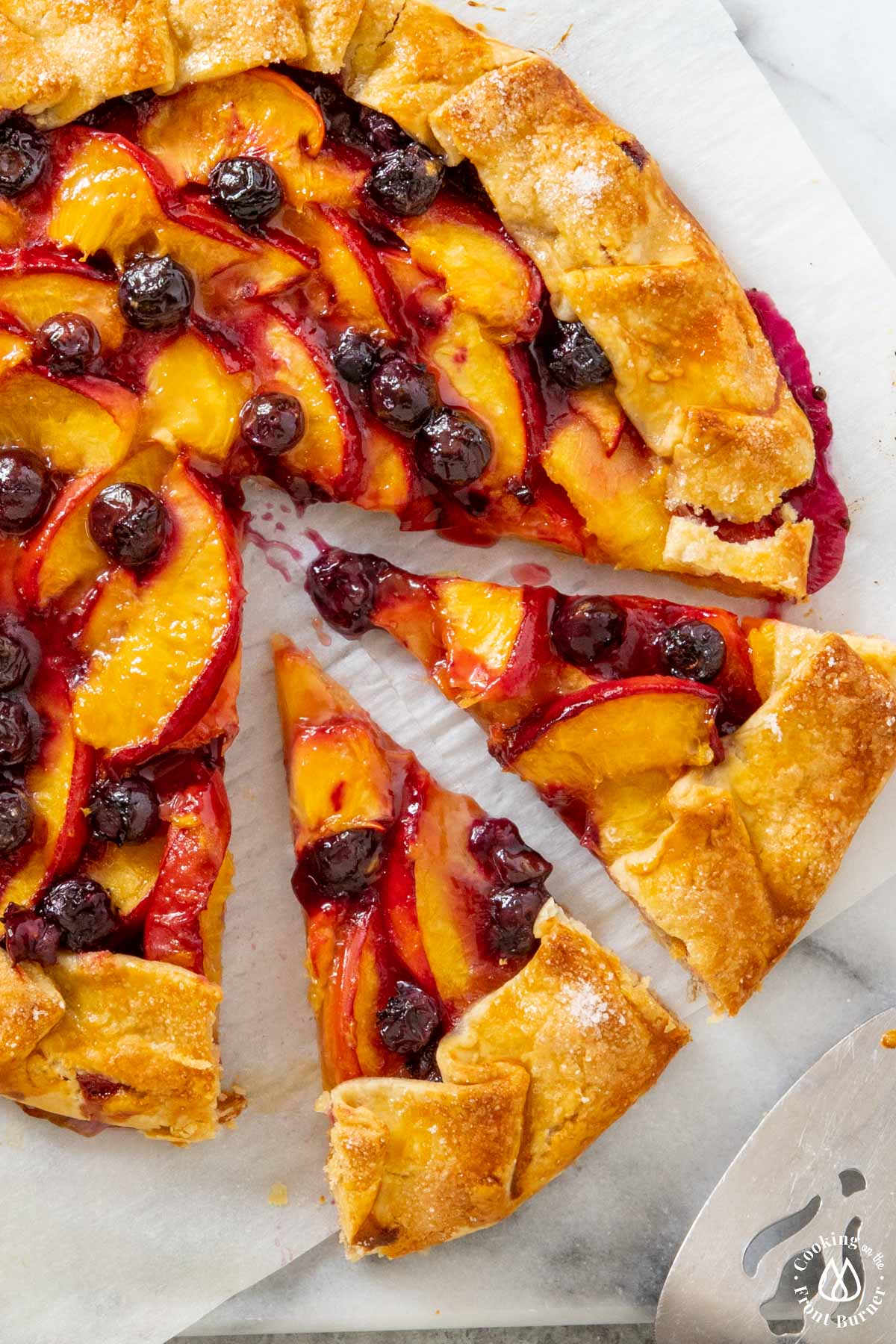 During summer time when fresh fruits are available, I'm all about using them as much as I can.
I'm also a fan especially of the blueberry-peach combo and I made a few years ago a Tart that used puff pastry that started an obsession. Then of course I had to make a skillet cobbler to use up even more of these fresh fruits.
Who is ready to start baking?
Jump to:
Ingredients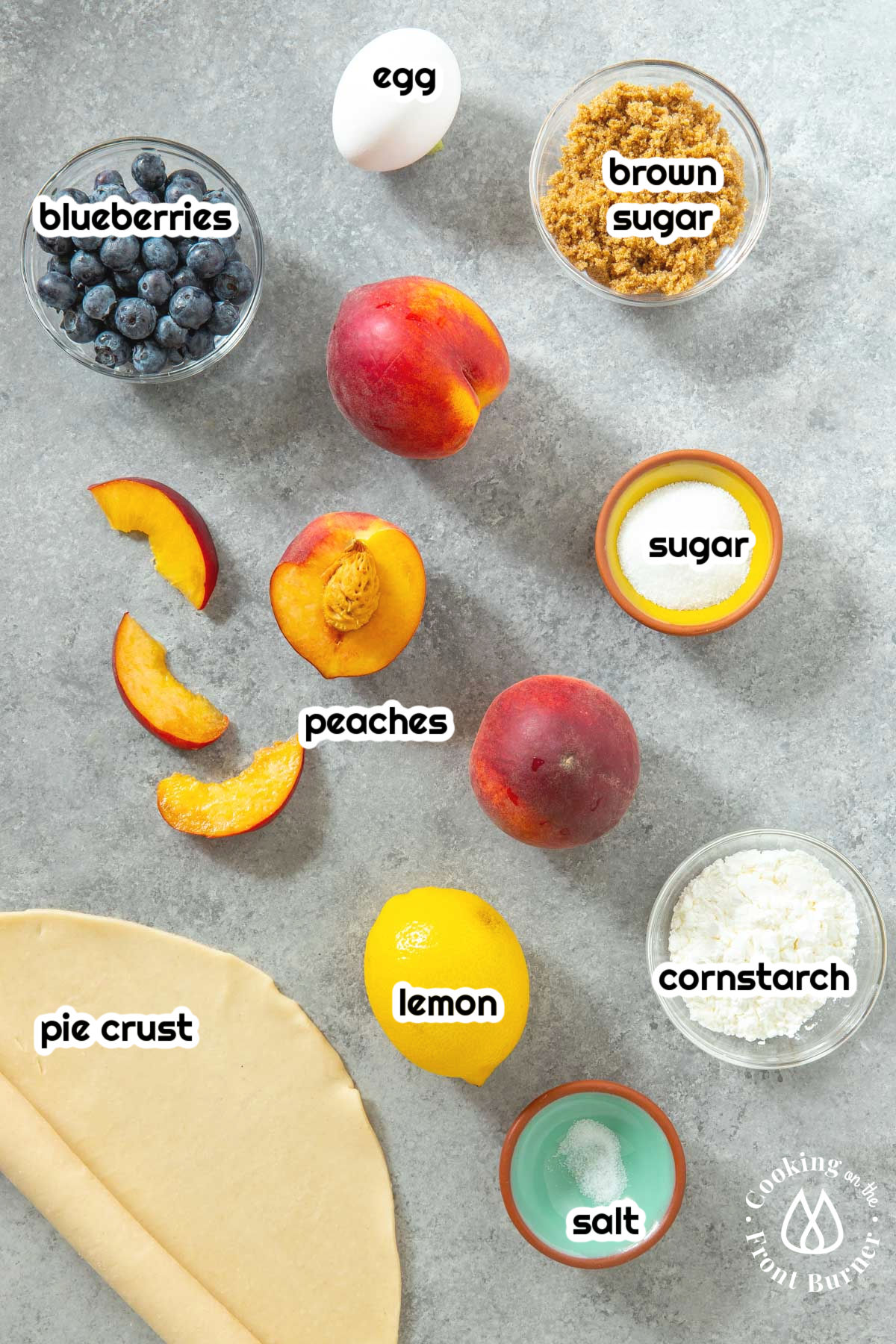 fresh peaches - any variety will do; just make sure that are not overly ripe; slightly under ripe will be OK. It is also fine to leave the skin on.
fresh blueberries - the plumper the better!
lemon - the zest of the lemon provides a nice citrus taste to the overall galette
cornstarch - prevents the crust from getting soggy
brown sugar - you can use either dark or light
pie crust - I kept it really simple by using a pre-made crust. If you have a favorite homemade recipe, feel free to use that
egg - this is used to make a wash over the pie crust and give it a golden brown color
sugar - sprinkle this on the crust after the egg wash to provide a little more sweetness
salt
Please see recipe card for instructions and quantities.
Instructions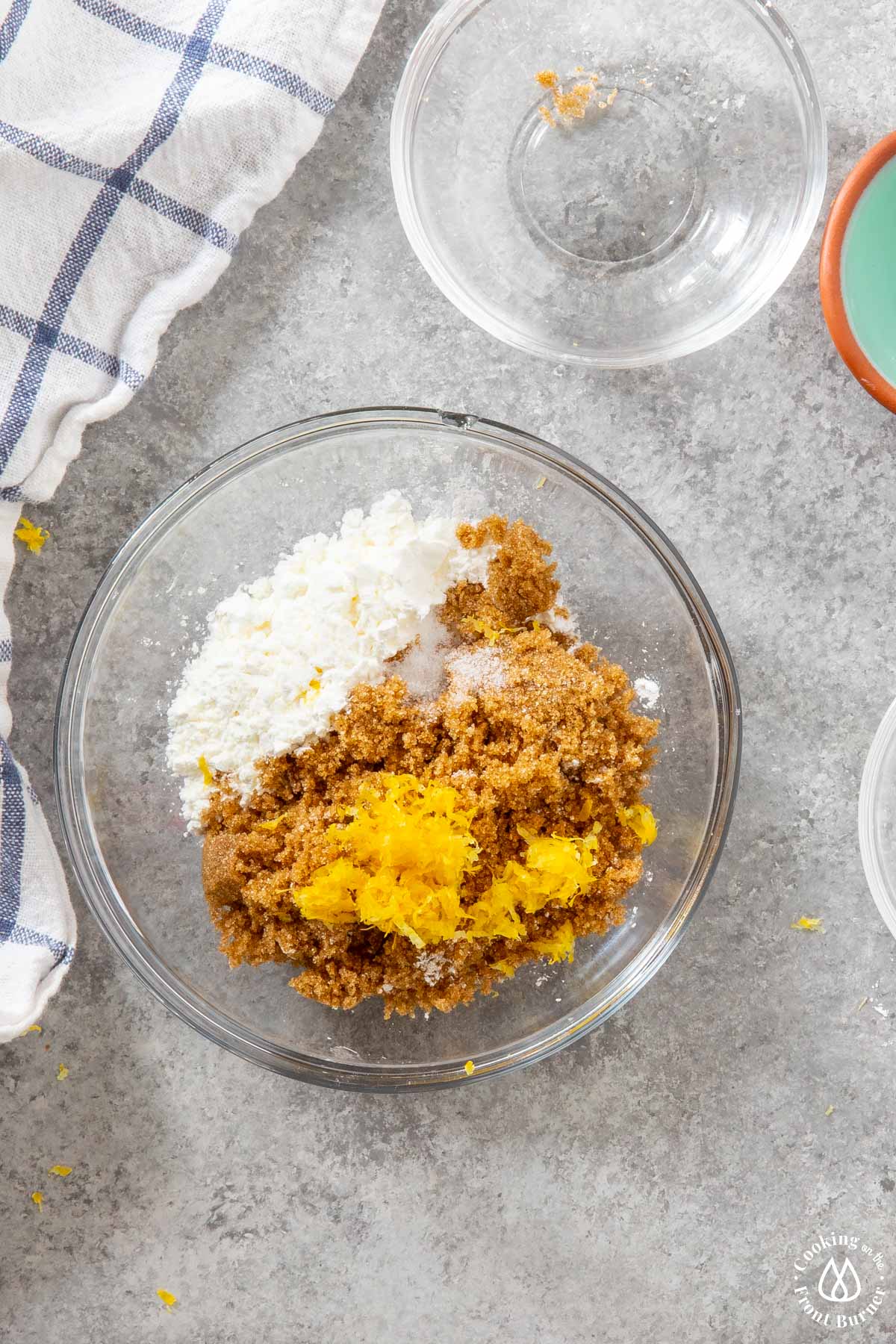 In a small bowl combine the cornstarch, brown sugar, salt and lemon zest.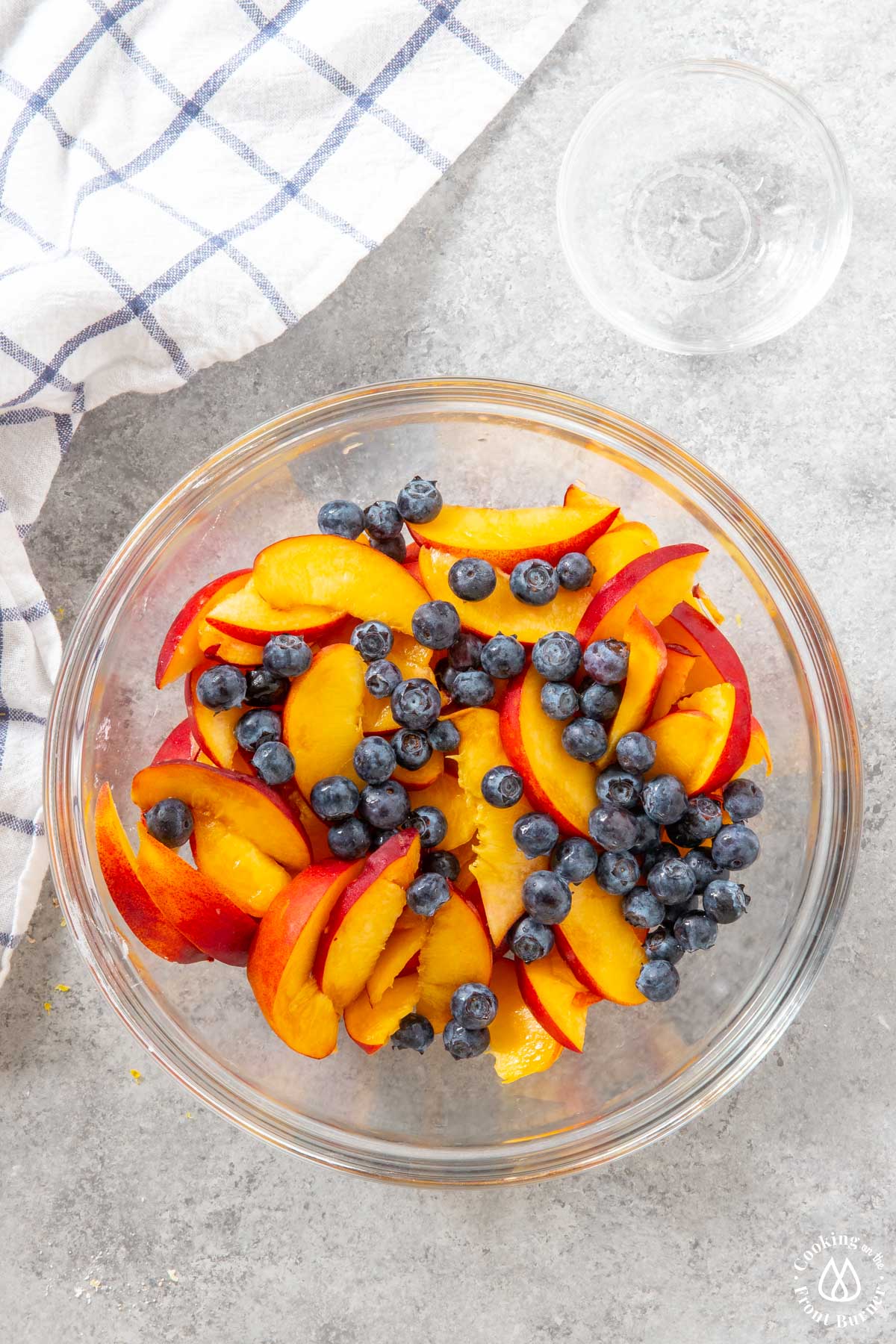 In a separate medium bowl, combine the fresh sliced peaches and blueberries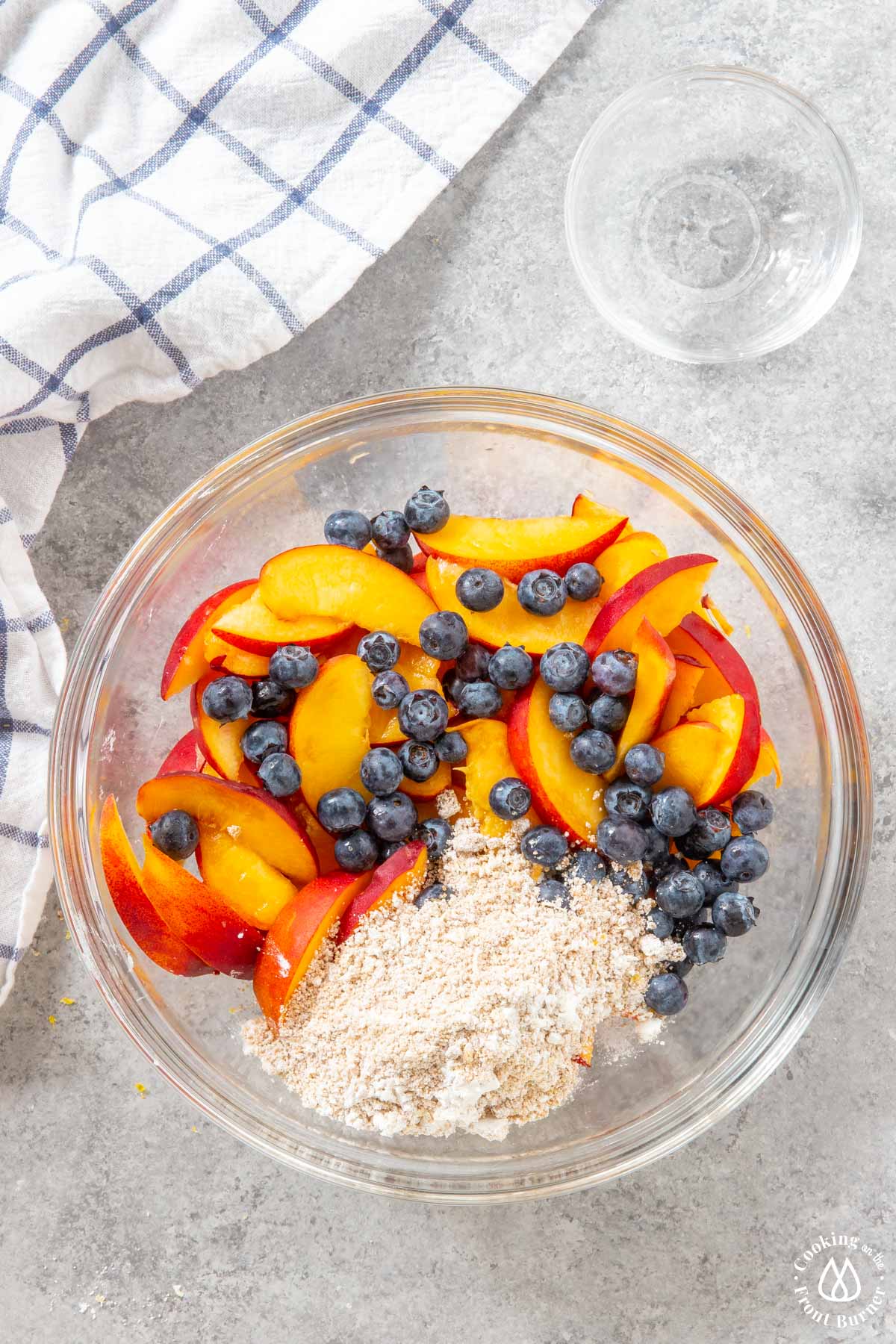 Add the brown sugar mixture to the fresh peaches and blueberries.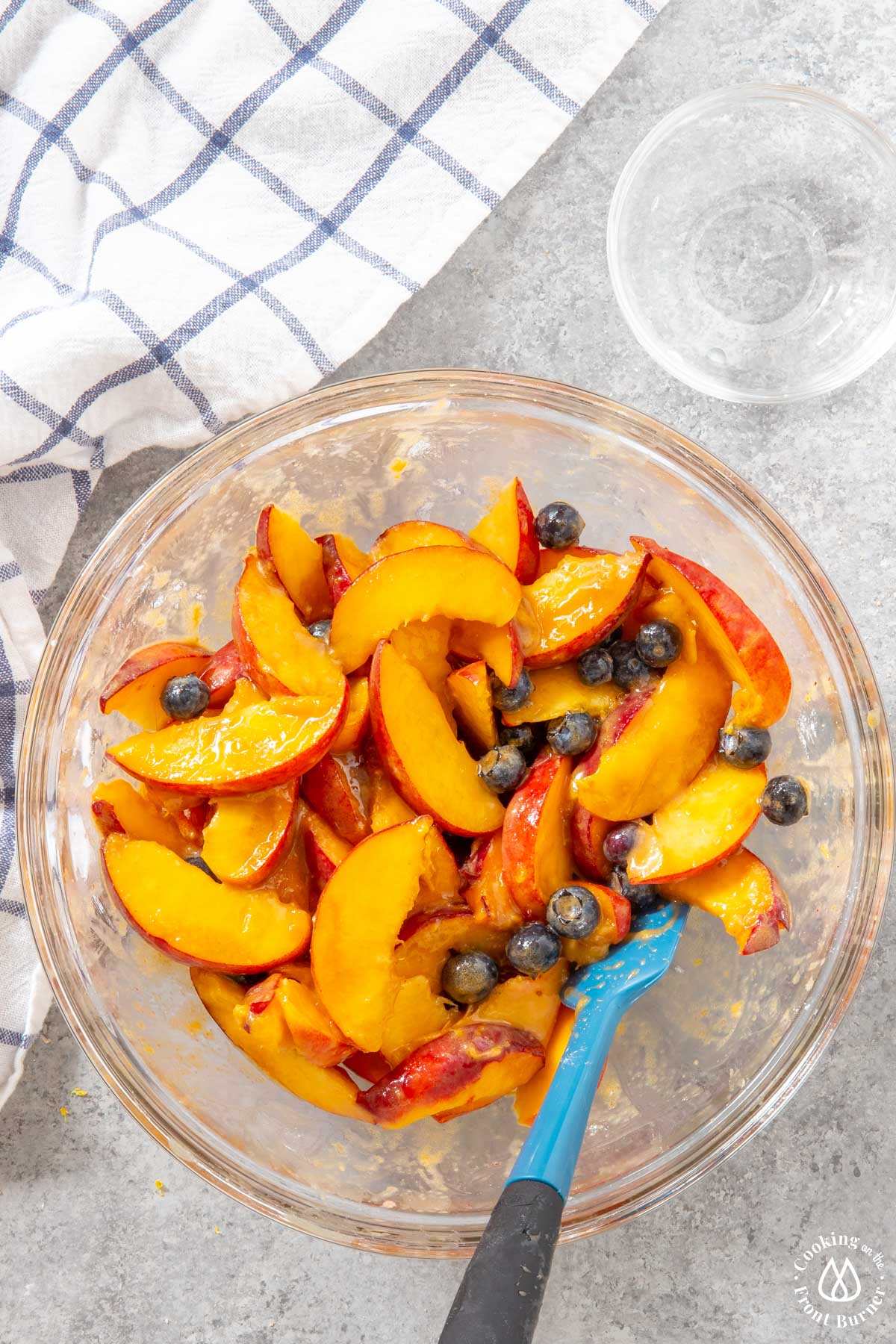 Use a spoon or spatula to gently stir the mixture with fresh fruit.
Place unrolled pie crust on parchment paper and place peaches and blueberries leaving about a 2" gap as shown.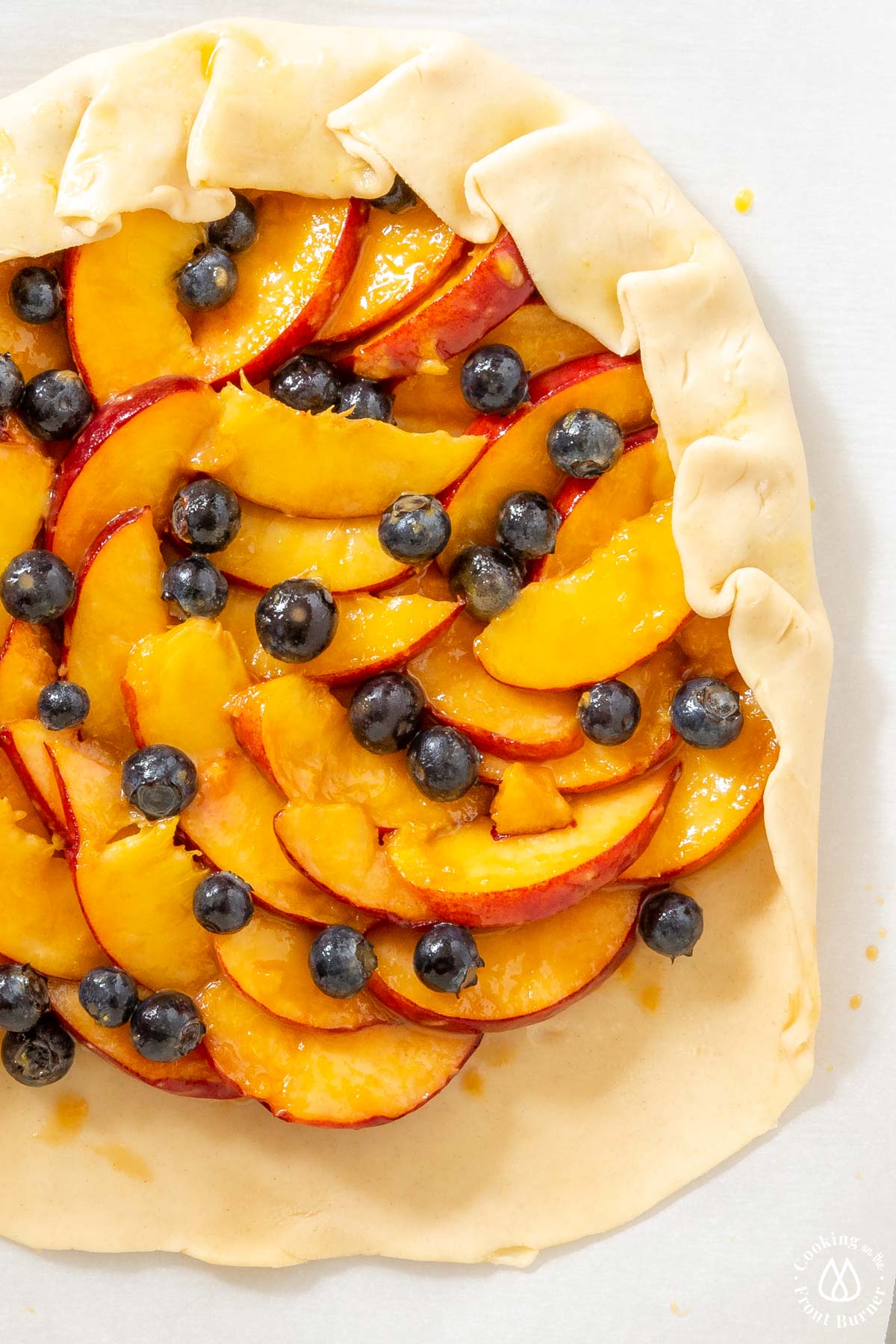 Use your fingers to pull the pie crust edge up and crimp with folds over the fruit.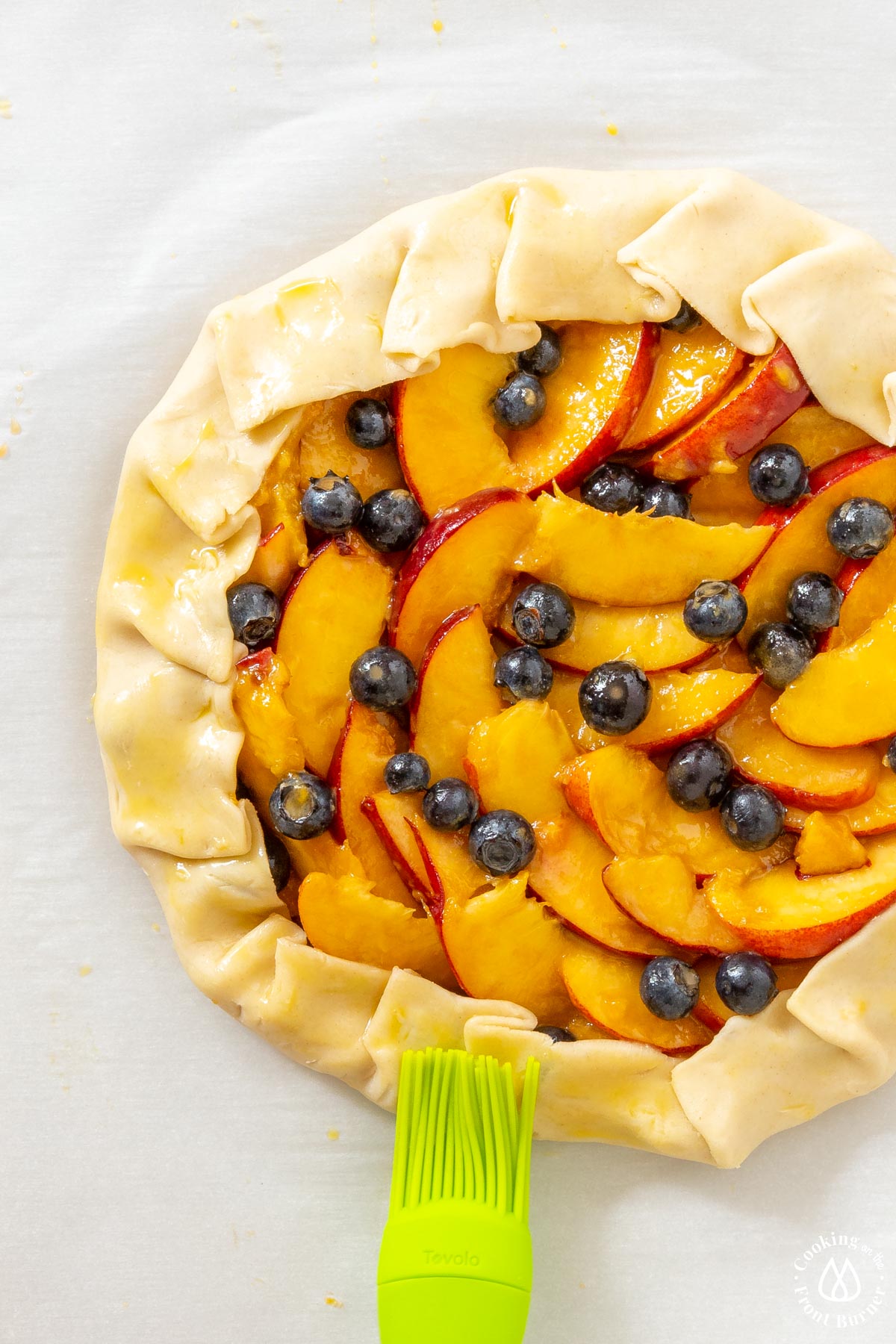 Brush an egg wash over the crimped pie crust.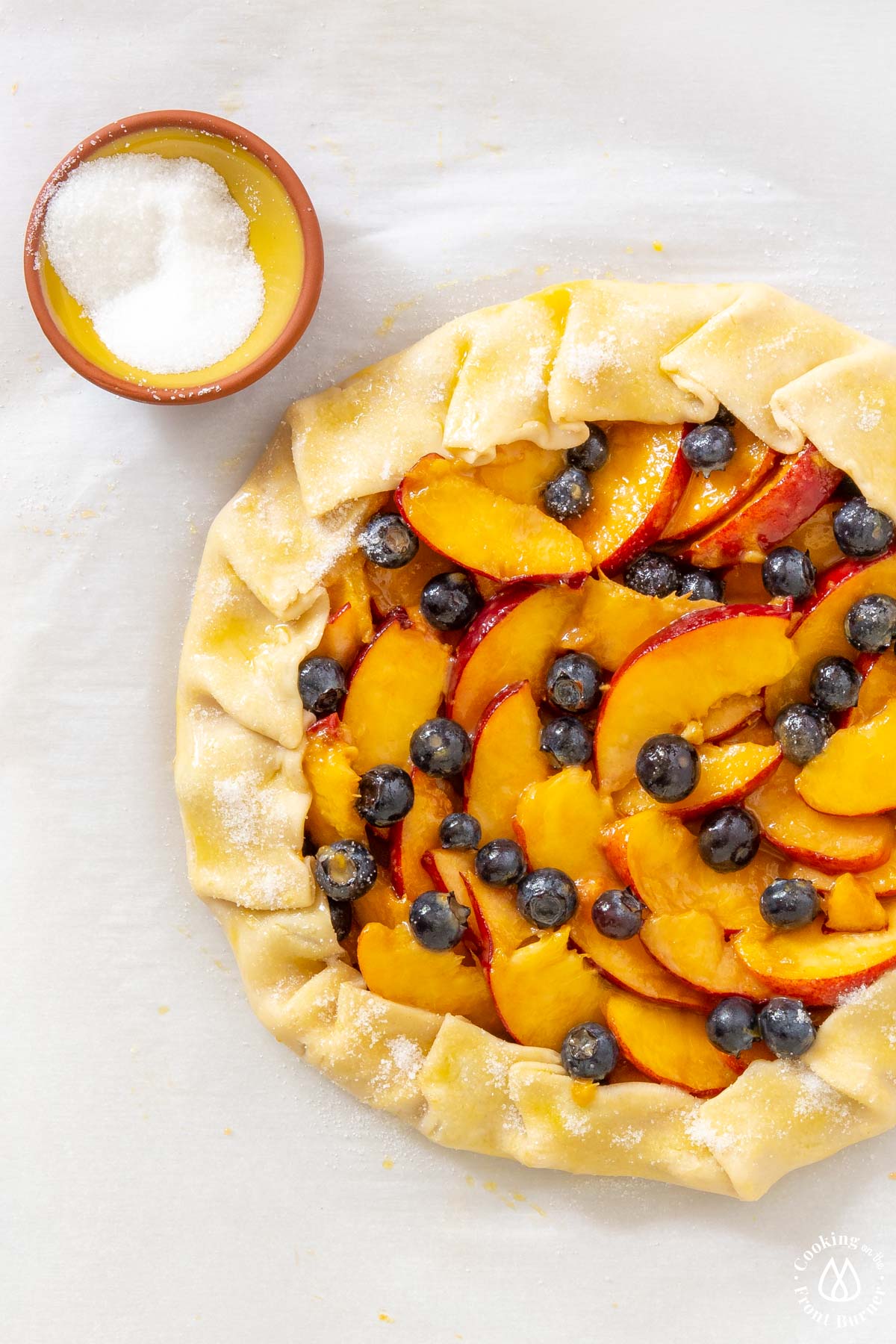 Sprinkle sugar over the egg washed pie crust. Bake in a 375 degree oven for about 30 minutes.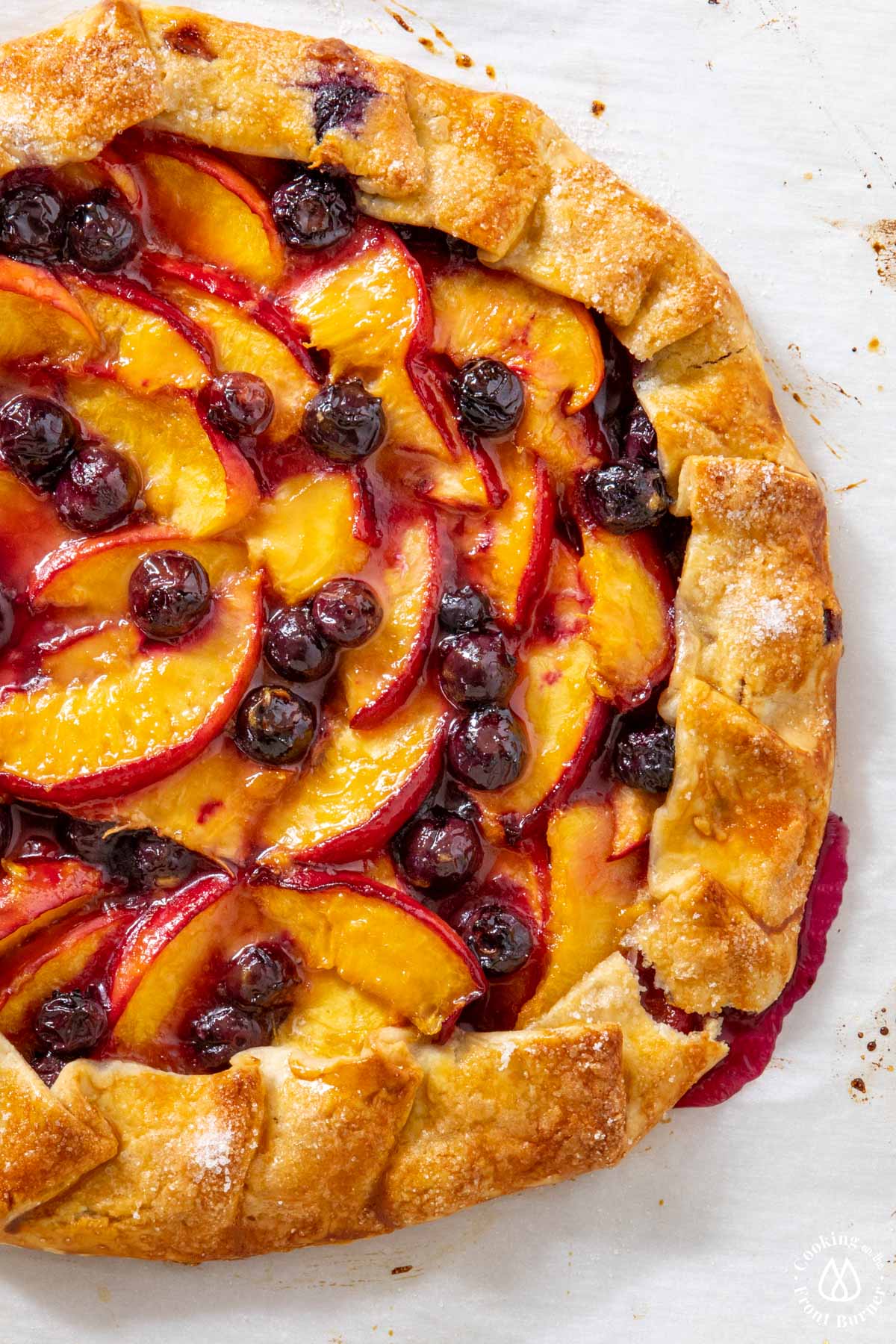 Look at this fresh baked galette out of the oven! I bet you want a slice right now!
Variations
You can use other fruits in making a galette. Feel free to use the following or combinations of:
blackberries
strawberries
plums
nectarines
blueberries
peaches
See this peach only galette that I have made in the past.
Recipe FAQs
Can you make the galette the day ahead?
I have found that the galette is best served on the day it is made. We especially like it served a bit warm or at room temperature. You could however heat leftovers the next day in a 375 degree oven for about 10 minutes.
How do I keep the galette from getting soggy?
The addition of cornstarch to the filling prevents the crust from getting soggy.
How long does a galette last?
You can store the leftovers in the refrigerator for up to 4 days. As mentioned above you can heat in a 375 degree oven for 10 minutes to warm through again.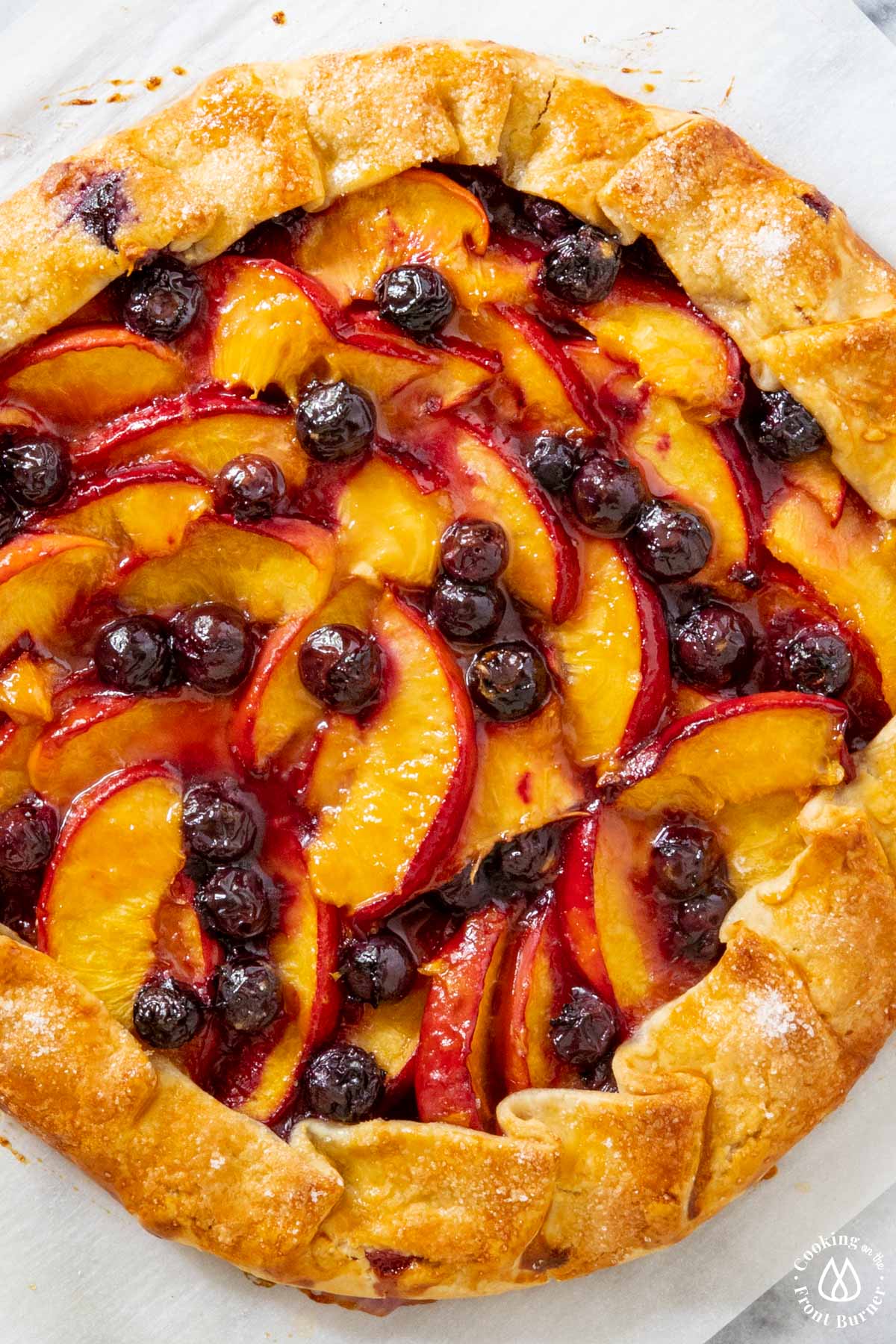 Top Tips
As shown above when crimping the edges use some of the egg wash under each fold so the crust sticks together.
Keep the layer of fruit to as much of a single layer as possible. Too much filling will cause the galette to not bake properly and might make the dough soggy.
Place the pie crust on parchment paper as this will help catch any oozing filling and keep your baking sheet clean.
Don't worry if the crust is shaped unevenly or cracks a bit - you are going for the rustic look anyway!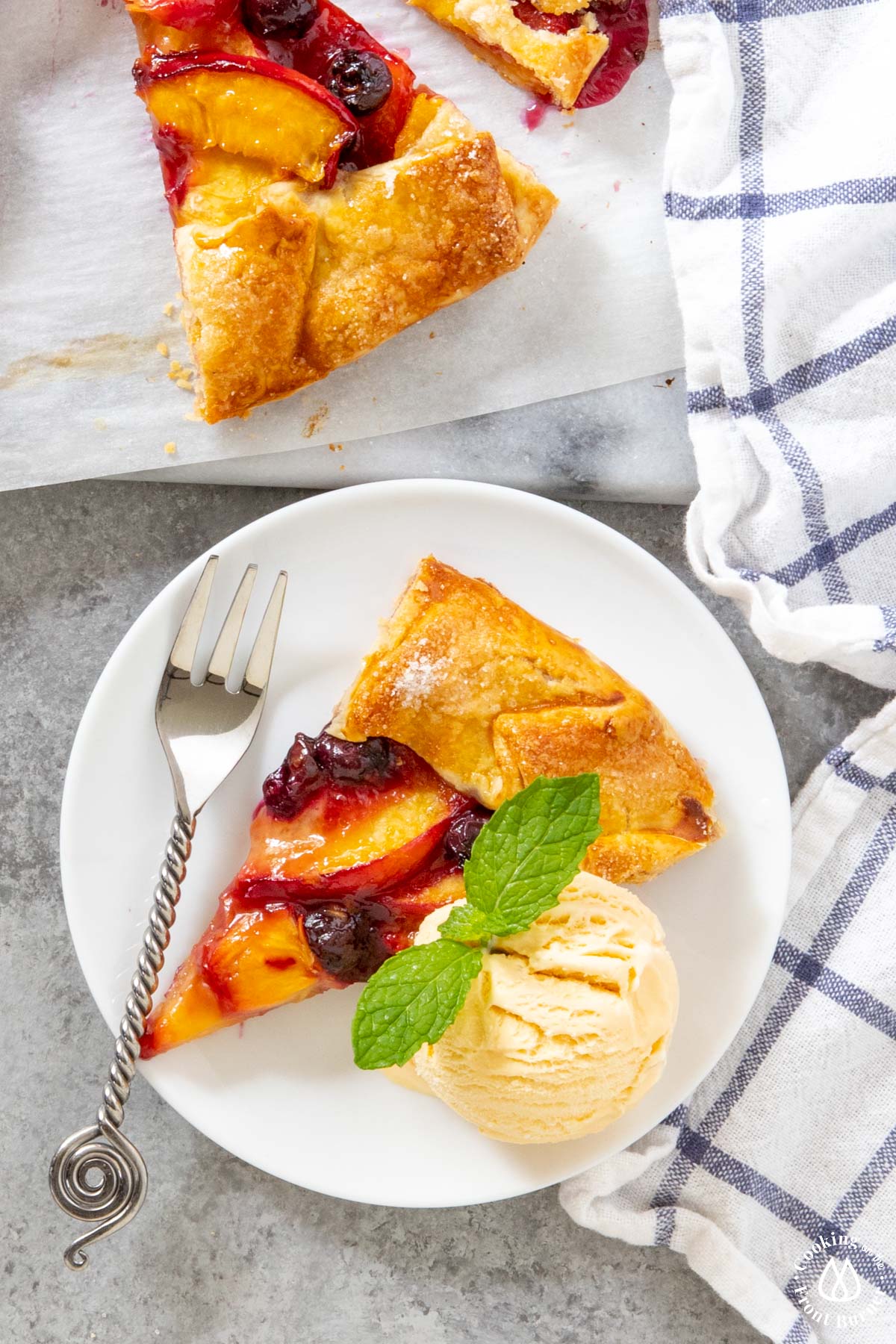 We like to eat the Easy Blueberry Peach Galette with vanilla ice cream.
Get the Recipe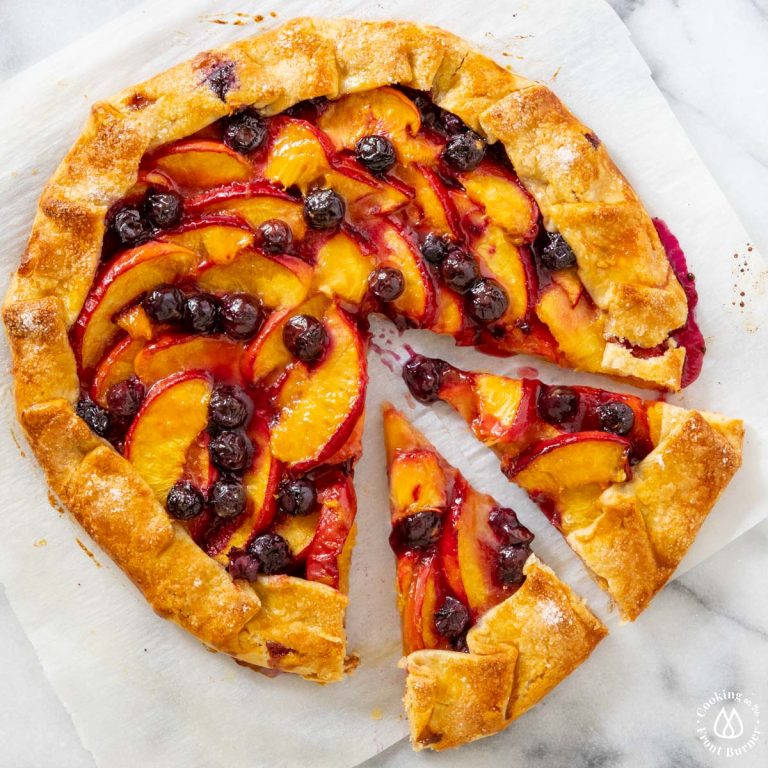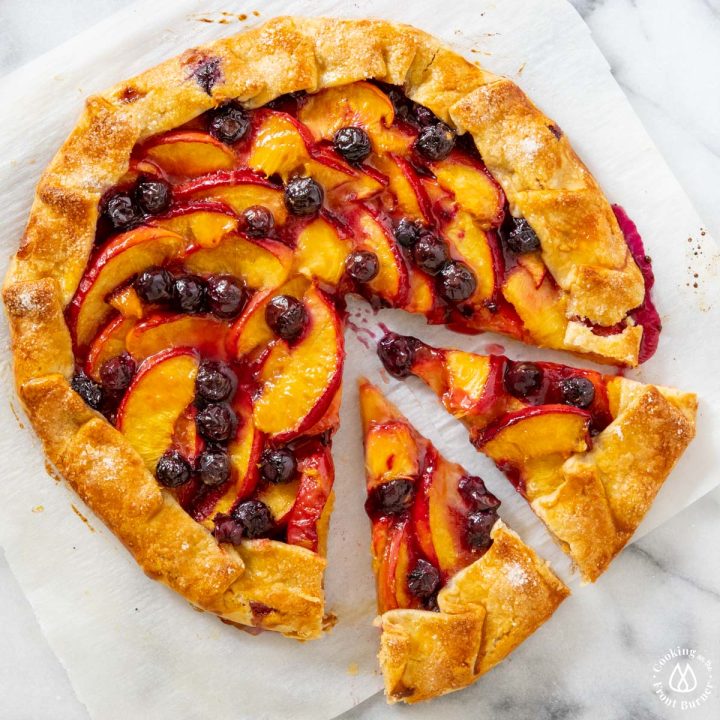 Easy Blueberry Peach Galette
A flaky crust with a warm peach and blueberry filling makes a great simple dessert!
Ingredients
3 peaches, sliced
½ cup fresh blueberries
¼ cup brown sugar, packed
1 teaspoon lemon zest
pinch salt
3 tablespoons cornstarch
1 pie crust
1 egg
1 tablespoon sugar
Instructions
Preheat oven to 375°
In a small bowl combine the brown sugar, lemon zest, salt and cornstarch. Mix well and set aside
Cut each peach into quarters then cut each quarter into 4ths.
Place peaches and blueberries in a medium bowl
Place brown sugar mixture over fruit and gently mix
Place the pie crust on parchment paper on a baking sheet
Place the fruit on the pie crust leaving about a 2" edge
Use your finger to crimp the edge over the filling (see step by step)
Beat the egg with a fork until foamy
Brush the wash over the pie crust edges
Sprinkle with sugar over edges
Bake for about 30 minutes until edges are browned and filling is bubbly
Serve a bit warm or at room temperature
Optional: serve with a topping of vanilla ice cream
Notes
Please see step by step instructions
Learn more about galettes at Wikipedia.
About the Author
Recent Posts
Recipe Index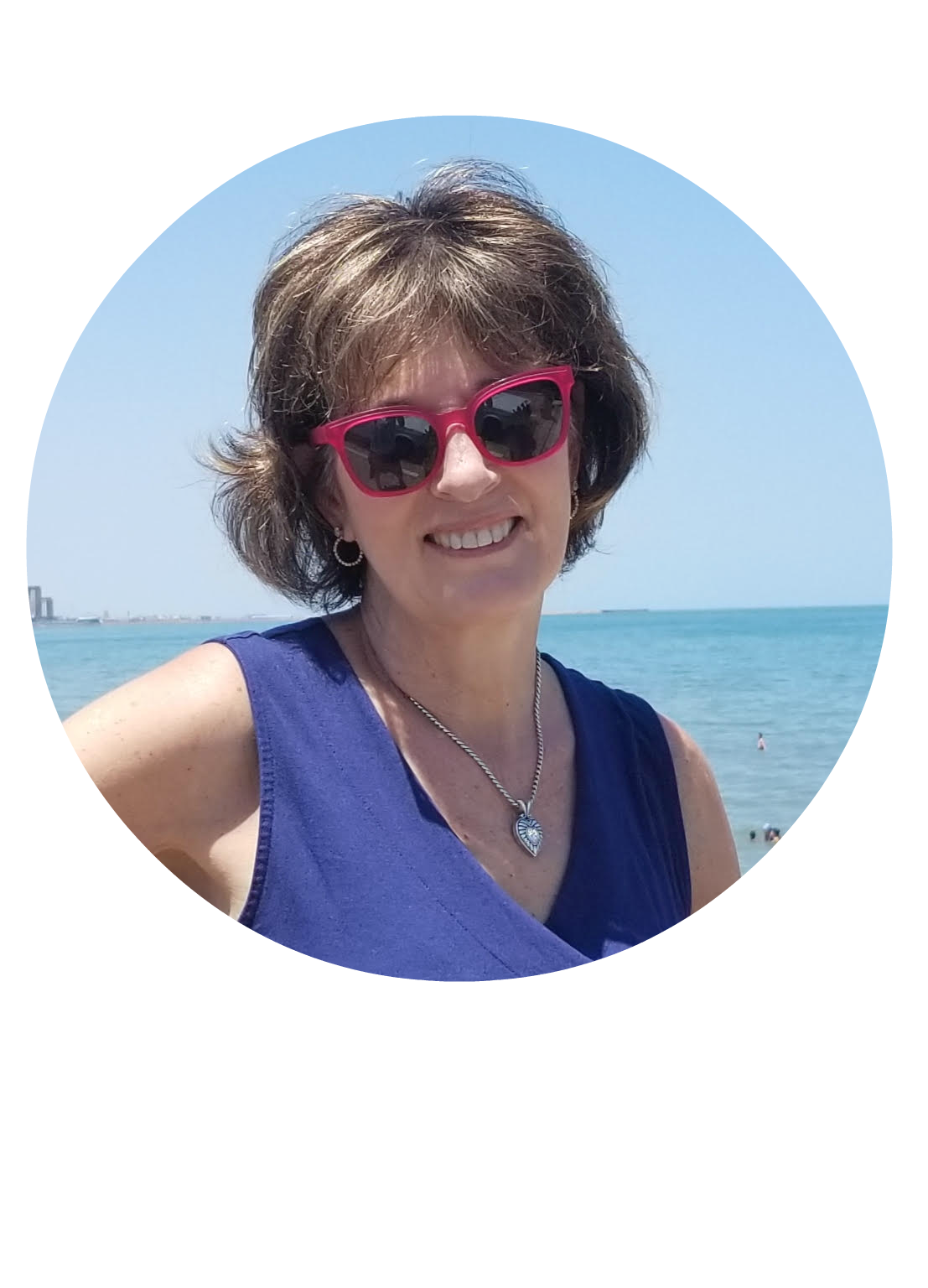 We are all about sharing our love of good food so on the blog you will find easy recipes to enjoy with your family and friends.  We hope to inspire you to host a gathering to create special memories.  Most recipes are step by step so you can feel confident in the kitchen.  Take a look around to find everything from breakfast to dinner and everything in-between!