This post may contain affiliate links. For more information, please visit my disclosure page.
Don't these Lemon Curd Hand Pies look cute and fun to eat?  You will love the flaky crust, tangy lemon curd filling drizzled with a powdered sugar glaze.  The best part is they can be ready in under 40 minutes with 5 ingredients!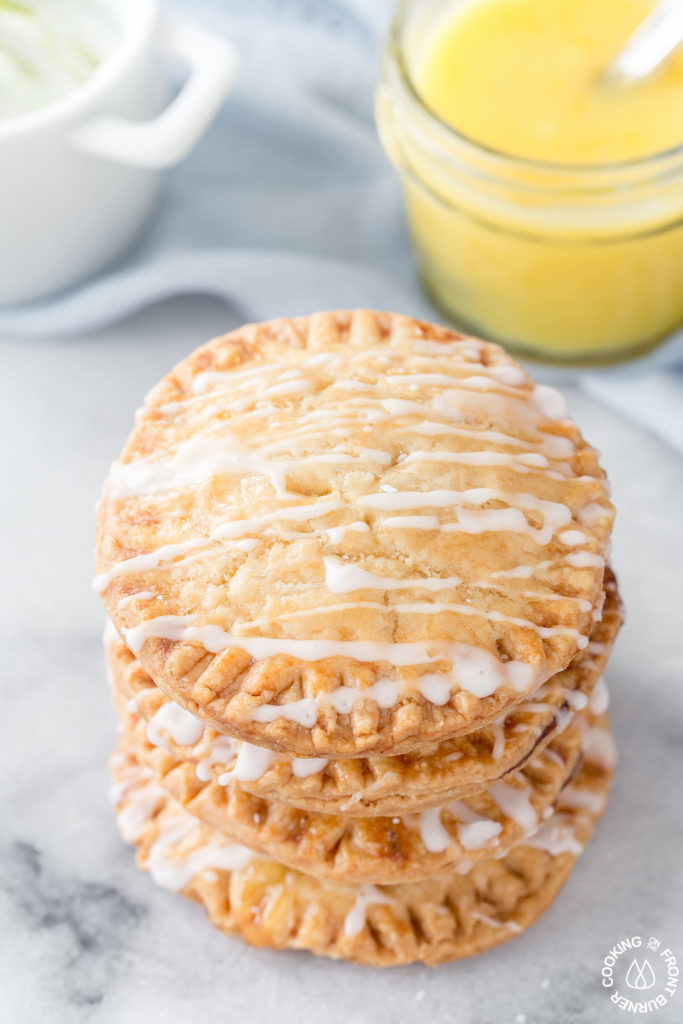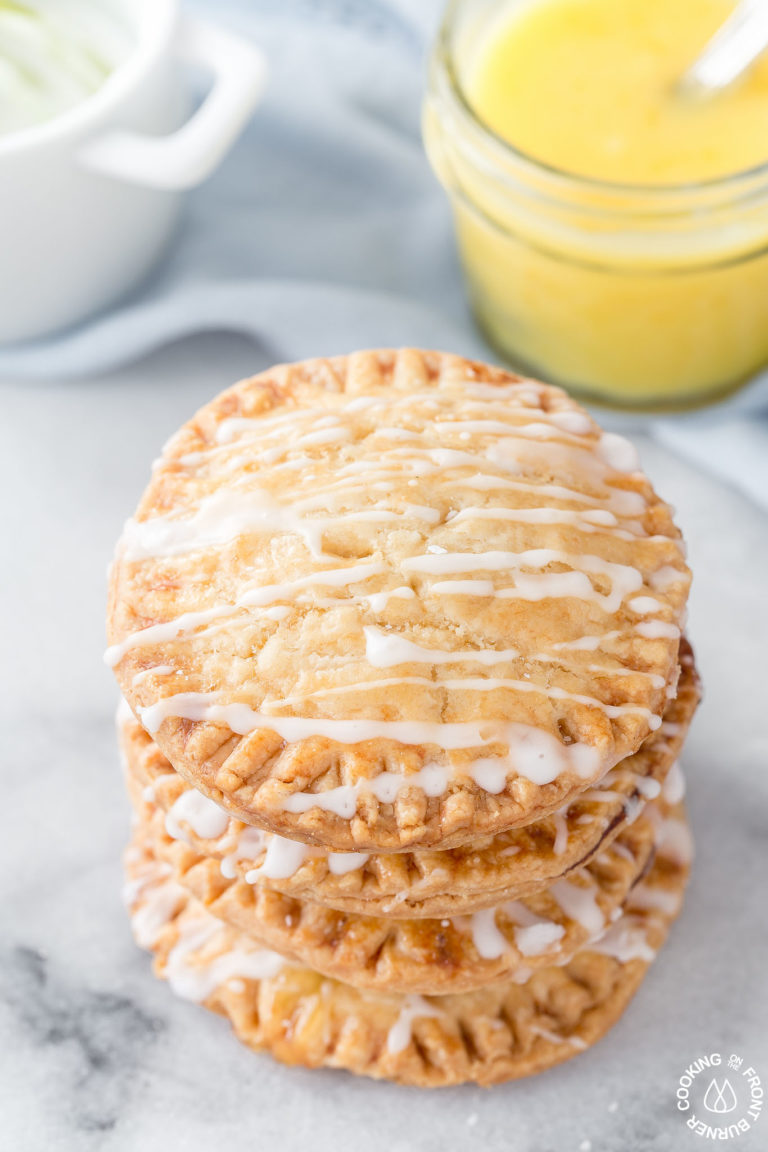 It's no secret that I'm a huge fan of lemons whether they are in sweet or savory recipes.  It's just that pop of tanginess that makes my senses come alive and gets my taste buds excited.  Since it has been awhile since I have shared a lemon recipe, these individual pies are the perfect way to start for the first lemon recipe for the year!  Yes, there will be more to come.
Going back to the archives, last year I made a few lemon recipes including these Lemon Pull Apart rolls and baked Lemon Poppy Seed donuts – both are great for breakfast, brunch or snacking.  A savory recipe we have enjoyed is this copycat Panera soup recipe.  It's one of my favorites when we visit and I usually pair it with a  Frontega Chicken Panini as my "pick two".
I chose the easy route when making these pies so they could be ready in under 40 minutes by buying prepared lemon curd and crust.  My favorite crust that tastes most like homemade to me is from Trader Joe's that you can get in the frozen section.  It always comes out flaky and is easy to work with.   I have enjoyed making my lemon curd as in these Lemon and Raspberry Crepes that isn't hard to do either so you can decide what you are up for.
Currently my daughter is living in Rome, Italy and she says it is lemon season there – lucky her!  She lives near lots of trees and the neighbors are willing to share.  Imagine picking a fresh one and using it right away!  Hmmmm…. maybe I should head on over!
I hope you enjoy these easy Lemon Curd Hand Pies!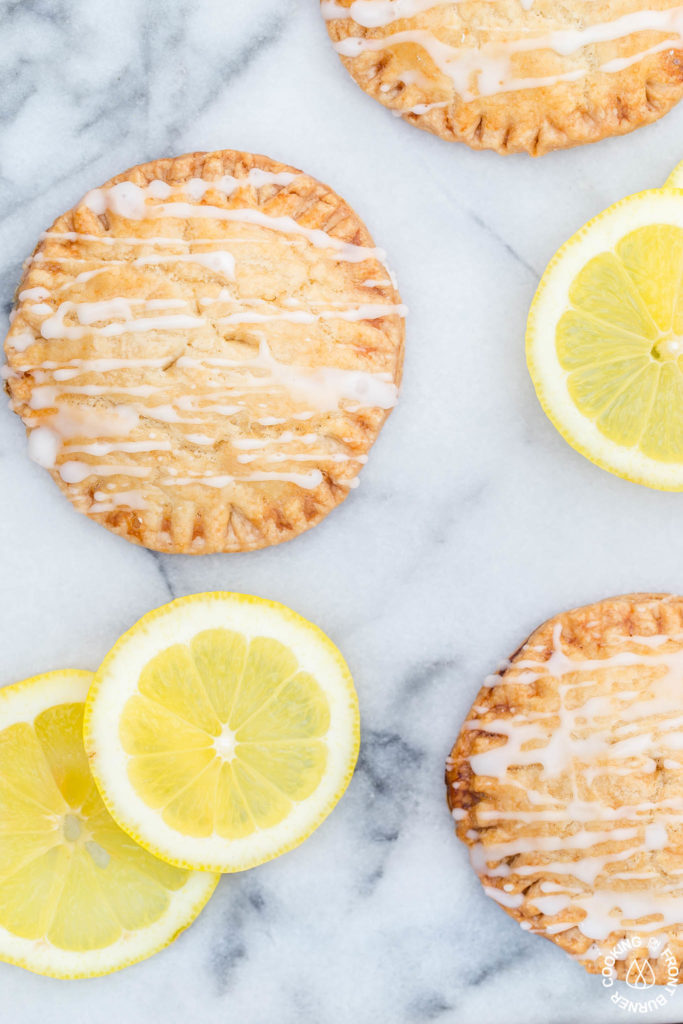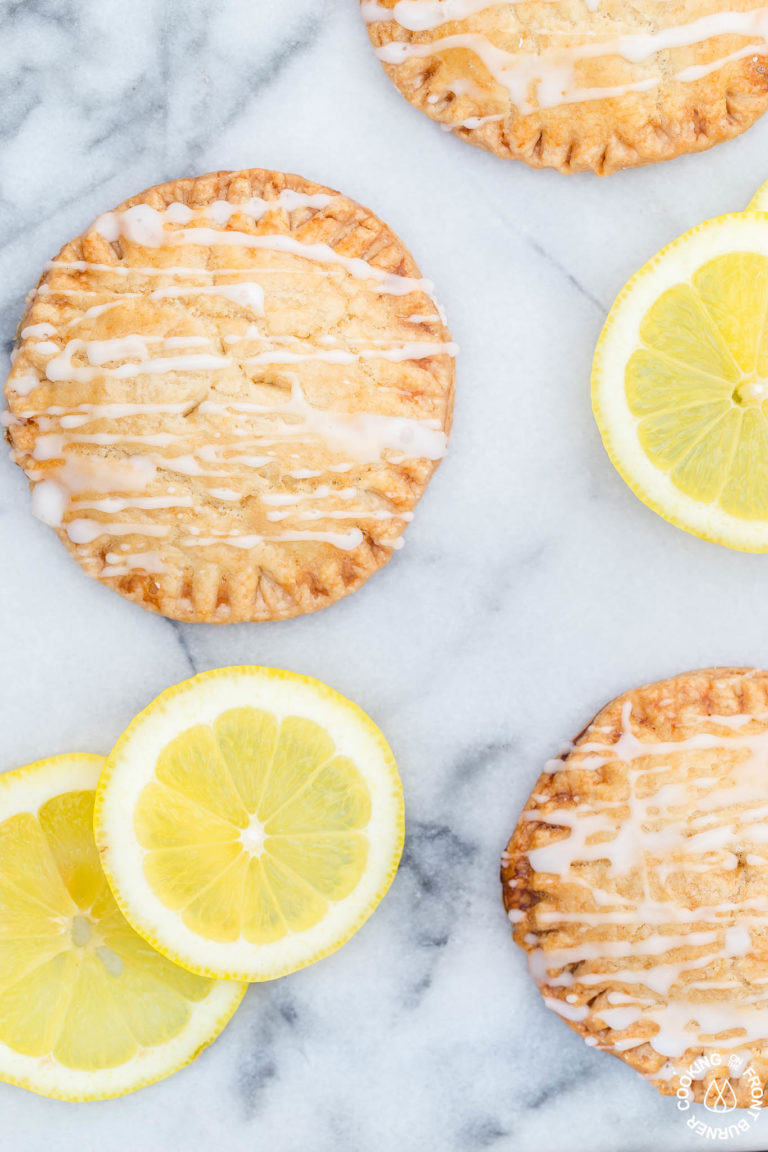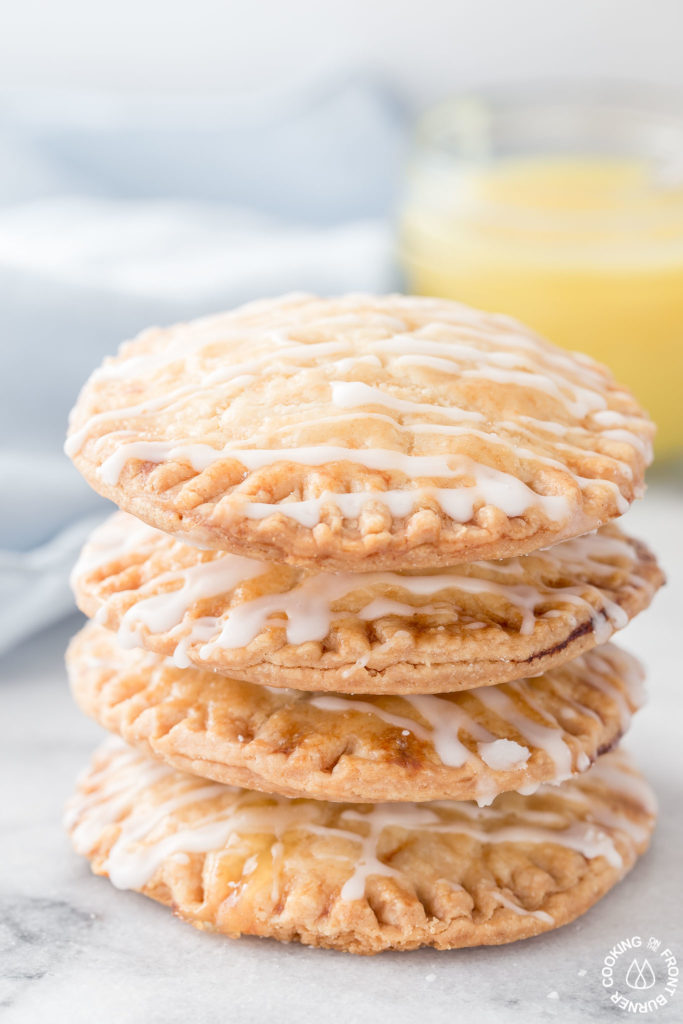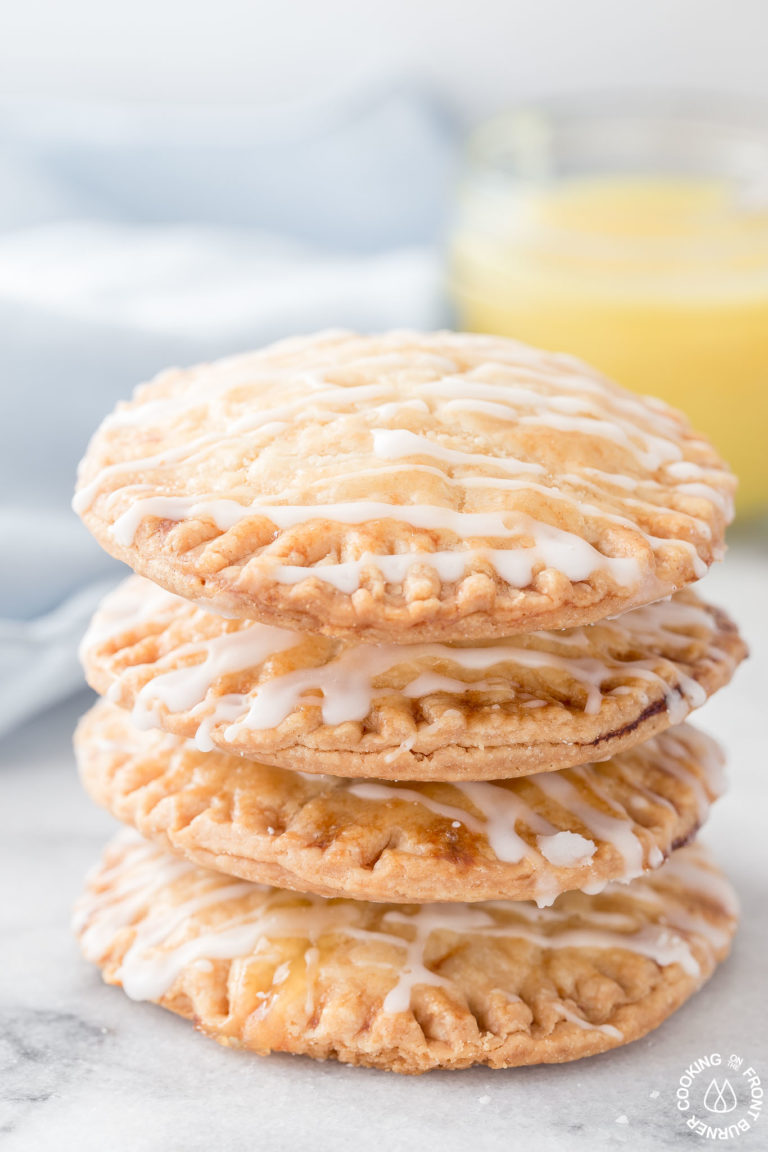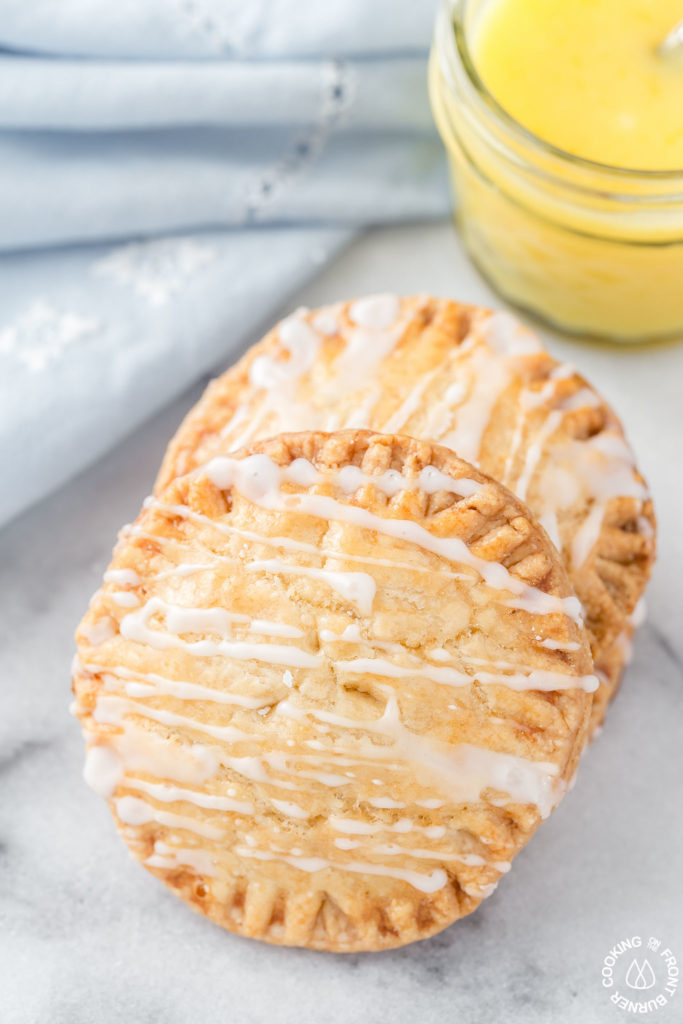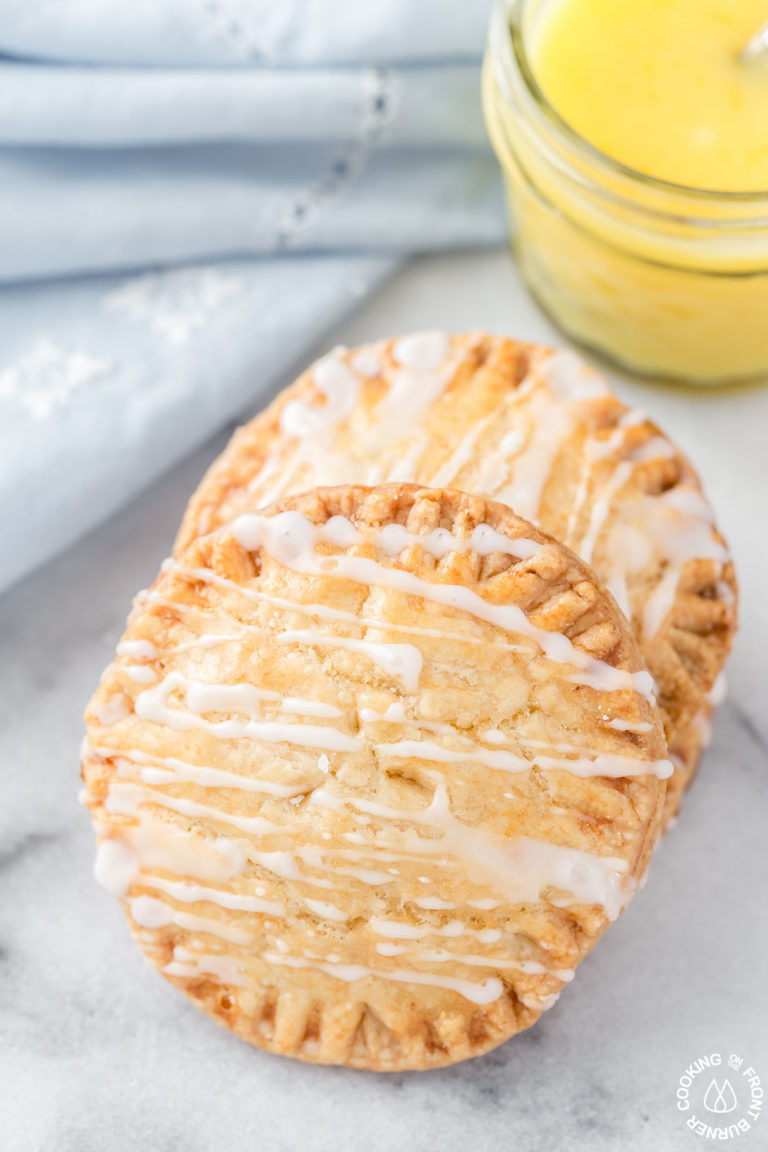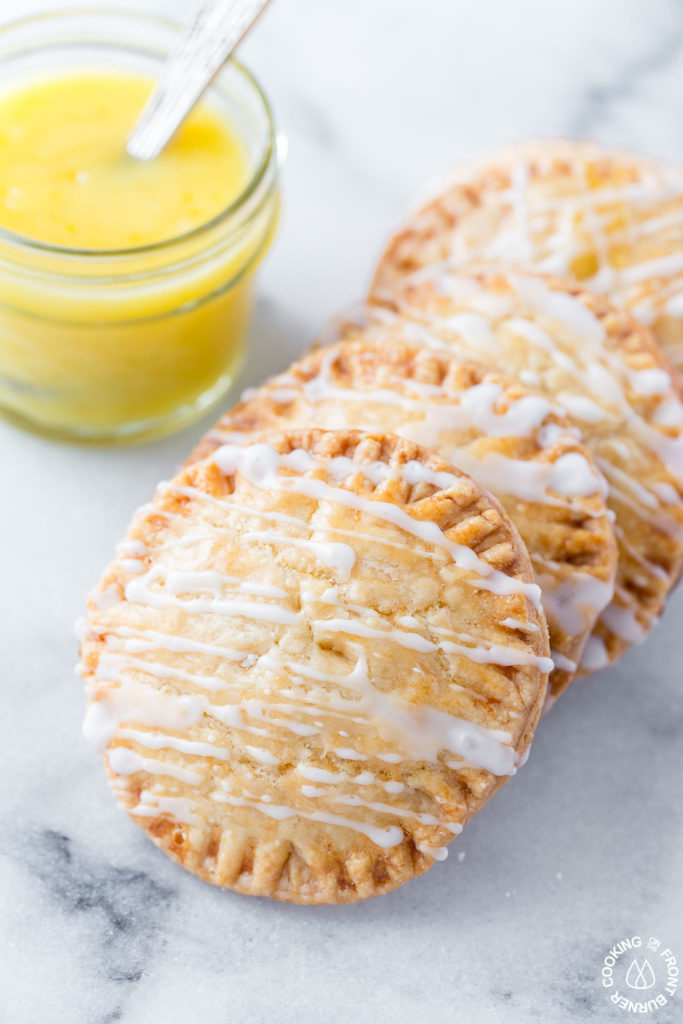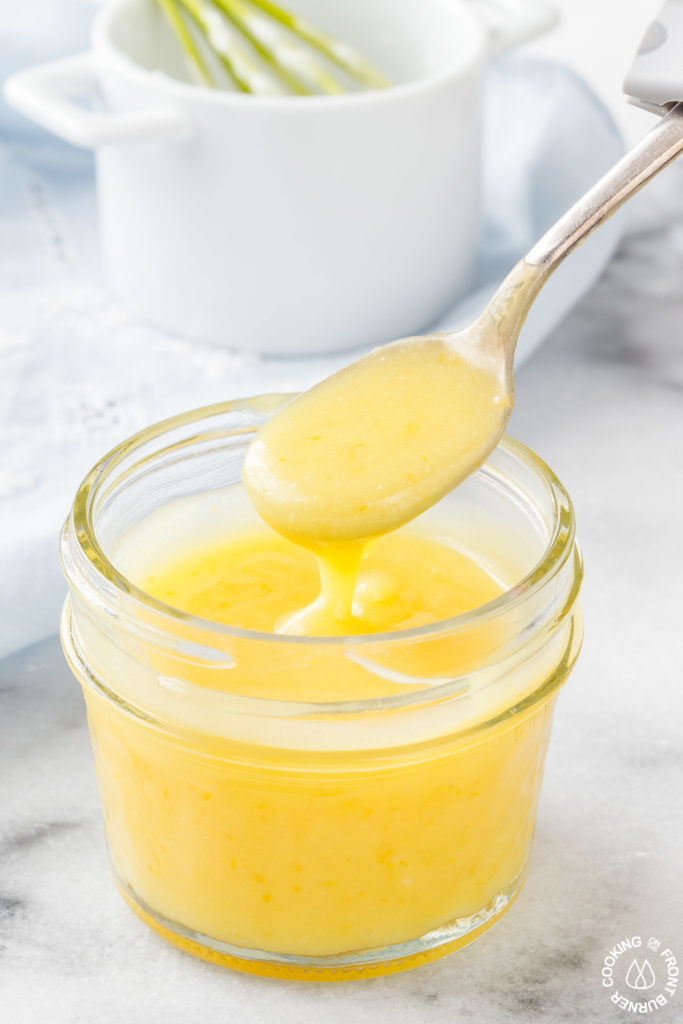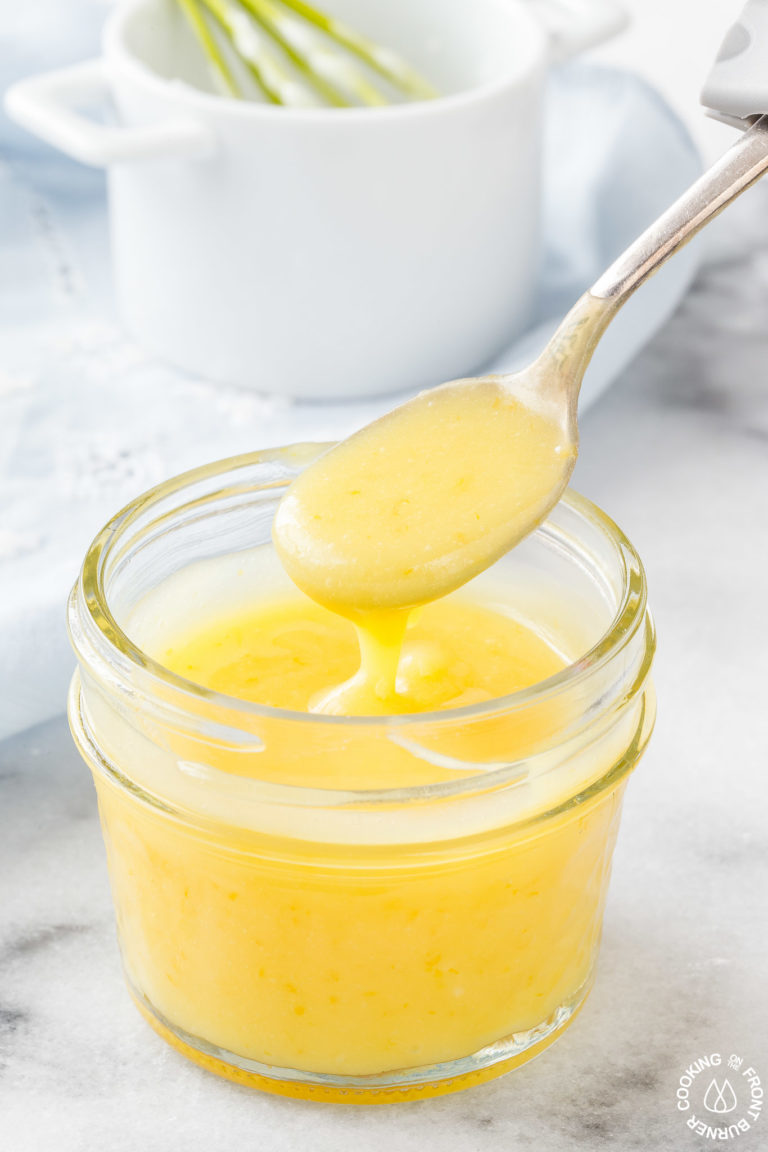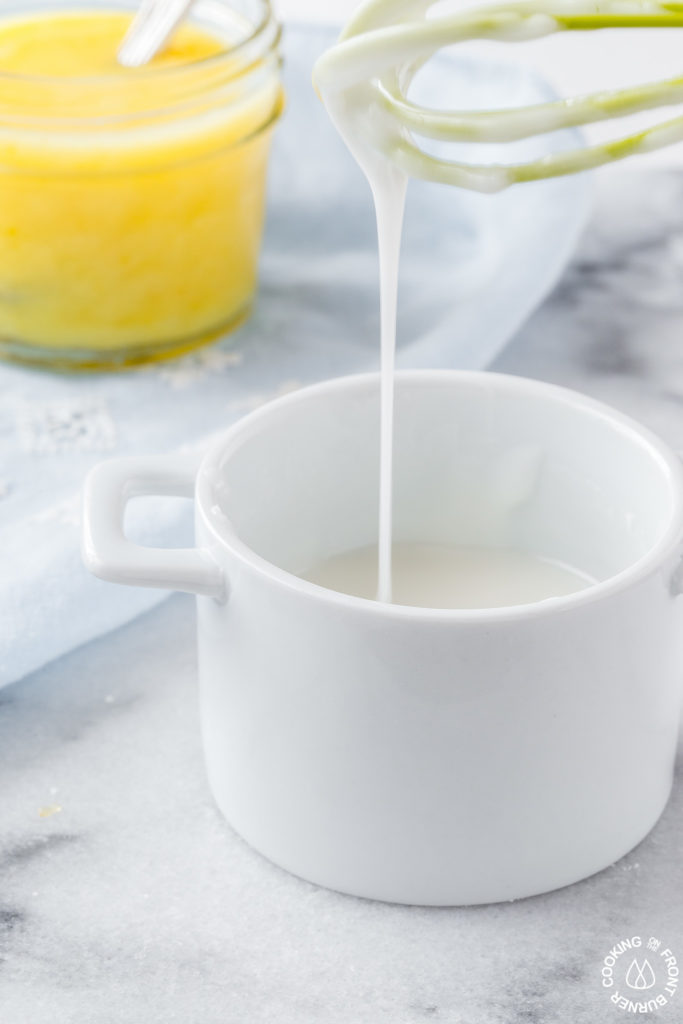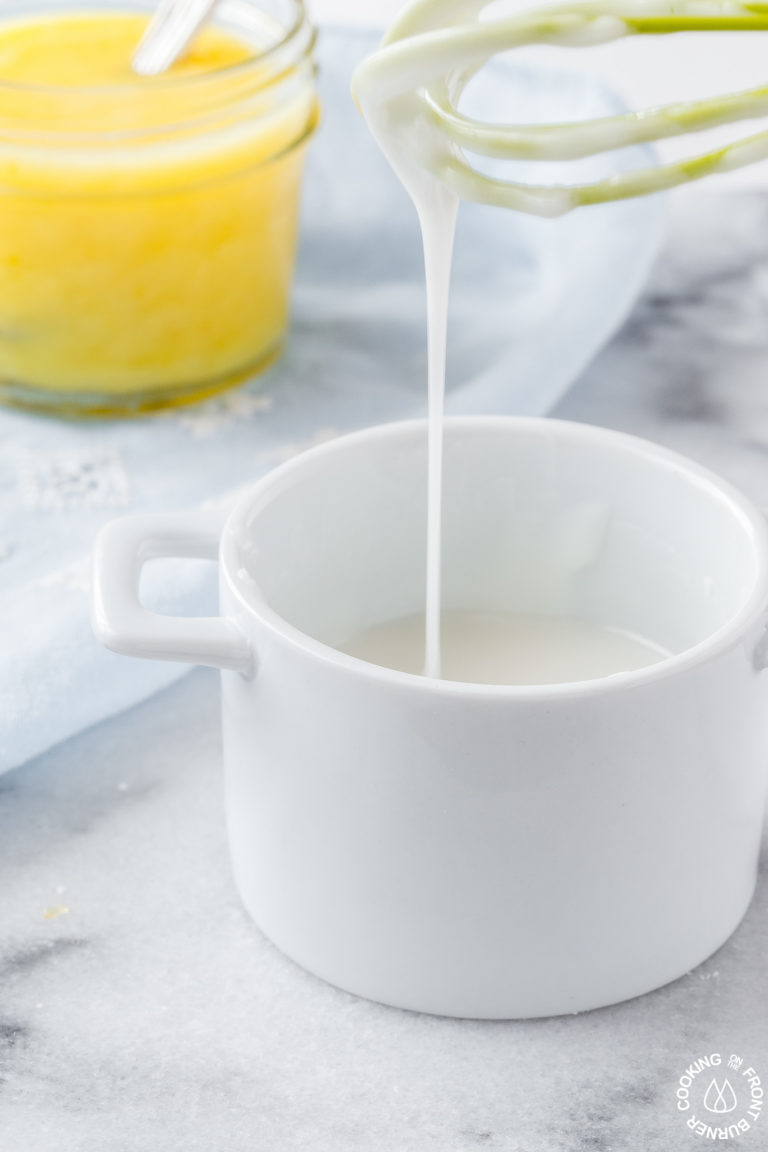 Lemon Curd Hand Pies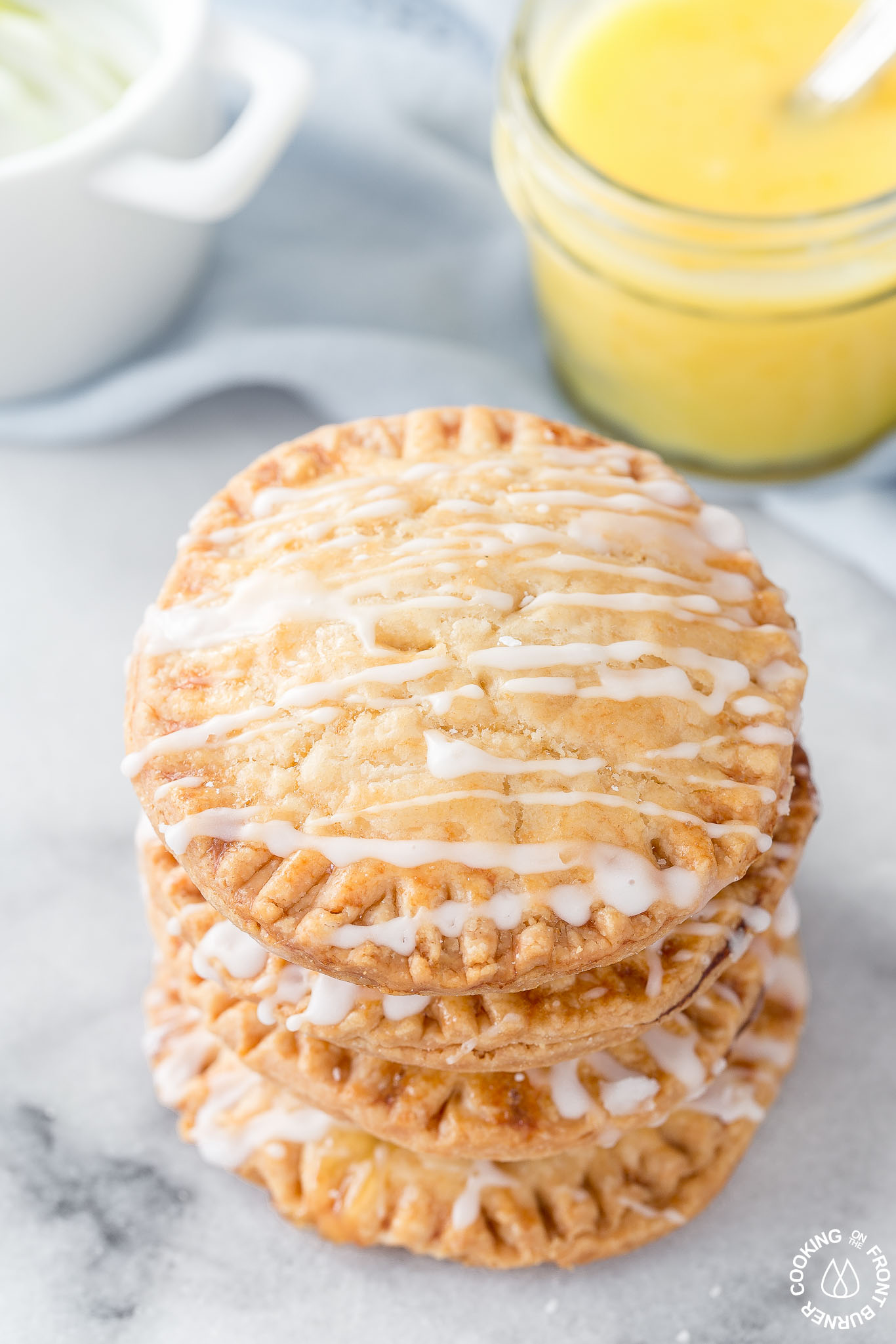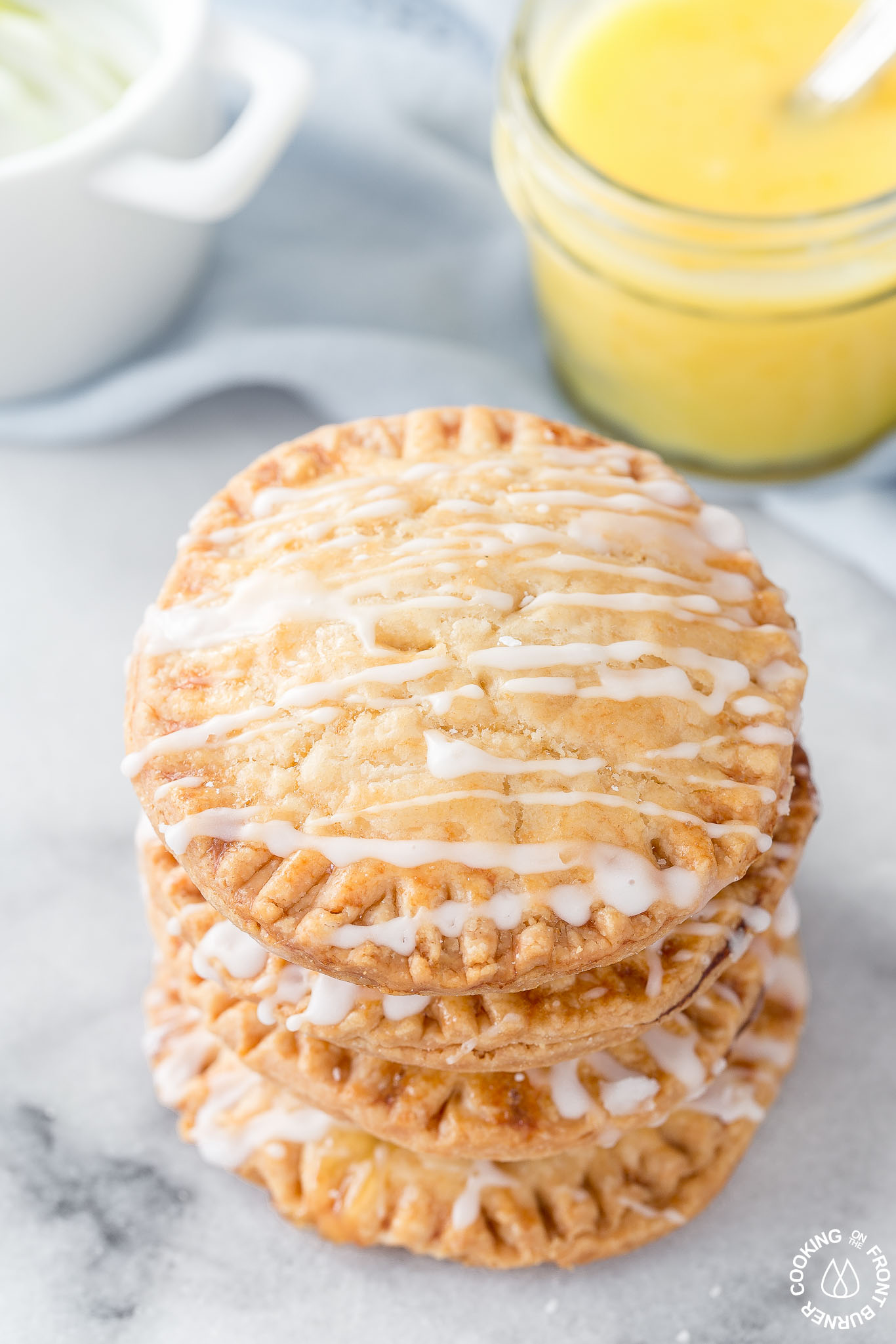 These individual Lemon Curd Hand Pies are easy to make!
Ingredients
1 prepared pie crust round
1 egg
1 tablespoon water
1/2 cup lemon curd
1/2 cup powdered sugar
1 tablespoon milk
Directions
Preheat oven to 400 and line a cookie sheet with parchment paper
On a floured surface, unroll the pie dough and cut 12 3" circles (you'll need to gather up scraps and reroll dough)
Place 6 circles on parchment paper and add a rounded tablespoon of curd on each in the middle
Beat the egg with water and seal the outer edges of dough with egg wash
Place dough circle on top and brush together with a fork to crimp edges
Brush egg wash over each pie and cut a few small slits on the top
Bake for about 25 minutes until tops are golden brown
Remove and let cool about 5-10 minutes
In a small bowl combine the powdered sugar and milk
Drizzle glaze over hand pies