This peach tart recipe is bursting with fresh peaches, a creamy filling on a delicate puffed pastry!
Are you ready for a new dessert recipe? I seem to be on a dessert kick lately but with all the fresh fruit we've been having this summer, I just can't resist! This Fresh Peach Tart is the latest creation for the tastebuds. Get ready to enjoy these juicy beauties in an individual dessert.... pretty peachy keen, huh?
We love our peaches! Don't you hate when you go the the grocery store, buy peaches and take a bite to only find out they are underripe or have a "dry" texture? Me too! I've really lucked out the past few years by getting my peaches at Trader Joe's. Nope I'm not getting paid to say this but I have never had a bad apple peach in the bunch. I have no idea where they get them but I've been pleased. We go through a box every week and then I go back buying another... which reminds me, I need more and hope they are still in stock!
yield: 4Author: Deb Attinellaprint recipe
Fresh Peach Tart with Thyme
This peach tart recipe is bursting with fresh peaches, a creamy filling on a delicate puffed pastry!
prep time: 10 MINScook time: 20 MINStotal time: 30 mins
INGREDIENTS:
1 sheet frozen puffed pastry thawed
1 egg
1 tablespoon sugar
1-2 fresh peaches
8 oz. ⅓ fat cream cheese softened
⅔ cup confectioners sugar
½ teaspoon vanilla
1 tablespoon honey
½ teaspoon finely minced fresh thyme (optional)
2 tablespoons apple jelly (warmed a bit for brushing on fruit)
INSTRUCTIONS:
Preheat oven to 375
On a floured surface cut (4) 4" squares out of the puffed pastry
Place each square on a cookie sheet lined with parchment paper
Lightly score about ½" around each with a sharp being careful not to cut through the dough (square shape)
Beat an egg and brush the scored edge with egg mixture (you will have most of the mixture leftover)
Sprinkle sugar on egg mixture and bake for about 20 minutes until golden brown
Remove from oven and re-score the edge and lightly push down the center of each square and cool completely
In a medium bowl combine the softened cream cheese, confectioners sugar, vanilla, honey and thyme and beat until creamy
Slice a peach into 12 wedges (or 8 wedges - then will need 2 peaches)
Place about 2-3 tablespoons cream cheese mixture on each square
Top with 3 peach slices
Brush the warmed apple jelly over the peaches
Cover and refrigerate until served or serve immediately
Note: you will have leftover cream cheese mixture - probably enough to
make 4 more tarts. I just needed four when I made this recipe
I wanted to experiment with some different flavors and add a touch of fresh thyme. I loved the flavor but it definitely can be optional. If you do use it, be sure to chop the leaves only and mince fine. A big-o-chunk of thyme could be overwhelming!
The puff and cream cheese filling is pretty basic so feel free to use as a base for other fruits you might want to try. I think berries would be a good pick too!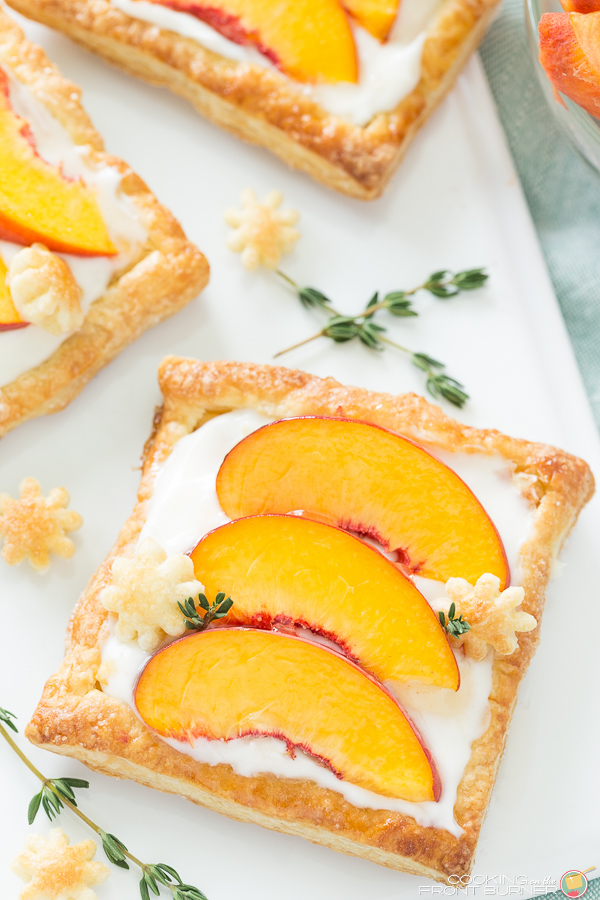 I always take the leftover puffed pastry and make a few cut-outs with a small cookie cutter. I brush a bit of the egg mixture and sprinkled with sugar. They bake up in about 12 minutes. I like how they add just a little something special.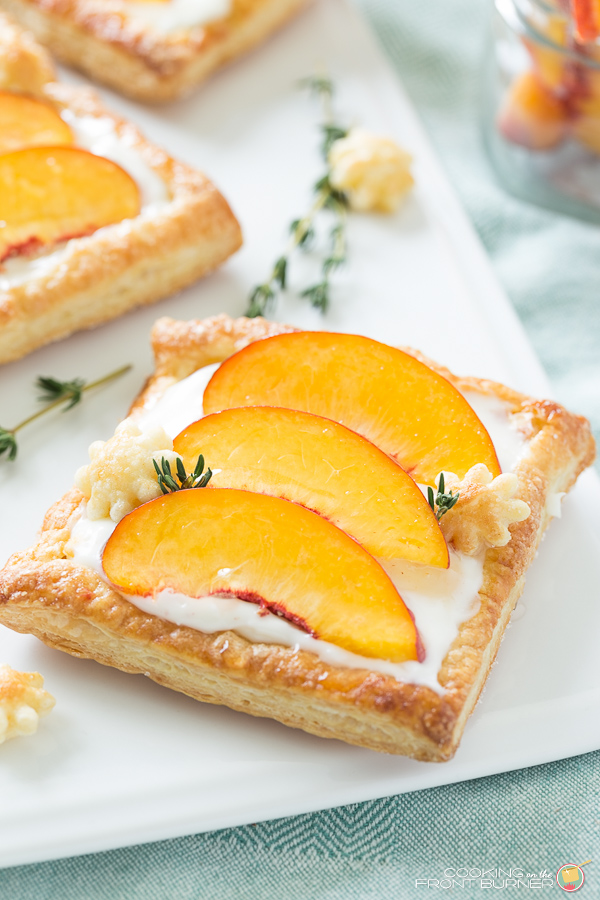 You may have noticed I've made some recipes this year using puffed pastry. Here are a couple more you might enjoy!