How about pizza for dessert? This Candy Brownie Pizza is so fudgey, with chocolate frosting and topped with your favorite candies. Not diet food, but it's okay to splurge once in awhile, right?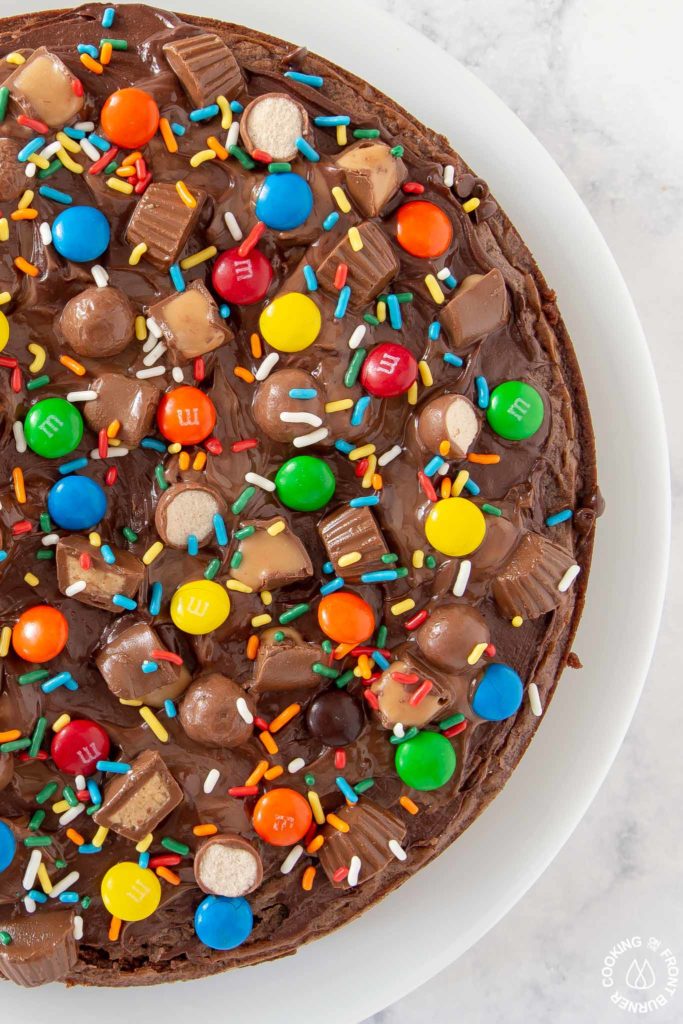 ~Candy Brownie Pizza~
Today is all about chocolate, chocolate and more chocolate Or as I like to call them the 3 C's! Your chocolate craving will definitely be satisfied with this pizza that is loaded with it and topped off with fun sprinkles.
Kids of all ages will be delighted with this delicious dessert pizza recipe that is easy to make. It would especially be a hit at a party or after-school snack.
Candy dessert pizza is a great idea for any gathering.
The fudgey brownie base is perfect for the melted chocolate frosting and your favorite candies. You could even add some salty pretzels for that sweet/salty combo.
I would also suggest that you could use certain colored M&Ms and even sprinkles - think red, white and blue for patriotic holidays. Perhaps pastels for spring and Easter.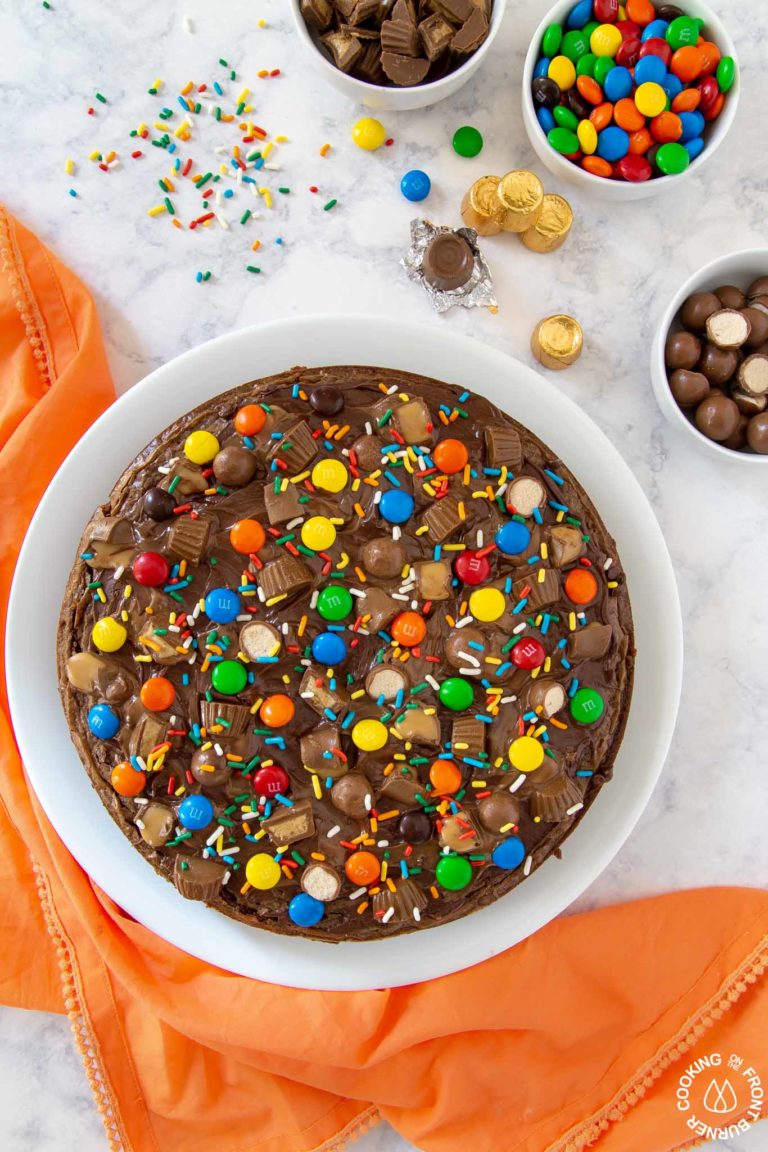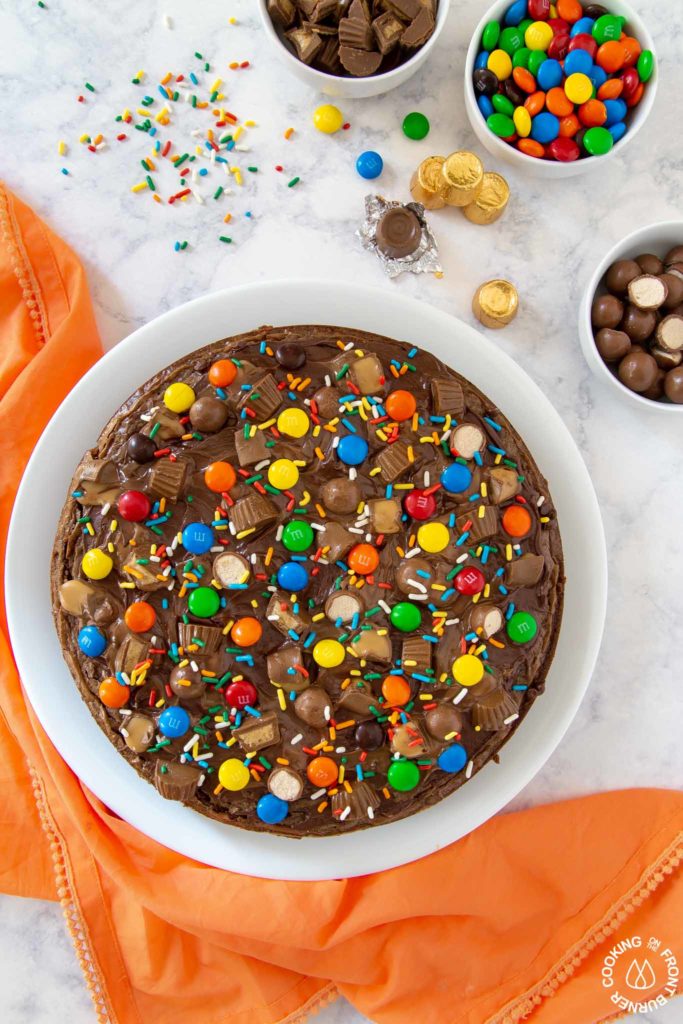 What ingredients will you need for a candy brownie pizza?
Brownie mix (I used a fudge boxed mix)
Chocolate Chips
M&Ms
Rolos
Peanut Butter Cups
Malted Milk Balls
Colored Sprinkles
Other Chocolate Candy
Salty Pretzels (not used in this recipe)
How do you make a brownie pizza?
I used a 9" spring form pan and sprayed it with vegetable spray. Follow the directions on a box brownie mix and bake until a toothpick has just a few crumbs clinging to it (about 2" from edge).
After about 5 minutes, loosen the ring (but don't remove) and sprinkle the chocolate chips on top. After about 7 minutes, remove the ring, then the chips will be melted and you can "frost" the brownie.
I also like my rolos a bit melted so after I frost the brownie, I add about half of the rolos. In about 5 minutes you can gently swirl them on top of the frosting.
Top with your favorite candies and sprinkles.
I would not recommend storing in the refrigerator since the caramel in the rolos gets hard and makes it not tooth-friendly.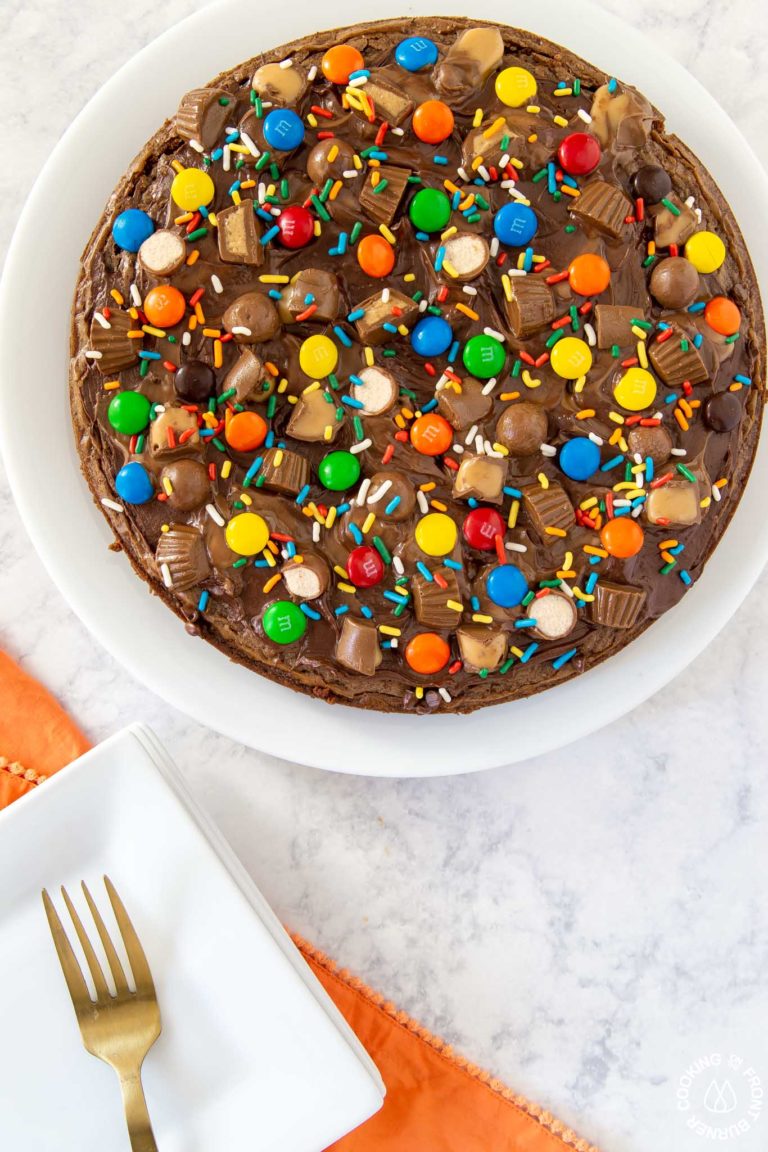 Another great idea with this candy brownie pizza, is that after Halloween you can use up any extra candy you have. Though in my case there would be NO peanut butter cups left 🙂
As I mentioned above, salty pretzels or candy corn would be a good addition too. Have the kids help then maybe they would be willing to part with some of their candy!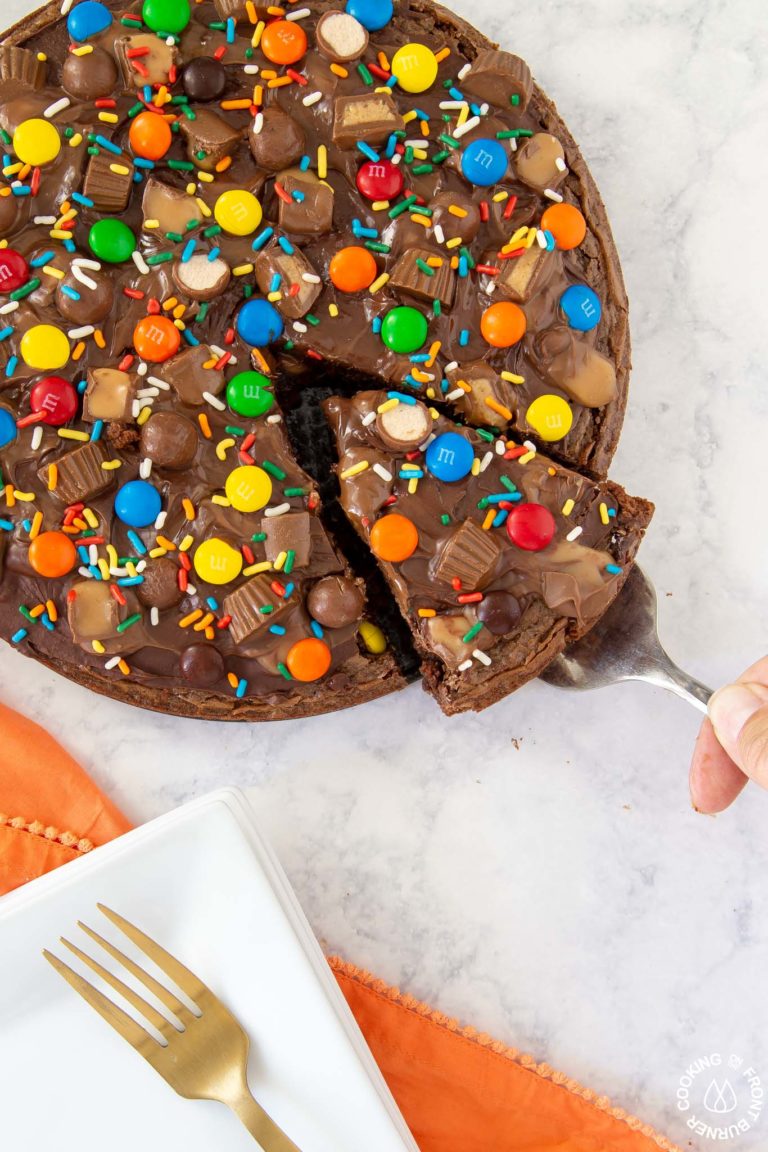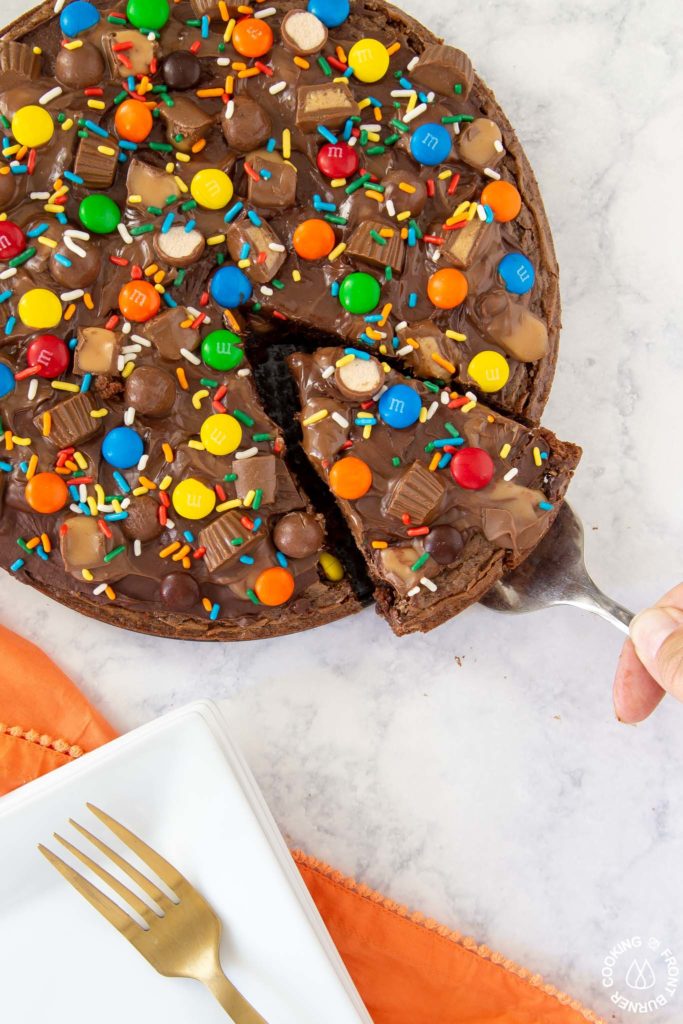 I know you will love the fudgey brownie base.
While we are on the subject of chocolate, other recipes you might enjoy are these Double Chocolate Mousse cups, Churro Pancakes with a spicy chocolate sauce and if not too early, these Triple Chocolate Peppermint cookies that we love for Christmas.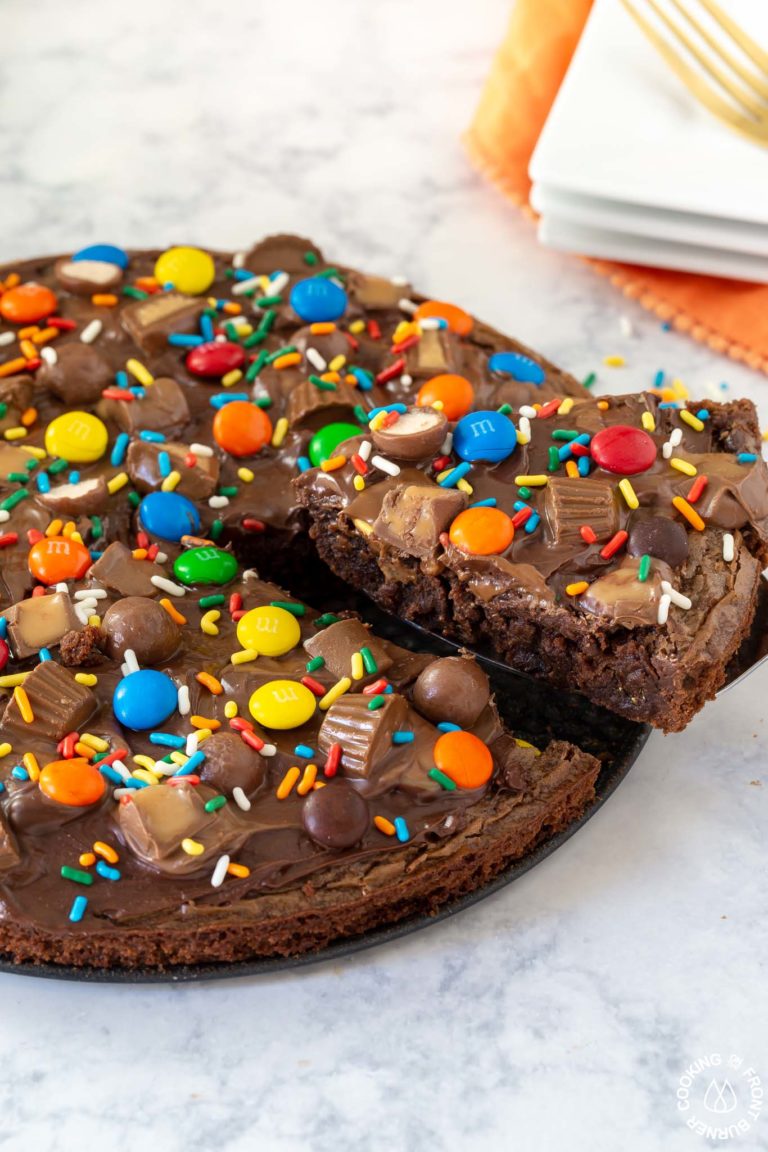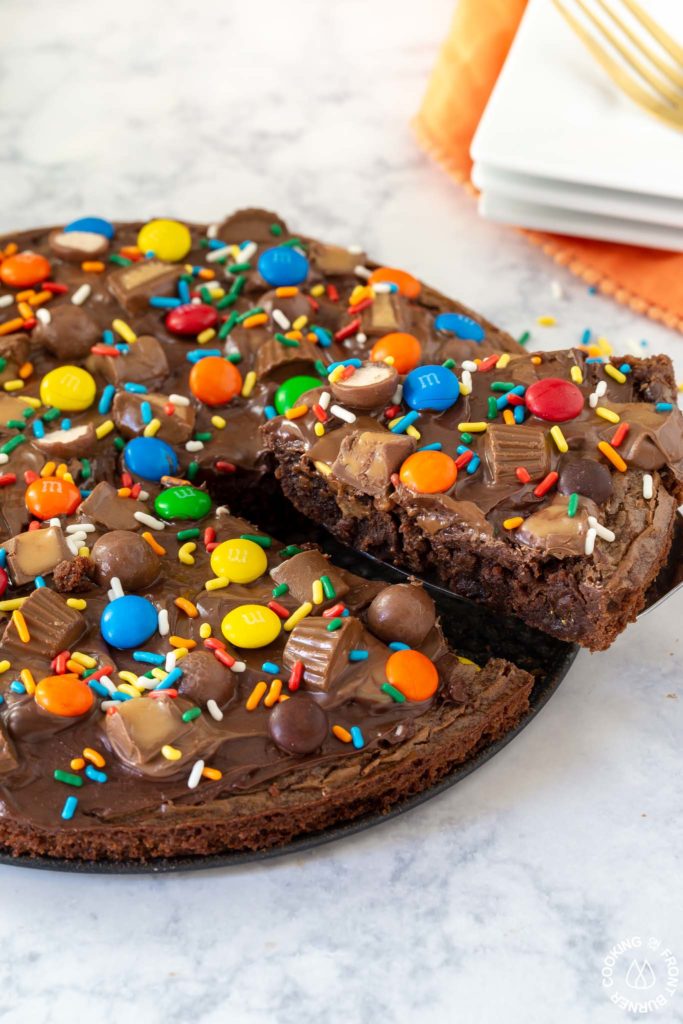 Here is an up close look at a slice - look at how the caramel is melted into the frosting. YUM!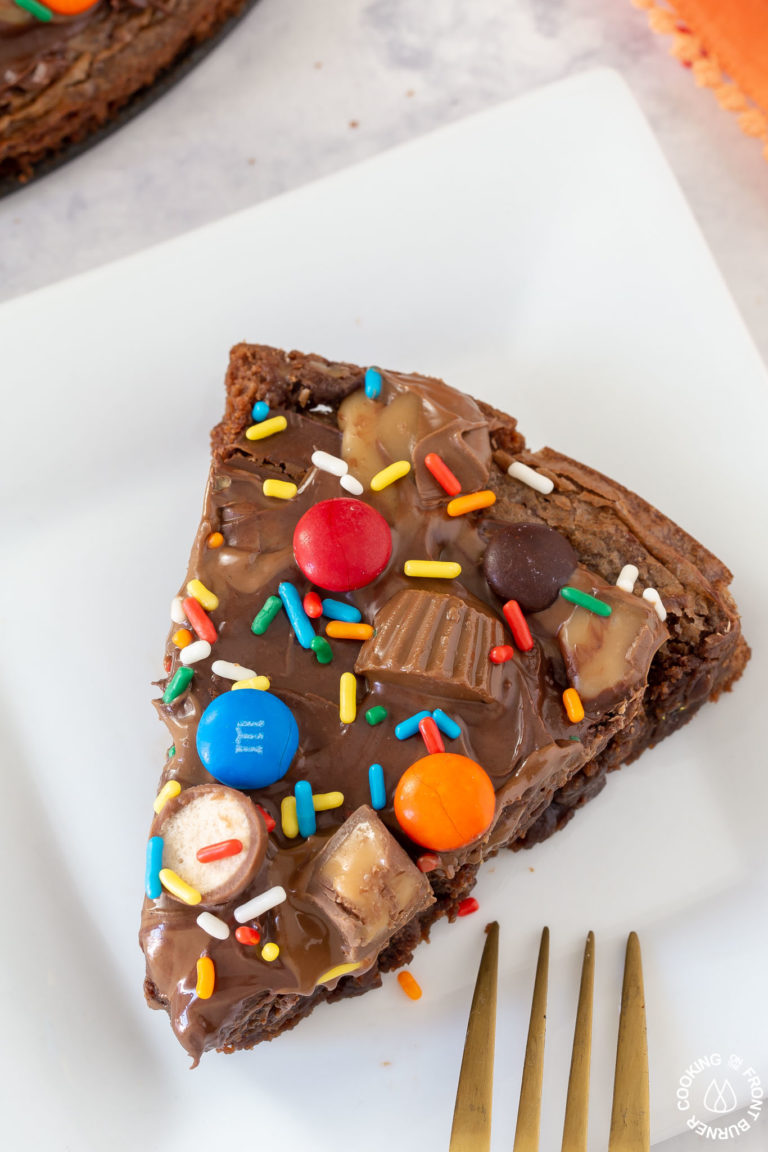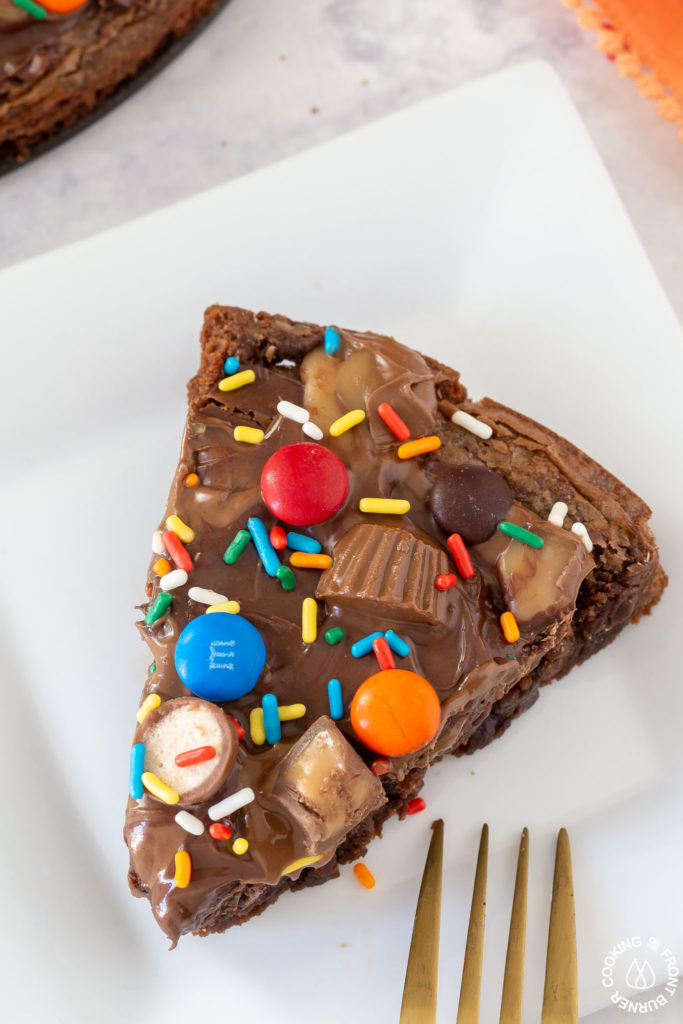 Get the Recipe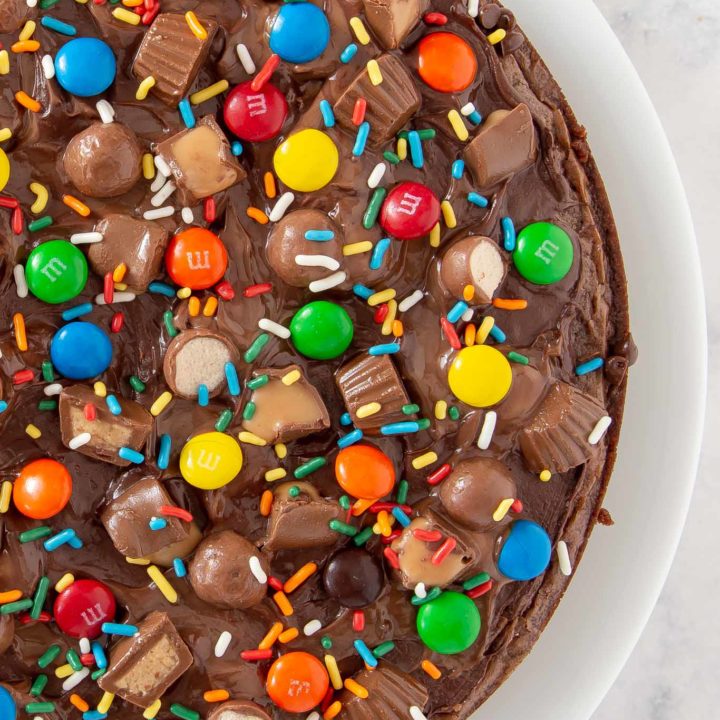 Candy Brownie Pizza
Additional Time:
15 minutes
Oh boy, this Candy Brownie Pizza is so full of chocolate! A delicious treat for all!
Ingredients
1 box mix fudge brownies
¾ cup chocolate chips (mini or regular will work)
Rolos
M&Ms
Malted Milk Balls
Small Peanut Butter cups
Sprinkles
Instructions
Preheat oven to 325°
Spray a 9" spring form pan with vegetable spray
Prepare brownie mix as stated on box and pour into pan
Bake for about 33 minutes or until a toothpick 2" away has a few crumbs
While brownie is baking, cut your candy into halves or quarters (except M&Ms)
Remove brownie from oven and place on a wire rack
Loosen the ring then place the chocolate chips on top
After about 7 minutes, remove the ring and "frost" the brownie with the chocolate chips
Add some rolos and after about 3 minutes gently spread the rolos (swirl)
Wait about 10 minutes before adding the remainder of the candy
Let cool completely before cutting
Store in a covered container but not in the refrigerator
Notes
I am not noting calories because the amount of topping will depend on your liking and would change the calories. Don't count the calories anyway LOL!
Recommended Products
As an Amazon Associate and member of other affiliate programs, I earn from qualifying purchases.
Another brownie dessert you might like:
About the Author
Recent Posts
Recipe Index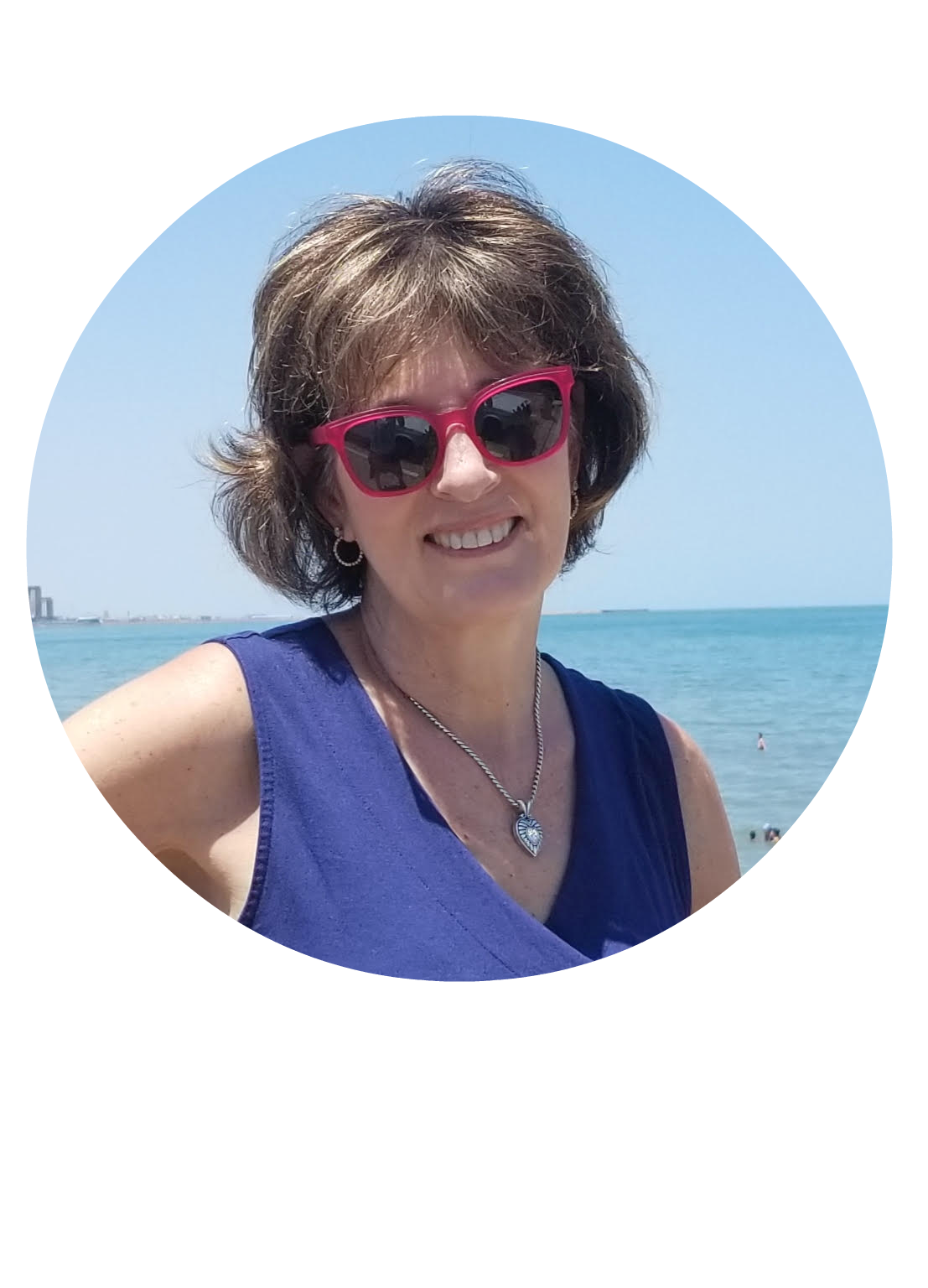 We are all about sharing our love of good food so on the blog you will find easy recipes to enjoy with your family and friends.  We hope to inspire you to host a gathering to create special memories.  Most recipes are step by step so you can feel confident in the kitchen.  Take a look around to find everything from breakfast to dinner and everything in-between!