Churro pancakes topped with a spicy chocolate sauce – This easy pancakes recipe is a great way to kick off your Cinco de Mayo celebration. Ole!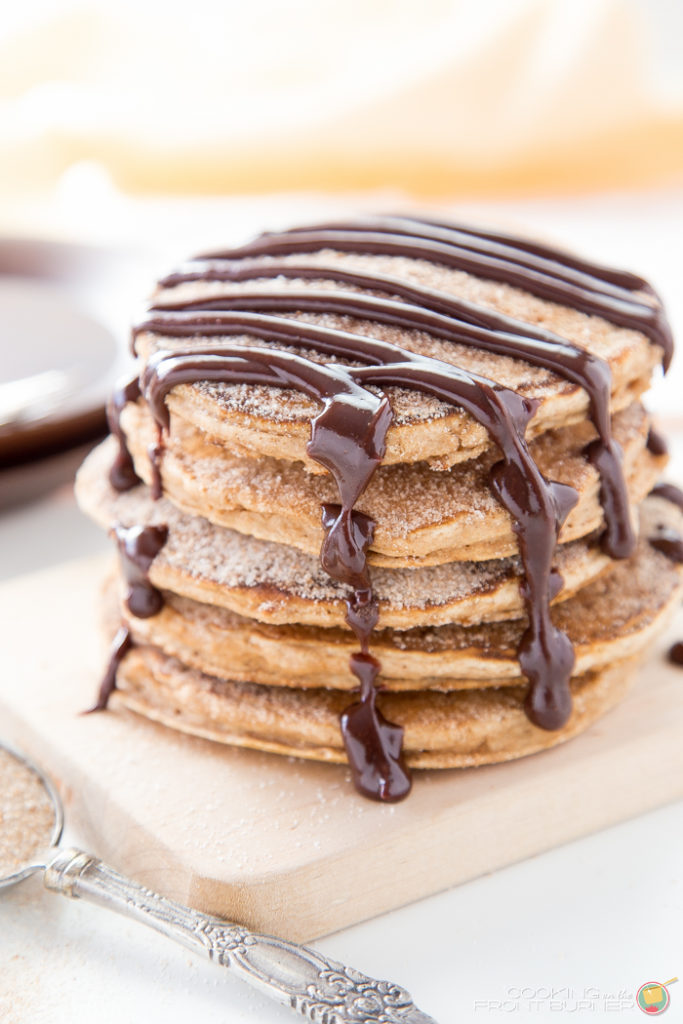 Oh boy, you are in for a real treat today, because we are making breakfast decadent with these Churro Pancakes with a Spicy Chocolate Sauce.  Do I have your attention?
Cinco de Mayo is around the corner and your family would be thrilled with these tasty pancakes dripping in yummy chocolate sauce.  Seriously, these pancakes should be considered a dessert, but nah, let's start the day catering to your sweet tooth and celebrate with an easy pancakes recipe! Ole!
Ok, I have to admit I've never had a churro, but I've seen so many recipes around that I knew eventually I would want to give them a try (in a pancake form).  They kind of remind me of an Italian treat that I grew up eating called Pizza Frite – which is basically pizza dough formed into an 6-8″ disk, fried and then dusted with confectioners sugar.  They were my favorites at all the fairs around town.  And if we were lucky, we would come home from school and mom would have a batch ready for us.
Churros are a bit similar, as they are a dough made in about a bread stick length, deep fried and rolled in cinnamon sugar.  They originated in Spain many centuries ago and are enjoyed for breakfast, a snack or dessert.  I'm not sure if back in the day if they dipped theirs in chocolate but many of the recipes found on the web today include a sauce.
And speaking of sauces, this churro pancakes sauce has a kick to it, with a bit of cayenne pepper. It goes perfectly with the sweet cinnamon!
What other ways do you celebrate Cinco de Mayo?  Have you ever tried Deep Fried Ice Cream?  Be sure to see the recipe I am linking below that is tried and true.  And if you are inclined to have a tasty beverage (margarita), I'm including one of those too!  Let's keep the celebration going all day long!
Naked churro pancakes… good on their own, but oh, that sauce!
With all the yummy chocolate sauce!
Sprinkle with more cinnamon/sugar mixture if you like.
Other recipes to try: