Pumpkin Muffins with Pecan Streusel are so easy to make and have that bakery style appeal to them. Super moist muffin with a crunchy-sweet streusel topping and drizzled with a creamy glaze.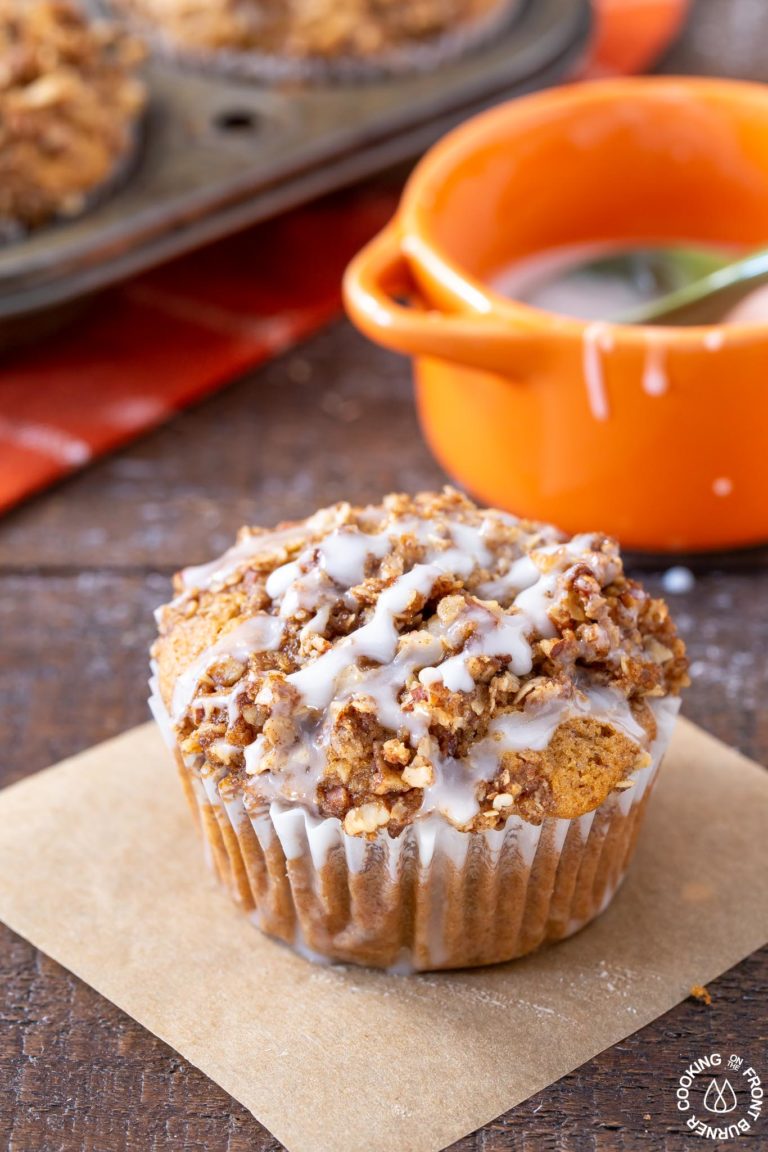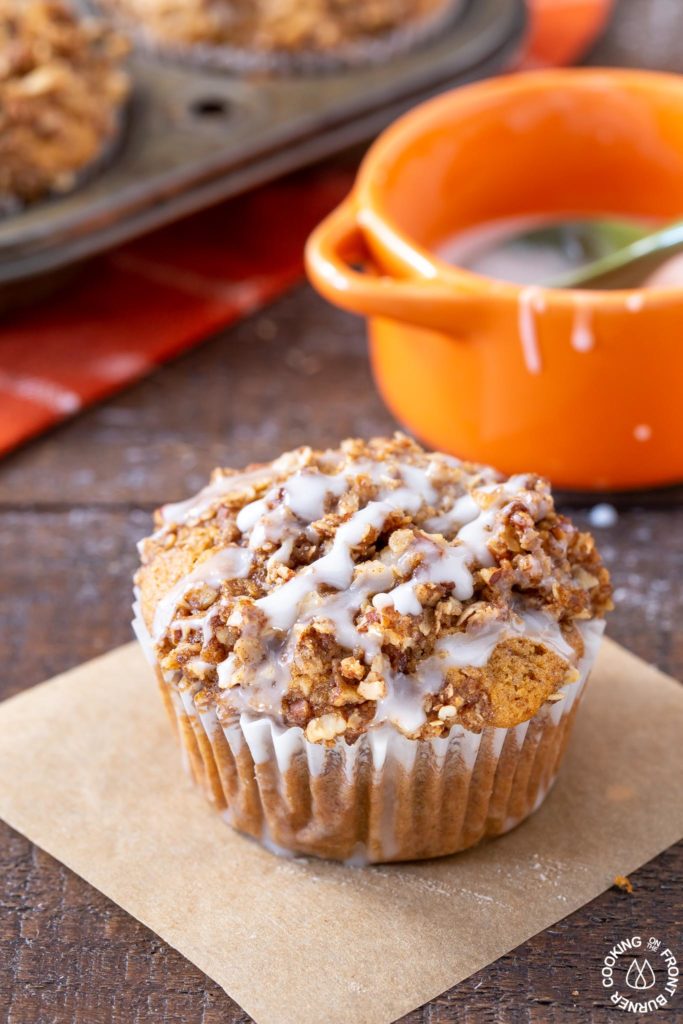 Pumpkin Muffin with Pecan Streusel
Fall is here and I am really appreciating that we aren't in a deep freeze yet with temps hovering around the mid-60s this week. I love summer - I would rather have the heat instead of the cold! But when it does start cooling off, one of my favorite ingredients is pumpkin.
I have been craving pumpkin flavors and these just hit the spot. I kept it pretty easy by starting with a pumpkin muffin mix (I got this one at Trader Joe's). Or maybe you have a favorite pumpkin muffin recipe - use that, but be sure to top with the tasty streusel I came up with.
Fall is the perfect time to start making pumpkin recipes that everyone will enjoy!
Keep a couple of these mixes on hand so when company comes over, you can quickly make these muffins and they will think you fussed a lot!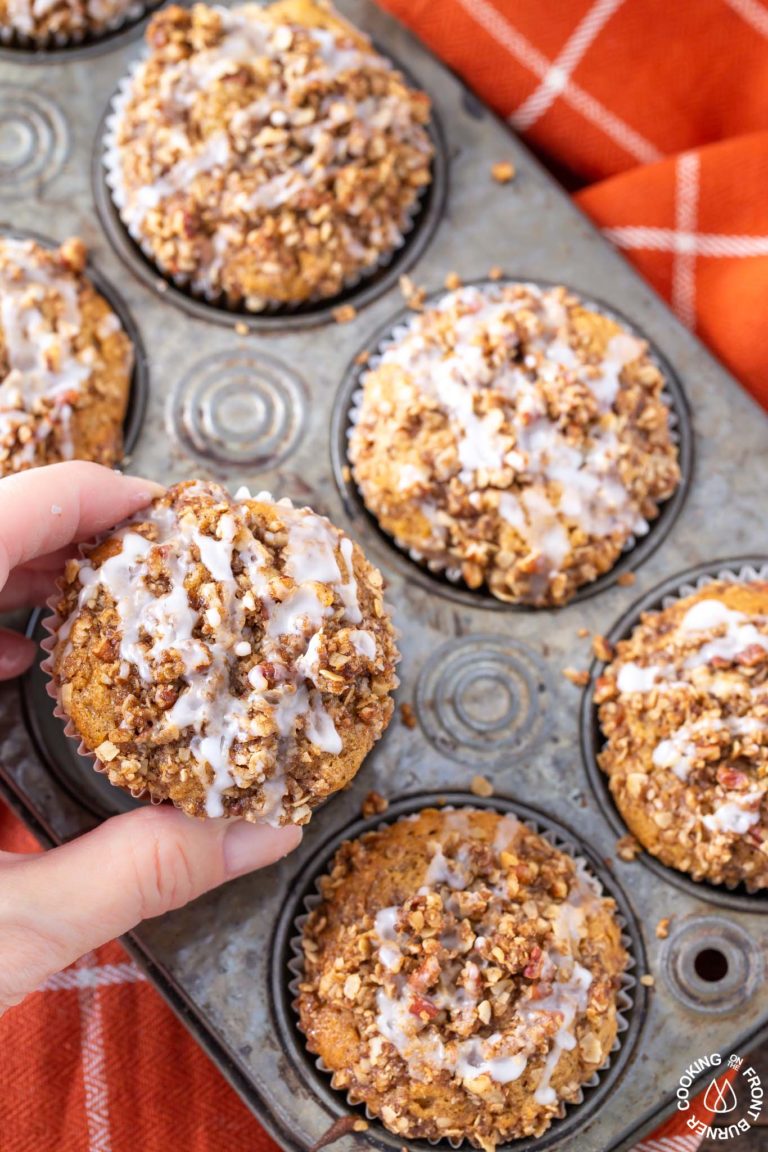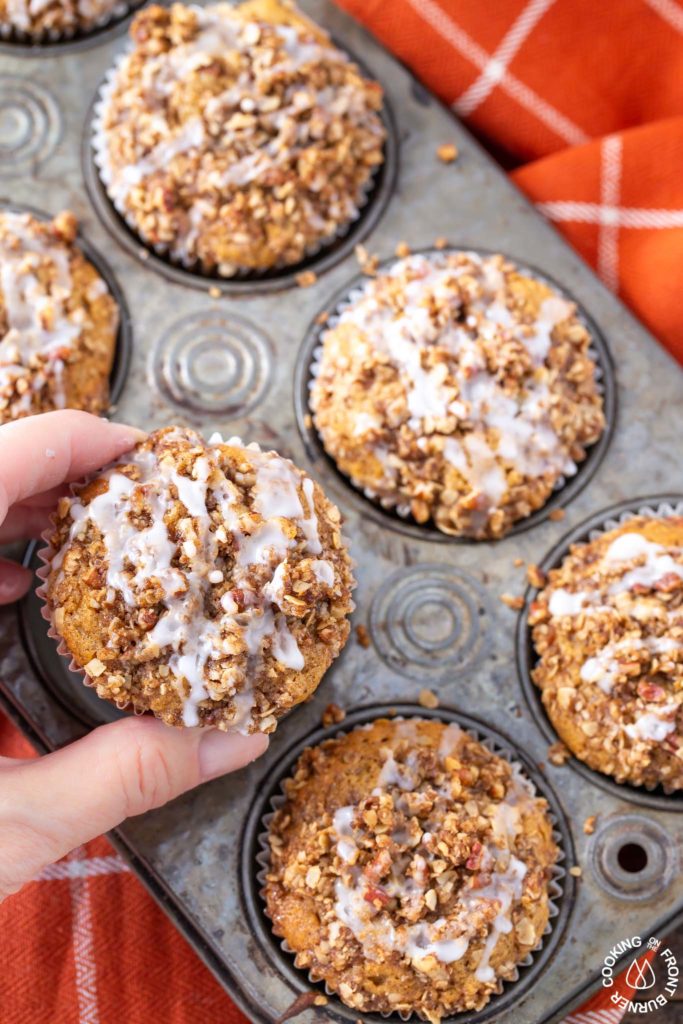 What ingredients will you need for pumpkin muffins?
Muffin or Bread mix
Eggs
Vegetable Oil
Water
Pecans
Oatmeal
Flour
Dark Brown Sugar
Cinnamon
Nutmeg
Butter
Powdered Sugar
Milk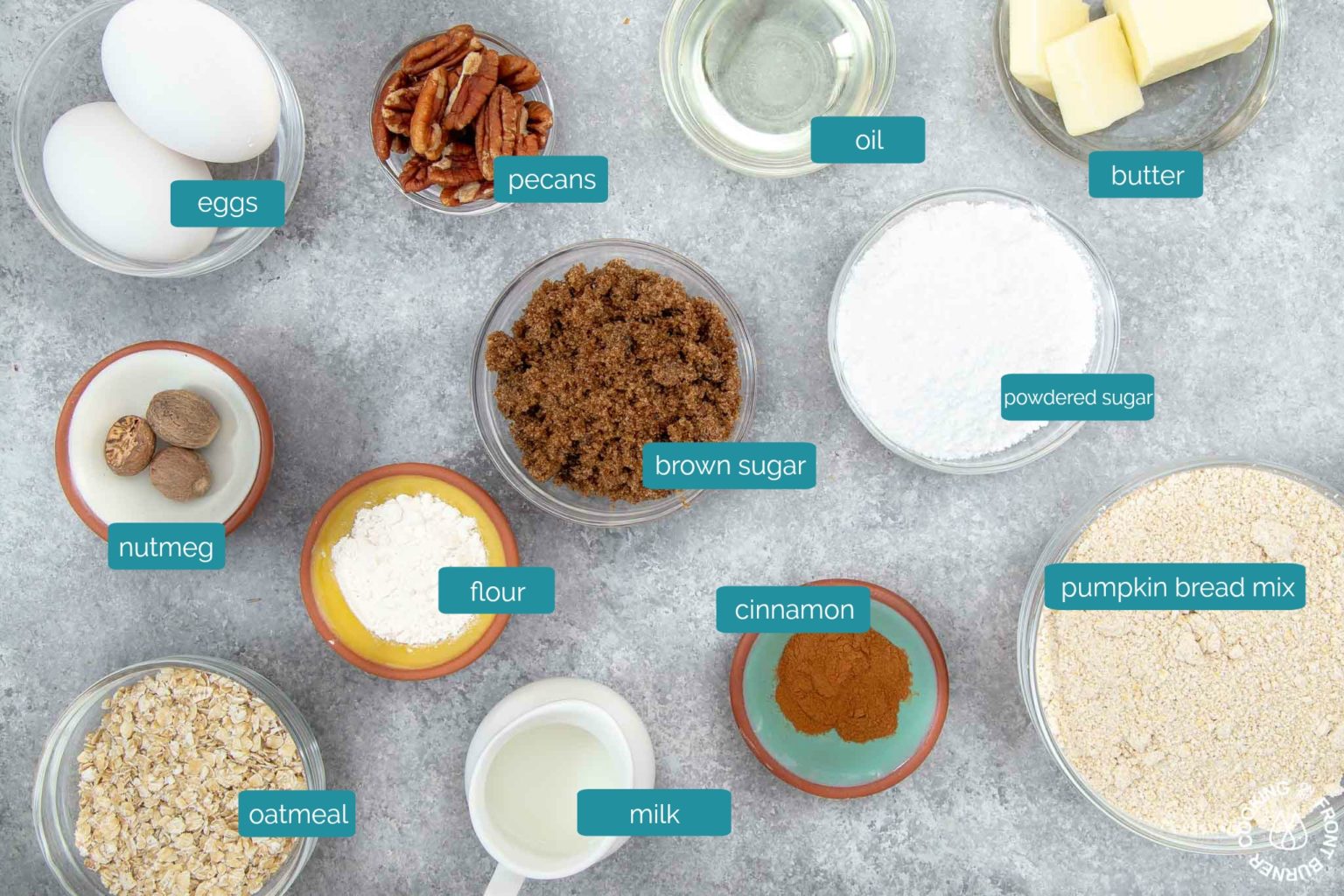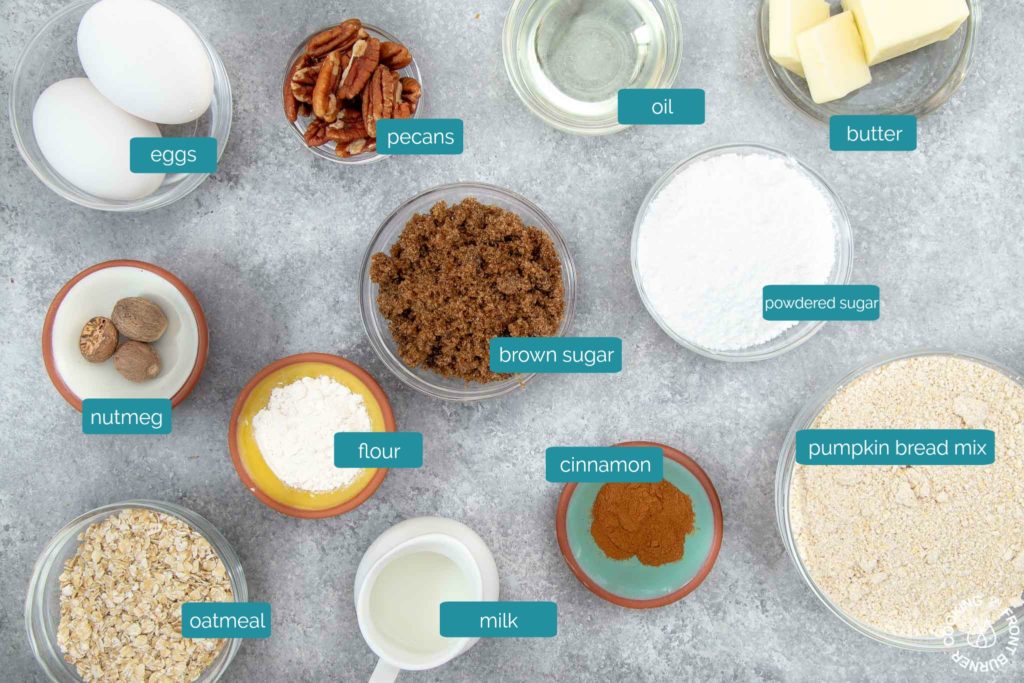 How do you make pumpkin muffins?
The first step is to combine the ingredients needed for the streusel topping and set aside. I found using a pastry cutter worked well. The goal here is to make the topping crumbly with the pieces about the size of peas. Also having the butter cold is key to a great streusel.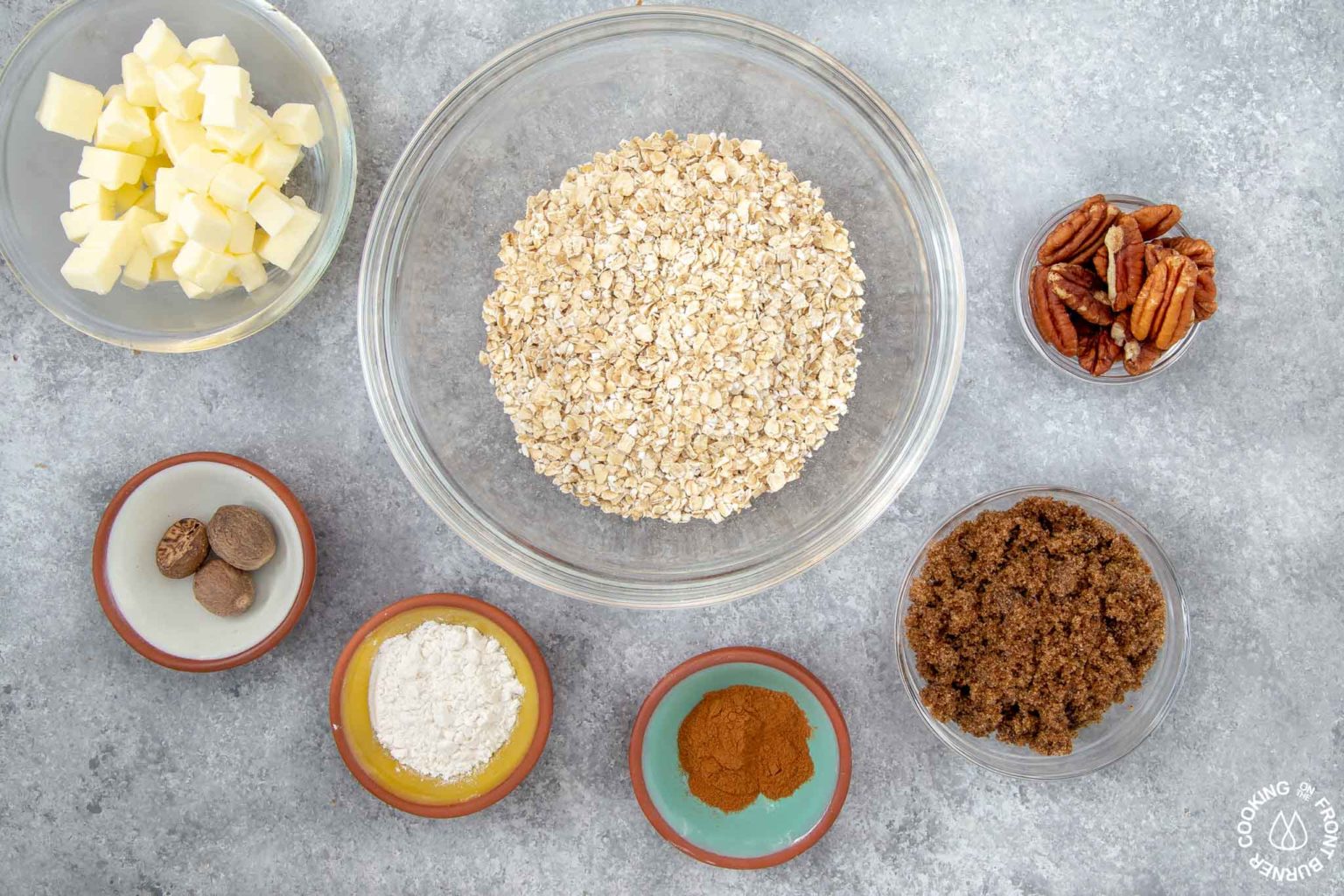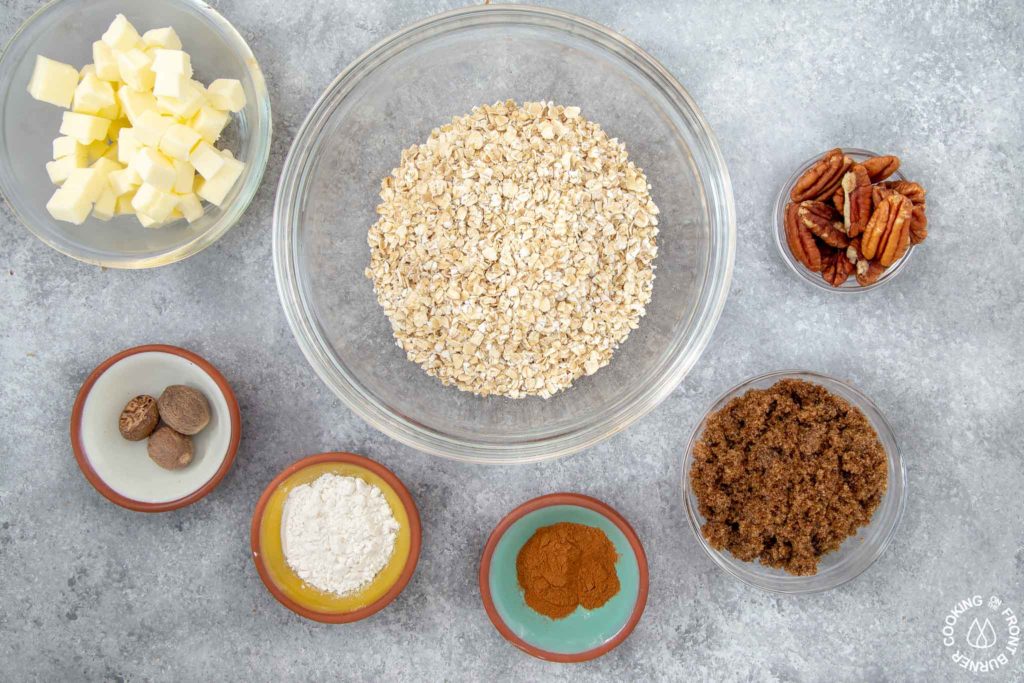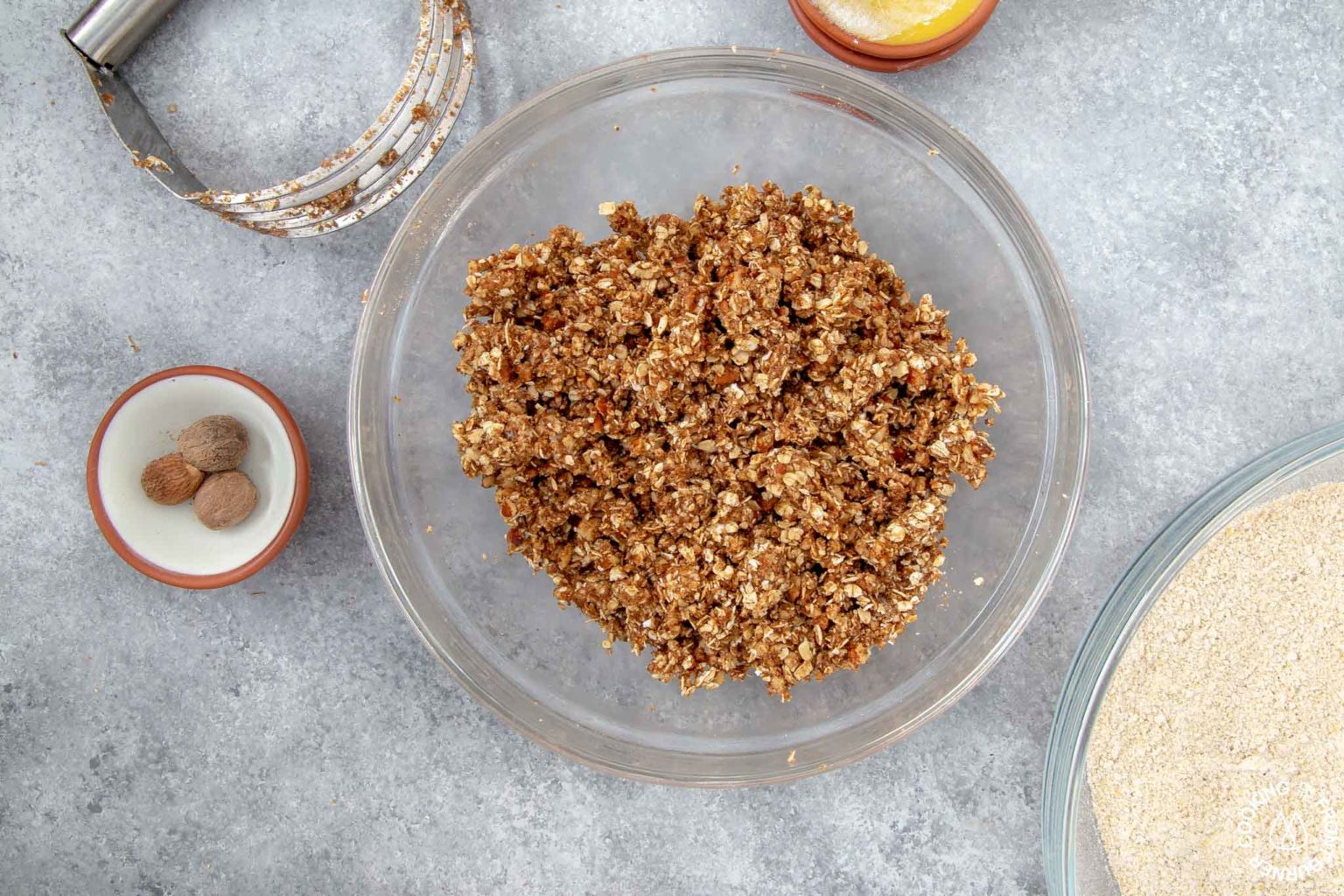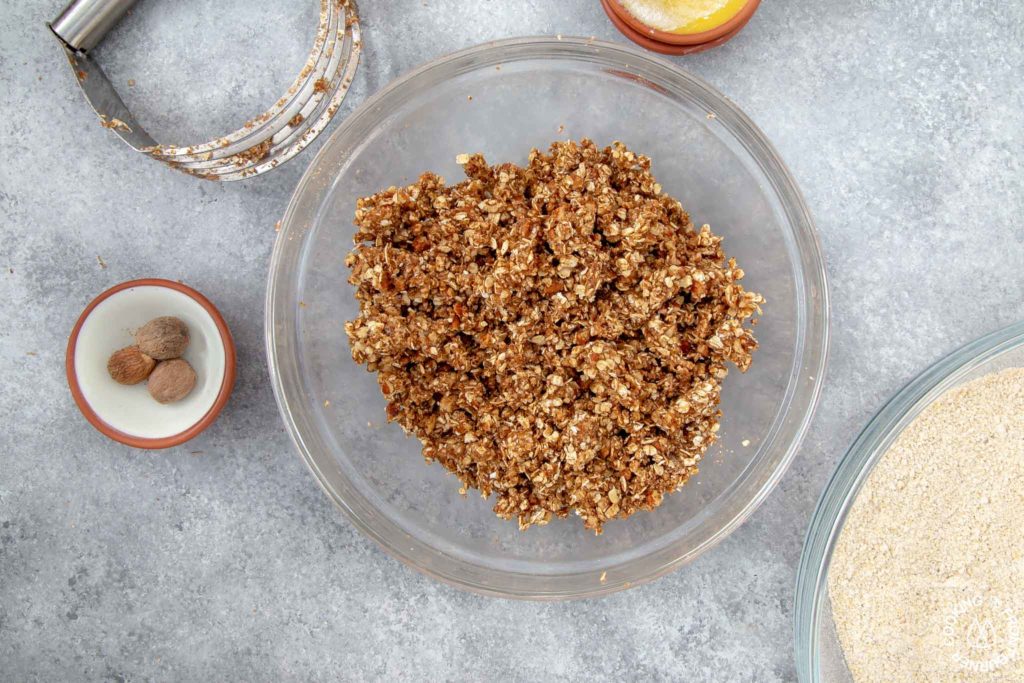 Next combine the ingredients needed for the muffins using a rubber spatula; mixing until combined well (about 1-2 minutes). I followed the exact directions on the muffin mix box I purchased at Trader Joe's.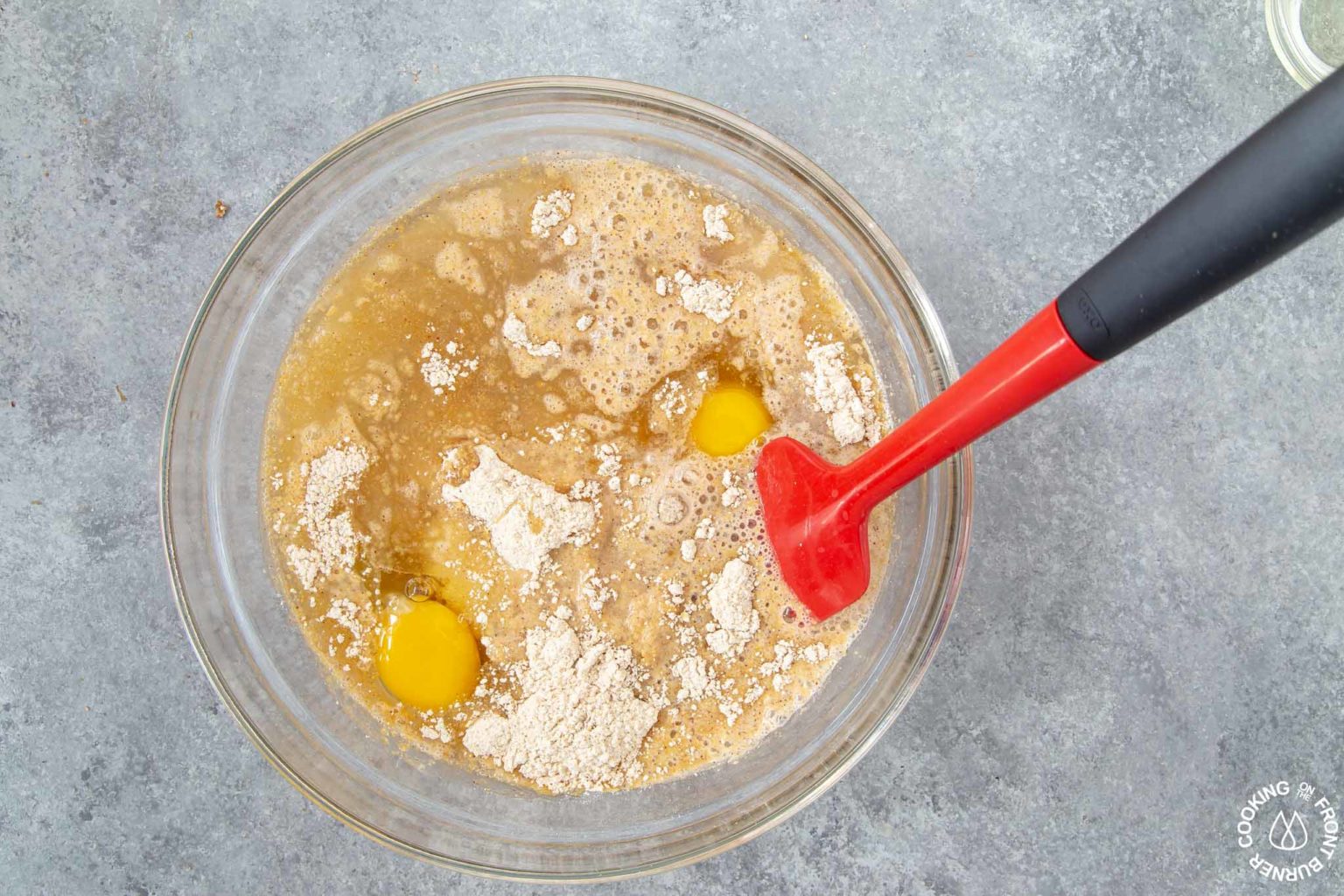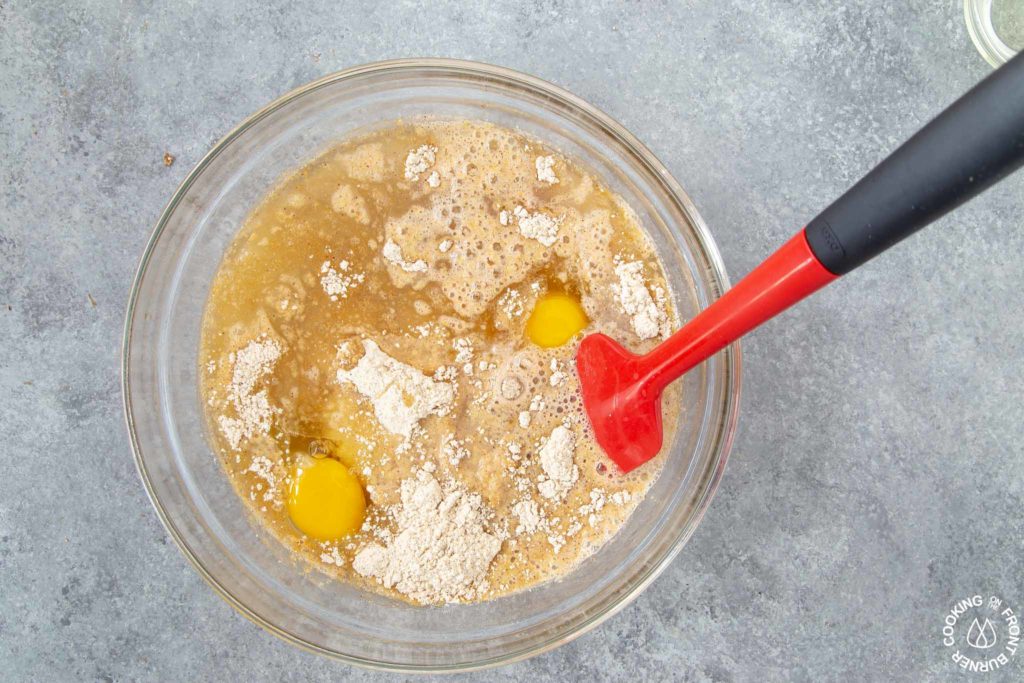 Line a muffin tin with wrappers and add the batter in each until about two-thirds full. I like using a scoop for filling the cups. These took about 2 scoops (~ 4 tablespoons).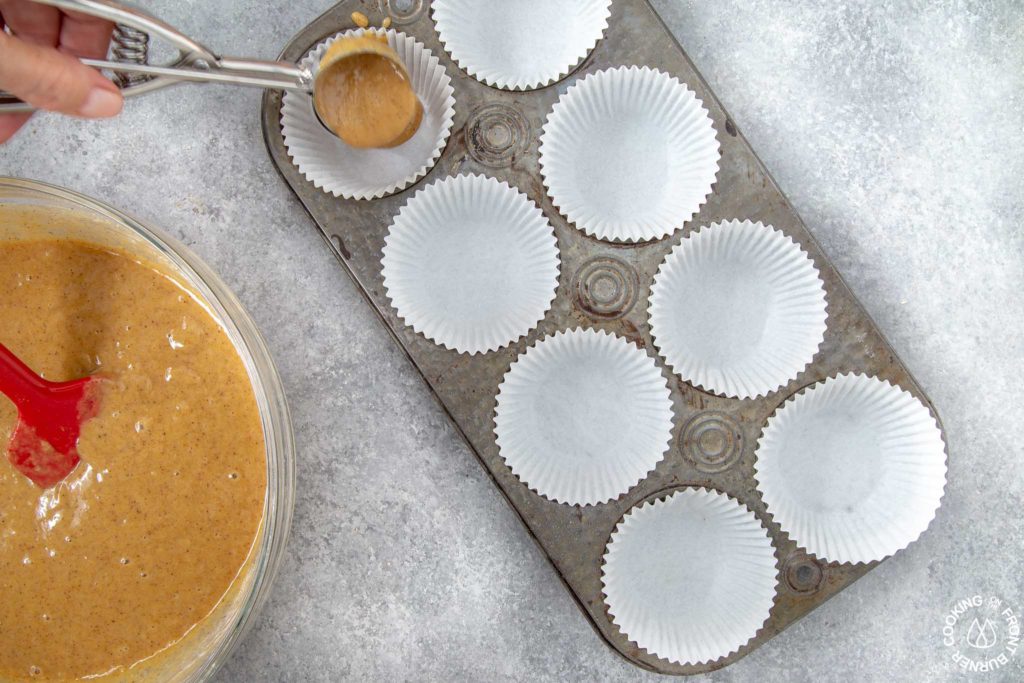 Next add the streusel topping and bake in a 375 degree oven for about 20 minutes. I used a toothpick and when crumbs don't stick, they are done.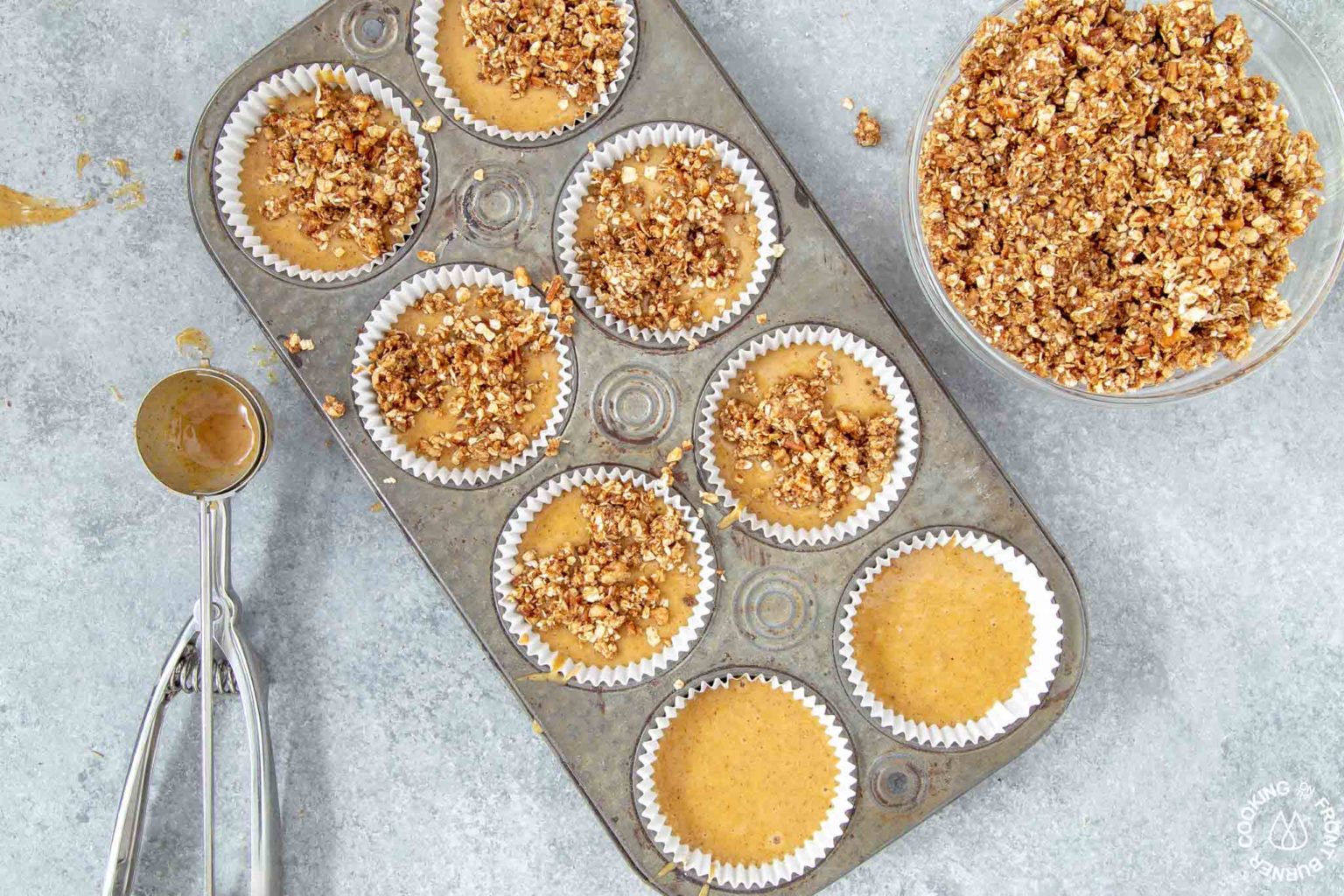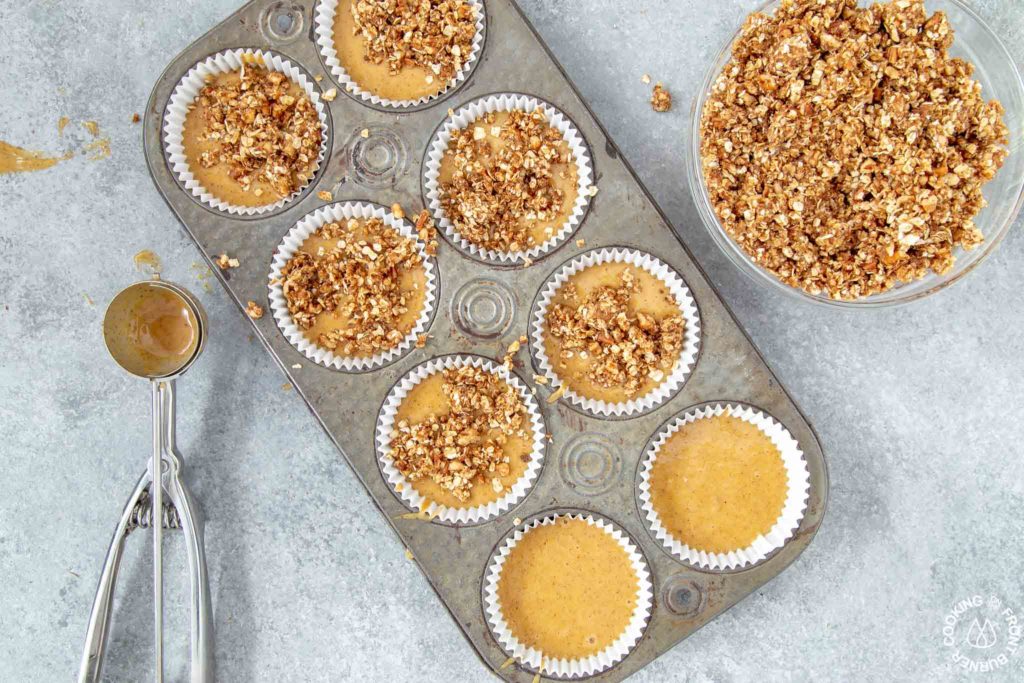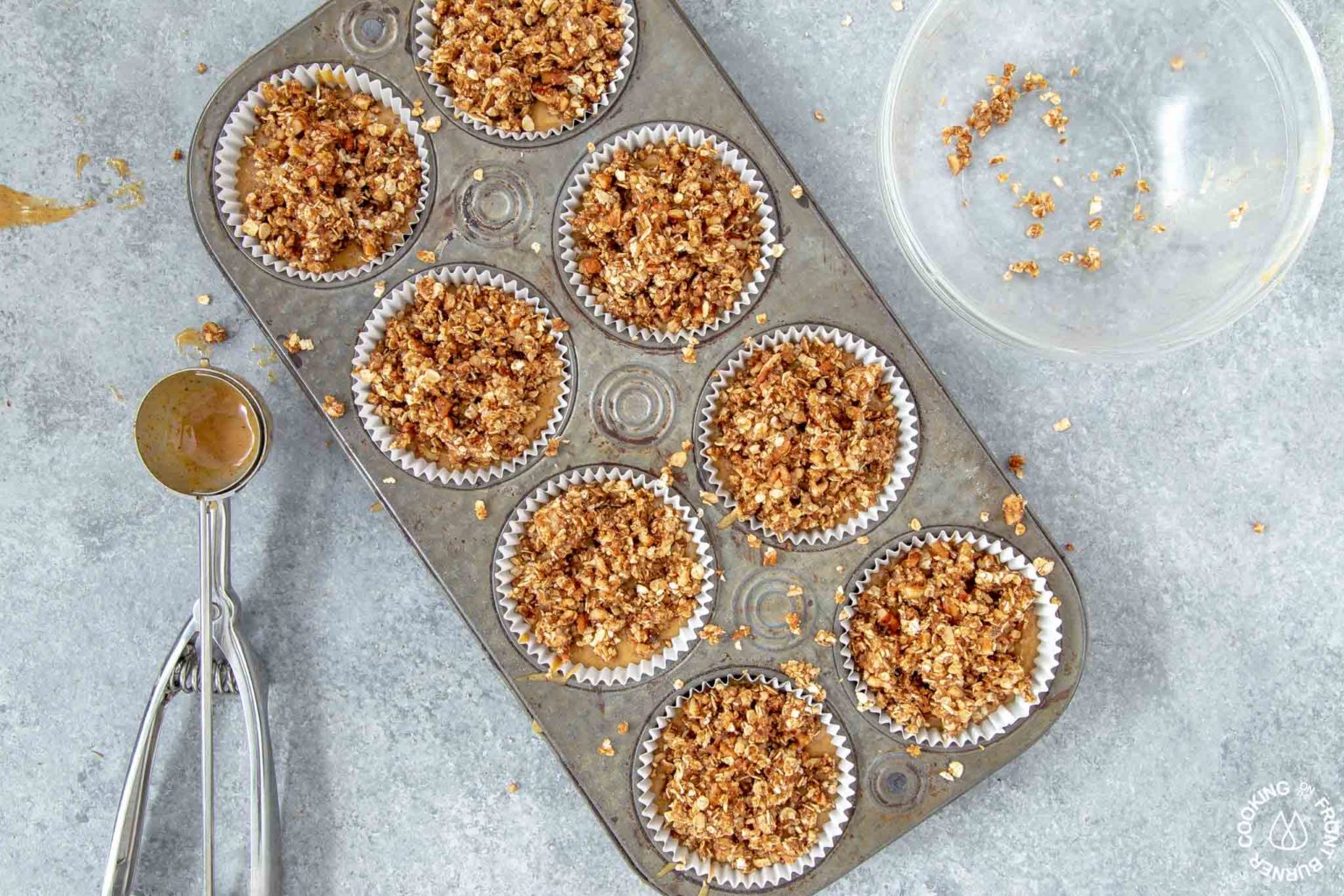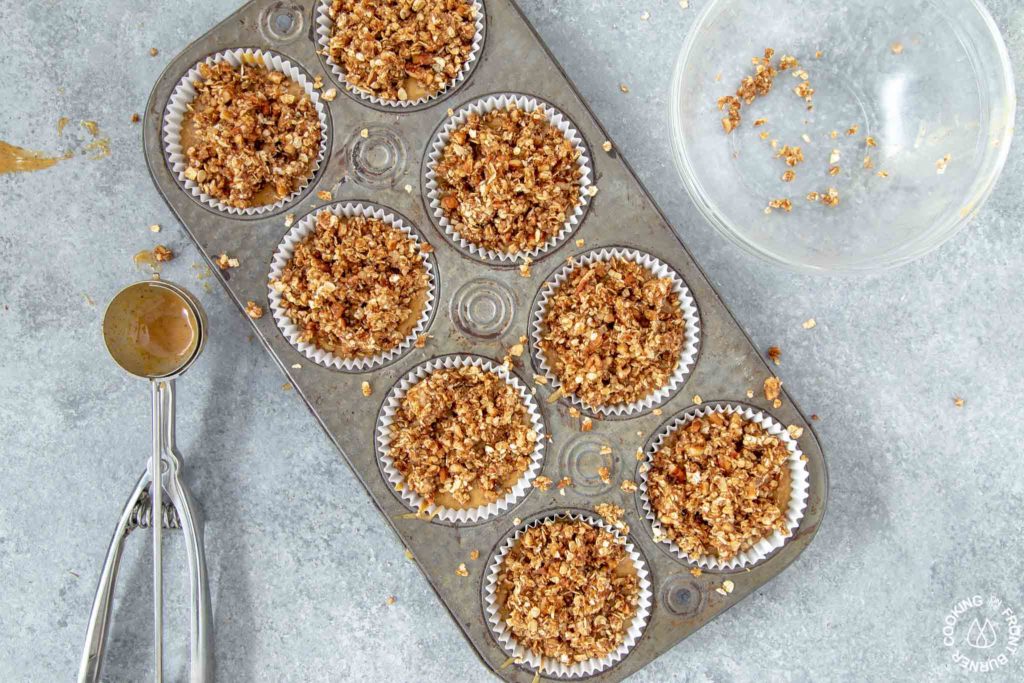 Remove muffins from oven and let cool about 10 minutes and then remove from the muffin tin.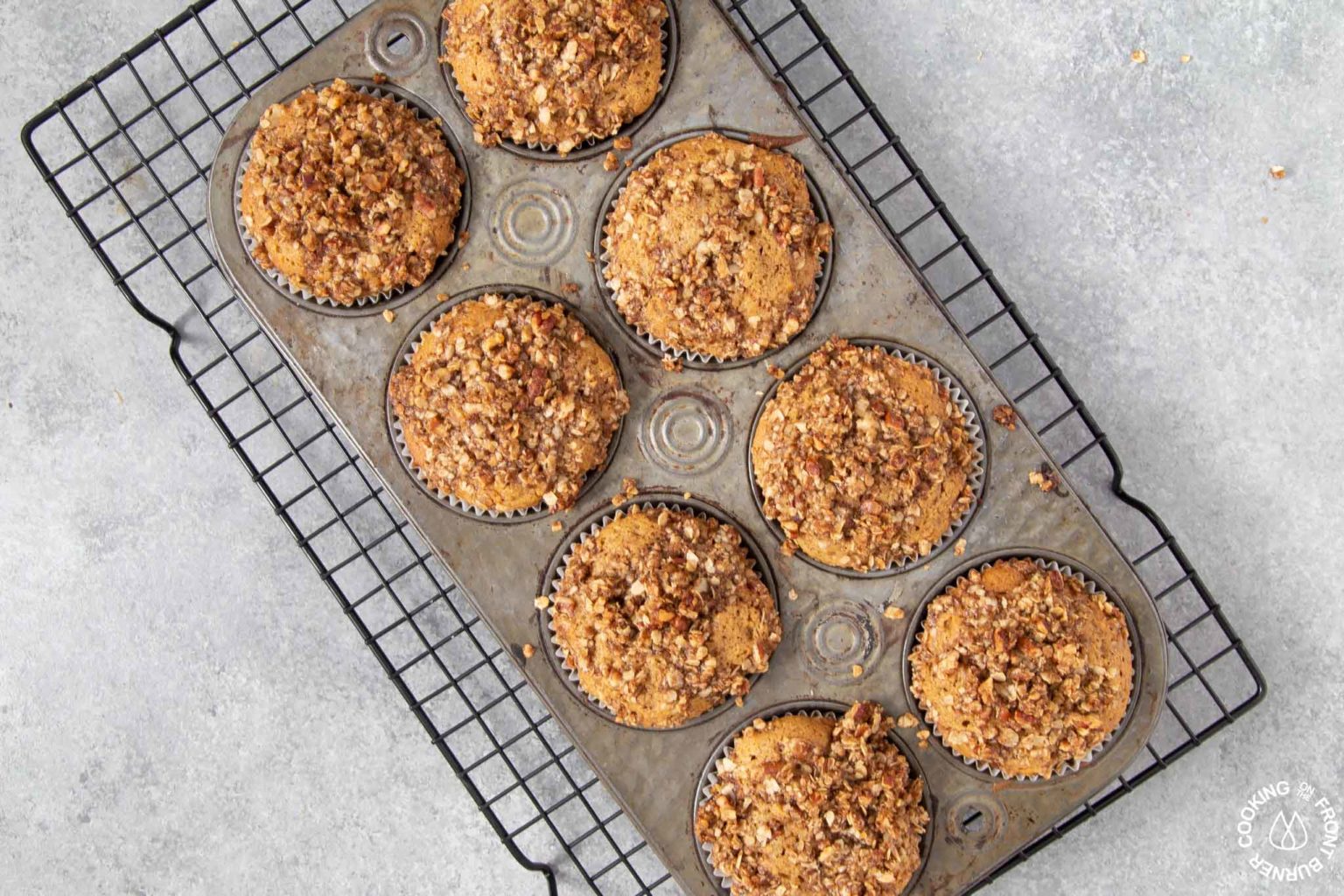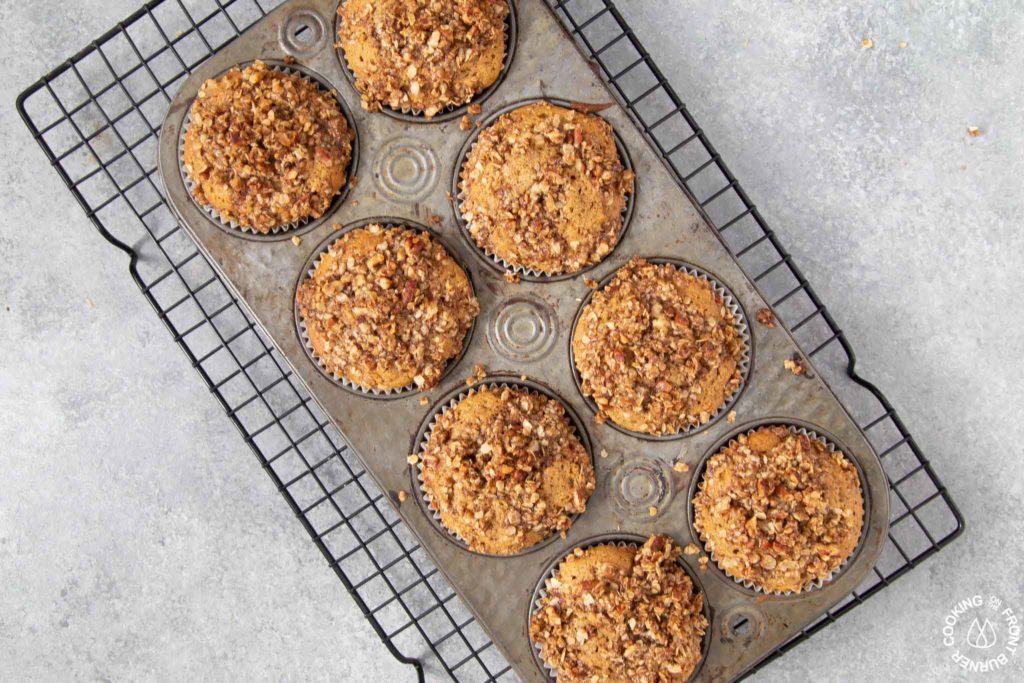 Make the glaze by combining the powder sugar and milk until you get desired consistency then drizzle over the top of pumpkin muffins.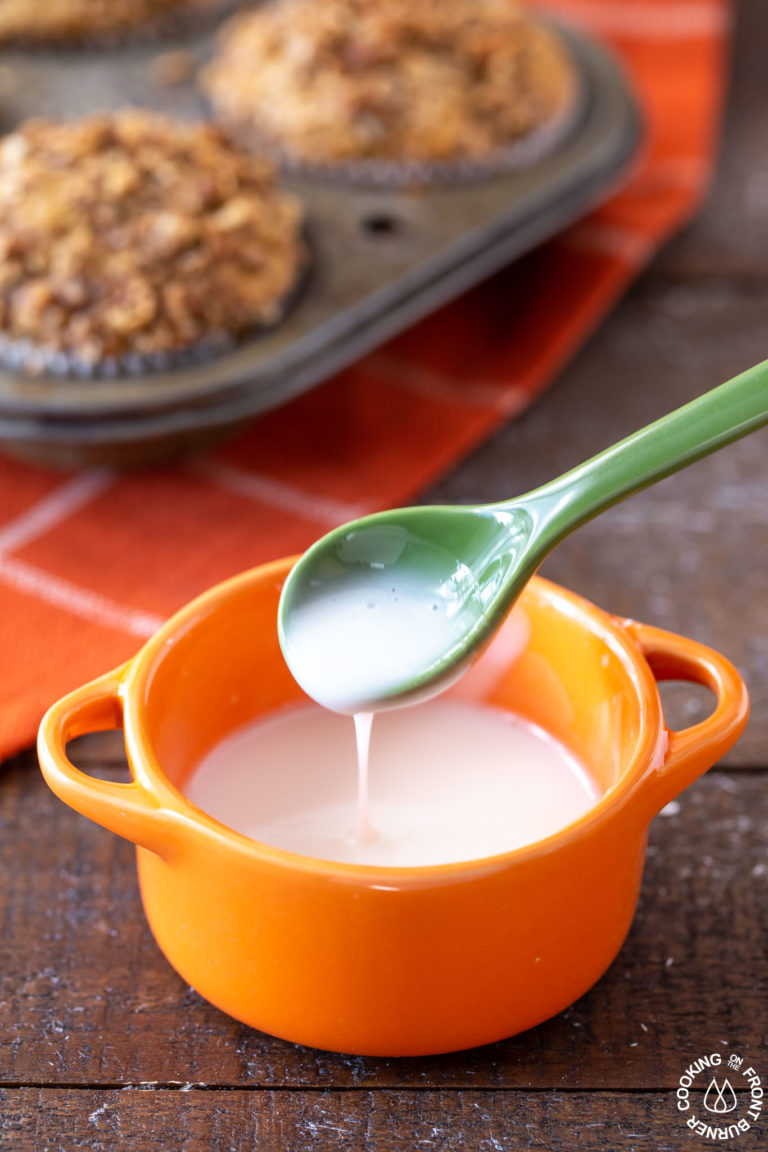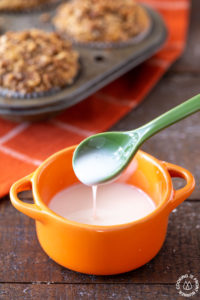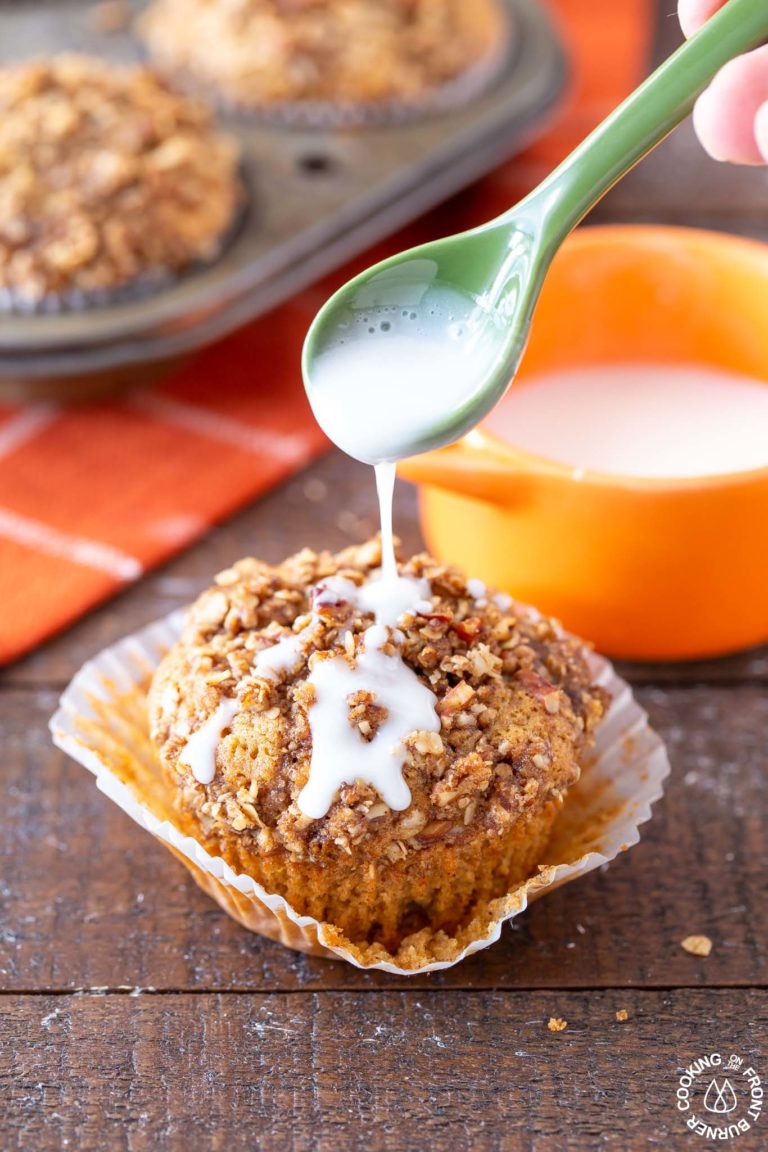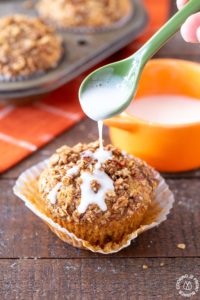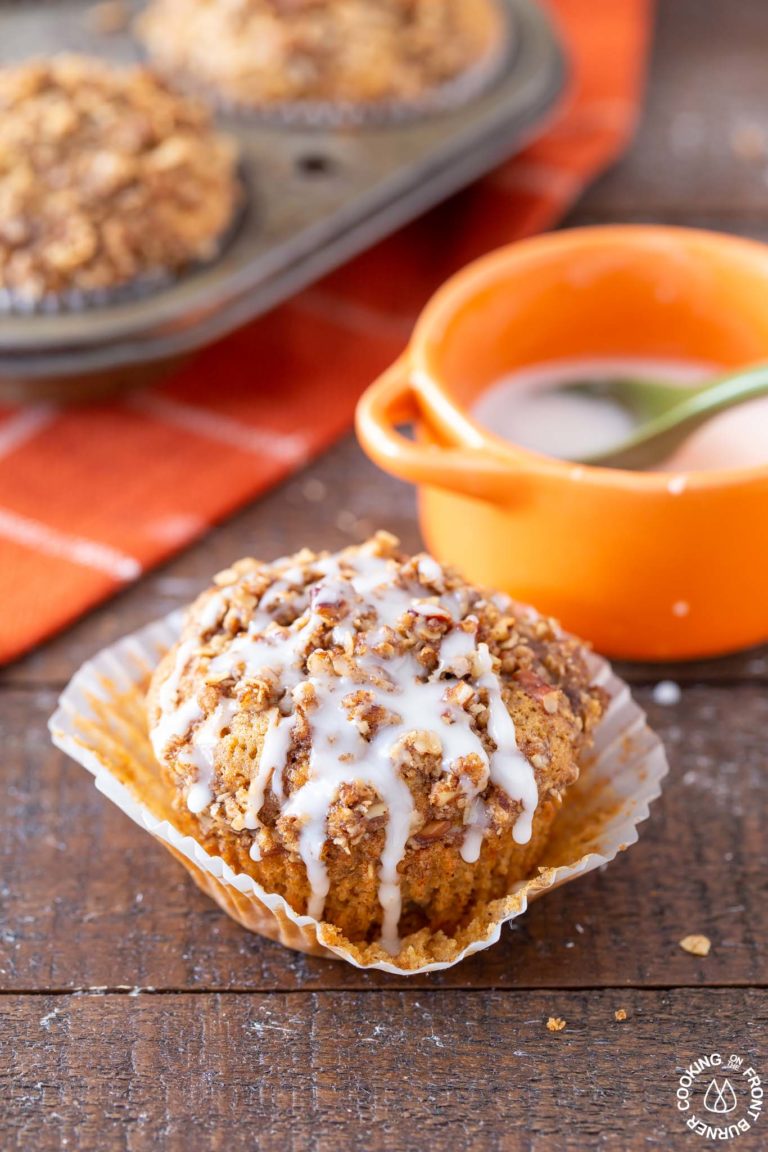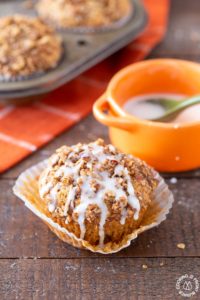 What is streusel made of?
Typically it is a crumbly topping using flour, cold butter and sugar that is baked on top of muffins, breads, pies and cakes. Some modern recipe will add nuts and spices. This recipe uses oatmeal, pecans, cinnamon and nutmeg.
The texture of the moist muffin with the crunchy topping is a perfect combination. The muffins are perfect for a cozy fall day for either breakfast or a snack.
You could also do your thing and leave off the glaze - I usually do half and half because sometimes you feel like having all the sweetness and sometimes you don't 🙂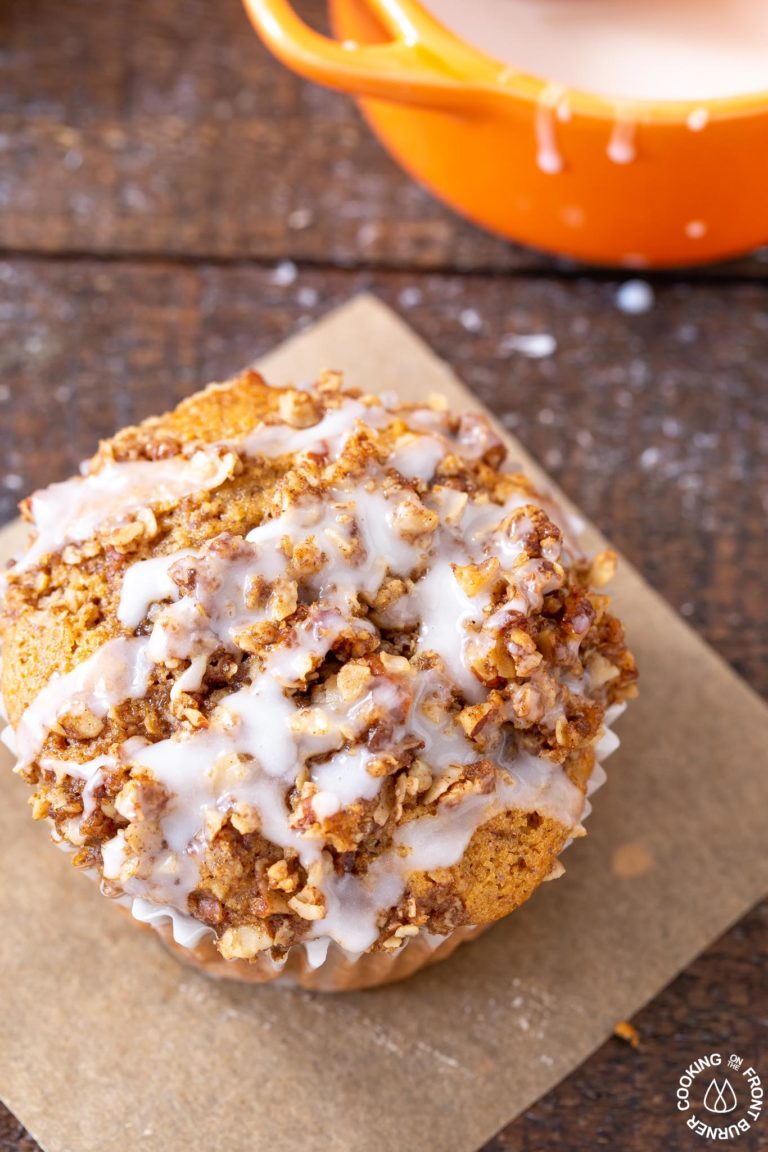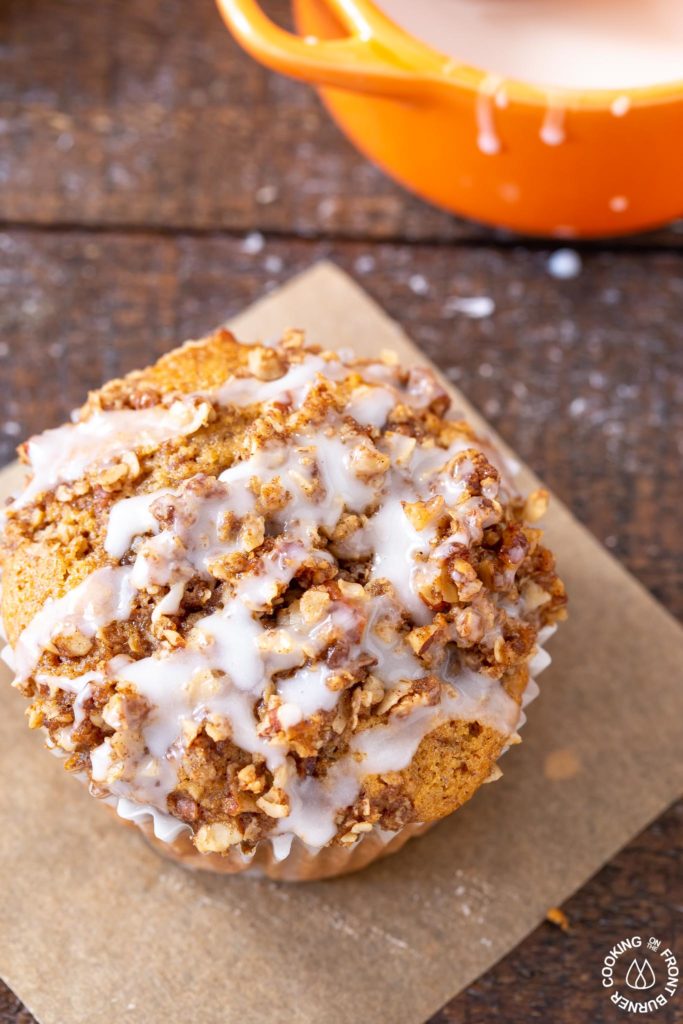 Be sure to save this pin to save for later!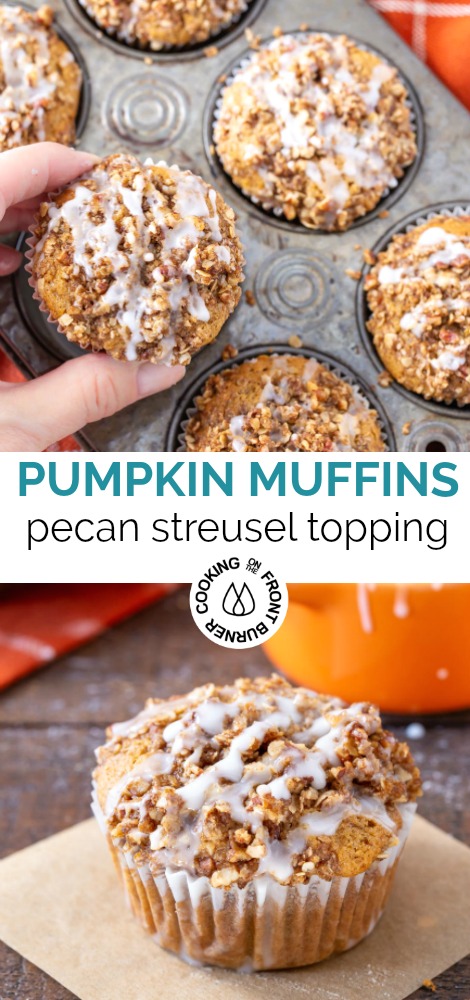 Note: This recipe was originally posted August 26, 2013 and was republished on October 18, 2019 with updated photos and step-by-step instructions.
Get the Recipe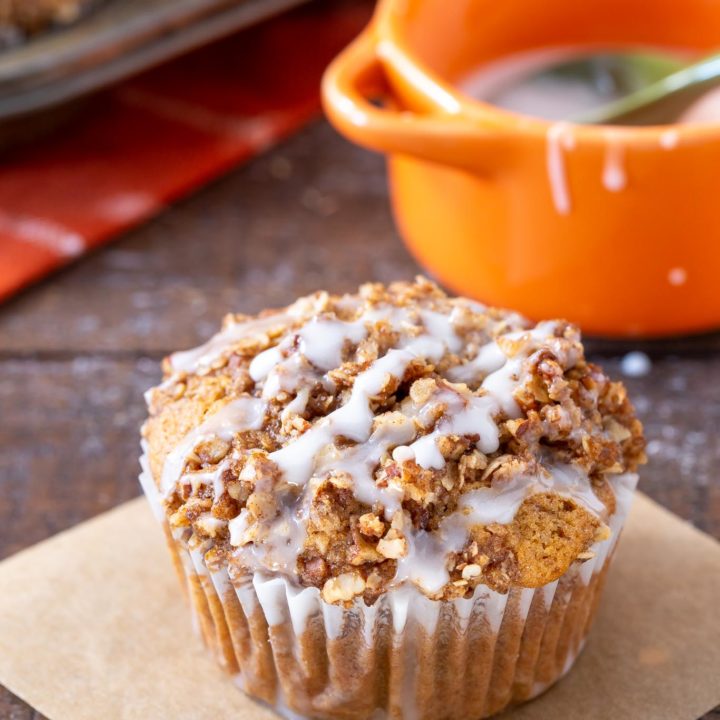 Pumpkin Muffins with Pecan Streusel
Additional Time:
10 minutes
These bakery style muffins are so easy to make when you start with a box mix.
Ingredients
1 box pumpkin bread/muffin mix from Trader Joe's or similar
¾ cup pecans, chopped
1 tablespoon flour
⅓ cup dark brown sugar
1 teaspoon cinnamon
¼ teaspoon nutmeg
5 tablespoons butter, cold and cut into cubes
6 tablespoons powdered sugar
1-2 tablespoons milk
Instructions
Preheat oven to 375°; line muffin tin with liners
Prepare mix as directed and fill cups about ⅔ full
Combine the streusel ingredients - flour, cinnamon, nutmeg, brown sugar and pecans then add in butter with a pastry cutter
Divide the topping evenly on top of muffins
Bake for about 20 minutes or until a toothpick comes clean
Make glaze by combining powdered sugar and milk until desired consistently
Drizzle over muffins after then cool about 10 minutes
Store in refrigerator
Other blogger friends who have great muffin recipes:
Lastly, another muffin recipe you might enjoy - Blueberry Lemon
About the Author
Recent Posts
Recipe Index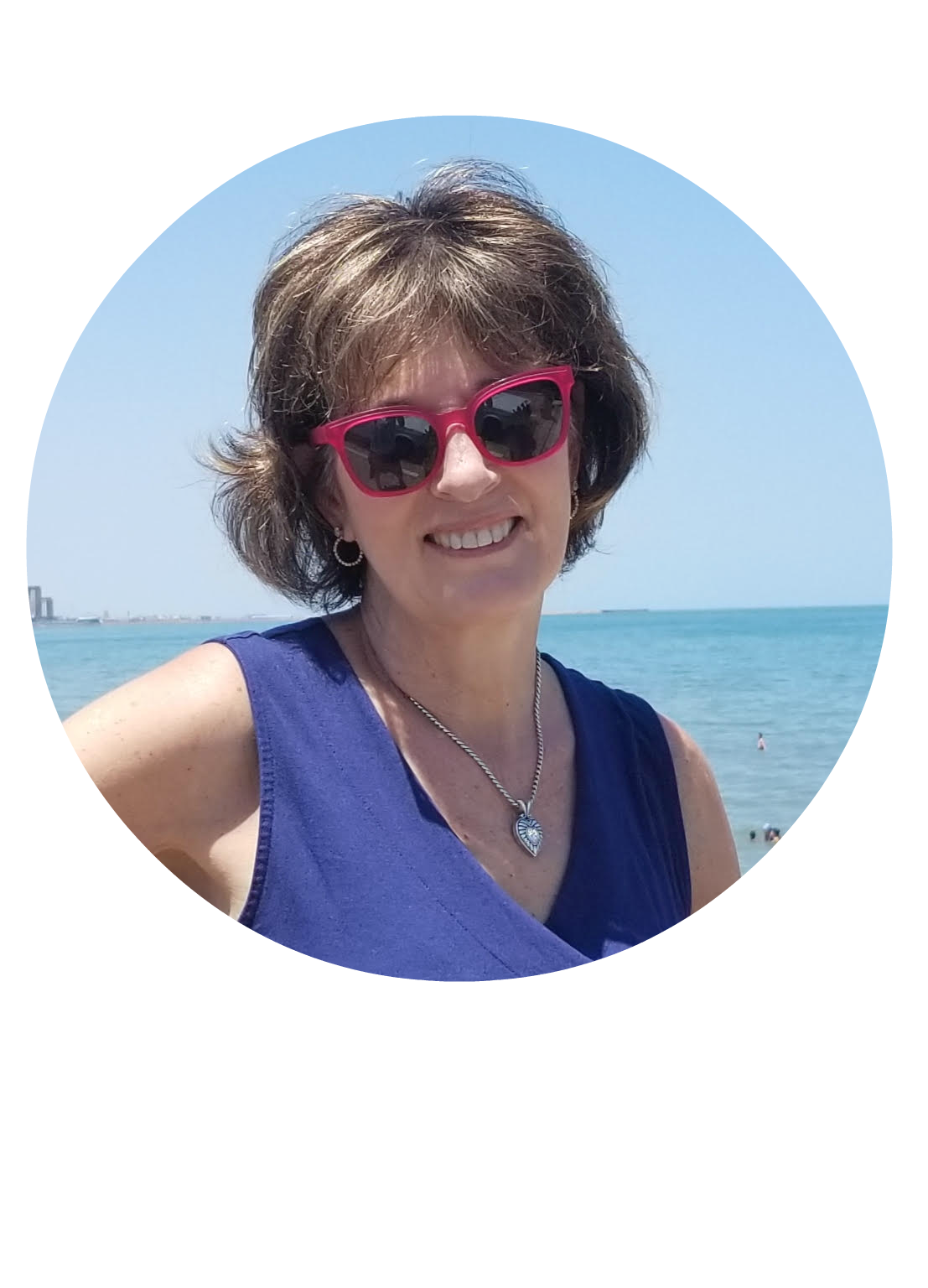 We are all about sharing our love of good food so on the blog you will find easy recipes to enjoy with your family and friends.  We hope to inspire you to host a gathering to create special memories.  Most recipes are step by step so you can feel confident in the kitchen.  Take a look around to find everything from breakfast to dinner and everything in-between!