This post may contain affiliate links. For more information, please visit my disclosure page.
This Mexican Quinoa Dinner recipe is full of fresh, flavorful ingredients. A one skillet meal, ready to eat in about 35 minutes!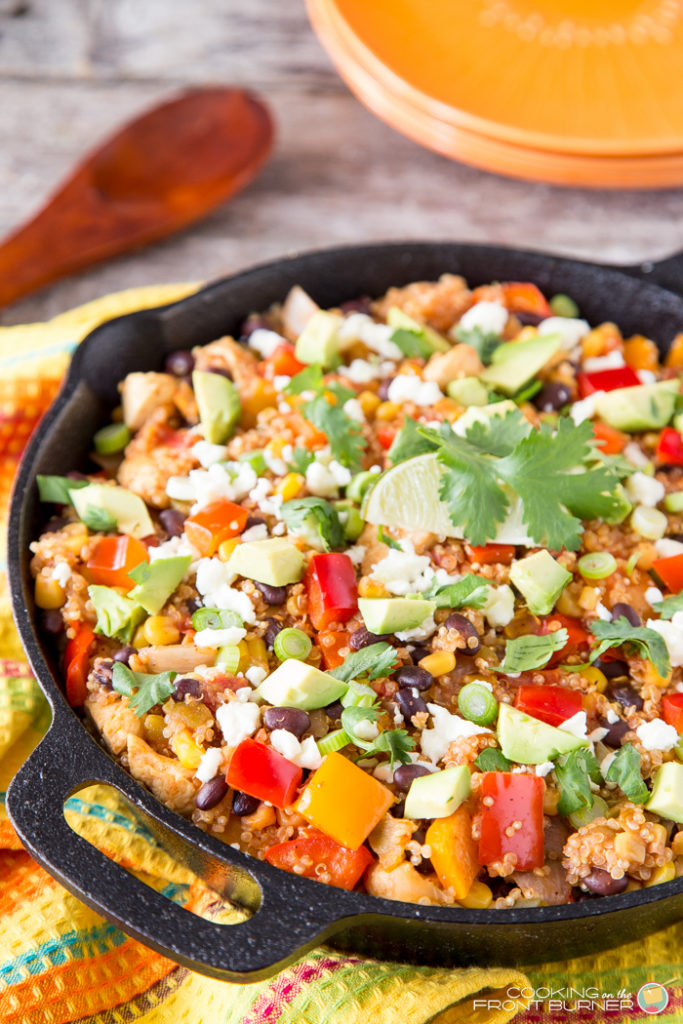 Apparently it is Mexican week on the blog!  Today's Mexican Quinoa Skillet Dinner was inspired by the leftovers I had from Tuesday's Mexican Quinoa Salad.  I enjoy meals like this, where I can buy some ingredients and then reuse them in the week for another meal. Less waste, and I guess a bit less creativity on my end – but hey, it works for me and I ended up with two fantastic dishes!
Fresh and flavorful is the name of the game with these veggies and healthy ingredients.  And you know what else is great?  Inviting a good friend to come over for lunch and not having them mind that we must first do a photo shoot!  Now that is friend indeed!
When my friend Steph called and asked if I wanted to do lunch, I knew I wanted to get together, but I also knew I needed to make this Mexican quinoa dish before some of my ingredients went south.  So when I asked if she wanted to come over here, she happily agreed.
When she first arrived, I had just started the prep work so she pitched right in so we could get this going (Oh and I also had promised The DIY Guy this for lunch as well).  From start to finish, it took about 35 minutes and I was able to remove about a bowl's worth for John before we started the shoot.
My "studio" is in my daughter's old bedroom that is on the second floor.  So we trooped upstairs and I did a set-up that I thought would work and got started on some pictures.  I shoot tethered, so we were able to see right away if the pictures looked good.  It was really great having a second set of eyes to see if things worked or need to be tweaked.
We ended up taking pictures for about 30 minutes (which is short for me since I typically spend 45-60 minutes).  We both were pretty satisfied and headed back to the kitchen to eat.  We were both starved and had second helpings – so I'm thinking I don't need to make dinner today!  Now I'm wondering if I should start inviting other friends over on Fridays and turn it into a series…  Any local takers out there???  Will you work for food???  Thanks Steph for being my sous chef and lunch date!
Oh and did I mention this Mexican quinoa skillet is all made (and served) from ONE pan?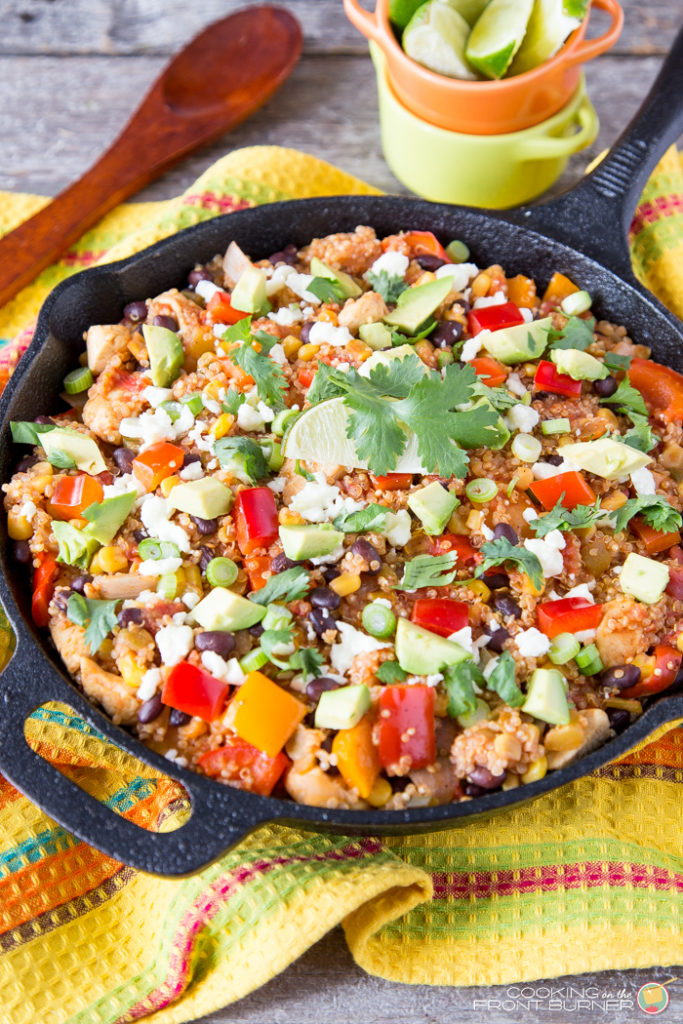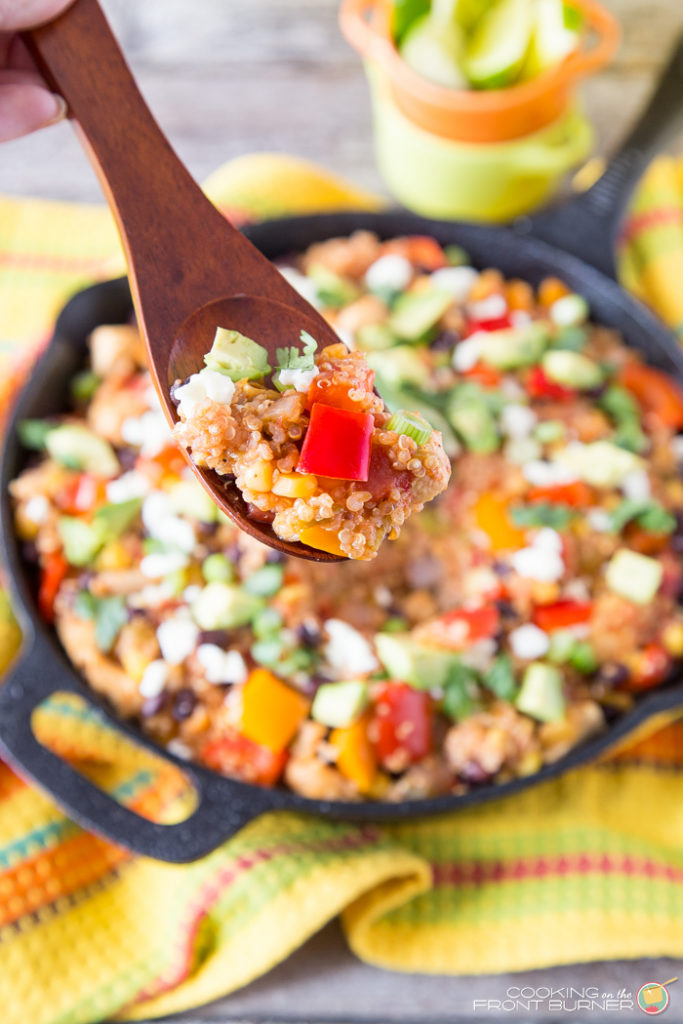 Mexican Quinoa Skillet Dinner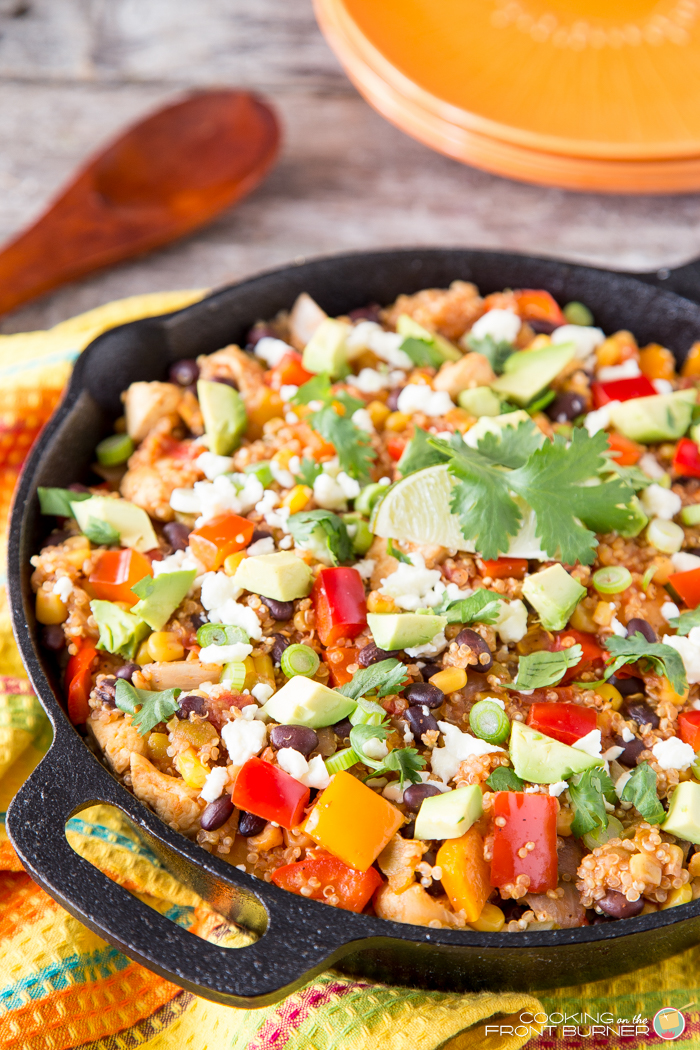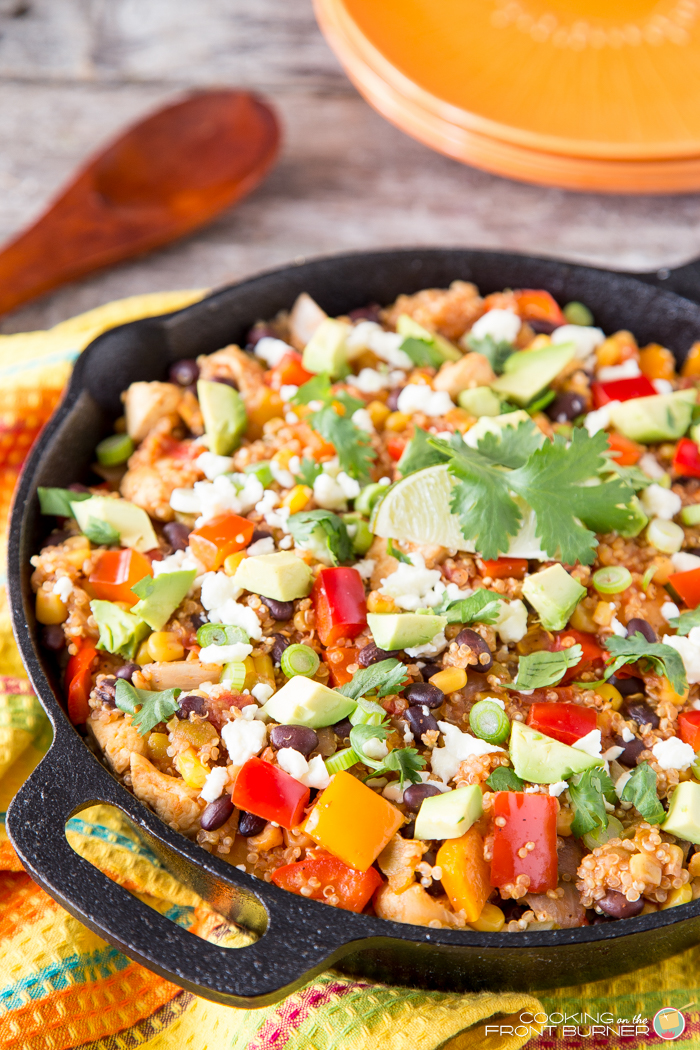 This is it! A flavor explosion of Mexican flavors made and served in one skillet!
Ingredients
2 tablespoons olive oil
1 red bell pepper, diced
1/4 cup sweet onion, diced
1 pound boneless chicken, diced
1/4 cup salsa
15 oz. can black beans, rinsed and drained
11 oz. can corn, drained
14.5 oz. can diced tomatoes
4 oz. green chilies, diced
1 tablespoon taco seasoning
1 teaspoon chili powder
1 cup quinoa (rinsed and drained)
2 cups chicken broth
1/2 cup Queso cheese crumbled
S&P to taste
2 tablespoons cilantro chopped
1/4 cup green onions, sliced
1 avocado, diced
Directions
In a large skillet heat the olive oil over medium heat then add the peppers and onions; saute for 5 minutes then push to one side of skillet
Add the diced chicken and cook/stir until just browned
Add in the salsa, black beans, corn, diced tomatoes, chilies, quinoa, taco seasoning and chili powder. Mix and then add the broth and bring to a boil
Cover the skillet and cook about 20 minutes until quinoa is done.
Serve in bowls and top with queso, diced avocado, sliced green onions and cilantro
Recipe Notes