Homemade Tomato Basil soup is full of fresh flavors that you can find at your local farmer's market.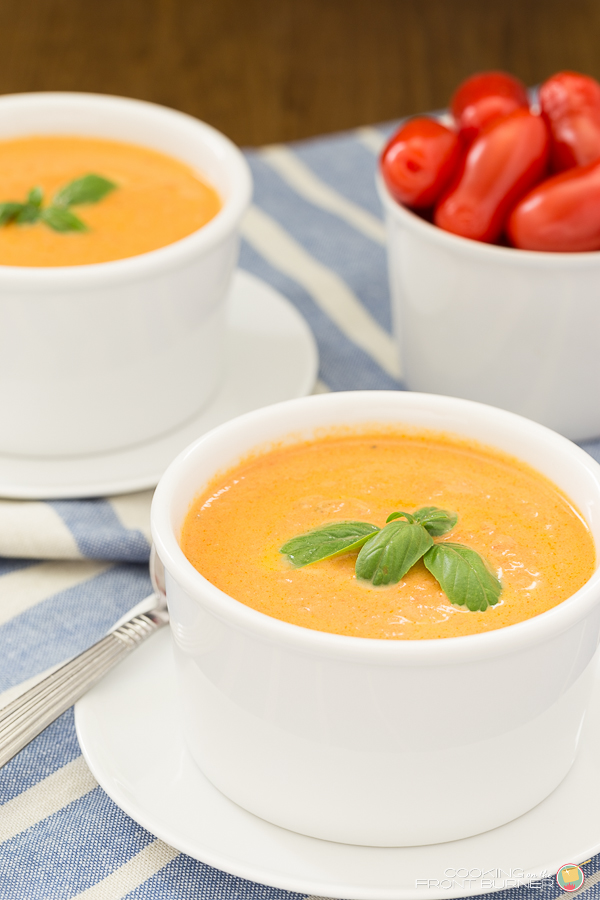 Today's recipe is courtesy of our local Farmer's Market. On Saturday I grabbed my market bag and had a wonderful time stopping at different vendors getting what I needed for this Tomato Basil Soup.
I like to meander around with coffee in hand, enjoy the sights and especially the smells! By the time I was done, I had a bag full of roma tomatoes, cherry tomatoes, garlic, an onion bigger than a softball (for only $1), basil and a red pepper.
The ride home provided a nice basil aroma (I would take that any day over the 'new' car smell!)
Keep in mind this is no canned soup in case you are wondering why it is not a deep red color. But believe me after your first sip, you'll definitely notice the tomato-ee (is that a word) taste along with the right amount of basil in a light cream broth.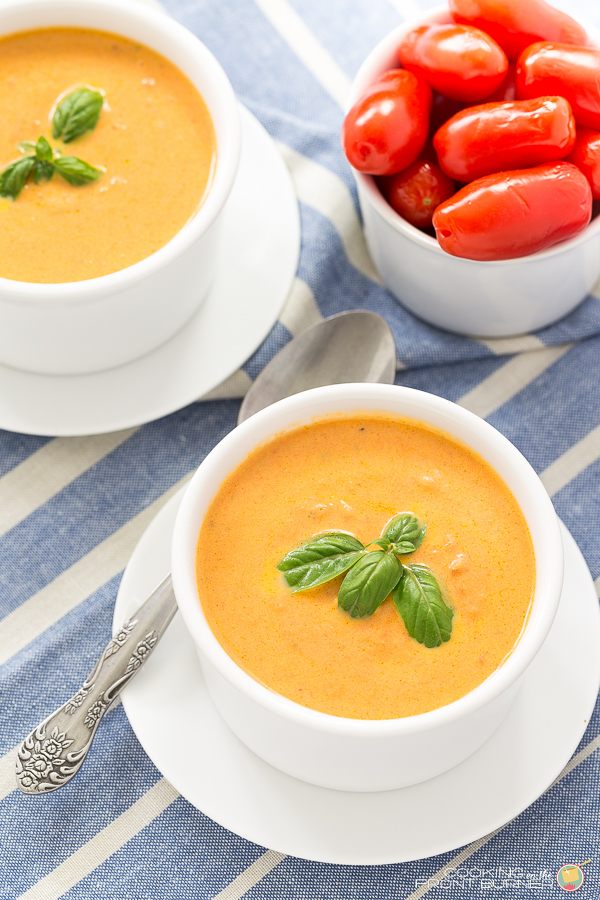 We happened that day to be going to our daughter and son-in-laws so I made the soup at their house but we couldn't devour it all since I needed some to take pictures back at my place (oh the life of a blogger!) I had some sad faces 🙁 so I promised to make it again sometime.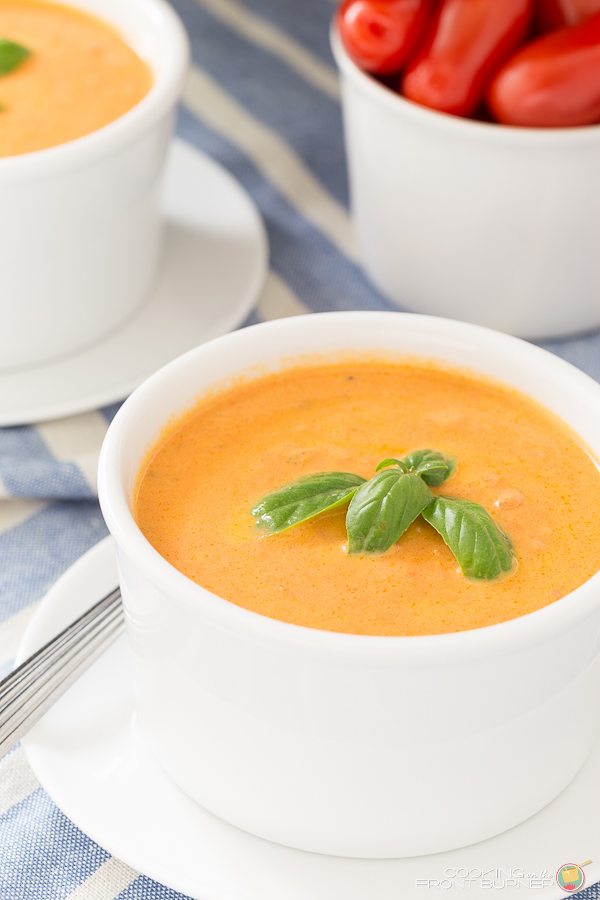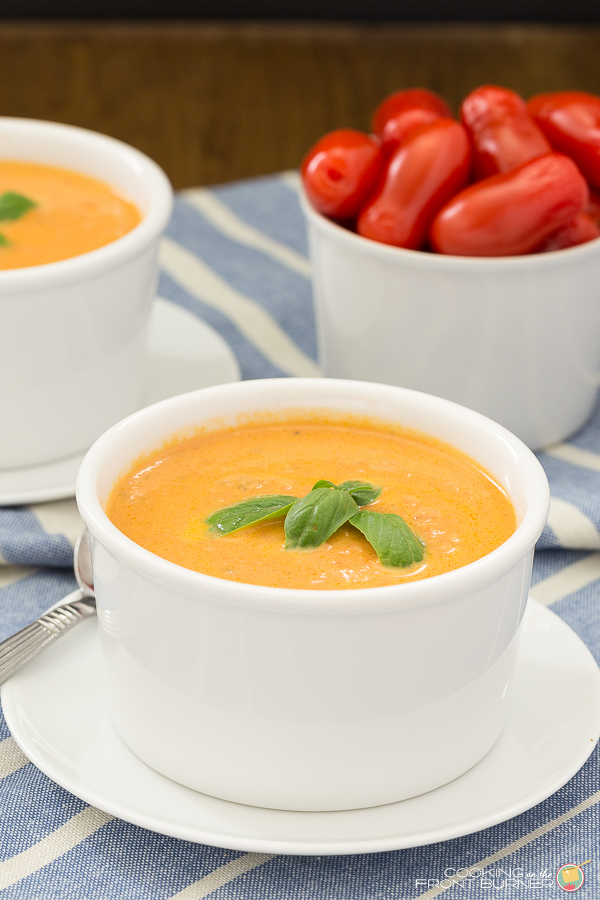 Get the Recipe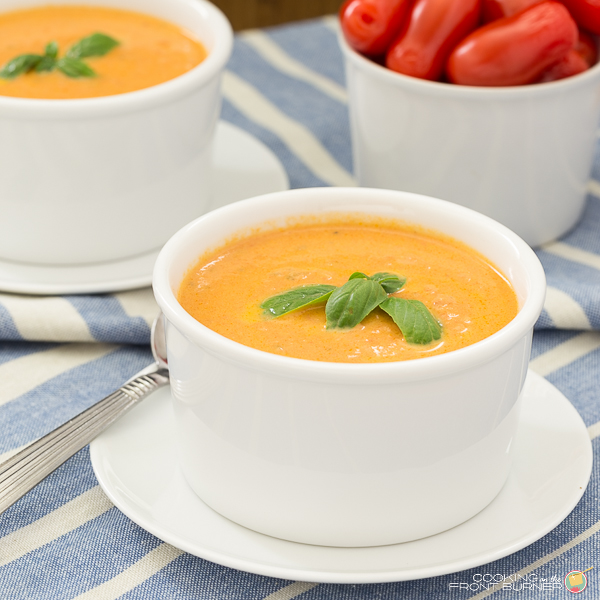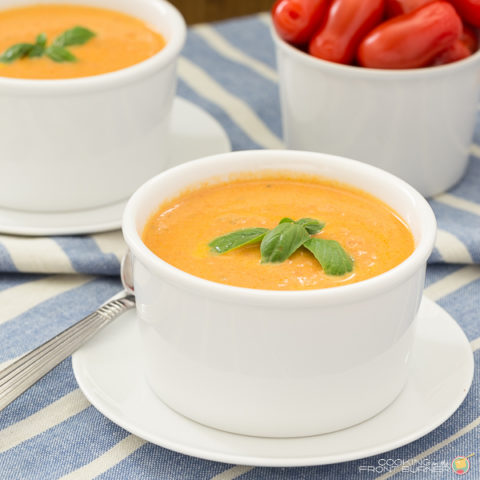 Tomato Basil Soup
A tomato soup made with fresh tomatoes - get most of your ingredients at the farmer's market
Ingredients
12 large roma tomatoes, halved lengthwise
1 cup sweet cherry tomatoes (whole)
1 cup thick cut sweet onion
1 garlic head
Olive oil
20 large basil leaves (or more to taste)
1 large red pepper
1 ¼ cup vegetable broth
¾ cup heavy cream
bay leaf
salt
pepper
¼ teaspoon crushed red pepper
Instructions
Preheat oven to 425°
In a large baking dish (or two if needed), lay romas with cut side up, sprinkle with salt and pepper and then drizzle with olive oil
In the same baking or (or two) add the onion and cherry tomatoes, drizzle with olive oil
Cut about ¼″ off top of garlic and place cut side up in a piece of foil, drizzle with a bit of olive oil and then enclose garlic in foil
Place all in oven and roast until tomatoes are soft (about 30-35 minutes)
Meanwhile roast the red pepper on a grill, turning until skin is black all over, remove and place in a sealed plastic bag for 15 minutes
Remove pepper and peel off the blackened skin; dice and set aside
Open up garlic packet (garlic should be soft when pierced with fork)and squeeze out the roasted garlic (this will be hot so be careful)
In a medium pot combine the cooked tomatoes (I removed the skins off the romas), onions, vegetable broth, basil, garlic, red pepper and the juice from the baking dishes.
Note: Remove bay leaf before next step
Use an immersion blender to puree the mixture until really smooth (if you don't have a stick blender, use a regular blender but do in small batches and keep top open a bit to allow steam to escape)
Add the heavy cream, crushed red pepper and bay leaf; stir and heat on the stove until warmed through (try not to boil) Adjust S&P as needed
Nutrition Information:
Yield:

6
Serving Size:

1
Amount Per Serving:
Calories:

174
Total Fat:

13g
Saturated Fat:

7g
Trans Fat:

0g
Unsaturated Fat:

5g
Cholesterol:

34mg
Sodium:

255mg
Carbohydrates:

12g
Fiber:

3g
Sugar:

7g
Protein:

3g
Nutritional information provided is computer-generated and only an estimate. You may want to do your own research with the ingredients listed if you have concerns about health or specific diets.
Looking for other recipes with fresh ingredients?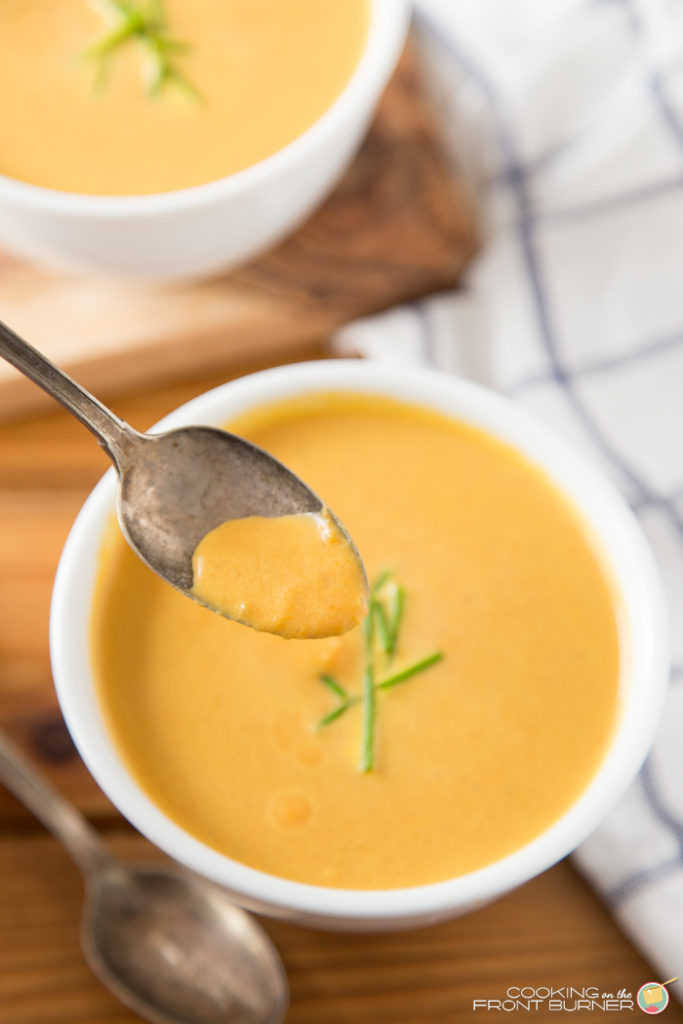 About the Author
Recent Posts
Recipe Index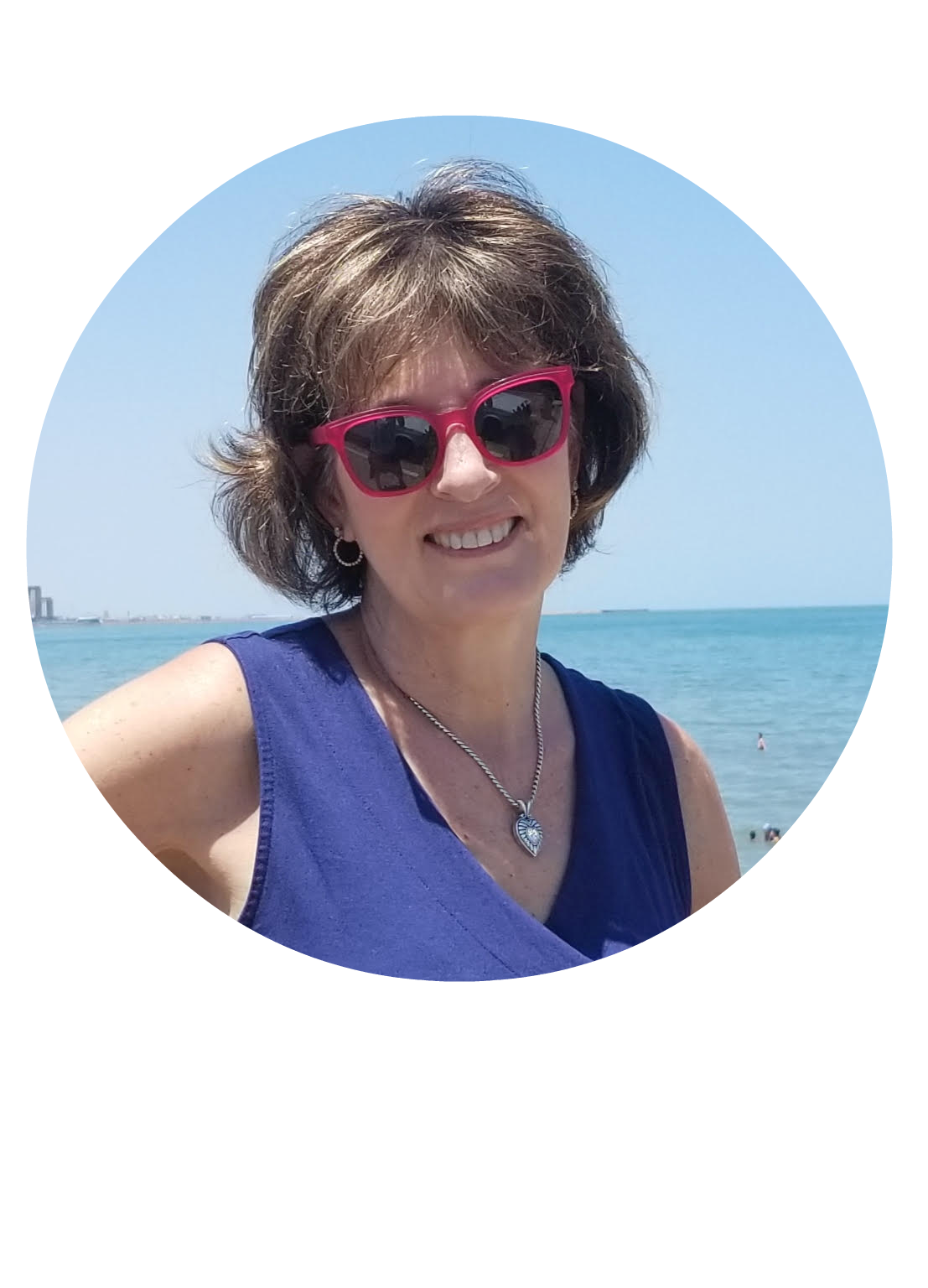 We are all about sharing our love of good food so on the blog you will find easy recipes to enjoy with your family and friends.  We hope to inspire you to host a gathering to create special memories.  Most recipes are step by step so you can feel confident in the kitchen.  Take a look around to find everything from breakfast to dinner and everything in-between!