These simple Fresh Blackberry Hand Pies are made with ripe, plumb, and juicy blackberries with a hint of lemon. Go easy and use store bought flaky crust for a treat that is single serve and portable!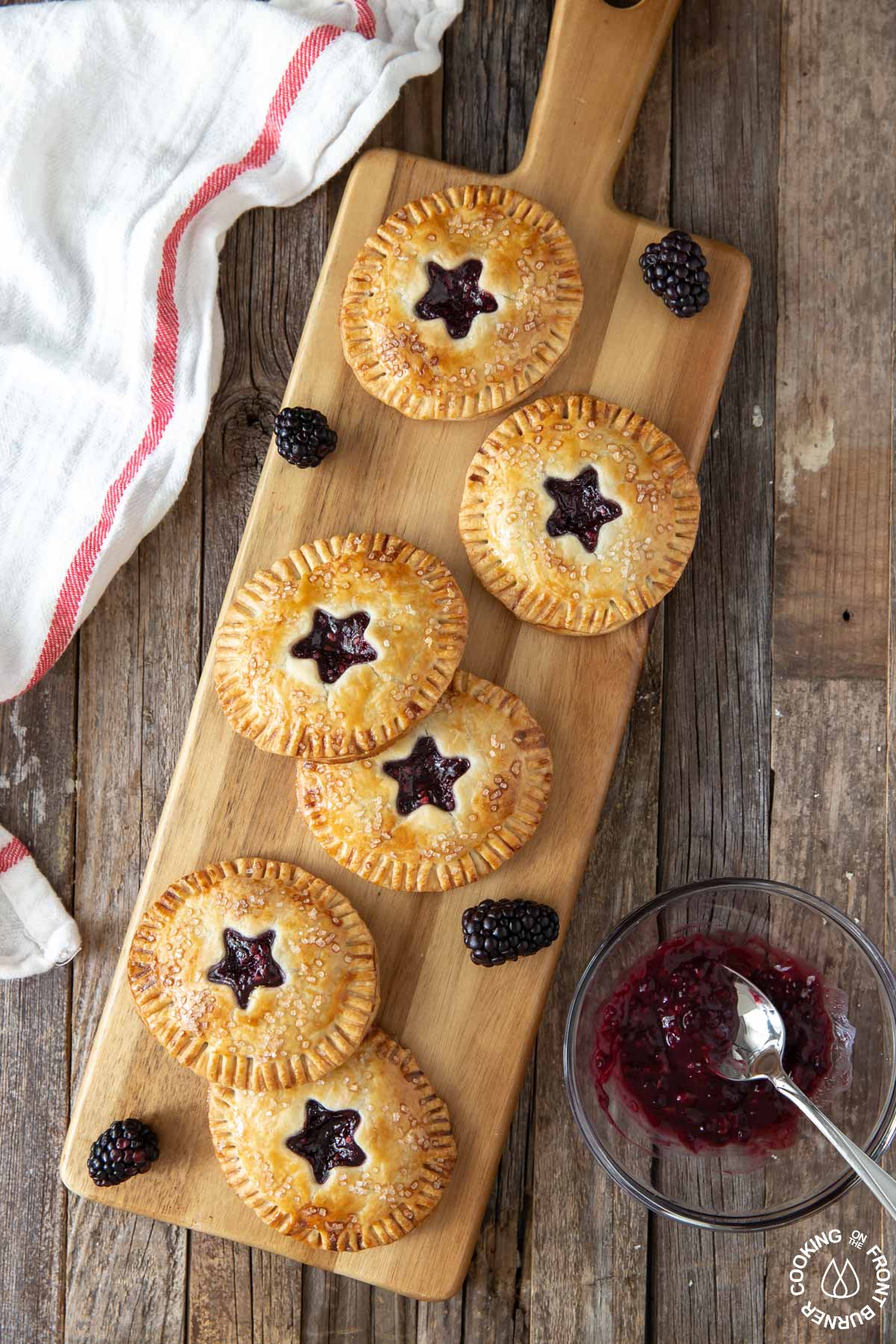 Tis the season for fresh berries and when I saw these beauties at my local grocery store, I couldn't resist picking up a package.
I had in mind making mini pies like I did for these blueberry hand pies last year. I think I really lucked out too because these berries were super large and full of flavor.
Hand pies are a great dessert for grab-and-go, in a school lunch, or for picnic time. Who's ready to get baking?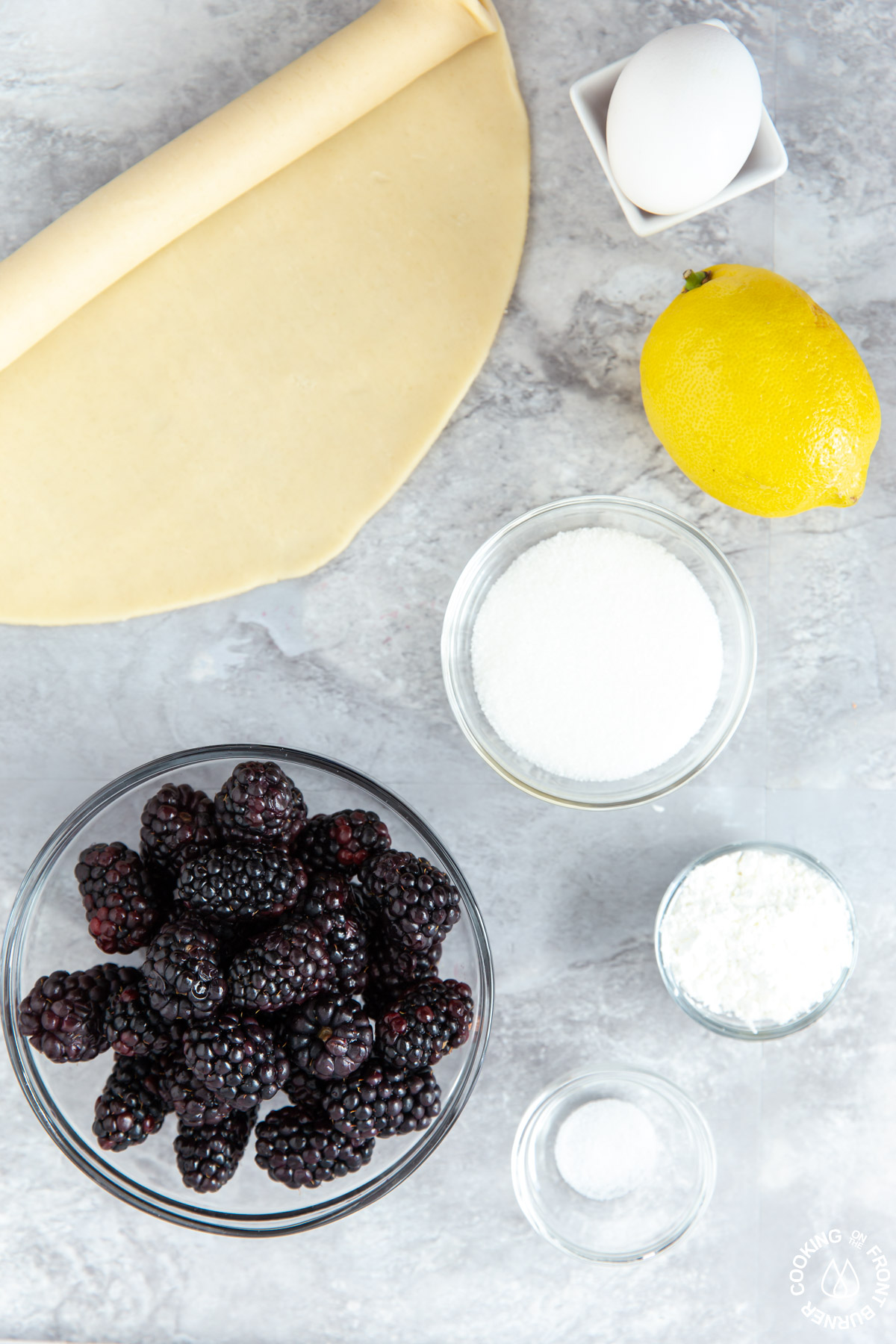 Jump to:
Ingredients
fresh blackberries
sugar
cornstarch
salt
lemon
pie crust
egg
coarse sugar
Step by Step Instructions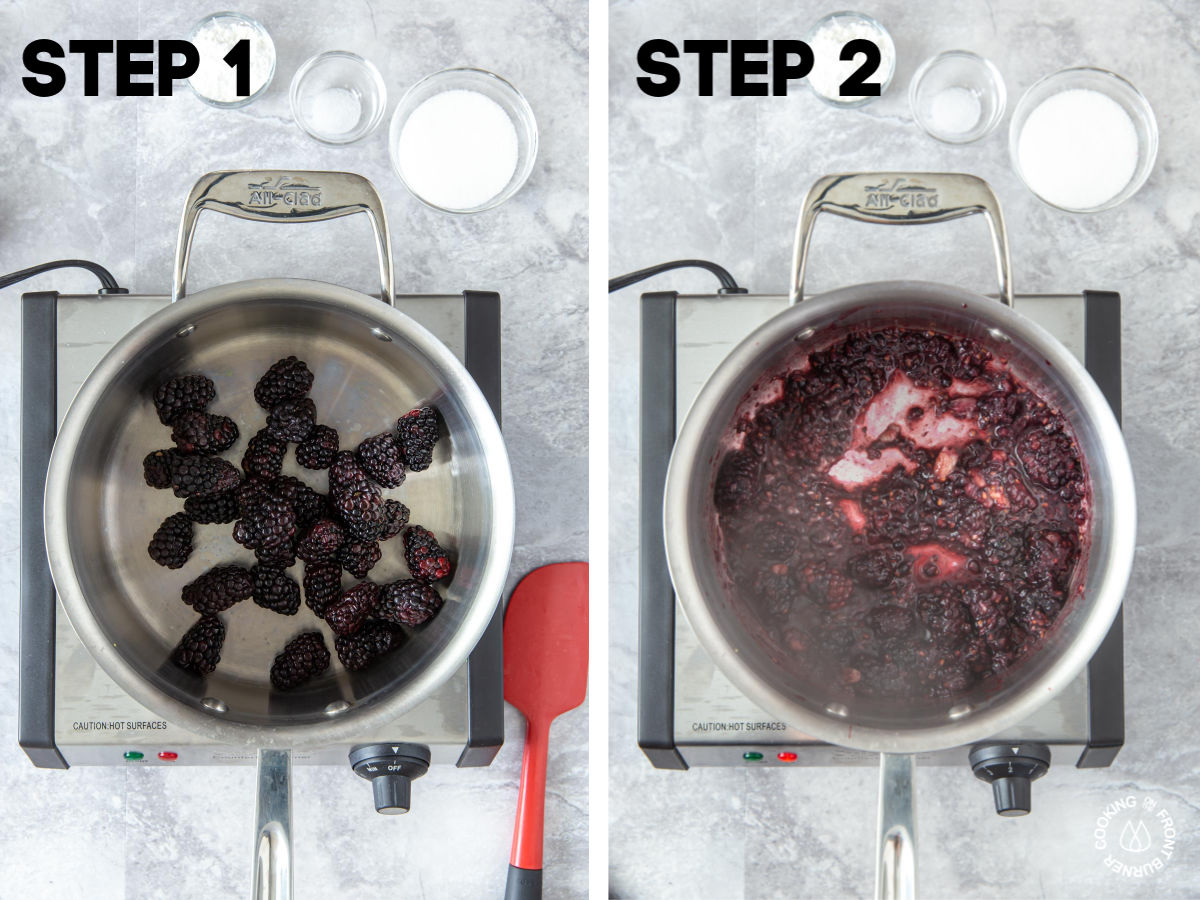 Step 1 - In a medium saucepan place your berries and have the heat turned onto medium
Step 2 - Cook the berries until the juices come out and break up the berries with a spoon or spatula (this takes about 6-7 minutes)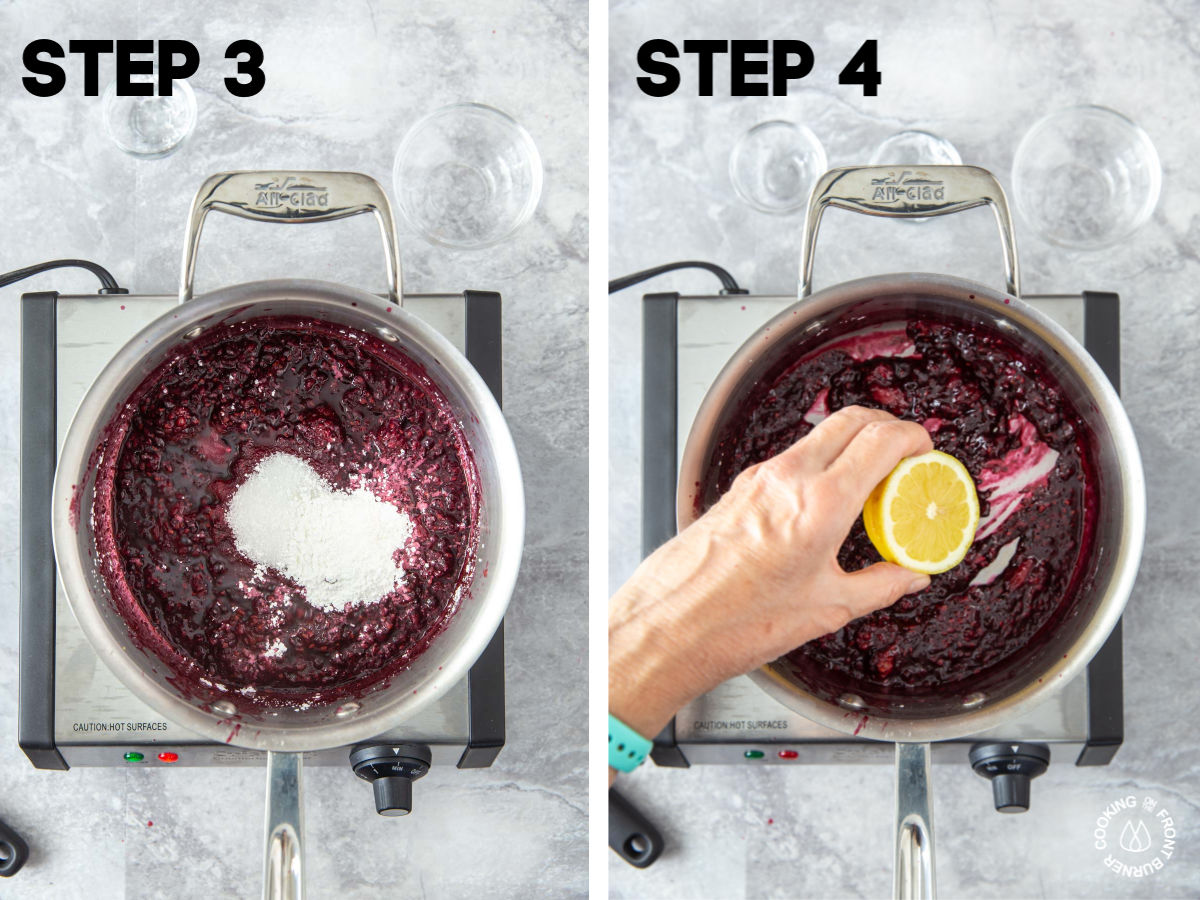 Step 3 - Once the berries are cooked add in the sugar, cornstarch and salt. Stir constantly for about 2-3 minutes until mixture has thickened.
Step 4 - Add in lemon juice and set aside to cool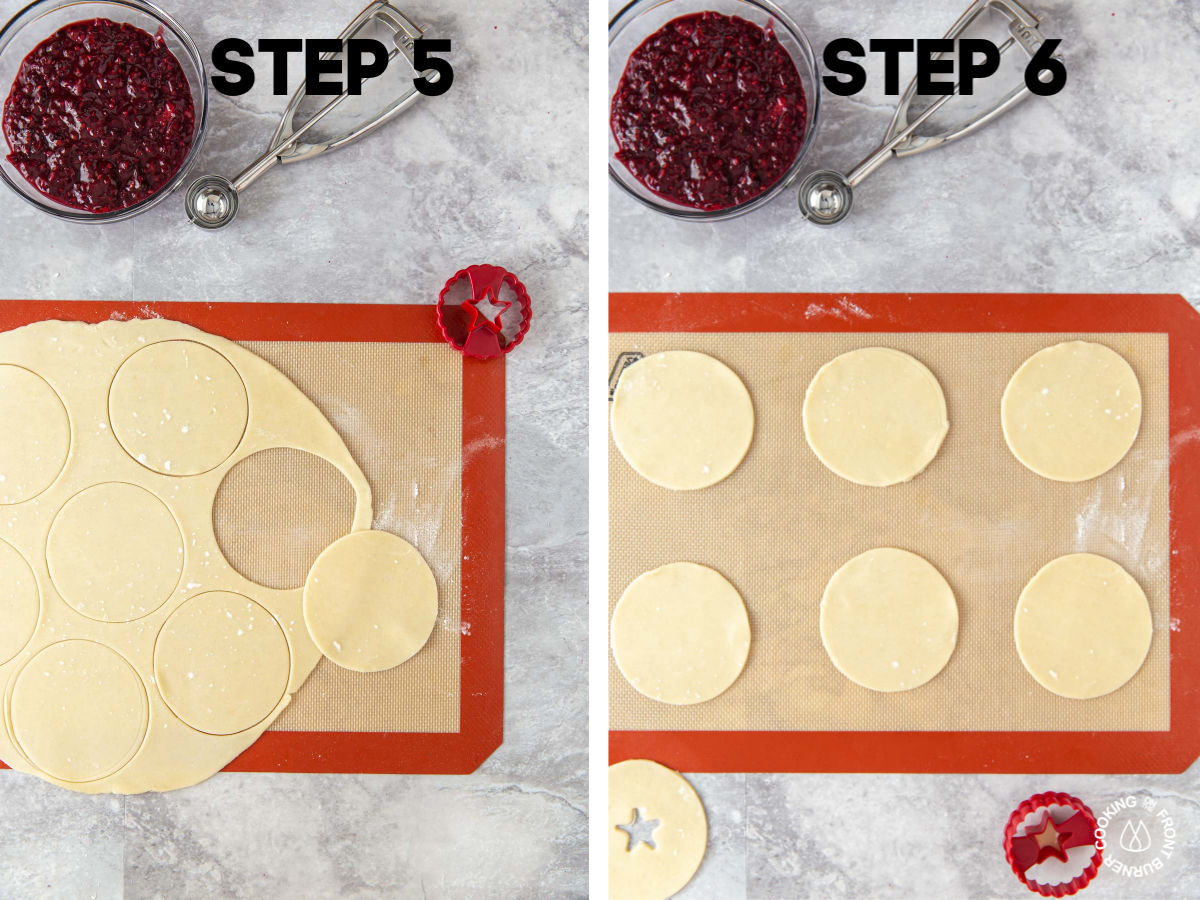 Step 5 - Preheat oven to 425 degrees; unroll pre-made pie dough (2 to a package)  and use a 3 ½" cutter to make circles (save scraps to re-roll); do this to both pie crusts
Step 6 - Place 6 circles on either a silpat mat or parchment paper on a cookie sheet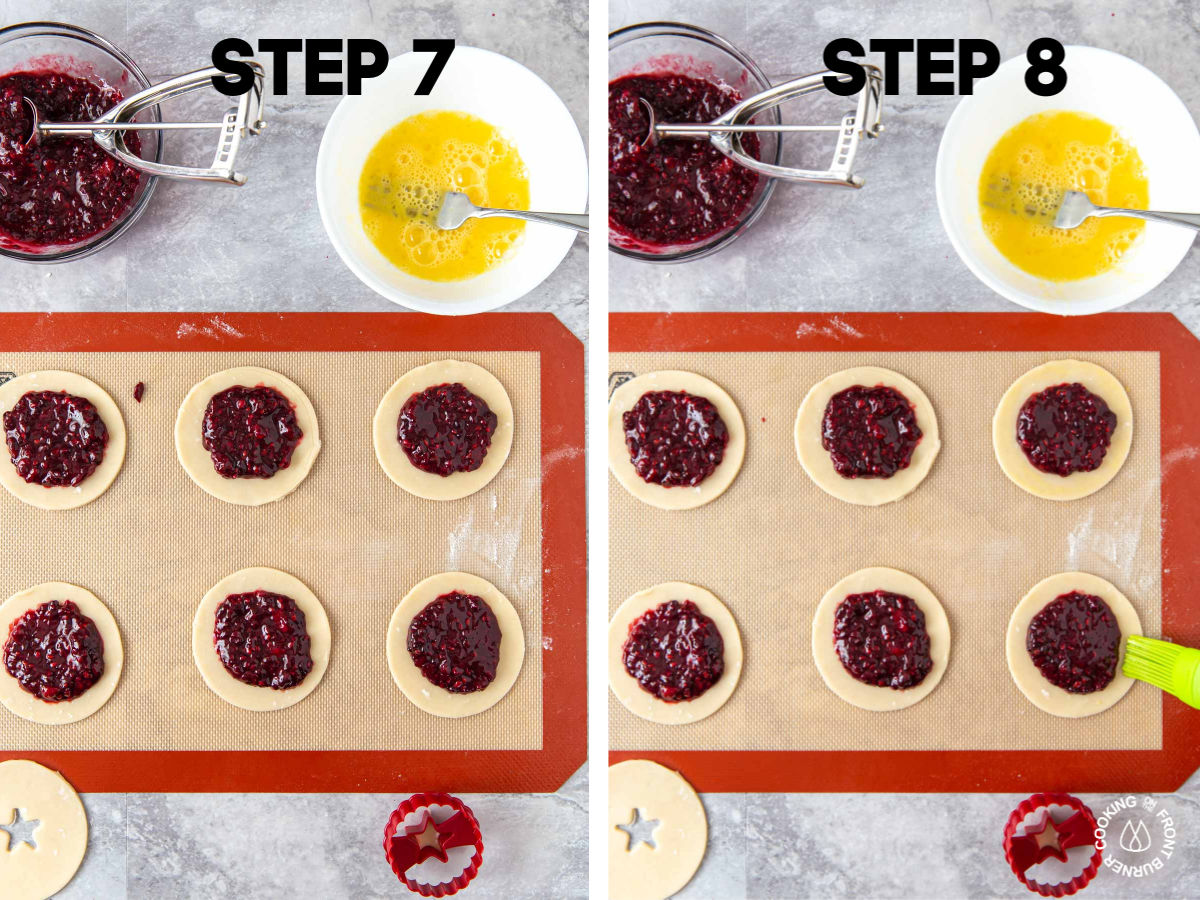 Step 7 - Place about a heaping tablespoon of the blackberry filling on the center of the rounds; leave at least ¼" of dough
Step 8 - Use an pastry brush to paint egg wash onto dough (this will help seal the top pie crust)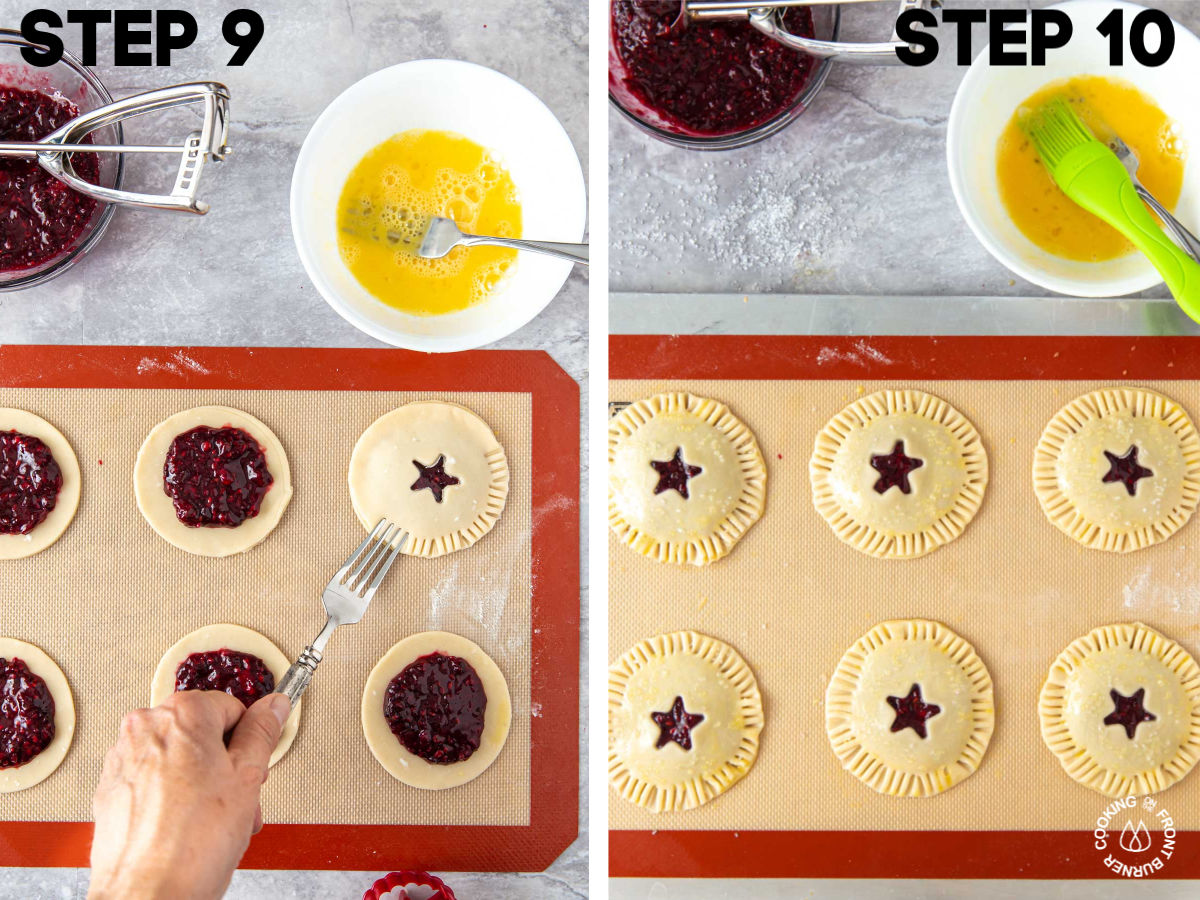 Step 9 - Place another crust round on top of the bottom crust and use a fork to crimp the edges (I used a small star cookie cutter to be decorative otherwise just place a few slits in the dough)
Step 10 - Brush the tops of the pie crust with the egg wash and sprinkle coarse sugar on top; bake for 20 minutes until golden brown
Here in the final result!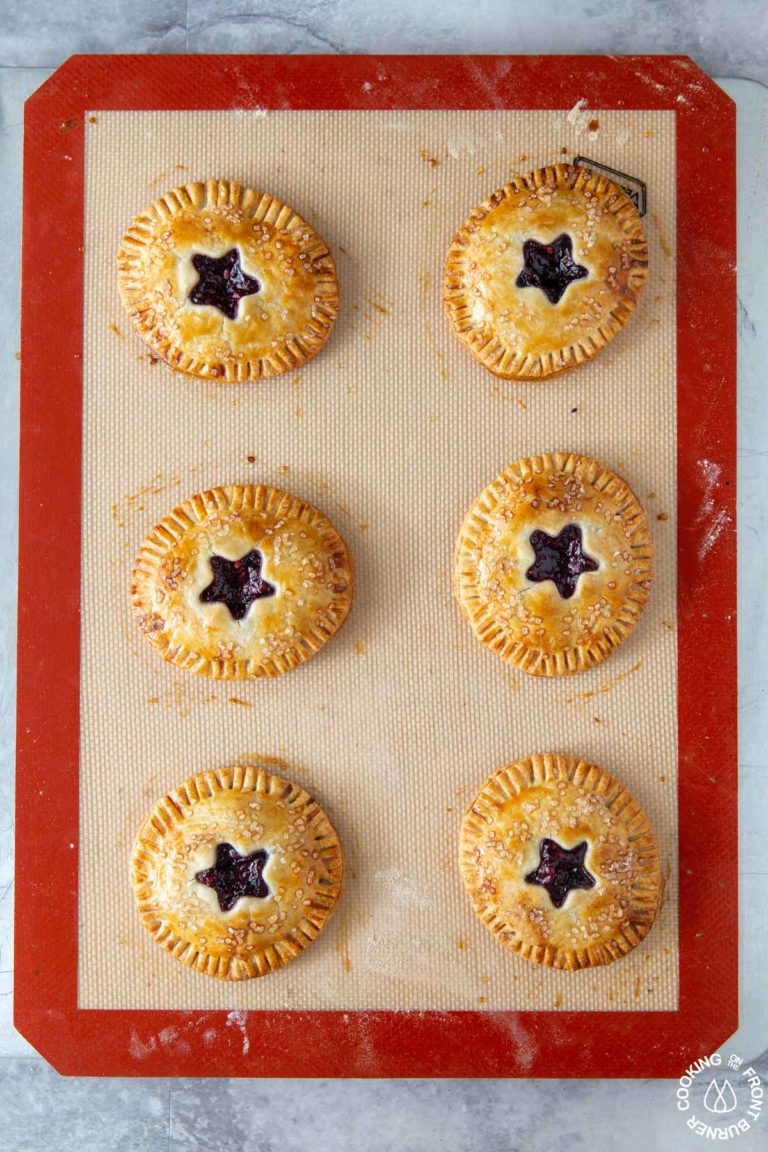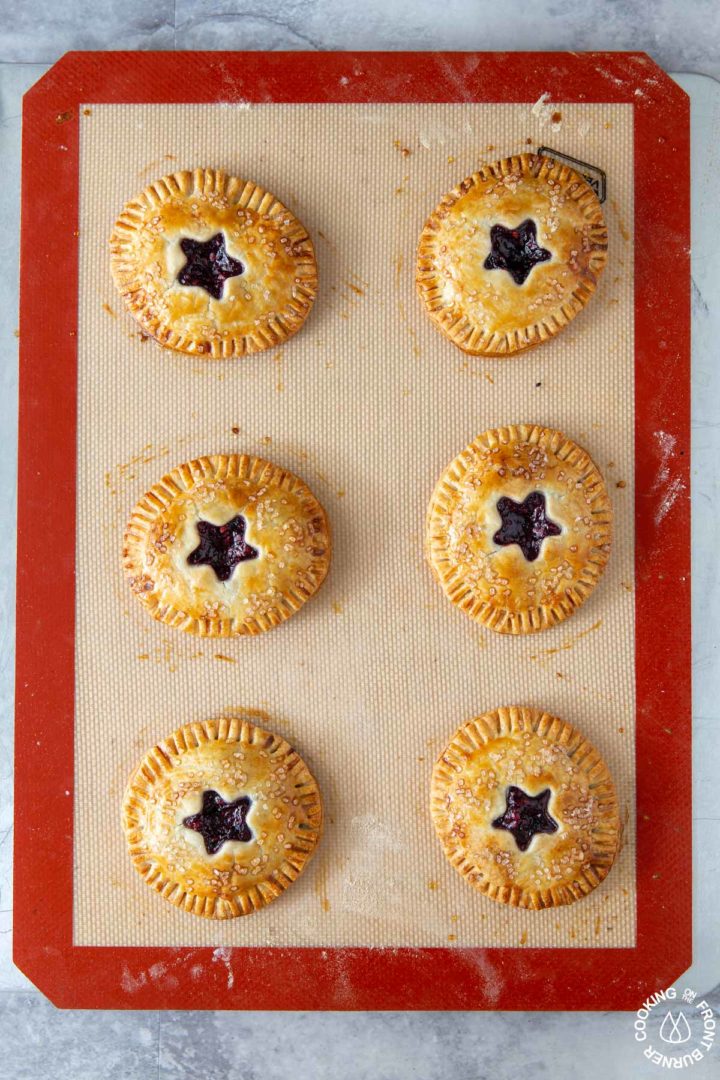 Tips
Using pre-made, store bought pie crust speeds up the process
Use fresh blackberries as this has not been tested with frozen ones
Be sure to have a "vent" in the top crust - either a small design as shown or cut a few slits (to allow steam to escape)
I recommend a tablespoon scoop to place filling on dough (slightly round it)
Use either a silpat mat or parchment paper to prevent sticking on cookie sheet (sometimes the filling oozes out which is totally fine)
I cut all the rounds out of both pie crusts and cover the remaining dough scraps until I'm ready to re-roll)
Best tip - the fruit filling while cooking is extremely hot and can burn - be careful to not stir too fast and get some on your skin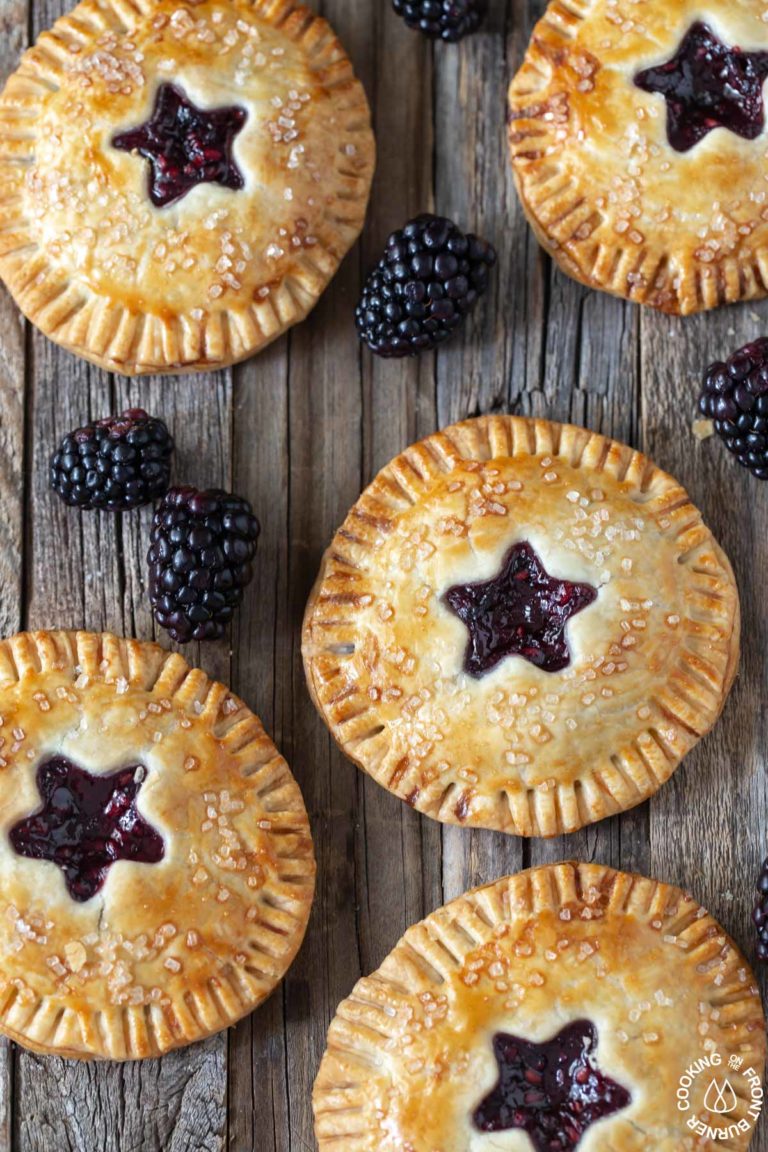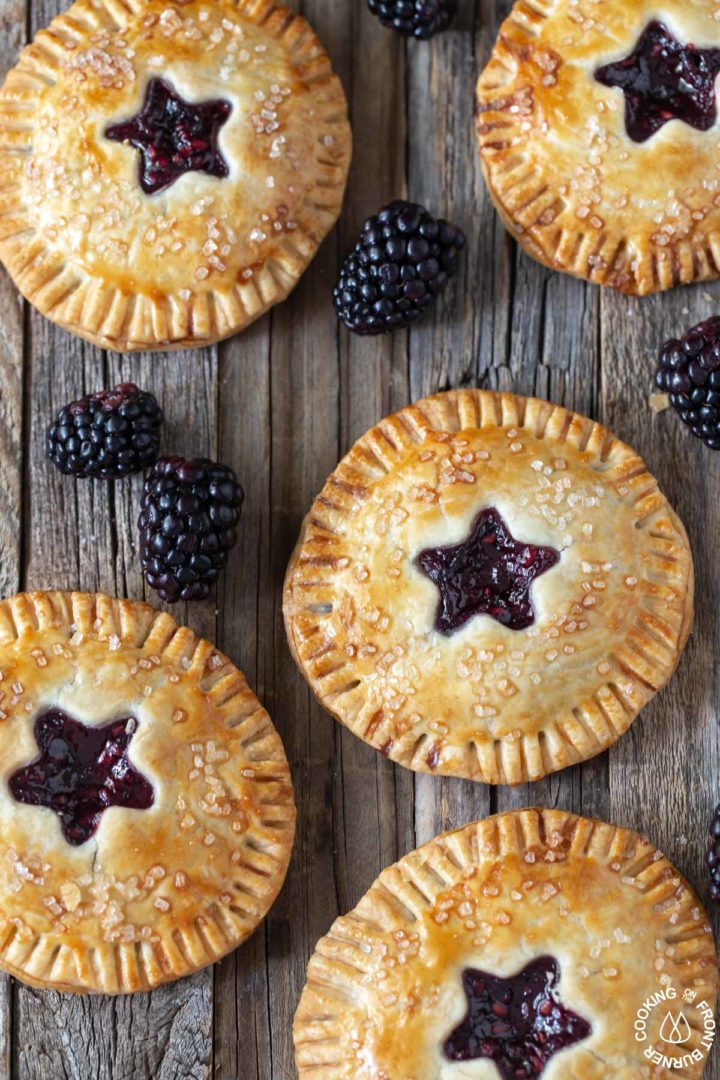 Variations
Blueberries, raspberries and strawberries would also work in these hand pies
You could leave off the coarse sugar and make a glaze with powdered sugar and milk instead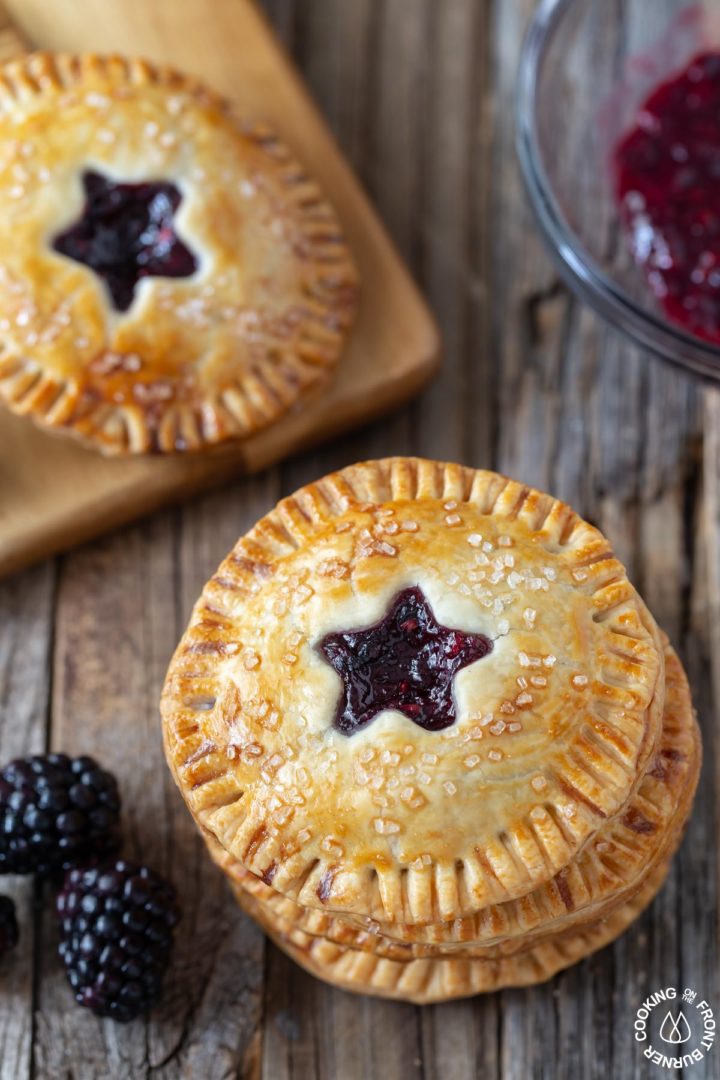 Storage
Fruit pies can be stored on your counter in a sealed container for 2 days
You may also refrigerate the pies for 4 days
Freezing is an option too - wrap each one individually and when ready to serve let thaw on counter. You might want to heat up a bit - place in a 350 oven for about 5-7 minutes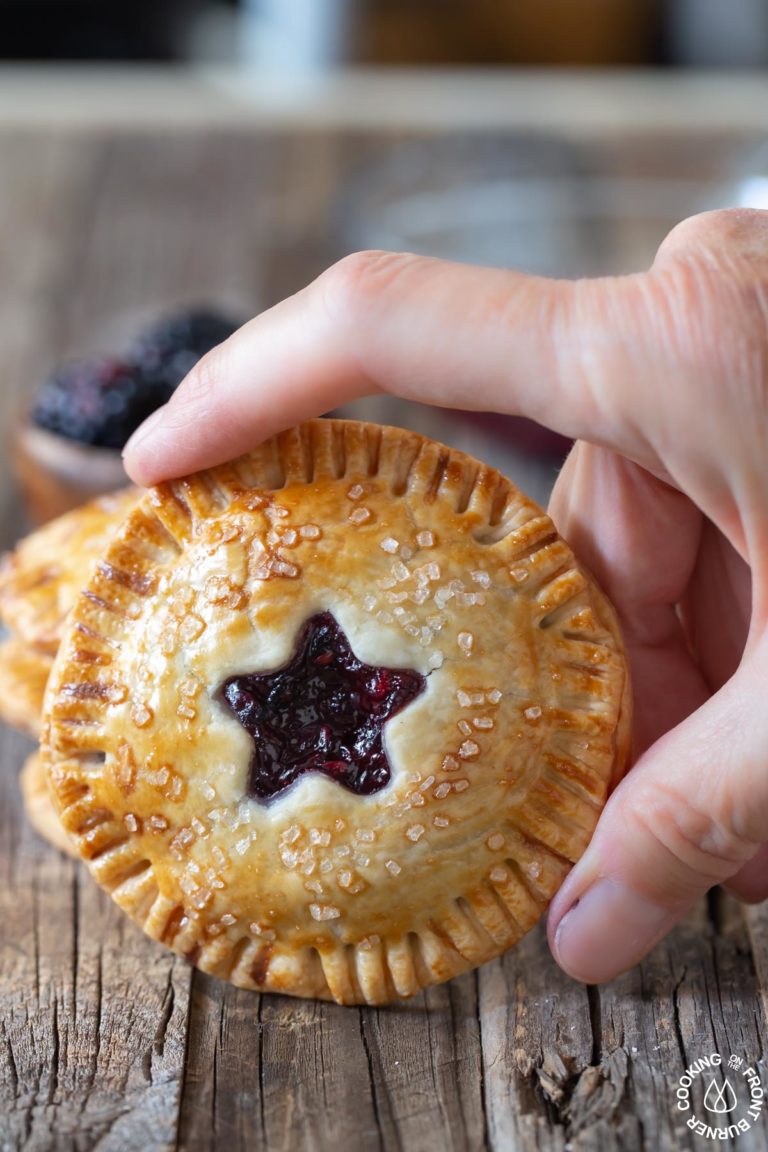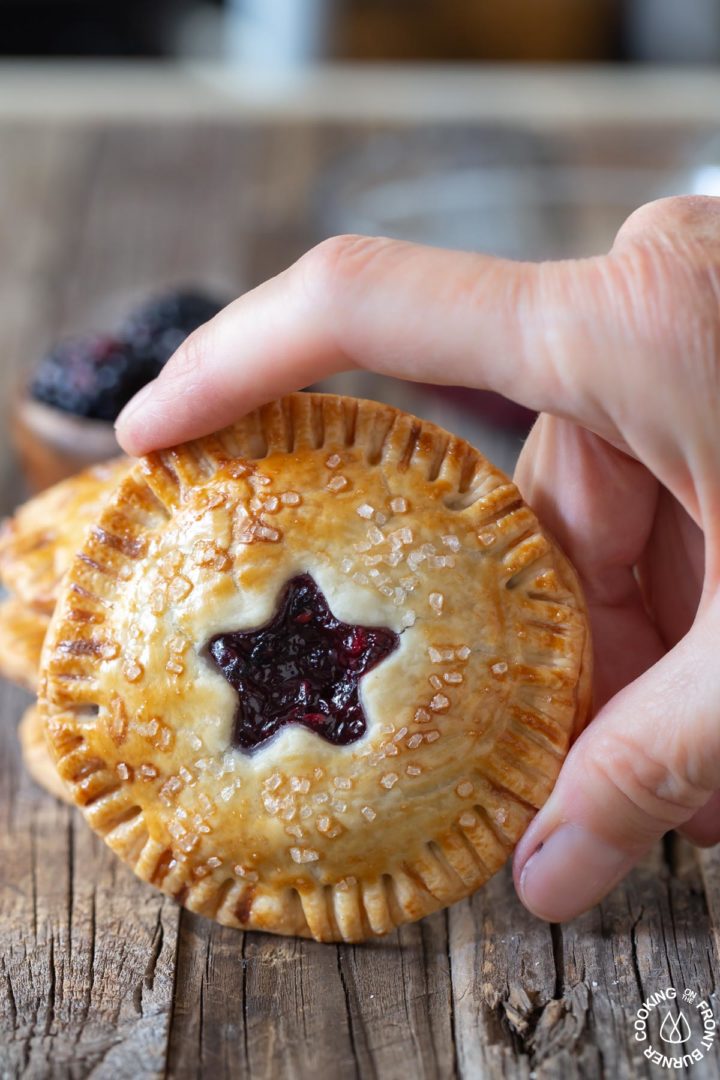 Related Recipes
PIN THIS FOR LATER - CLICK HERE
Get the Recipe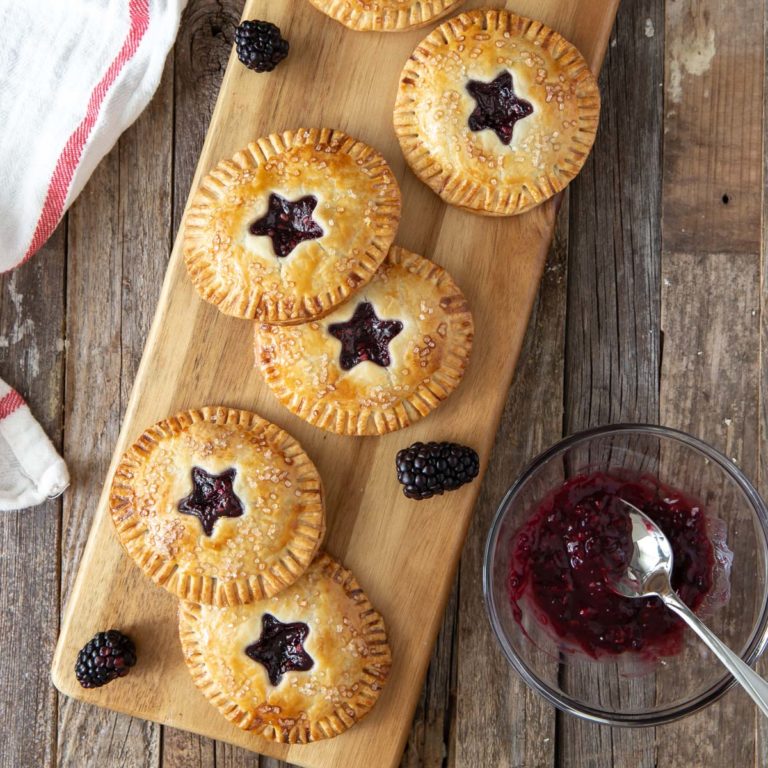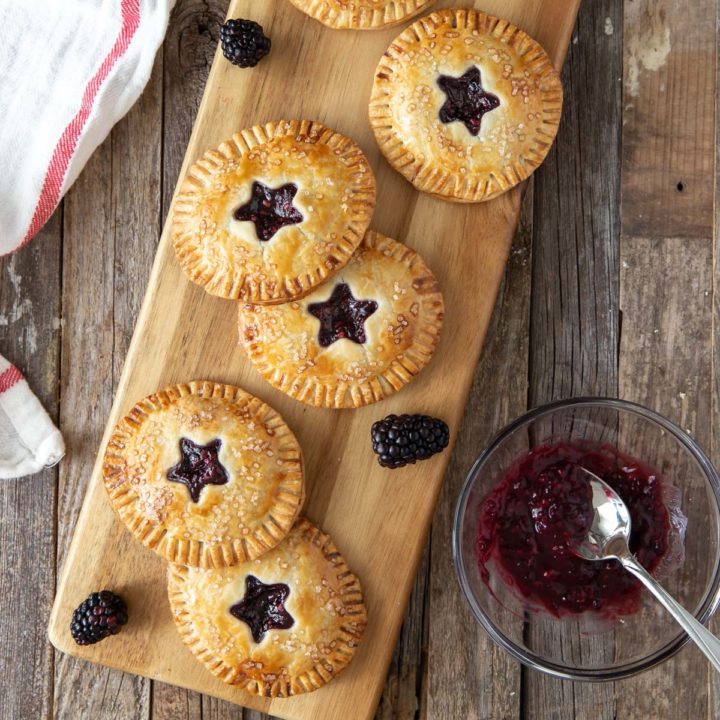 Fresh Blackberry Hand Pies
These grab and go hand pies are bursting with fresh blackberries! A simple and easy dessert
Ingredients
2 cups fresh blackberries
3 tablespoons sugar
1 ½ tablespoons cornstarch
1 tablespoon fresh lemon juice
¼ teaspoon salt
2 pre-made pie crusts
1 egg
1 tablespoon coarse sugar
Instructions
Place the blackberries in a medium saucepan and turn the heat to medium
Cook, stirring occasionally until they become soft and juices are released (about 6 minutes)
Add in the sugar, cornstarch and salt to cooked berries and stir constantly for about 2-3 minutes until mixture is thickened
Remove from heat and add in lemon juice and cool slightly
Preheat oven to 425°
Line two cookie sheets with parchment paper or siplat mat
Cut 20 circles with a 3 ½" cutter ( you will need to gather scraps and re-roll)
Place half of the circles on cookie sheets
Place a heaping tablespoon of filling onto each leaving about a ¼" edge
Beat an egg with about 2 teaspoons water to make egg wash
Brush egg wash around edges
Place top crust on and crimp edges with a fork (make a few slits or cut a design out before placing on bottom dough)
Brush tops with egg wash and sprinkle with coarse sugar
Bake for about 20 minutes until golden brown (ok if filling oozes out)
Notes
Filling will be hot; let cool before eating
Nutrition Information:
Yield:

10
Serving Size:

1
Amount Per Serving:
Calories:

200
Total Fat:

9g
Saturated Fat:

3g
Trans Fat:

0g
Unsaturated Fat:

6g
Cholesterol:

19mg
Sodium:

204mg
Carbohydrates:

26g
Fiber:

3g
Sugar:

8g
Protein:

3g
Nutritional information provided is computer-generated and only an estimate. You may want to do your own research with the ingredients listed if you have concerns about health or specific diets.
About the Author
Recent Posts
Recipe Index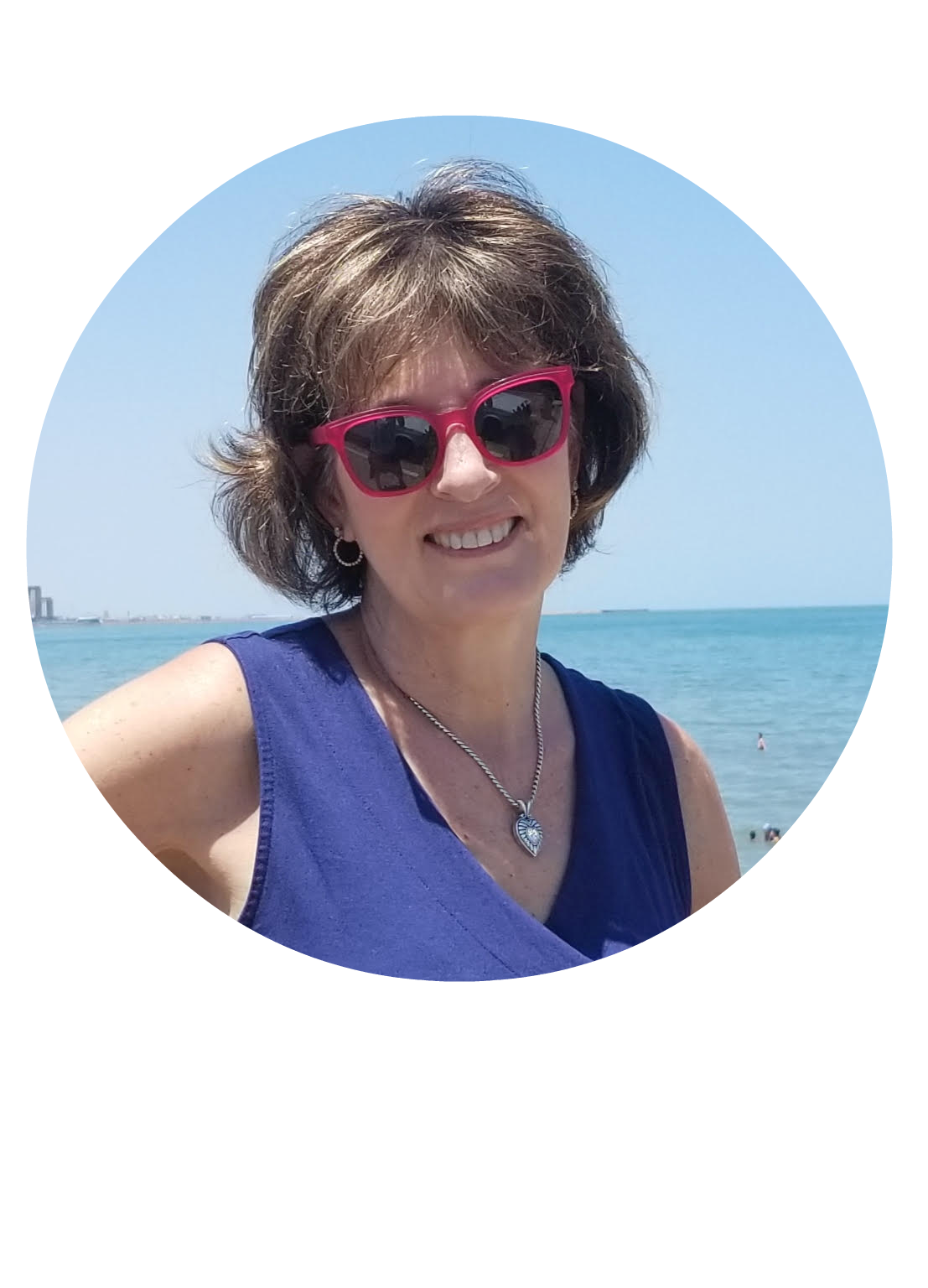 We are all about sharing our love of good food so on the blog you will find easy recipes to enjoy with your family and friends.  We hope to inspire you to host a gathering to create special memories.  Most recipes are step by step so you can feel confident in the kitchen.  Take a look around to find everything from breakfast to dinner and everything in-between!