This  Pear and Sweet Potato soup is a nice change for your dinner table.  The texture is creamy and has a lightly sweet taste.  Perfect for company too!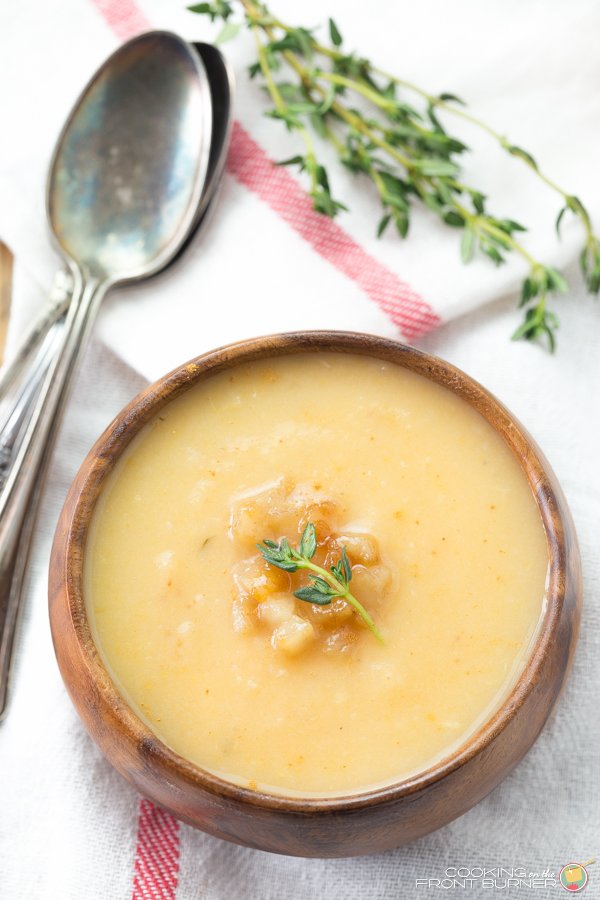 It's no secret that I love soup - all kinds, all ways, meat, meatless, slow cooker, etc - just as long as it doesn't have fish or tofu in it 🙂  I recently came across this recipe that really intrigued me.  Pears and sweet potatoes - it was a combination I haven't thought of before and eager to give it a try.  Not only is this super easy to make but it looks really elegant and like you fussed all day! It's a bit sweet, a bit savory but FULL of fantastic flavor.  Who's ready to grab a spoon and dig in with this Easy Pear & Sweet Potato Soup?
Ok, I'll let you in on a little secret, as creamy and silky as this soup looks, there is no cream in it! And while this version has chicken broth, I'm sure substituting vegetable broth would be fine and then you have a vegetarian option.  Bowl (sorry for the pun) your guests over with a soup that is so easy to make and would be a great starter to any meal.  It goes from prep to serving in about 40 minutes and can be made a day ahead and reheated.
Speaking of soups (and if you are a Seinfeld fan), a couple years we were in NYC for a week and decide to do all the pop culture stuff - like getting up early and going to the Today Show, Magnolia Bakery, hot dogs from a stand, pretzels, Rock of Ages and we even got tickets to the Dave Letterman show where we saw Nick Offerman, Thelma Sayek and KISS!  But one of our favorite things was going to the Soup Nazi's where we had the best Lobster Bisque soup.  We got in line, ordered properly and got our soup!  It really did live up to all the hype - wish I had that recipe to make!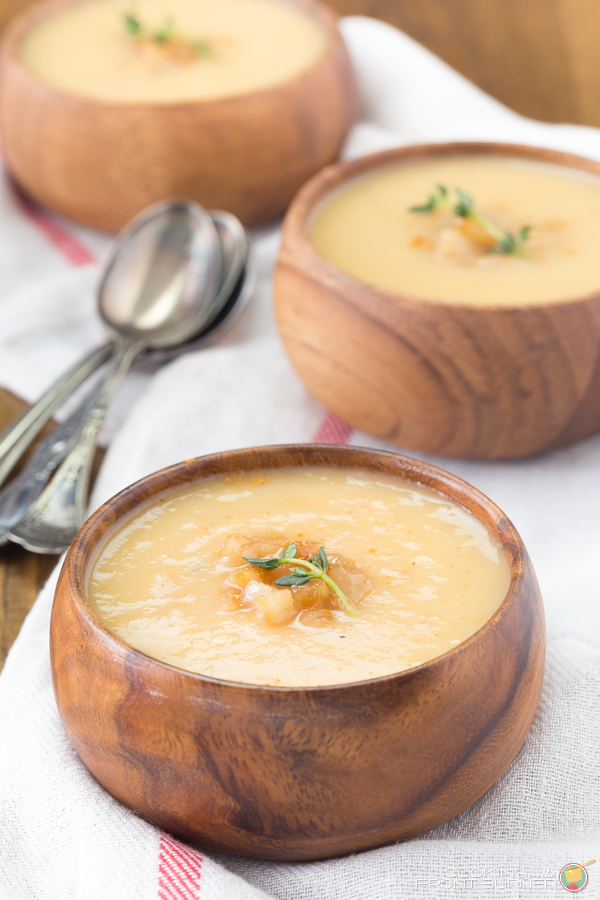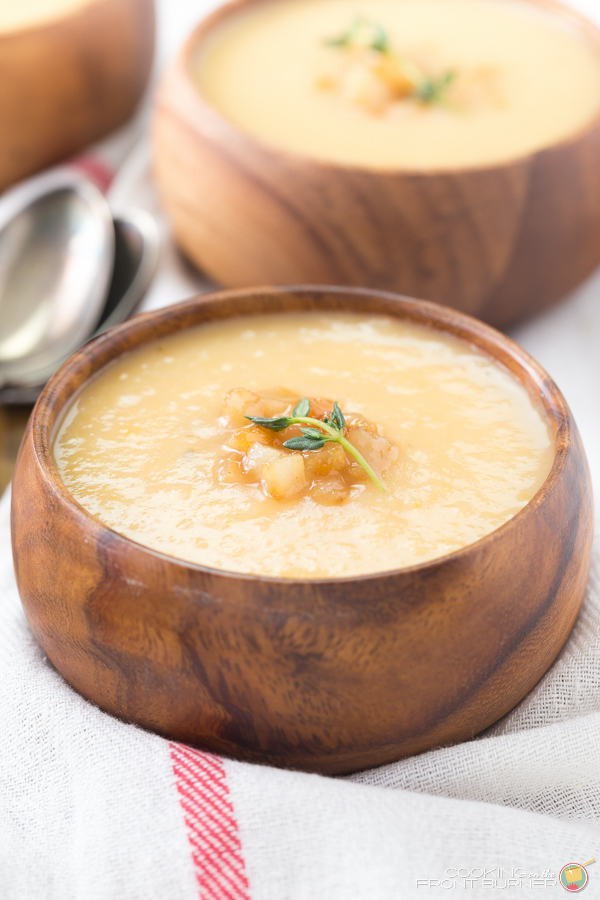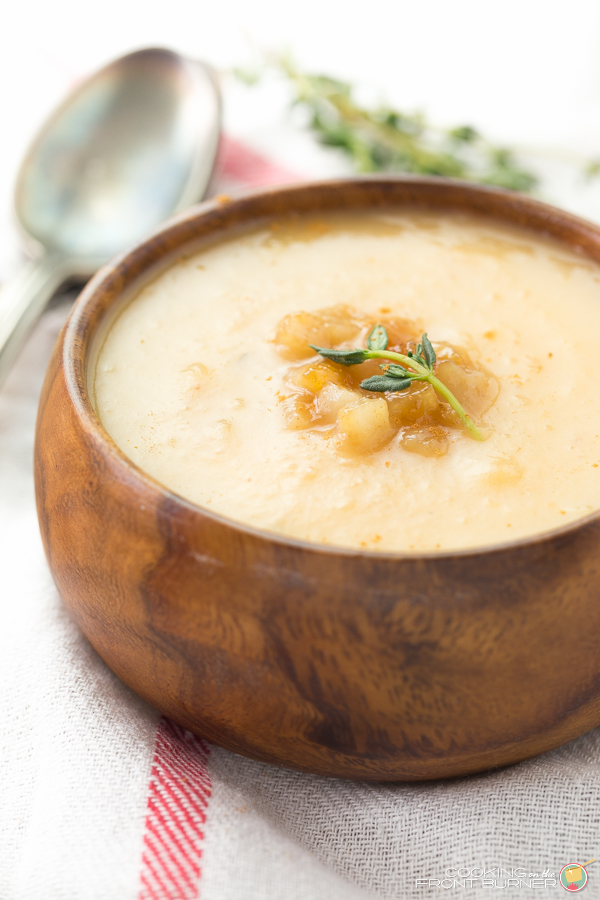 Other soups you might enjoy: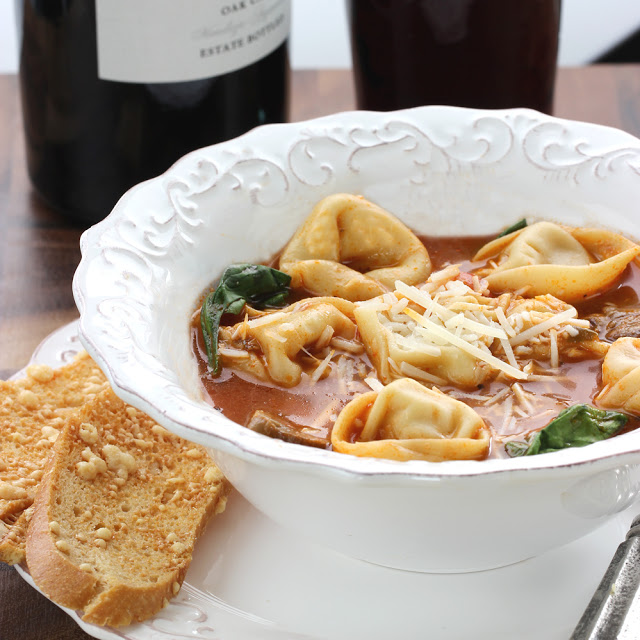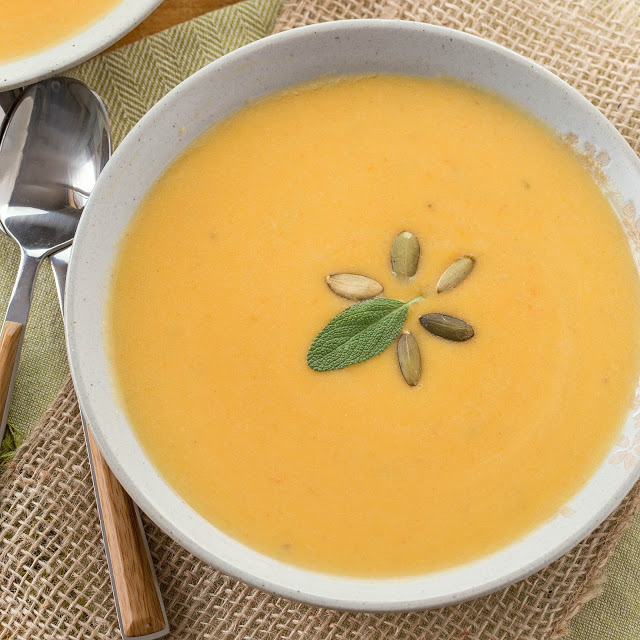 Get the Recipe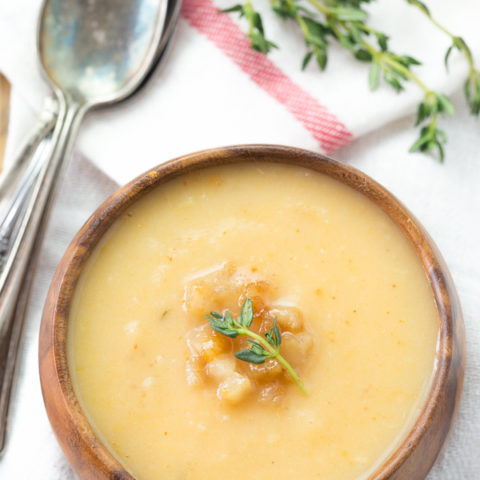 Pear and Sweet Potato Soup
This soup is creamy (without cream) and has a nice light sweetness to it!
Ingredients
2 tablespoons butter
1 cup chopped onion
1 minced garlic clove
4 cups peeled and chopped pears
1 ½ cup peeled and chopped russet potato
1 cup peeled and chopped sweet potato
1 teaspoon salt
½ teaspoon chopped fresh thyme
4 cups chicken broth (or vegetable)
Additional pear cut into ¼" cubes
1 tablespoon butter
1 tablespoon brown sugar
Cinnamon
Instructions
In a large pot melt the butter over medium high heat then add the onion and garlic; cook and stir 5 minutes
Add the pears, sweet potatoes,potato, salt and thyme; cook and stir 5 additional minutes.
Add in the broth, bring to boil, cover and simmer for 30 minutes
Use an immersion blender to blend until very smooth then season with salt and pepper to liking.
In a small saucepan, melt the tablespoon butter then add the brown sugar until all is melted. Add the diced pears and saute about 5-7 minutes until they caramelize a bit. Sprinkle with a bit of cinnamon.
Pour soup into bowls then top with the caramelized pears
Nutrition Information:
Yield:

6
Serving Size:

1
Amount Per Serving:
Calories:

217
Total Fat:

6g
Saturated Fat:

4g
Trans Fat:

0g
Unsaturated Fat:

2g
Cholesterol:

15mg
Sodium:

422mg
Carbohydrates:

41g
Fiber:

6g
Sugar:

18g
Protein:

3g
Nutritional information provided is computer-generated and only an estimate. You may want to do your own research with the ingredients listed if you have concerns about health or specific diets.
About the Author
Recent Posts
Recipe Index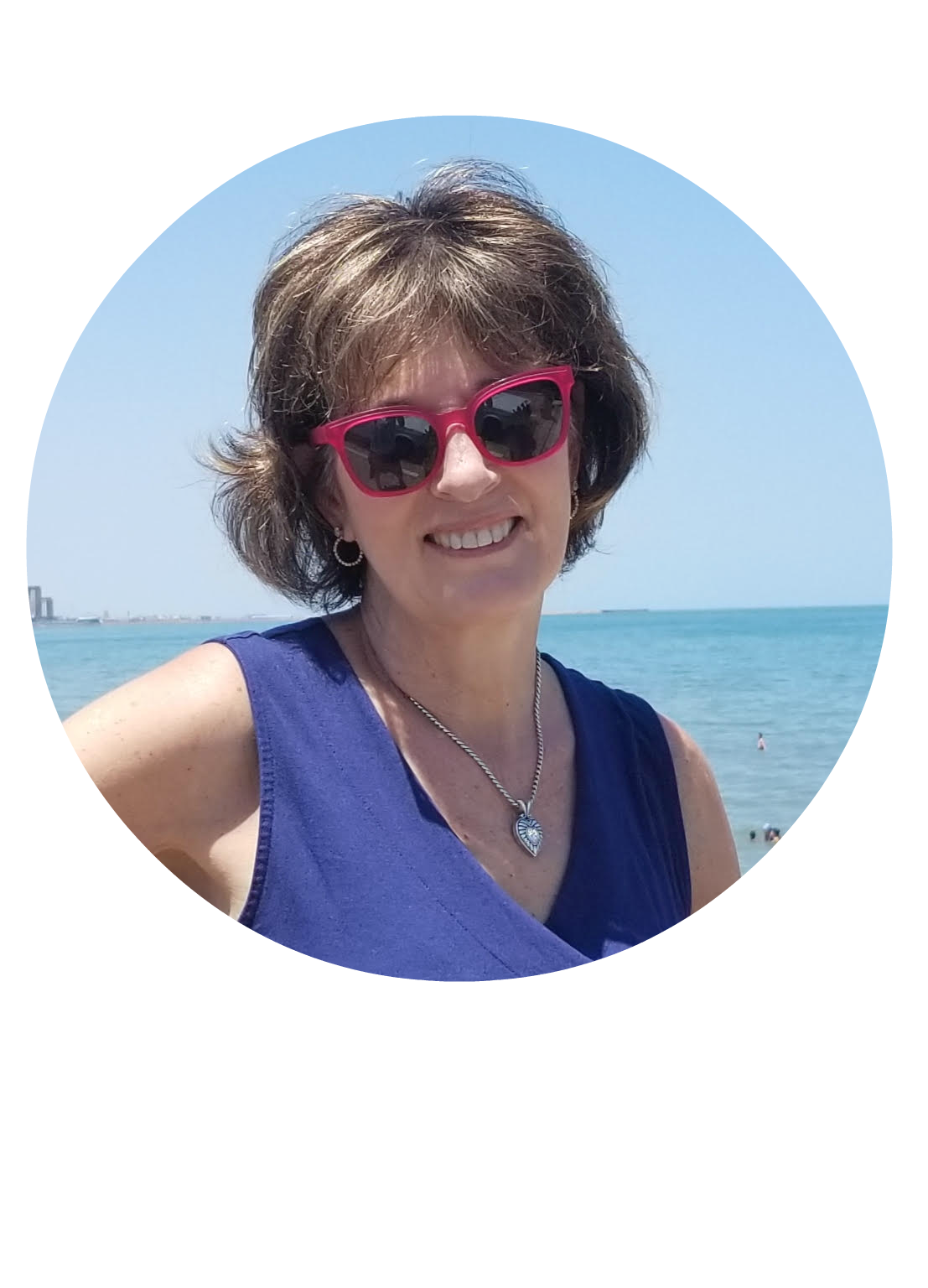 We are all about sharing our love of good food so on the blog you will find easy recipes to enjoy with your family and friends.  We hope to inspire you to host a gathering to create special memories.  Most recipes are step by step so you can feel confident in the kitchen.  Take a look around to find everything from breakfast to dinner and everything in-between!