One pot lasagna soup is the perfect quick and easy dinner recipe. If you love lasagna, you will love this soup.  All that lasagna taste, without all the work, because it's made in one pot!

We've all heard it is not nice to fool with Mother Nature, right?  But what about when Mother Nature fools with us?  Oh sure she teased us when it was in the 60s for five-six days, all the snow was gone, had a little extra skip in my step then bam we woke up this morning to ten inches of snow!  What's a girl to do?
Well, that is where this lasagna soup comes in.  We did have a heads up that the storm was coming so I ran out last night to get "provisions" as we prepared to hunker down.  That's what us Minnesotans do, even this transplanted one - we wouldn't want to starve. 🙂
The lasagna soup really hit the spot and it made the house smell so good. Really, just like a lasagna without having all those steps in making one.  Lots of sausage, mini curly pasta, tomatoes, garlic and spices all poured over a cheesy mixture.  Yummo!  We even have some leftovers for a lunch or another meal.  This is one recipe that I'm definitely going to make again.
One thing I wanted to note for you.  Did you ever notice how pasta grows and gets really soft when you cook it in the soup?  I usually cook the pasta separately then add to the soup when I'm about to serve it.  I got this tip from observing an Italian restaurant doing this when customers ordered soup.  I usually just toss some olive oil on the pasta so it doesn't stick.  No more mushy monster pasta!
We do love our soups here and a couple other favorite recipes that are easy to make is this Creamy Tomato Spinach Tortellini soup and this healthy Sweet Potato and Black Bean soup (it's got a kick to it)
Ok, Mother Nature - you got us and I won't complain too much but please let this snow melt quickly and get those temperatures back up there.  This gal is so over winter!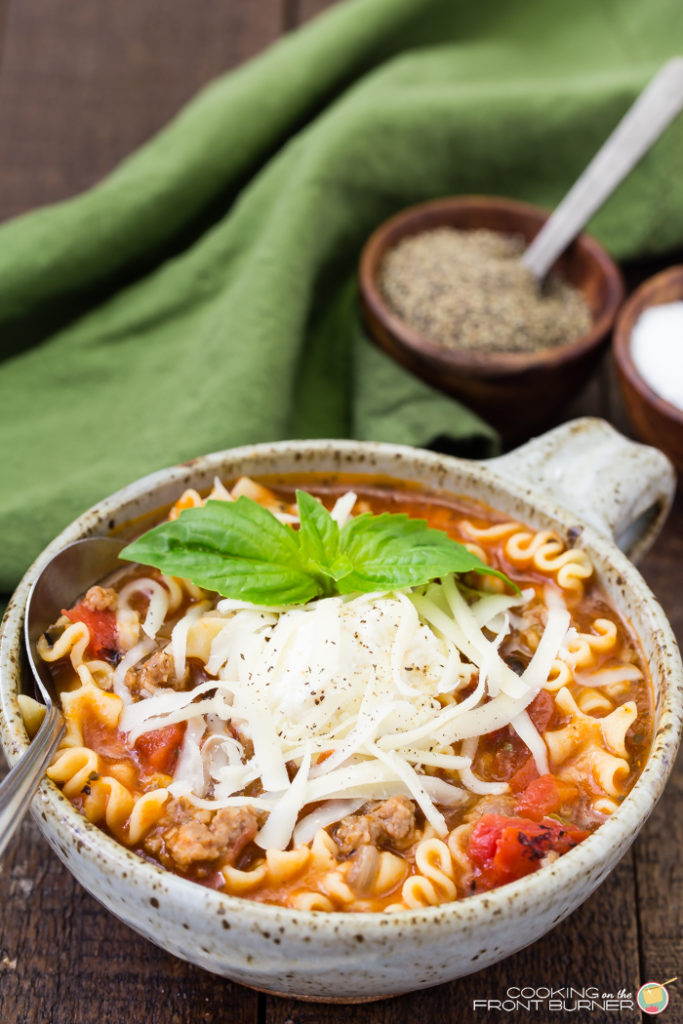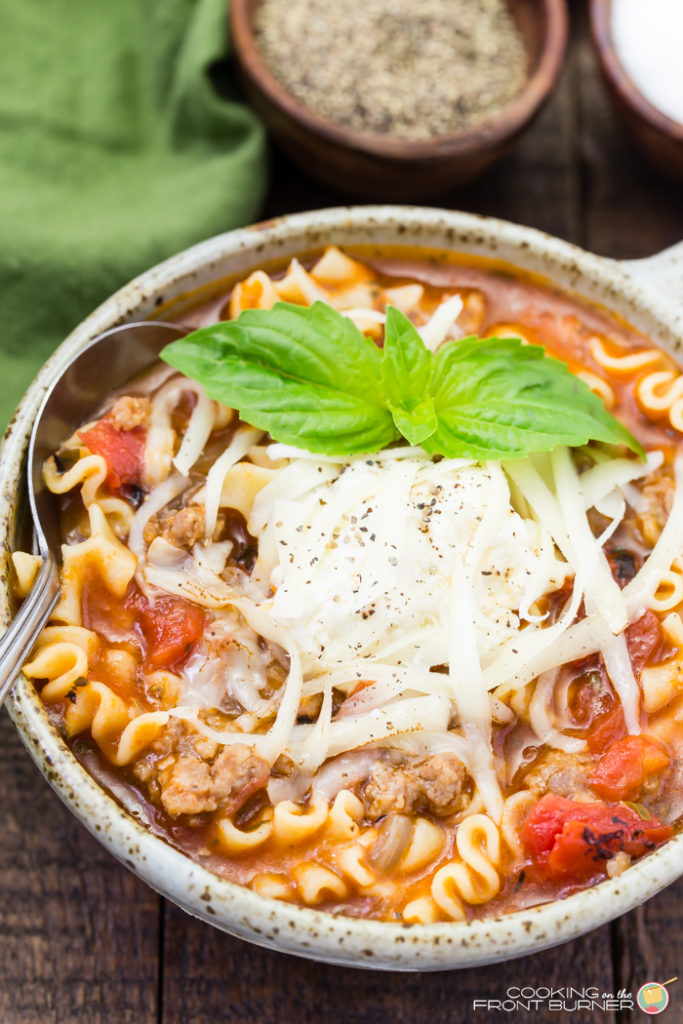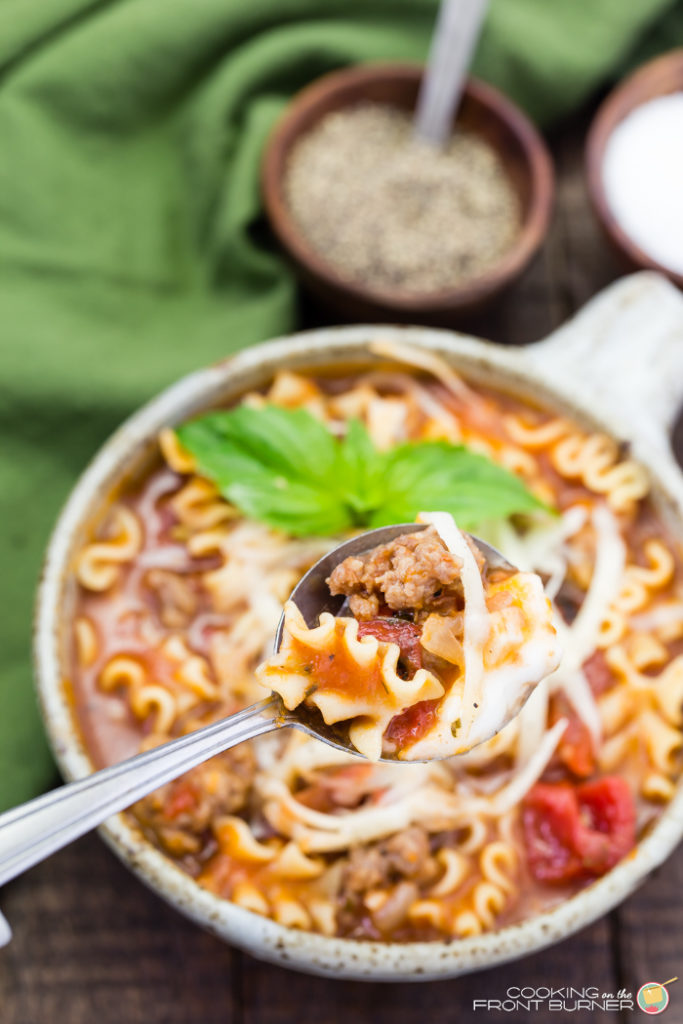 Oh and I have to give a shout-out to our mailman! You know the saying -neither snow nor rain nor heat nor gloom of night, etc?  Well with unplowed roads today, he parked at the bottom of our cul de sac and walked the mail around. What a guy!
I think he deserves a big bowl full of warm lasagna soup!
Get the Recipe
Easy One Pot Lasagna Soup
Your favorite Italian food in a soup form - so easy to make!!
Ingredients
2 tablespoons olive oil
24 oz. Italian sausage
2 cups chopped onions
3 cloves minced garlic
2 teaspoons dried oregano
½ teaspoon red pepper flakes
2 oz. tomato paste
28 oz. can fire roasted diced tomatoes
2 bay leaves
6 cups chicken stock
8 oz. mafalda pasta
⅓ cup minced fresh basil
salt and pepper to taste
8 oz. ricotta
½ cup grated parmesan cheese
¼ teaspoon salt
2 cups shredded mozzarella cheese
Instructions
Heat the olive oil in a dutch oven or large pot. Crumble the sausage and brown for 5 minutes.
Add onions and saute for 5 minutes then add the garlic, oregano and red pepper flakes and cook for another minute.
Add in the tomato paste mixing it in well. Cook for 3 minutes (the paste will turn a rusty brown color)
Next add in the tomatoes, bay leaves and chicken stock. Combine and bring to boil.
Reduce the heat then simmer mixture for 30 minutes
Add in basil and season with salt and pepper
Cook pasta separately (see notes in blog post) while soup is simmering.
Combine the ricotta cheese, parmesan cheese and salt and set aside
When ready to serve, add in the pasta and stir well
Place in each bowl about 2 tablespoons ricotta mixture ¼ cup of the mozzarella cheese
Ladle soup over top and stir to combine
Stir and enjoy!
Nutrition Information:
Yield:

8
Serving Size:

1
Amount Per Serving:
Calories:

613
Total Fat:

38g
Saturated Fat:

15g
Trans Fat:

0g
Unsaturated Fat:

25g
Cholesterol:

82mg
Sodium:

1400mg
Carbohydrates:

34g
Fiber:

4g
Sugar:

11g
Protein:

35g
Nutritional information provided is computer-generated and only an estimate. You may want to do your own research with the ingredients listed if you have concerns about health or specific diets.
Enjoy!

About the Author
Recent Posts
Recipe Index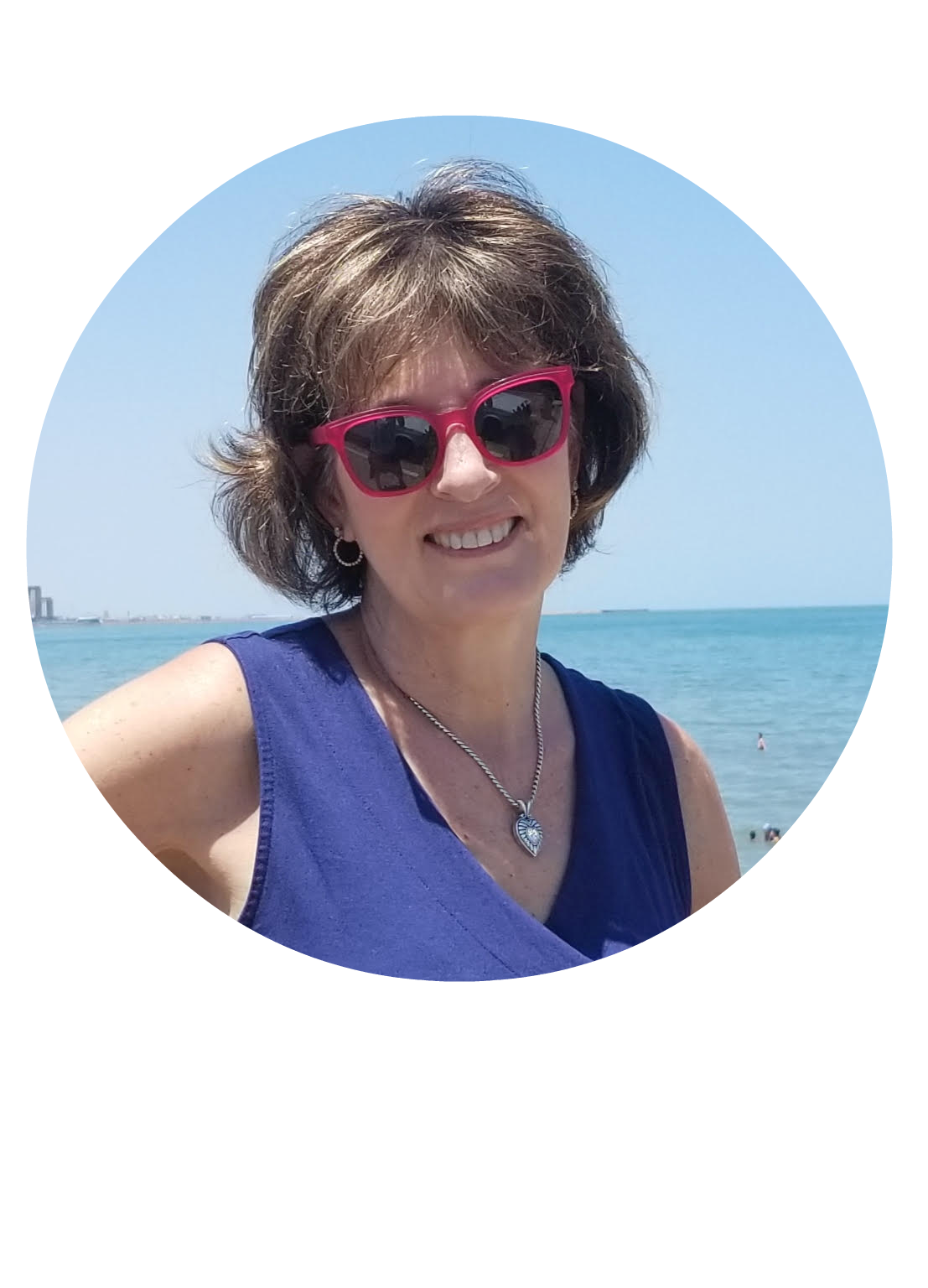 We are all about sharing our love of good food so on the blog you will find easy recipes to enjoy with your family and friends.  We hope to inspire you to host a gathering to create special memories.  Most recipes are step by step so you can feel confident in the kitchen.  Take a look around to find everything from breakfast to dinner and everything in-between!