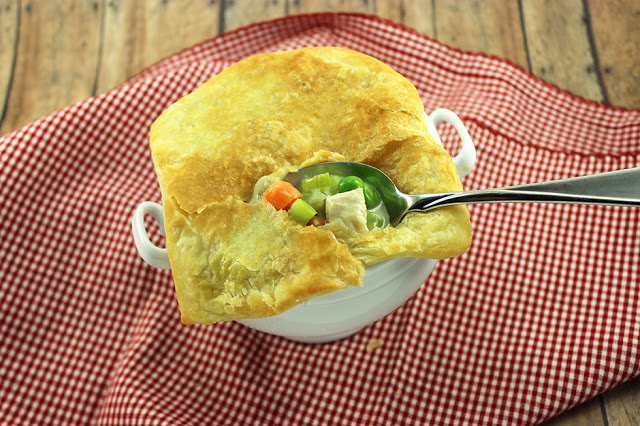 March Madness is here! And I'm talking about the weather… It's that time of year when the snow is melting, the days are getting longer, the weather is starting to warm up then BAM! We are supposed to get 6-10″ of snow tonight and already got 2″ today. Oh well… I'm sure I have many friends who are happy but I'm just ready for spring. But since the weather is still more winter like, this meal was a good choice after watching the snow fall. It is very easy to put together, full of veggies and creamy chicken.
Recipe Source: Adapted from BH&G Chicken Dinners 2013
This is not a dish I grew up with and I don't think I ever made it for the kids but I wish I had – I think they would have liked it. It's a stick to your rib type meal with great flavor. I also like that the filling is poured in a baking dish and topped with some flaky puff pastry, seems a little lighter this way.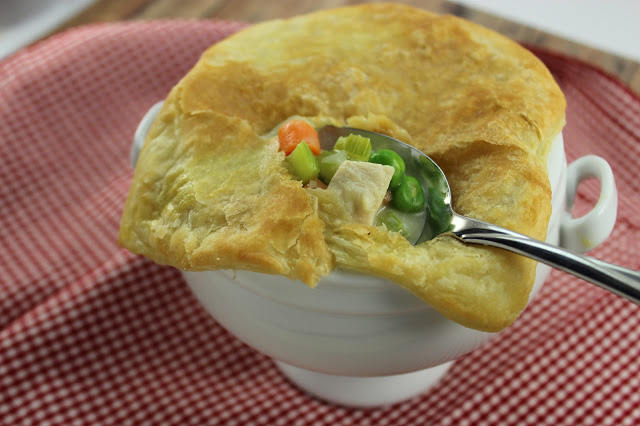 Keep those boots and car scrapers handy!
Ingredients:
– 1 sheet frozen pastry puff, thawed
-1 lb boneless chicken cut into 1" cubes
-1 T Olive oil
-1/4 cup chopped onion
-1/2 cup chopped celery
-1/2 cup chopped carrots
-1/2 clove minced garlic
-1/3 cup flour
-1/4 cup half and half
-1 ½ cups chicken broth
-1 bay leaf
-1/2 t salt
-1/2 t pepper
-1/4 frozen peas
Preparation:
Preheat the oven to 400 degrees. Roll out pastry to a 10" square on a floured surface and then cut into 4ths – cover until ready to use.
In a dutch oven, heat the olive oil over medium and then brown the chicken. Add onion, carrots, celery and garlic – cover and cook for about 5-7 until tender, stir occasionally.
Stir in the flour and cook/stir for 3 minutes then add the half and half slowly while still stirring. Add the broth, bay leaf, S&P and continue cooking until it becomes thickened and bubbly – then stir for an additional minute. Remove from heat and discard the bay leaf.
Spoon mixture in 4 small baking dishes and top with a square of pastry. Bake for about 10-12 minutes until pastry is golden.
Notes: