A trip to the big apple was a fantastic trip!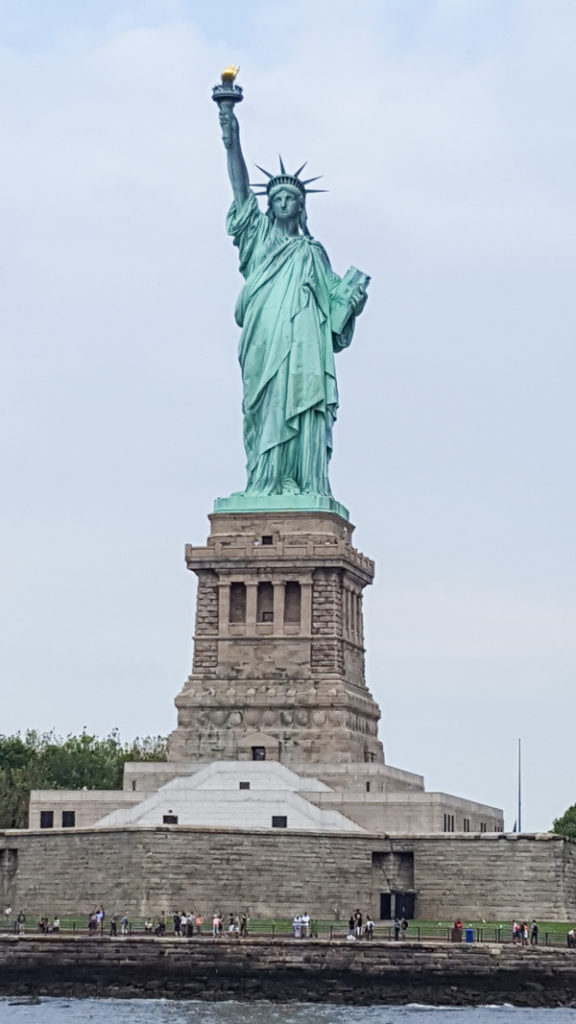 A couple weeks ago we went on a family vacation - no, not the one where we all pile in the family truckster and head out to see Wally World! Though that could be interesting! We flew from Minneapolis to Philadelphia to visit our east cost family including parents, grandparents, aunts, uncles, and cousins. We were 7 total - the DIY Guy, our younger daughter, older daughter, her husband, the two grandkids and myself. Our stops included Bangor PA (John's family), Endicott NY (my family and where we lived before moving to Minnesota) and Scranton PA (extended family and oh, The Office anyone?). The weather was great, the visit was fun and we all enjoyed spending time with everyone. A four day whirlwind!
About two months before our trip my younger daughter Danielle asked if I would be interested in going to NYC for a couple days afterwards and the answer was yes (John did not want to go)!!! Today I'll be sharing some of the sights we saw and why you might want to plan a trip there as well.
As the DIY Guy was heading back to the Philly airport, he dropped Danielle and I off at the Amtrak station where we took a 90 minute ride to Penn Station and then walked two blocks to our hotel. We stayed at the fringe of the Hells Kitchen area near the Garment district. Close enough to walk places and get to the subway. Our first night we walked to Time Squares. It happened to be Memorial Day and it was really crowded so we didn't stay too long but fun to see.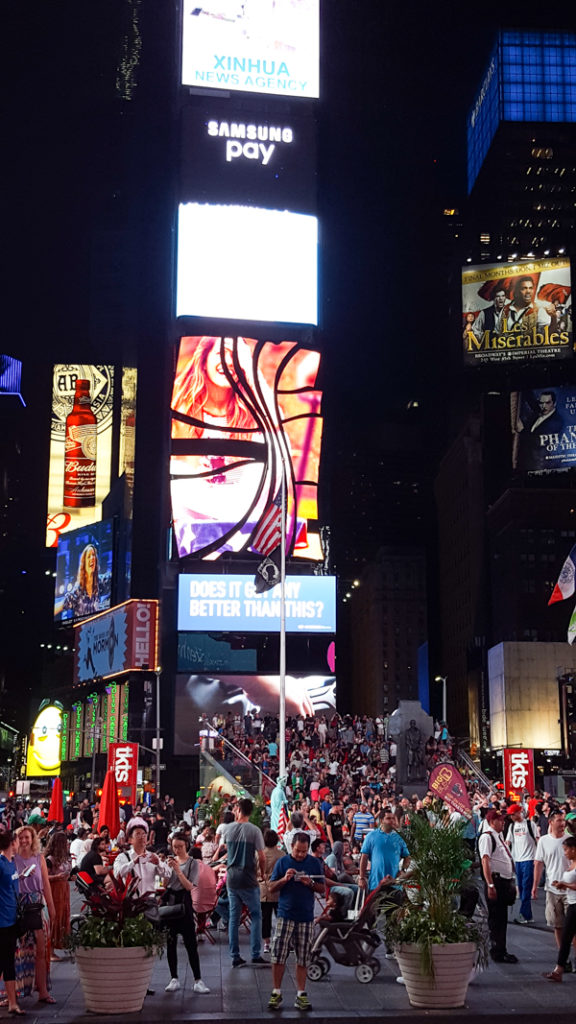 We knew we needed a plan - it's hard to go to NYC without having some idea of what you want to see or you just end up getting frustrated. In advance we did get tickets to a play and The View. We also knew we wanted to see as much as we could so the first day we took the subway to South Ferry where we bought tickets for the ferry ride to Liberty Island and Ellis Island. Did you know you can actually get tickets to the crown area of the statue? Little did we know, and found out the wait list is about a year! You can also get tickets to the platform area but again those tickets were about 2 weeks out - no worries though - we had a great time walking on the island and seeing the statue from different angles.
The next stop was Ellis Island. I was really excited to go there since my grandparents on my mom's side came through from Italy in 1931. I was able to see (and order) a copy of their manifest and also where their names were engraved on the stone wall outside the museum.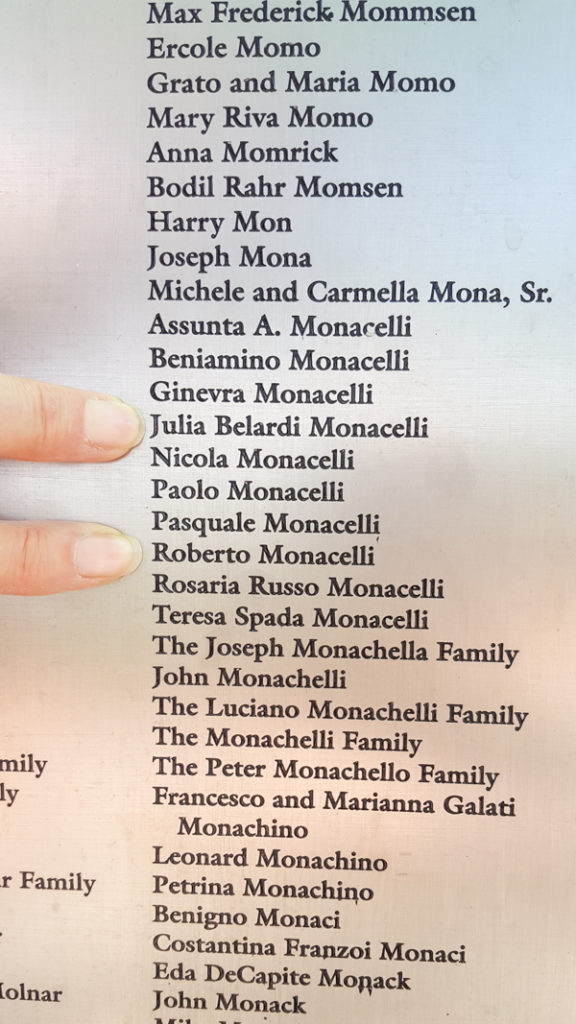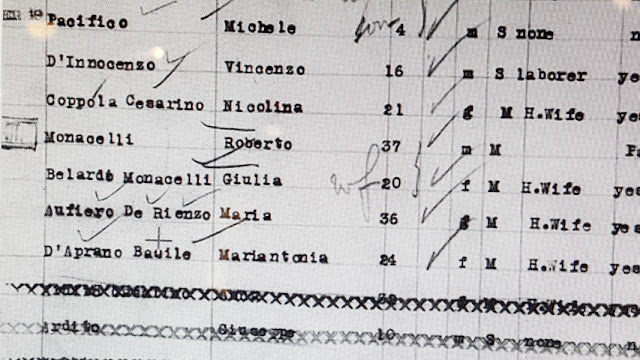 When we returned to port, we walked to the World Trade Center pools and spent some time walking around. There is a memorial museum but we did not get tickets though when I go back again sometime I would definitely like to go.
From there we ended up walking trying to get to China Town. Somehow we ended up at Pace University where one of my friend's daughter (Kelly) attends. We had planned seeing her later that day but as it turned out her class was finished and she walked with us to China Town. Some of the sights we saw: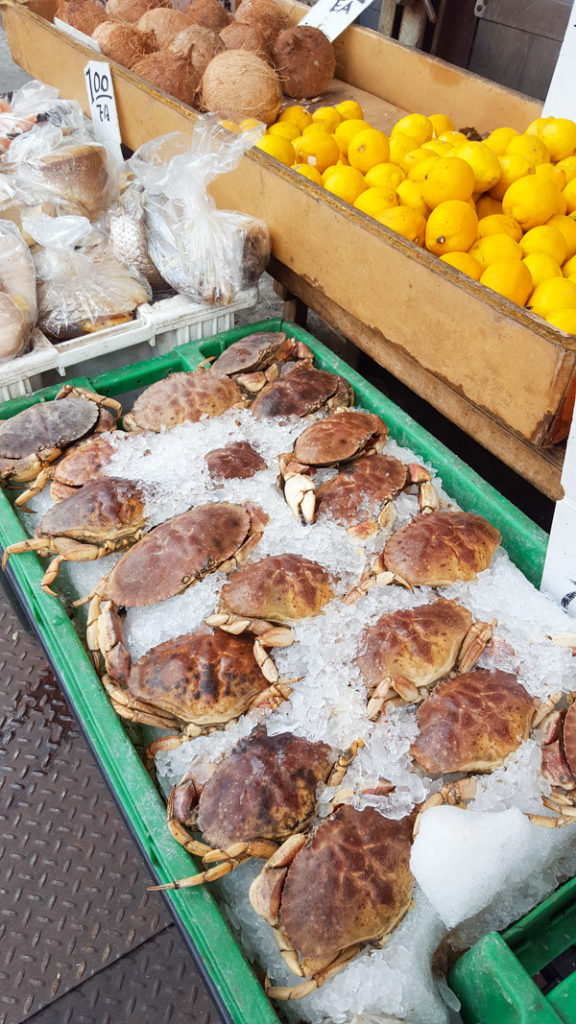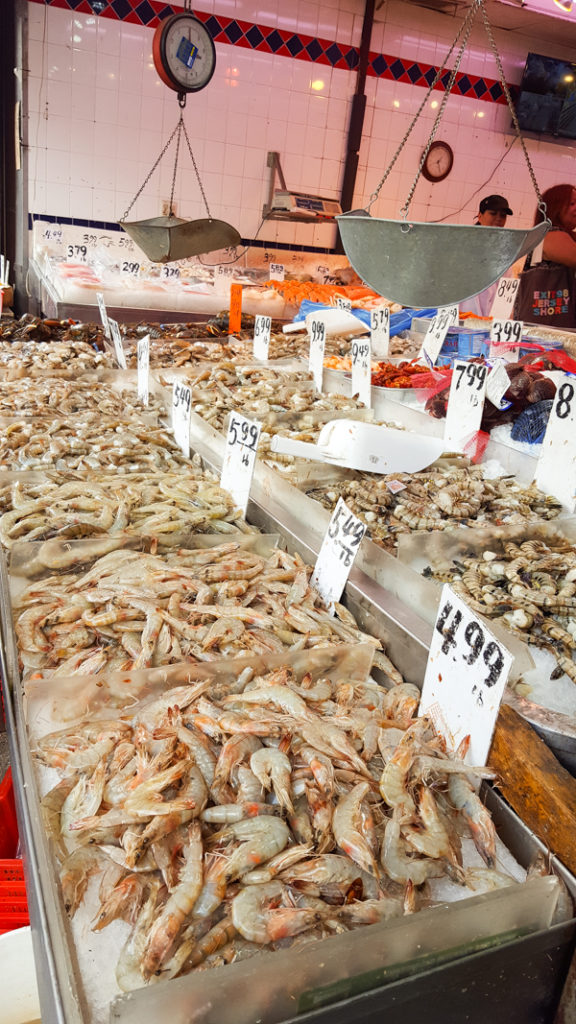 One hidden gem in China Town is an ice cream shop called 10 Below. It is so cool (no pun intended!) Once you decide your flavor, you can watch them make it up for you on a frozen disc.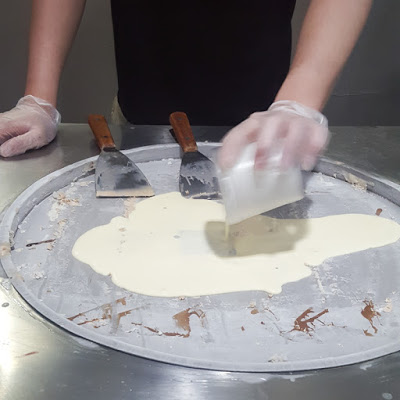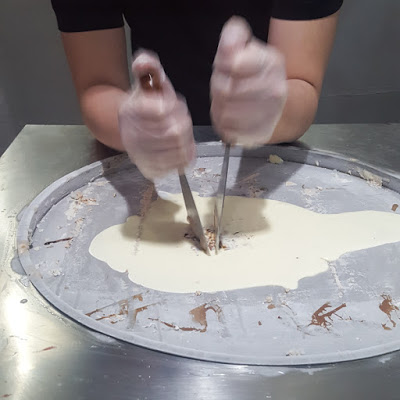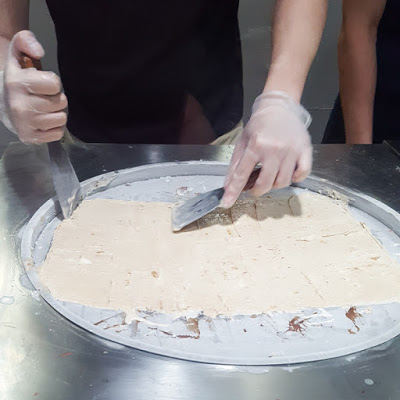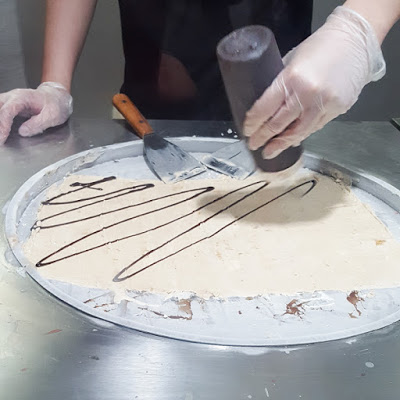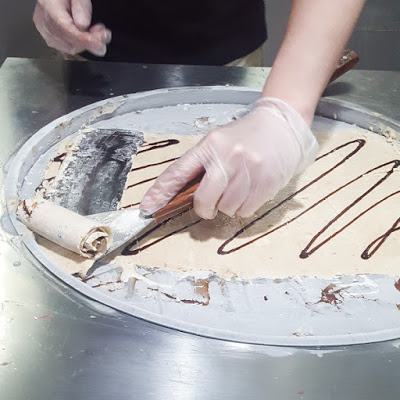 And the final results is rolled ice cream served in a cup - I ordered a S'mores one. It was so good!
Next we walked to Little Italy and ended up having a late lunch at Amici II's. The two youngsters shared linguine with mussels and I had a couple slices of margherita pizza... (crappy picture but awesome food!) Also enjoyed a little vino!
Soon we needed to head back to our hotel to get ready for the play. We gave Kelly our leftovers (no college student turns down food!)
Once we got ready for the play we ubered to the theater to see Kinky Boots and absolutely loved it! I would highly recommend it!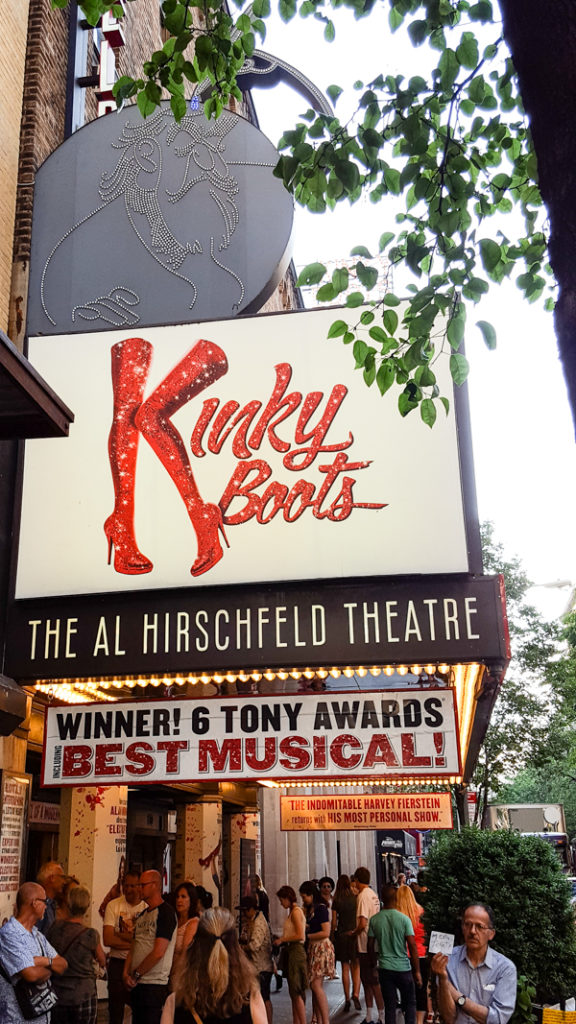 Since we had a late lunch and no dinner, a slice of NYC style pizza was in order afterwards. The best! Can't get anything like this near me in the midwest.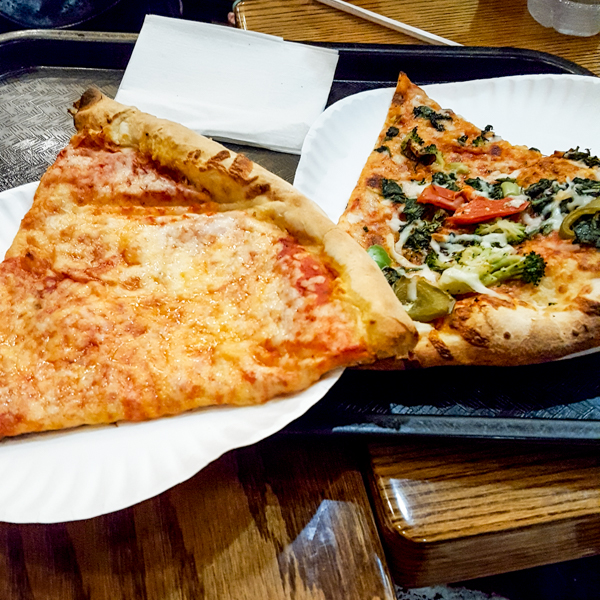 The next day we had tickets to The View. No guests that day but we had really good seats near Whoopie and she answered a lot of questions that audience had. Fun experience!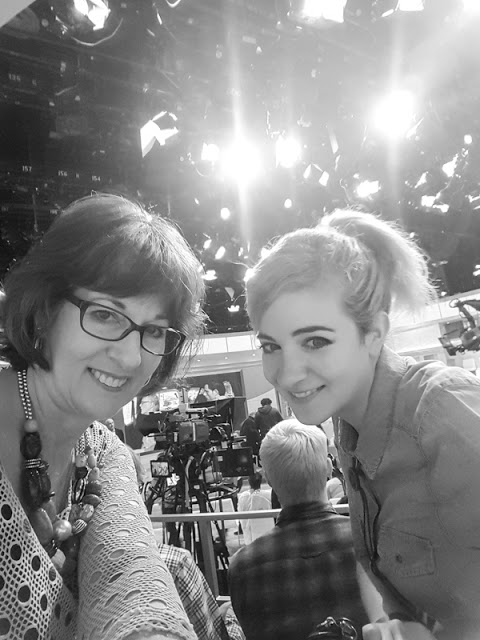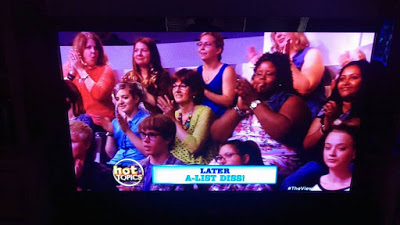 After the show ended at noon we walked around Central Park, had hot dogs, went to the Museum of Natural History, cupcakes at Magnolia's Bakery, stopped at Rockefeller Center and then headed to Eataly.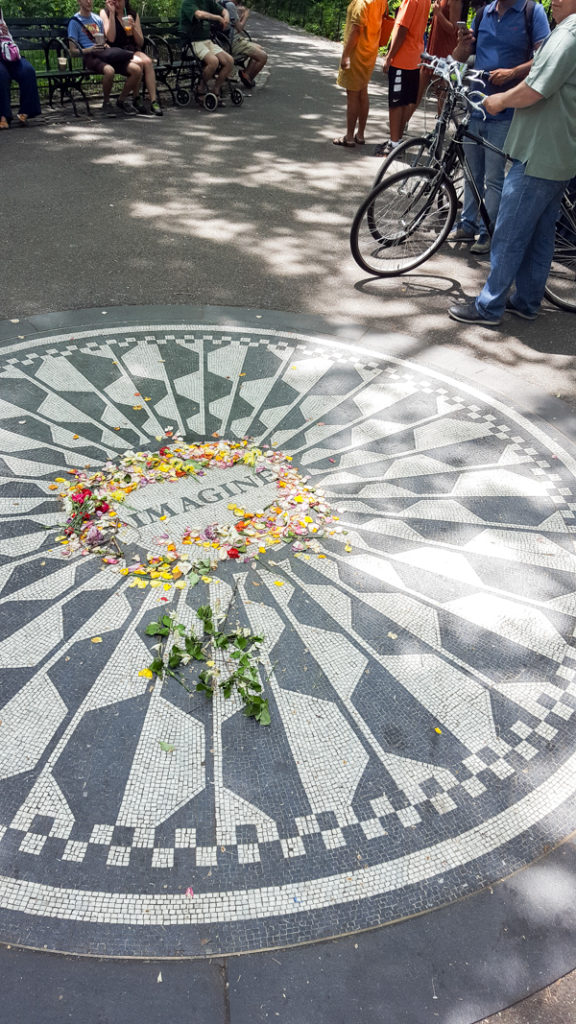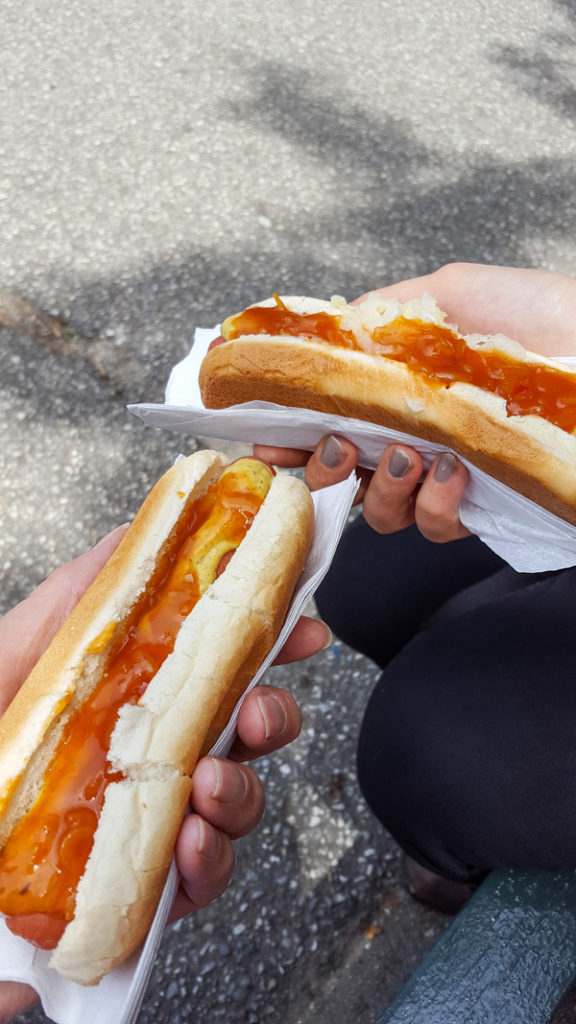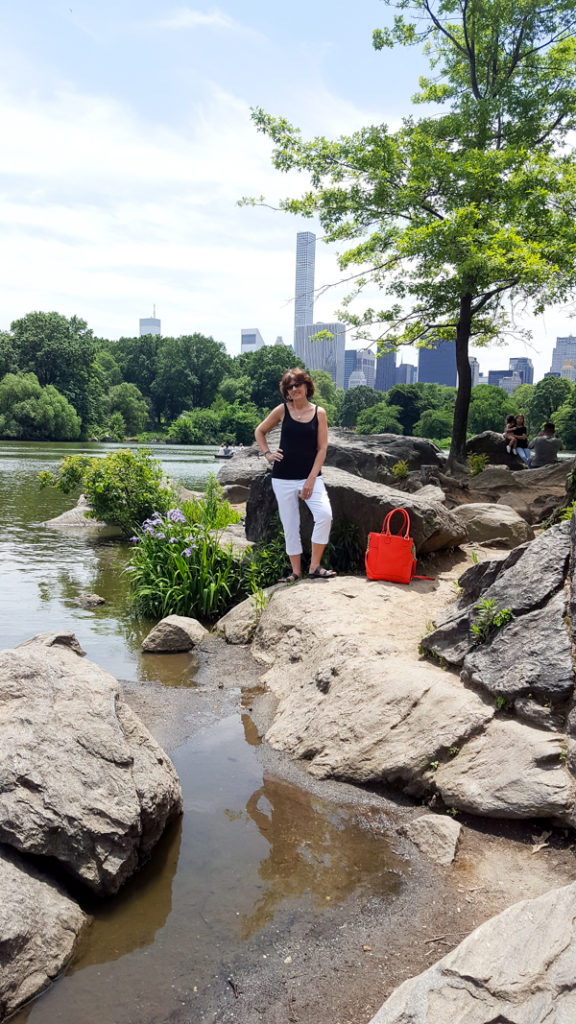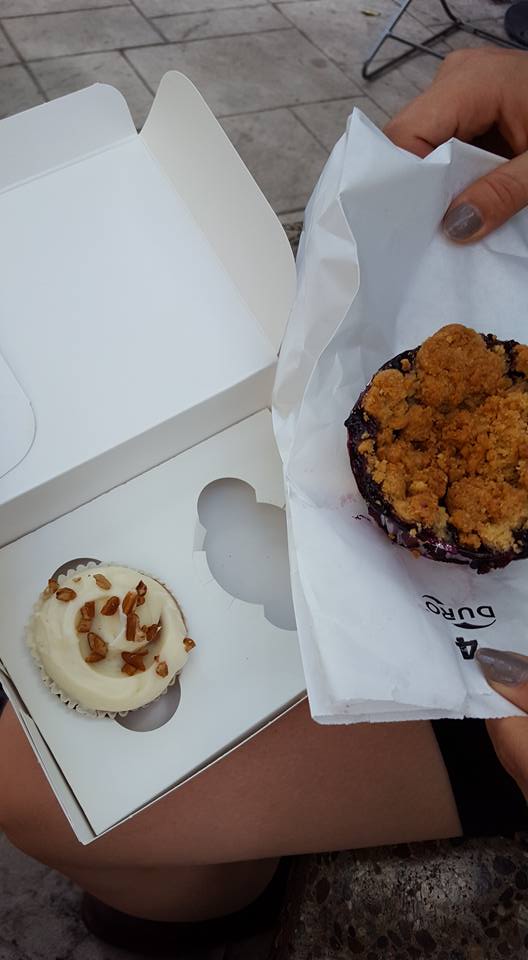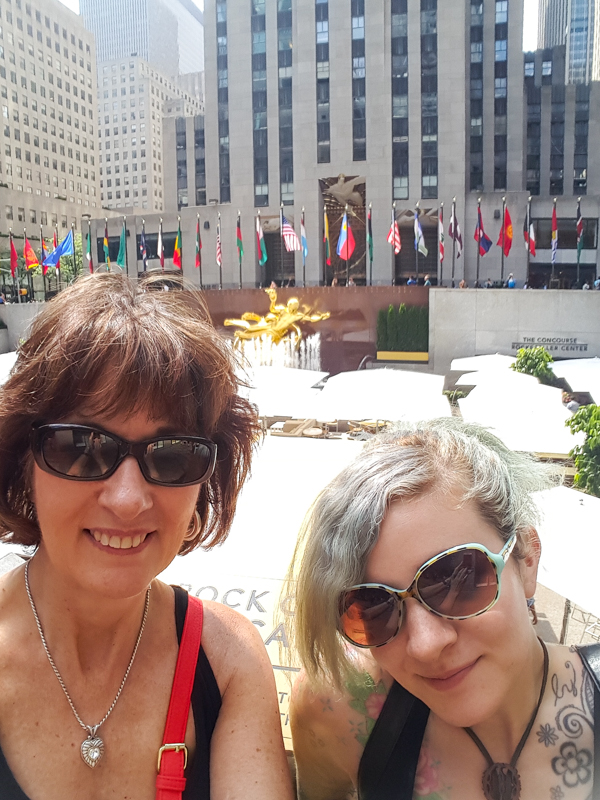 Ok, if you are still with me on this post (or maybe you need a break!), I want to talk about Eataly! I've been to Italian markets before but this one was on steriods+++. We walked around for about an hour looking at all the fresh, yummy food. There is a chocolate section, a nutella section, fresh pasta, breads, meats, cheeses and I could go on and on! I wanted to move in!! My couple pictures don't do it justice - click on the link above to read all about it. There are two locations - NYC and Chicago. Be sure to put this one on your bucket list!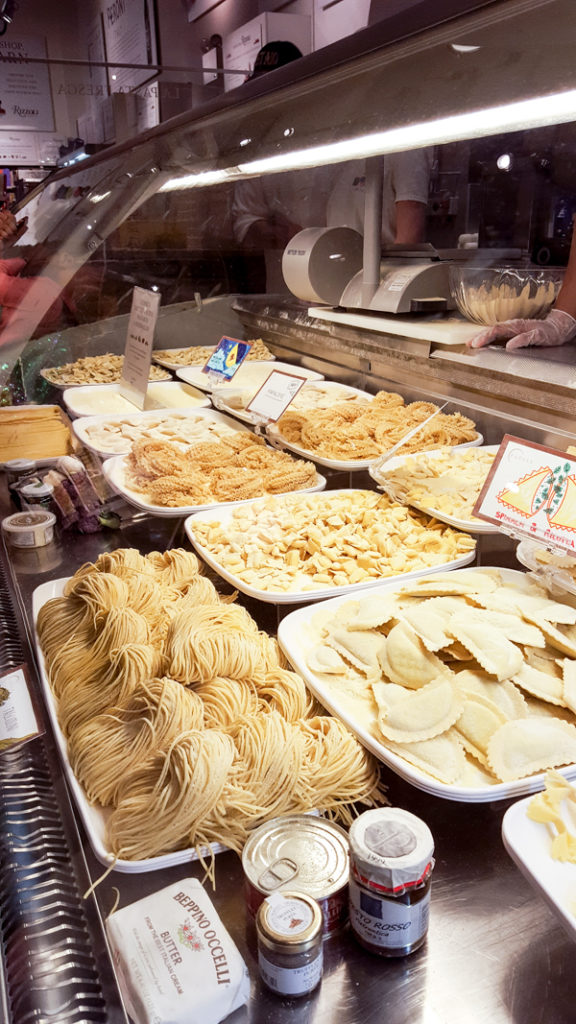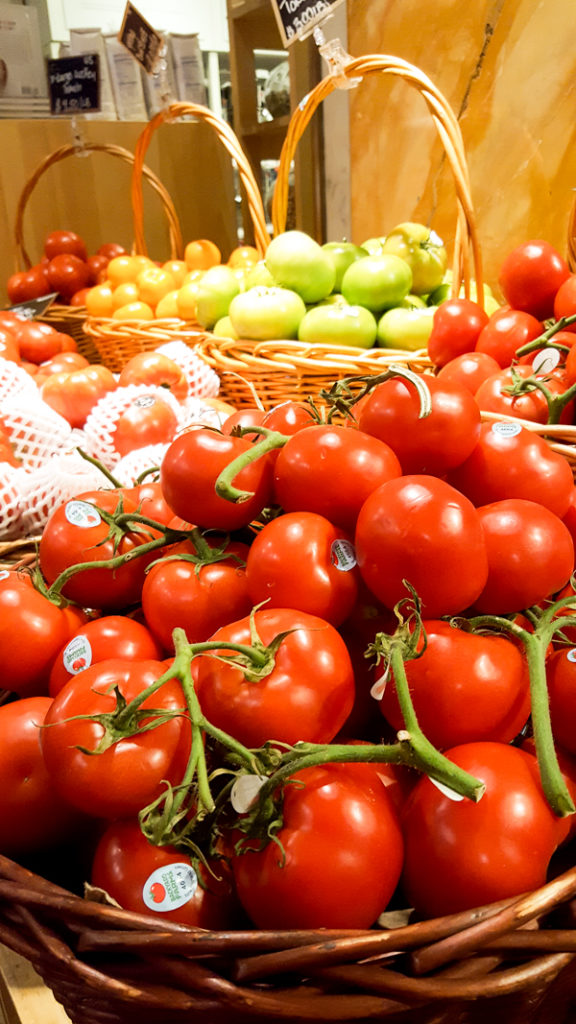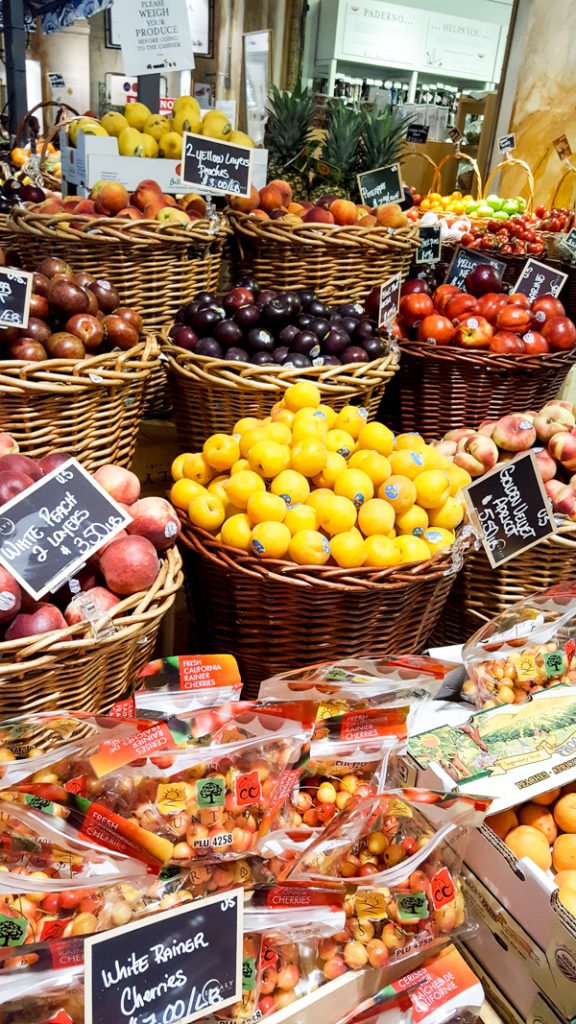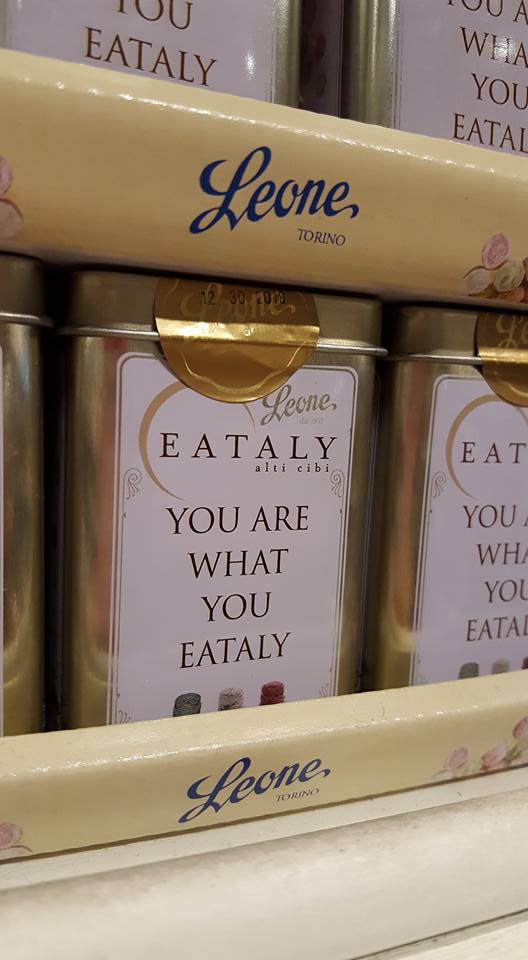 So you might be thinking this was the end of our day, right? But nope, we did a quick look at Macy's and B&H Photo before getting ready to head to dinner at Fig and Olive in the Meatpacking district where we had a fantastic meal. Now, that concludes our trip! The next morning we went back to Penn Station and took a train to Philly.
We really enjoyed our stay in NYC. And guess what, John and I are supposed to head back in December. It's always been my dream to go to NYC at Christmas time - see the Rockettes, a play and the tree at Rockefeller center.
As I mentioned at the beginning, it is really helpful to have some sort of plan before heading into the big city. We were in NYC about 5 years ago so I was a bit familiar but still did more research and I also happen to have a blogger friend, Amy at Ms. Toody Goo Shoes, who has lived in NYC and provided us with some wonderful recommendations for this trip. Be sure to stop by to see her December NYC post! I can't wait to go back!
About the Author
Recent Posts
Recipe Index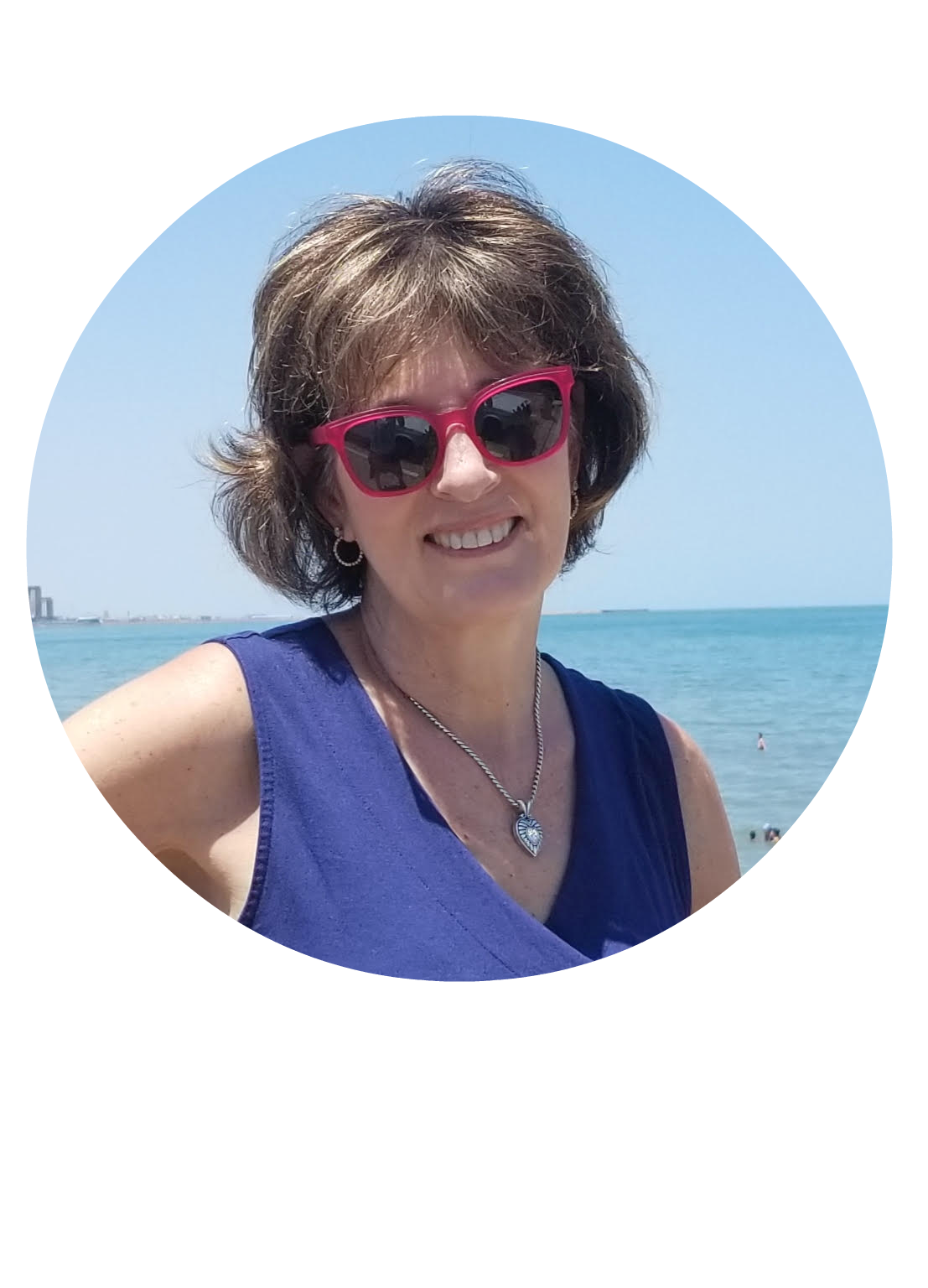 We are all about sharing our love of good food so on the blog you will find easy recipes to enjoy with your family and friends.  We hope to inspire you to host a gathering to create special memories.  Most recipes are step by step so you can feel confident in the kitchen.  Take a look around to find everything from breakfast to dinner and everything in-between!