These easy no bake Pina Colada Pie Jars will have you feeling like you are on vacation at a tropical beach.  They are so creamy, taste great and can be enjoyed by all!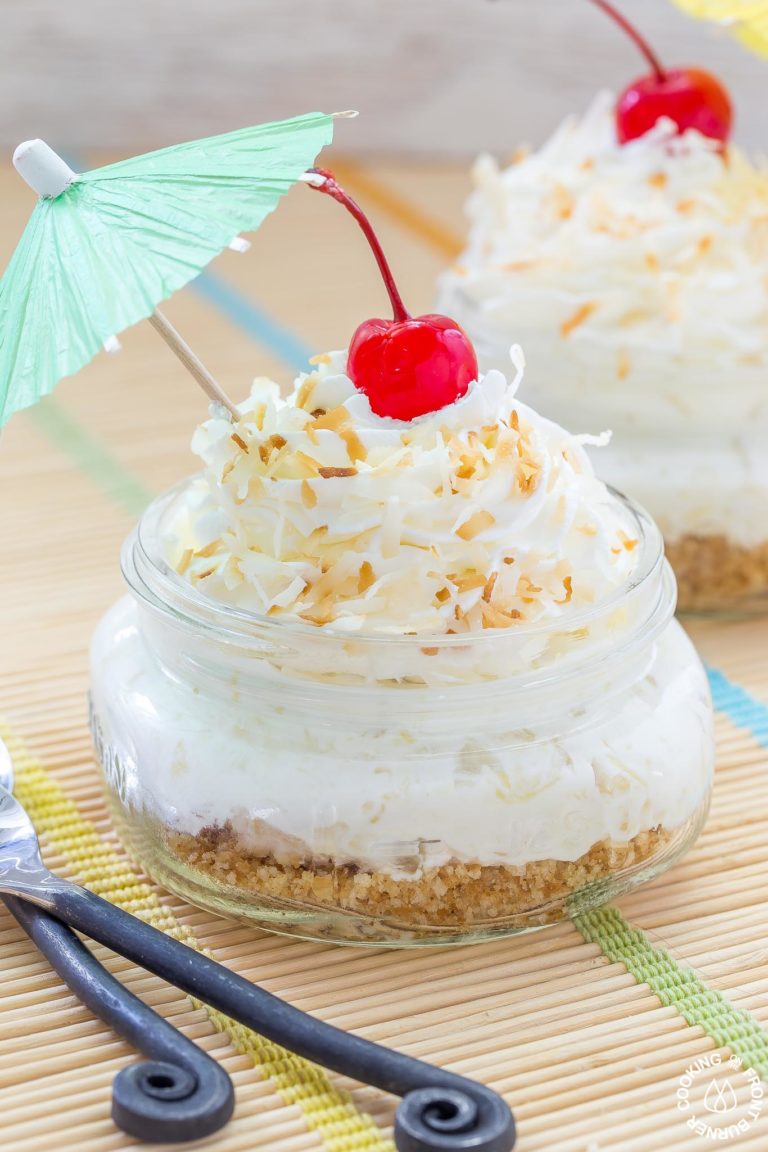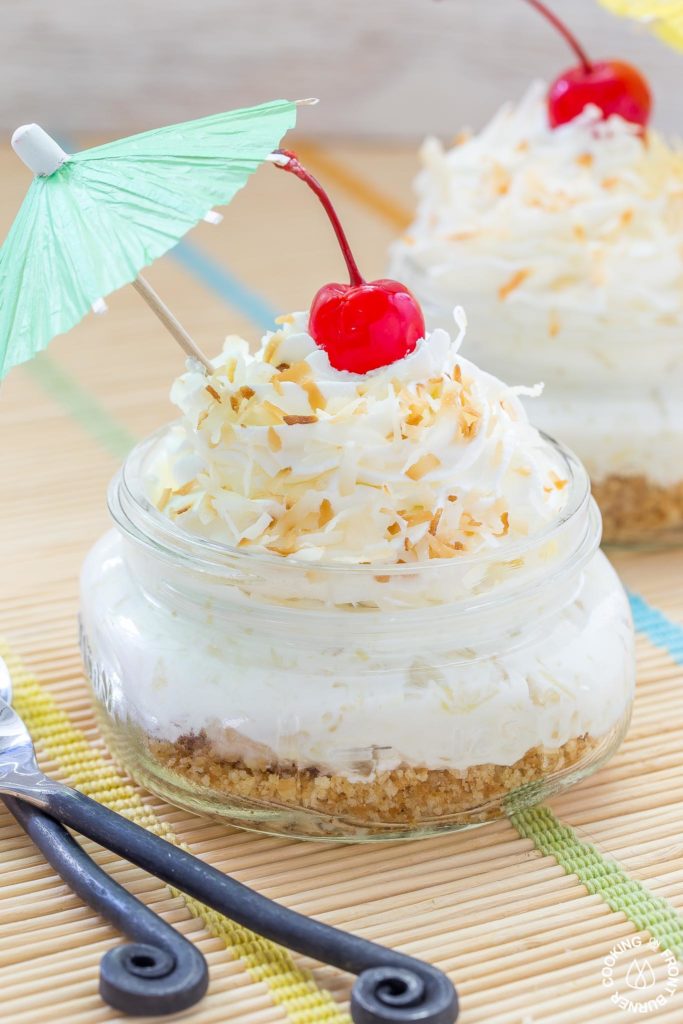 Hello, it me!  Happy to be back with a new recipe today since it's been a bit since my last post.  For three weeks we were under house construction while we were getting new ceilings on all 3 levels of our house.  Rooms needed to be cleared with the kitchen and my office not usable for a long time.  Then once everything was done then it was time to clean the entire house – walls and furniture were washed, floors cleaned, knick-knacks dusted and that took three full days!  I  now have the cleanest house in town 🙂
Since today is the considered the first day of summer, how does these Pina Colada Pie Jars sound?  There is no need to turn on your oven and I'm sure your family or friends would appreciate this tasty treat any time.  These are definitely made kid friendly with using rum extract but you could substitute some dark rum alcohol if you wanted to give it an adult twist.
Let's say too you want to bring these along on a picnic.  An easy way to do this is to leave off the final topping of cool whip, cap the jars, then unscrew them when ready to eat and top with the cool whip.  They would stack great in a cooler.
If you think you will enjoy these no bake Pina Colada Pie Jars, then be sure to check out these other no bake desserts: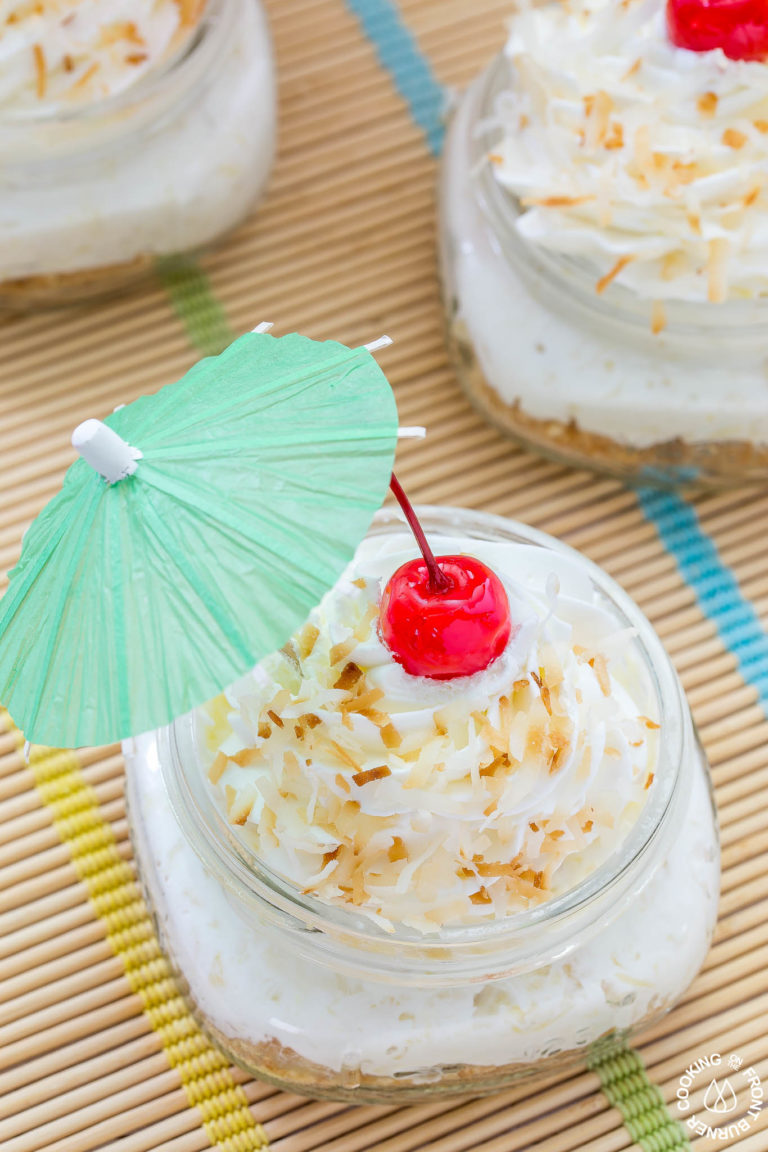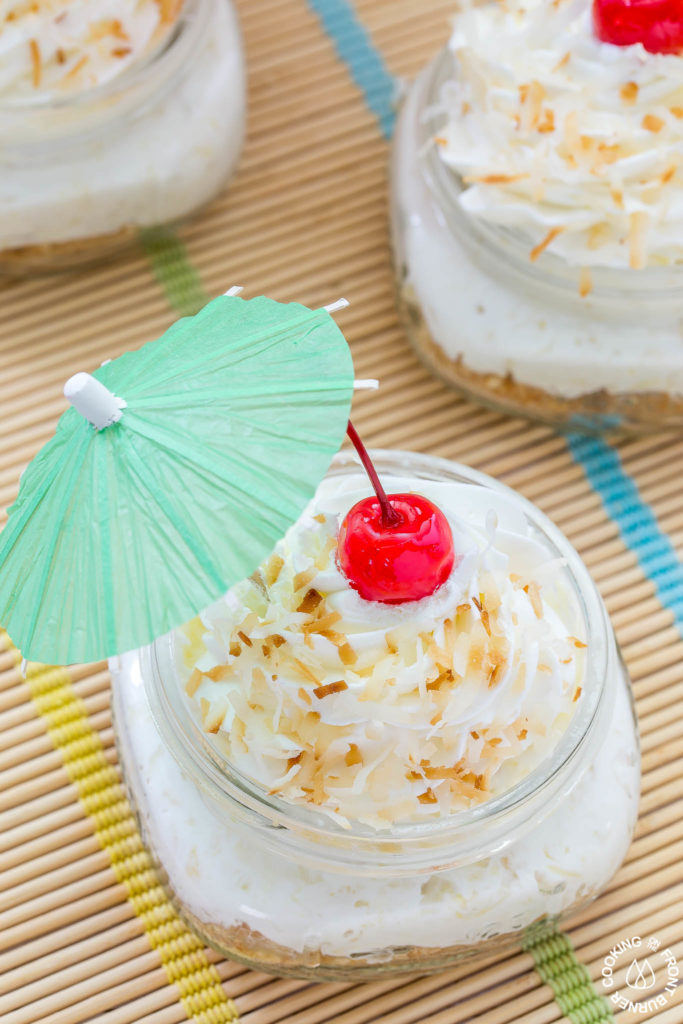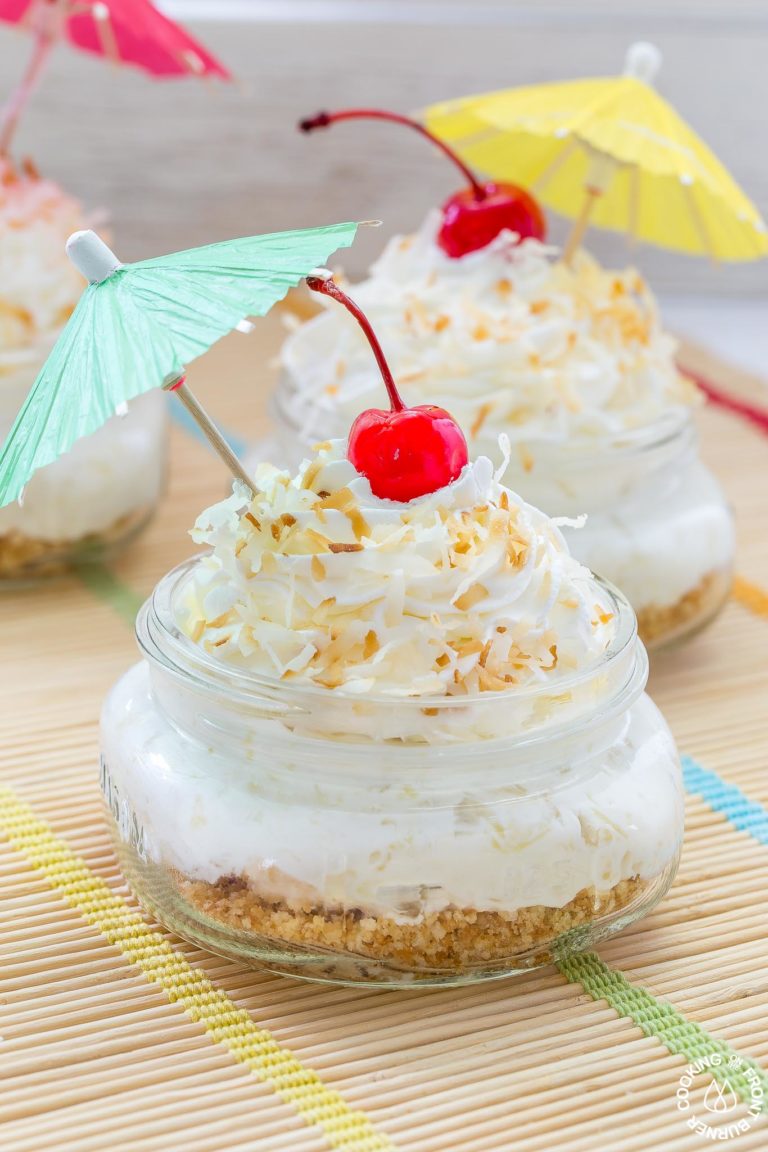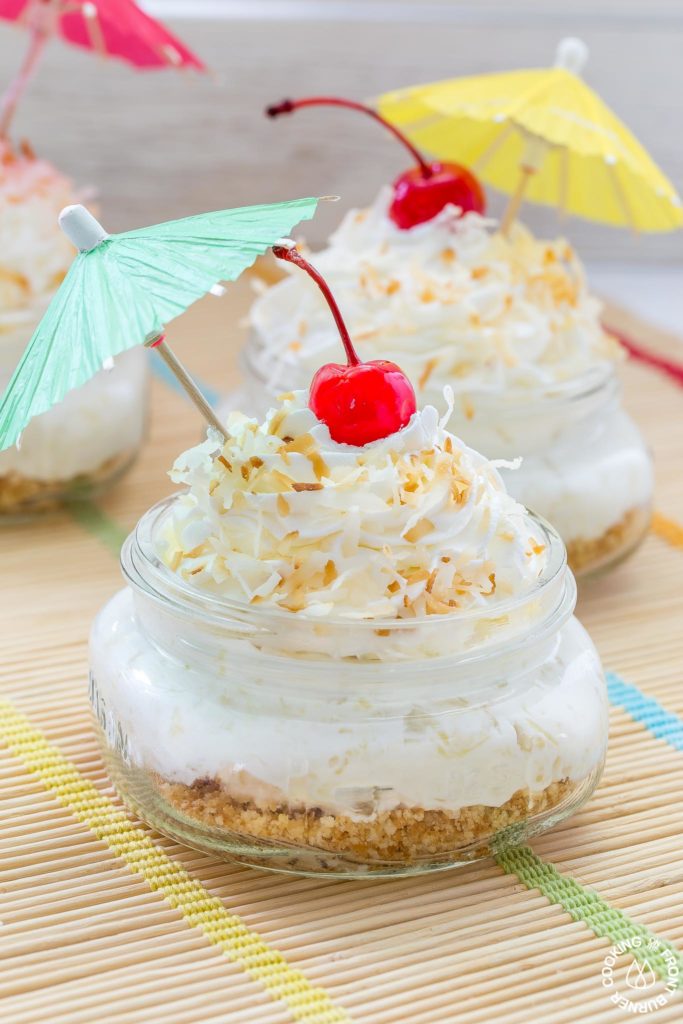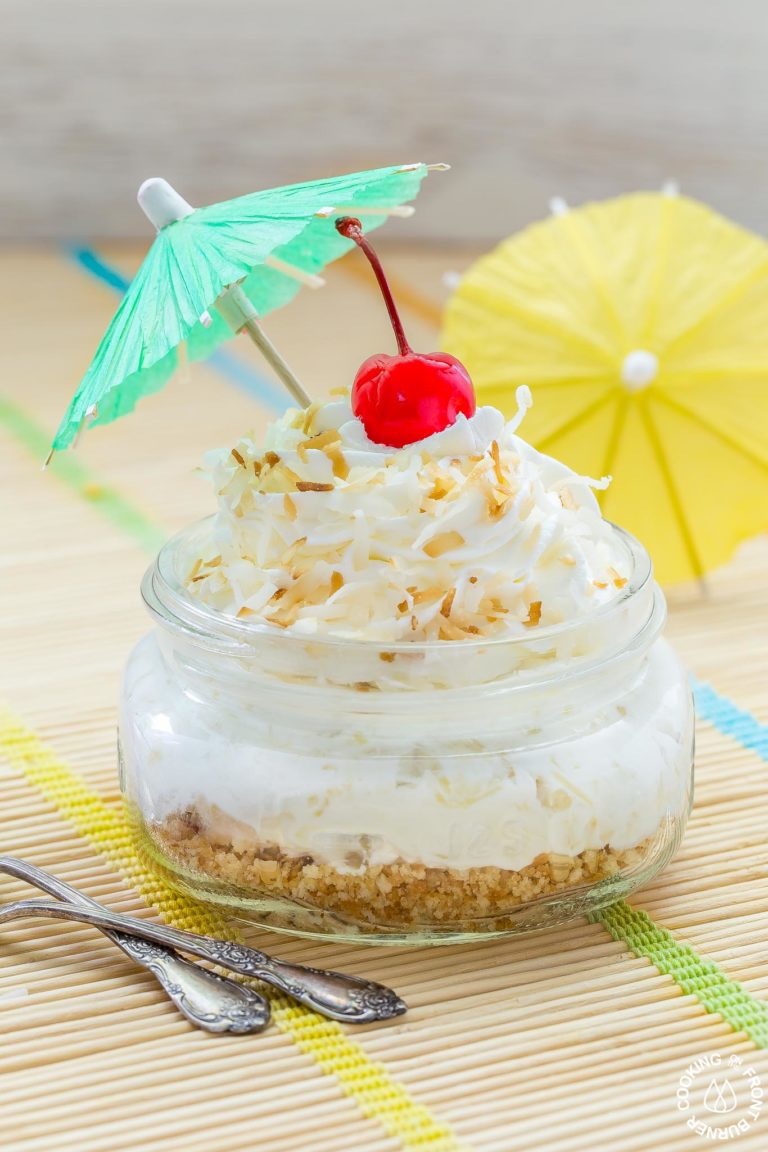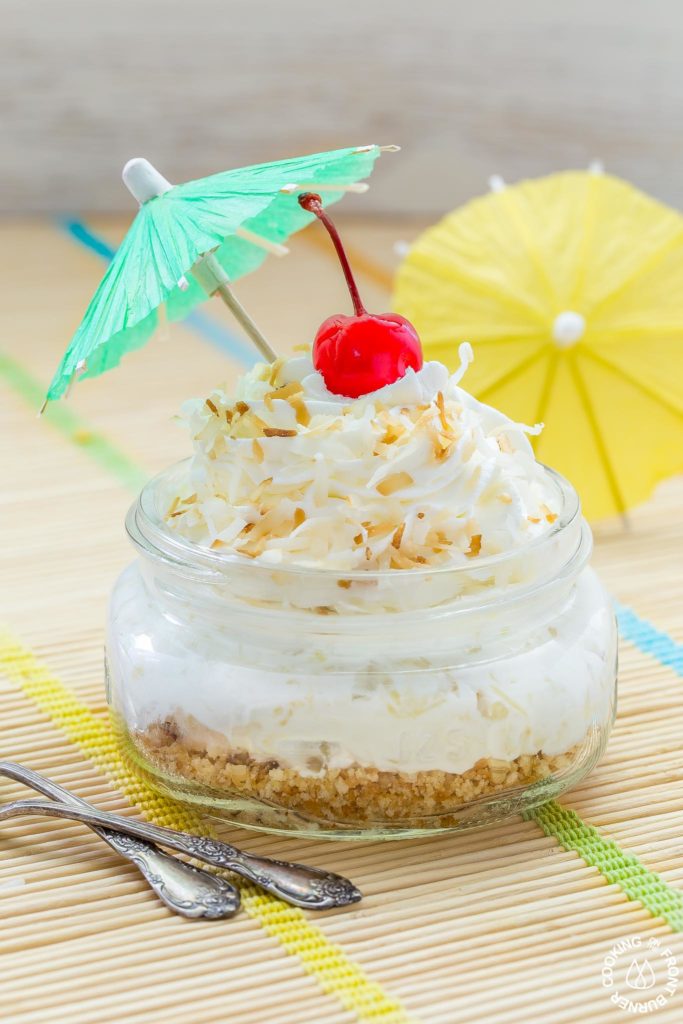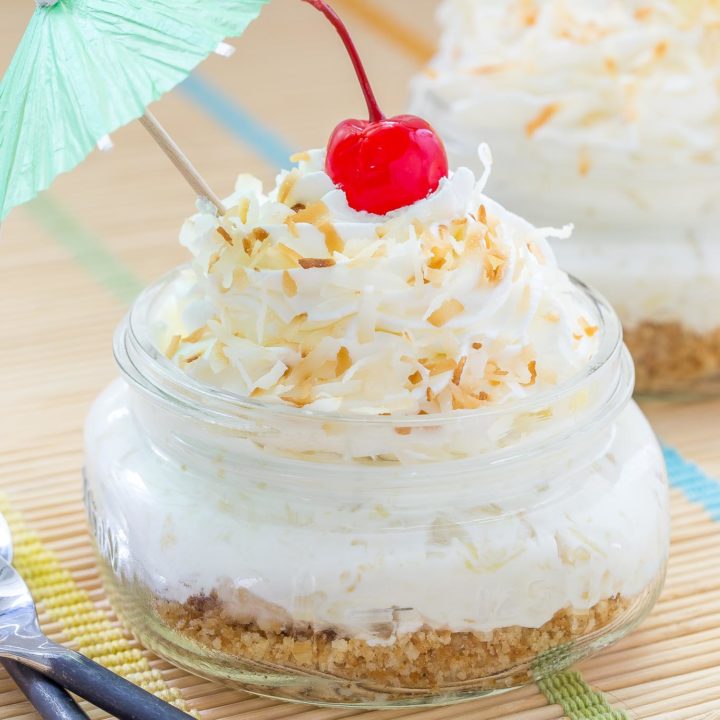 No Bake Pina Colada Jar Pies
Yield: 4

Prep Time: 35 minutes

Additional Time: 1 hour

Total Time: 1 hour 35 minutes

These easy no bake Pina Colada Pie Jars will have you feeling like you are on vacation at a tropical beach.  They are so creamy, taste great and can be enjoyed by all!
Ingredients
20 vanilla wafers
2 tablespoons melted butter
8 ounces cream cheese, softened
1/4 cup powdered sugar
1 teaspoon rum extract (or dark rum alcohol)
1 20 oz. crushed pineapple, well drained
1/2 cup sweet coconut
8 ounces Cool Whip, divided
1/2 cup coconut, toasted
4 maraschino cherries
Instructions
In a food processor, grind the wafers until fine crumbs and add the melted butter and mix well
Divide the mixture into the bottom of 4 small mason jars and place in freezer to set
In a large bowl beat the cream cheese until light and fluffy then add in extract and powdered sugar
Stir in crushed pineapple and sweet coconut and mix well
Fold in 4 ounces Cool Whip
Divide mixture between the mason jars and top with remaining Cool Whip
Sprinkled with toasted coconut and a cherry
These can be eaten right away but will taste better if left to sit in refrigerator at least an hour
Notes
To make toasted coconut, place in a non-stick pan over medium-low heat. Stir occasionally until coconut turns light brown
Nutrition Information:
Yield: 4 Serving Size: 1
Amount Per Serving: Calories: 760Total Fat: 49gSaturated Fat: 34gTrans Fat: 0gUnsaturated Fat: 11gCholesterol: 73mgSodium: 376mgCarbohydrates: 72gFiber: 4gSugar: 58gProtein: 6g

Nutritional information provided is computer-generated and only an estimate. You may want to do your own research with the ingredients listed if you have concerns about health or specific diets.


Today I'm also featuring some other no bake recipes that you will find at the bottom of the post.  These should give you a great start to some delicious summer desserts!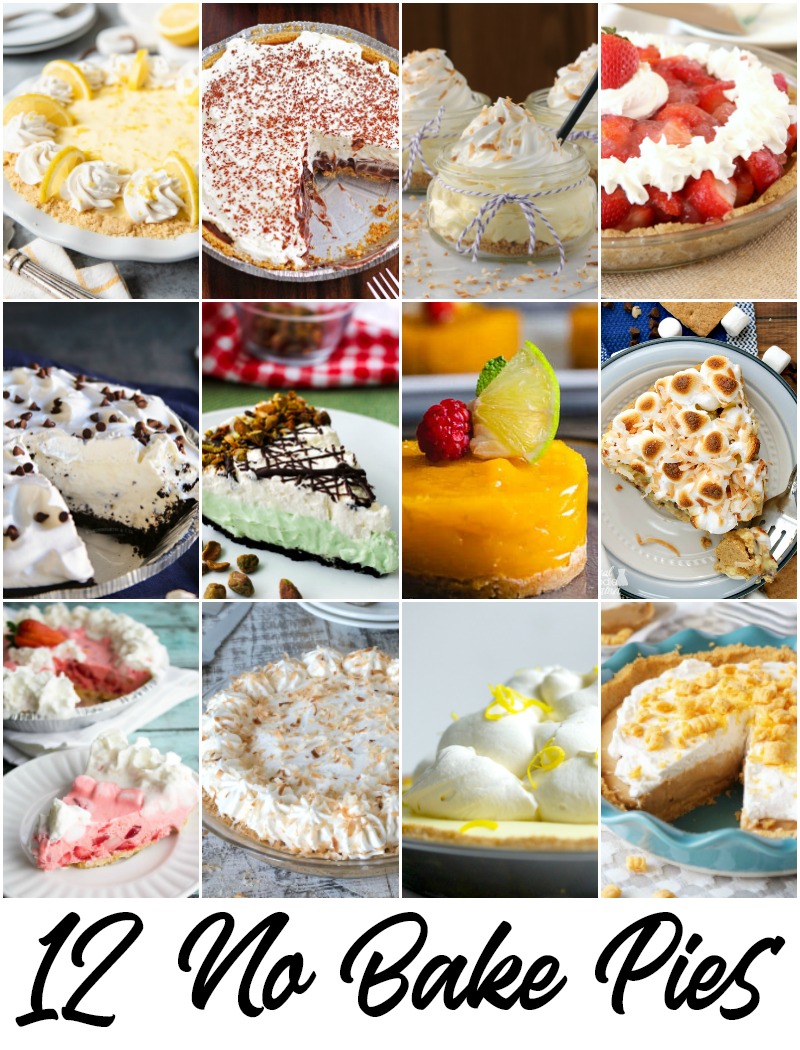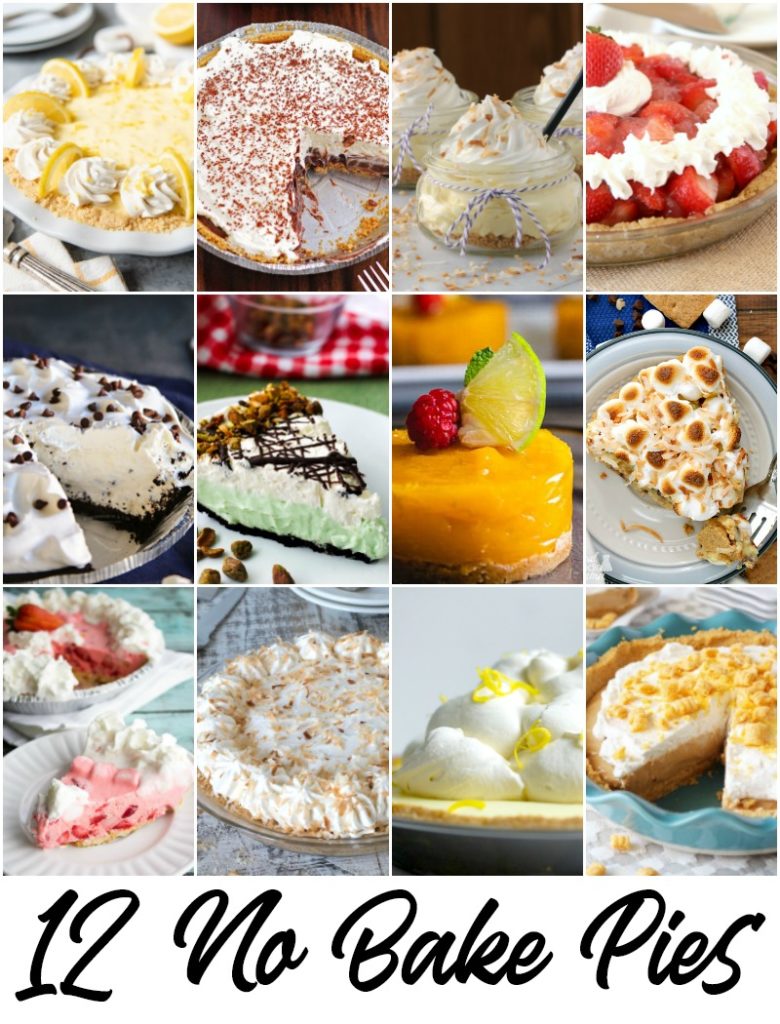 Cap'n Crunch No Bake Peanut Butter Pie
No Bake Sour Cream Lemon Pie
Coconut Cream Pie
Pistachio Pudding Pie
Easy No Bake Strawberry Pie
No Bake Mango Pie Recipe
S'mores Coconut Cream Pie
No Bake Pina Colada Pie
No Bake S'mores Pie
No Bake Oreo Cannoli Cream Pie
Strawberry Fluff Pie
No Bake Lemon Icebox Pie