Trick or treat!  Today I'm sharing these Halloween Candy Bites; not only are they super easy to make but they are also really tasty with chocolate, dates, pepitas and almonds.  The perfect snack for your little goblins that they can even help with.  While I made these myself, I could picture my granddaughter helping decorating this treats.  I can also see her dipping her finger in the chocolate mixture and smiling.  Having fun in the kitchen is where it is at with your little "sous chefs."
Speaking of Halloween, last year Emily was Princess Sophia.  She looked so pretty in the dress and still wears it to play dress up in.  She even had her 3rd birthday party with that theme.  When we are with her she'll say in her cute voice "can I watch just a little TV?" And if the answer is yes, she requests Princess Sophia.  I have to admit I never heard of her until Emily introduced us to the show  and it's a good show with some sort of"good message" at the end.
So the other day I was talking to my daughter and asked what Emily wanted to be this year.  She keeps saying she wants to be a beauty princess.  We aren't sure exactly what she means by that - is she thinking Sleeping Beauty?  I guess we'll find out when her mom takes her to the store to pick something out.   I'm sure Alex will be dressed up too but since he is only 10 months, I'm guessing he's not going to care what he is in 🙂
Next time I make these treats and if I plan on sharing with Emily, I'll need to make sure the chocolate isn't processed in a plant that also processing peanuts.  Ugh - yes I forgot to read the label and she has a peanut allergy (but can have other tree nuts).  While we have to be careful, I know we can find chocolate (i.e. Dove) that are made in a peanut-free facility.   Also, if you haven't heard of the Teal Pumpkin Project - it's a way for parents to know what houses offer an alternative to those who have allergies and other conditions for trick or treating.
NOTE:  This recipe could also be poured on small baking sheet lined with parchment paper and then broken up when it is hardened.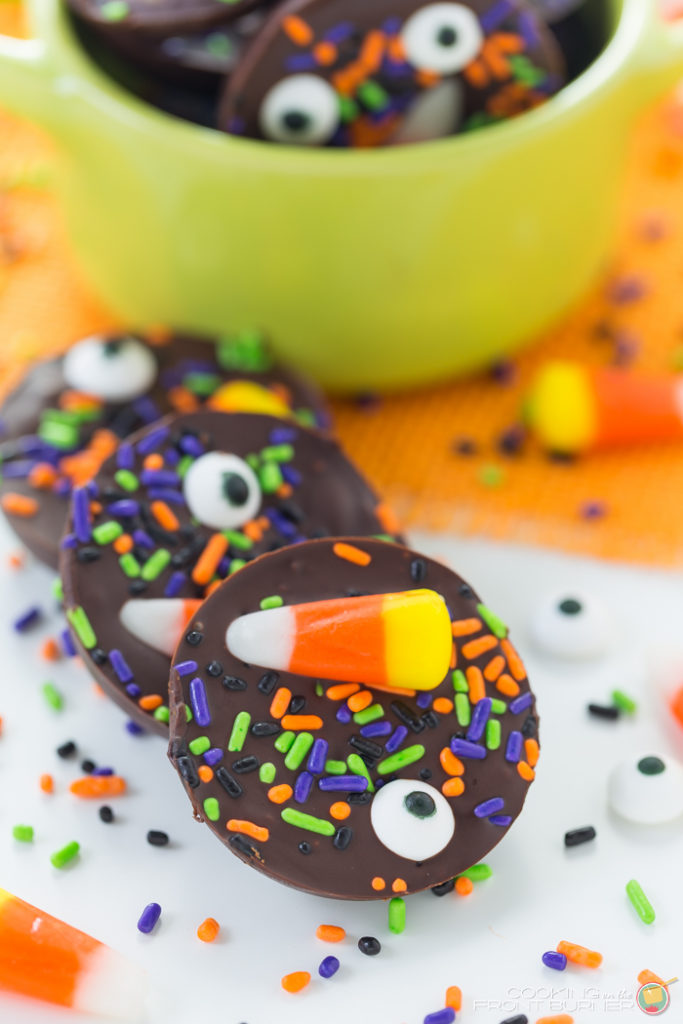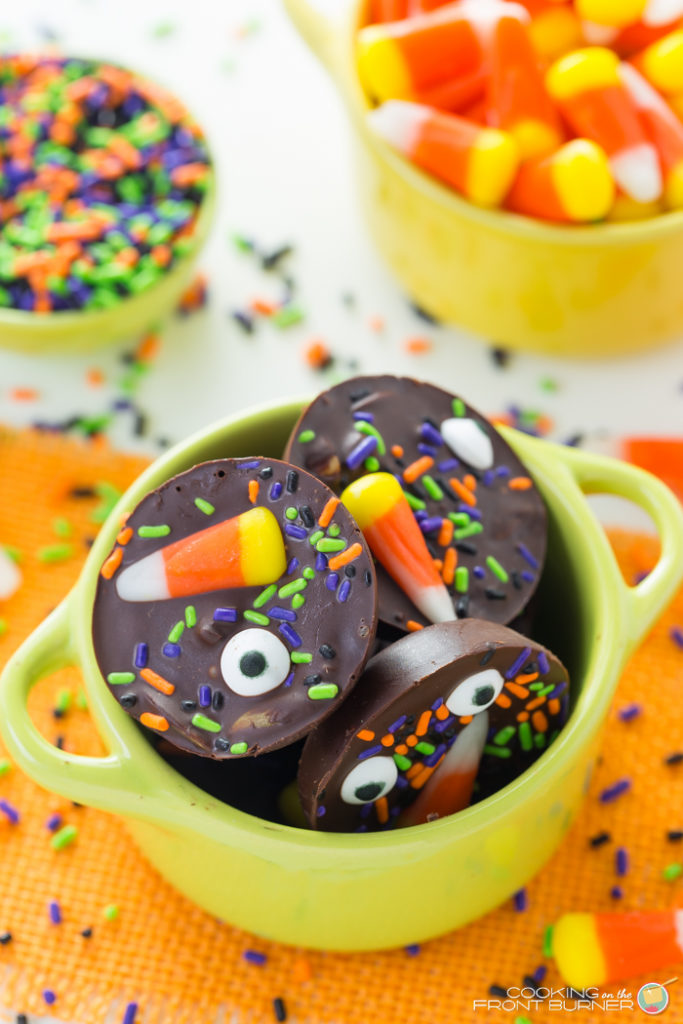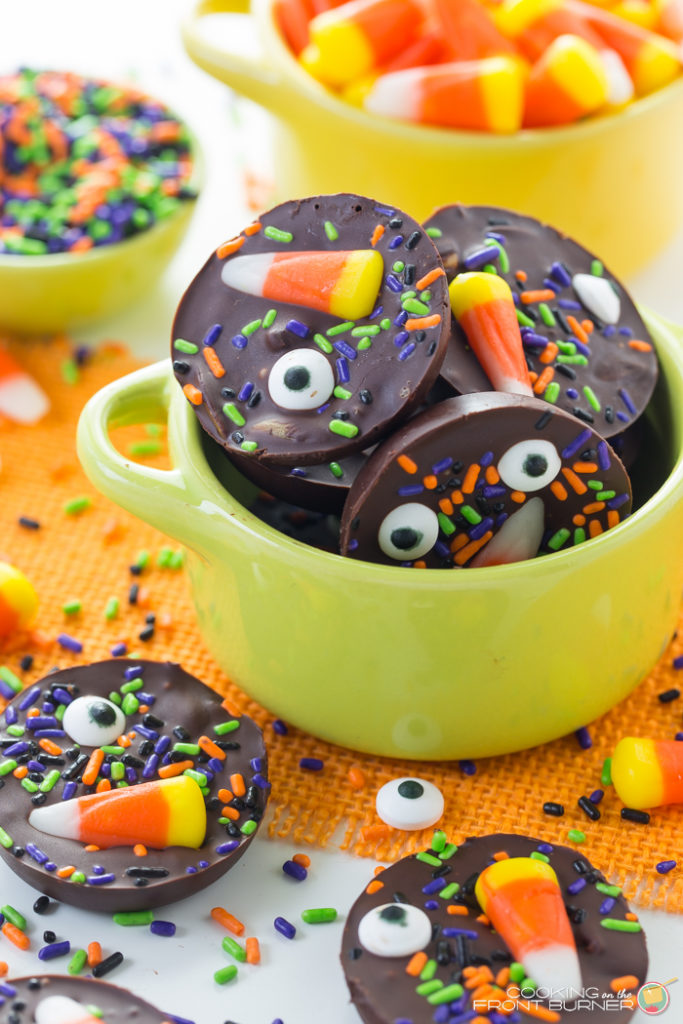 Get the Recipe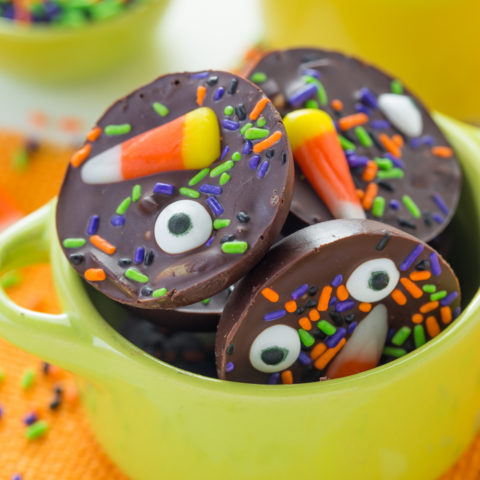 Halloween Candy Bites
An easy halloween treat for all ages!
Ingredients
10 oz bag bittersweet chocolate (I used Ghirardelli)
⅓ cup pepitas (or sunflower seeds)
⅓ cup chopped almonds
⅓ cup chopped dates (or raisins)
Colored sprinkles
Candy eyes
Candy corn
Instructions
In a microwave safe bowl place chocolate
Microwave chocolate and stir every 20 seconds just until melted (mine took under 2 minutes)
Add pepitas, almonds and chopped dates
Scoop mixture into small tin pan (I used a macaroon pan from Wilton) I also did not do any prep to pan as it was non-stick
Sprinkle with colored sprinkles and press eyes and candy corn in as desired
Place in freezer for about 15 minutes; remove and keep stored covered in refrigerator
Note: "good" chocolate is best stored in refrigerator or chocolate will become soft and a bit melty if stored on counter.
Nutrition Information:
Yield:

10
Serving Size:

2
Amount Per Serving:
Calories:

283
Total Fat:

19g
Saturated Fat:

10g
Trans Fat:

0g
Unsaturated Fat:

8g
Cholesterol:

1mg
Sodium:

29mg
Carbohydrates:

23g
Fiber:

6g
Sugar:

13g
Protein:

6g
Nutritional information provided is computer-generated and only an estimate. You may want to do your own research with the ingredients listed if you have concerns about health or specific diets.
Enjoy this sweet and salty bark recipe too.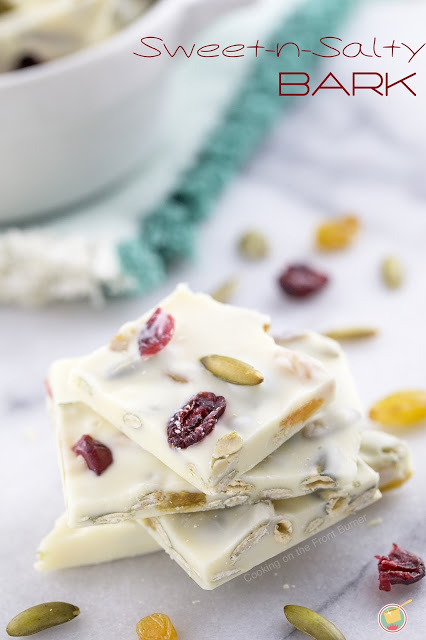 About the Author
Recent Posts
Recipe Index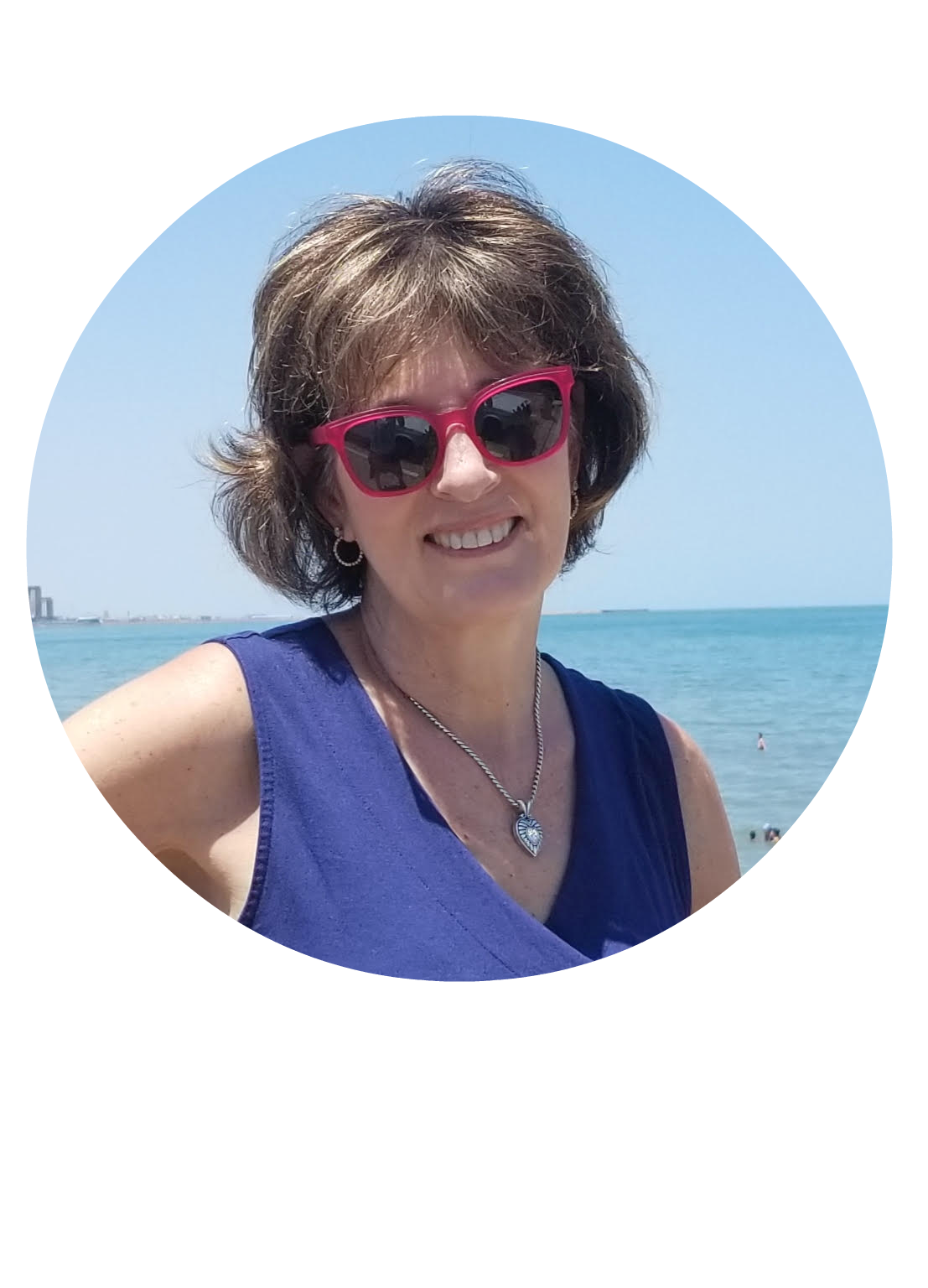 We are all about sharing our love of good food so on the blog you will find easy recipes to enjoy with your family and friends.  We hope to inspire you to host a gathering to create special memories.  Most recipes are step by step so you can feel confident in the kitchen.  Take a look around to find everything from breakfast to dinner and everything in-between!