Loaded Baked Potato Quiche is easy to make and has great flavor! Enjoy this hearty dish for breakfast, lunch, dinner, holidays or any time. If you are a loaded potato fan, you will definitely want to make this soon.
This quiche is chocked full of bacon, potatoes, and cheese for the ultimate comfort dish that is perfect to serve for any gathering too.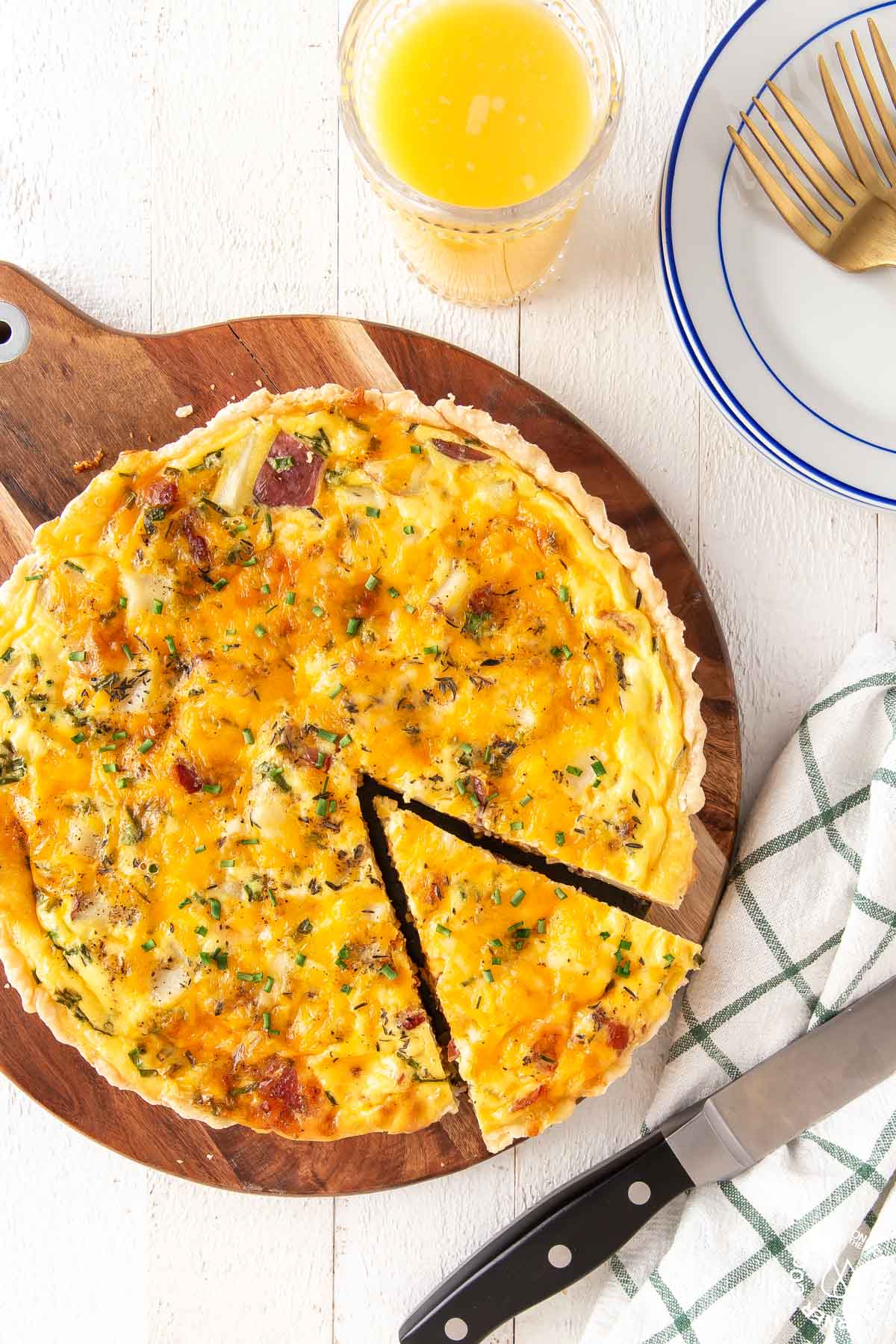 Loaded Baked Potato Quiche
One of my favorite appetizers is potato skins with all the fixings. There is just something about it that makes my taste buds come alive – you can never go wrong with potatoes topped with good stuff!
So, you might ask, why not use these ingredients in a quiche? Well, you definitely can and should.
This easy to make quiche can even be made ahead and reheated the next day"
While you might think quiche is only a breakfast or brunch food, you could definitely serve it any time. We enjoyed this for dinner along with a side salad.
Other quiche recipes you might enjoy are Asparagus Leek, Mini Ham and Cheese and Crustless Ham and Broccoli.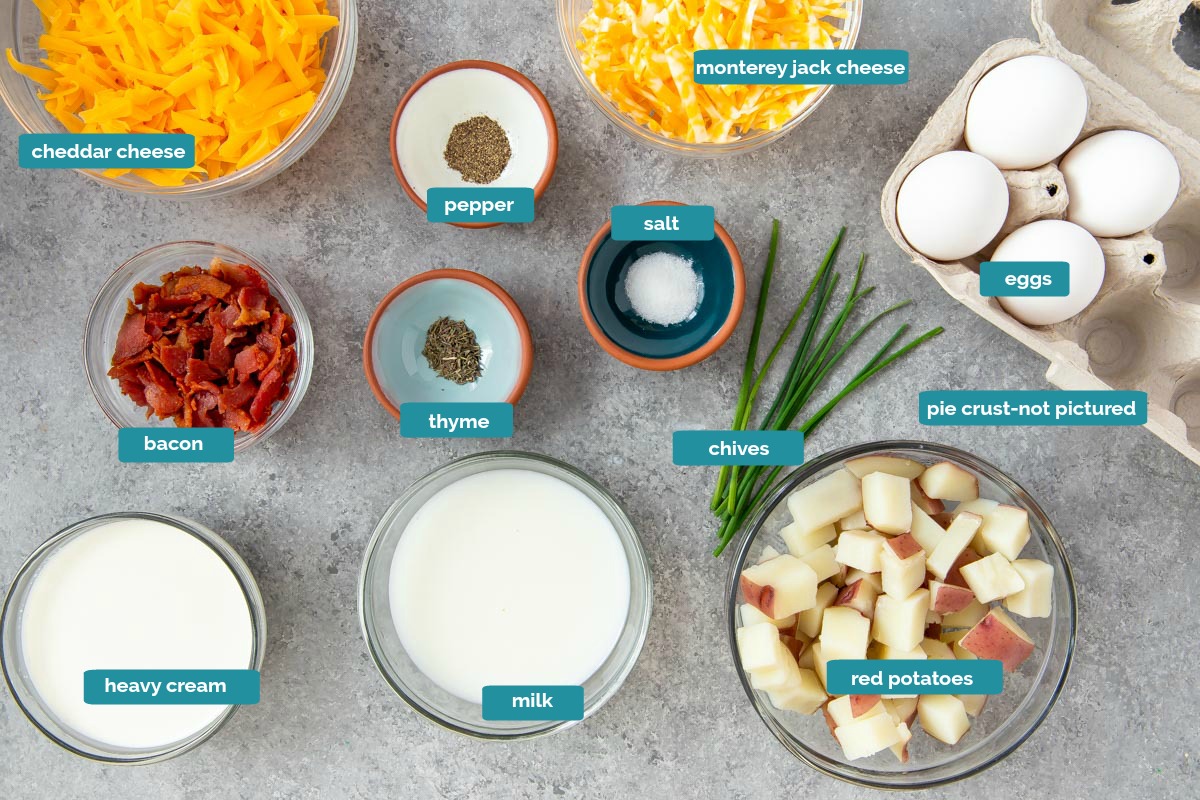 What ingredients are needed
cheddar cheese
colby jack cheese
eggs
pie crust
bacon, cooked and crumbled
red potatoes, diced and cooked
heavy cream
milk
salt
pepper
thyme
chives
What steps are needed to make this recipe
In a medium bowl combine the eggs along with the heavy cream and milk and whisk until well combined.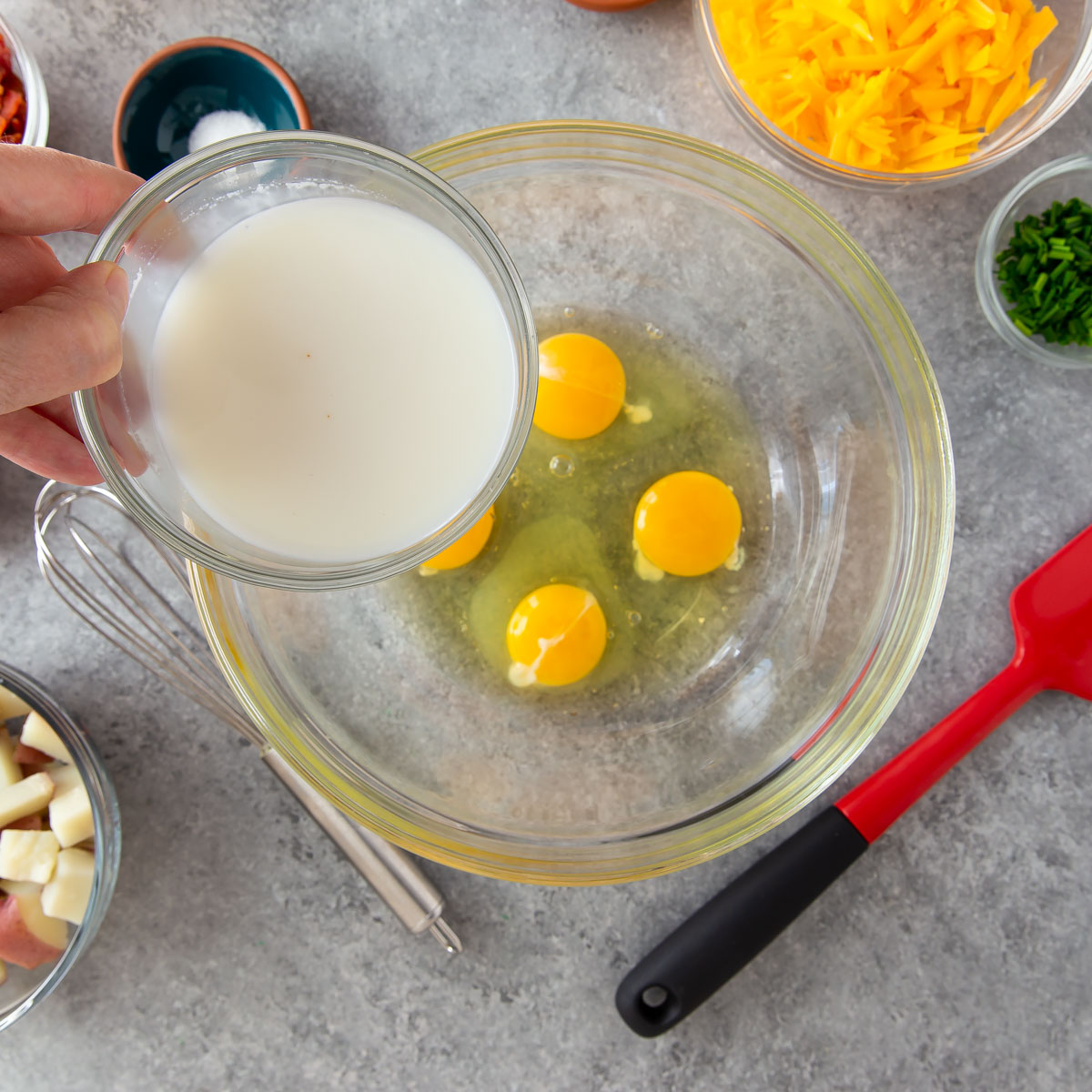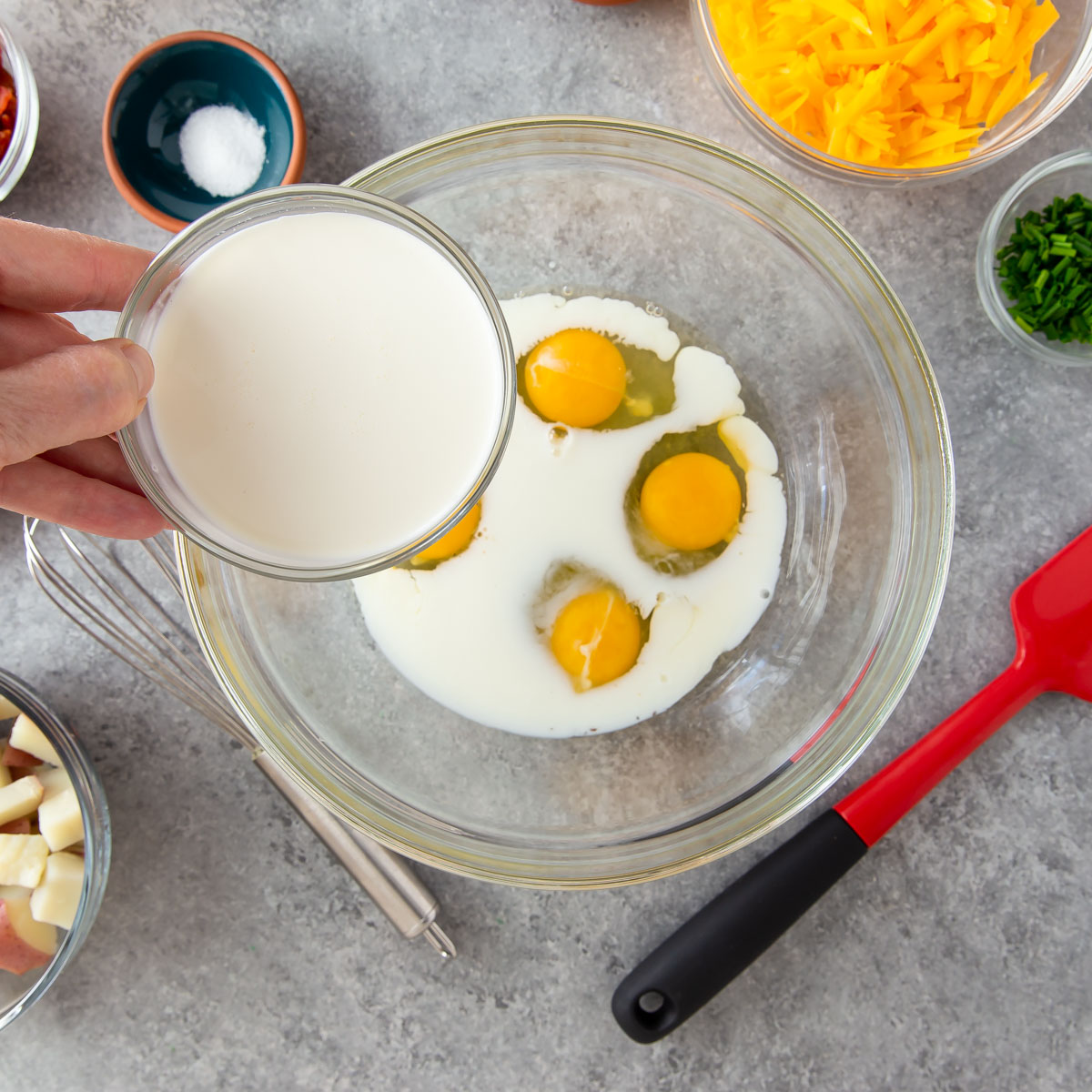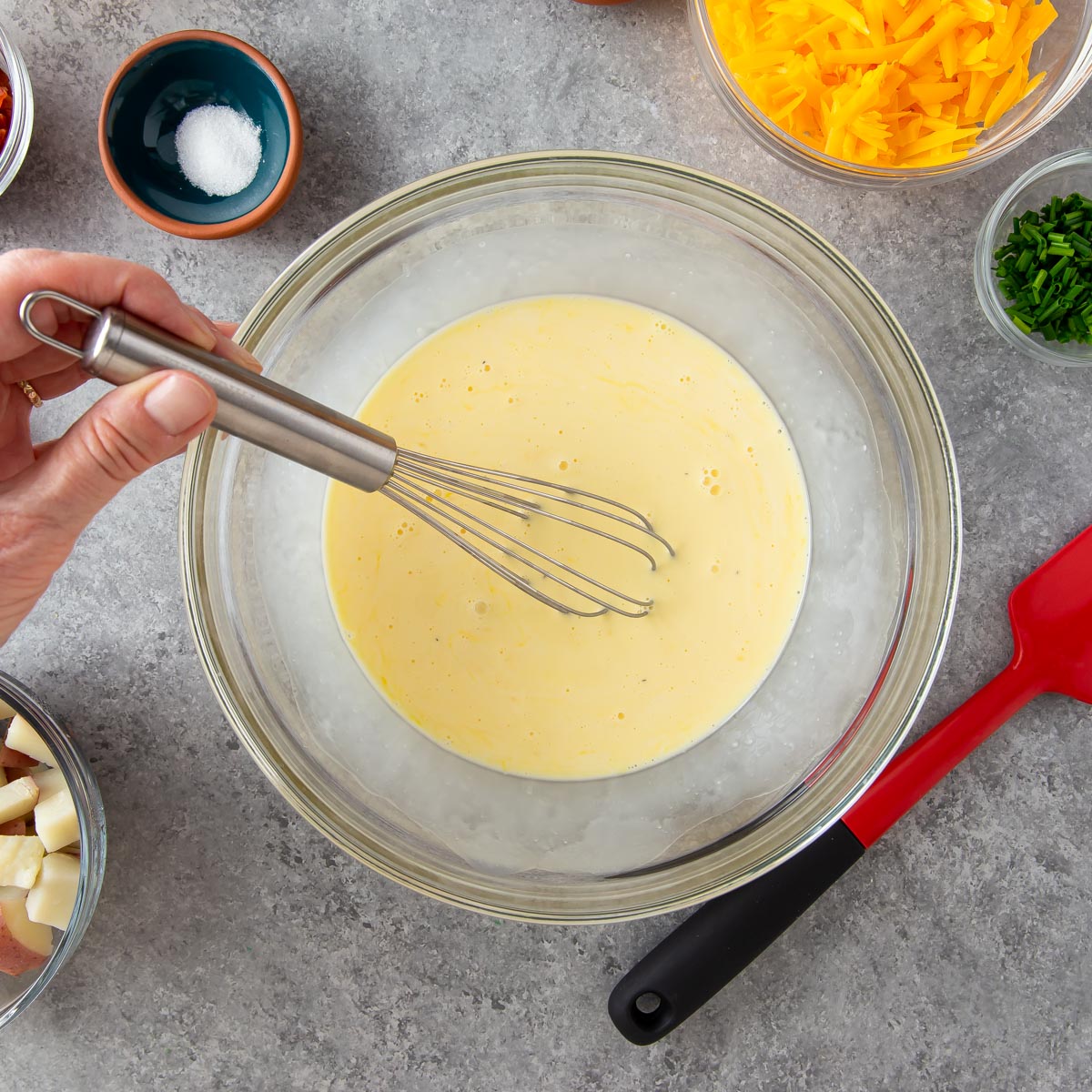 Stir in crumbled bacon, cooked potatoes and mix well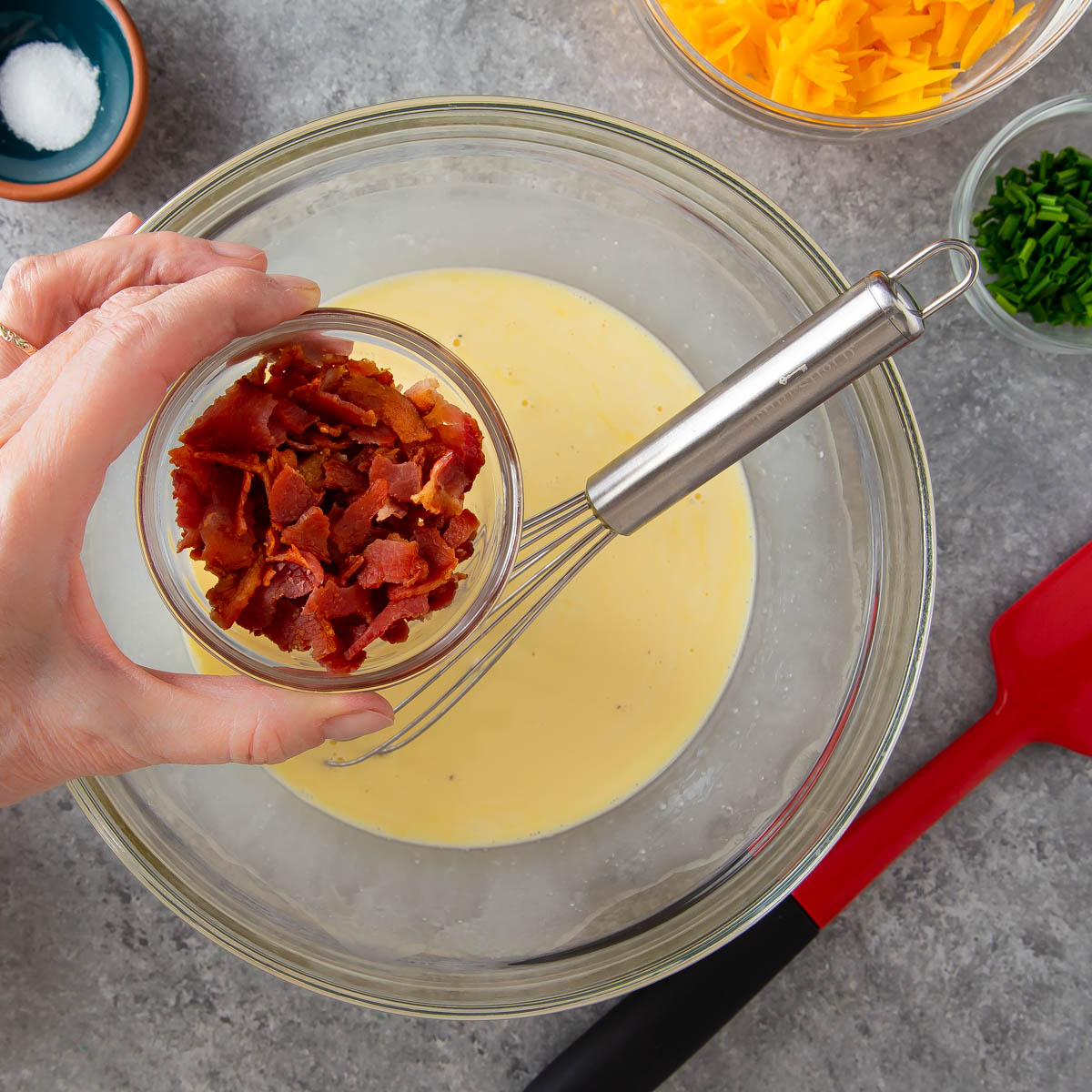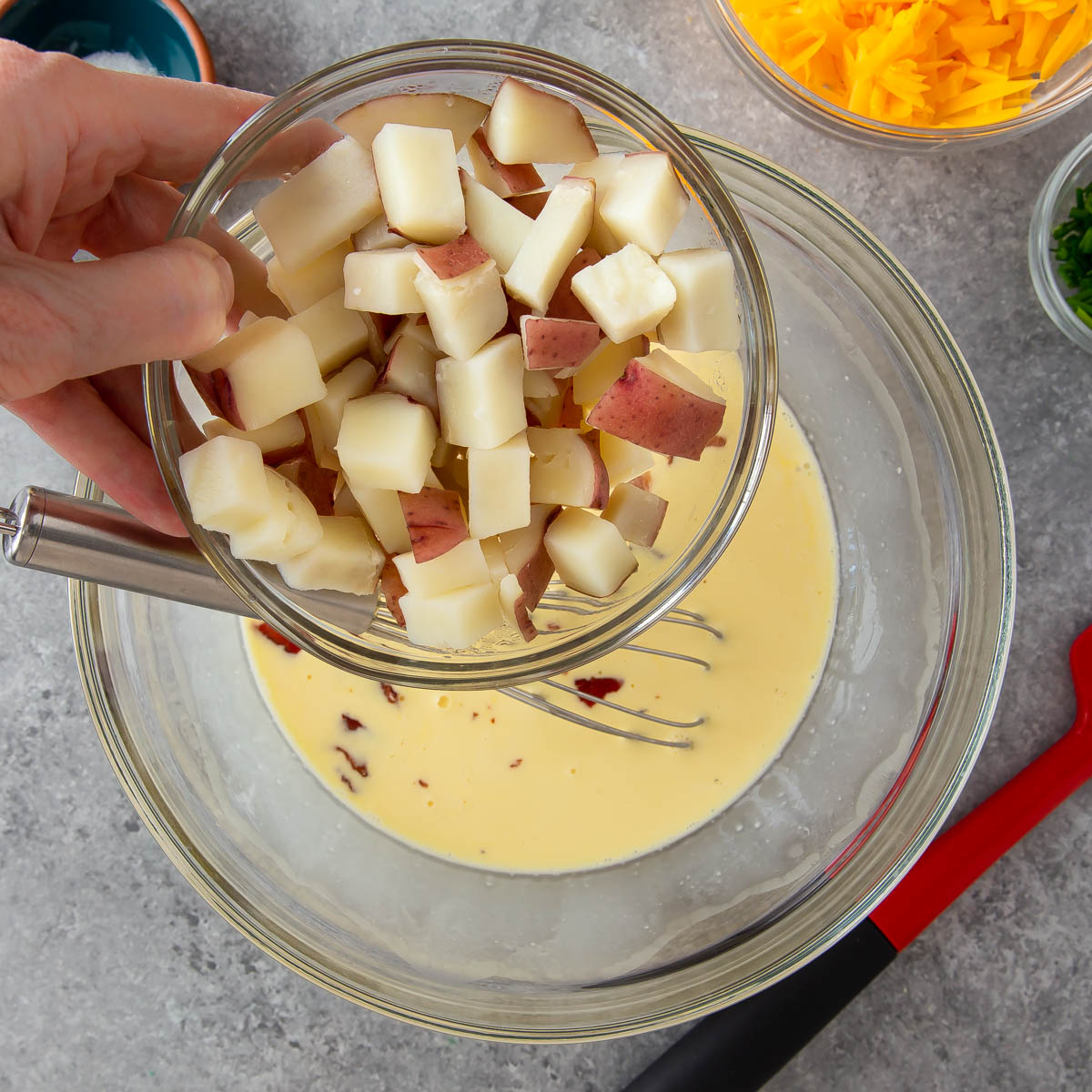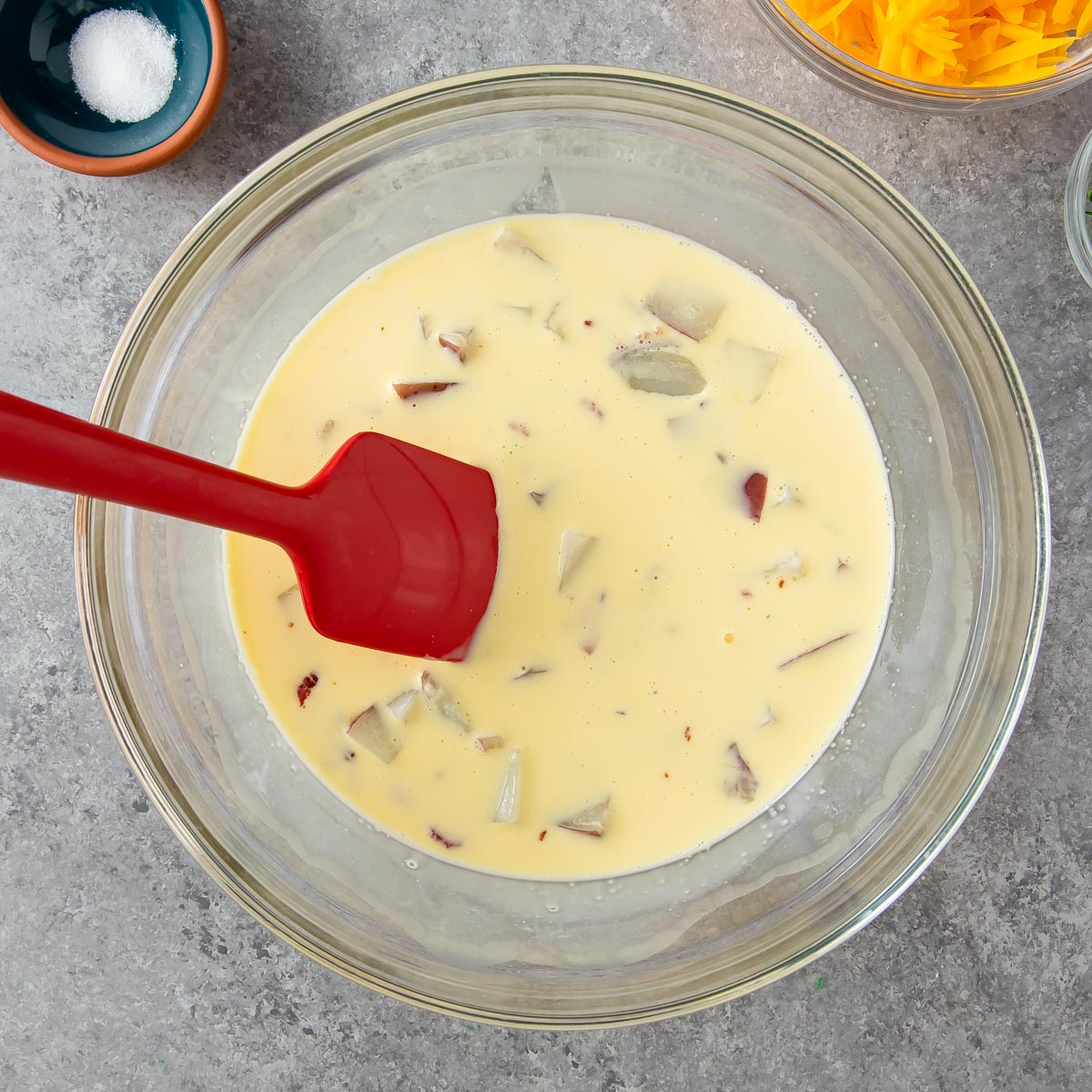 Add in both cheeses along with chives and mix well (reserve about 1/4 cup cheese for topping).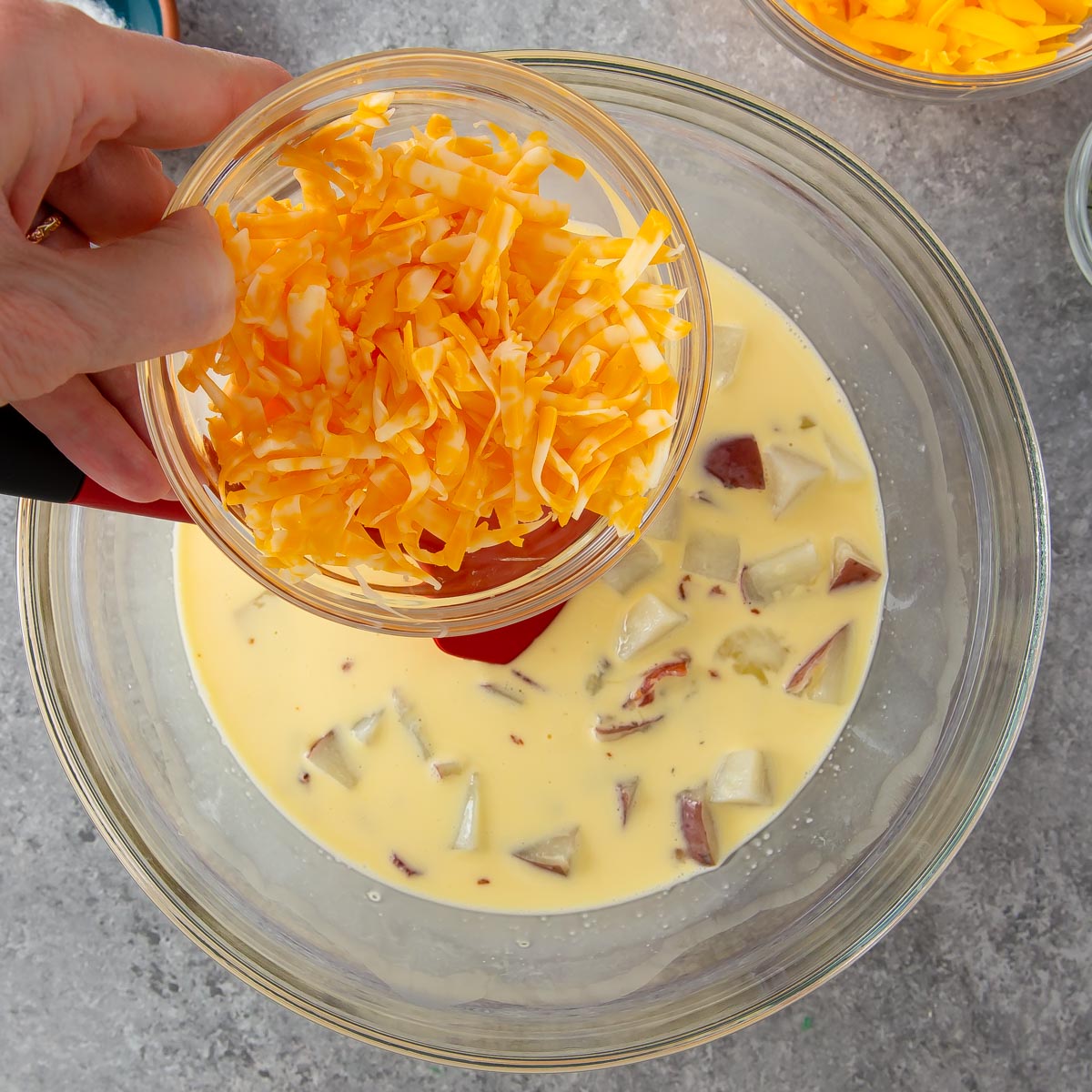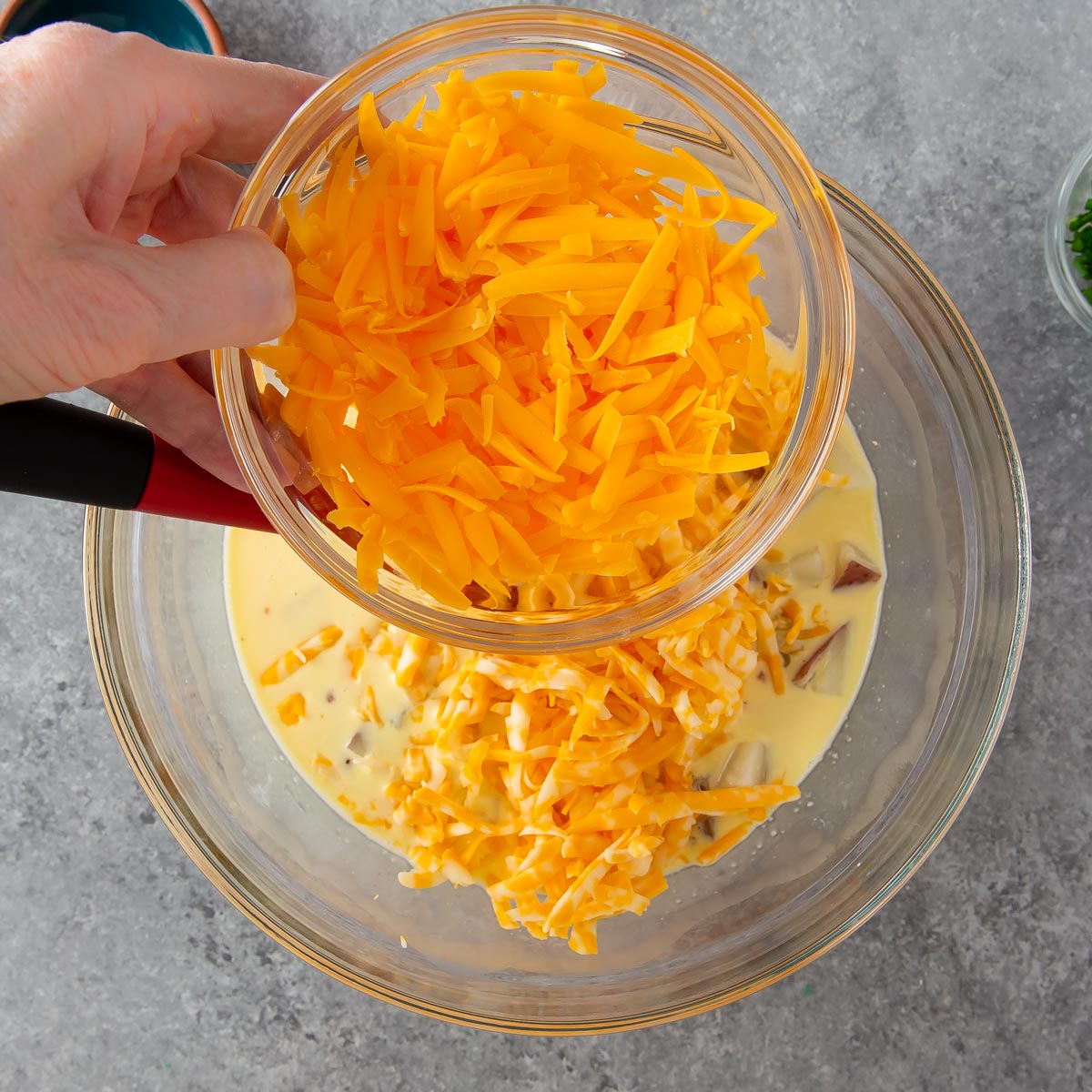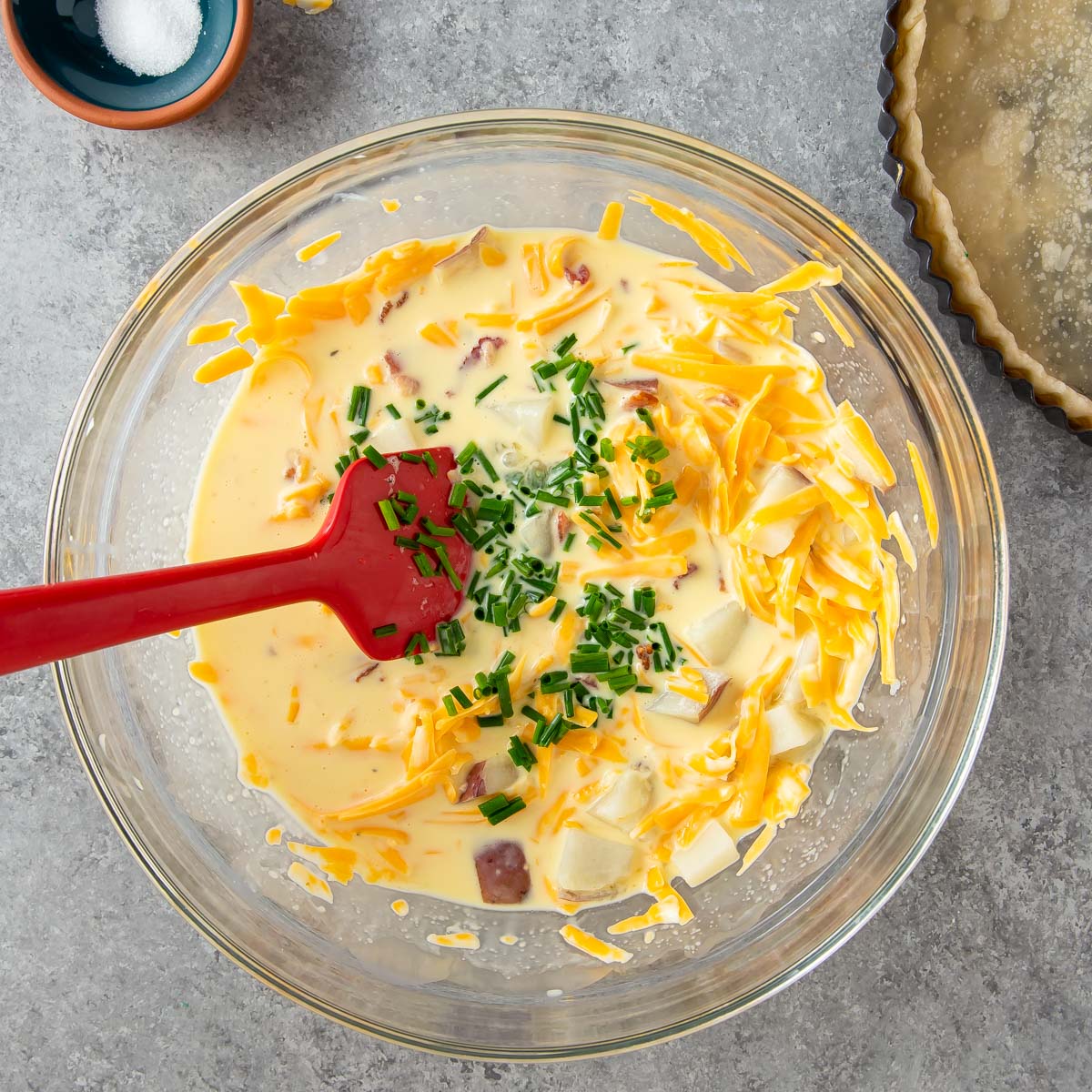 Pour mixture into crust that has been partially baked in the oven. Top with salt, pepper and dried thyme along with remainder of cheese. Bake for about 45 minutes until the center is set.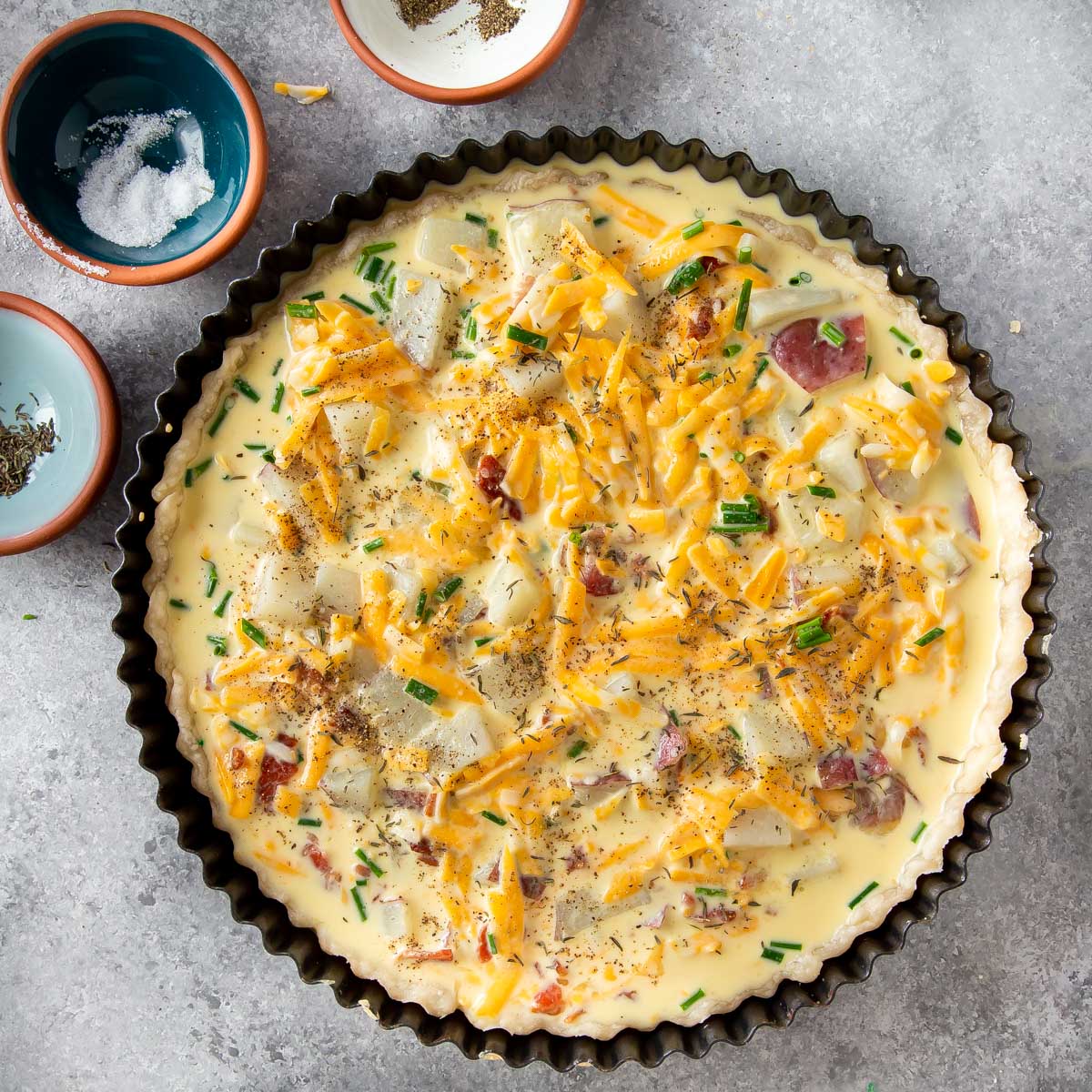 Enjoy!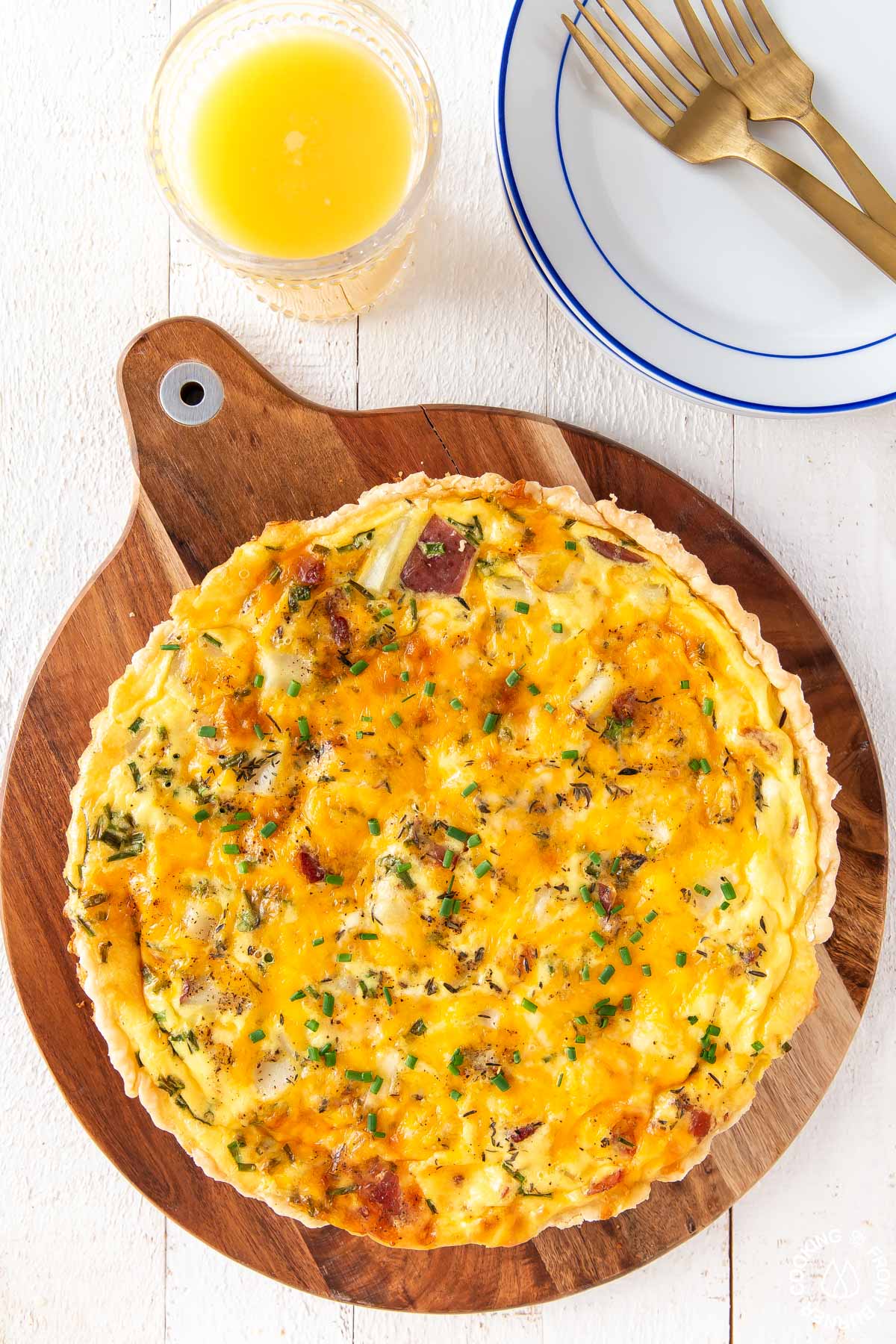 Can quiche be made ahead
Yes, quiche can be made ahead and either refrigerated to serve the next day or even frozen.
Be sure to let the quiche cool to room temperature then if you want to make the next day, place in an airtight container and store in refrigerator. Reheat at 350 degrees for about 10-15 minutes.
If you would like to freeze, wrap cooled quiche in plastic wrap then wrap well in foil. To reheat, uncover, place on a cookie sheet and bake at 350 degrees for about 25-35 minutes.
Can you substitute other cheeses?
Yes, you can use whatever cheese you like – swiss would be a good choice.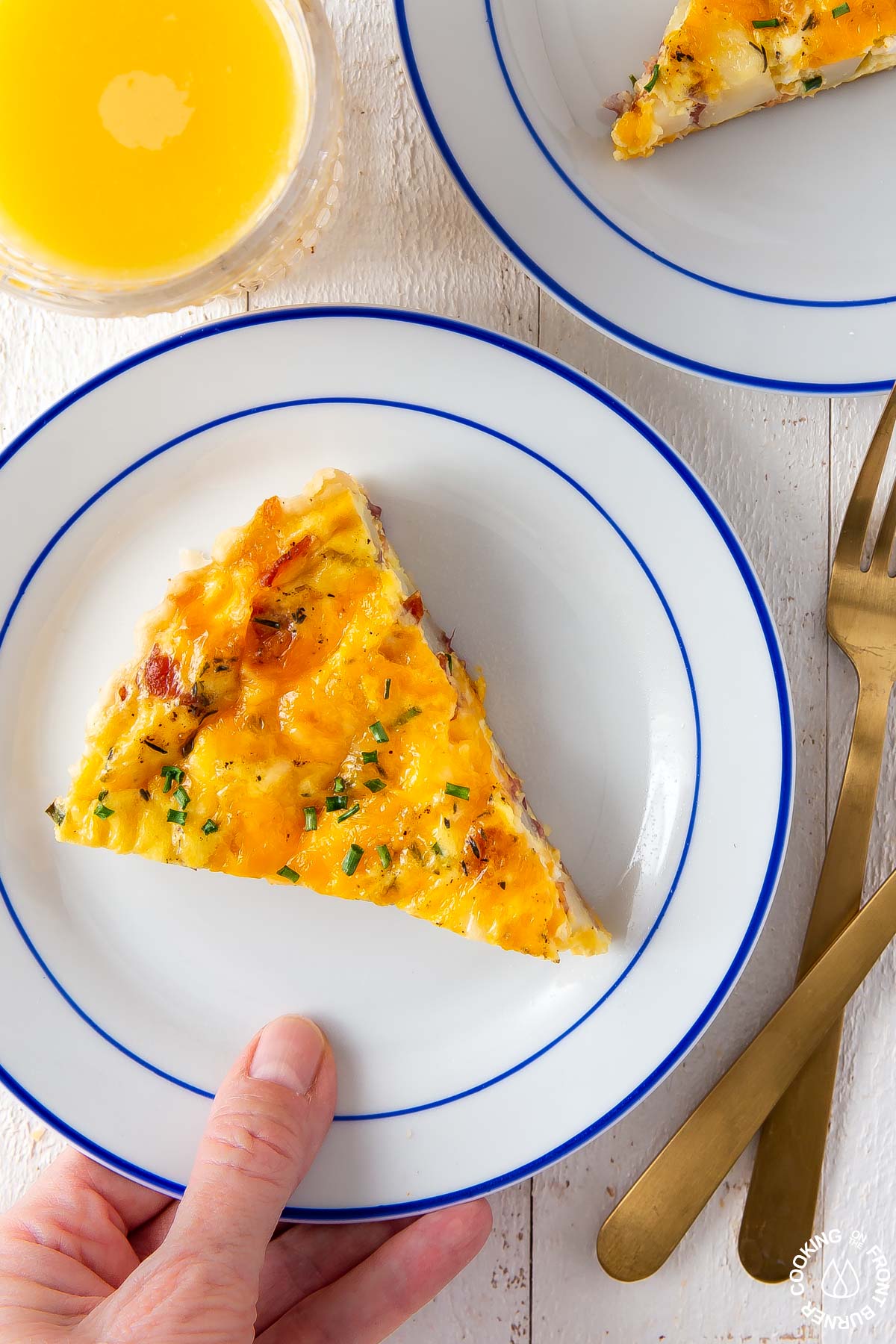 Tips for making this recipe
Use a pre-made pie crust to keep it simple
This can also be made in a pie plate if you don't have a quiche pan
Rosemary could be substituted for the thyme
Place quiche pan on a cookie sheet when baking in case some filling overflows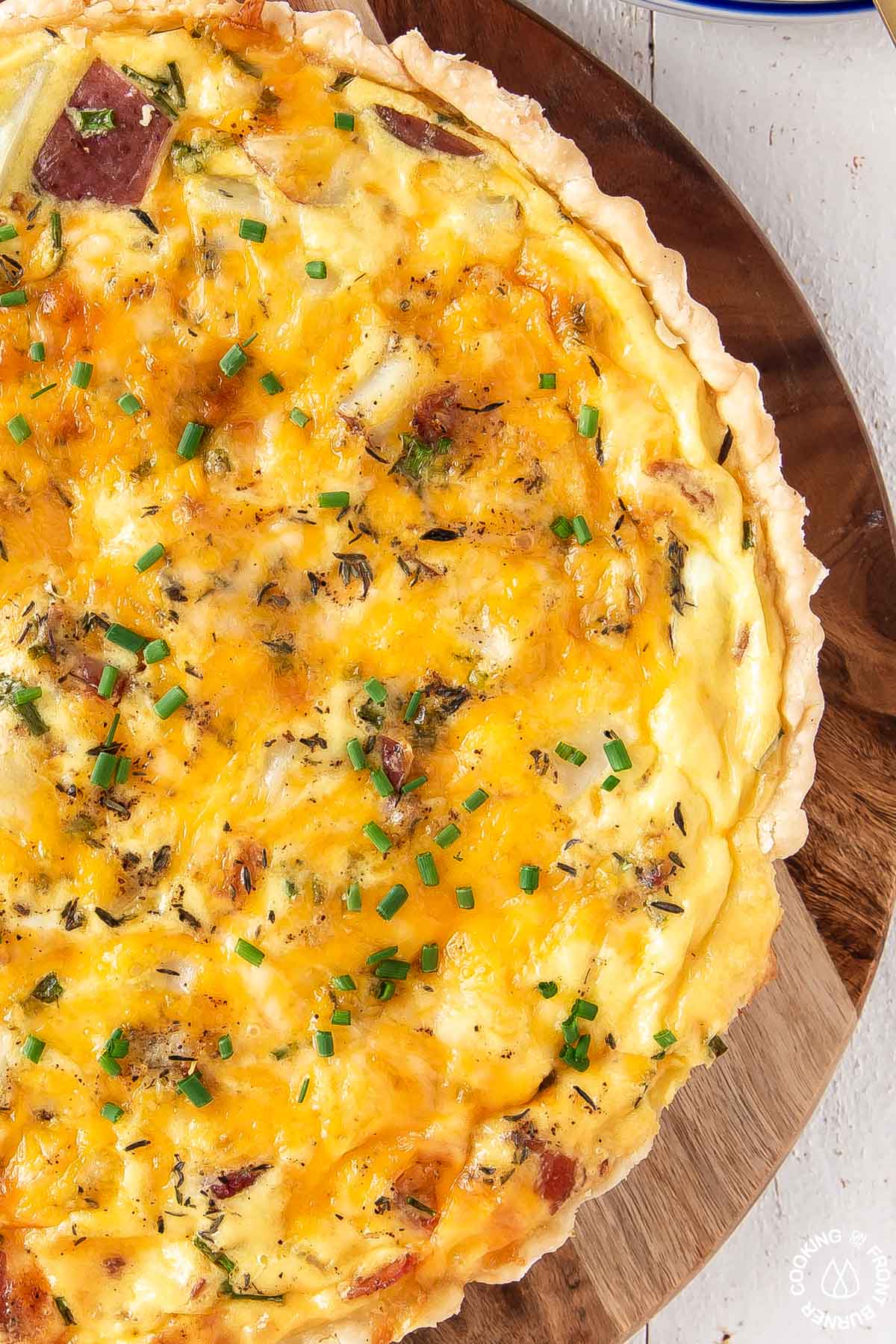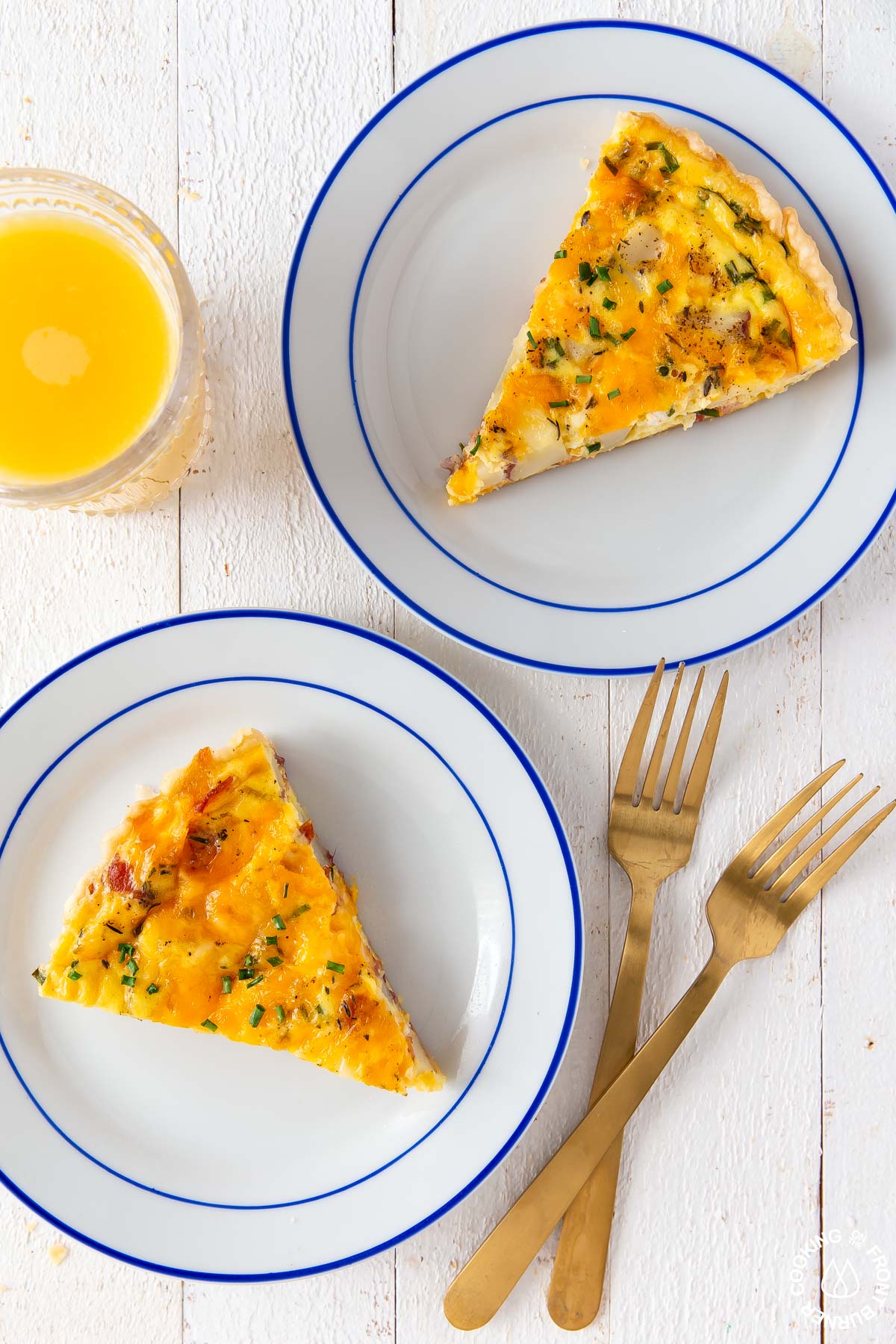 Be sure to pin this recipe to make later!!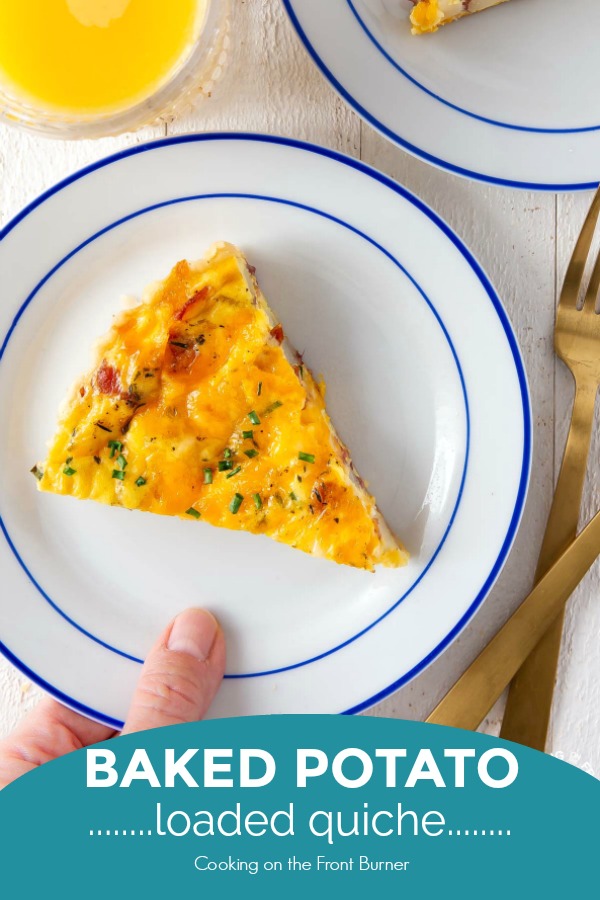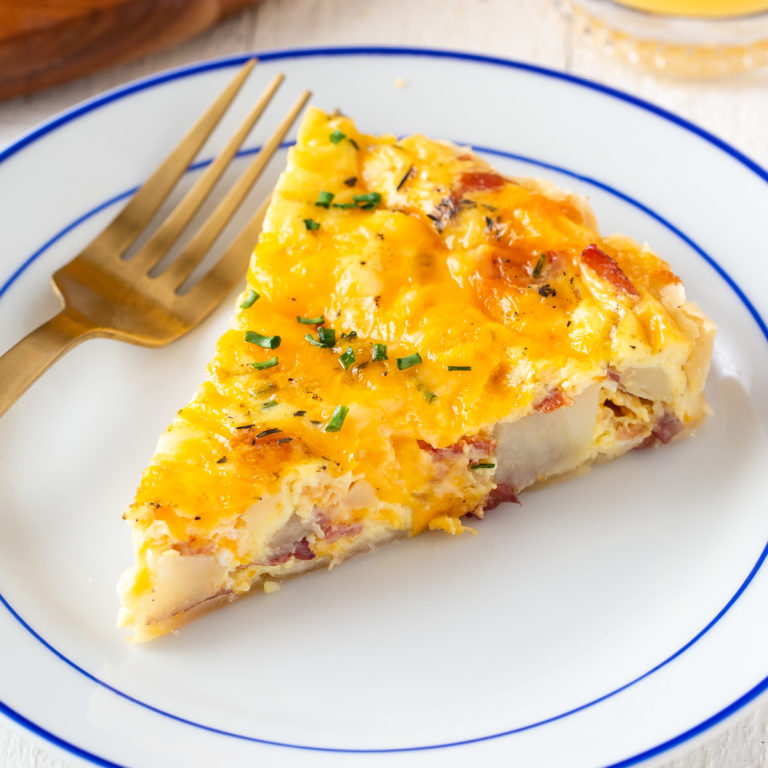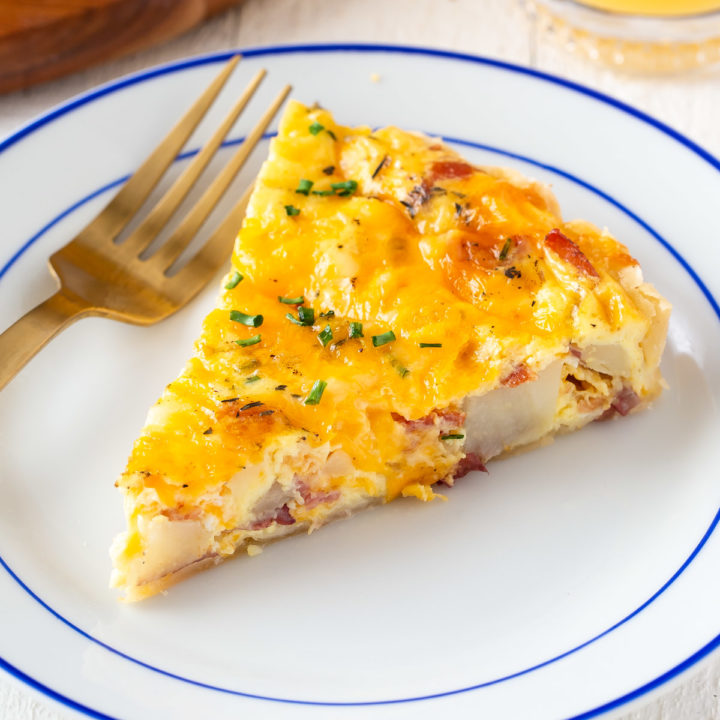 Loaded Baked Potato Quiche
Yield: 8

Prep Time: 15 minutes

Cook Time: 45 minutes

Additional Time: 20 minutes

Total Time: 1 hour 20 minutes

A tasty quiche loaded with bacon, potatoes and cheese! Great for any occasion for a brunch or breakfast.
Ingredients
10" prepared pie crust (roll to be about 11")
4 ozs. bacon, cooked and crumbled
8 oz. red potatoes, cut into 1/2" cubes
1 teaspoon dried thyme
3 tablespoons chives, minced
4 eggs
1/2 teaspoon salt
1/2 teaspoon black pepper
1/2 cup milk
1/2 cup heavy cream
1 cup cheddar cheese, grated
1 cup colby jack cheese, grated
Instructions
Preheat oven to 450°
Place pie crust in your quiche pan (9 1/2") , tuck extra crust down the sides and press along side wall
Place a piece of parchment paper that covers the crust and place pie weights on top
Bake for 8 minutes, remove and take off parchment paper and weights.
Reduce your oven to 350°
While your crust is baking, add potatoes to a medium saucepan and bring to boil; simmering for about 8-10 minutes until potatoes are soft; drain and set aside
Also, cook your bacon until crispy then crumble and set aside
In a medium bowl combine the eggs, milk and cream until mixed well using a whisk
Add the potatoes and bacon combining well
Mix in the cheese (keep about 1/4 cup out for topping); add in chives
Pour into quiche pan and smooth out, Sprinkle with salt, pepper and thyme leaves and additional cheese
Bake for about 45 minutes until center is set
Let cool for about 20 minutes before slicing
Nutrition Information:
Serving Size: 1
Amount Per Serving: Calories: 460

Nutritional information provided is computer-generated and only an estimate. You may want to do your own research with the ingredients listed if you have concerns about health or specific diets.

Other quiche recipes you might enjoy: