This post may contain affiliate links. For more information, please visit my disclosure page.
Be sure to get that first taste of spring with this Asparagus Leek Quiche.  It's easy to throw together with simple flavors that is perfect for brunch entertaining.  It's sure to become a family classic recipe.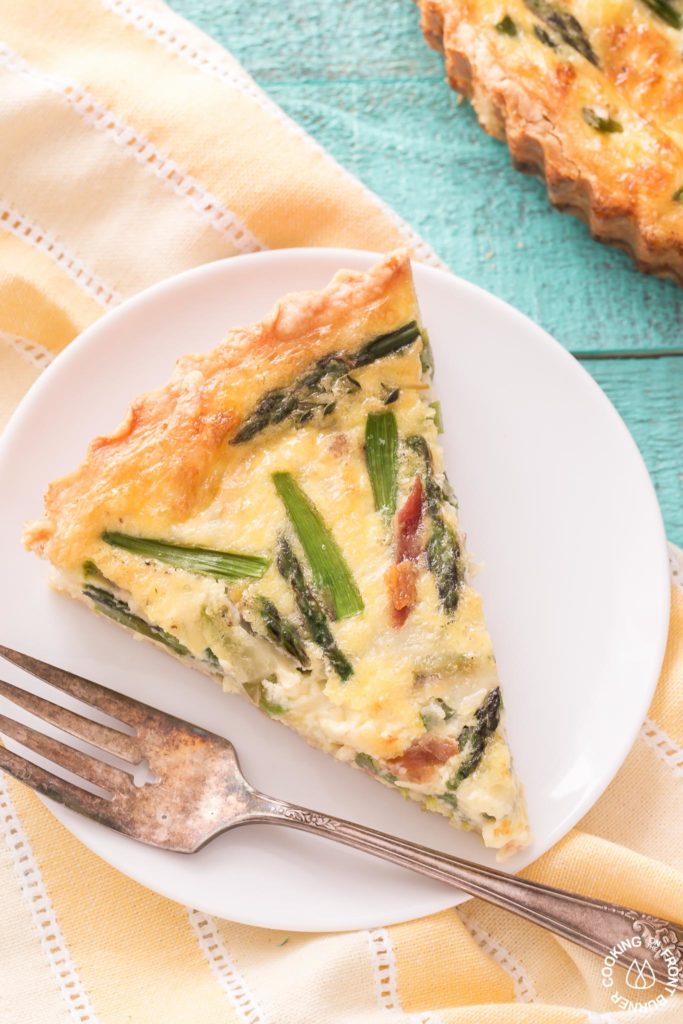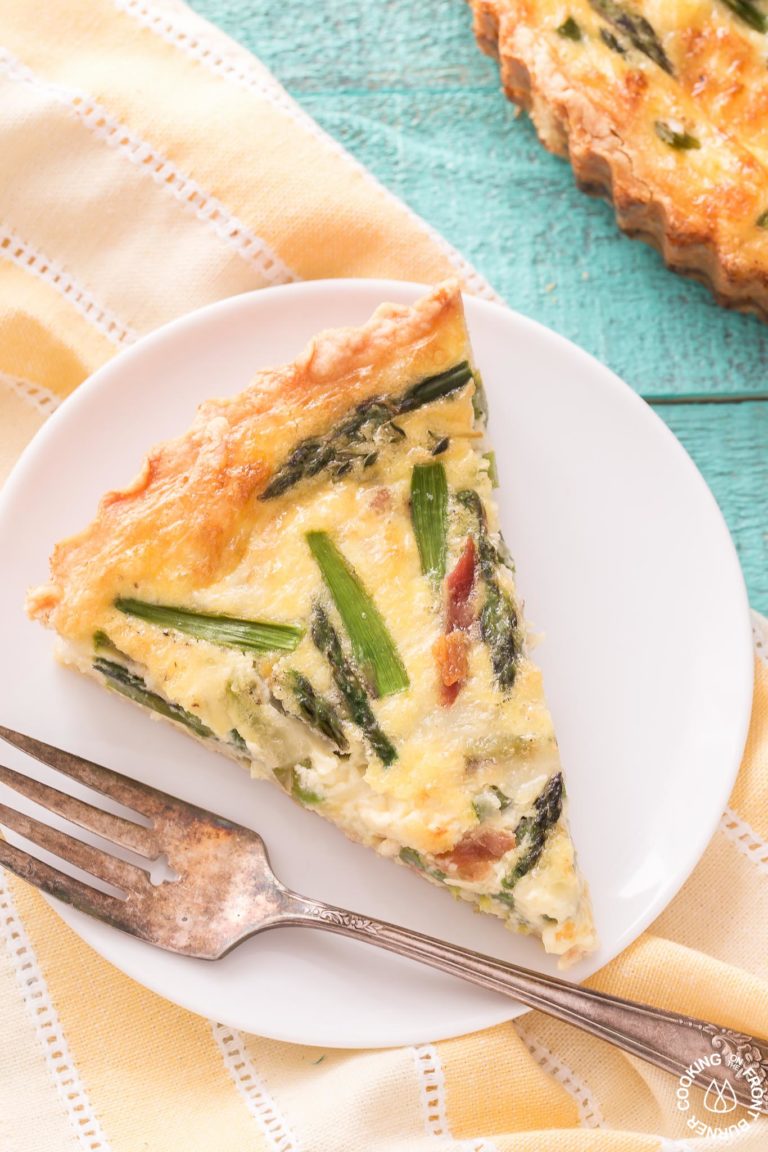 There still might be snow on the ground but it is definitely getting to be spring time.  The birds are arriving and the groceries stores are getting an abundance of seasonal veggies.  This asparagus and leek quiche is a perfect way to get a comforting breakfast and take advantage of what mother nature is providing this time of year.  It is so easy to make especially if you decide not to make your own pie crust.  I opted for the faster route so we could get this on the table pronto!
Ok, so the question on everyone's mind – Do real men eat quiche?  That was the first question out of the DIY Guy's mouth as I served him a piece.  While you can keep this vegetarian, I did add a few slices of crumbled bacon since I figured he would like that and he did.  I'm really not sure how that saying came about so if you know, be sure to leave me the answer because inquiring minds want to know.
Easter will be here before we know it.  If you have having guests over this quiche would be pretty tasty on your buffet table.  Other dishes you could serve are these Hot Cross Buns,  Carrot Cake Muffins and for dessert these No-Bake Lemon Mousse Cheesecake cups.  Oh boy, I am getting hungry just thinking about all these dishes!
I'm not quite sure what we are doing this year.  I'm thinking the family will be coming (minus our younger daughter who lives in Italy).  It would be fun to color easter eggs with the kiddos and then have a hunt.  Hopefully by April 1st all the snow will be gone and we can enjoy being outside!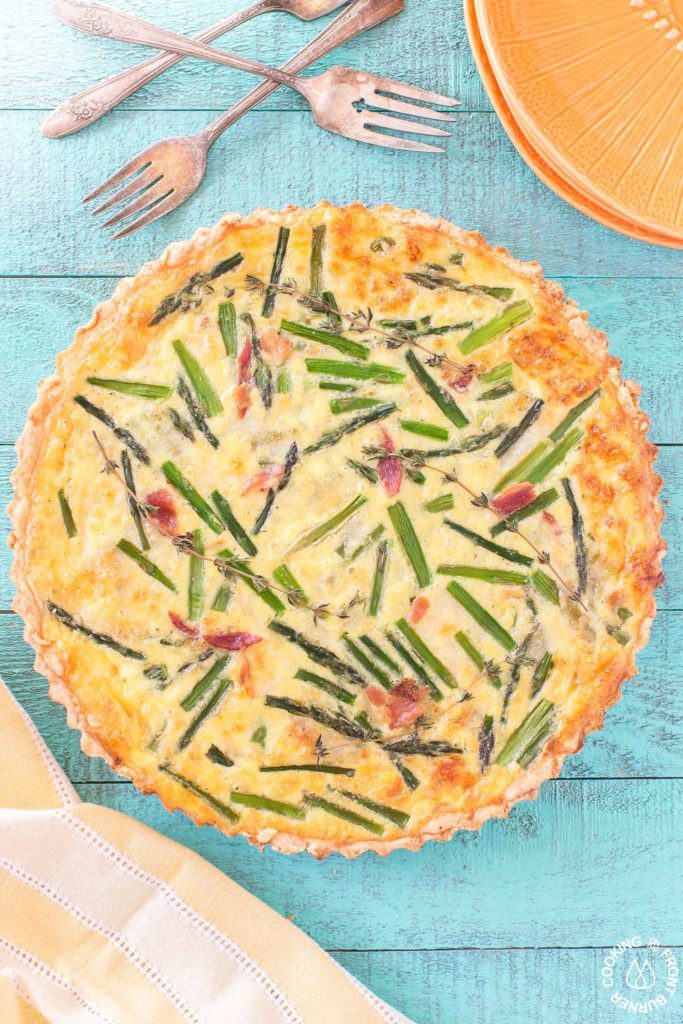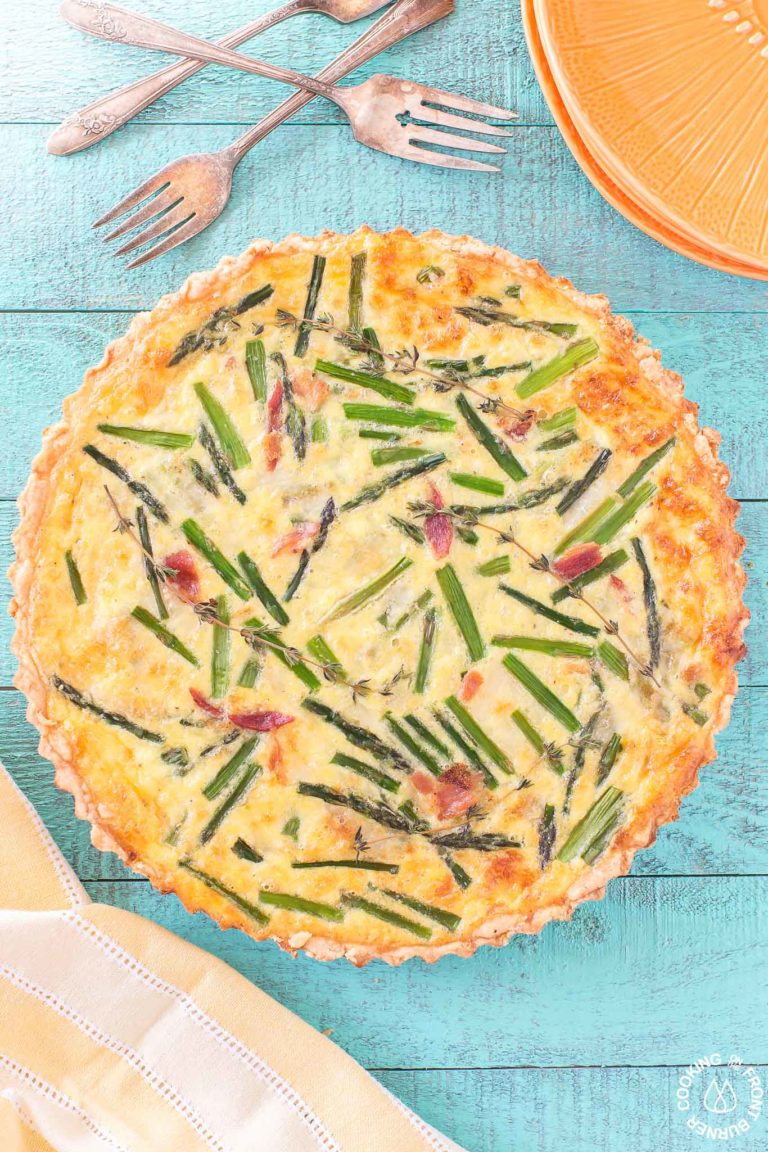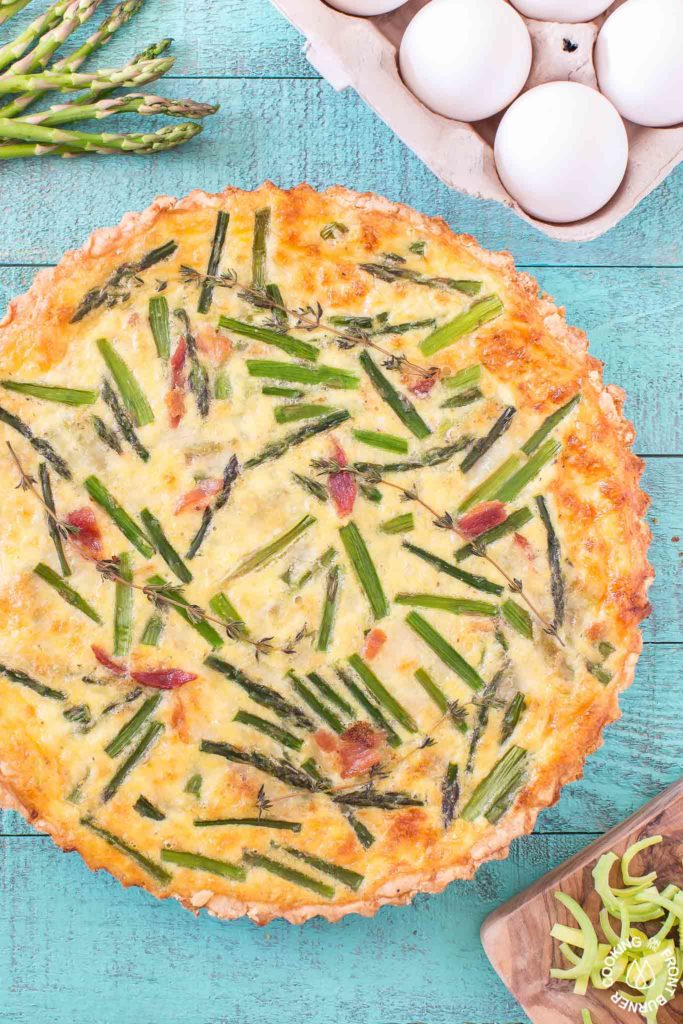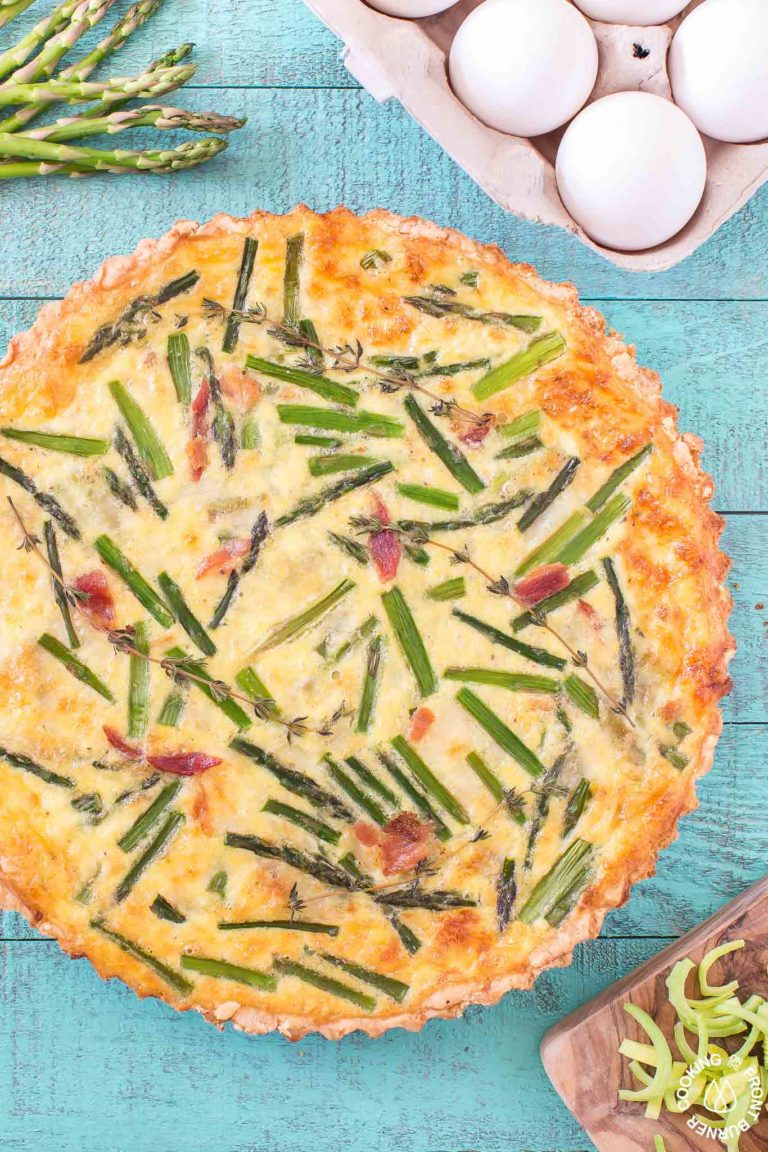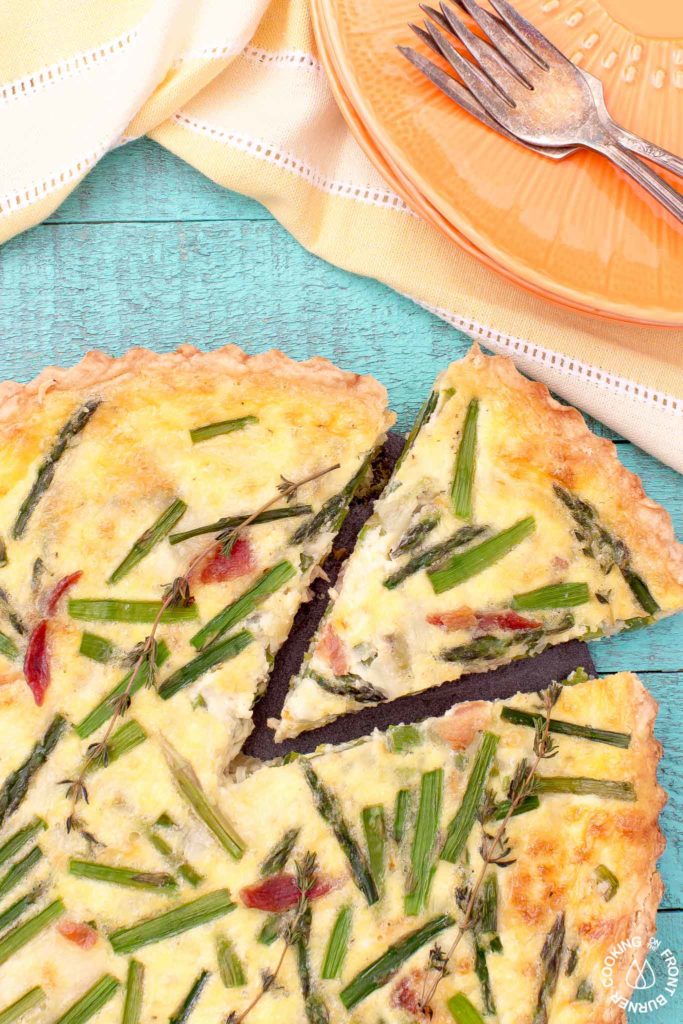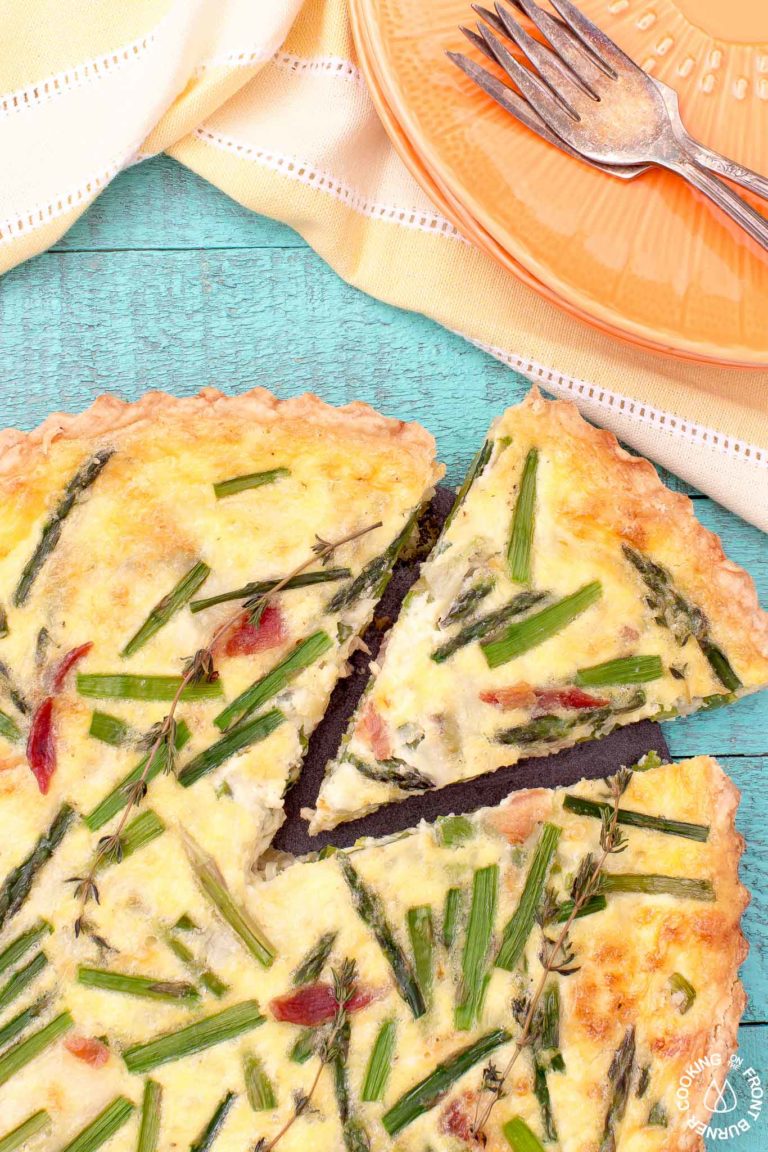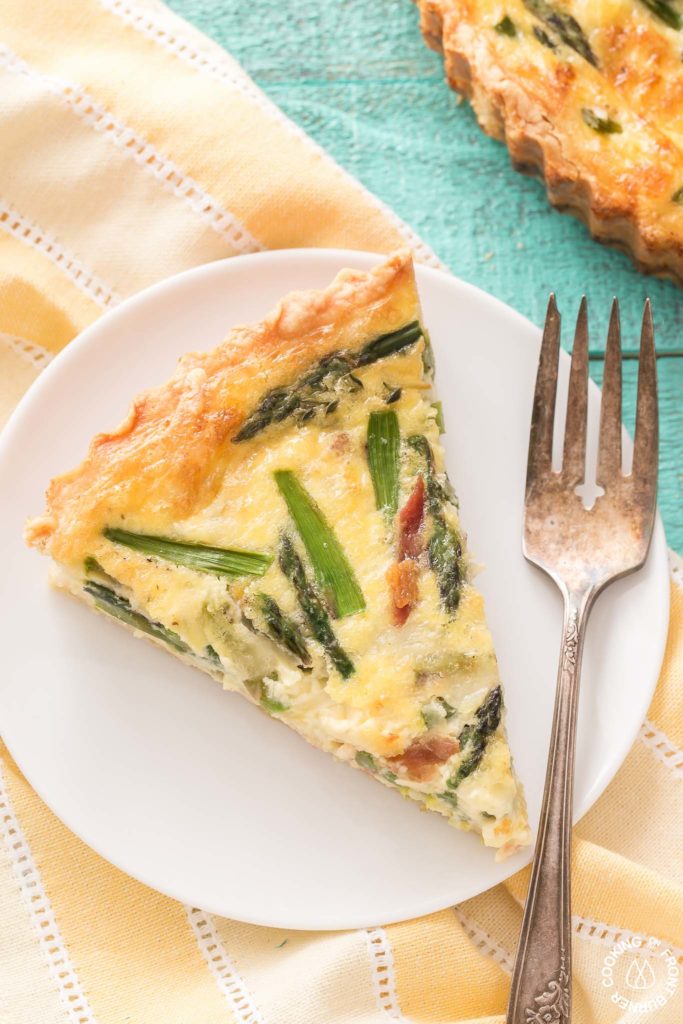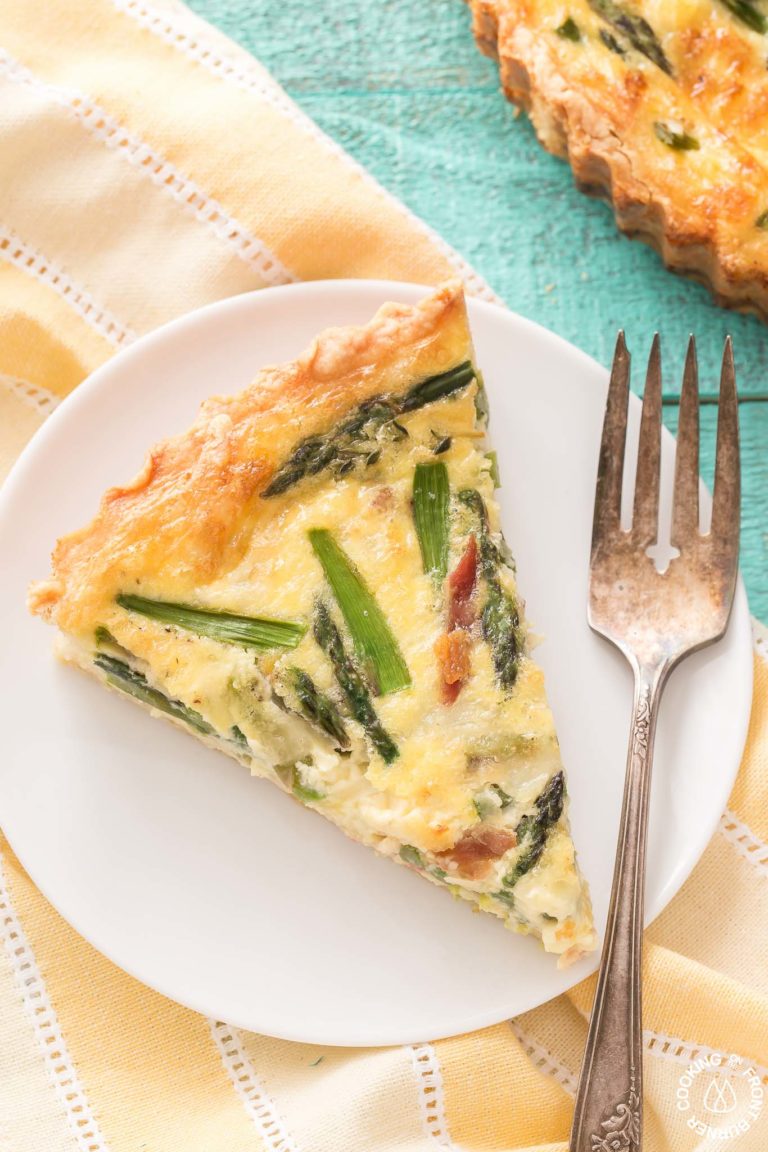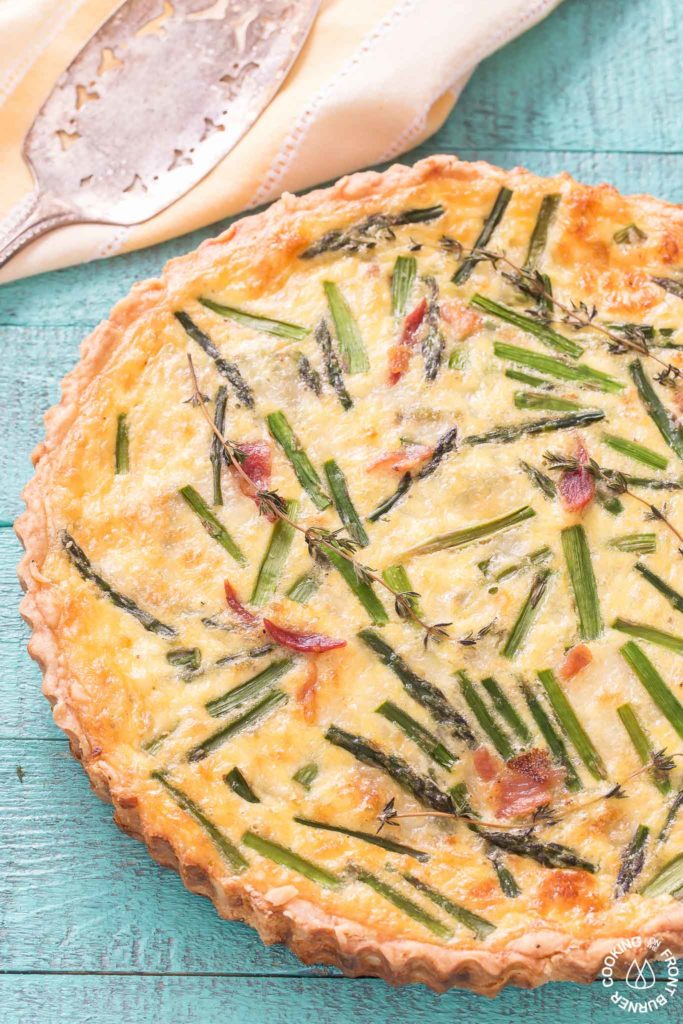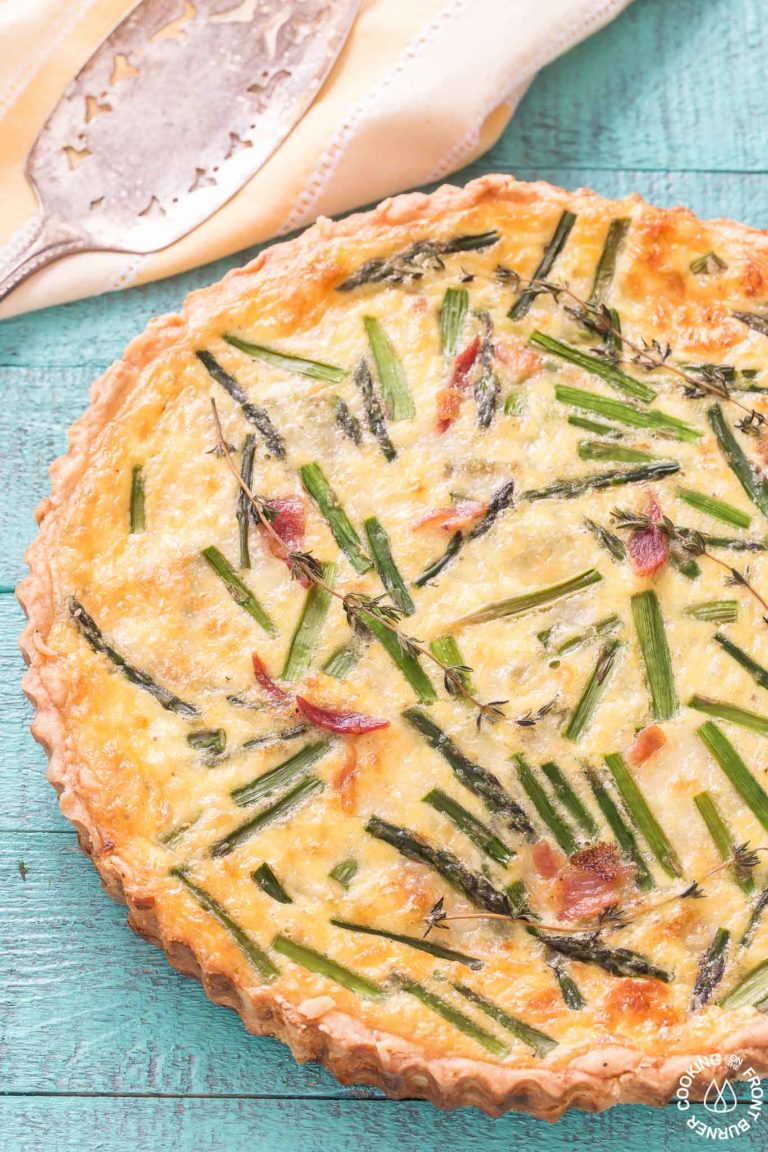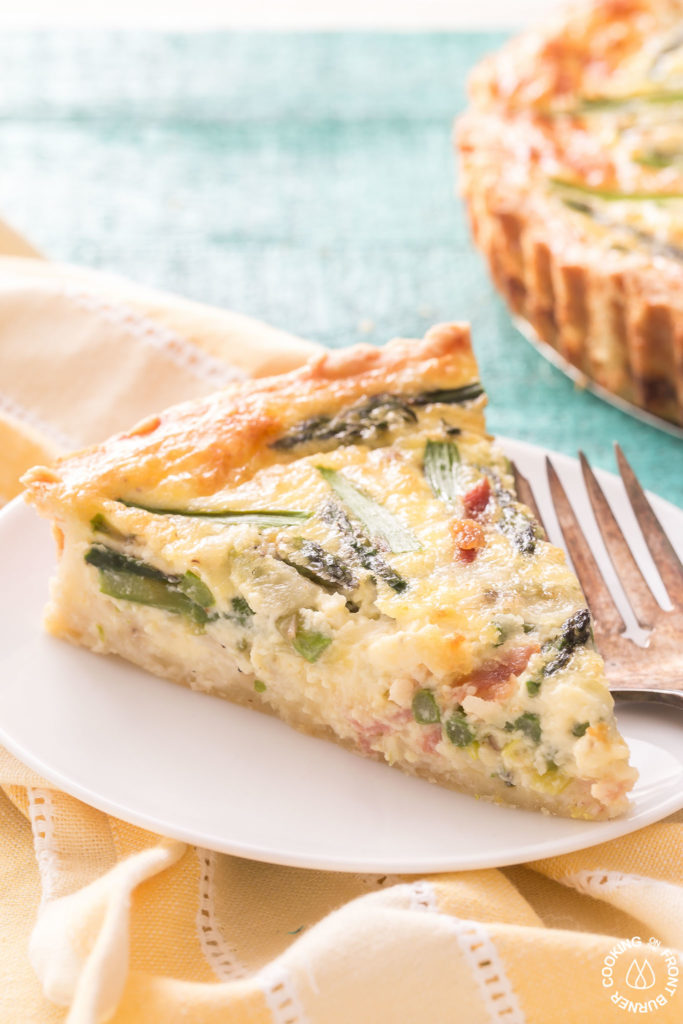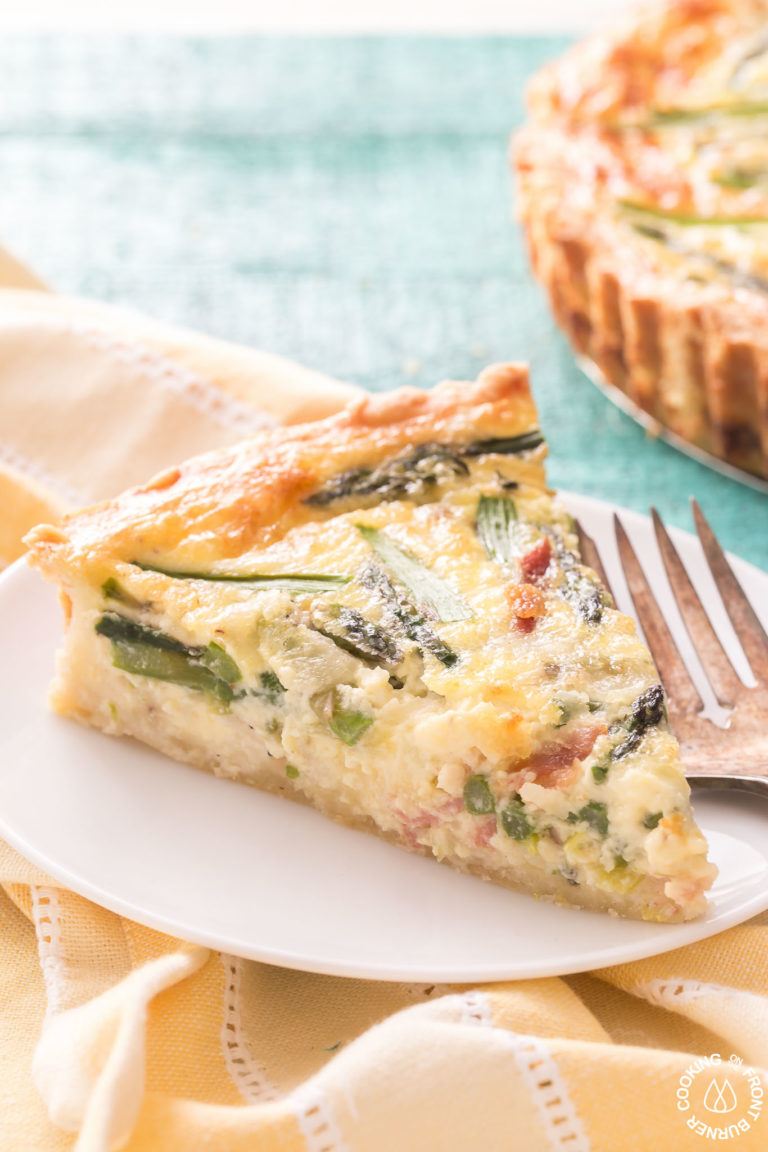 I was inspired to make this recipe from The Glossy Life with added my own touches to it.

Asparagus Leek Quiche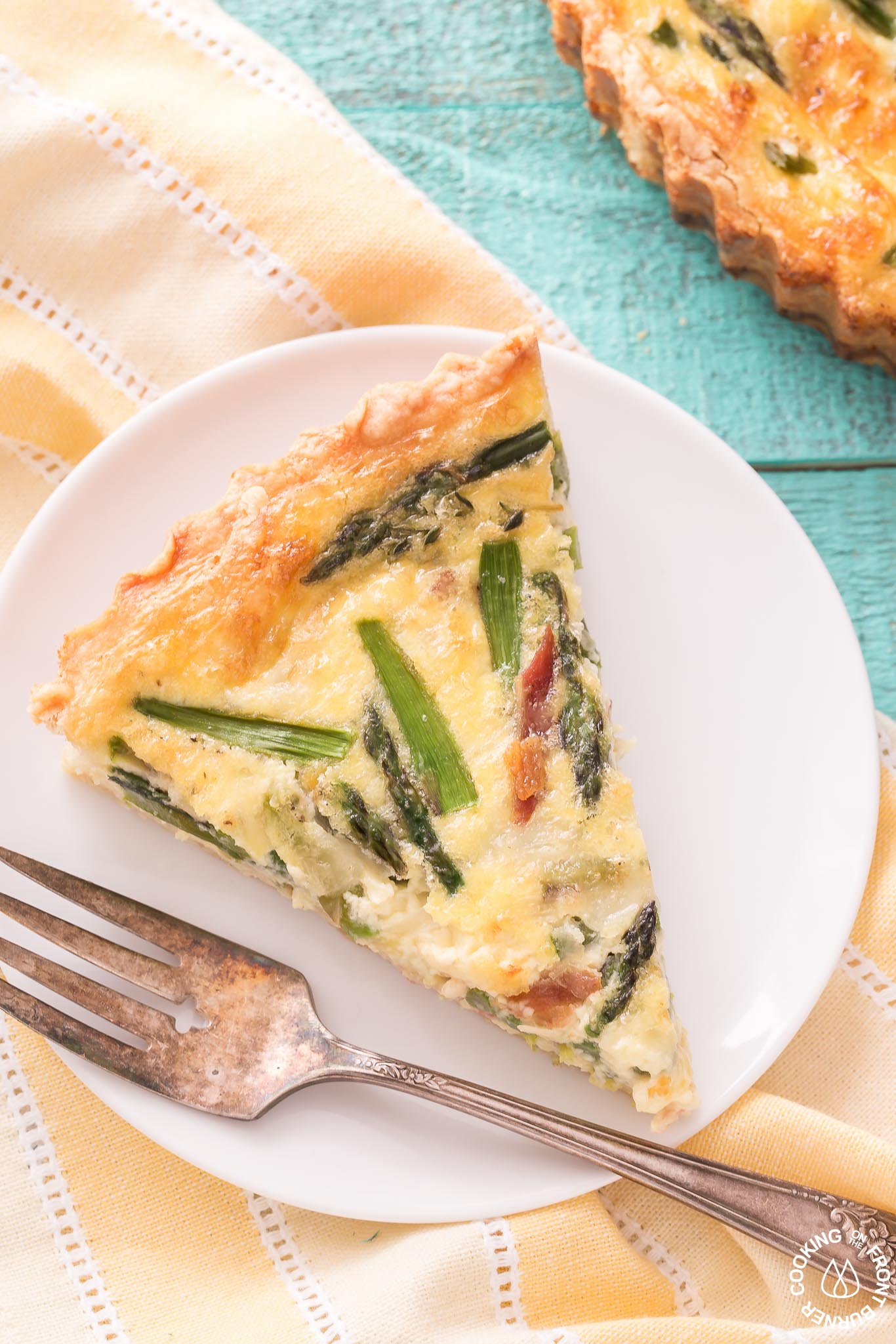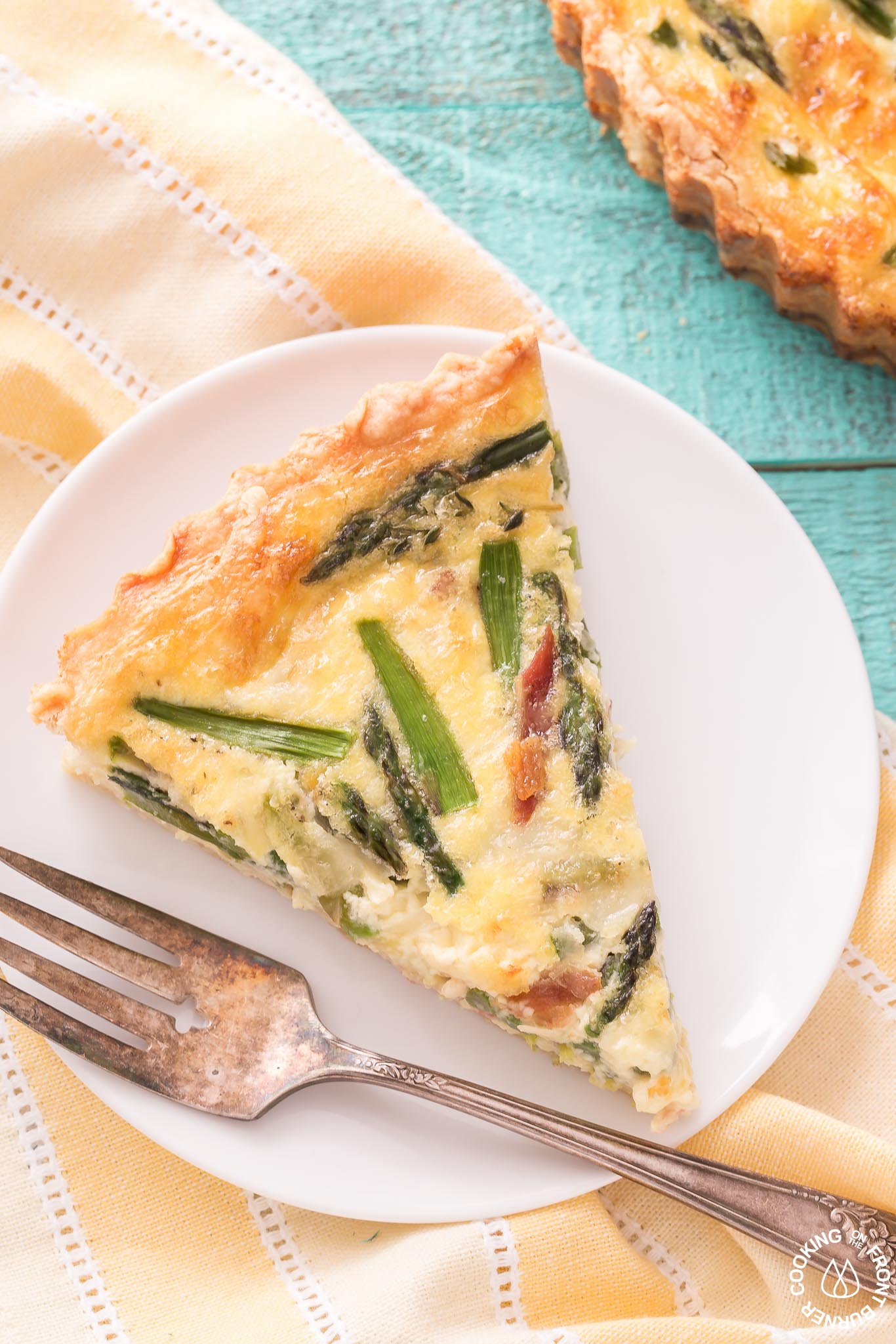 Ingredients
6 oz. fresh asparagus cut into 1" pieces
1 leek, cleaned well and sliced thin
3 slices bacon
5 eggs
6 oz. swiss cheese grated
1 cup milk
1/2 cup heavy cream
salt
pepper
1 single pie crust
Directions
Preheat oven to 350
Press one pie crust into a 10" tart pan with removable bottom (I fold the extra dough onto the sides of the pan)
Place parchment paper on the crust and use pie weights to hold it down
Bake from 15 minutes then remove from oven
Meanwhile heat about 4 cups water to boiling and drop asparagus and cook for 30 seconds (called blanching to keep asparagus green)
Drain and rinse in cold water
In a medium skillet cook the bacon until crispy; set aside and when cool crumble
Leave the bacon grease in skillet and add 1 tablespoon butter and cook the leeks for about 5 minutes until soft but not brown
Combine the eggs, milk and heavy cream until completely smooth
When crust is ready (remove parchment and pie weights), place half of the swiss cheese cheese on bottom of pan then salt and pepper over that layer (to taste)
Place all of the leeks, all of the crumbled bacon and half of the asparagus onto the cheese then add remaining cheese and top with remaining asparagus
Place tart pan on a rimmed cookie sheet and carefully ladle egg/milk mixture on top
Place in oven and bake for about 45 minutes until top is brown and center is cooked through (use a knife and make sure it is not a runny center)
Place tart pan on a rack to cool (about 10-15 minutes)
Gently push up bottom of tart pan to remove