Happy Valentine's Day! Are you still looking for a cute sweet treat to make? Today I'm sharing these Linzer Tart Cookies with you. They would be a perfect ending to whatever type of meal you might be having!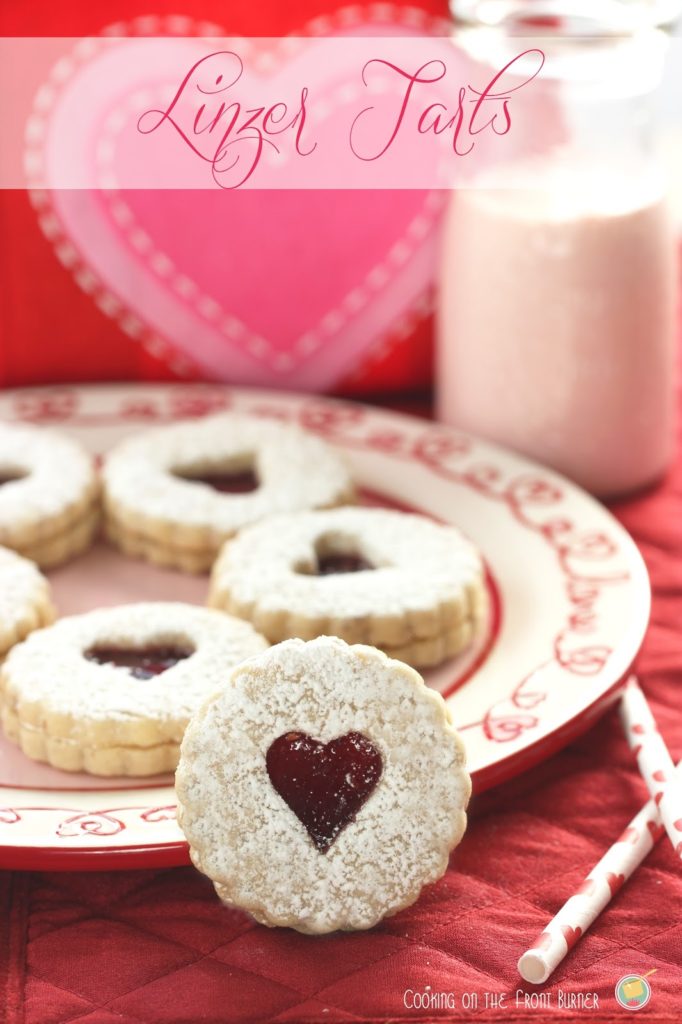 This is my first time making these buttery and almond-y flavored cookies and I think I'm in love but shhhh don't tell the DIY Guy! This day is supposed to be about him 🙂
I'm not sure why I decided to make these Linzer Tarts – I knew I wanted to share a Valentine's Day dessert with you. I hadn't a clue what to try but one day I was walking through a new kitchen store that opened up in our town and saw a set of 6 cookie cutters made especially for making these tarts. And the first one I saw was the heart – that had me sold!
The dough is very buttery and needs to be refrigerated for about 2 hours before you can work with it. I followed the directions but I found that when I tried to move the cut-out to my cookie sheet, it was getting out of shape and hard to work with…. so I put on my thinking cap and decided to cut squares of parchment paper and roll them out on it, then cut them out, and move the entire paper to my cookie sheet. That worked like a charm! Remember you heard it first here folks!! And for the top cookie, I cut a square out of the parchment paper so when I cut the heart out (oh that sounds cruel), if it didn't come out with the cutter, it stayed behind on the counter. Then again I moved the paper to the cookie sheet. Yep, it was a bit putzy but all my cookies were perfectly shaped and that made me happy!
Linzer Tarts
Prep Time: 15 minutes plus chilling time
Cook Time: 10-12 minutes
Yield about 20 cookies
Ingredients
2 cups flour
2 sticks soft butter
2/3 cup sugar
1/2 tsp vanilla
2/3 cup finely ground almonds
1/2 cup seedless raspberry jam
1 egg
Powdered sugar
Instructions
Combine the flour and almonds and set aside.
In a large bowl beat the butter and sugar until it is light and fluffy then add egg and vanilla; mix well.
Add flour mixture just until it is incorporated.
Divide dough in half; press into a small disc; cover with plastic wrap; refrigerate about 2 hours or until it becomes firm enough to roll.
Preheat oven to 350.
Cut 20 parchment paper squares that are 3×3 inches.
Take a small piece of dough and roll it about 1/8″ on the parchment paper; using a 2″ cookie cutter cut the dough; remove the extra dough (reuse) and place the paper on a cookie sheets. Do this for the first disc of dough.
Bake cookies for 10-12 minutes until light brown; cool on cookie sheet for 2 minutes then remove paper squares onto a wire rack and let cool completely. These are the bottom of the cookies.
For the tops cut another 20 squares and then cut a square hole in the paper that is as wide as the 2nd small cookie cutter. Take a small piece of dough and roll again about 1/8″ thick on the paper. Take the smaller cookie cutter, center and push on the dough. Lift up the cutter – the dough will either stay stuck in the cutter or when you lift the paper it will stay behind on your rolling surface. (reuse dough) Bake same as above an cooling as directed.
I bought special cookies cutters made especially for linzer tarts; you can find these in almost any stores or buy 2 cutters – a 2″ round or scalloped shape and a small one to cut the center out.
When cookie are cool, spread about 1 teaspoon jam on cookie bottom then add a top
Sift powdered sugar over top
I made these cookies for us last weekend so the DIY Guy did get to taste them. He thought they were very good!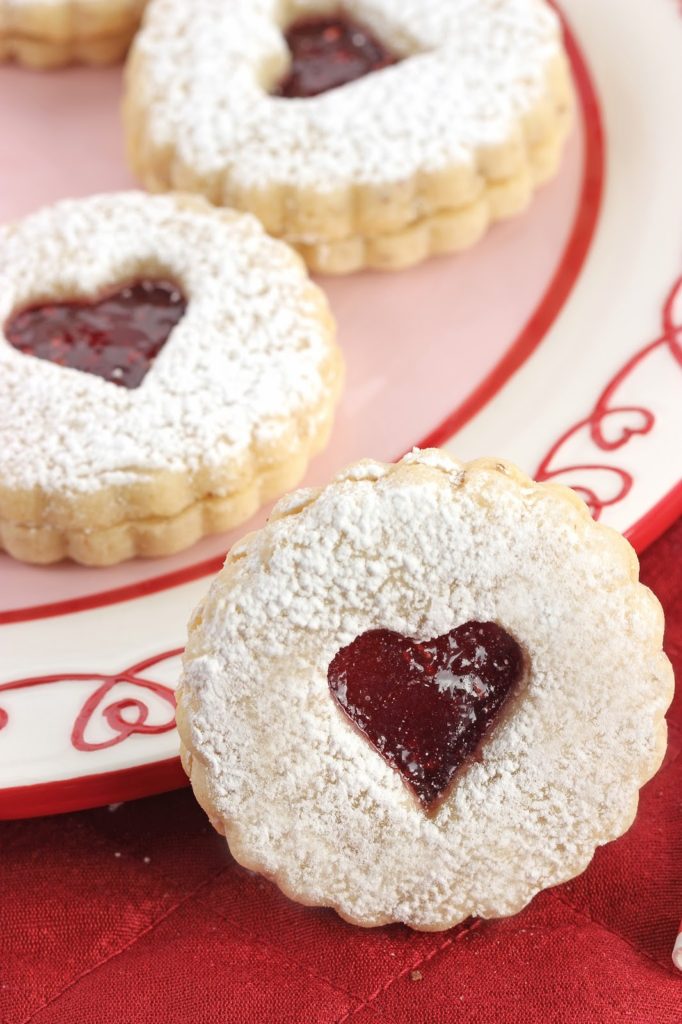 I know I will make these again and use that same method. I even saved the papers! And if you wanted to instead of the raspberry, you might want to try apricot or strawberry filling or come up with something on your own… Enjoy and Happy Valentine's Day!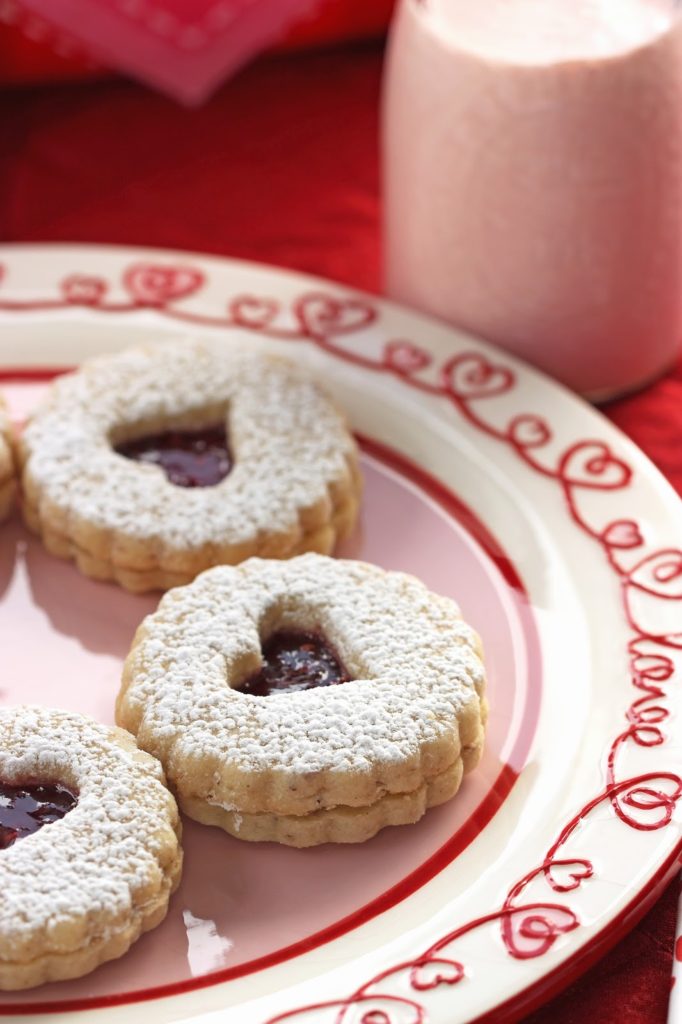 Also, yesterday was my 3rd year blog anniversary – click over to the link to enter a fun giveaway! (CLOSED)