These Hot Cross Buns are perfect for your Easter table!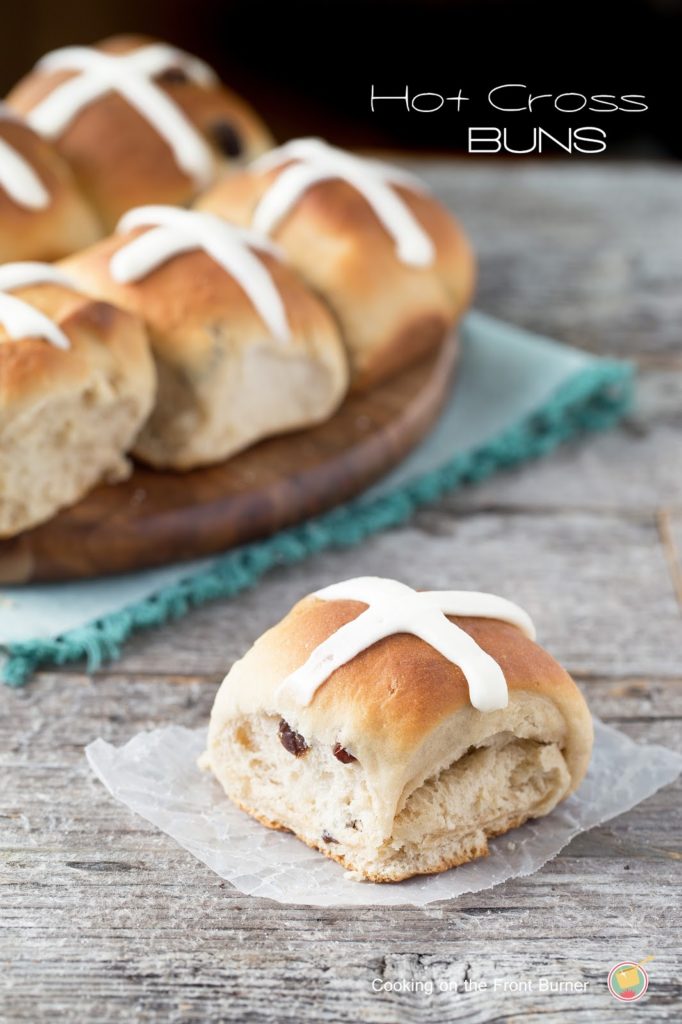 One a penny, two a penny – Hot Cross Buns! Remember that Mother Goose nursery rhyme? I bet for some of you, this is a treat you grew up with and maybe make for your family. Even though we didn't grow up eating these tasty treats, traditions around the holidays are so important to me. Passing recipes from generation to generation keeps families connected.
Hot Cross Buns are traditionally a Good Friday day treat. The bun is a nicely raised roll, lightly spiced with cinnamon, cardamom and my version has raisins but you could also use currants. Perfect for a coffee or tea break.
We do have a traditional bread in our Italian family but sadly since my mom passed away 7 years ago, I haven't made it on my own. She had the touch but I know I should give it a try! They are called Ciambellone – it involves yeast cakes (I have no idea where you can buy them), maraschino cherries, anise seeds and lots of work! Maybe I'll get my girls together and we can figure it out together. I know she would have liked that.
Hot Cross Buns
Prep Time: 10 minutes plus rising
Bake Time: 25 minutes
Yield 12 rolls
Inspired from Taste of Home
Ingredients
Dough
1 pkg dry yeast
1/2 cup sugar
1 cup warm milk (~115 degrees)
1/4 cups soft butter
1 egg
3 1/2 to 3 3/4 cup flour
1/4 teaspoon salt
1/2 cup raisins
1 teaspoon cinnamon
1/2 teaspoon cardamom (or nutmeg)
1/2 teaspoon vanilla
Icing
2/3 cup powdered sugar
1 teaspoon soft butter
1/4 teaspoon vanilla
3-4 teaspoons milk
Instructions
Place warm milk in a large bowl then add the yeast and 1 tablespoon of the sugar. Let stand for 5 minutes.
Next add the butter, egg, raisins, salt and remaining sugar. Beat until smooth.
Stir in enough flour to form a soft dough.
On a floured surface, knead the dough until it becomes smooth and elastic which takes about 6-8 minutes.
Place in a greased bowl, turn once to grease the top then cover and let rise until doubled in a warm area (about 1 hour).
Punch dough down then place on a lightly floured surface. Divide into 12 portions and shape each into a ball.
Place in a greased 13×9″ pan. Cover again and rise until doubled (around 45 minutes)
Remove cover and bake at 375 for 25 minutes or until browned.
Let cool on wire rack in pan
Make icing by combining the powered sugar, butter, vanilla and milk (just until it is easy to pipe). Pipe an X on top of each cooled bun (slightly warm).
Best when first made.
Confession time… mine did not turn out round even though I rolled them into a ball. I'm not sure if they maybe rose too much before I baked them. It certainly didn't effect the taste though…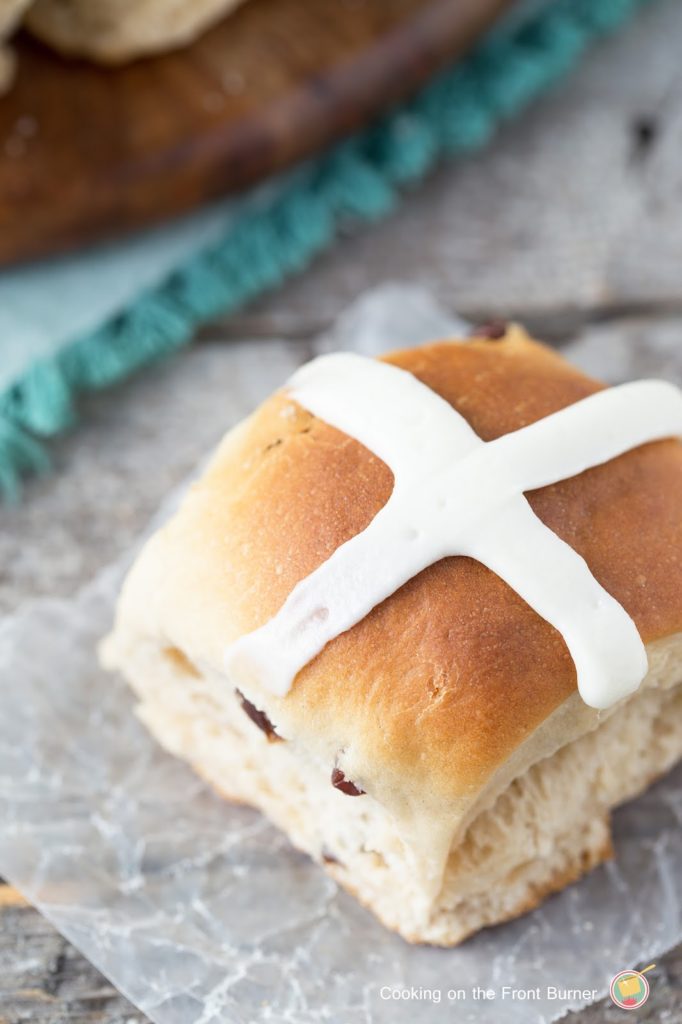 What kind of traditions do you have around Easter?