This mini upside-down peach cake recipe is perfect for two with juicy peaches nestled in a creamy caramel topping and atop a light spongy cake.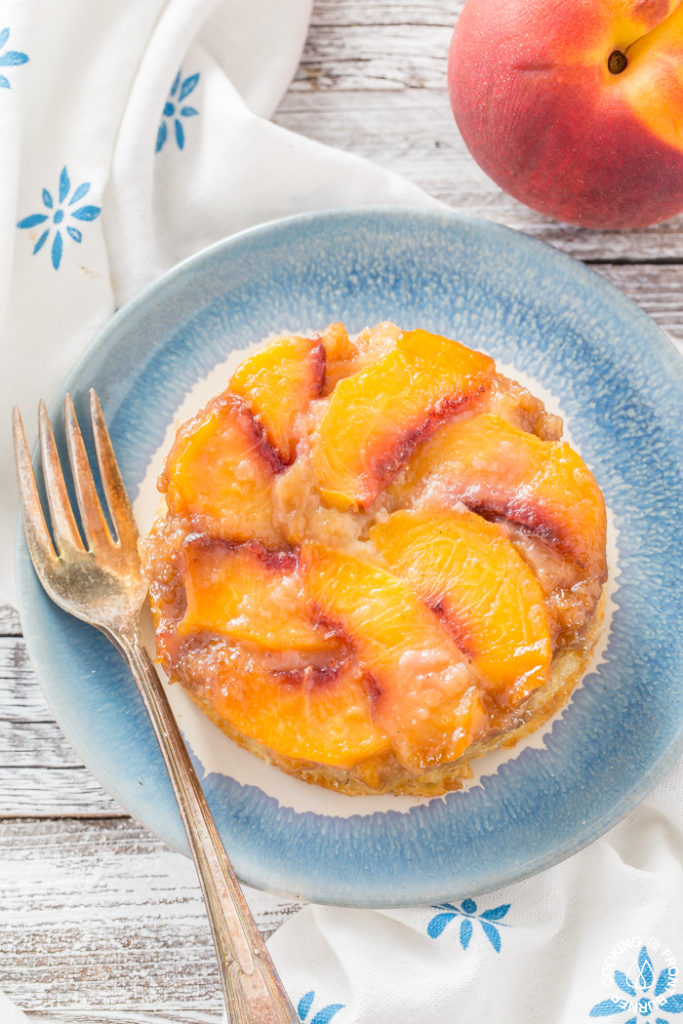 Today I'm sharing for your taste bud's delight, a fresh peach upside-down cake that comes together in a snap.  If you haven't had a chance to make anything with peaches this year then this dessert is for you.  Peaches are one of my favorite kinds of fruits and since it is summer, I am able to find ones that are perfect - nice and juicy.  While I do love to eat them as is, they are also great to bake with.  This recipe also makes two - one for yourself (of course!) and one to share.  It's always best to share 🙂
The DIY Guy and I enjoyed these for dessert tonight but I also think they would be great for breakfast.  A nice, warm treat that would go perfectly with your cup of coffee in the morning.  Definitely worth getting out of bed for!
If you are looking for other peach recipes, last year I made a peach and blueberry tart and for something really easy, grilled peaches with honey and mascarpone cheese.  Be sure to get your peach fill before the "good" ones disappear from the store.
I'm a bit sad that summer seems to be winding down.  Yes, we are still getting some nice days but you can tell the air is changing.  Within the last week all 5 of my impatien plants died.  I have no idea why - they were watered good, so big and full too. Kinda sad!
While this recipe is good for two, be sure to double or triple it for when company comes.  I slightly adapted this recipe from Alton Brown's Good Eats - he calls that episode Peachy Keen - and it is!  If you really want to kick it up a notch, add some ice cream or whipped cream.  We ate ours 'naked'.
Start with fresh peaches.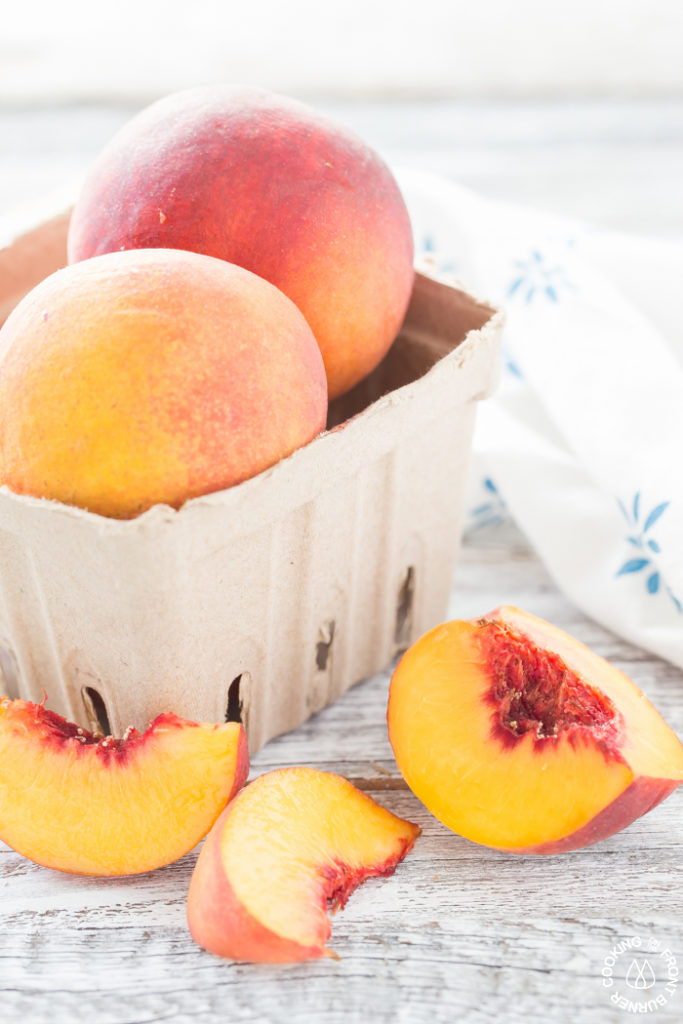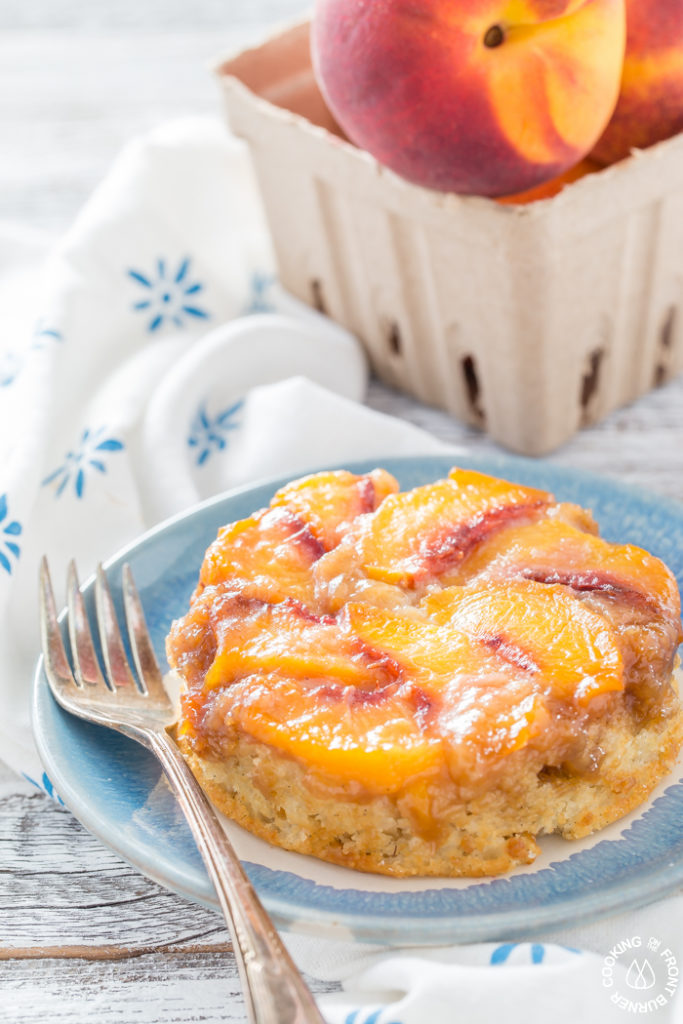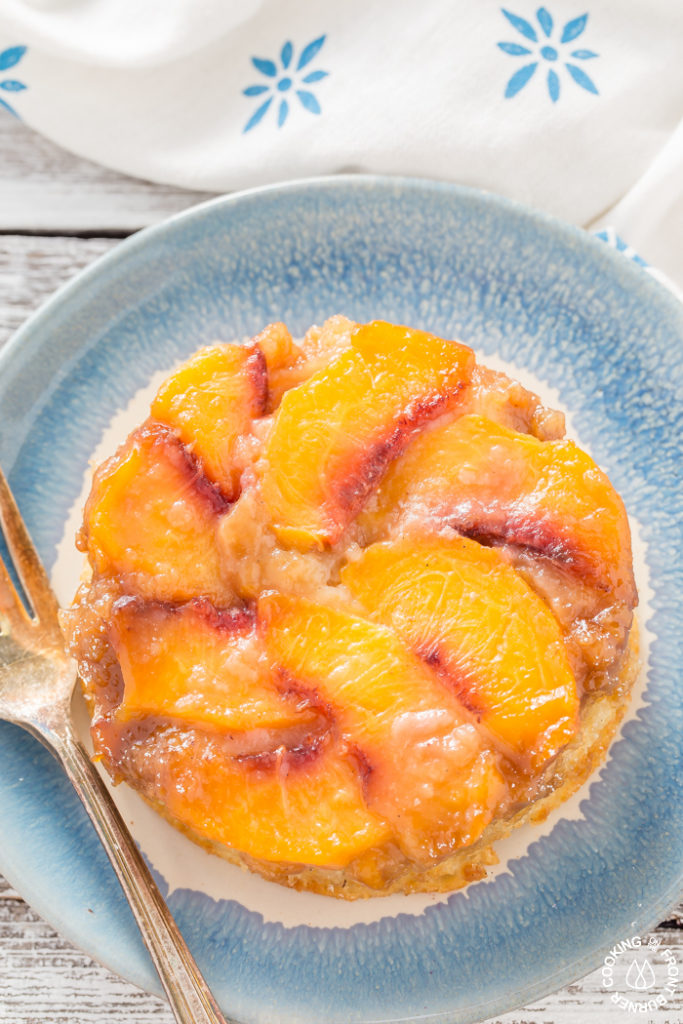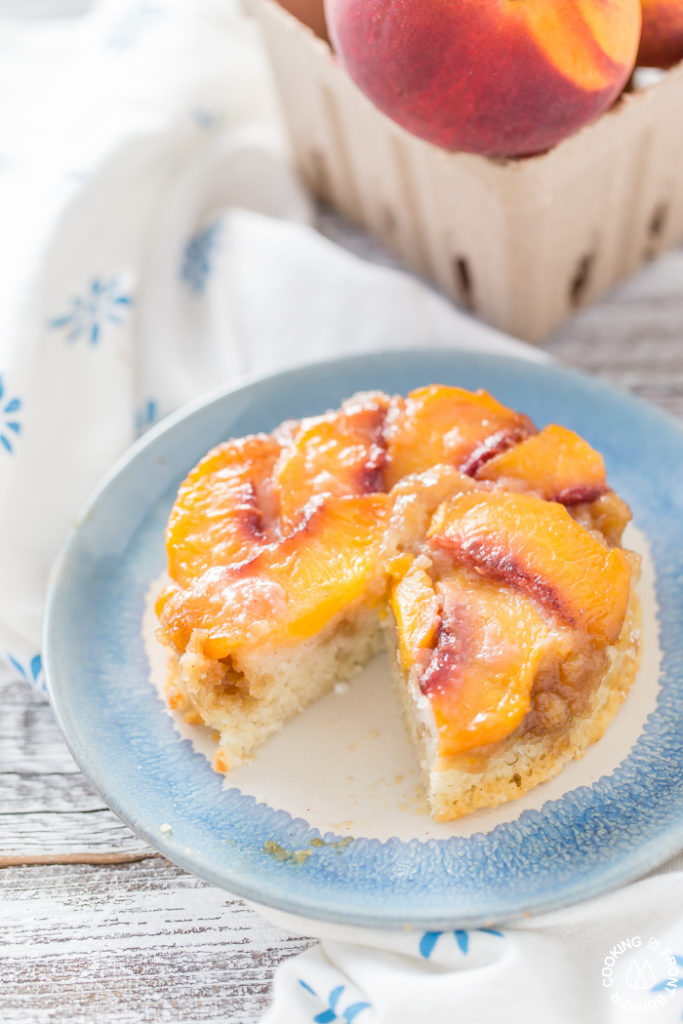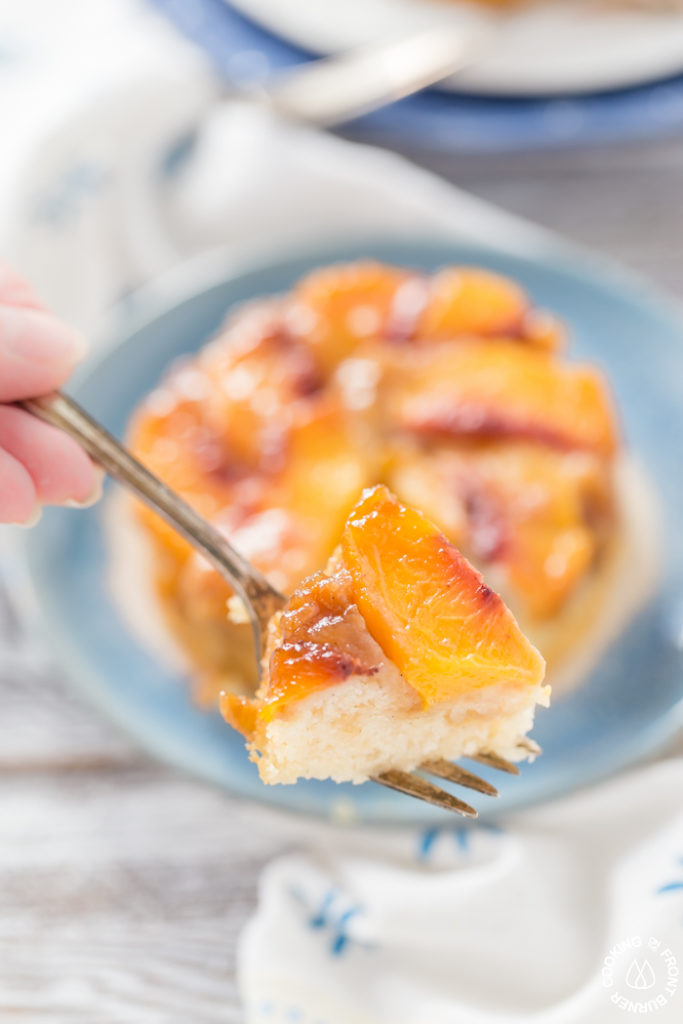 Get the Recipe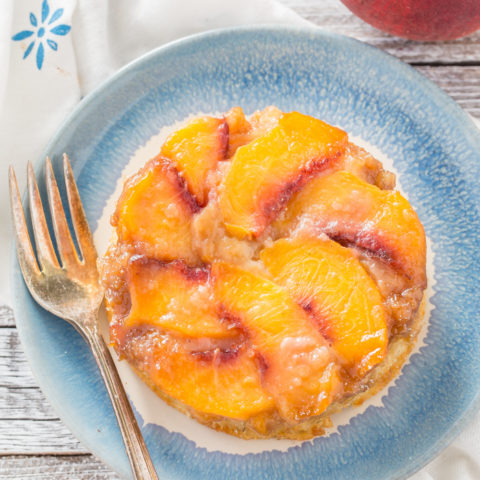 Mini Upside-Down Peach Cake
This individual upside-down peach cake recipe is perfect for two with juicy peaches nestled in a creamy caramel topping and atop a light spongy cake.
Ingredients
2 tablespoons butter, diced
2 tablespoons brown sugar, packed
1 peach, peeled and cut in 16 slices
½ cup flour
1 teaspoon baking powder
⅛ teaspoon baking soda
⅛ teaspoon salt
⅓ cup sugar
½ cup buttermilk at room temperature
½ teaspoon vanilla paste (or extract)
1 tablespoon butter, melted
Instructions
Preheat oven to 350
Divide diced butter between two 10 ounce ramekins
Sprinkle one tablespoon brown sugar on top of butter in each ramekin
Place 8 slices of peaches in each ramekin
In a medium bowl combine the flour, baking powder, baking soda and salt
In a small bowl whisk together the sugar, buttermilk*, vanilla and the melted butter
Add the wet mixture to the dry and stir until just combined. There will be a few lumps but that is fine. Divide over the two ramekins
Place ramekins on the center oven rack and bake 25-30 minutes until toothpick comes out clean
Remove from oven and then run a small knife around edge.
Let cool 5 minutes then flip onto a plate
Optional - top with ice cream or whipped cream
Notes
*you can make your own buttermilk by combining ½ regular milk and 1 ½ teaspoons white vinegar. Let sit 5 minutes and it is ready to use.
Nutrition Information:
Yield:

2
Serving Size:

1
Amount Per Serving:
Calories:

499
Total Fat:

18g
Saturated Fat:

11g
Trans Fat:

1g
Unsaturated Fat:

6g
Cholesterol:

48mg
Sodium:

704mg
Carbohydrates:

80g
Fiber:

2g
Sugar:

54g
Protein:

6g
Nutritional information provided is computer-generated and only an estimate. You may want to do your own research with the ingredients listed if you have concerns about health or specific diets.
Enjoy - you can make this!

About the Author
Recent Posts
Recipe Index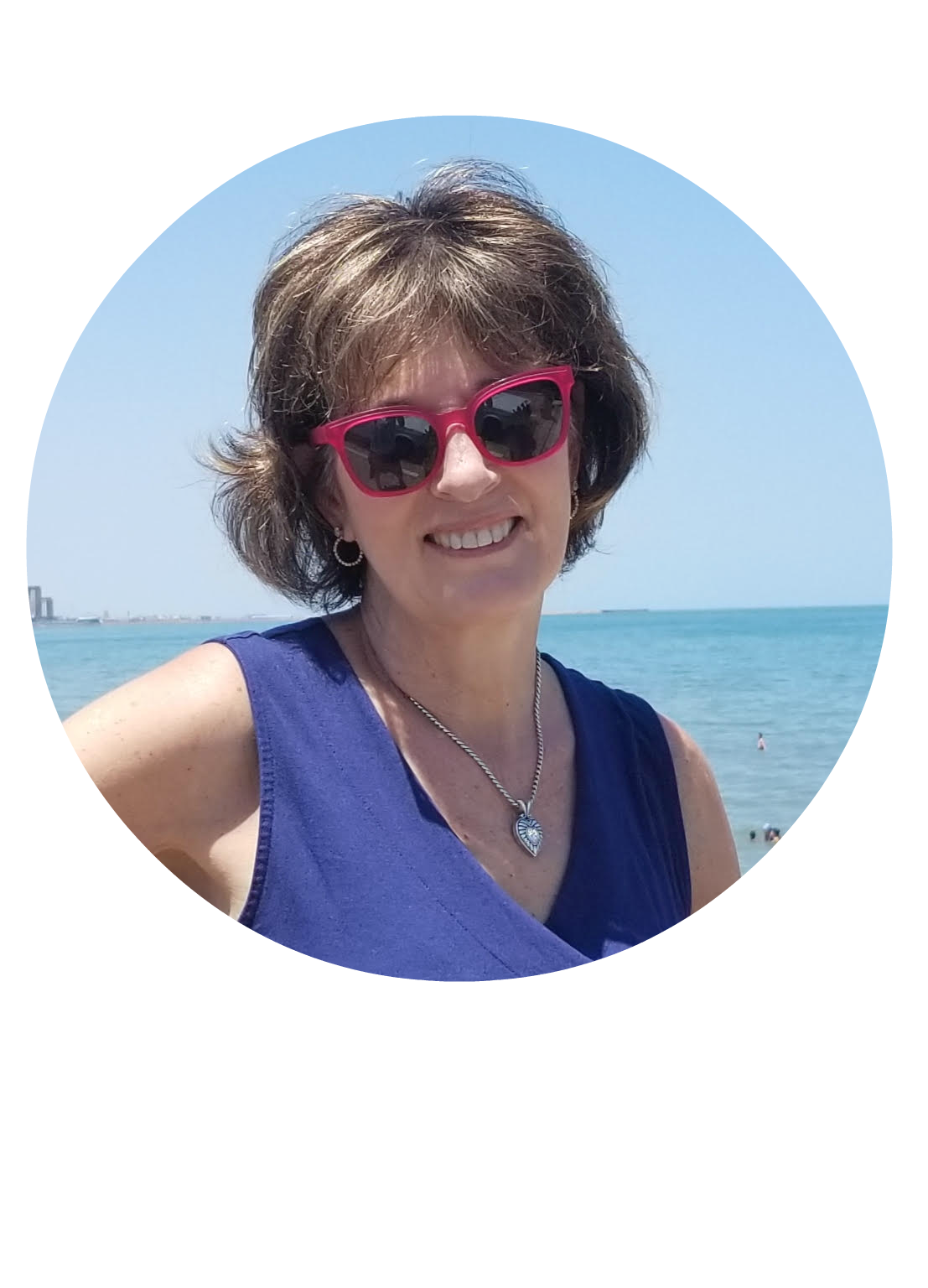 We are all about sharing our love of good food so on the blog you will find easy recipes to enjoy with your family and friends.  We hope to inspire you to host a gathering to create special memories.  Most recipes are step by step so you can feel confident in the kitchen.  Take a look around to find everything from breakfast to dinner and everything in-between!