This Creamy Lemon Supreme dessert is a family favorite and perfect for any holiday especially Easter.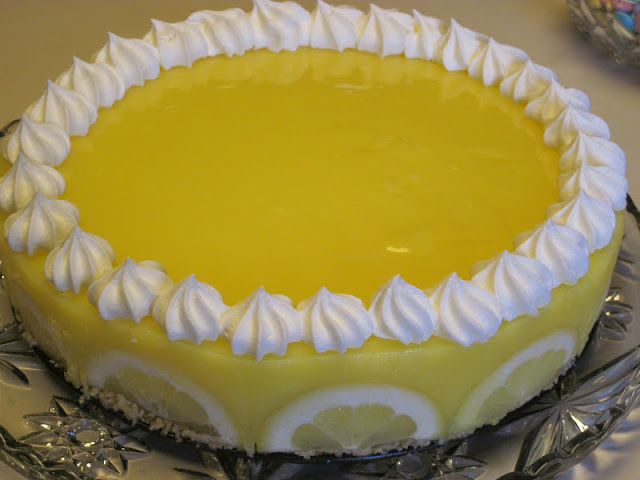 Happy Easter! Hope you had a wonderful day! We just got back from our friends and I'm feeling a little lot full! Steph had some delicious food and it was great to visit with her and her family. I was requested to bring this dessert and was happy to do so.
The ingredients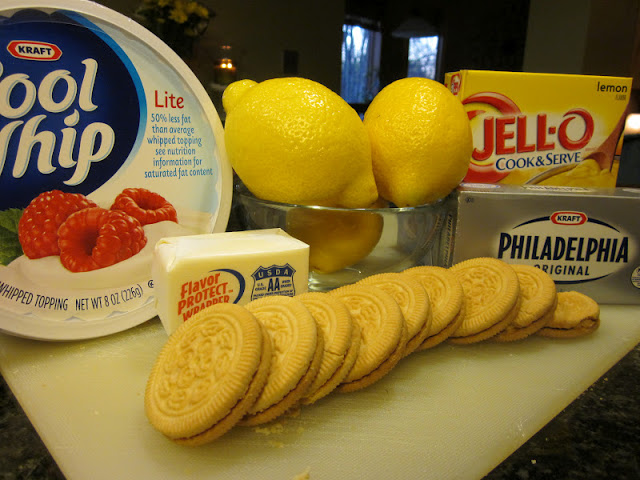 The crust is started by finely chopping the lemon sandwich cookies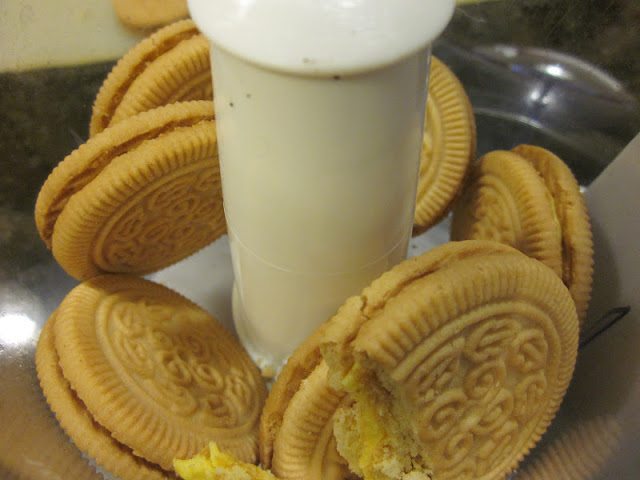 It is mixed with melted butter and pressed into a 9" springform pan. Next cut 6 thin slices of lemon and cut those in half and line around the pan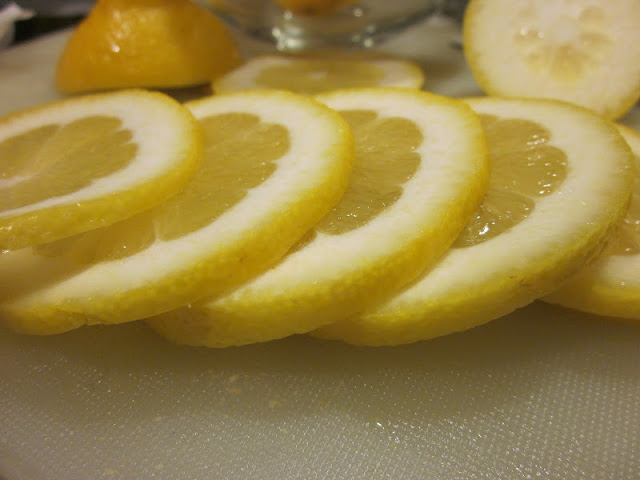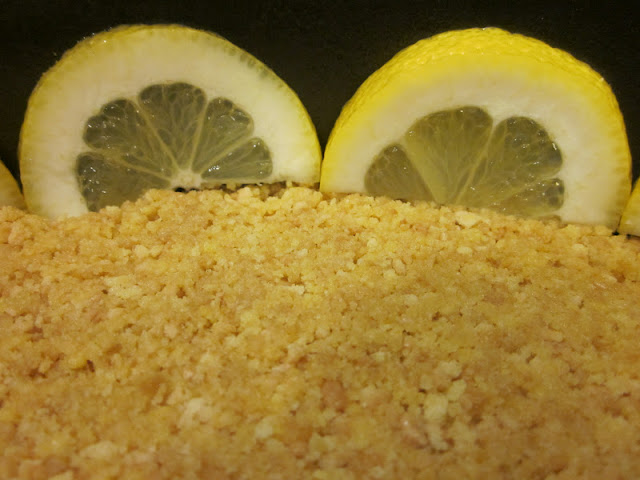 Filling is made and spread into the pan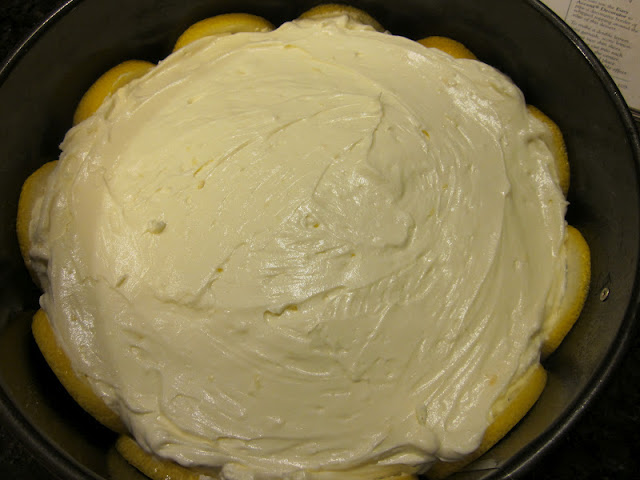 and a lemon cooked pudding is poured on top and chilled about 6 hours to set up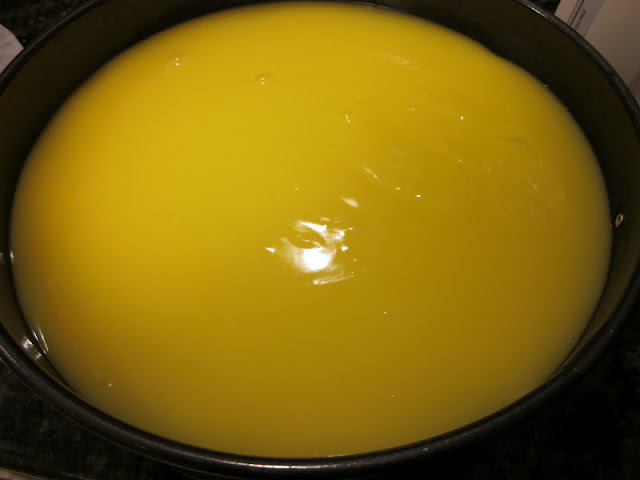 I made this the night before and we served it for dessert late this afternoon - so good - so lemony!
Recipe from Pampered Chef
(Printable recipe)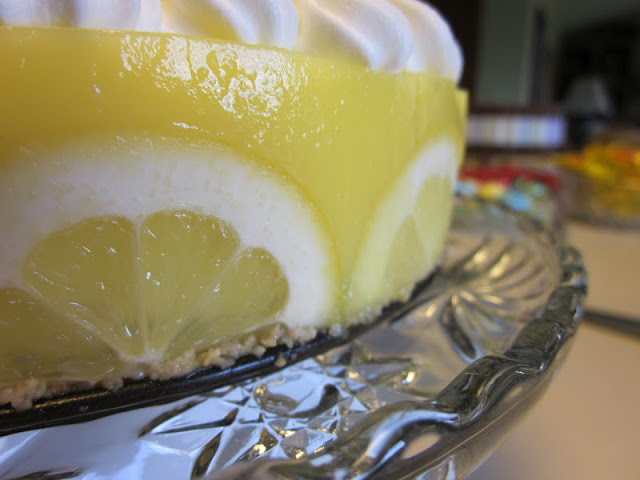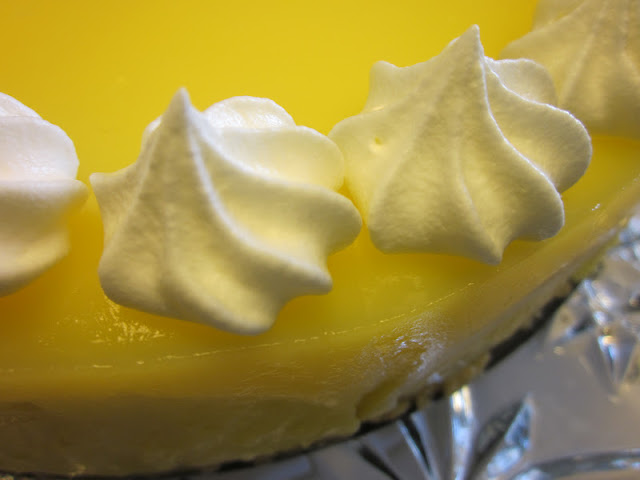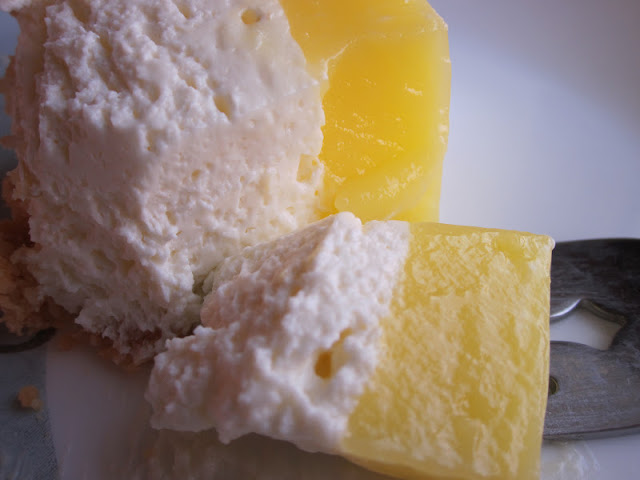 Creamy Lemon Supreme
Serves: 12
Calories: 390
Prep Time to Table: 45 minutes plus 6 hours chilling
Recipe : Pampered Chef
Ingredients:
Crust
12 lemon creme-filled sandwich cookies, finely chopped (1½ cups)
3 tablespoons butter or margarine, melted
1 lemon
Filling
2 lemons
1 package (2.9 ounces) lemon cook and serve pudding and pie filling (not instant)
½ cup sugar
2 cups water, divided
2 egg yolks
1 tablespoon butter or margarine
2 packages (8 ounces each) cream cheese, softened
½ cup powdered sugar
1 container (8 ounces) frozen whipped topping, thawed, divided
Preparation:
1. Lightly spray Springform Pan with nonstick cooking spray. For crust, finely chop cookies using Food Chopper. Combine cookie crumbs and melted butter in Small Batter Bowl. Press crumb mixture into bottom of pan. Cut 6 thin slices from lemon; cut each slice in half. Place lemon halves against inside collar of pan with cut side touching crust. Refrigerate while preparing filling.
2. For filling, zest lemons to measure 1½ teaspoons zest using Lemon Zester/Scorer. Using Juicer, juice lemons to measure ¼ cup juice. Combine pudding mix, sugar, ¼ cup of the water and egg yolks in Small (2-qt.) Saucepan; stir until blended. Stir in remaining 1¾ cups water. Cook over medium heat, stirring constantly until mixture comes to a full boil; remove from heat. Set aside ½ cup of the pudding; cool slightly. Whisk butter and lemon juice into remaining pudding in saucepan; cool 15 minutes, stirring twice.
3. In Classic Batter Bowl, combine cream cheese and powdered sugar; mix well. Whisk in reserved ½ cup lemon pudding and 1 teaspoon lemon zest. Fold in 2 cups whipped topping, spread over crust.
4. Stir remaining lemon pudding mixture and spoon evenly over cream cheese filling using Mix 'N Scraper, spreading gently. Refrigerate at least 6 hours.
5. Run Quikut Paring Knife around sides of dessert; release collar from pan. Garnish with remaining whipped topping and lemon zest. Cut into wedges.
Notes:
About the Author
Recent Posts
Recipe Index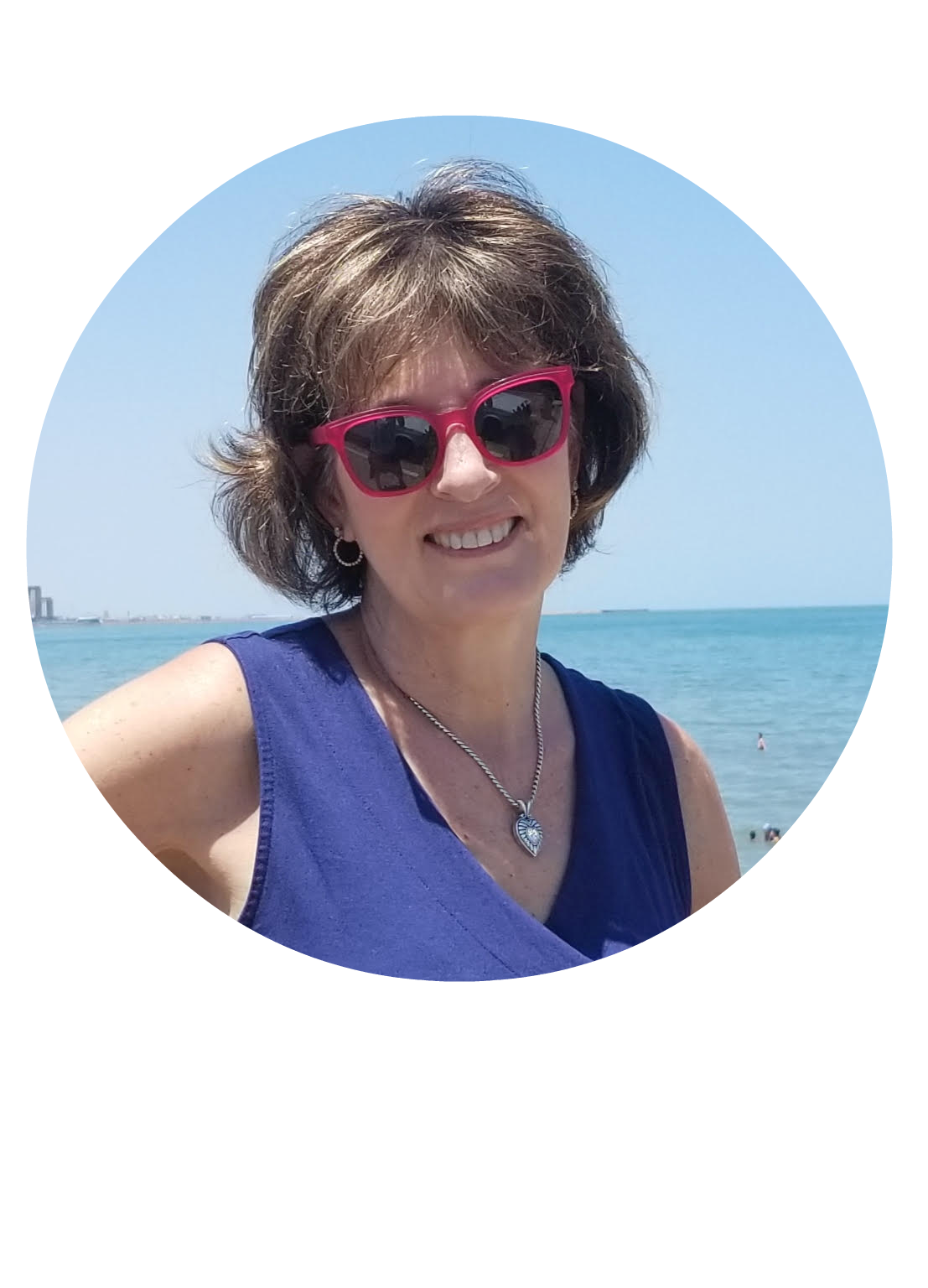 We are all about sharing our love of good food so on the blog you will find easy recipes to enjoy with your family and friends.  We hope to inspire you to host a gathering to create special memories.  Most recipes are step by step so you can feel confident in the kitchen.  Take a look around to find everything from breakfast to dinner and everything in-between!