Impress your guests with this rustic American Flag Tart for any patriotic holiday! Fresh berries, creamy mascarpone lemon filling all nestled in a flaky puff pastry crust and topped off with jelly glaze.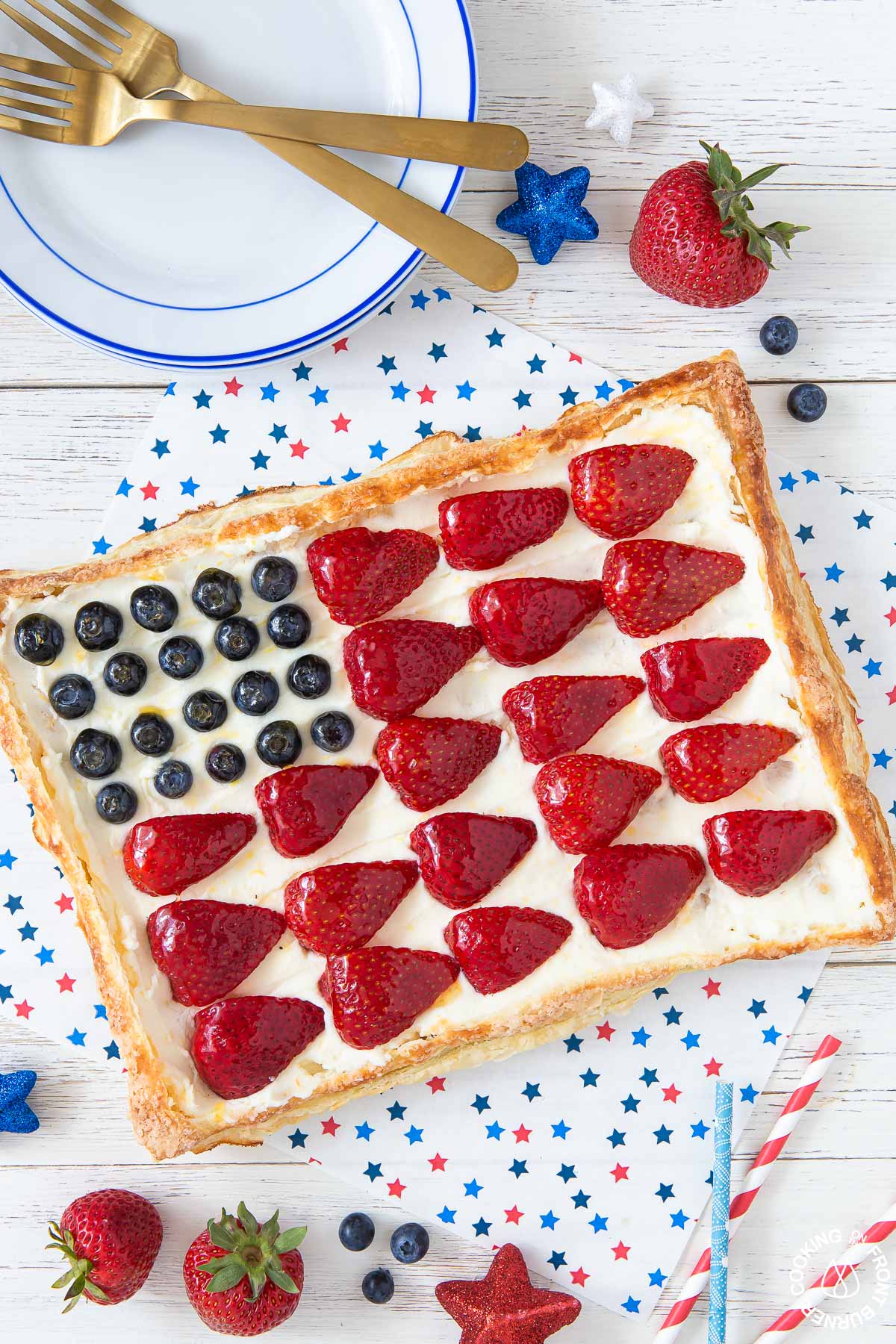 Let's hear it for the red, white and blue today with this impressive summer tart that is perfect for any party or gathering.
I've made this a few times over the years and it is always a hit. It's not hard to make and everyone will think you have fussed a lot!
Who's ready to start baking?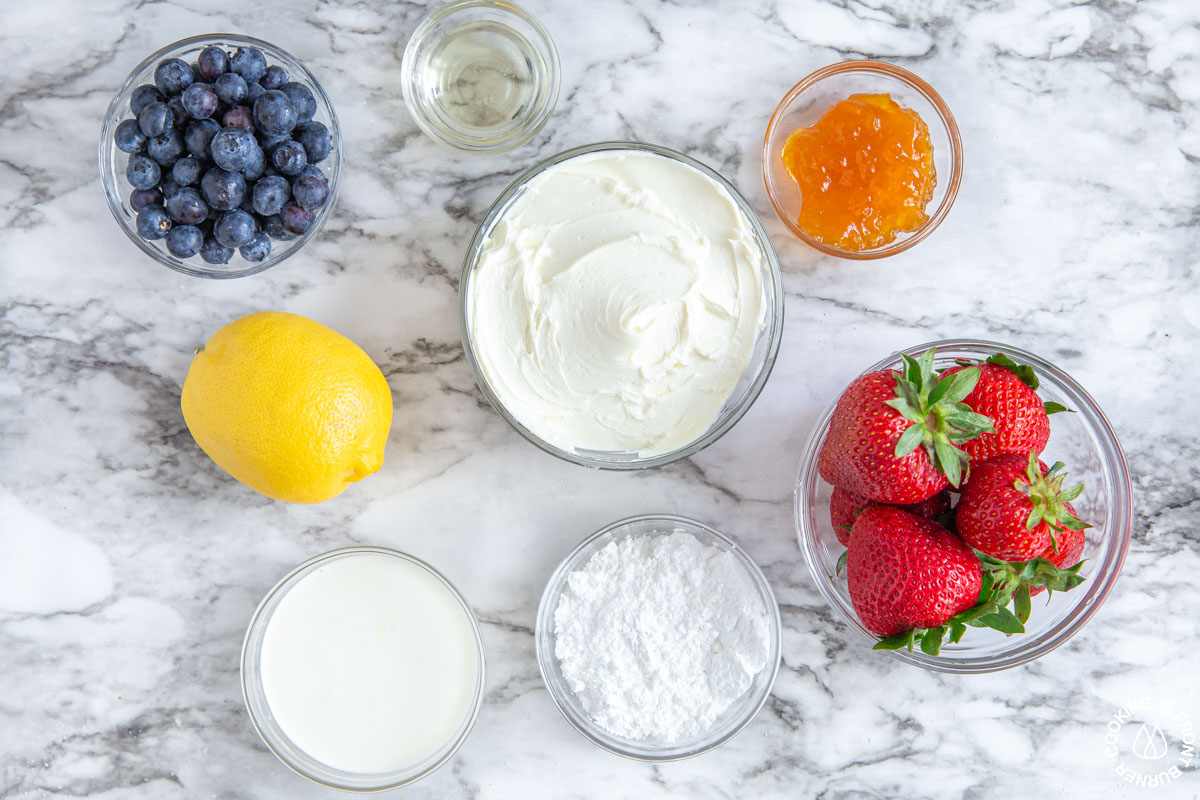 Jump to:
Ingredients
puff pastry dough
egg
sugar
mascarpone cheese
powdered sugar
heavy cream
lemon zest
blueberries
strawberries
apricot jelly
light corn syrup
Step by Step Instructions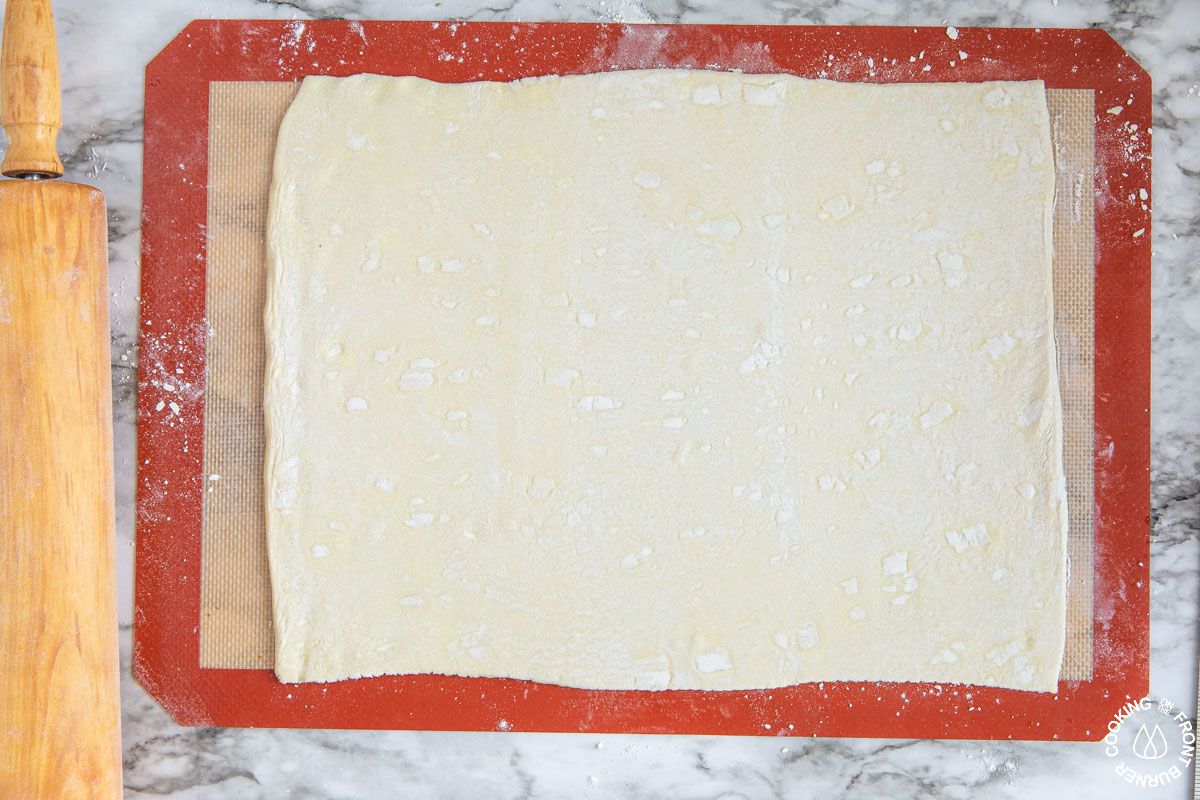 Step 1 - Roll a thawed puff pastry sheet into a 10x12" rectangle either on a silpat mat or parchment paper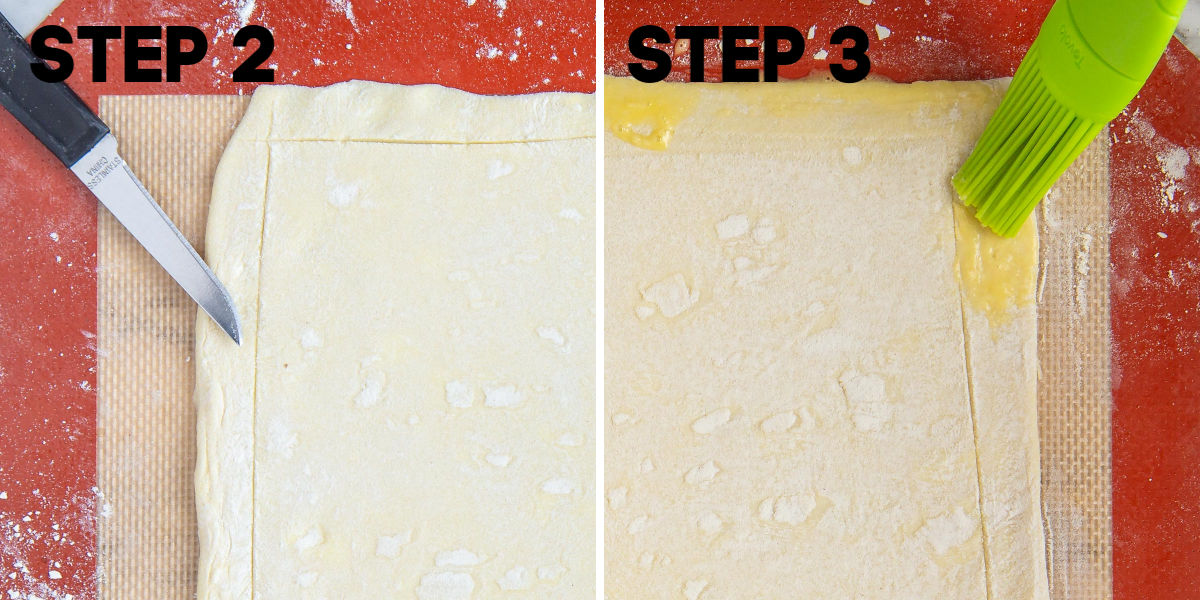 Step 2 - Use a small sharp knife to score about an 1" around the edge of the pastry; do not cut all the way through
Step 3 - Brush the 1" edge with an egg wash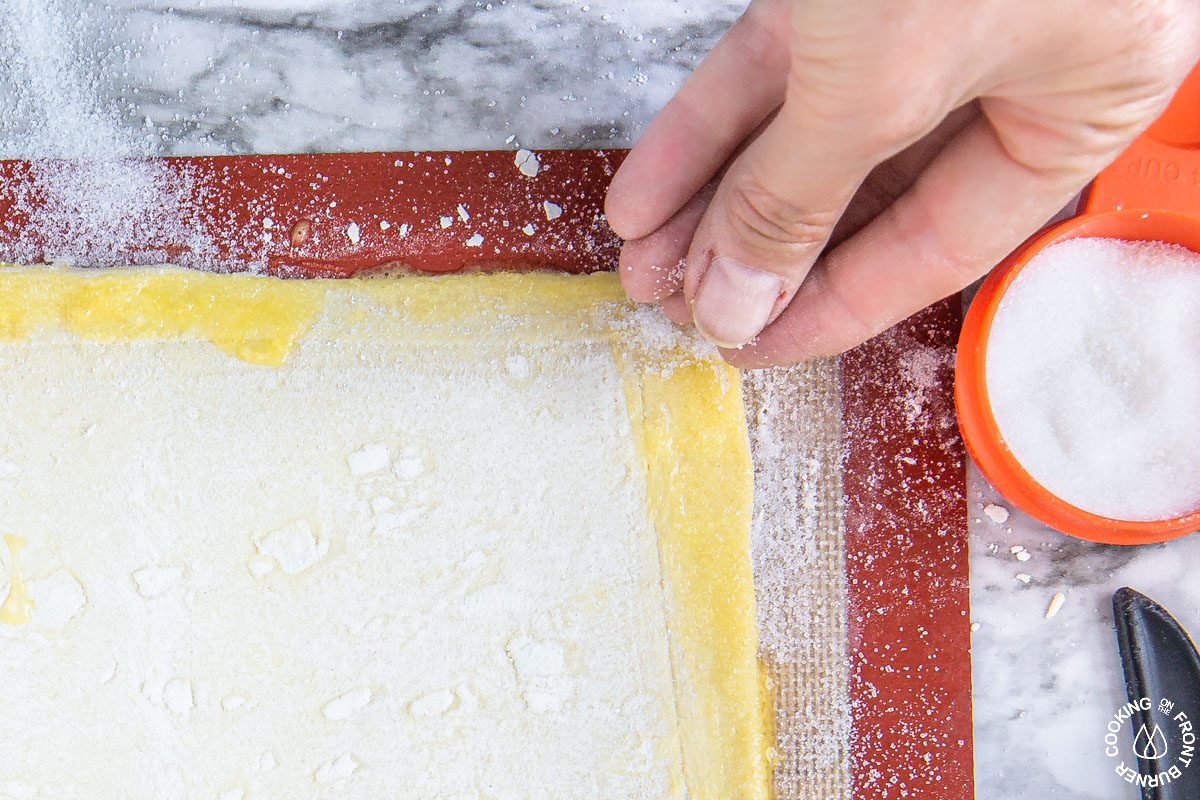 Step 4 - Sprinkle sugar over the egg wash and bake on a cookie sheet in an oven heated to 375 degrees.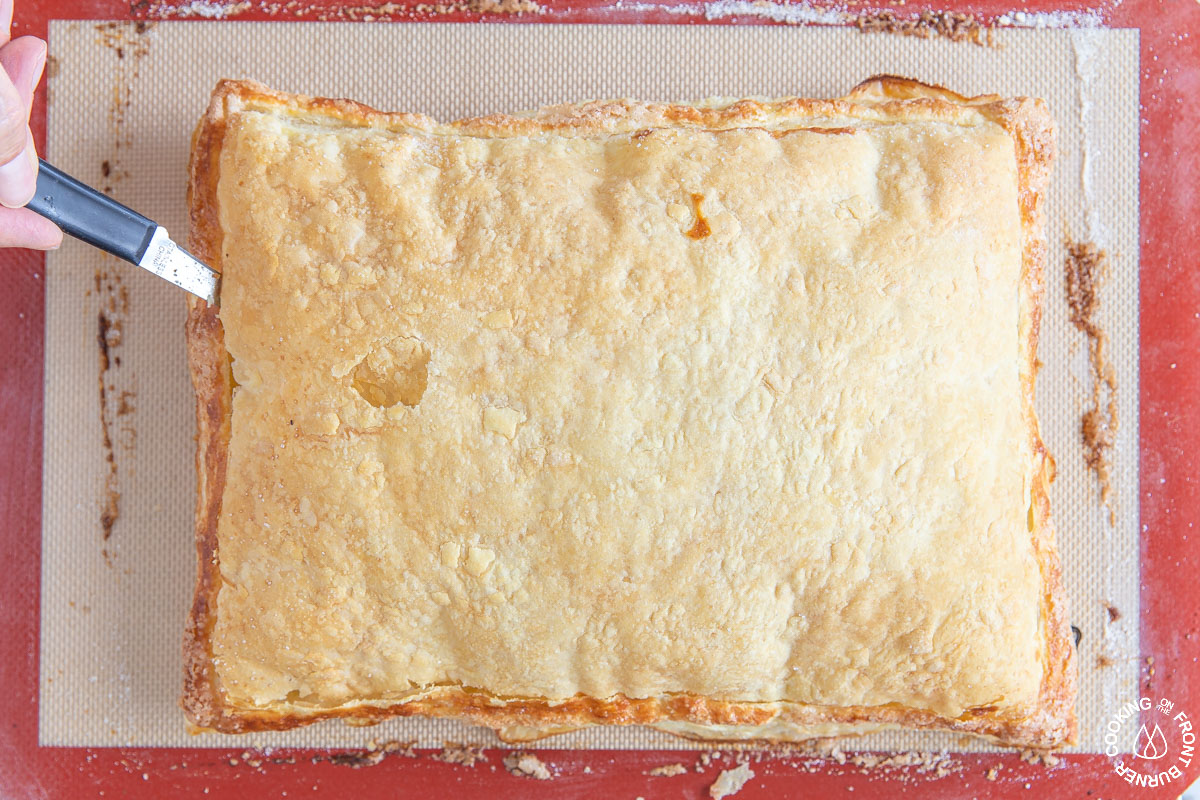 Step 5 - After baking, the center of the tart will be puffed up; use a small sharp knife to re-score along that 1" edge being careful to only cut the top layer.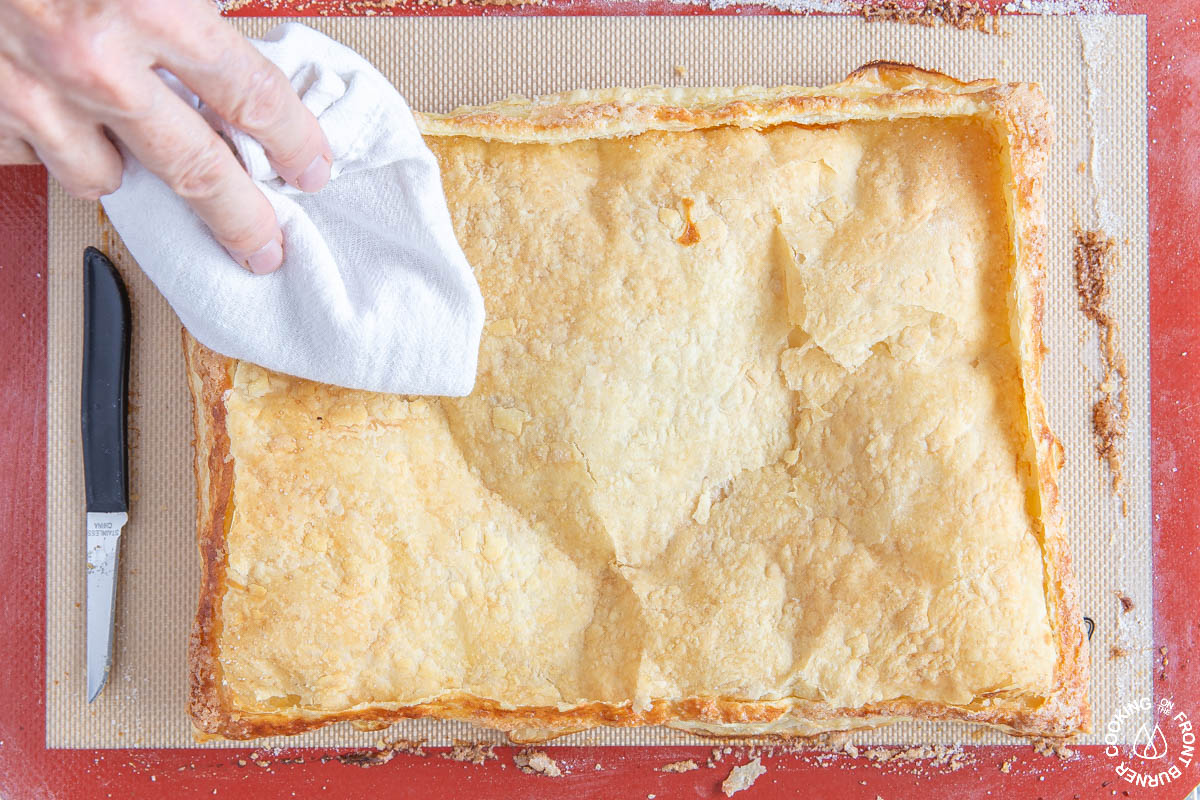 Step 6 -  Using a clean towel or similar item, gently press the center of the tart down so it is flat - it will be crumbly and flaky but that is ok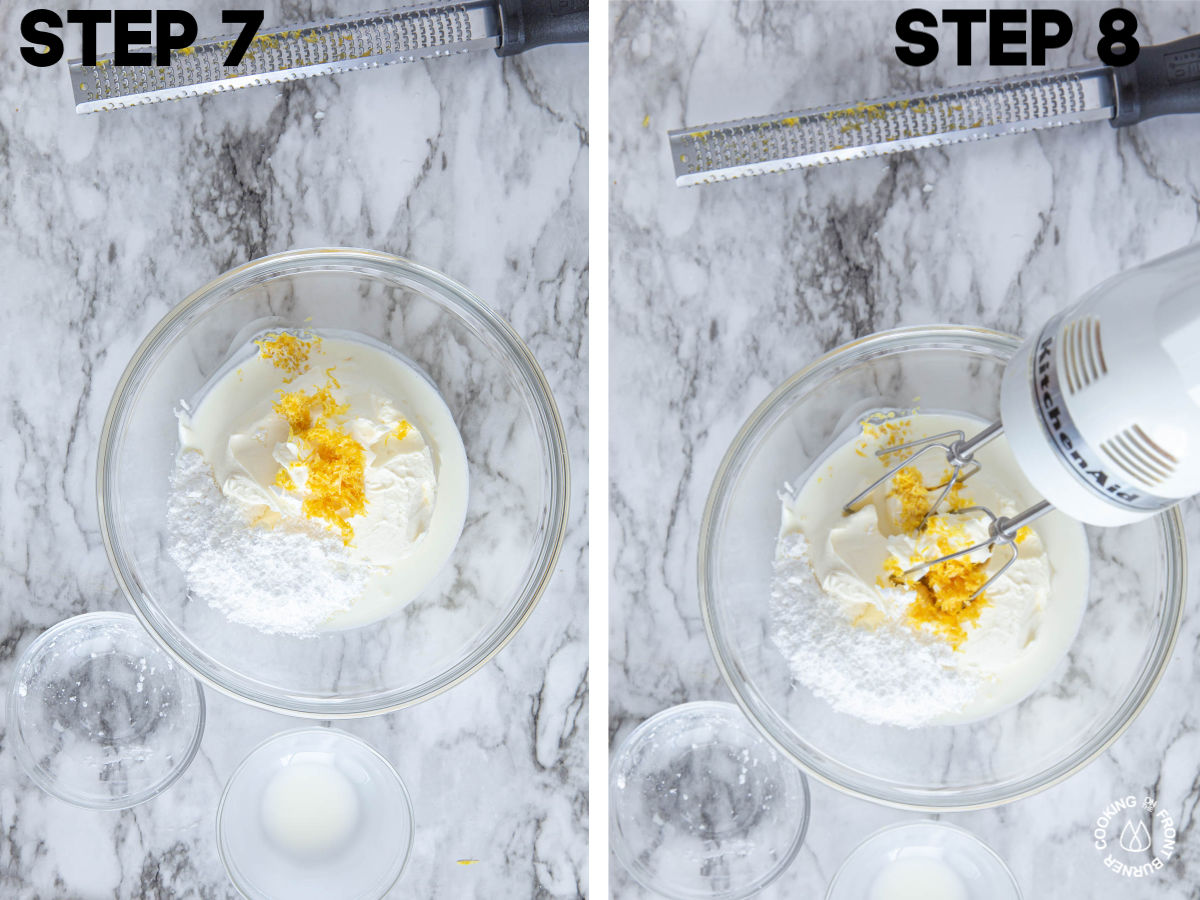 Step 7 and 8 - Make the filling by combining the mascarpone cheese, powdered sugar, heavy cream and lemon zest in a medium bowl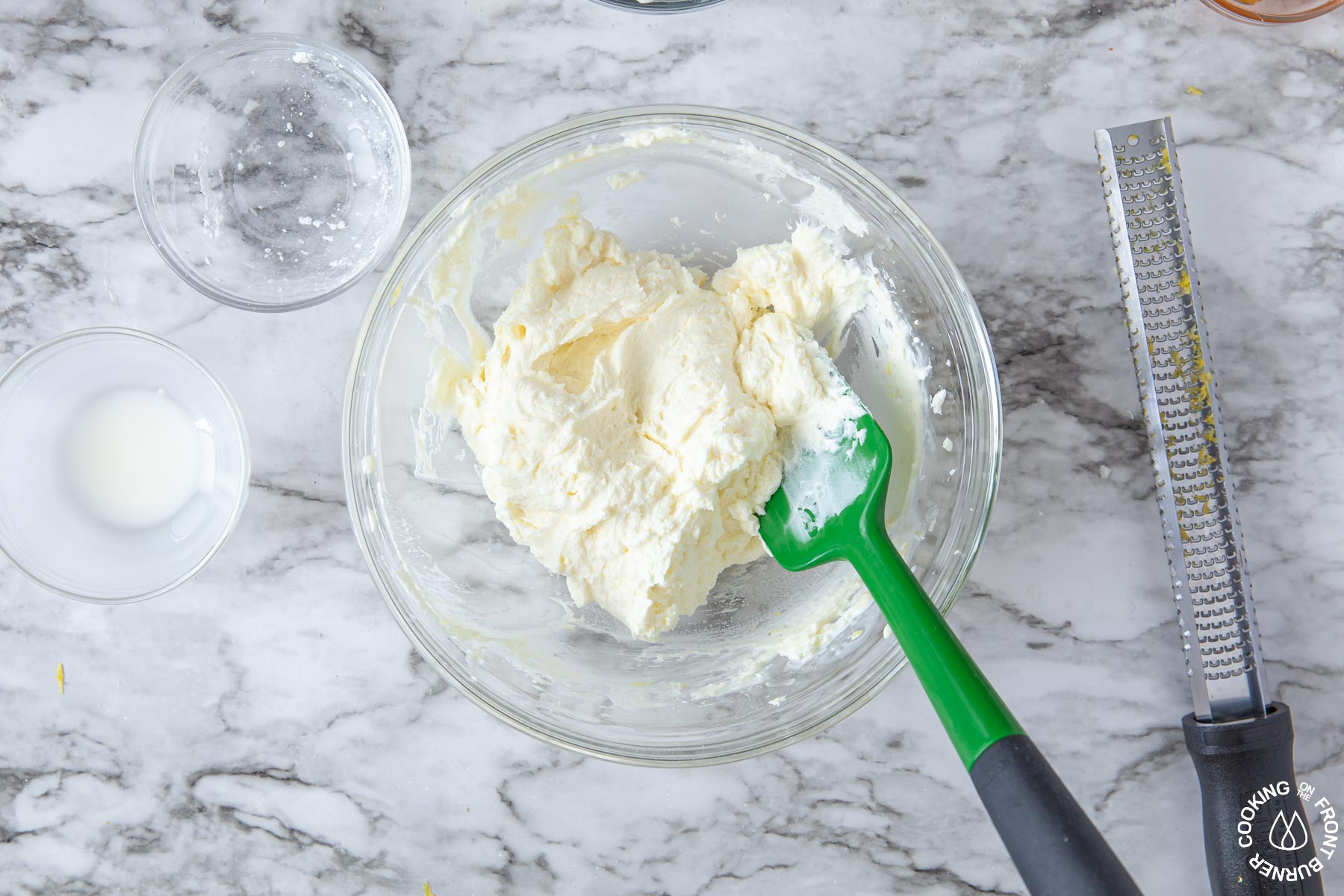 Step 9 - Mixture should be creamy and not over mixed
Step 10 - Use a small scoop to place the mascarpone filling in the pastry shell; this will make it easier to spread
Step 11 - Use a small spatula to carefully spread the filling mixture so that you don't get the flakes of crust into the filling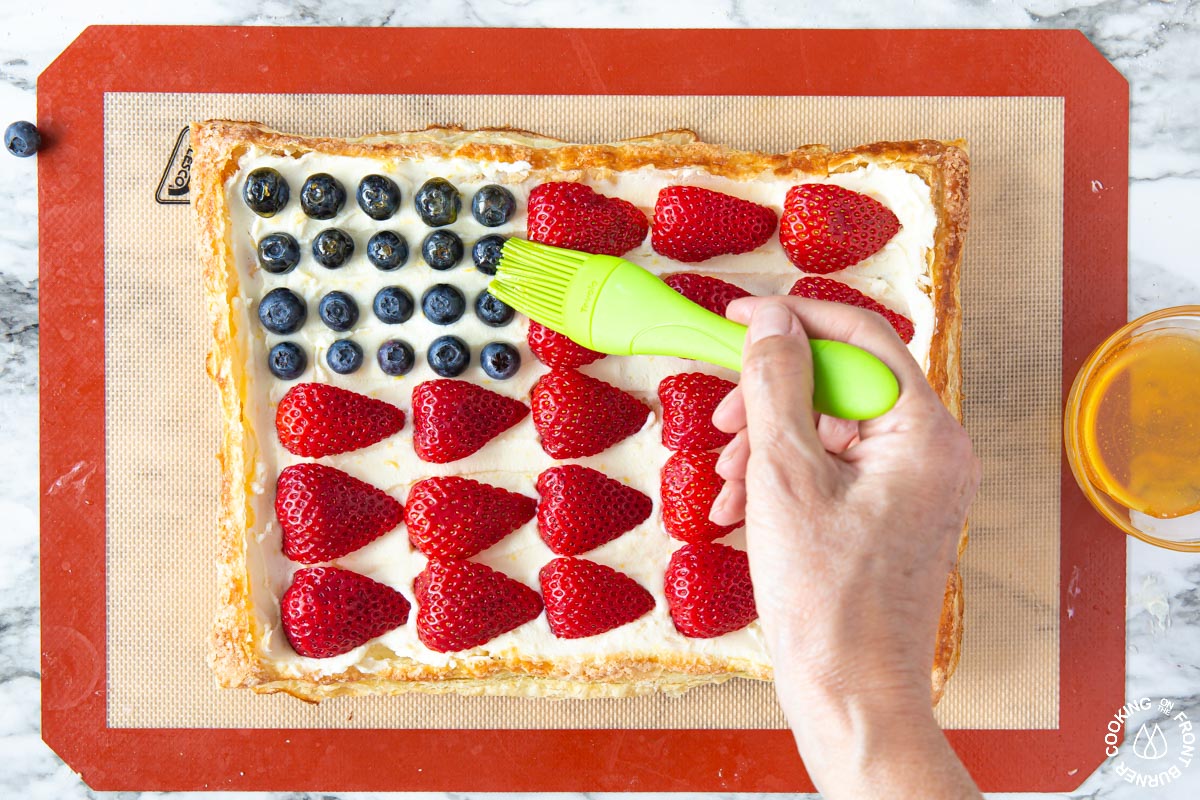 Lastly - arrange cut fruit over filling as shown.  In a small bowl melt the jelly and corn syrup together and brush over the fruit only.
Your dessert is now ready to go! It can be served right away or refrigerated for a day.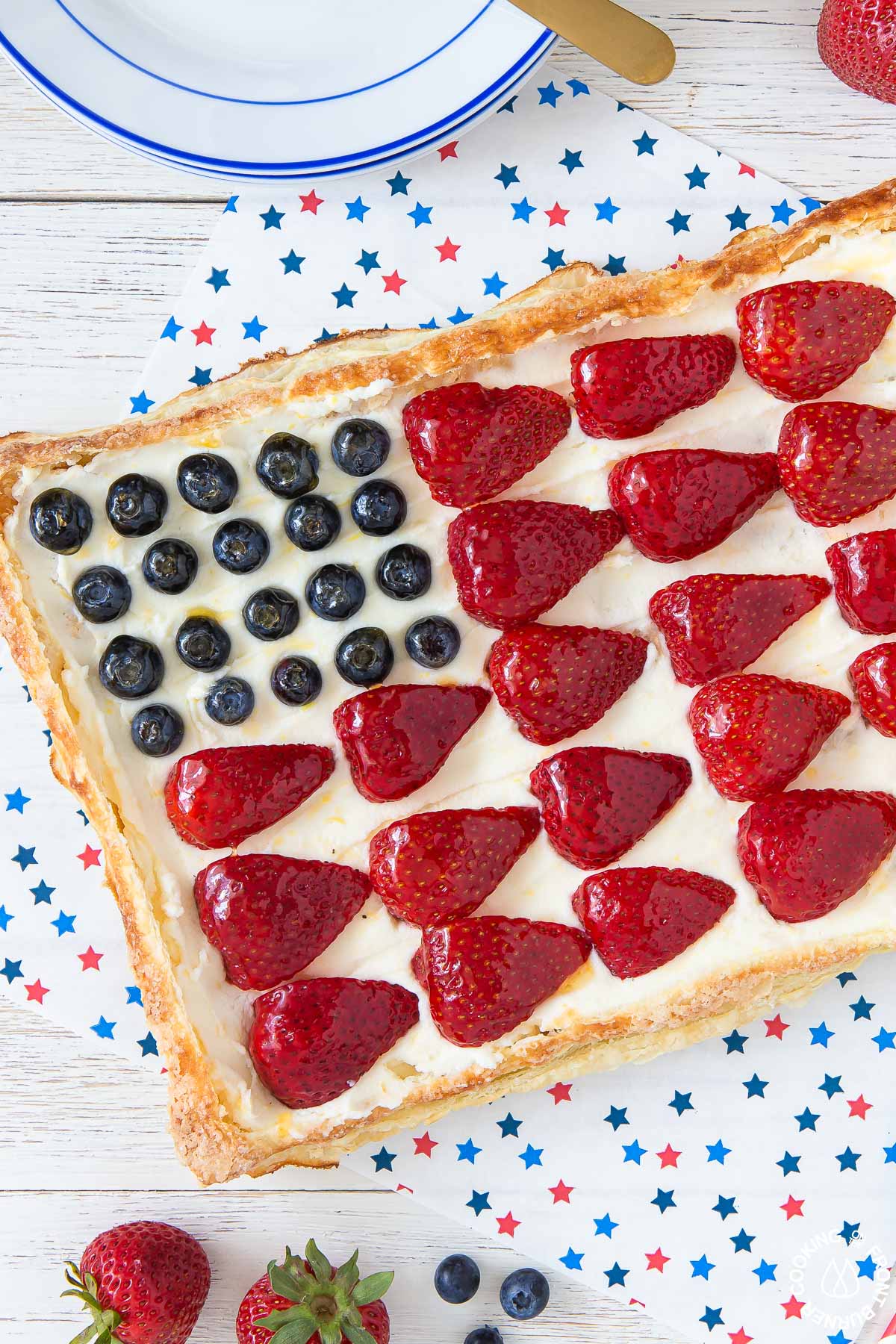 Storage
Once you make the completed American Flag Tart, it is best served in one day to really get that flaky crust texture. It will still taste good about 2-3 days afterwards but the pastry will soften up.
Variations
Raspberries can be used instead of the strawberries
Any kind of clear jelly with work as a glaze (apple, etc)
I had big strawberries so I cut them in quarters, you could could also slice and overlap them slightly to make the "stripes"
The glaze really gives is a shiny finish and adds a bit of flavor.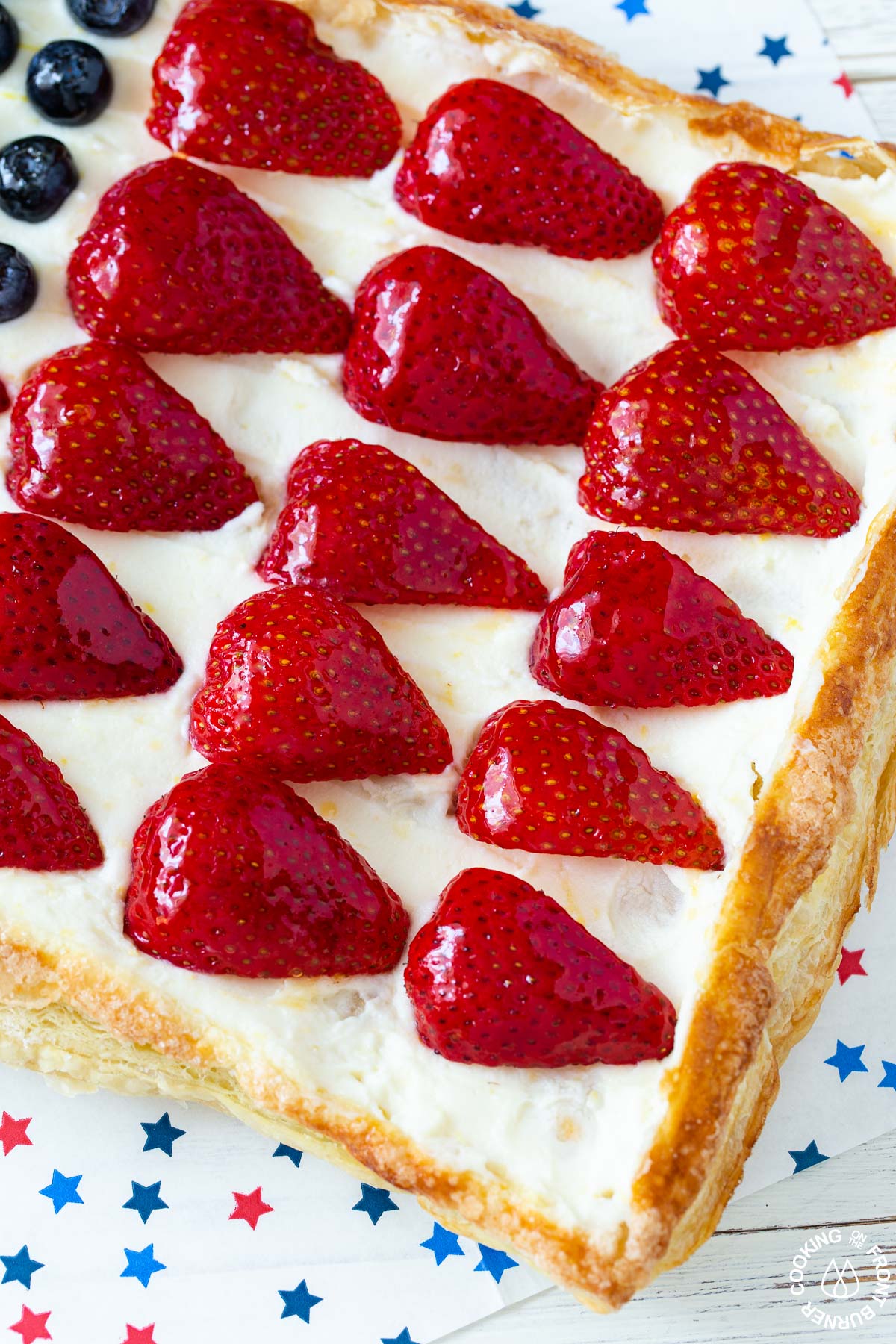 Related Recipes
I have a few recipes on the blog that would go perfect for patriotic holidays.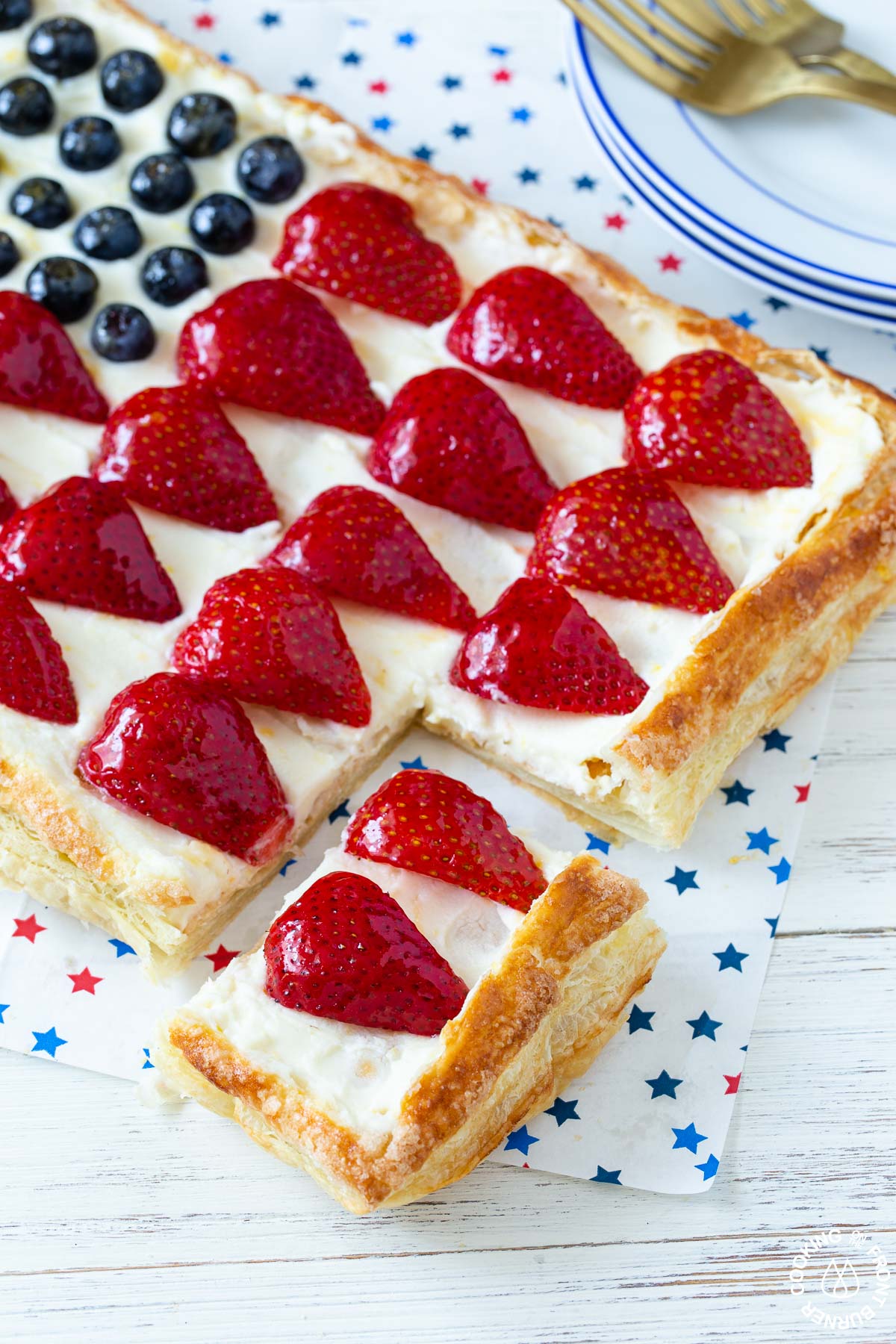 I would also like to suggest this Firecracker Cake from one of my blogger friends.
Get the Recipe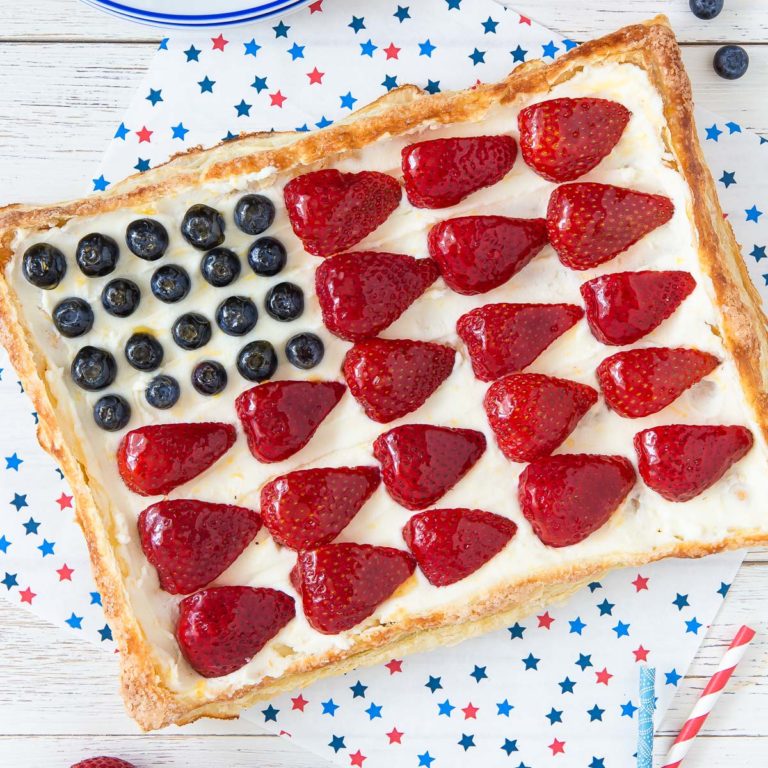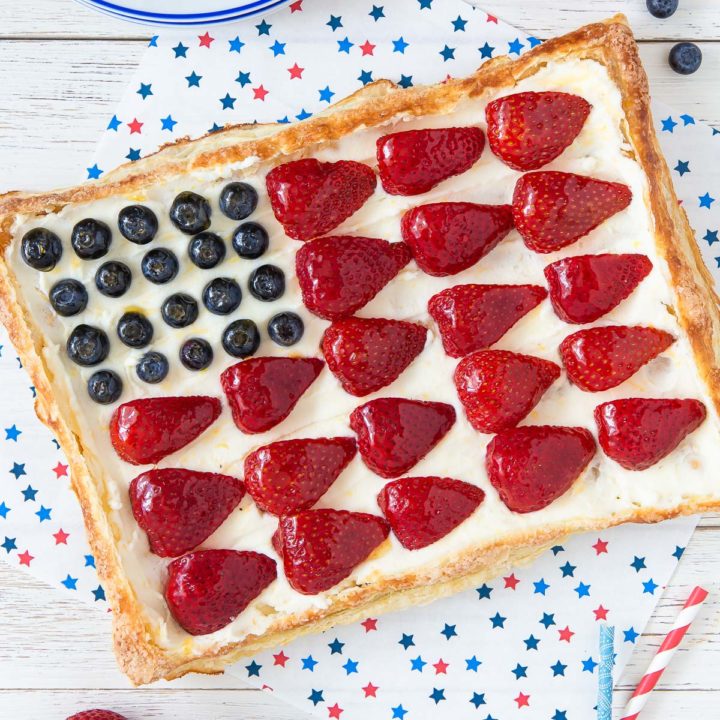 American Flag Tart
A delicious patriotic tart that is perfect for any gathering
Ingredients
1 sheet puff pastry dough, thawed
1 egg beaten
2 tablespoons sugar
8 oz. mascarpone cheese
⅓ cup heavy cream
¼ cup powdered sugar
1 lemon zested
⅓ cup blueberries
1 cup sliced strawberries
2 tablespoons apricot jelly
1 tablespoon light corn syrup
Instructions
Preheat oven to 375°
Roll dough on a floured surface to a 10x12" rectangle then place on parchment paper on a cookie sheet. Lightly score with a sharp knife 1" around the edge of the dough; brush edge with egg and then sprinkle with sugar
Bake until golden brown about 18-22 minutes. (center will puff up)
Remove from oven and lightly score the edge again making sure not to cut through bottom of dough
Press down the center with a big spatula or an oven mitt – let cool completely
In a medium bowl beat the mascarpone cheese, heavy cream, confectionery sugar and lemon zest.
Spread carefully onto cooled crust the place berries into a flag pattern
In a small bowl combine the jelly and corn syrup - heat in microwave until liquid like (caution will be hot)
Brush on fruit
Cut and serve
Notes
See Step by Step instructions in post to see how to make
Nutrition Information:
Yield:

12
Serving Size:

1
Amount Per Serving:
Calories:

247
Total Fat:

17g
Saturated Fat:

9g
Trans Fat:

0g
Unsaturated Fat:

7g
Cholesterol:

49mg
Sodium:

176mg
Carbohydrates:

22g
Fiber:

1g
Sugar:

9g
Protein:

2g
Nutritional information provided is computer-generated and only an estimate. You may want to do your own research with the ingredients listed if you have concerns about health or specific diets.
About the Author
Recent Posts
Recipe Index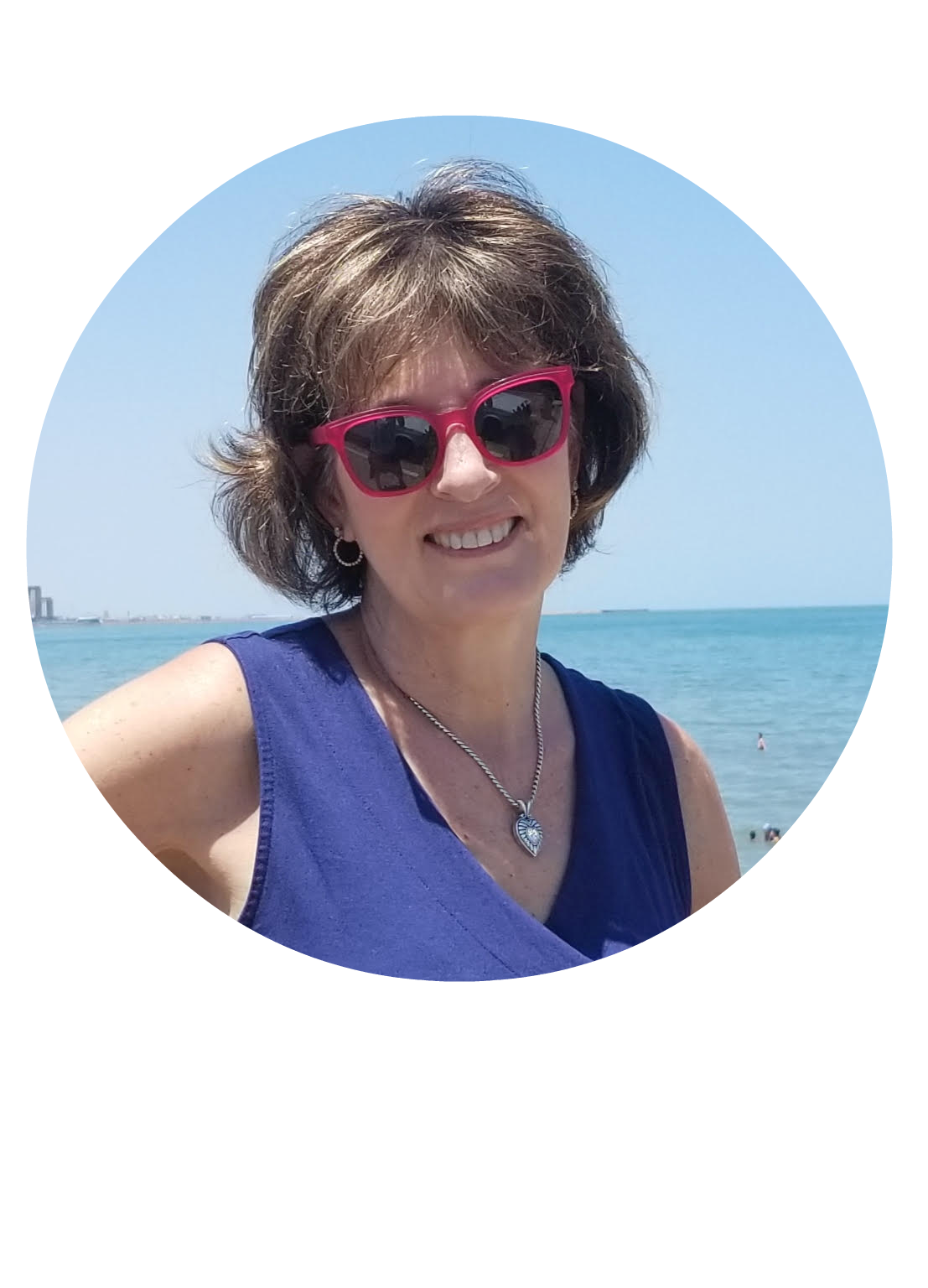 We are all about sharing our love of good food so on the blog you will find easy recipes to enjoy with your family and friends.  We hope to inspire you to host a gathering to create special memories.  Most recipes are step by step so you can feel confident in the kitchen.  Take a look around to find everything from breakfast to dinner and everything in-between!