Use your grill to make this Rustic Grilled Veggie Flatbread. This vegetarian pizza is loaded with fresh vegetables!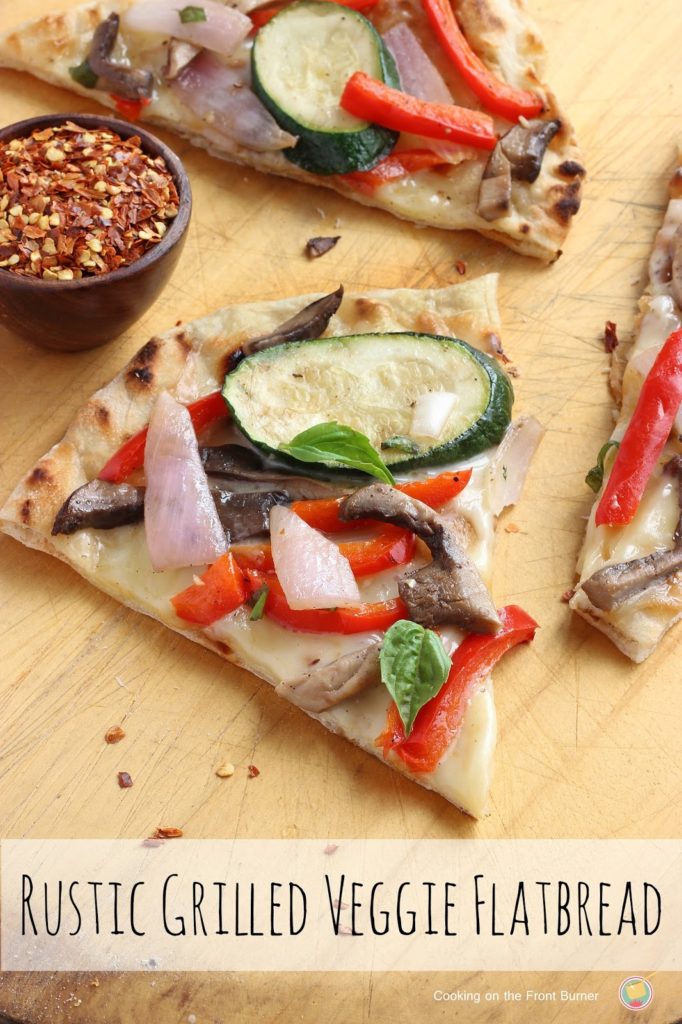 Grilled pizzas came into my life about 15 years ago.  We were renting a cabin up in northern Minnesota with other friends in a cabin nearby and were taking turns making dinner for our families. 
I'm sure I kept my night pretty simple with hamburgers and hot dogs but when is was my friend's turn, she wowed us with grilled pizzas.  I had never heard of making pizzas directly on the grill - I was hooked!  They were delicious and fun to make! 
Now this recipe is not the exact one she made though I do make that one at least once a year.  Today's Rustic Grilled Veggie Flatbread is a new recipe that I think you will really like!
I made this pizza as an appetizer for the DIY Guy on Father's Day. He loved it!
Pizza has to be one of my favorite foods and I'm more of thin crust person (must be the New Yorker in me!)  Preparing pizzas on the grill gives it great taste, texture and turns out nice and crispy. 
This pizza was cooked on a gas grill but using charcoal is even better!  You just need to make sure the coals are not too high or too hot. 
Grilling the veggies is easy if you use a smaller type grate to place on top of your grill - that way you don't lose any of your veggies down the grill.  And as far as shapes go - well, I tried to make mine into an oval but by the time I got it over to the grill and laid it down, it looked like the state of Wisconsin! 
No worries, it still tastes great and who knows, maybe you will like making different shapes out of the dough!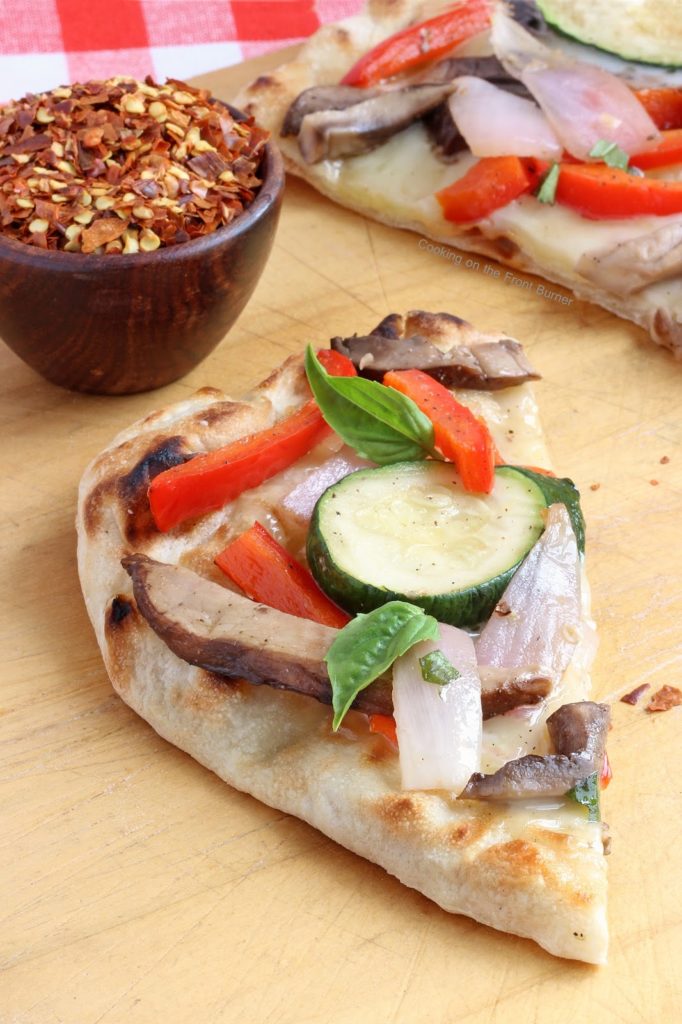 Toppings can be to your liking too. If you wanted to use sausage, just precook it. Below is an example of how I sometimes cook toppings when I make that other pizza. I'll be back with that recipe soon!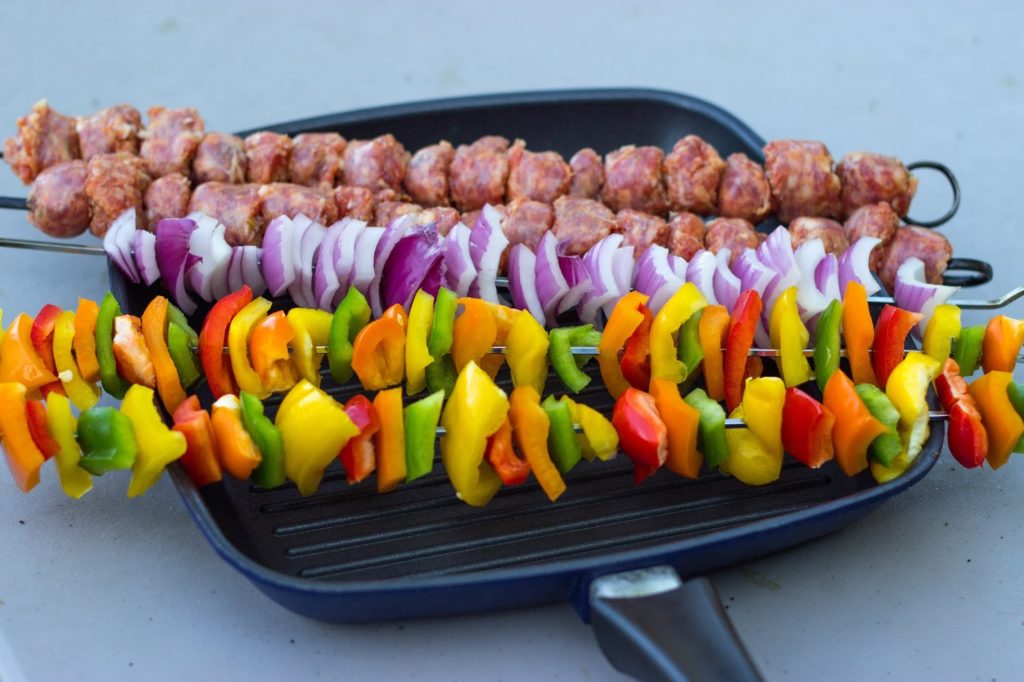 This flatbread recipe is always a hit too!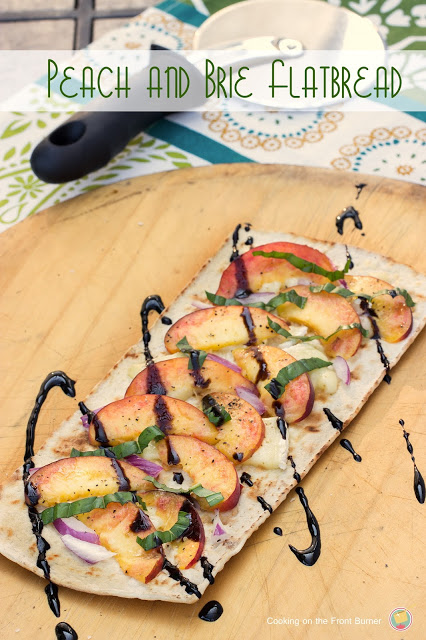 Get the Recipe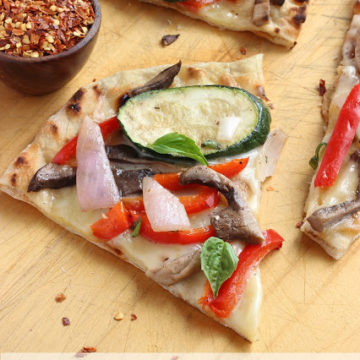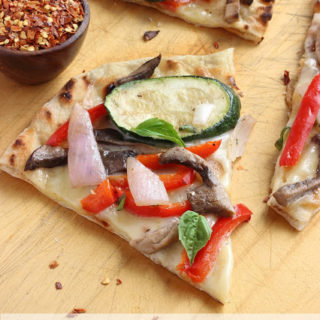 Rustic Grilled Veggie Flatbread
This vegetarian pizza is made on a grill for the ultimate flavor!
Ingredients
2 portbello mushroom caps
1 teaspoon chopped garlic
1 large red pepper cut into ½″ strips
1 medium zucchini – ½″ diagonal cut
½ red onion cut into ½″ wedges
2 tablespoons olive oil
¼ teaspoon salt
¼ teaspoon black pepper
Cooking spray
8 oz fresh pizza dough
4 oz shredded Fontina cheese
2 tbls fresh basil leaves sliced
Instructions
Preheat grill to high
Prep the mushrooms by removing the brown gills from undersides and discard and then cut into ½″ slices
In a large bowl, combine the mushrooms, red pepper, garlic, zucchini, onion and the oil. Toss then sprinkle with S&P
Use a medium grilling rack, spray lightly and place on grill – cook veggies until tender – about 8-9 minutes
Roll the dough in a 12″ oval on a floured board.
Place dough directly on grill and grill for 2-3 minutes on each side until lightly browned.
Remove and sprinkle with the cheese then top the veggies over the cheese
Grill flatbread about 3 minutes or until cheese melts.
Sprinkle with the chopped fresh basil
Nutrition Information:
Yield:

4
Serving Size:

1
Amount Per Serving:
Calories:

338
Total Fat:

19g
Saturated Fat:

7g
Trans Fat:

0g
Unsaturated Fat:

11g
Cholesterol:

33mg
Sodium:

578mg
Carbohydrates:

31g
Fiber:

2g
Sugar:

4g
Protein:

12g
Nutritional information provided is computer-generated and only an estimate. You may want to do your own research with the ingredients listed if you have concerns about health or specific diets.
About the Author
Recent Posts
Recipe Index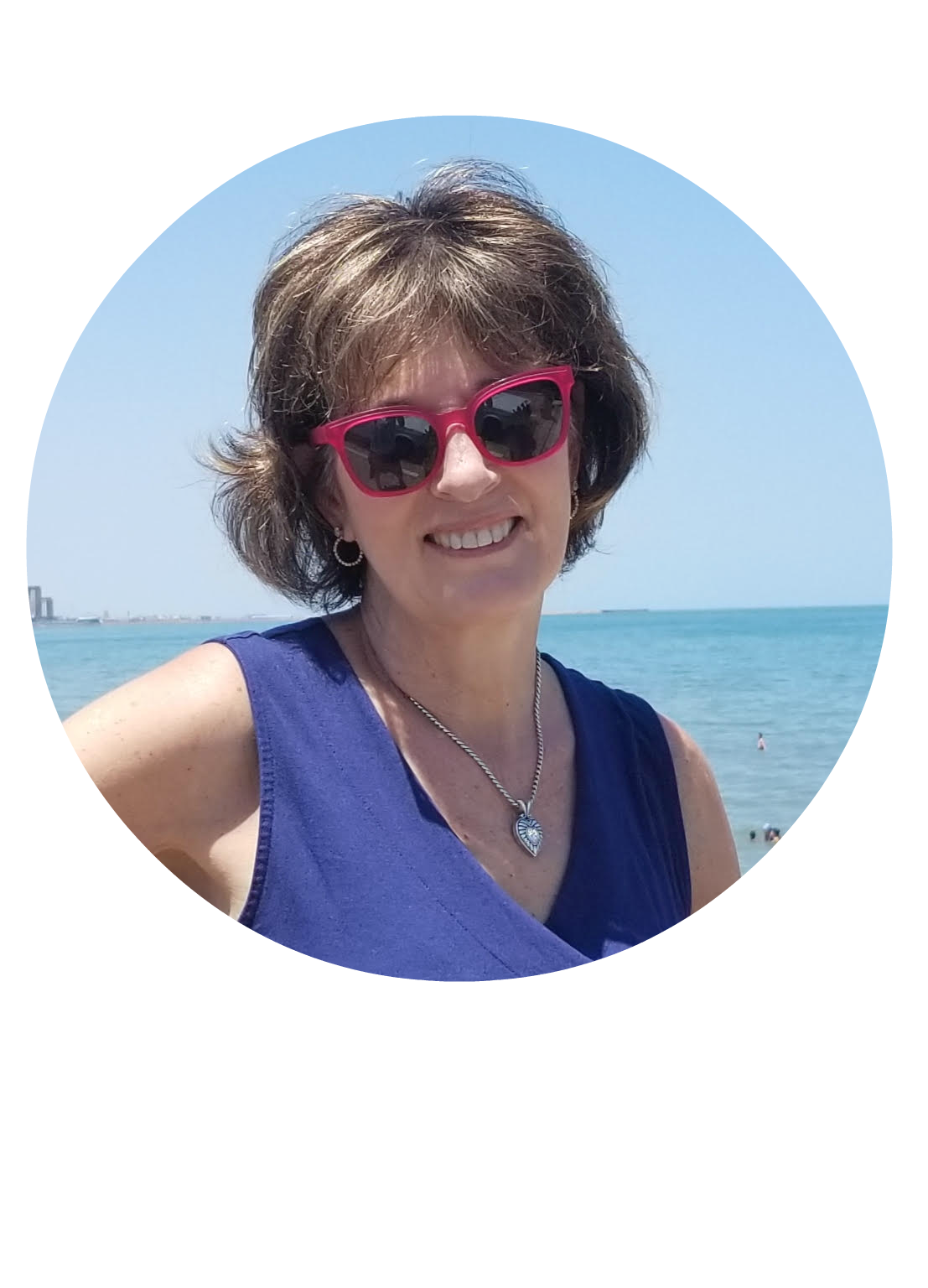 We are all about sharing our love of good food so on the blog you will find easy recipes to enjoy with your family and friends.  We hope to inspire you to host a gathering to create special memories.  Most recipes are step by step so you can feel confident in the kitchen.  Take a look around to find everything from breakfast to dinner and everything in-between!