These Old Fashioned Peanut Butter Cookies are a homemade classic recipe that are easy to make. They make the perfect snack any time!
Who doesn't like peanut butter cookies? For me they have that nostalgic feeling and let's pass that tradition on to our friends and family.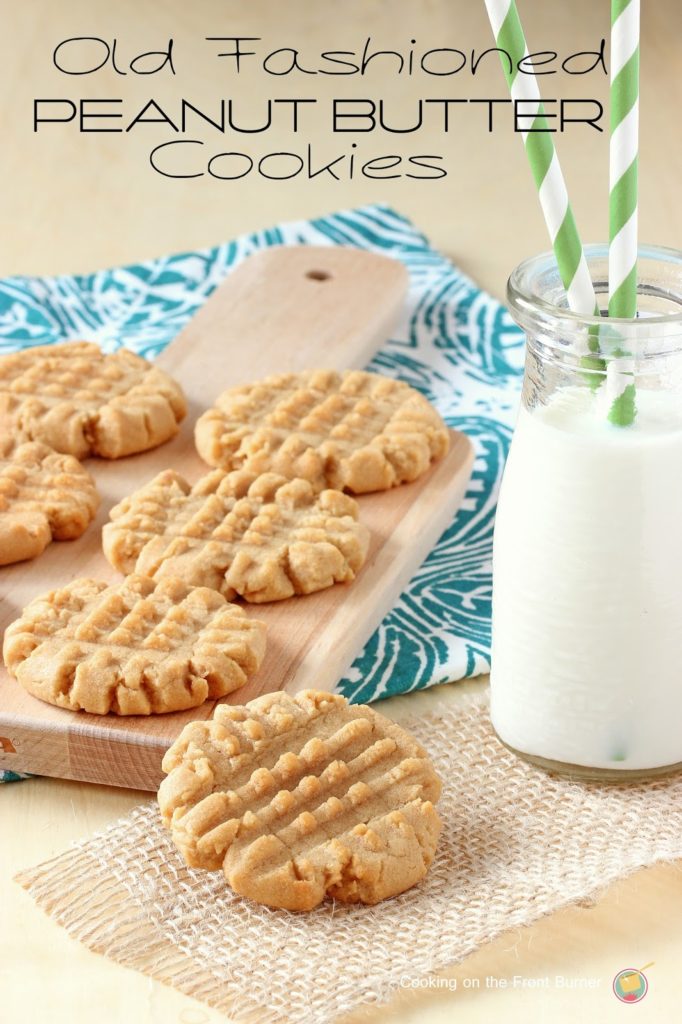 Old Fashioned Peanut Butter Cookies
Back to baking this week with these Old Fashioned Peanut Butter Cookies. I had a craving for some PB cookies and thought I would look through my mom's handwritten cookbooks to find her recipe. I searched through the stash of notebooks I had but no luck!
So now I'm not sure if her recipe came from a cookbook or one she didn't happen to write down. After some searching, I came across this recipe that seemed like a winner to me and it was!
I love how soft and chewy these cookies are - I had to really resist eating a big pile, so I sent most of the cookies to work with the DIY Guy - always a good choice for my self-control! And much appreciated by his co-workers.
These classic Old Fashioned Peanut Butter Cookies are always a hit. Keep a supply on hand for after school snacks, dessert or any time!
As I mentioned, I was craving these cookies because they remind me of my mom and how she always had some sort of after school snack for us. It was an anticipated event of the day. We'd come running in the door after getting off the bus, drop our book bags, and head into the kitchen for snack time.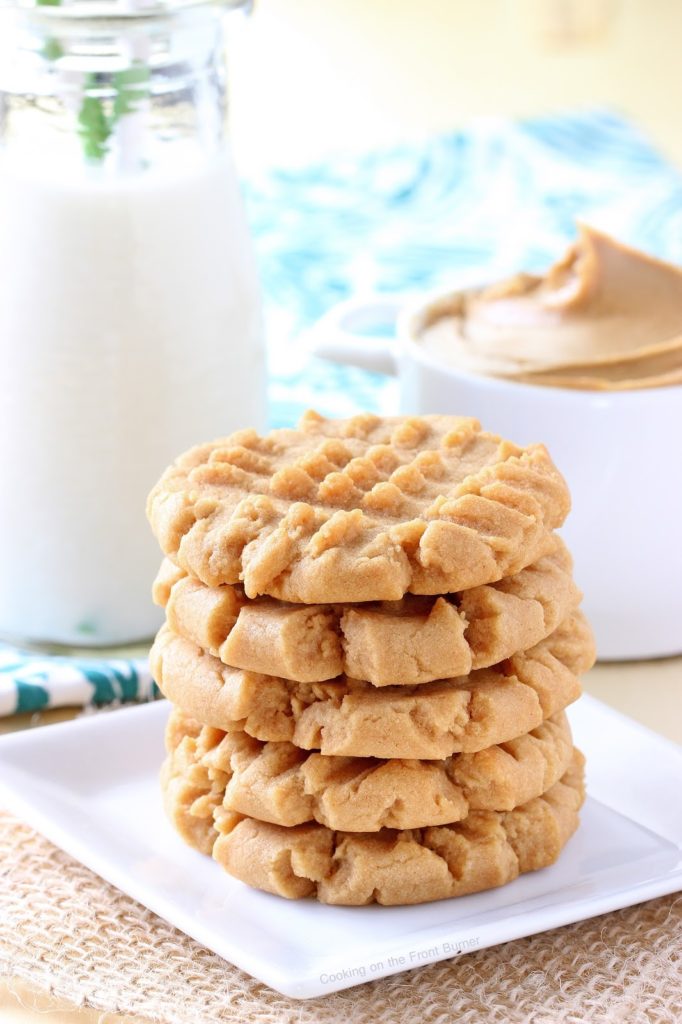 If we got peanut butter cookies, that was the best! Just a little something to tie us over until dinner time - then if we were really lucky we got to have these again for dessert!
What kind of traditions do you remember loving as a kid or what traditions do you want to start for your kids or grandkids?
Go ahead - make a batch and grab an icy cold glass of milk! I'm sure these would be a great hit for the kiddoes for an after school snack!
Ingredients/Items for making these Old Fashioned Peanut Butter Cookies:
Peanut Butter*
Vegetable Shortening
Light Brown Sugar
Milk
Vanilla Extract
Egg
Flour
Salt
Baking Soda
*Can you substitute anything for the peanut butter?
Yes, my granddaughter has a peanut butter allergy and I recently made these cookies substituting almond butter. She was thrilled and they turned out delicious.
Do you need to refrigerate the dough?
No, just mix up the ingredients and bake right away. A batch can be ready in about 18 minutes - just let them cook a bit before taking a bite! 🙂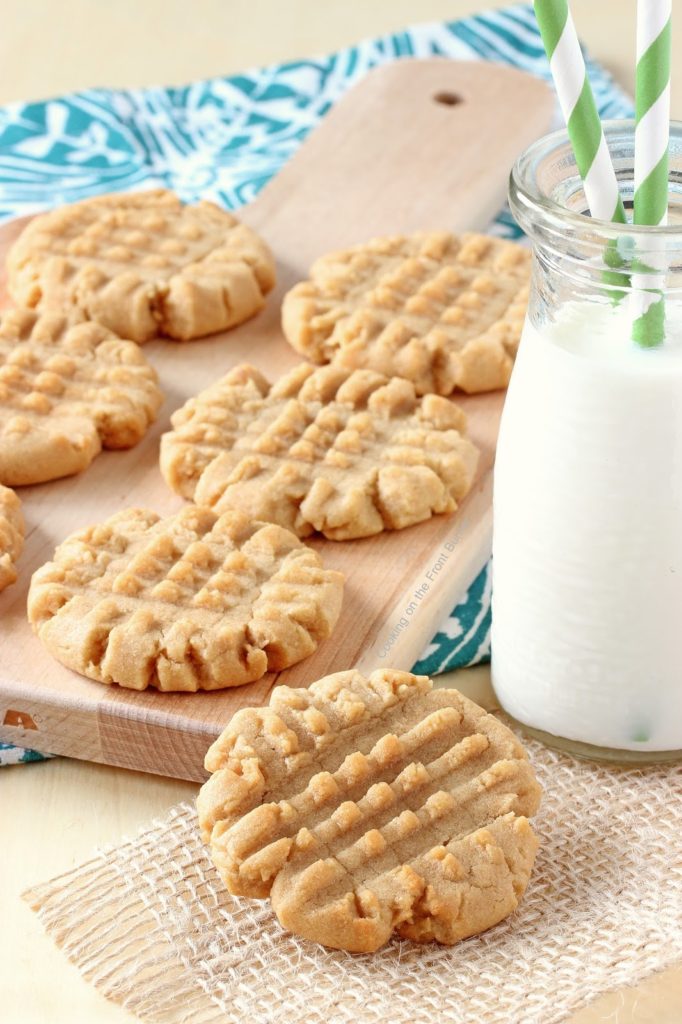 Can you freeze peanut butter cookies?
Yes, these cookies can be frozen up to three months. I find the best way is to lay them singlely with parchment or wax paper between them. DO not stack them or they might stick together. I also place in a freezer bag and try to get as much air out of it as possible.
To defrost, leave on the counter for about 30 minutes.
Can you ship peanut butter cookies?
Yes, you can ship if you follow these some simple steps. Wrap two cookies at a time back to back in plastic wrap and place in a tin.
Be sure the tin is "full" as you don't want the cookies jostling around against each other. You may want to tuck in tissue paper to take up the space.
Place the tin in a box that can be surrounded by packing peanuts, newspaper or similar so that the tin is snug in the box.
Ship off so the lucky person can enjoy!
Be sure to save this pin to make this recipe later!

Get the Recipe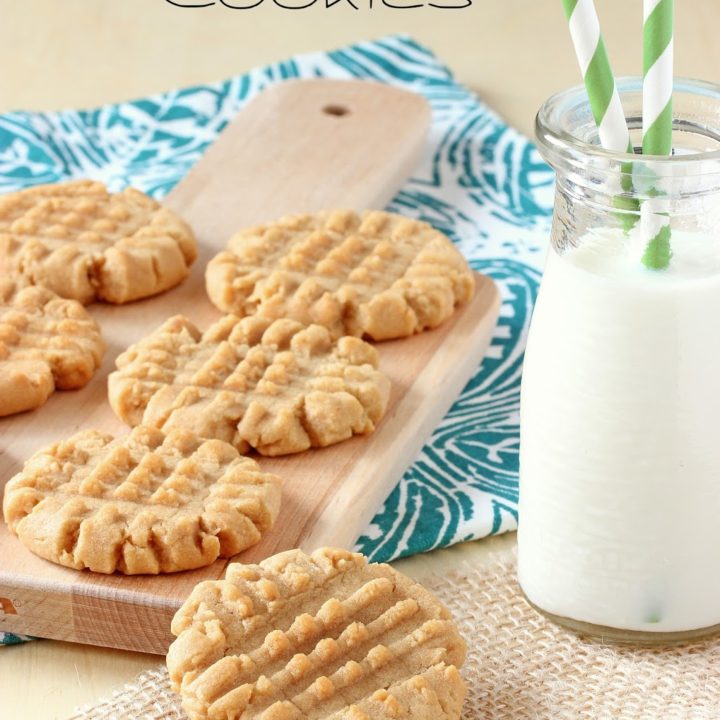 Old Fashioned Peanut Butter Cookies
This Old Fashioned Peanut Butter Cookie recipe is what you have been looking for!
Ingredients
1 ¼ cup peanut butter
½ cup shortening
1 ¼ cup light brown sugar, packed
3 tablespoons milk
1 tablespoon vanilla extract
1 egg
1 ¾ cup flour
¾ teaspoon salt
¾ teaspoon baking soda
Instructions
Preheat oven to 375 and line cookie sheets with parchment paper
Cream together the peanut butter, shortening, brown sugar, milk and vanilla; mixing well
Add the egg and beat in until just blended
In a separate bowl sift together the flour, salt and baking soda
Slowly add the cream mixture until just blended
Roll into 1" balls, slightly flatten with your hand then criss-cross with a fork (dip fork in flour to prevent sticking)
Bake for 8 minutes then cool on cookie sheet for 2 minutes before removing to wire rack to cool completely
Cookie will firm up a bit when they cool - do not overbake
Notes
You can substitute almond butter for those with a peanut butter allergy
Recommended Products
As an Amazon Associate and member of other affiliate programs, I earn from qualifying purchases.
Nutrition Information:
Yield:

12
Serving Size:

2
Amount Per Serving:
Calories:

385
Total Fat:

23g
Saturated Fat:

6g
Trans Fat:

0g
Unsaturated Fat:

14g
Cholesterol:

21mg
Sodium:

352mg
Carbohydrates:

39g
Fiber:

2g
Sugar:

20g
Protein:

8g
Nutritional information provided is computer-generated and only an estimate. You may want to do your own research with the ingredients listed if you have concerns about health or specific diets.
Other cookies you might like: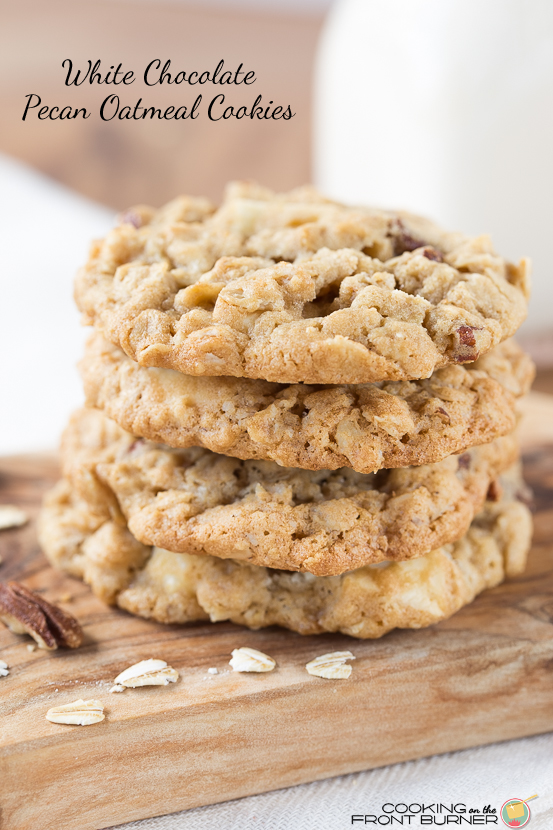 Oatmeal Cookies with Dried Cherries and Blueberries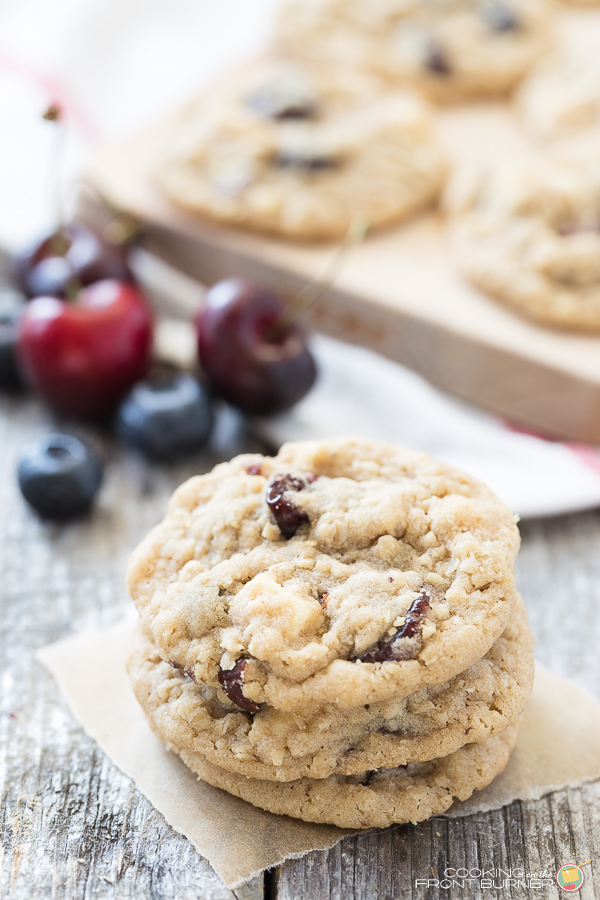 Other cookies recipes from my blogger friends:
About the Author
Recent Posts
Recipe Index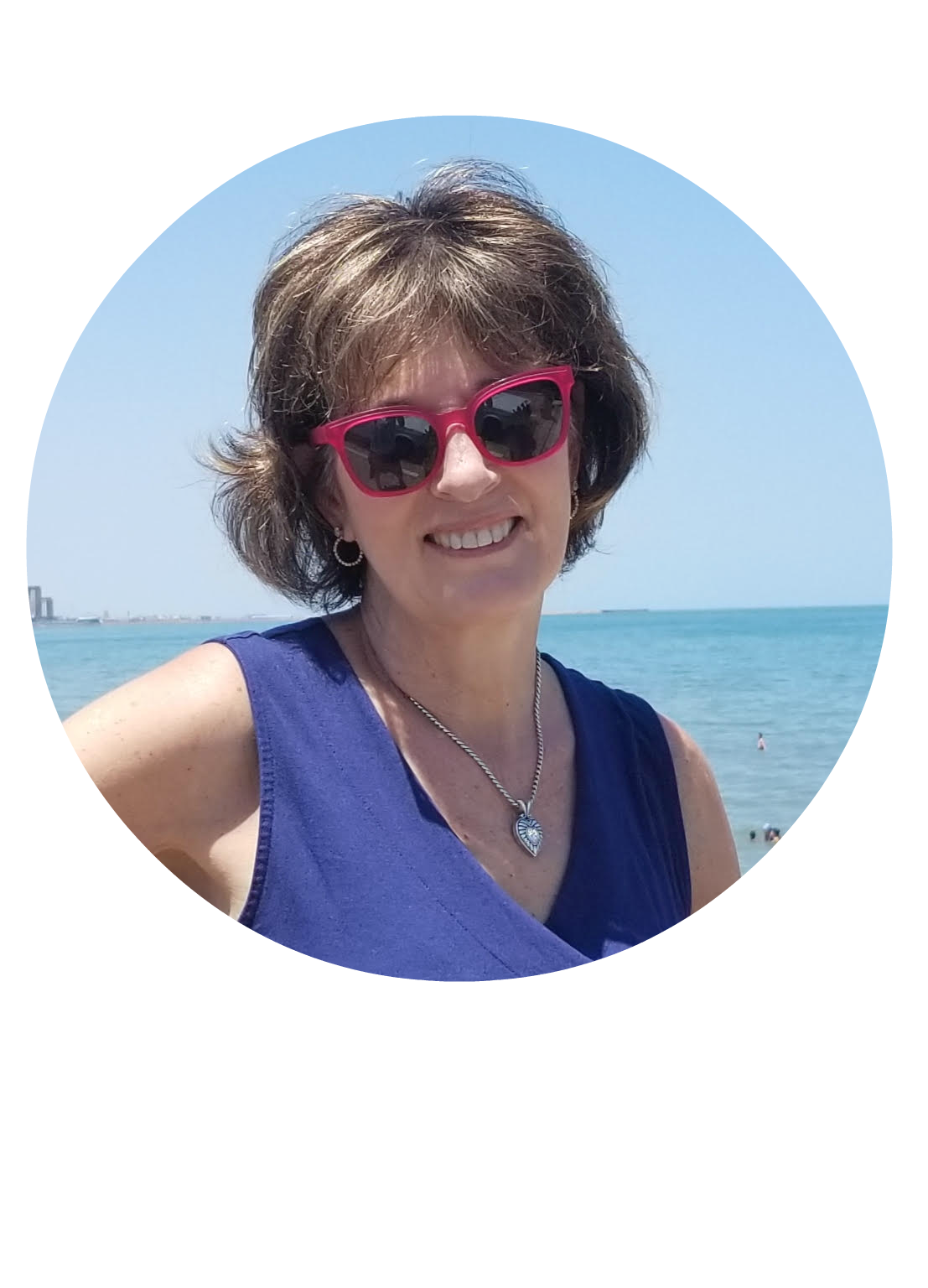 We are all about sharing our love of good food so on the blog you will find easy recipes to enjoy with your family and friends.  We hope to inspire you to host a gathering to create special memories.  Most recipes are step by step so you can feel confident in the kitchen.  Take a look around to find everything from breakfast to dinner and everything in-between!