No bake cannoli cheesecake, made for one! This mini cannoli cheesecakes recipe is simple to make, and because this is a no bake dessert recipe, you won't heat up your kitchen.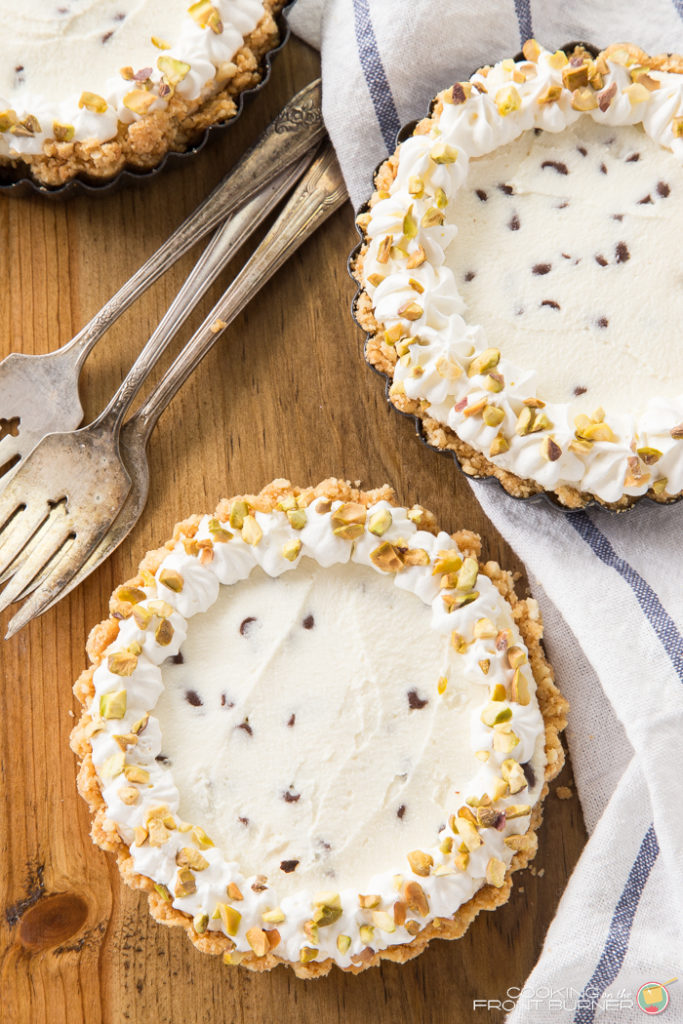 Holy, moly, it's a cannoli (pie)!  You're in luck today with our #12 blogger group and some wonderful no bake desserts!  I'm sharing this no bake cannoli cheesecake recipe!  I am so excited with the pick this month.  Aren't we all looking for some desserts that are easy to make and don't require heating up the kitchen?  YES we are!  You'll see that the gals have really outdone themselves this month - be prepared to drool!
I can't remember the first time I had a cannoli, but I think it might have been in Little Italy in New York City.  I loved the crunchy shell, the creamy filling with chocolate chips and the texture combination. They aren't too sweet, but really satisfy the sweet tooth.  They are a great way to end a dinner or enjoy as a snack.
And the other person in the house - the DIY Guy - loves cannolis as well.  If we are out at an Italian restaurant, he will 9 times out of 10 order one (or two) for dessert along with an espresso coffee.  But I have to admit, I've never attempted to make them.  Maybe it's the shells that intimidate me, because it's not the filling - that is super easy to make.
When I decided to make these mini cannoli cheesecakes, I knew for sure I wasn't going to make shells to just crush them up, so I went to our local supermarket that normally has e-v-e-r-y-t-h-i-n-g.  I started to panic when I couldn't find cannoli shells, so on a whim, I went to bakery counter to ask where they were.  I was expecting, "no we don't carry them", but lo and behold, he asked how many I wanted and I walked away with my shells. I guess the saying is true "there is a helpful smile in every aisle!" (this probably won't make sense to non-midwesterners)
I also ended up with a bit of cannoli cheesecake filling leftover, and you know what? It goes perfectly with chocolate graham crackers!  Keep that in mind when you just want a super easy treat.
Enjoy this cannoli cheesecake recipe!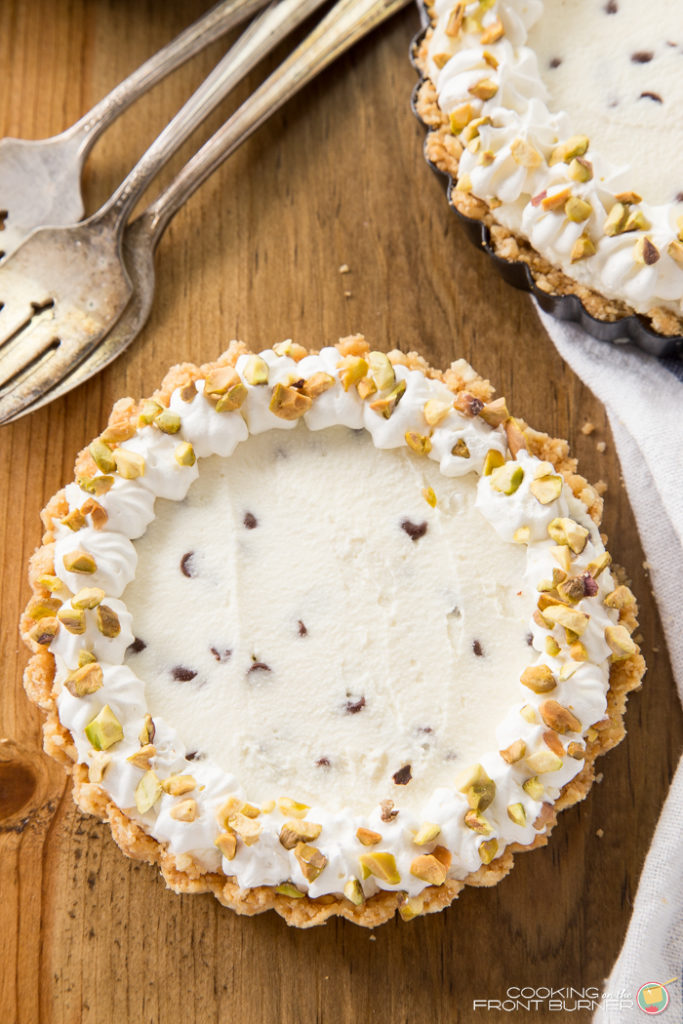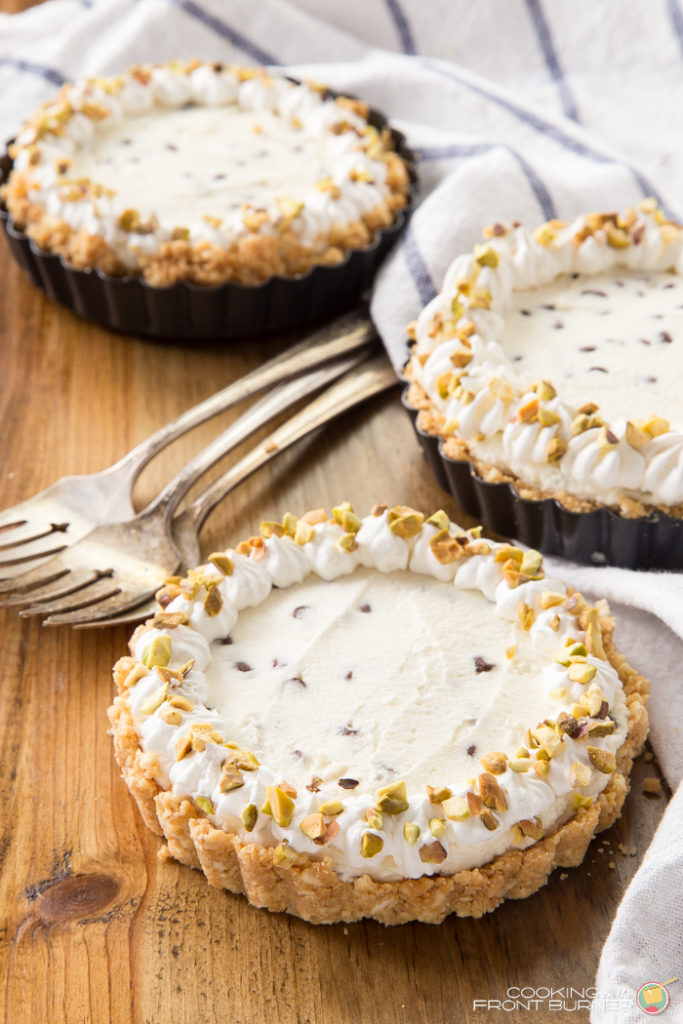 Get the Recipe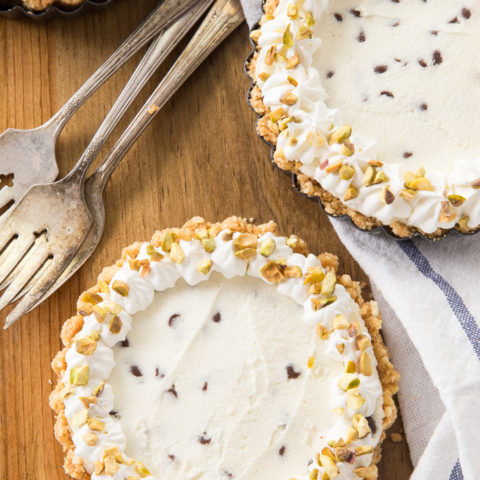 No Bake Cannoli Cheesecake
Cannoli cheesecake is a super easy no-bake dessert. Keep the heat off!
Ingredients
8 cannoli shells, ground fine
4 tablespoons butter
15 oz. whole milk ricotta
8 oz. mascarpone cheese
1 teaspoon vanilla extract
⅔ cup powdered sugar
½ cup mini chocolate chips
⅛ cup pistachios
½ cup whipped topping
Instructions
In a small bowl combine the ground shells and the melted butter; mix well and then divide between (4) 4" mini tart pans with removable bottoms, pressing firm in bottom and on sides - freeze about 30 minutes
In a medium bowl cream the mascarpone with the ricotta cheese then add in the vanilla and powdered sugar mixing well
Stir in by hand the chocolate chips.
Carefully fill the tart pans to top with a spoon and spatula
Decorate edges with whipped cream or cool whip and sprinkle with nuts
Refrigerate at least 3 hours before serving.
Remove from pans
NOTE: if you use whipped cream in a can, place on tarts just before eating.
Nutrition Information:
Yield:

4
Serving Size:

1
Amount Per Serving:
Calories:

1272
Total Fat:

92g
Saturated Fat:

47g
Trans Fat:

1g
Unsaturated Fat:

39g
Cholesterol:

225mg
Sodium:

522mg
Carbohydrates:

85g
Fiber:

4g
Sugar:

47g
Protein:

30g
Nutritional information provided is computer-generated and only an estimate. You may want to do your own research with the ingredients listed if you have concerns about health or specific diets.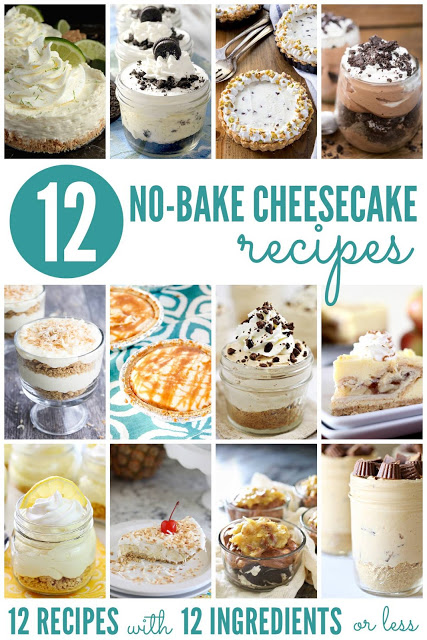 Mini Dulce de Leche No Bake Cheesecakes from Thyme For Cocktails

About the Author
Recent Posts
Recipe Index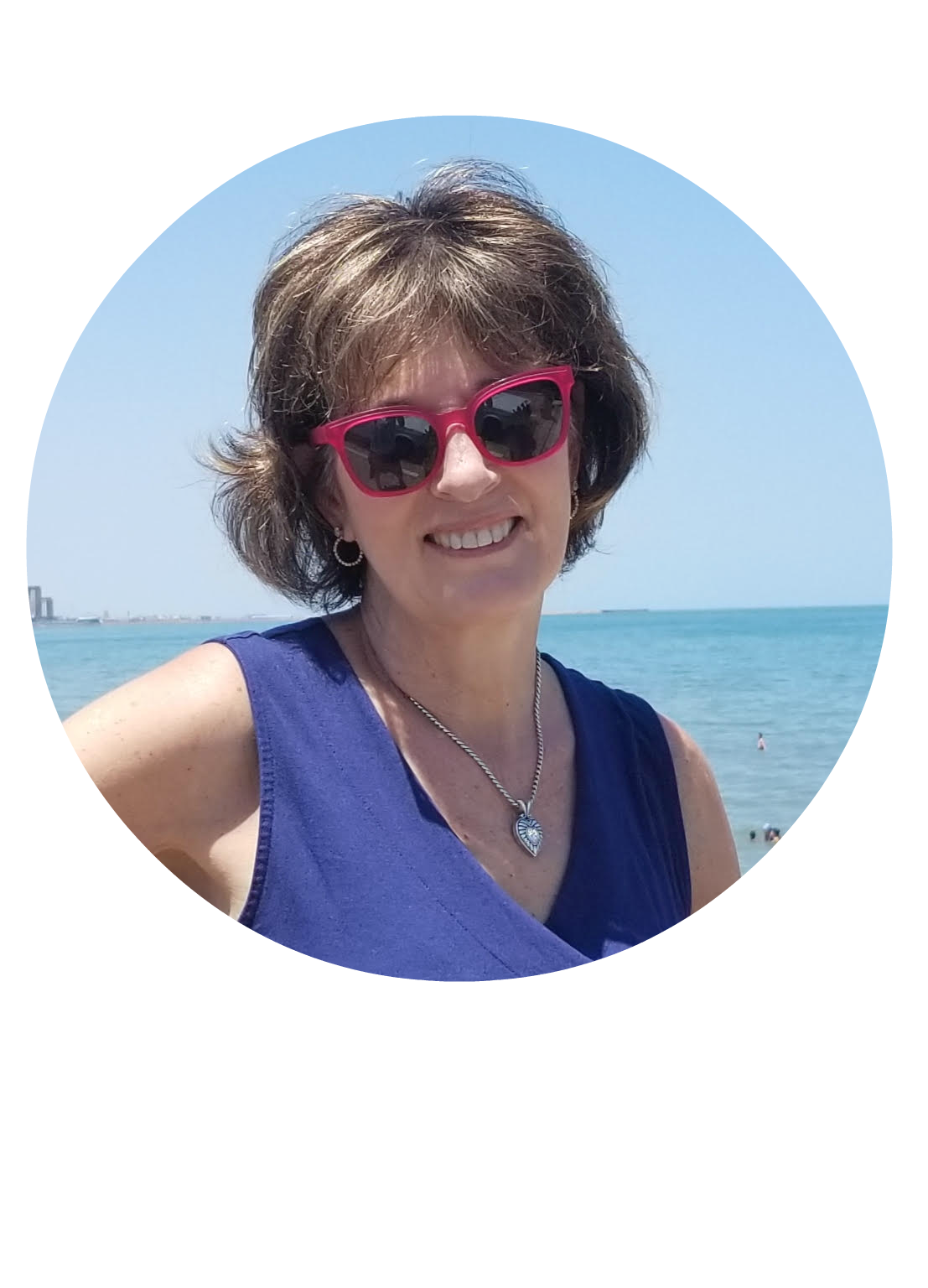 We are all about sharing our love of good food so on the blog you will find easy recipes to enjoy with your family and friends.  We hope to inspire you to host a gathering to create special memories.  Most recipes are step by step so you can feel confident in the kitchen.  Take a look around to find everything from breakfast to dinner and everything in-between!