These Easy Mini Pancake Muffins are made from scratch and are the perfect grab and go breakfast. Just add your favorite fruit and top with a creamy glaze or dip in maple syrup. You can even make them ahead and keep in the freezer.
Everyone loves pancakes right? They are light, fluffy and these can be made and served in under 30 minutes.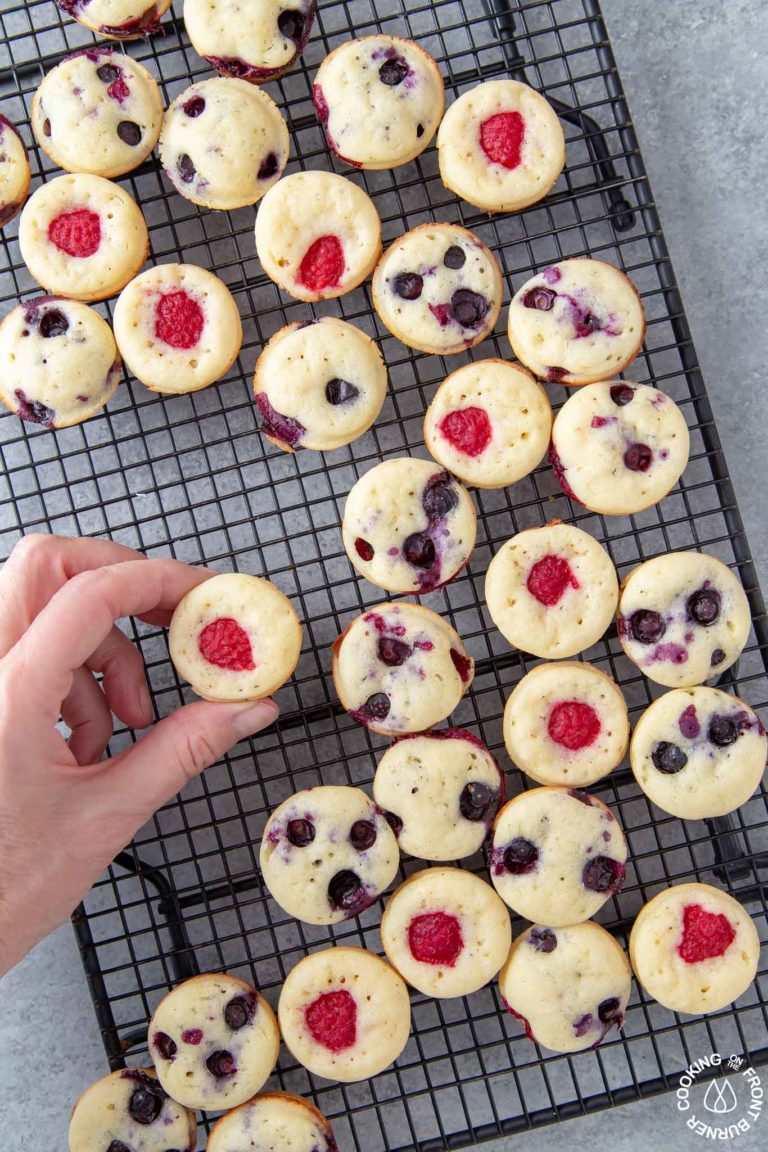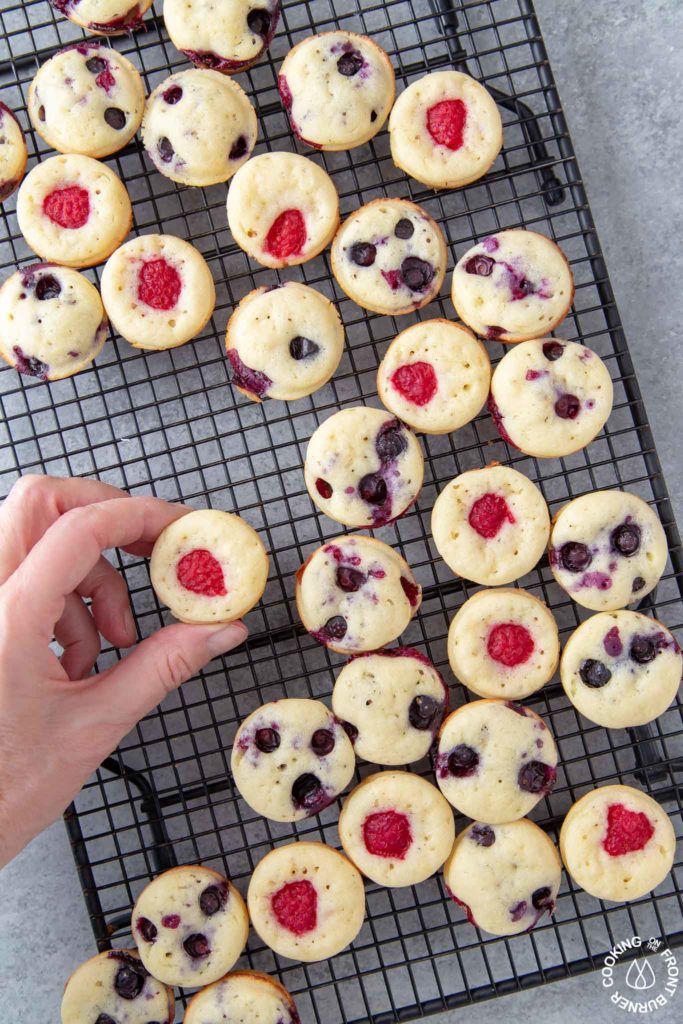 Easy Mini Pancake Muffins
Even your pickiest eater won't be able to resist popping a few of these mini pancake muffins for breakfast or even a snack. They are made with simple ingredients, not too sweet and perfect for grabbing and going!
Making the batter is so easy too that even your kids can help and perhaps have bowls of their favorite fruits (or even mini chocolate chips if you give them the OK 🙂 ) to add as toppings.
Miniature pancake muffins can be made ahead and kept in the freezer. How is that for easy peasy?
There is nothing tricky about making these and you could even use a pancake mix, but I bet you have most of the ingredients right in your refrigerator and pantry.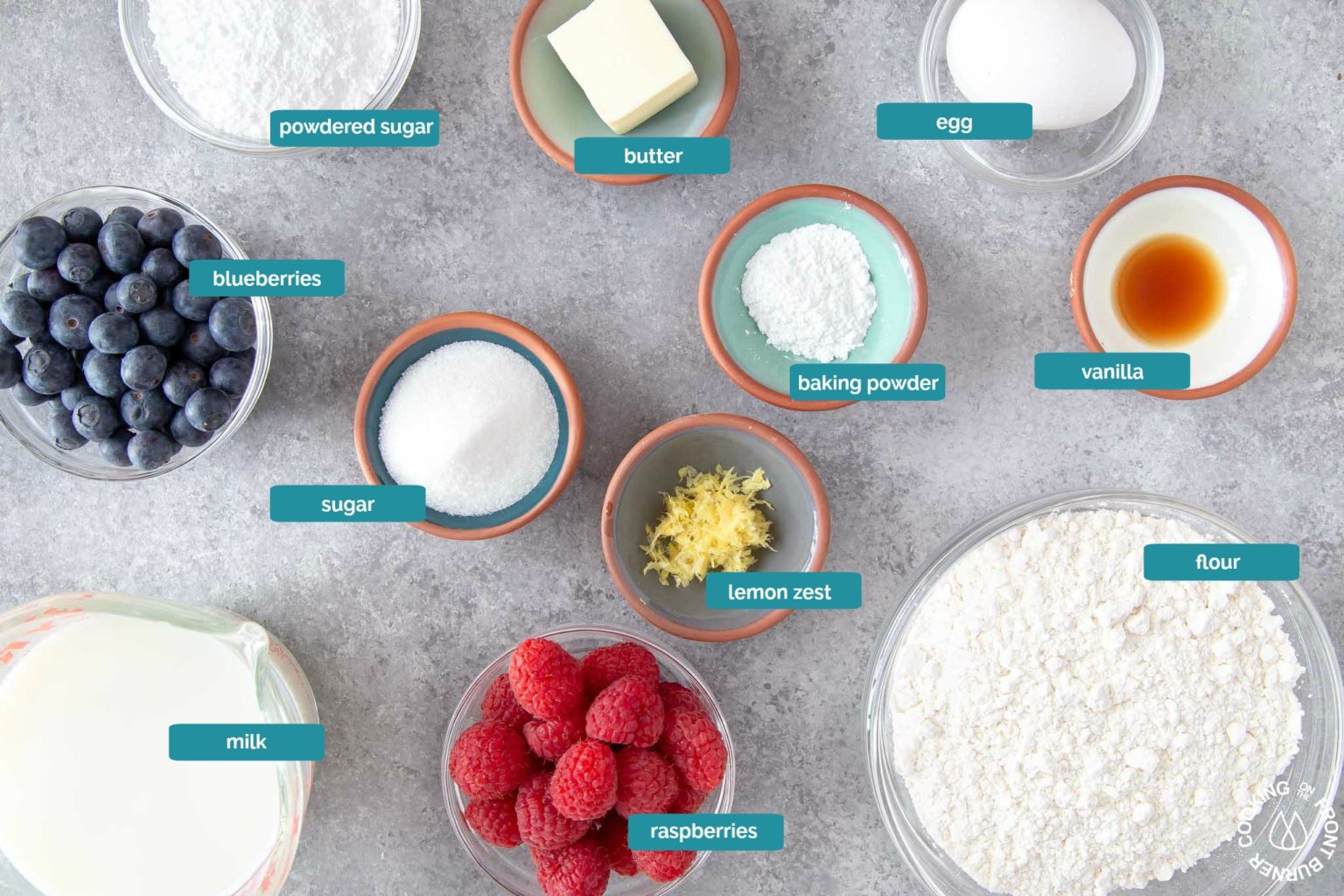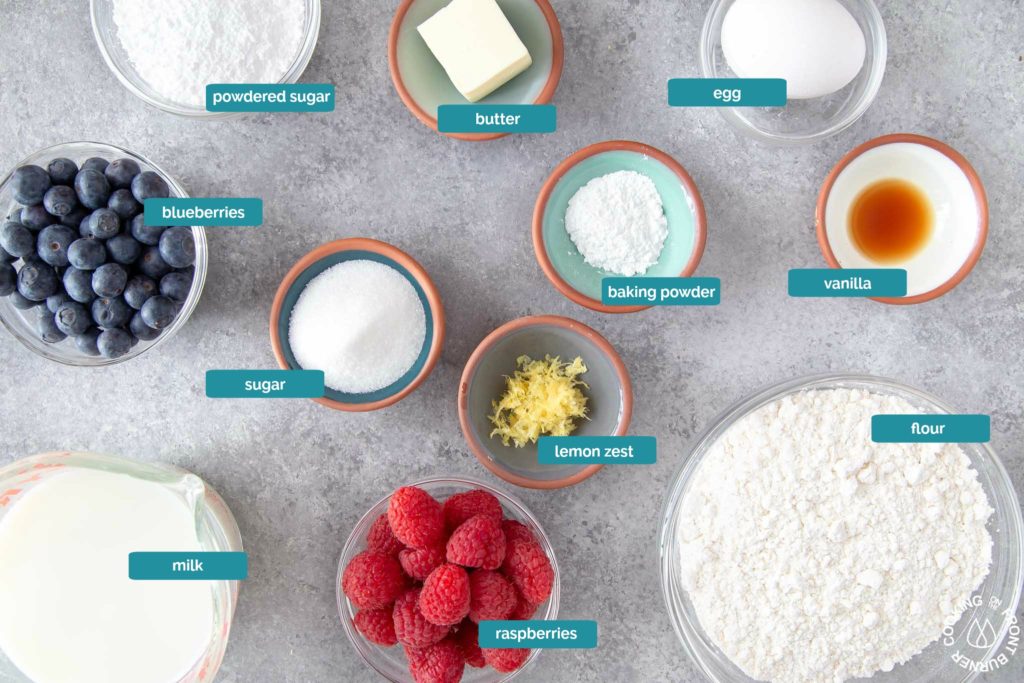 What ingredients are needed for mini pancake muffins?
flour
sugar
baking powder
salt
milk
butter
egg
vanilla extract
lemon zest
blueberries
raspberries
powdered sugar (if making glaze)
maple syrup (if you want to dip them)
The first step is to combine the dry ingredients and set aside.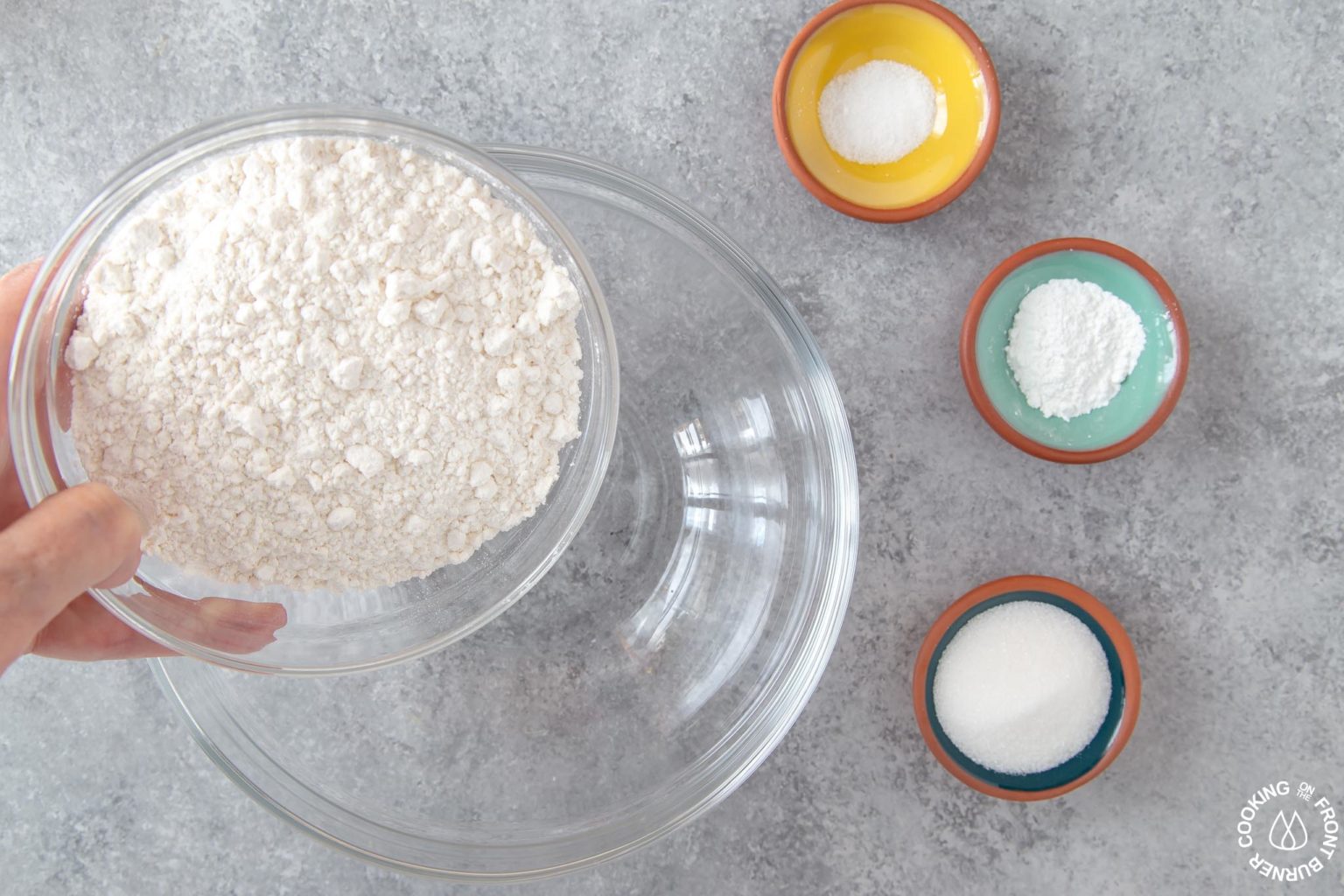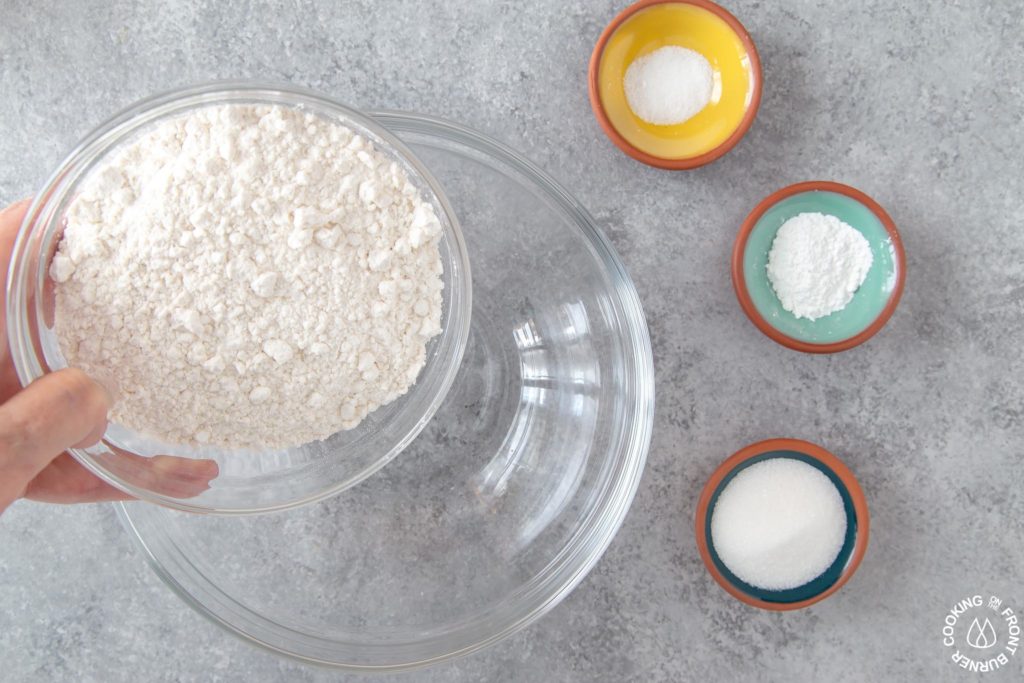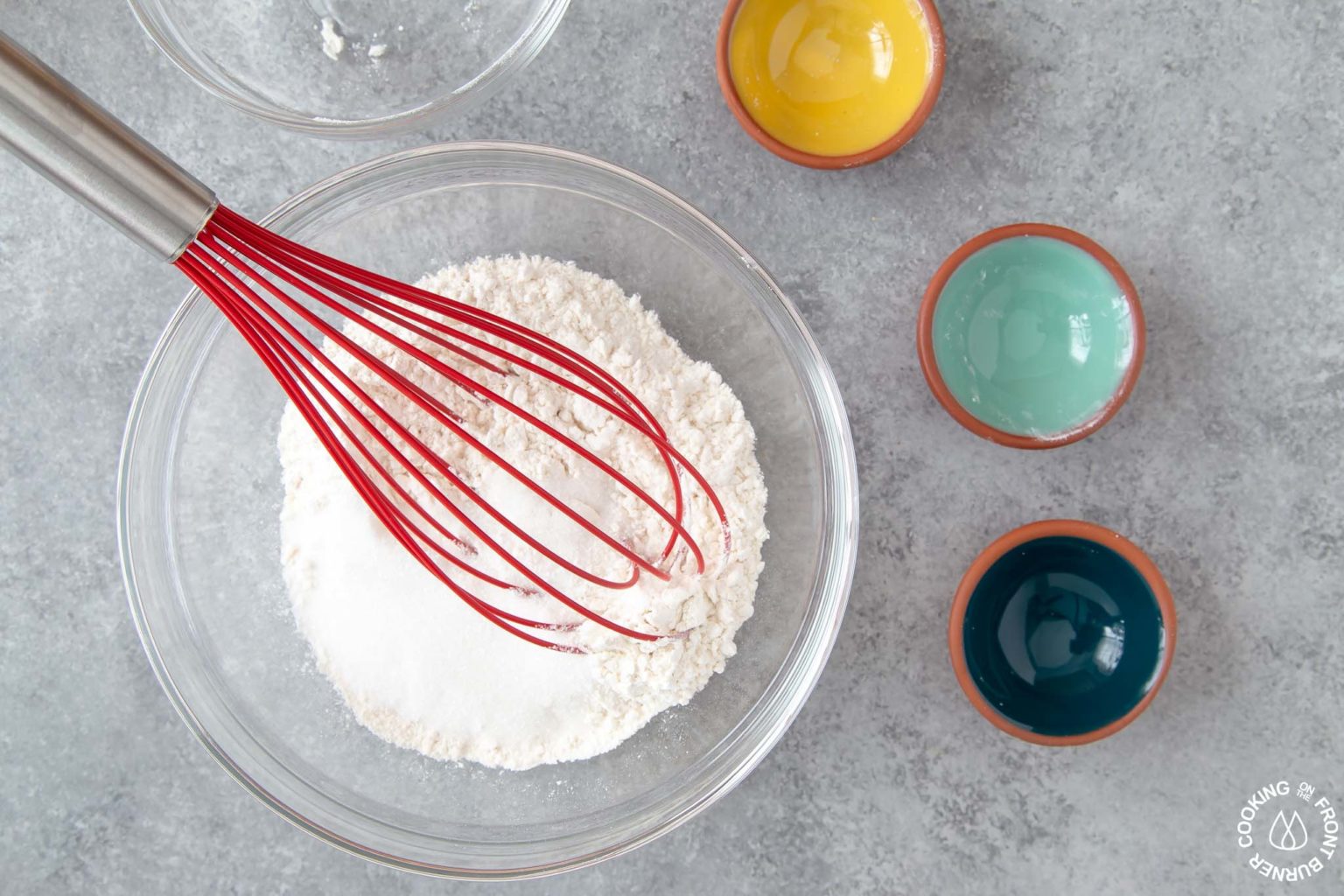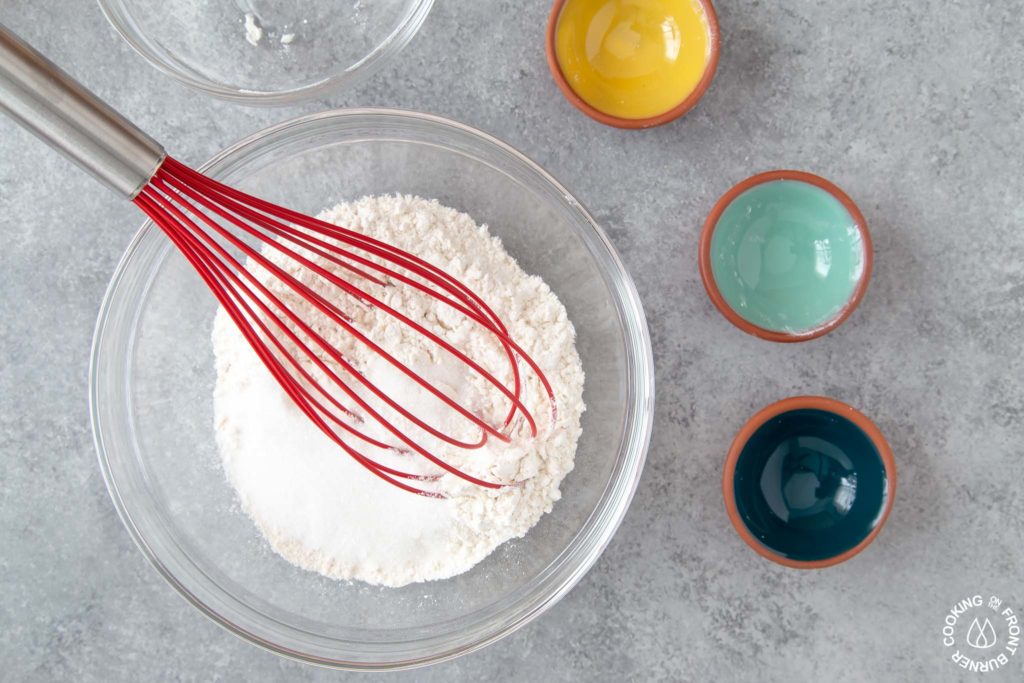 Next mix the wet ingredients together.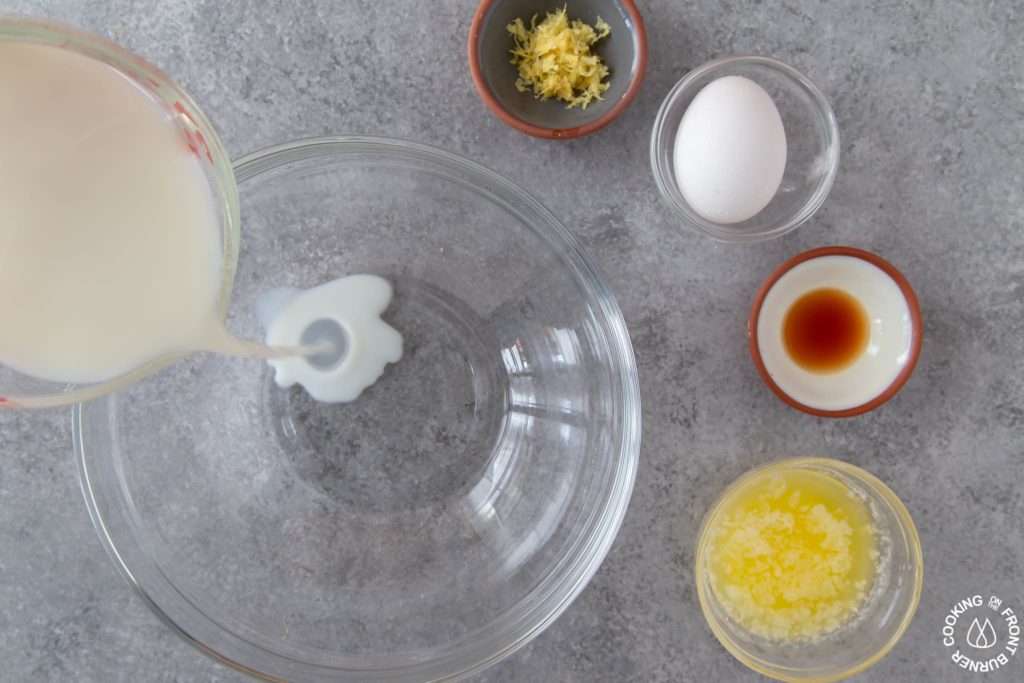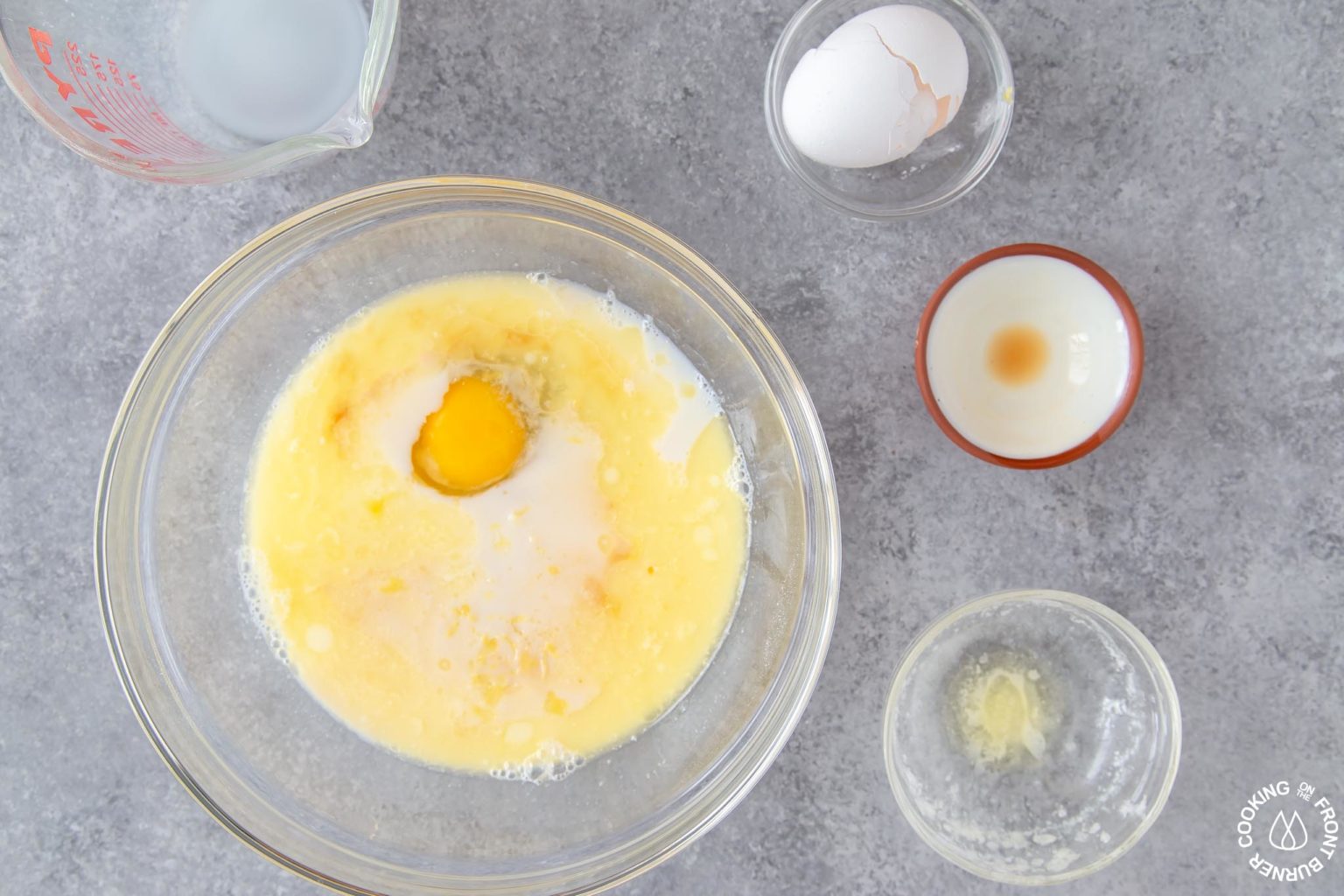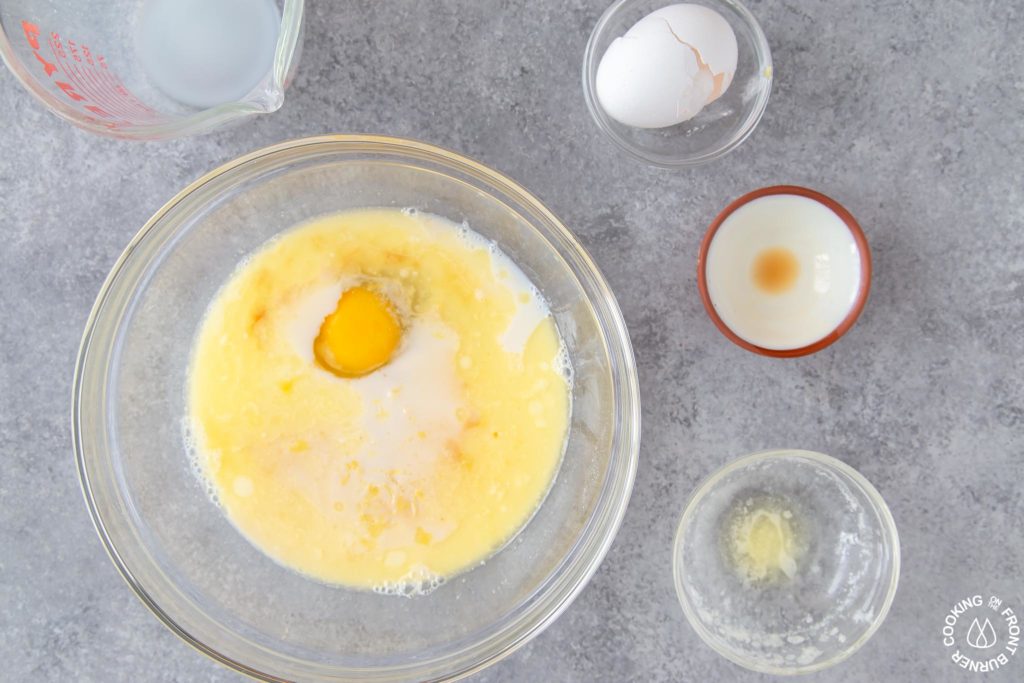 Slowly add the wet ingredients into the dry and whisk until just combined.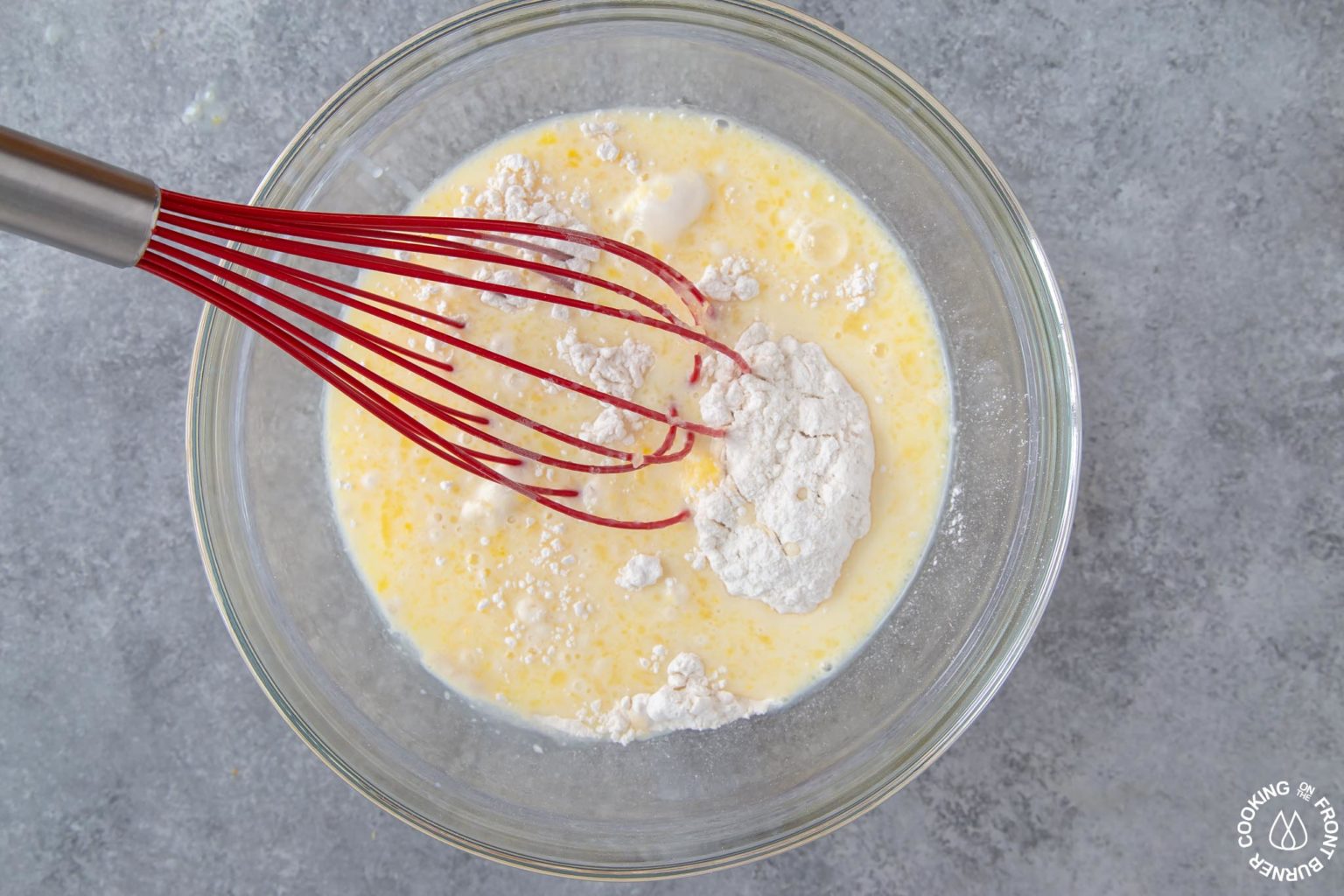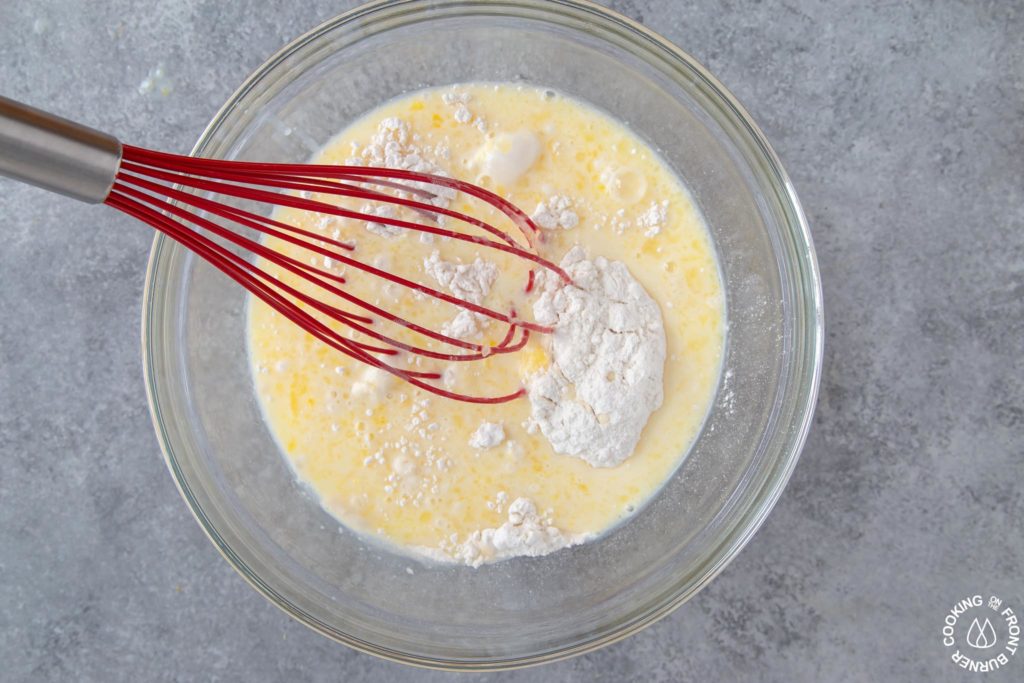 Spray a mini muffin pan and use a cookie scoop (that is about one tablespoon) to get batter in pan. Your oven should be preheated to 400 degrees.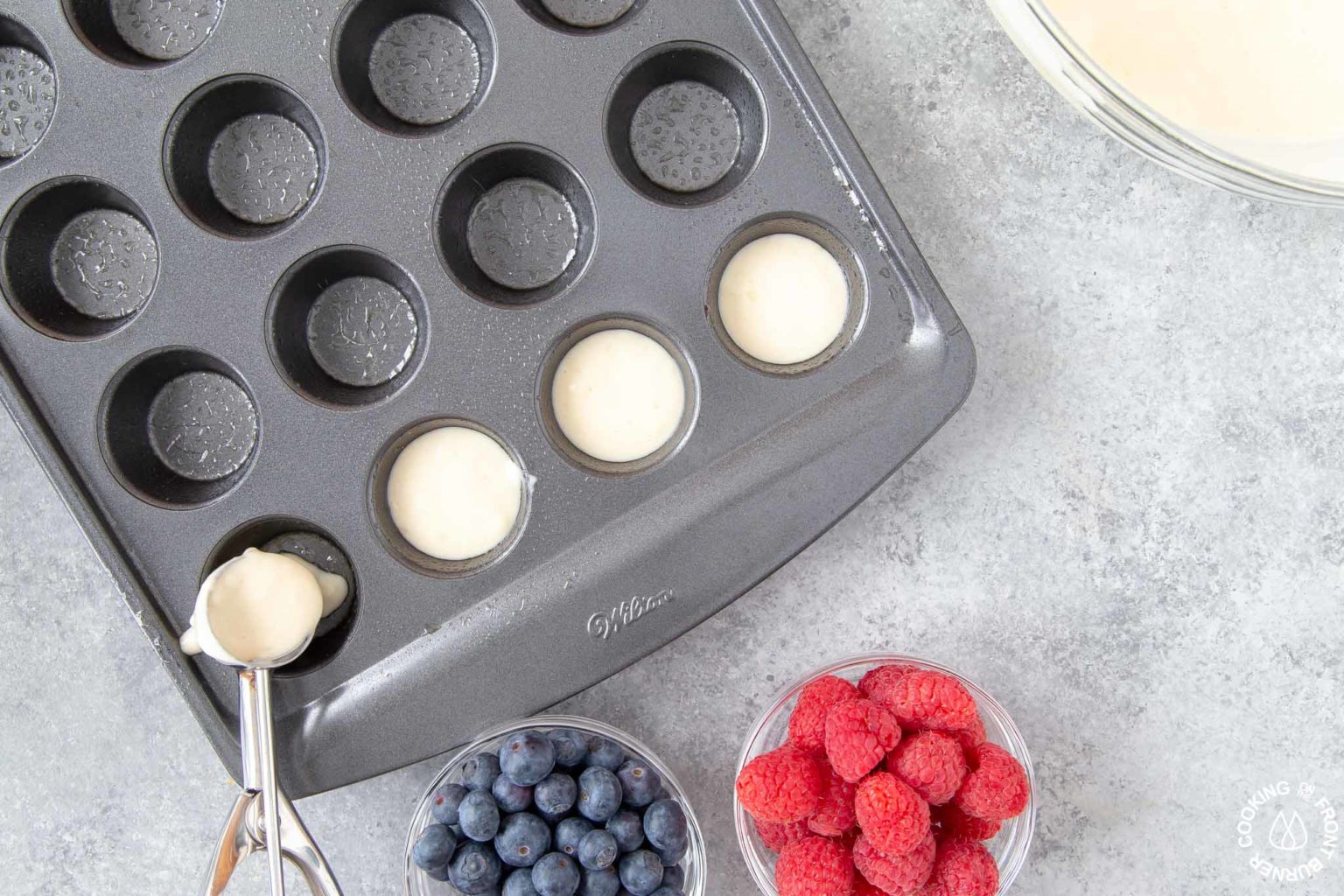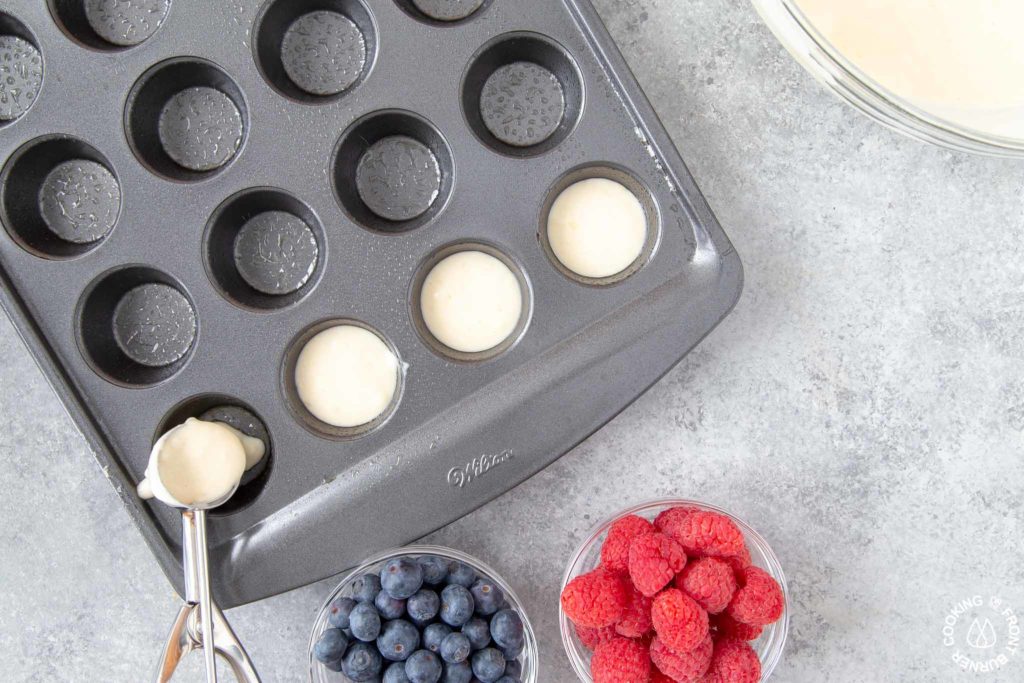 Top with your favorite fruit. These look patriotic right?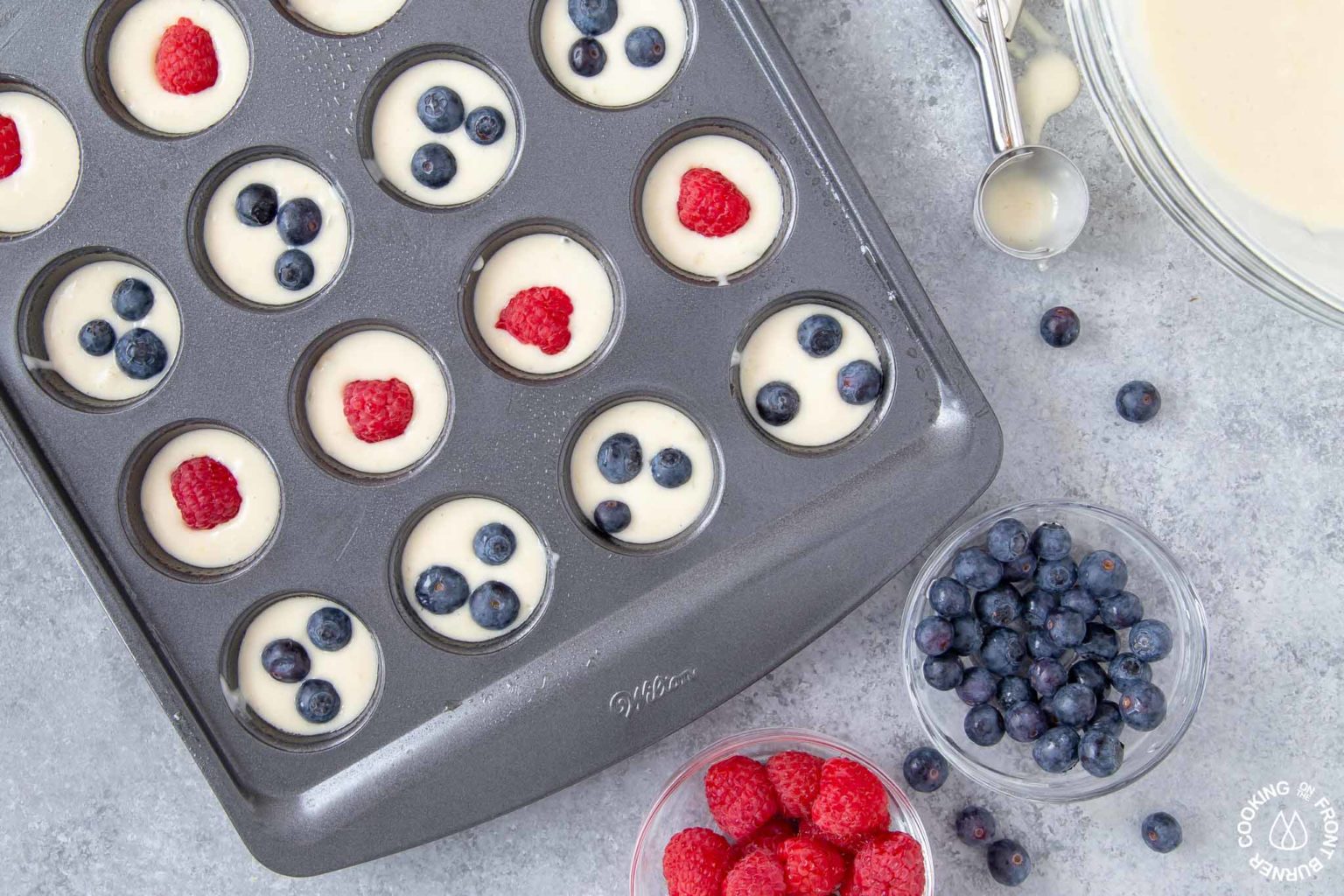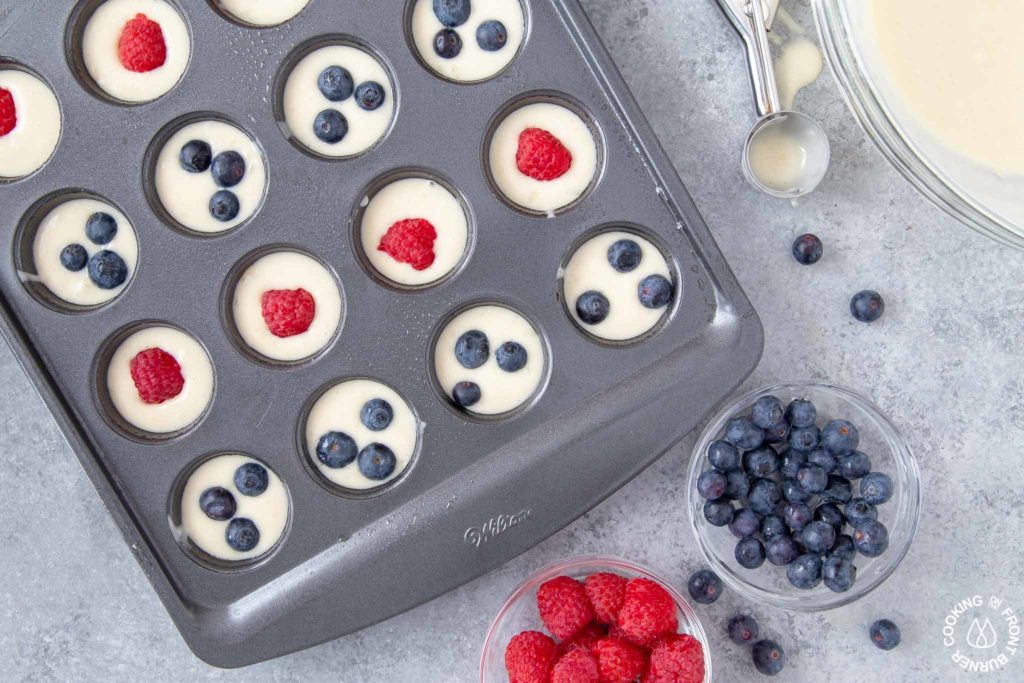 Look how cute they are after baking. Let them rest for about 5 minutes then remove from pan. If you wait longer than 5 minutes they might be tougher to take out (ask me who waited about 15 for the first batch)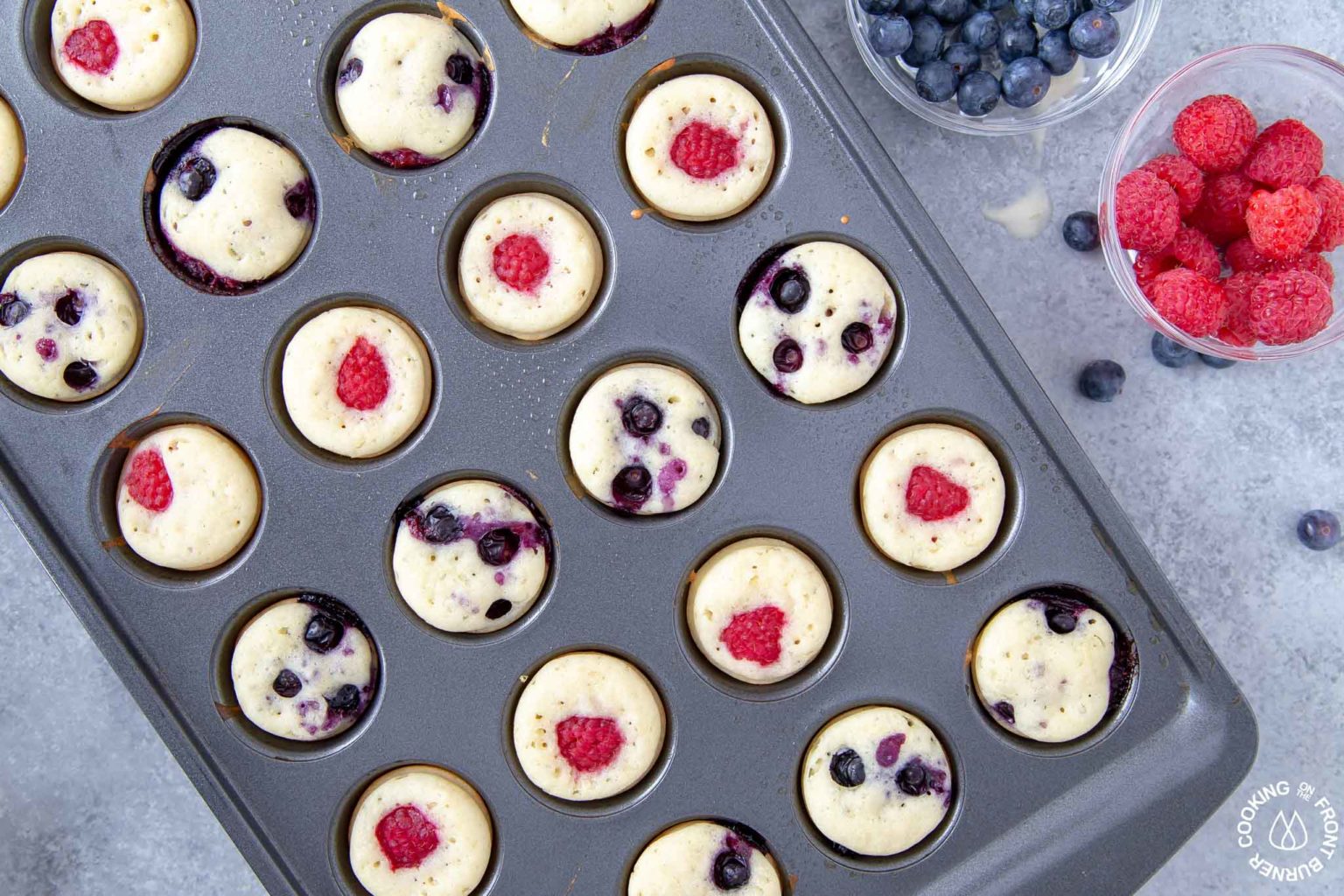 They definitely look like muffins but believe me they taste just like pancakes. At this point you can serve as is or make a glaze to drizzle on top. You could also warm up some maple syrup for dipping.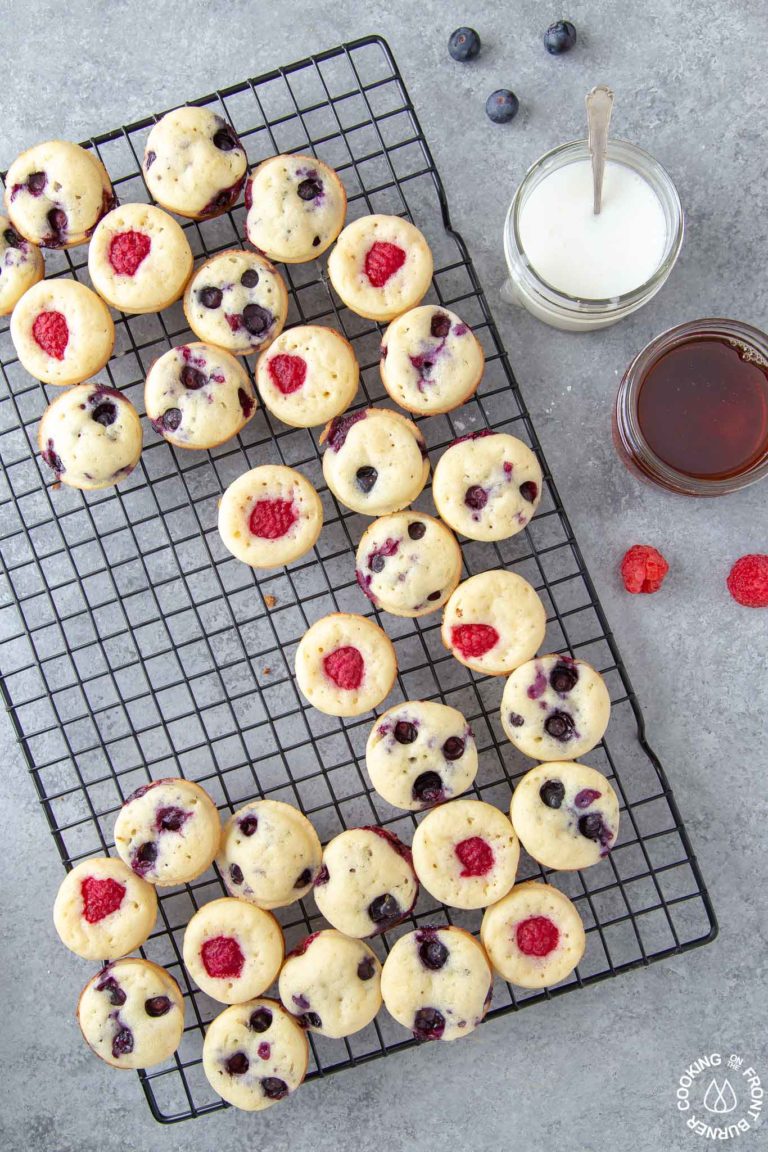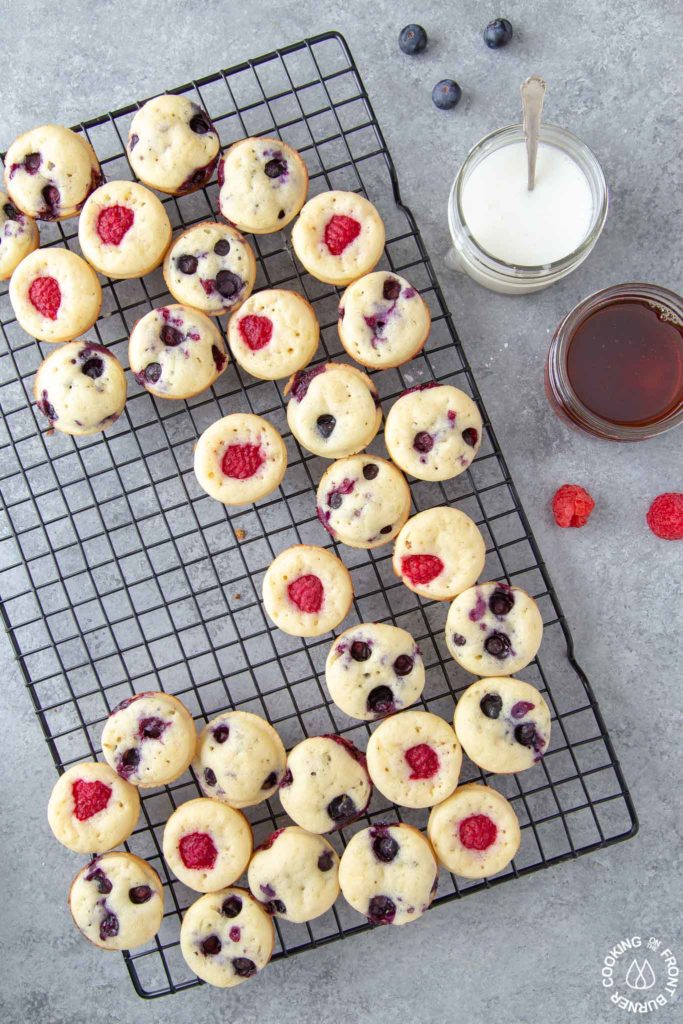 Are mini pancake muffins able to be frozen?
Yes, if you would like to freeze these, do not glaze. I placed about a dozen in plastic wrap and then put it into a larger ziploc type bag to place in the freezer.
They can be defrosted by just leaving in the refrigerator overnight or reheated in the oven. From that point you could add glaze if desired.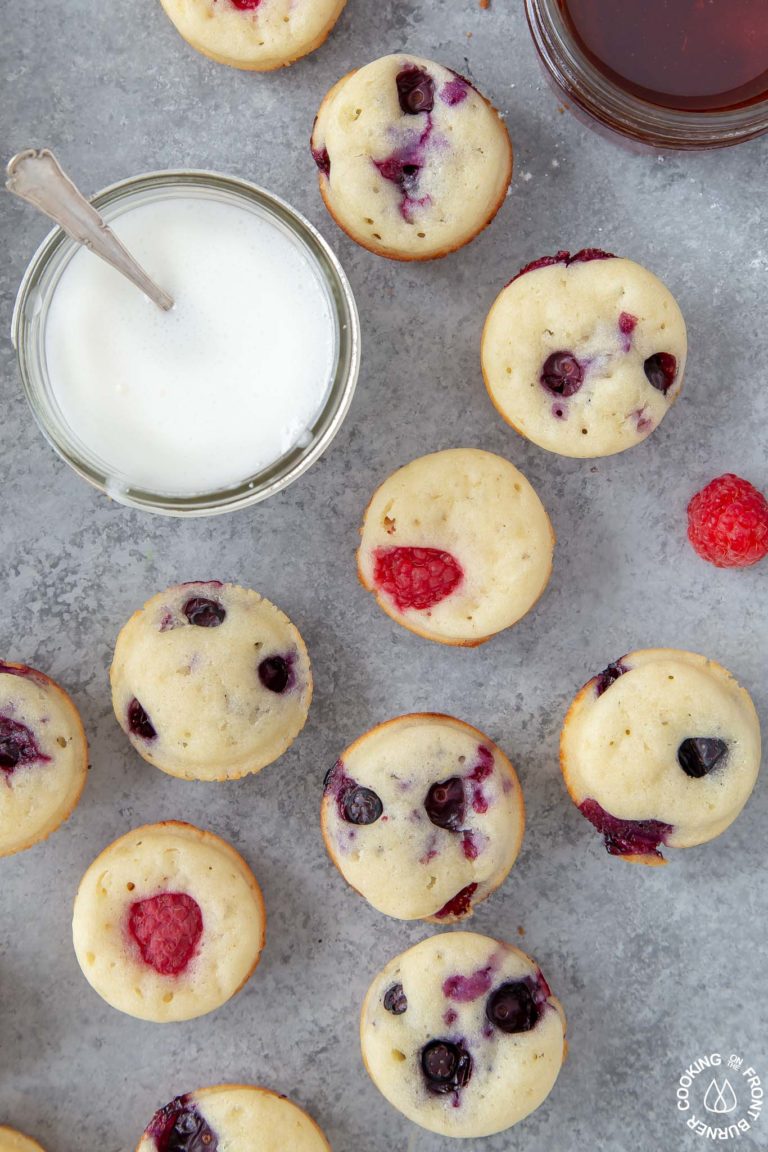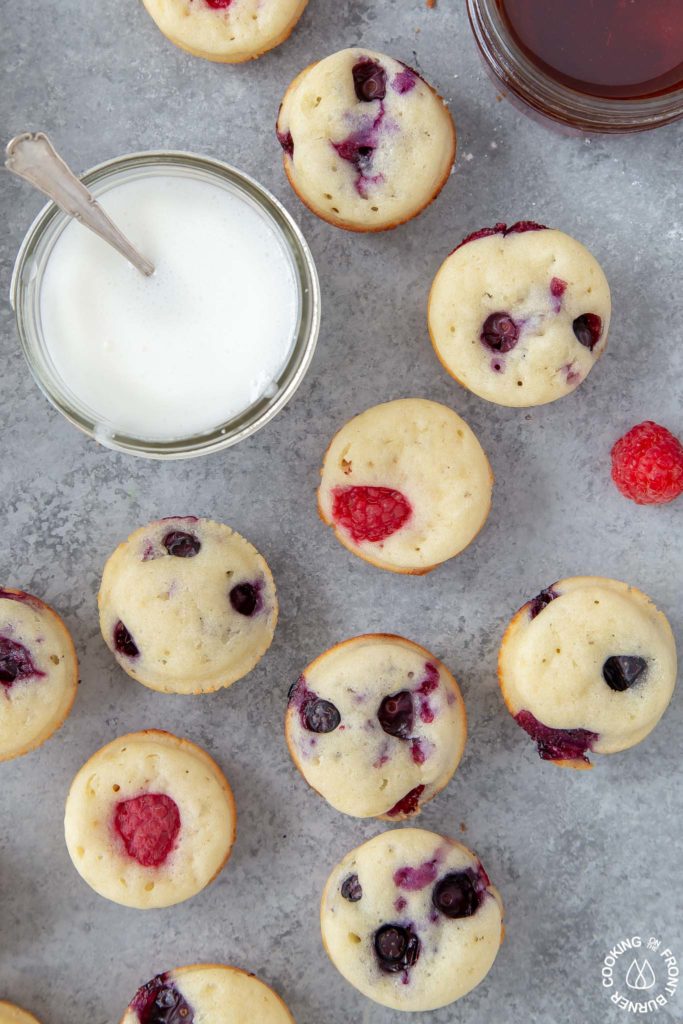 Tips for making mini pancakes:
Be sure to spray your mini muffin tin well with vegetable spray to prevent pancakes from sticking. It is best to remove them 5 minutes after baking.
Use a cookie scoop to place batter in tins. This will help not making a mess with pouring.
Use fresh fruit instead of frozen and don't overload the cups. I would suggest using small blueberries (about 3) and a raspberry cut in half.
The tops of the muffins won't turn brown - they will be done when the tops are set and a bit firm.
Not a fan of fruit? Bake without any and then brush some melted butter on top when done and dip tops into a mixture of cinnamon and sugar.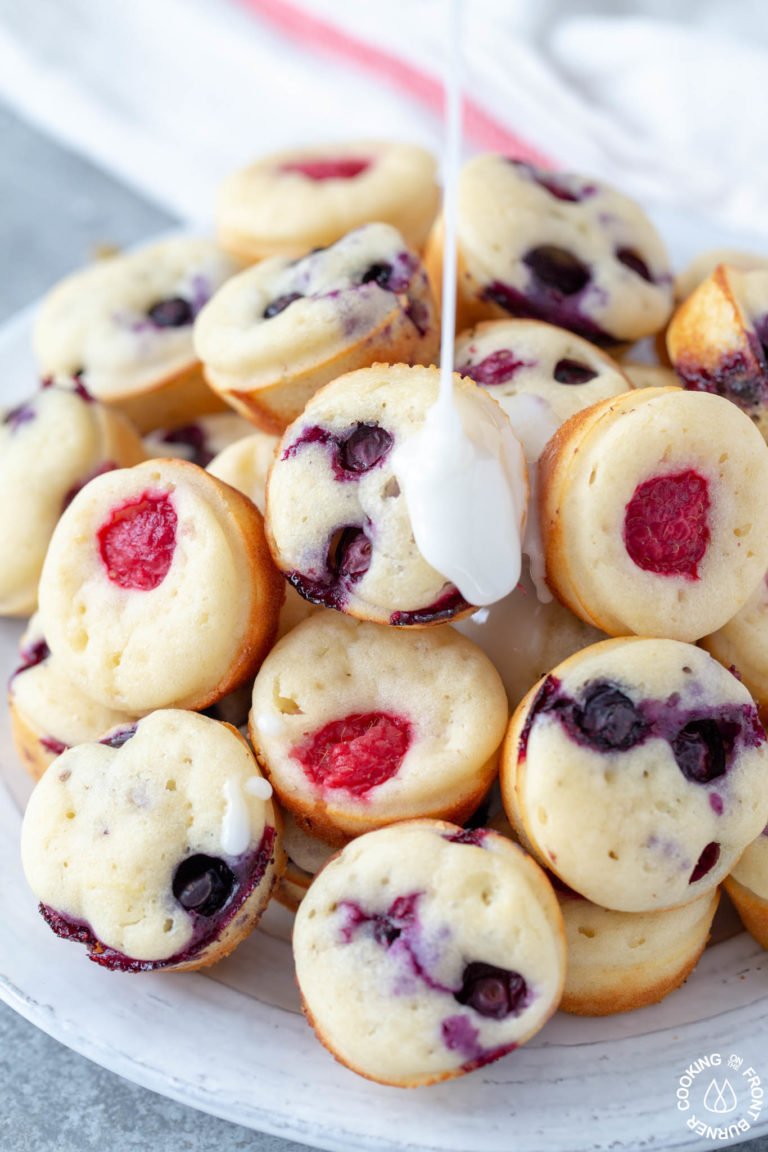 If pancakes are your thing, be sure to check out these Apple Maple ones and Lemon Poppy Seed - both would be delicious for breakfast!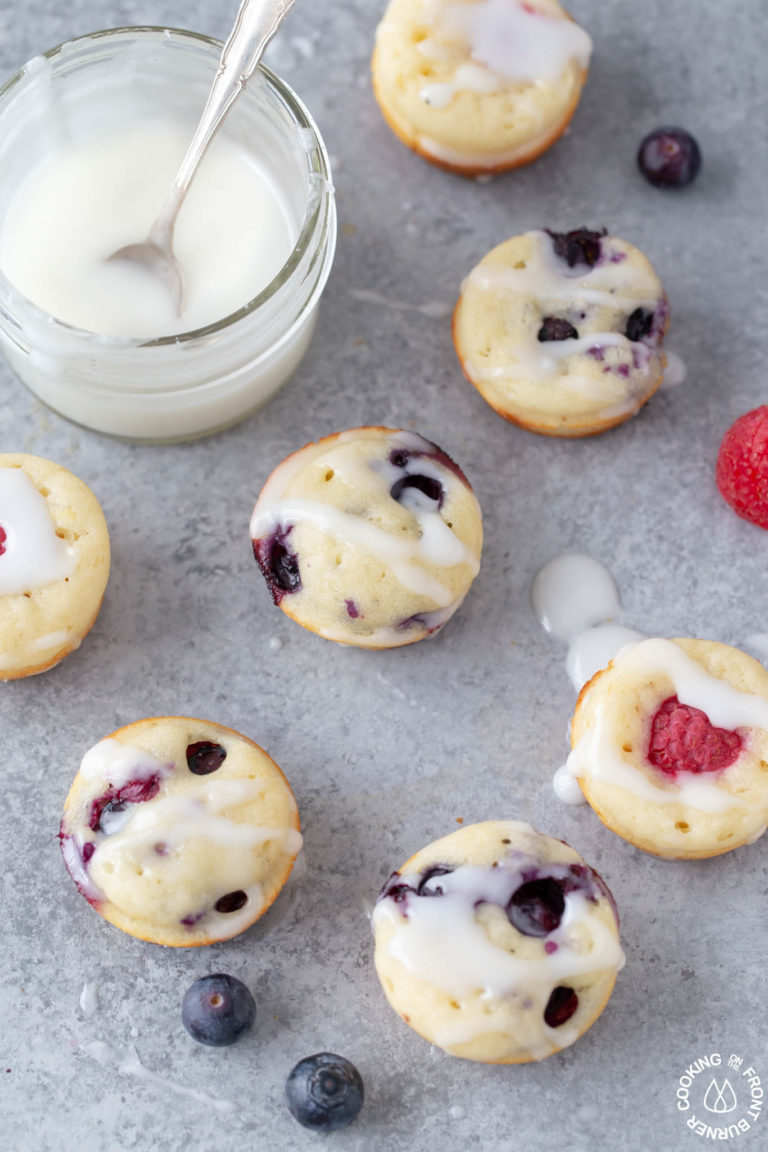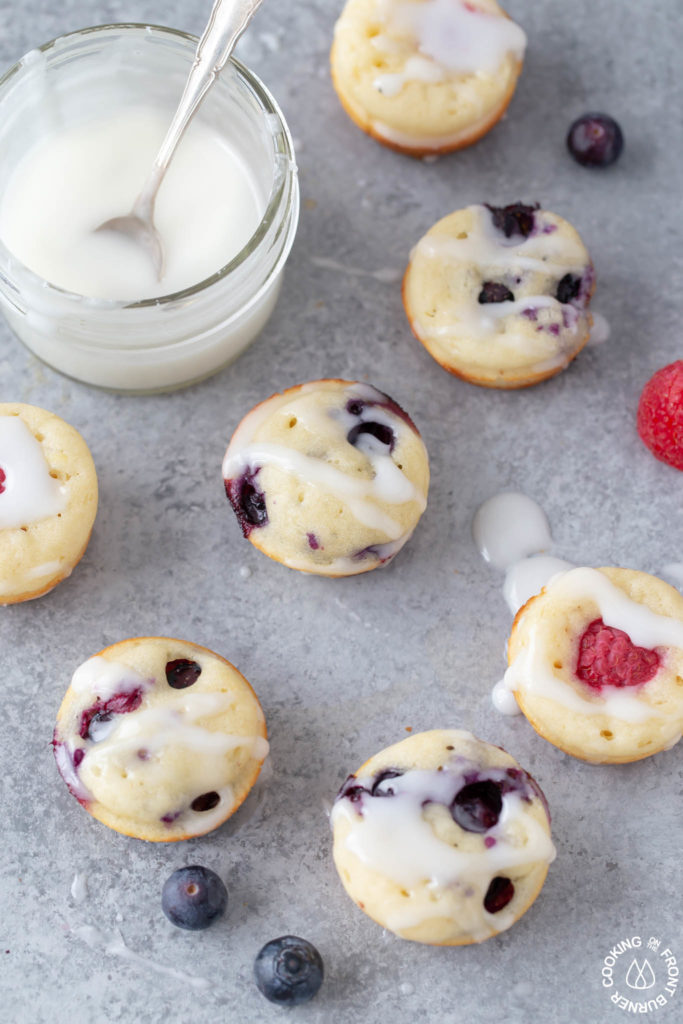 I was inspired to make these from Mother Thyme.
If you would like to make these later, be sure to pin and save!
Get the Recipe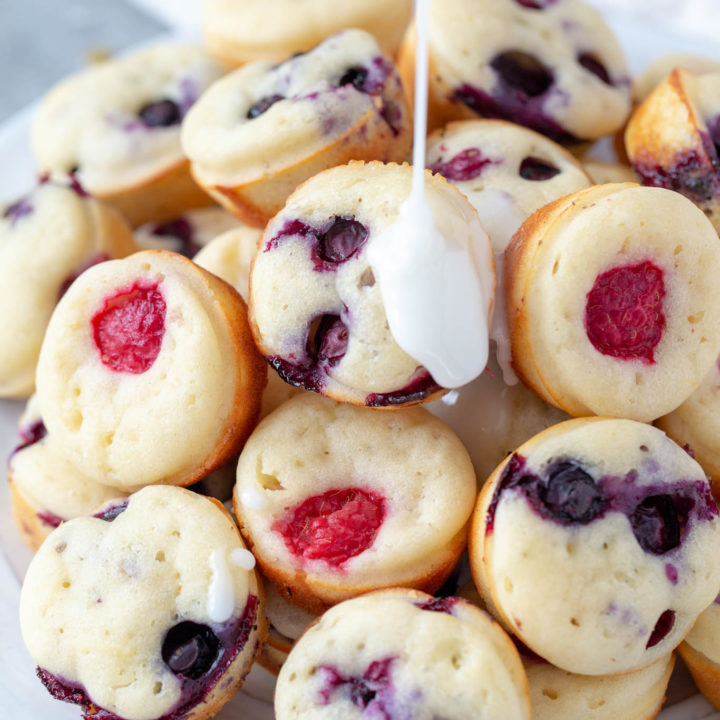 Easy Mini Pancake Muffins
Additional Time:
5 minutes
These easy to make mini pancake bites are the perfect grab and go breakfast or treat!
Ingredients
1 ½ cups flour
2 tablespoons sugar
1 ½ teaspoons baking powder
½ teaspoon salt
1 ¼ cup milk
2 tablespoons butter, melted
1 large egg
½ teaspoon vanilla paste or extract
1 ½ teaspoons lemon zest
½ cup blueberries
¼ cup raspberries
½ cup powdered sugar
1-2 tablespoons milk
Instructions
Preheat oven to 400°
Use a 24-cup mini muffin pan and spray with vegetable cooking spray and set aside
Combine the flour, salt, baking powder, and sugar in a large mixing bowl with a whisk
In a medium bowl combine the egg, milk, extract, melted butter and zest and mix well
Pour the milk mixture into the dry ingredients and stir until just blended
Using a scoop, place about 1 tablespoon of batter into each tin and top with either blueberries or raspberries
Bake for 13 minutes until the tops are firm (they won't be brown)
Cool for 5 minutes then remove from tin
Make glaze by combining the powdered sugar and milk until desired consistency
Drizzle and enjoy!
Maple syrup is another option for dipping
Nutrition Information:
Yield:

17
Serving Size:

2
Amount Per Serving:
Calories:

89
Total Fat:

2g
Saturated Fat:

1g
Trans Fat:

0g
Unsaturated Fat:

1g
Cholesterol:

16mg
Sodium:

131mg
Carbohydrates:

15g
Fiber:

1g
Sugar:

5g
Protein:

2g
Nutritional information provided is computer-generated and only an estimate. You may want to do your own research with the ingredients listed if you have concerns about health or specific diets.
About the Author
Recent Posts
Recipe Index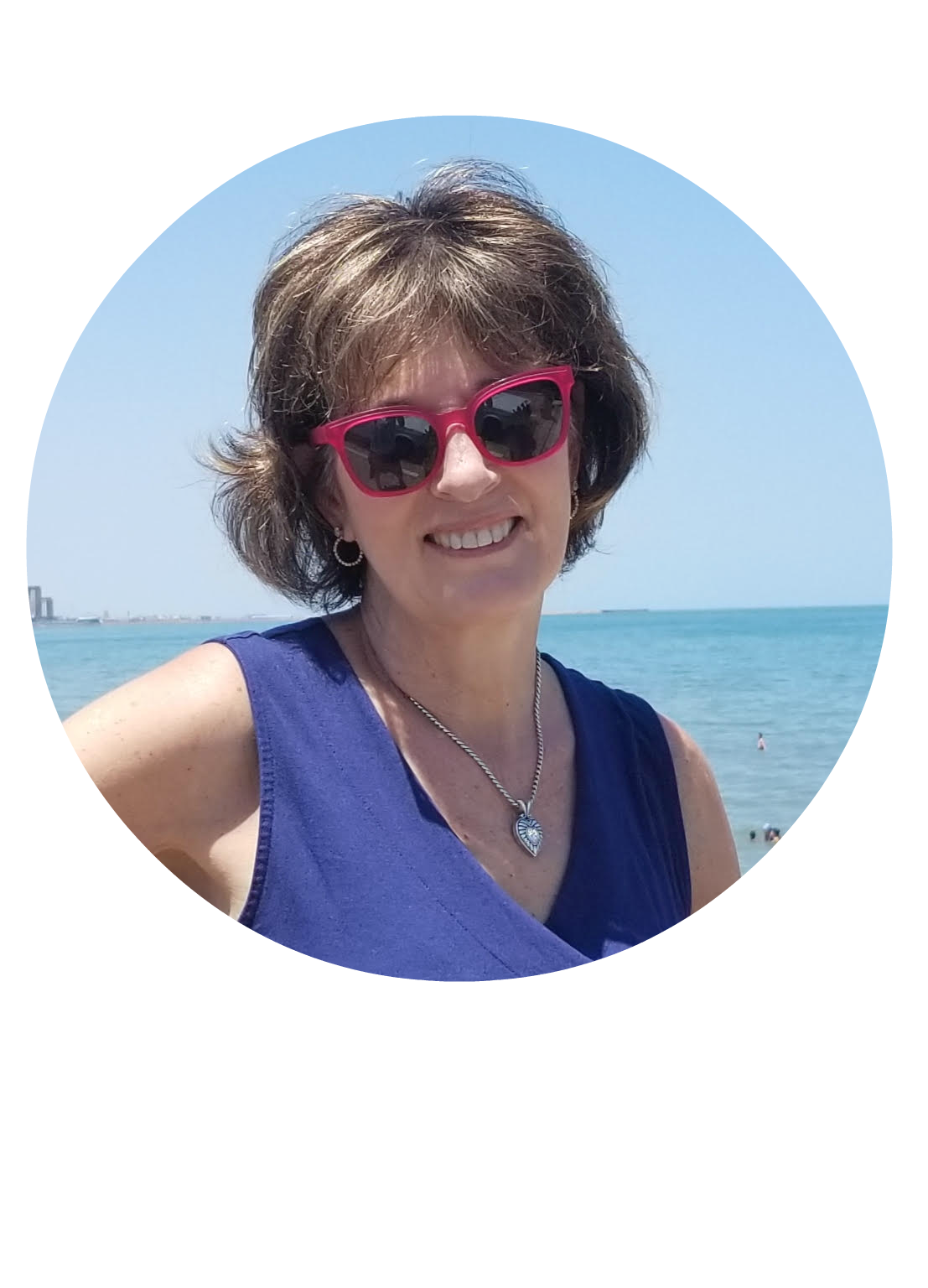 We are all about sharing our love of good food so on the blog you will find easy recipes to enjoy with your family and friends.  We hope to inspire you to host a gathering to create special memories.  Most recipes are step by step so you can feel confident in the kitchen.  Take a look around to find everything from breakfast to dinner and everything in-between!