Breakfast is extra delicious with these fluffy Apple Pancakes with Apple Maple Syrup. There are super easy to make and a perfect fall breakfast.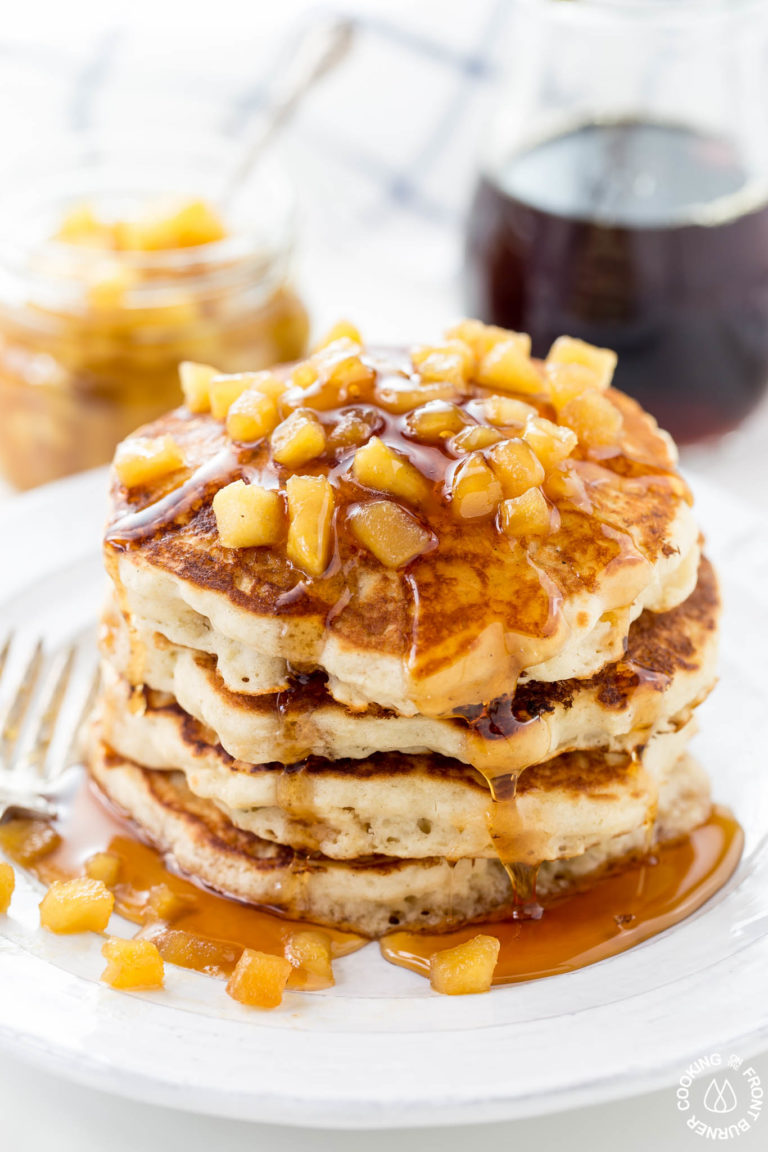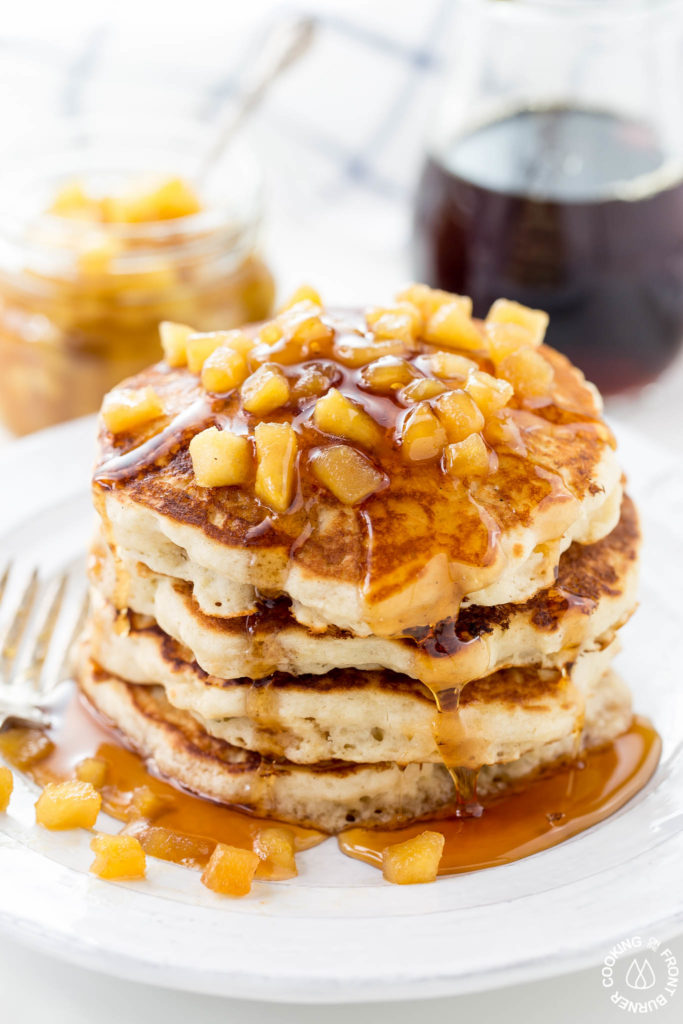 ~Apple Pancakes with Apple Maple Syrup~
Ladies and gents start your griddle as you are in for a real treat today! We love these Apple Pancakes with Apple Maple Sauce. They are the fluffiest pancake recipe I have ever tried and the apple topping sauteed in maple syrup is fantastic.
Don't wait for breakfast, have these any time your heart desires. And in our case they were an afternoon snack. Yep, you know being a food blogger means you might not be able to make and take pictures for the actual meal and this was one of those time. Of course my taste tester never turns down the 'goods' even if it is close to dinner time.
Trust me - you, your family and friends will flip over this tasty recipe.
Wake up sleepy head and enjoy these Apple Pancakes. Full of great apple flavor!
I wasn't kidding either when I said these were the fluffiest I've ever made. You will be able to see in one of the pictures below from a side angle. I think I'll be using and tweaking this recipe for future pancakes. We love 'em fluffy!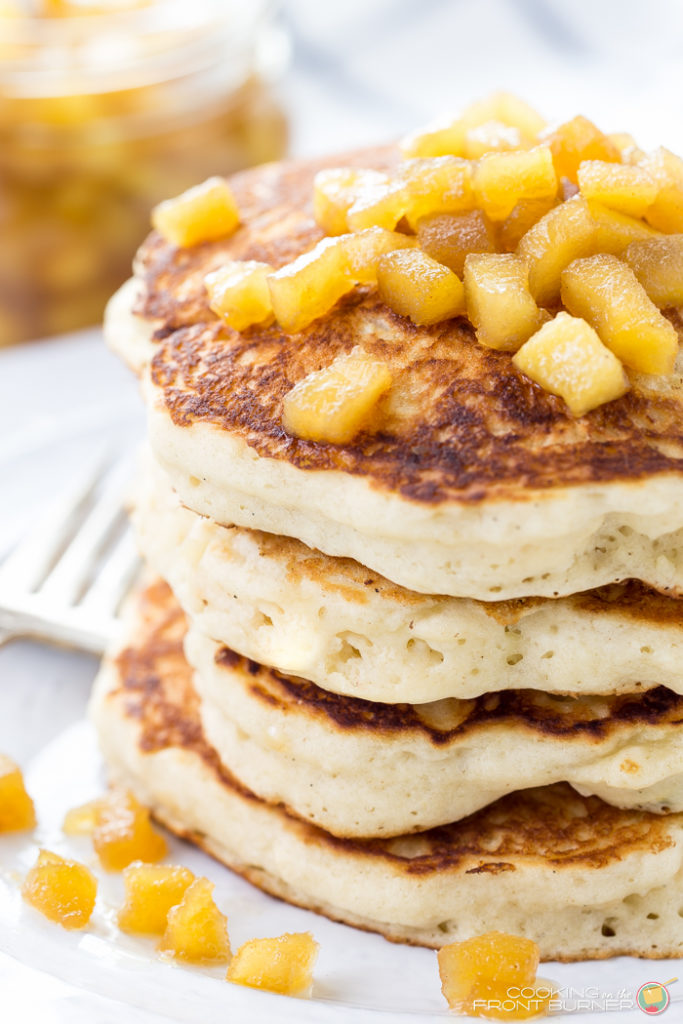 What ingredients will you need for apple pancakes?
Flour
Baking Soda
Baking Powder
Salt
Nutmeg
Sugar
Eggs
Butter
Vanilla Paste or Extract
Milk
Apples
Maple Syrup
Dark Corn Syrup
Brown Sugar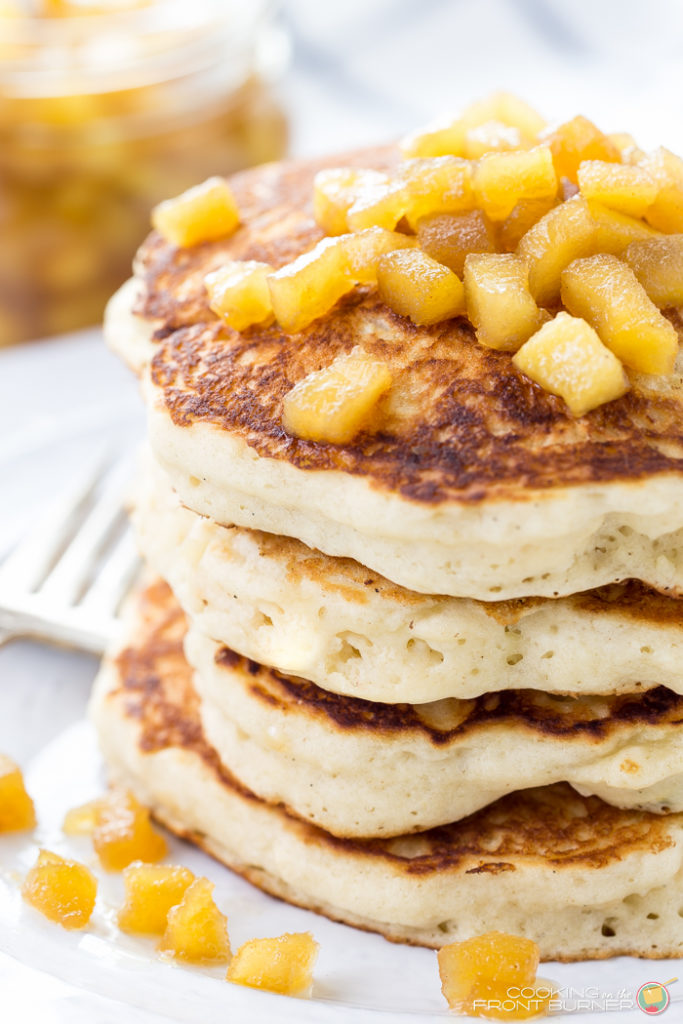 How to make fluffy pancakes?
The key to fluffy pancakes is not over-mixing the batter. It is totally fine for the batter to have a few lumps in it.
Also, if you have the time, let the batter rest about 20 minutes.
The baking powder and baking salt are chemical leaveners in the batter that cause small bubbles to appear. If you see those, then you did everything right!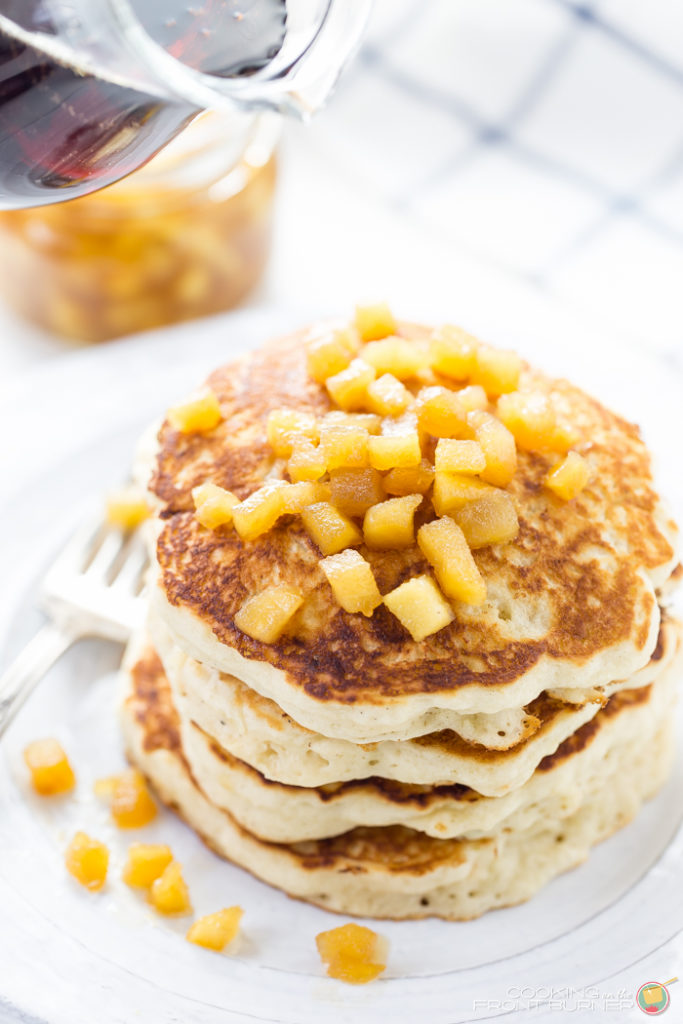 I found this recipe a grocery store called Lunds and Byerly's - it was the first time I had stepped foot into one but had certainly heard how great they were.
On the way in I picked up a complimentary Real Food magazine where I came across this recipe. I'm always looking for ways to use up apples. We have one lone tree in the yard but it looks like it has about 250 apples on it! While we love crisps, pie and applesauce, it's sure nice to have some other recipes on hand.
Time for the syrup.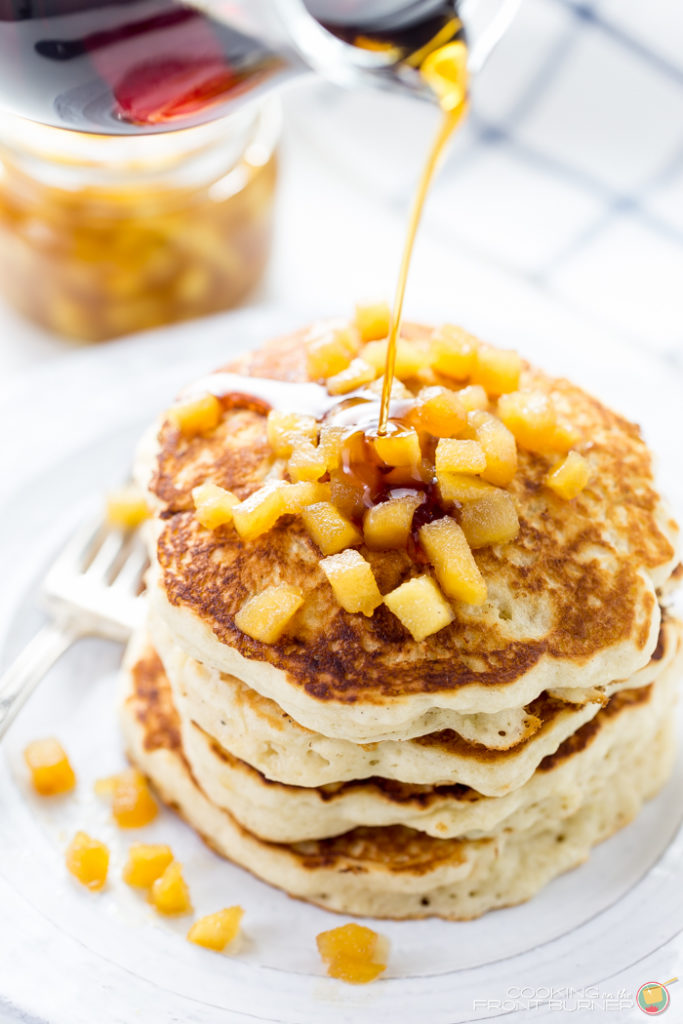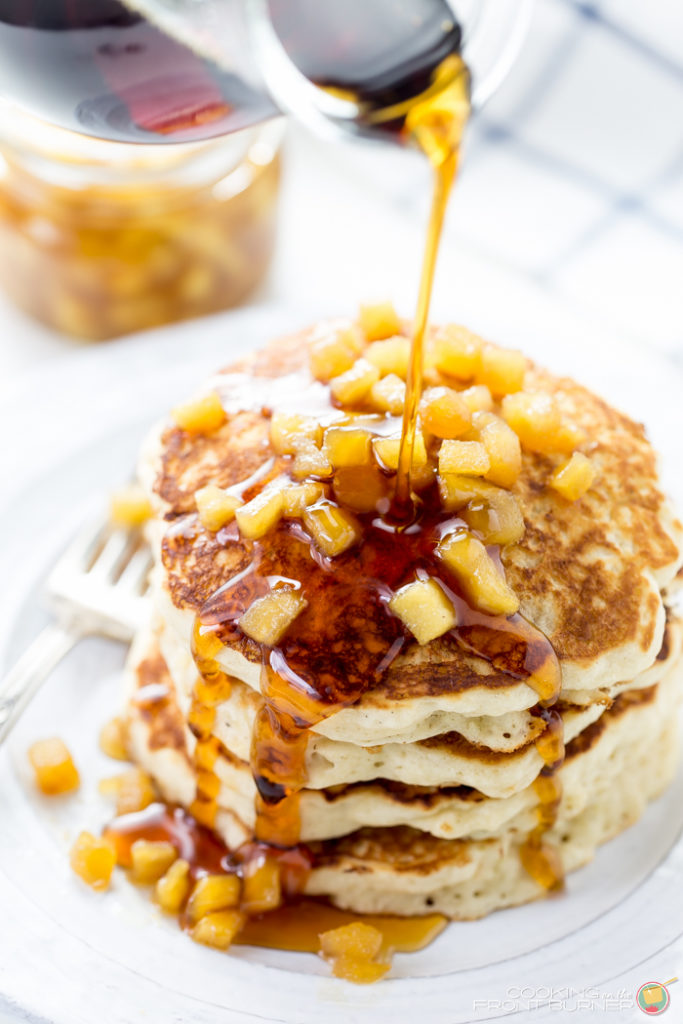 How are these stacking up for you 🙂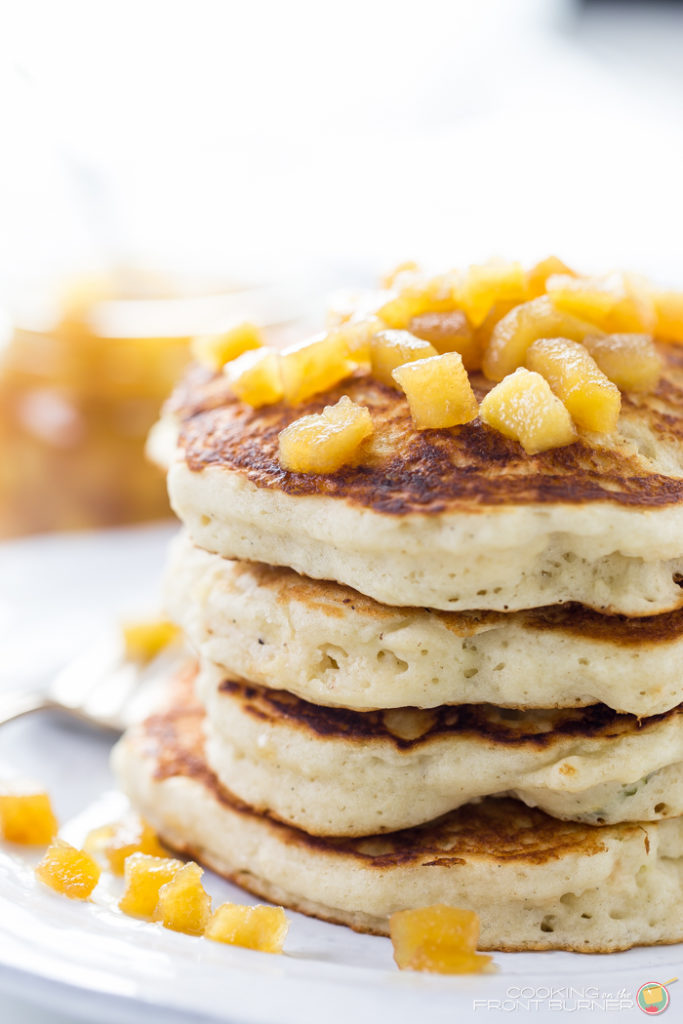 NOTE: This recipe was originally published on September 21, 2016 and has been updated with additional content.
Get the Recipe
Apple Pancakes with Apple Maple Sauce
The fluffiest pancakes with an apple maple sauce - breakfast perfection!
Ingredients
1 ½ cups flour
½ teaspoon baking soda
1 tablespoon baking powder
½ teaspoon salt
¼ teaspoon nutmeg (I used fresh grated)
3 tablespoons sugar
1 egg
3 tablespoons melted butter
¼ teaspoon vanilla bean paste (or extract)
1 cup milk
1 medium apple peeled and grated
1 tablespoon butter
2 large apples, peeled, cored and diced
dash of salt
¼ cup maple syrup
⅛ cup dark corn syrup
1 tablespoon brown sugar
Instructions
Heat your griddle over medium high heat.
In a large bowl combine the flour, baking soda, baking powder, salt, sugar and nutmeg - whisk well
In a medium bowl combine the egg, melted butter, vanilla and 1 cup of milk
Stir the wet ingredients in the dry with a wooden spoon and only mix until just combined. Fold in the grated apples.
Spray your griddle with PAM or lightly oil
Place about ⅓ cup of batter on griddle and use the back of your scoop to spread out it out to about 4" since the batter is quite thick
When the bottom turns a medium brown, flip and continue cooking until the other side is done (mine took about 5-6 minutes)
For the sauce melt the butter then add the apples and saute for 5-6 minutes until apples are soft
Add maple syrup, corn syrup and brown sugar
Heat over med-low heat for about 5 minutes
Serve over pancakes with additional maple syrup
Nutrition Information:
Yield:

3
Serving Size:

3
Amount Per Serving:
Calories:

712
Total Fat:

20g
Saturated Fat:

11g
Trans Fat:

1g
Unsaturated Fat:

6g
Cholesterol:

109mg
Sodium:

1318mg
Carbohydrates:

127g
Fiber:

7g
Sugar:

65g
Protein:

12g
Nutritional information provided is computer-generated and only an estimate. You may want to do your own research with the ingredients listed if you have concerns about health or specific diets.
Other apple recipes that we like are Apple Hand Pies and Apple Crepes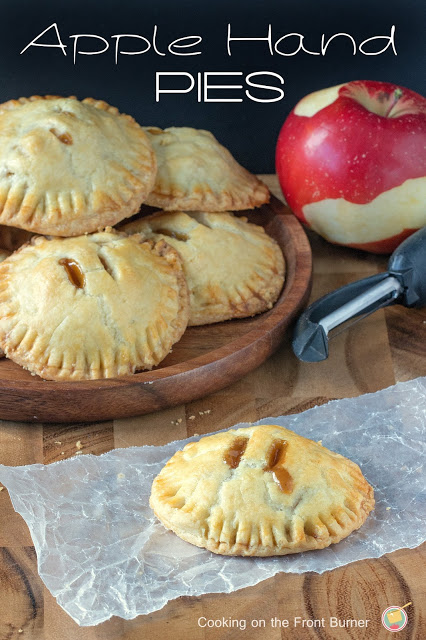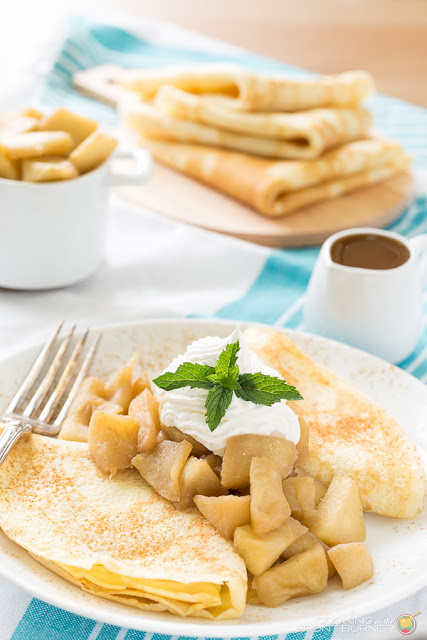 Other apple recipes you might enjoy: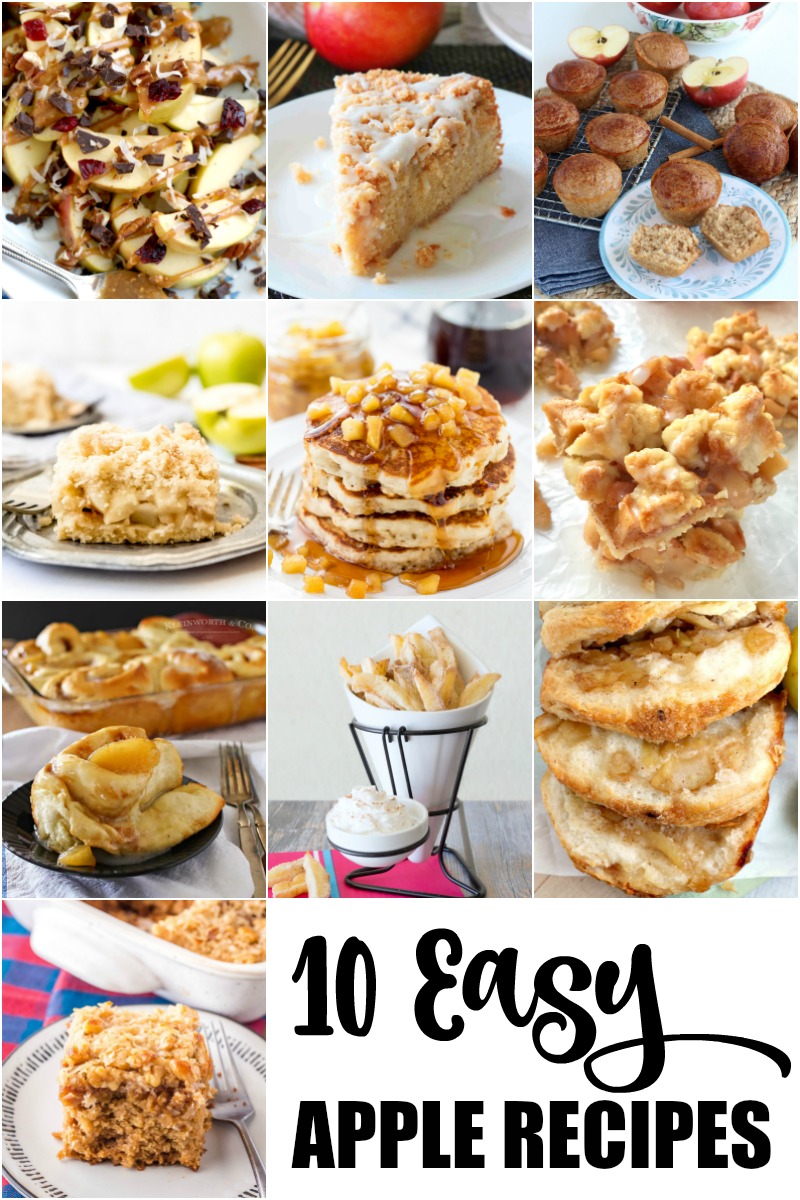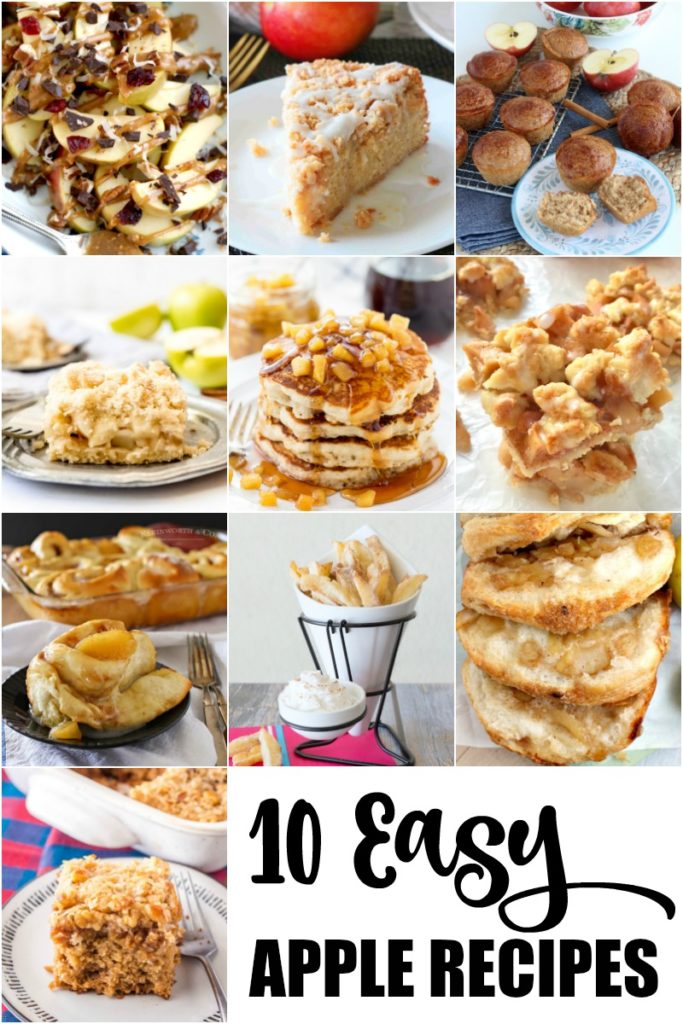 Apple Crumble Cake
Apple Fries
German Apple Cake with Streusel Topping
Apple Cinnamon Sugar Donut Muffins
Apple Nachos
Apple Cheddar Pull-Apart Bread
Apple Pancakes
Apple Cinnamon Crumb Bars
Apple Pie Cinnamon Rolls
Old-Fashioned Applesauce Oatmeal Cake
About the Author
Recent Posts
Recipe Index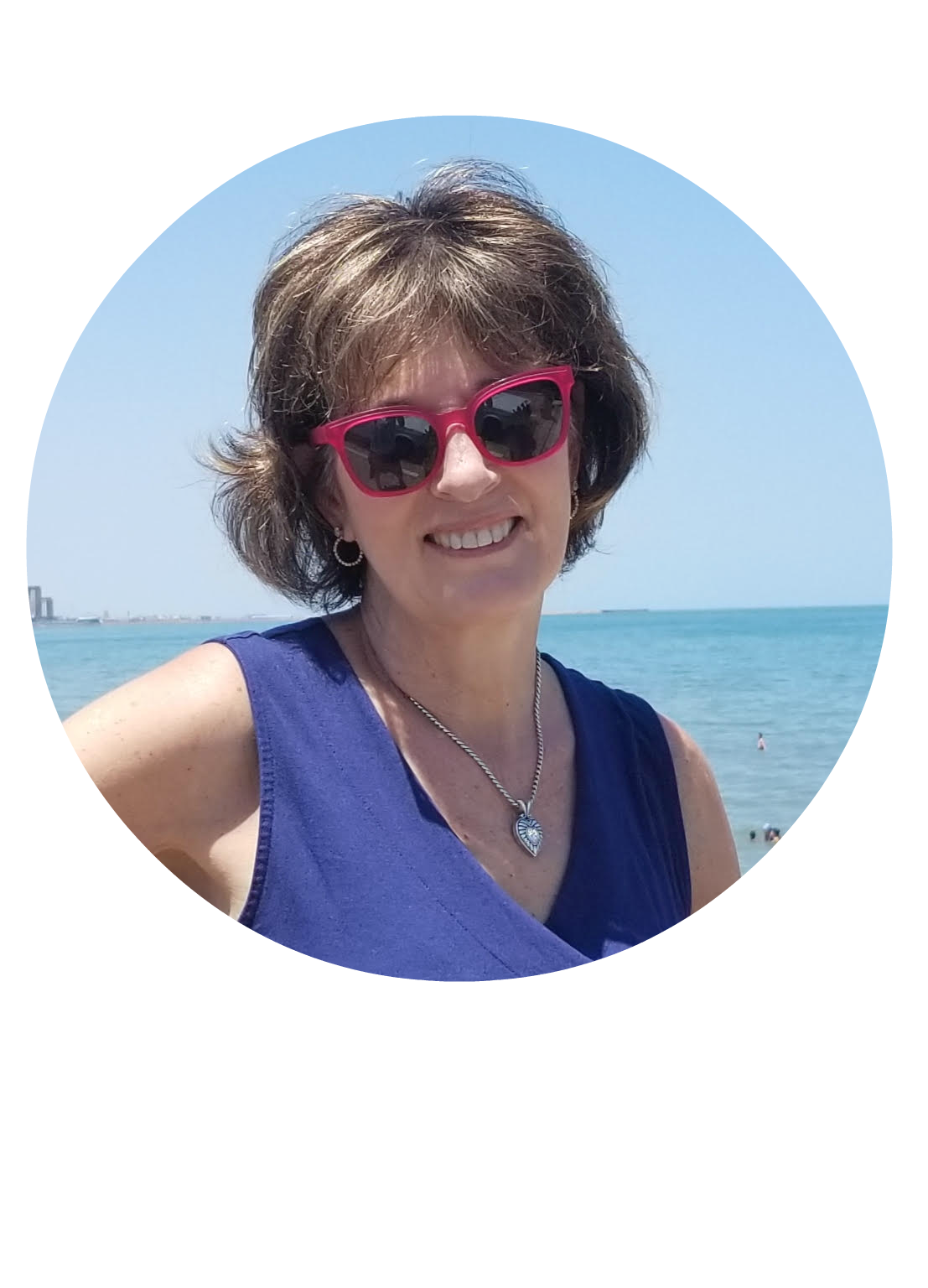 We are all about sharing our love of good food so on the blog you will find easy recipes to enjoy with your family and friends.  We hope to inspire you to host a gathering to create special memories.  Most recipes are step by step so you can feel confident in the kitchen.  Take a look around to find everything from breakfast to dinner and everything in-between!