Cast iron skillet pizza is unlike any other homemade pizza, because a cast iron skillet creates a crisp, chewy crust. Pan pizza lovers go crazy for this cast iron skillet pepperoni pizza recipe!
Be prepared to be wowed with one of the best tasting pizzas you will ever have! You'll love the chewy crust and gooey cheese in this easy pepperoni pizza recipe!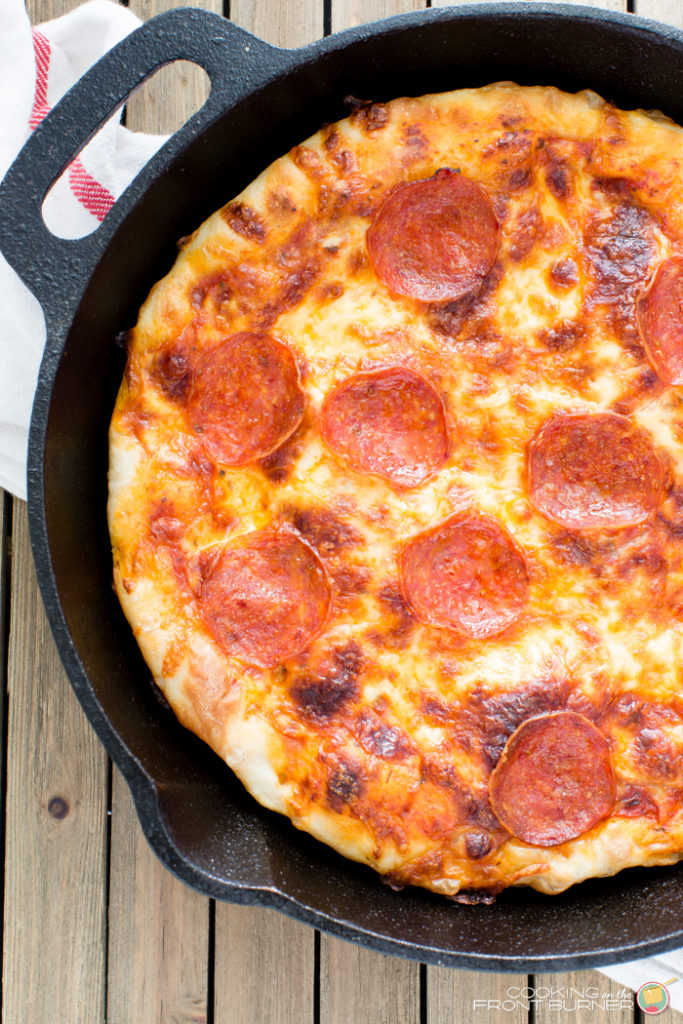 Cast Iron Skillet Pizza
Friday night is pizza night about 99% of the time at our place. About half the time I make it myself and the other half we order out. By the end of the week, I'm just ready to have an easy, simple meal and not do a lot of fussing.
This cast iron skillet pizza might look complicated but I have to say it was one of the easiest pizzas I have ever made and I've certainly made my share over the years. You will definitely want to give this one a try.
Make Friday night pizza night with this tasty pizza recipe!
The main thing you need to remember is to start the dough a day ahead. Basically, as you will see in the instructions, you dump the ingredients, stir it and let it sit overnight. That only took me about 5 minutes and no kneading required! Easy!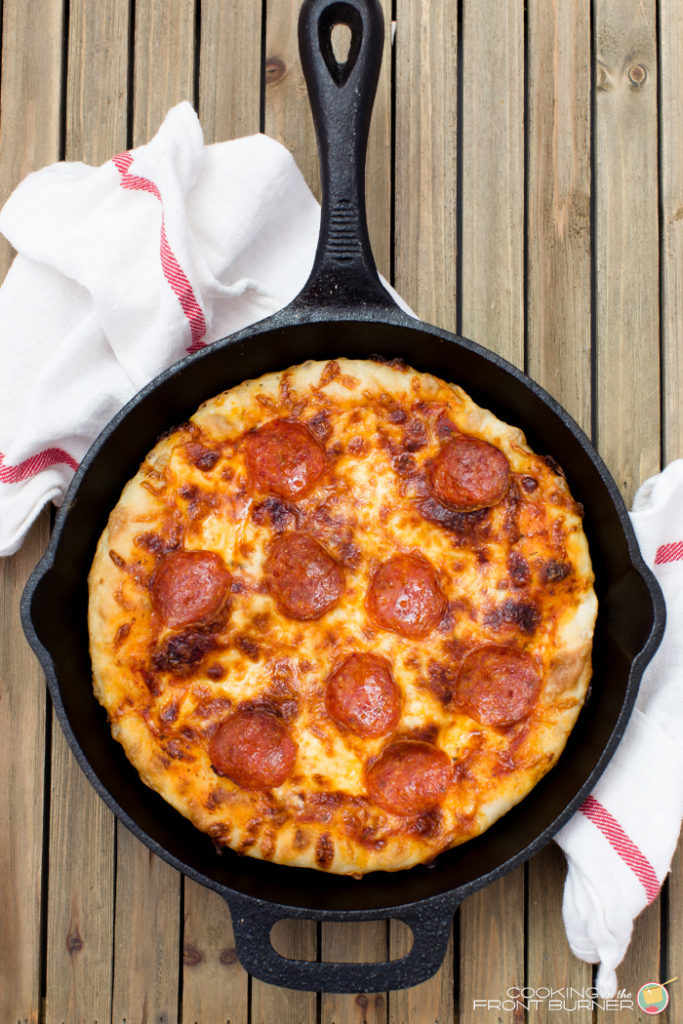 What ingredients will you need for Cast Iron Skillet Pizza?
White Flour
Active Dry Yeast
Salt
Water
Olive Oil
Pizza Sauce
Mozzarella Cheese
Provolone Cheese
Pepperoni Slices
What other toppings do you like on your pizza? The DIY likes m-e-a-t, so even when it's not a cast iron skillet pizza, we have must have some of that on our pizzas! We also like mushrooms, green peppers, green olives, ham, pineapple and if I'm not eating it, then John may have anchovies.
Let's talk about crust - do you like thick or thin? Cast iron skillet pizza crust is on the thicker side and has a nice chewy texture, with lots of air bubbles in the dough (a sign of a good crust).
We are originally from upstate New York and are used to a thinner crust with not a ton of sauce. When we moved to the midwest 25 years ago, it was hard to find that type of pizza, so I usually made homemade pizza.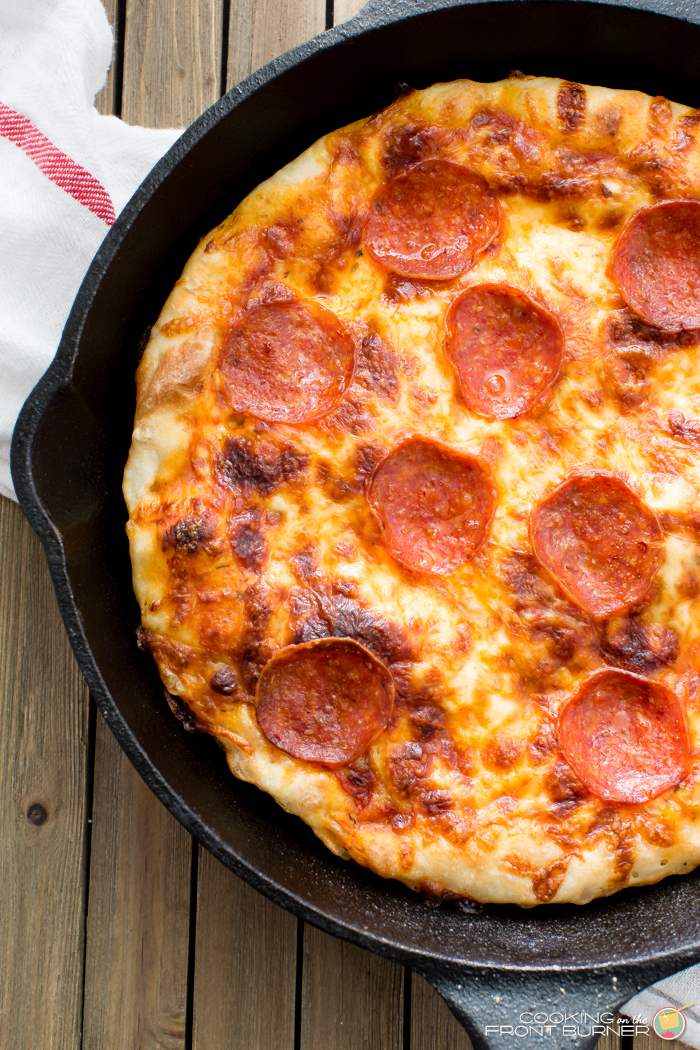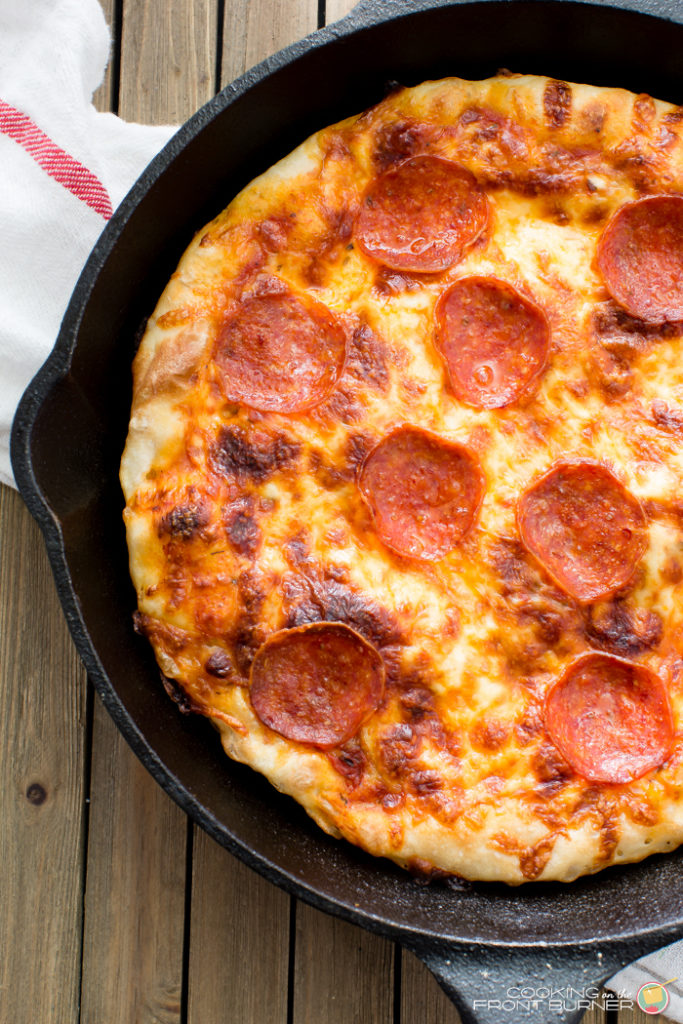 Ok, lastly let talk about cast iron skillets! I really love mine and have two sizes - this 10" one and a 12". I recently made these Lemon Pull Apart Rolls in a skillet and Roasted Rosemary Potatoes that make a great side dish. I plan to make some Pecan Rolls soon so be sure to come back for that recipe.
Oh and I also want to note that this cast iron skillet pizza recipe is perfect for two people!
Useful tips for making this Cast Iron Skillet Pizza:
The crust must be started a day ahead per instructions
Recipe uses a 10" cast iron skillet (not tested in a 12")
To remove some of the grease from the pepperoni, microwave for 20 seconds on paper towels
Kitchen items you might need: Cast iron skillet, Pot holders
Put this easy homemade pepperoni recipe on your menu soon!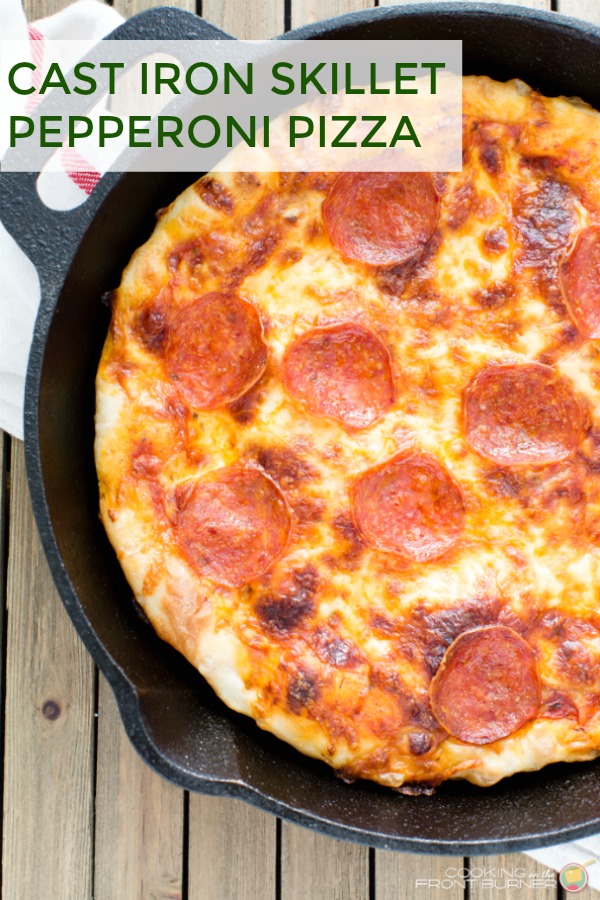 Get the Recipe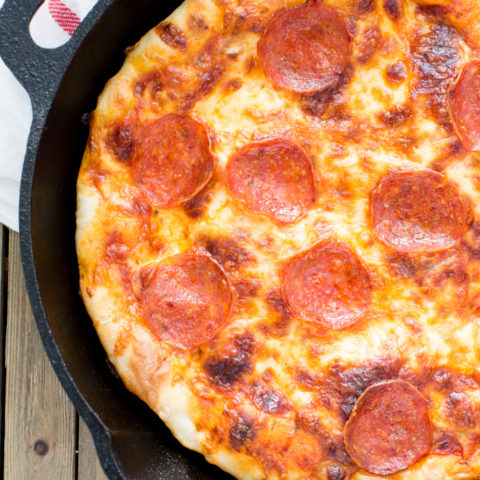 Cast Iron Skillet Pizza
Additional Time:
14 hours
Total Time:
14 hours
35 minutes
Be prepared to be wowed with one of the best tasting pizzas you will ever have!  It's super easy and oh so good!
Ingredients
1 ½ cups flour plus an additional 1 ½ teaspoons
¼ teaspoon active dry yeast
¾ teaspoon salt
¾ cup cold water
Olive oil for skillet (about 1 tablespoon)
⅓ cup pizza sauce
2 ounces shredded mozzarella cheese
2 ounces shredded provolone cheese
12-18 slices of pepperoni (or any other favorite toppings)
Instructions
Combine the flour, yeast and salt in a medium mixing bowl
Slowly pour in the cold water and stir until it is combined well (the dough will not be shaped into a ball)
Place plastic wrap on the bowl and make sure it is tightly covered
Place bowl on your counter and let the dough rise for about 12-18 hours until it looks about double in size (the dough will spread out and have have pitted marks in it)
Remove plastic wrap and then sprinkle 1 ½ teaspoons of flour into dough and stir
Place olive oil in a 10" skillet being sure to do the sides as well
Place the dough in the skillet and use oiled fingers to spread it out to the edges (it might not completely spread to edge but that is OK)
Place a large plate on the skillet and let rise about 90 minutes to 2 hours
Preheat your oven to 500 degrees
Remove the plate and top with the sauce, cheese and pepperoni (I microwaved the pepperoni for 20 seconds to get some of the grease out as noted where I found the recipe below)
Turn a stove top burner onto medium high and cook pizza for 3 minutes on burner
Then place in oven and bake for about 14-16 minutes until the top is golden brown
Remove from oven and enjoy!
Notes
You may want to try different toppings and it might be best to par cook them to get some of the moisture out.
Nutrition Information:
Yield:

2
Serving Size:

1
Amount Per Serving:
Calories:

701
Total Fat:

30g
Saturated Fat:

13g
Trans Fat:

0g
Unsaturated Fat:

15g
Cholesterol:

55mg
Sodium:

1670mg
Carbohydrates:

78g
Fiber:

3g
Sugar:

3g
Protein:

28g
Nutritional information provided is computer-generated and only an estimate. You may want to do your own research with the ingredients listed if you have concerns about health or specific diets.
About the Author
Recent Posts
Recipe Index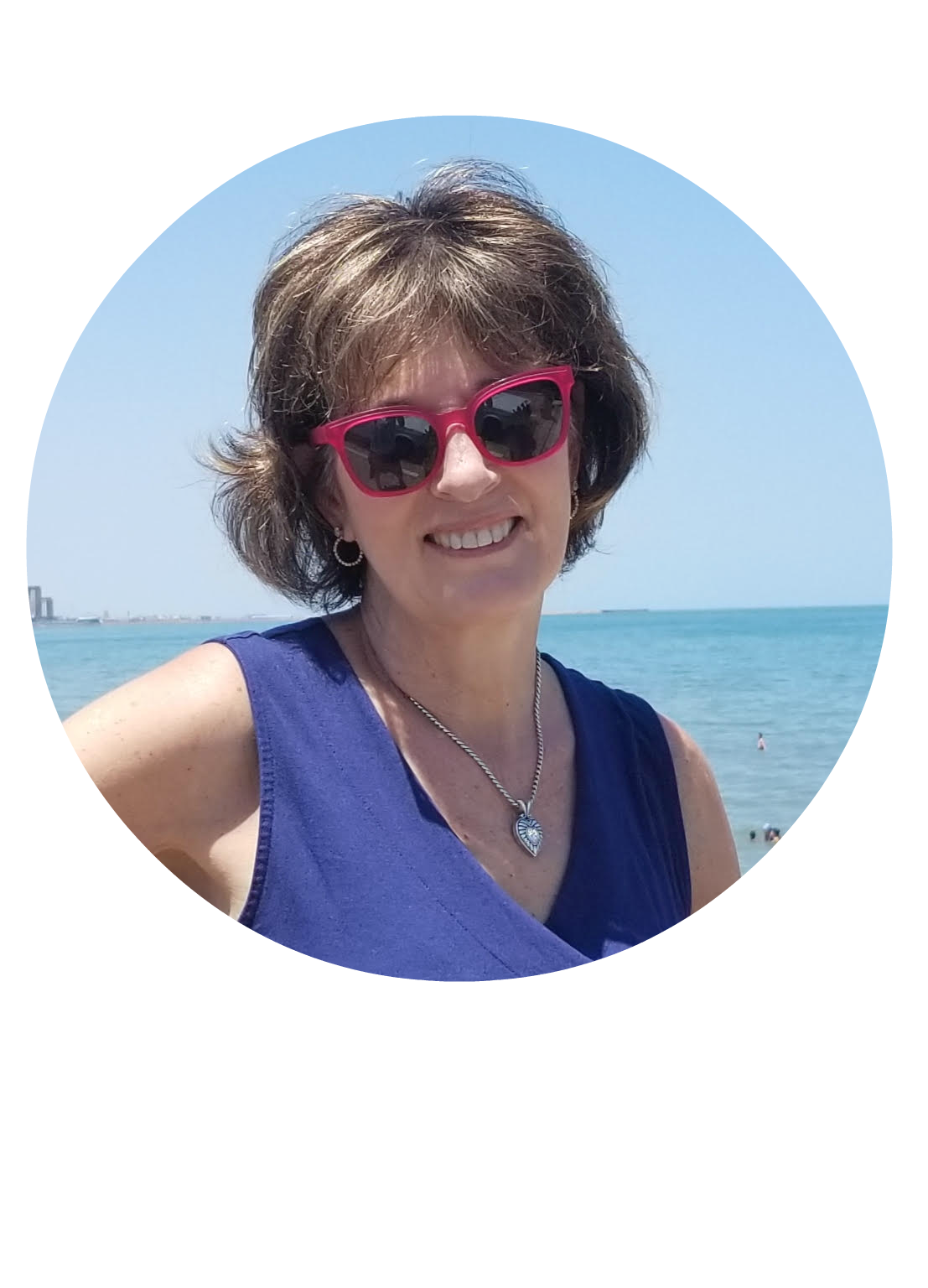 We are all about sharing our love of good food so on the blog you will find easy recipes to enjoy with your family and friends.  We hope to inspire you to host a gathering to create special memories.  Most recipes are step by step so you can feel confident in the kitchen.  Take a look around to find everything from breakfast to dinner and everything in-between!