This Creamy Lemon Dip is the perfect snack for any time of the day.  Just a bit of tang!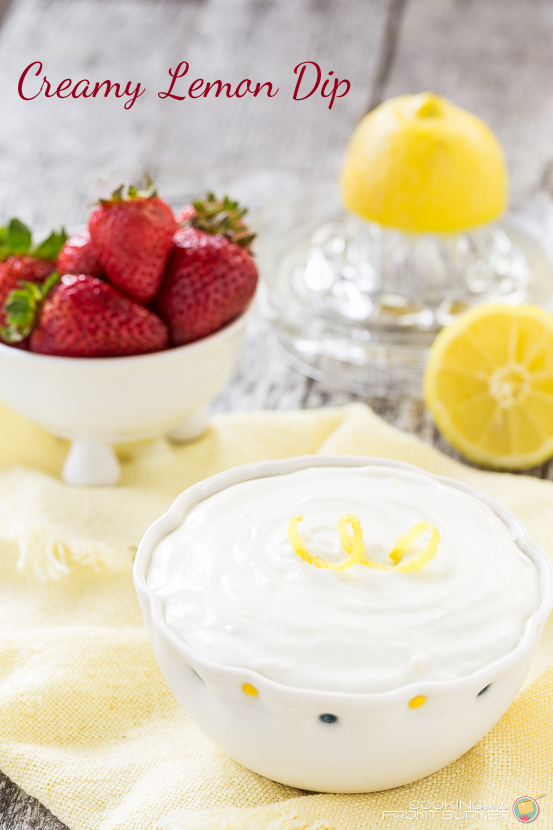 Pucker up! Your taste buds are in for a treat today with this Creamy Lemon Dip.  I've had a love affair with lemons for as long as I can remember.  I tried to keep it a secret but the DIY Guy found out!  Probably because I add a squirt or zest to many of the dishes I make.  I think he can take it or leave it but not me!  I always have a couple stashed away in the refrigerator.  So when life gives me lemons, I take 'em!
I also love recipes that are quick and easy.  You'll only need five ingredients to whip up this light and fluffy dip.  With summer coming up, it's great to have some snacks on the lighter side, agreed?
Creamy Lemon Dip
Prep Time: 5 minutes
Yield about one cup
Ingredients
4 ounces lemon yogurt
4 ounces softened light cream cheese
3 tablespoons powdered sugar
1 tablespoon fresh lemon juice
1 teaspoon lemon zest
Instructions
In a medium bowl add the cream cheese and yogurt and mix well with electric mixer
Add remaining ingredients and mix well
Serve immediately or keep refrigerated
Serve with your favorite fruit, vanilla wafers or shortbread cookies
Note : This recipe can be doubled for a larger crowd
Oooh so creamy and good!  I think that strawberry has your name on it.
Ready to take a dip?
If you love lemons as much as I do, you might want to follow along my I Heart Lemons pinterest board.
And here are some other lemon recipes you might enjoy!