This post may contain affiliate links. For more information, please visit my disclosure page.
Apple Hand Pies are handheld versions of classic apple pie. Easy to make, this is the perfect snack or dessert recipe!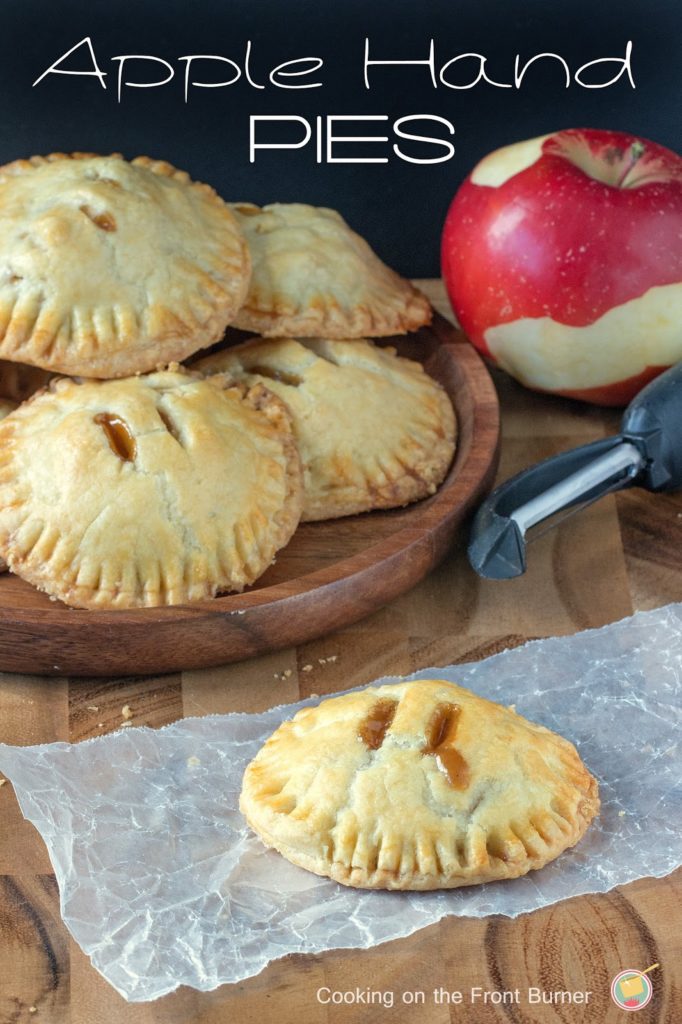 Well, we still have about a bushel full of apples that I've been trying to use up – I've made pies, apple cake, crisps, risotto and for today these Apple Hand Pies! I mean what's a girl to do with all these fresh apples. I think we loaded up our family and friends as much as they were able to use, so now we are coming into the home stretch and I really don't want to throw any away.
We have eaten our share too so now I'm thinking making a big batch of applesauce is next on my list. I think you can freeze it, right? I'll give it a try and let you know how I make out. PLEASE feel free to send me some apple recipes too!
Cute story – our granddaughter loves apples and when she visits in the fall, she'll go out to the tree, reach up her cute hand and pick off the lowest one she can get. She'll then walk around the yard eating it and saying she wished she lived at our place! She is such a cutie and we love when she comes to visit.
I hope you enjoy this easy apple hand pies recipe as much as we do!
Cook's notes for making these Apple Hand Pies:
Keep the prep easy by using store bought crust
You could sprinkle a mixture of cinnamon and sugar after the egg wash before baking
These freeze very well – I just wrap each in some plastic wrap and store in a larger baggie before putting in freezer
These are great for a picnic, after school snack and perfect for a grab and go dessert!
Items you might need –Apple Peeler, Spatula, Parchment Paper, Cookie Sheet,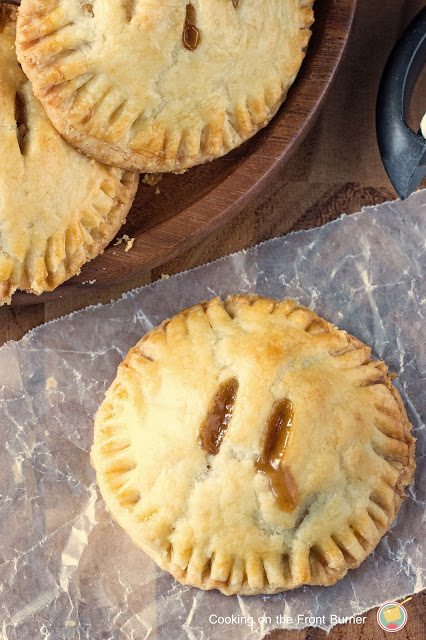 I know I've said this before but I really love Trader Joe's pie crust (it is in the frozen section) It is the closest to homemade I've ever had – so flaky – don't you agree?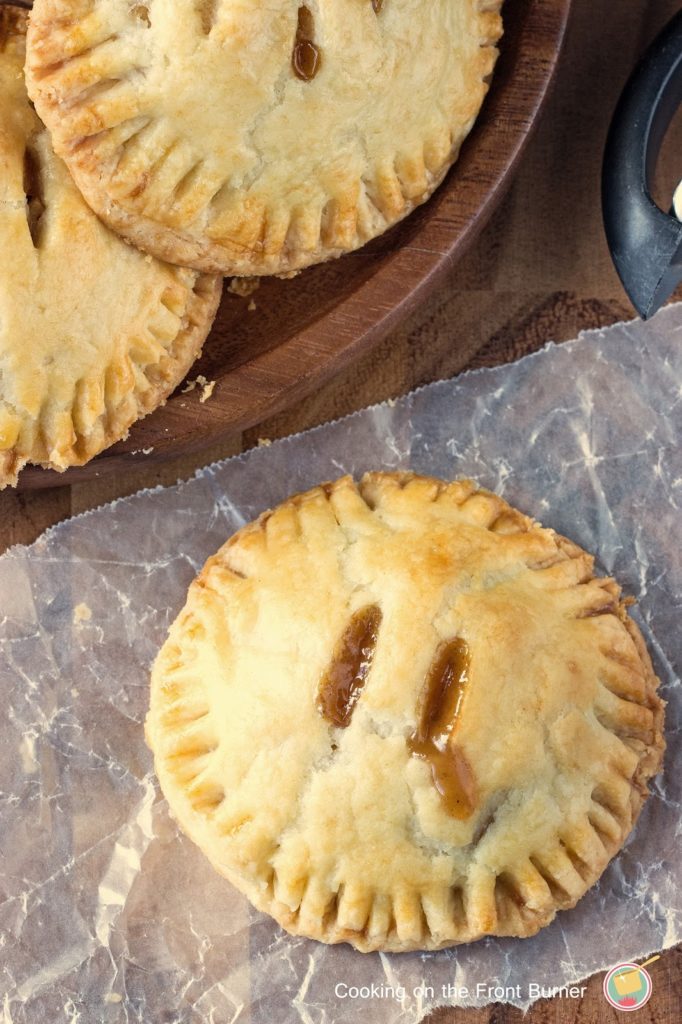 If desired, sprinkle some coarse sugar on top after applying egg wash. Or I'm thinking a drizzle of glaze after they cool would be a good idea too!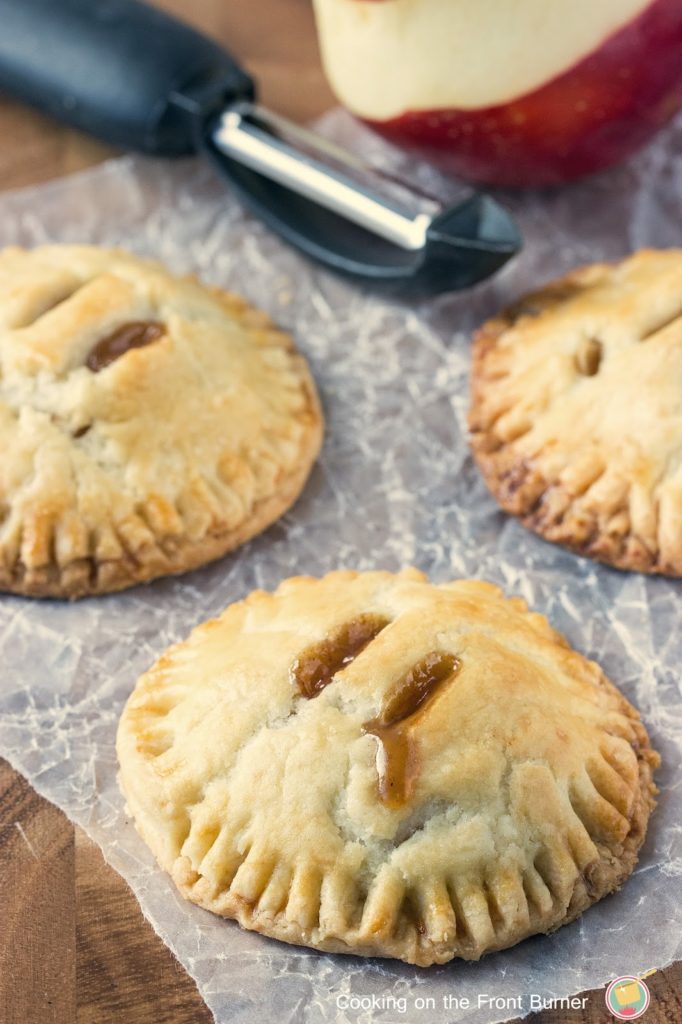 Apple Hand Pies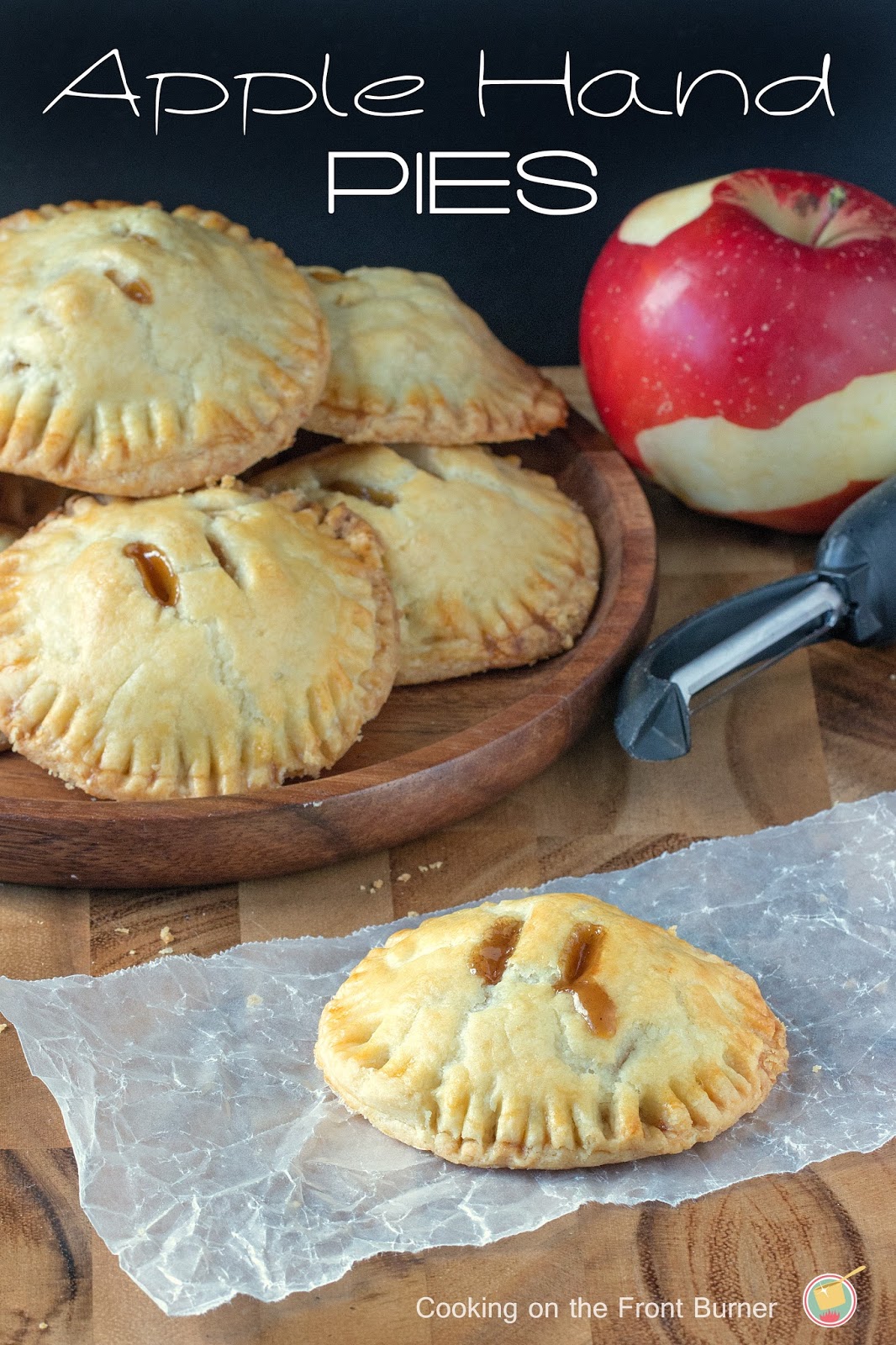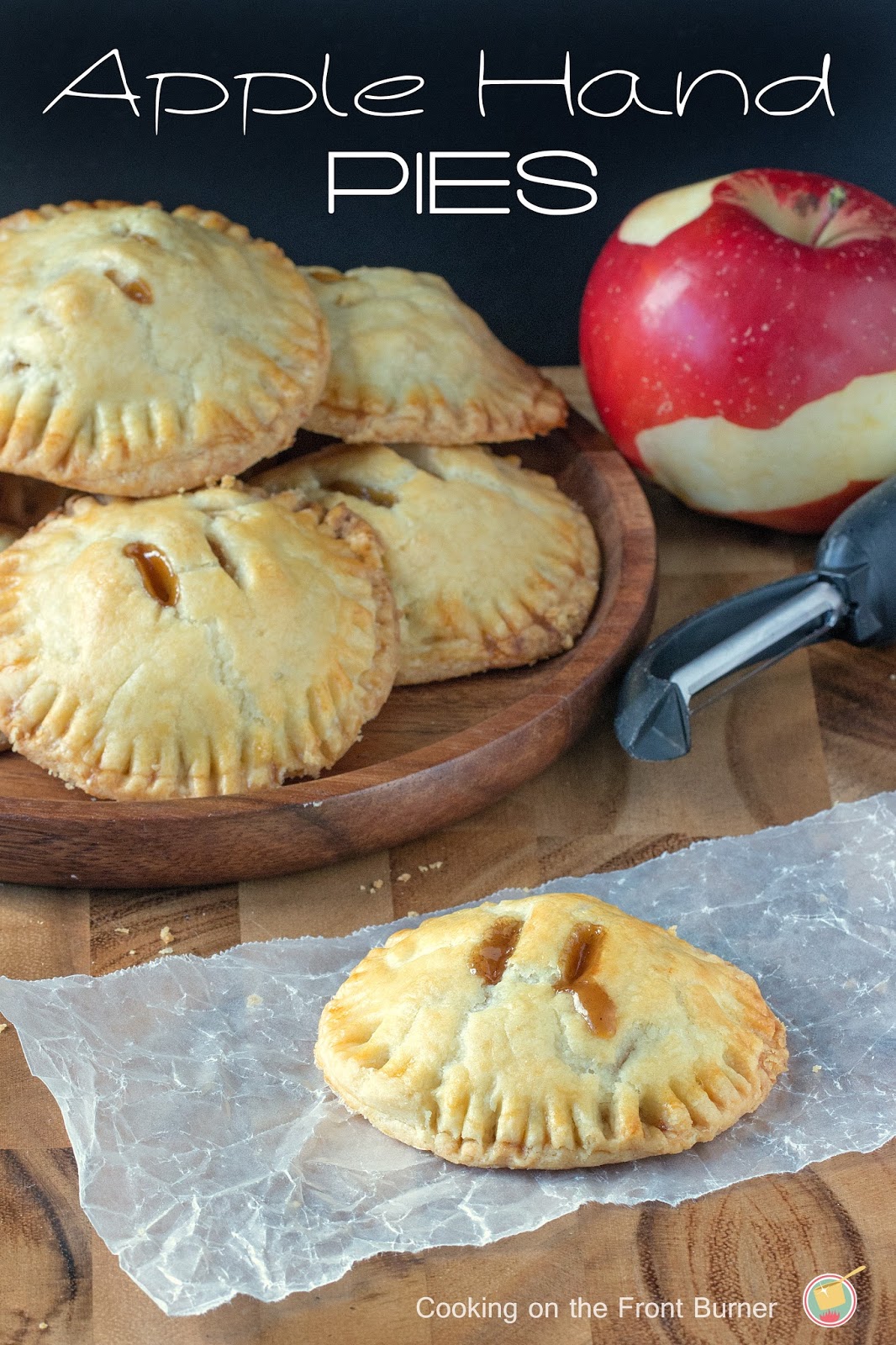 Single size mini apple pies that are easy to make!
Ingredients
4 cups peeled diced apples (about 1/4")
2 tbls flour
1/2 cup sugar
1/2 tsp cinnamon
1/4 tsp nutmeg
2 pre-made pie crusts (I use Trader Joe's)
1 egg
caramel sauce
Directions
Preheat oven to 425 degrees and then line 2 cookie sheets with parchment paper
In a medium bowl add the diced apples and toss with the flour then stir in the cinnamon and nutmeg - set aside
On a floured cutting board, roll out the pre-made dough until it is about 1/8" thick
Using a 3" round biscuit cutter, cut 16 circles from each big circle; reuse dough and roll out again as needed. (The crust from Trader Joe's is larger than other brands on the market so the number of circles you get could vary)
Place about 2-3 tablespoons of the apple mixture on the center of 16 circles then if desired add about 1/2 tsp of caramel sauce on top.
Place the remaining dough on top. Pinch to seal then press a fork around the entire edge
Make an egg wash by slightly beating one egg with 1 tbl of water; brush tops then cut 2 or 3 slits onto dough
Place on cookie sheet and bake for about 20 minutes until golden brown and apples are tender
Cool on wire racks
Recipe Notes
Other apple recipes –
Apple Crepes