The combination in this Strawberry Fennel Salad with Orange Vinaigrette is so tasty!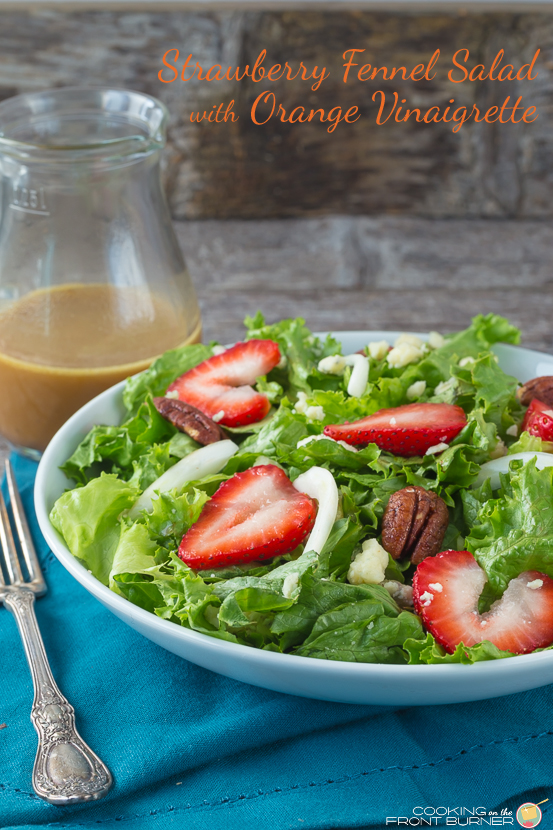 How does a tasty salad sound to go with this spring weather? I'm guessing pretty good. I'm so craving some lighter and healthier foods. This salad has it all, fresh greens, strawberries, gorgonzola cheese, pecans and even a bit of fennel all drizzled with a freshly made orange vinaigrette. It is so good and your taste buds will thank you!
I'm kind of wishing I did a bit better with eating this winter but you know, the body wants what the body wants and that usually involves heavier carbs. Now that it is April, I'm planning some lighter dinners and lunches. There's still plenty of time to get back on track – better eating and hitting the gym.
Strawberry, Fennel, Pecan Salad with Orange Vinaigrette
Prep Time: 10 minutes
Yield – 2 salads
Ingredients
3 cups salad greens (your choice)
4 large strawberries sliced thin
8-10 thin fennel slices
2 tablespoons gorgonzola cheese
handful candied pecans
1/4 cup freshly squeezed orange juice
1 1/2 teaspoons honey
1 1/2 teaspoons balsamic vinegar
1 teaspoon honey mustard
Salt
Pepper
1/4 olive oil
Instructions
On two plates divide the greens, cheese, strawberries, pecans and fennel
In a small food processor combine the orange juice, honey, mustard, vinegar, salt & pepper (to taste) and mix well
Drizzle in oil olive and mix until well combined
Pour over salad dishes
What's on your agenda this spring? Do you like getting back in the yard, planting, biking, walking? It's definitely one of my favorite times of the year when everything is anew again. I even like the rain, well not a lot, but enough to wash away winter's icky stuff.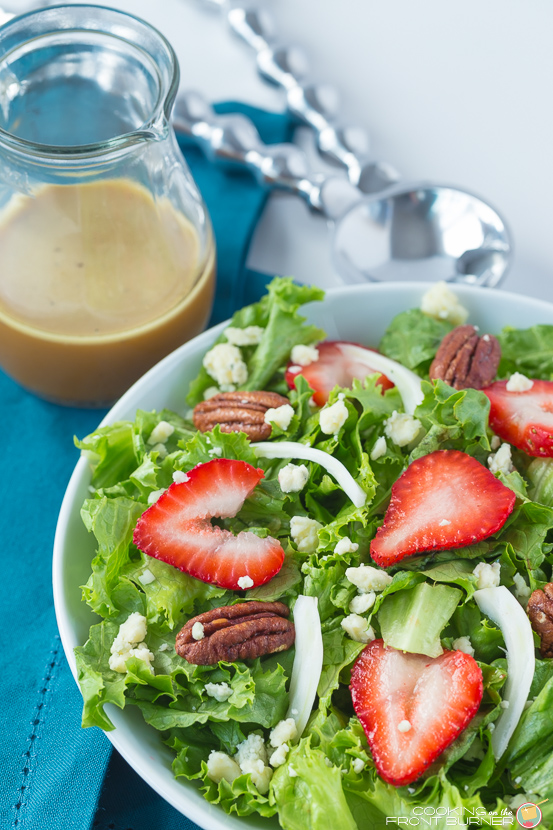 I think you will really like this dressing too. It's so fresh and would work well on any salad or make a tasty marinade for chicken and grilling.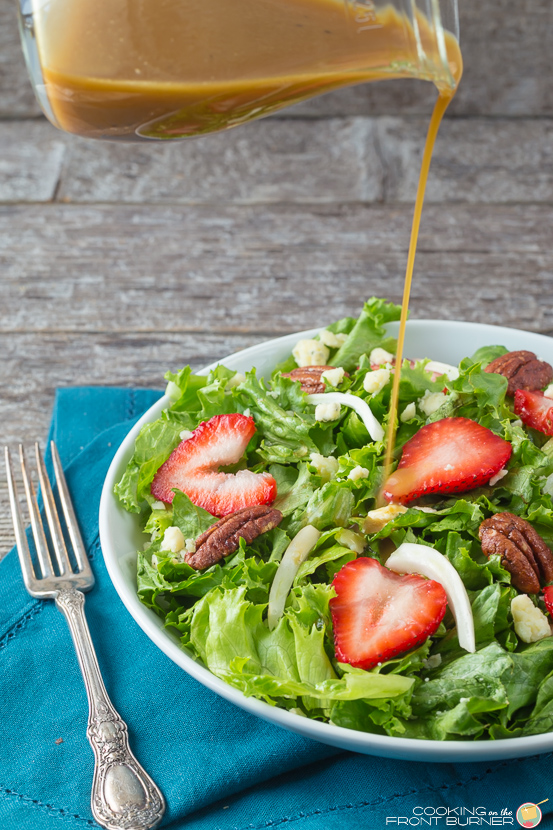 Still looking for more salads? I've got a few more up my sleeve!