Today is Spiked! reveal day using the ingredient Limoncello. I decided to go down the savory road with this Limoncello and Asparagus Risotto. Not only does it have a nice lemony taste but asparagus season is coming soon and is perfect in this creamy rice dish!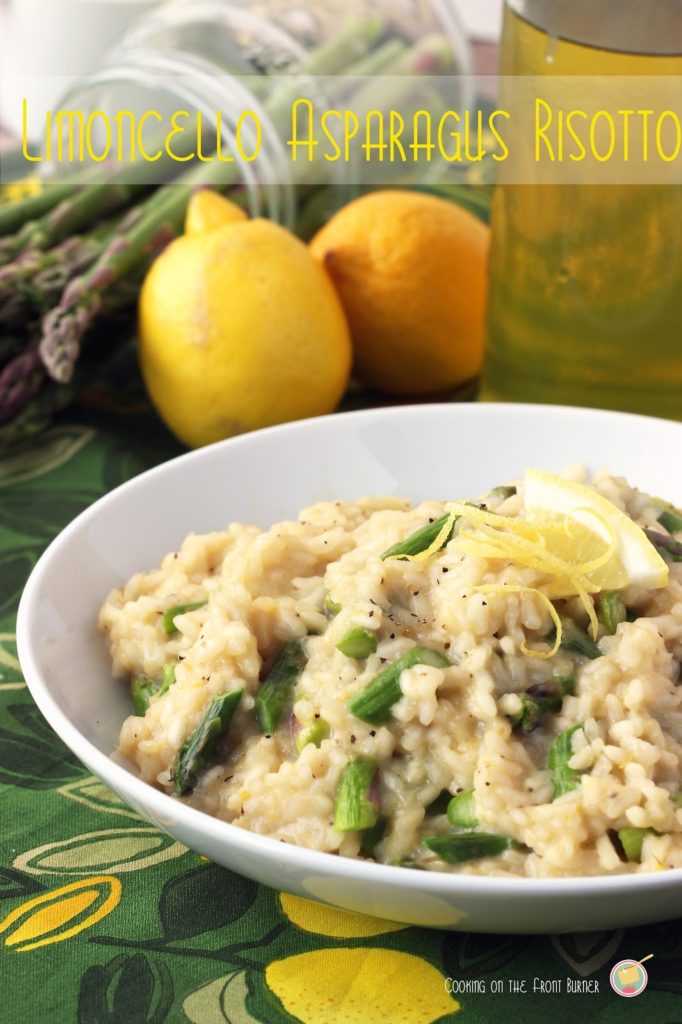 Before we go any further, I want to mention that if you aren't a fan of using alcohol - don't worry I've listed substitutes so keep reading!
I kind of lucked out with the Limoncello part. My friend Steph made her own this past fall and gave us some at Christmas. It's really good and went well in this dish.
And you might be thinking that making risotto is hard to do but it's just stirring, stirring and stirring... we can all do that, right? You can get your workout in at the same time!
This risotto dish is super creamy and very addicting. While it makes a great side dish, the DIY Guy and myself ate it as a main dish and I'm glad we did!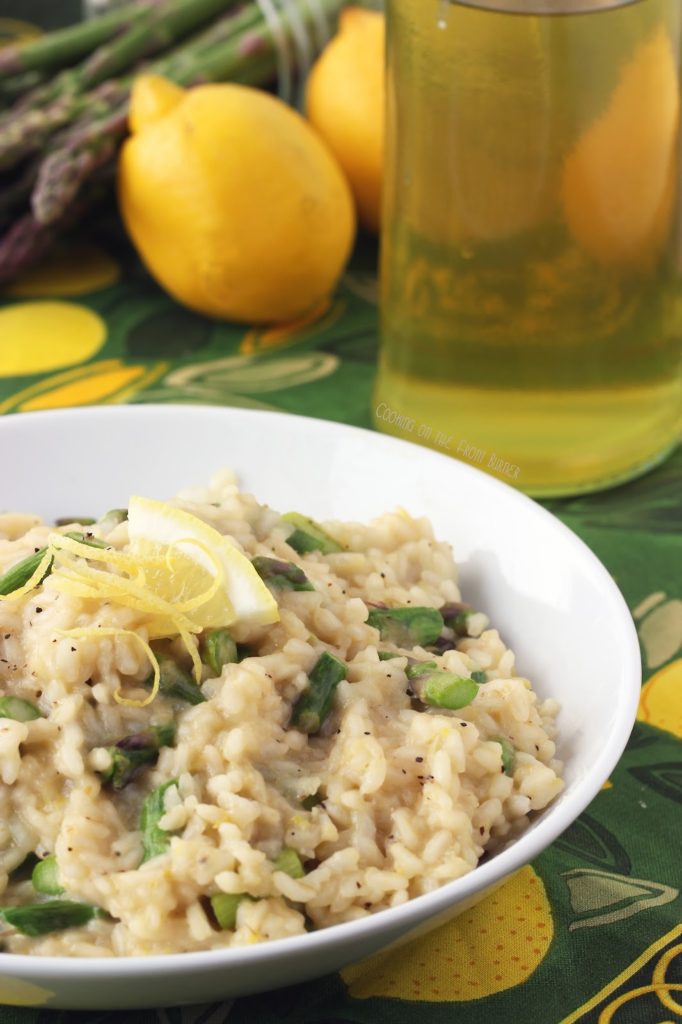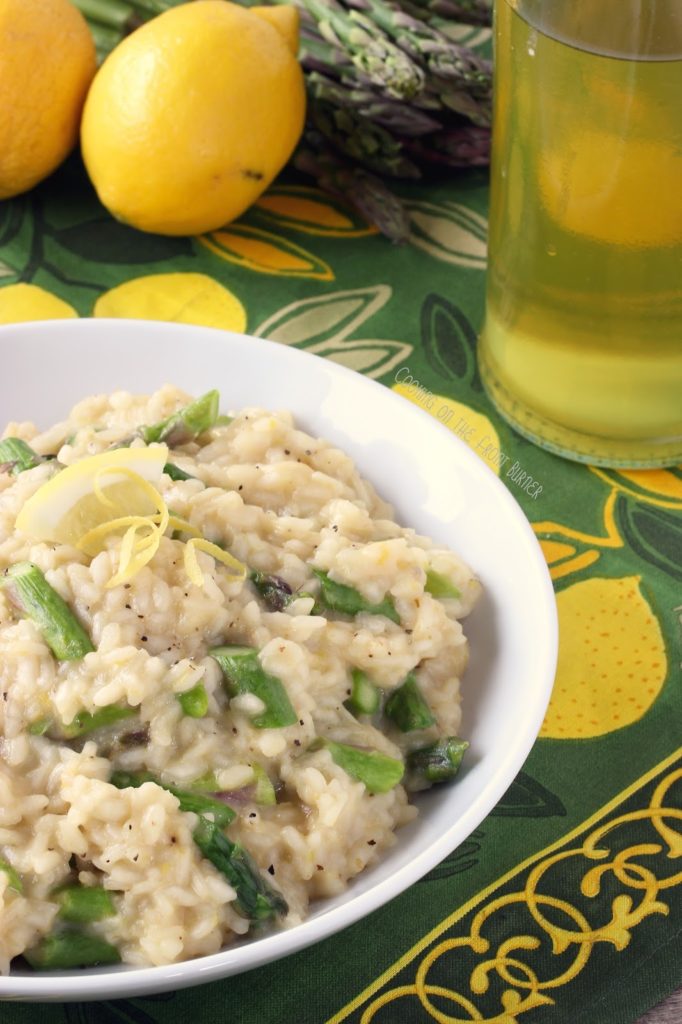 I've used this same Limoncello in a cupcake recipe... check it out as well!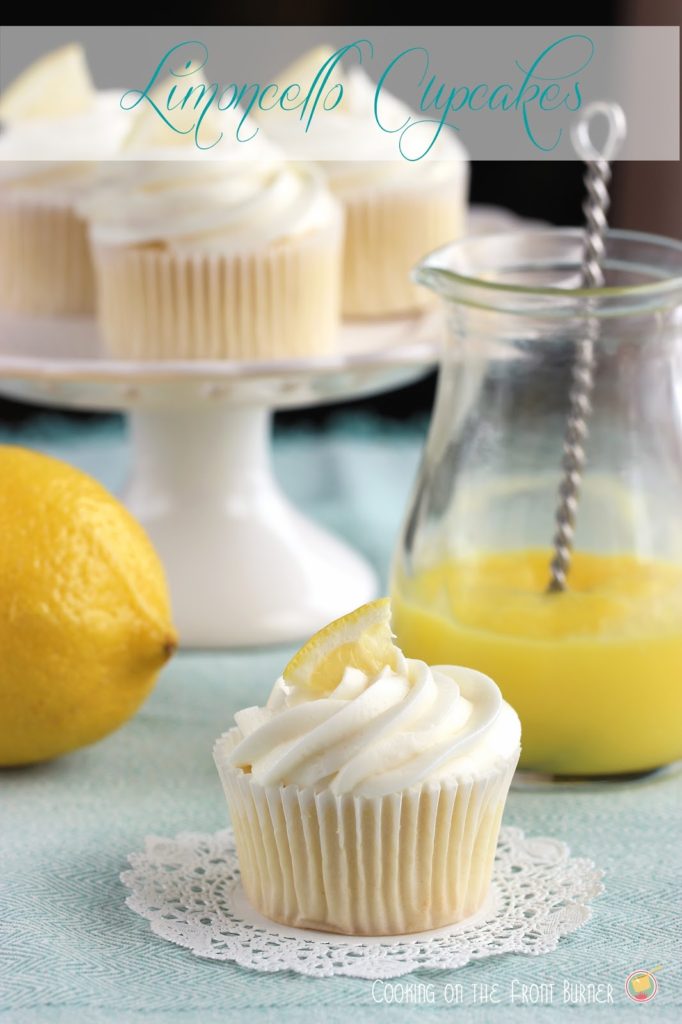 Get the Recipe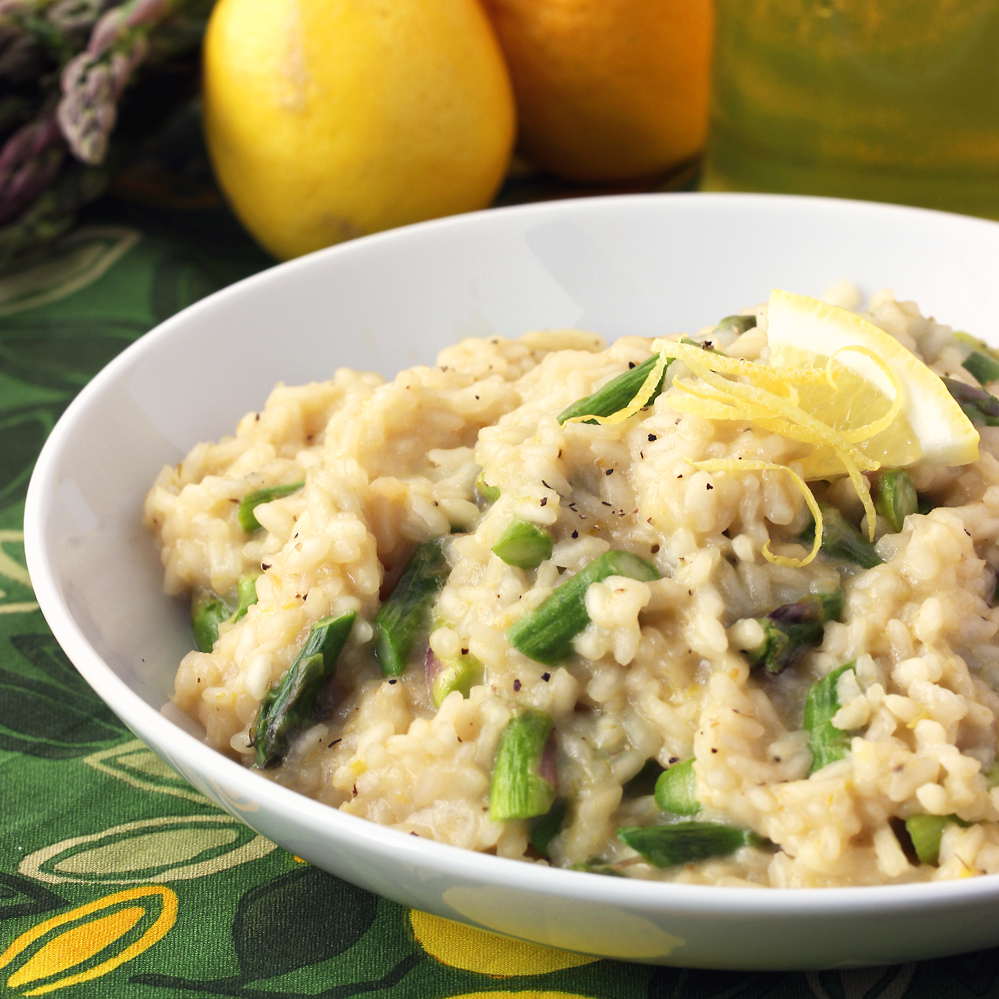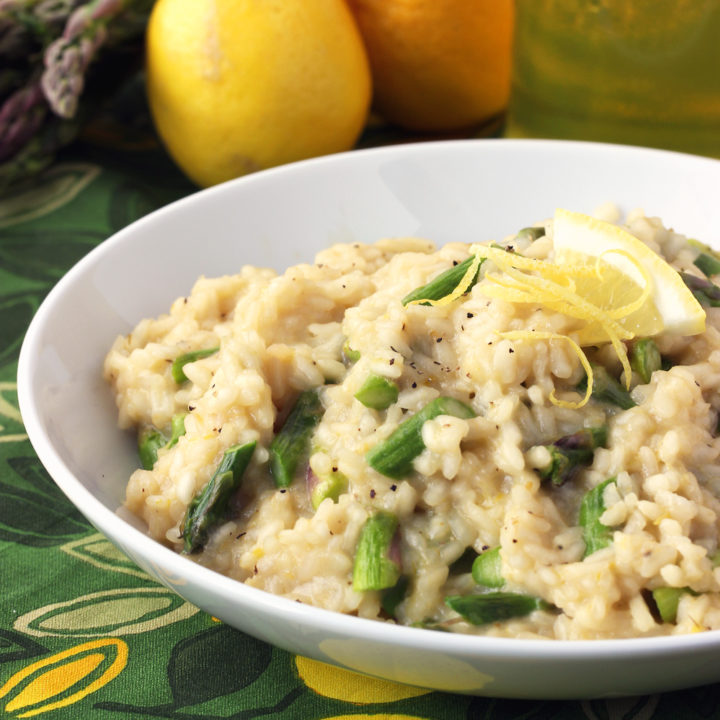 Limoncello Asparagus Risotto
A creamy risotto kicked up with some limoncello
Ingredients
2 tablespoons butter
1 tablespoon olive oil
½ cup sliced leek
1 cup uncooked arborio rice
1 tablespoon zested lemon peel
3 cups chicken broth
½ cup dry white wine (or additional water or cooking sherry)
1 cup asparagus ( 1″ bias cut pieces)
½ cup finely grated romano cheese
¼ teaspoon black pepper
2 tablespoons Limoncello (or just plain lemon juice)
Instructions
Heat the butter and oil in a large saucepan over medium heat. Then add the leek and cook about 6-7 minutes until tender.
Add the rice and lemon peel; cook about 6-7 minutes until rice is light brown stirring often
In a another saucepan bring to a simmer the broth and wine; keep simmering throughout process.
Gradually add in ½ cup of hot broth to the rice; stir constantly until it is absorbed then keep adding ½ cup at a time until broth is absorbed by rice. It must be stirred constantly and should take about 20-22 minutes. The rice should be just slightly firm.
Remove from heat and add the asparagus, cheese, limoncello and pepper. Cover the pan and let sit 5 minutes.
Nutrition Information:
Yield:

4
Serving Size:

1
Amount Per Serving:
Calories:

256
Total Fat:

12g
Saturated Fat:

6g
Trans Fat:

0g
Unsaturated Fat:

6g
Cholesterol:

29mg
Sodium:

891mg
Carbohydrates:

22g
Fiber:

1g
Sugar:

5g
Protein:

7g
Nutritional information provided is computer-generated and only an estimate. You may want to do your own research with the ingredients listed if you have concerns about health or specific diets.
About the Author
Recent Posts
Recipe Index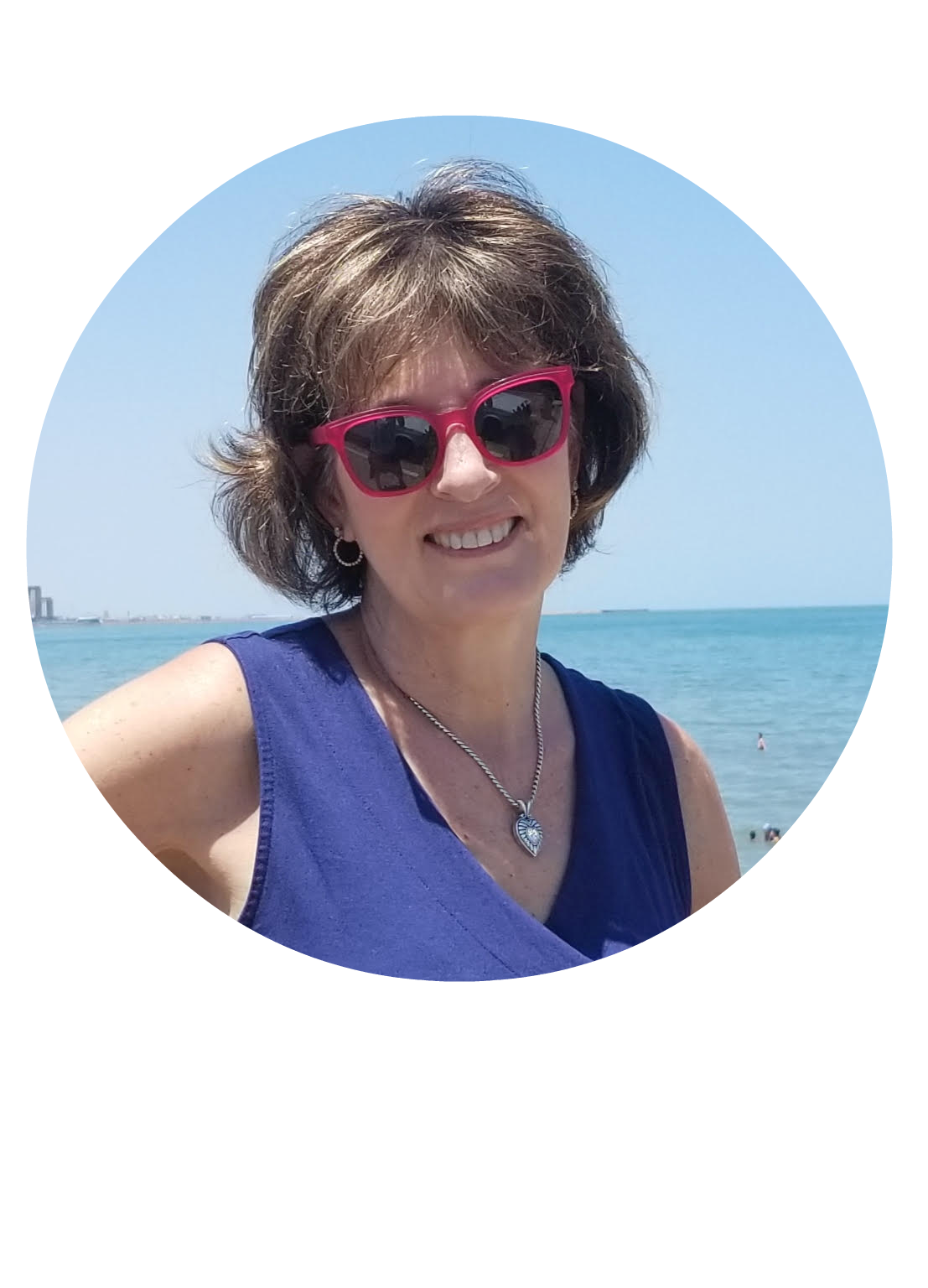 We are all about sharing our love of good food so on the blog you will find easy recipes to enjoy with your family and friends.  We hope to inspire you to host a gathering to create special memories.  Most recipes are step by step so you can feel confident in the kitchen.  Take a look around to find everything from breakfast to dinner and everything in-between!