This post may contain affiliate links. For more information, please visit my disclosure page.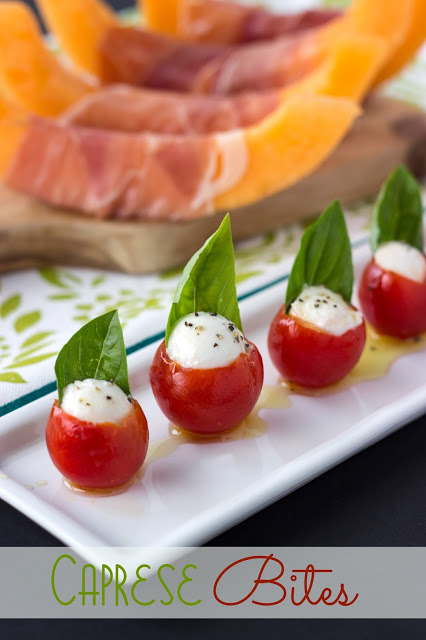 Last night for dinner I did something a bit different… we had no company (though it looks like it, right?) but I wanted to make a couple of fun appetizers before our main course. A friend of mine had recently given me some of her cherry tomatoes (thanks Cheri!) and I still had some fresh basil from our garden. You know me – I love caprese. I even have a pinterest board dedicated to all things caprese. Making these are super cinchy – cut off a small piece of tomato so it lies flat, then cut a circle with a sharp knife on top and scoop out the innards with a small melon baller. I placed a basil leave in with a halved Ciliegine mozzarella ball . A bit of fresh pepper and olive olive finished it off. So refreshing.
Next up came from the farmer's market. When I went on Saturday, I was so enticed by the smell of melons that I had to have one. The aroma from the stand was heavenly! To dress it up a bit I wrapped a thin slice of prosciutto around it – sweet and salty! This melon actually tastes like candy.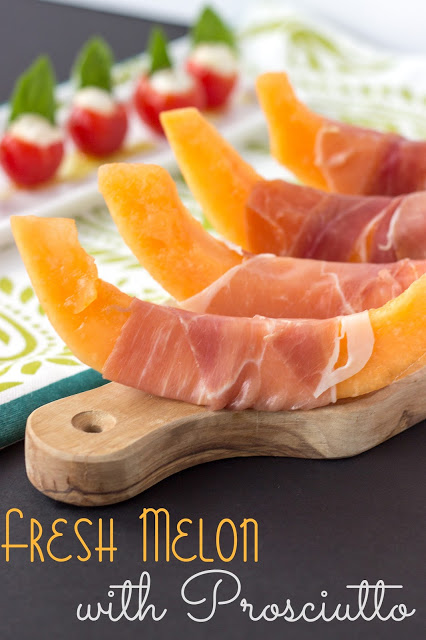 We aren't always so fancy pants around here especially with no company but I just felt like kicking it up a notch tonight. Our main course was ribs (pre-made) and potato salad.
Well, back to the work week! Have a great week!!
Another appetizer you might enjoy – Caprese Bites with Pesto