Flavors are just bursting in this Chopped Greek Panzanella Salad - so many fresh ingredients that will have your mouth asking for more!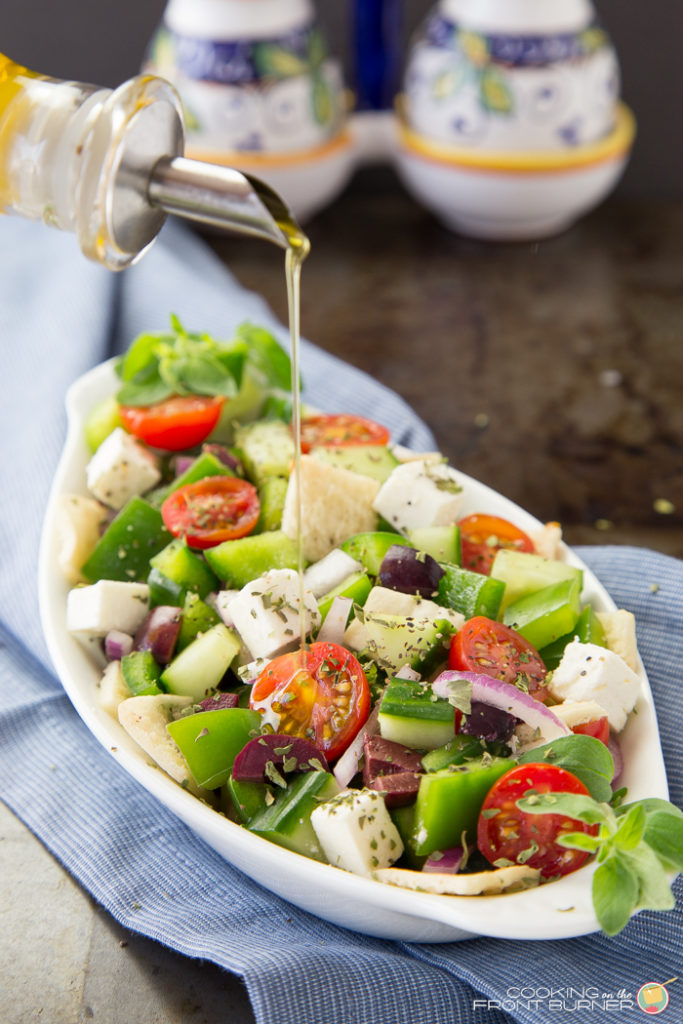 Believe it or not, yesterday here in the upper midwest it was 88 degrees! And I'm not complaining! It was wonderful to be outside to soak up the sun and warmth. Of course being that warm, there was no way I wanted to heat up the house with the oven or stove so we had a simple dinner of this Chopped Greek Panzanella Salad and some grilled chicken kabobs (those I just marinated in some Greek Dressing with a bit of mayo and additional Greek seasoning). It was perfect and we even ate outside on the deck. The DIY Guy loved this so I'm thinking this salad will be making a repeat appearance soon!
I based my salad on a traditional Greek salad called Horiatiki which I had when my daughter and I went to Greece back in 2008. One of her close friends was studying abroad in Athens for a semester so on Danielle's spring break we headed over for a visit. I had no idea what to expect with the food and culture but I absolutely loved everything! First the food, we had some wonderful meals including this salad. It is made a bit different, so if you were to order, it would come in a bowl with pepper rings, sliced onions, chunks of cucumbers and tomatoes with a brick of feta cheese on top, sprinkled with oregano and topped with a high quality olive oil. It is amazing! I think I ordered it every time we went out to dinner. We also had quite a few gyros - interesting fact they are served with fries IN the sandwich - YUM!
For my version, I decided to do a chopped salad and added chopped pita bread to make it a "panzanella" (which means bread in a salad). You could also leave out the bread and just enjoy the fresh veggies and cheese - either way, it is so good!
Now onto the Greece sites! The the hotel we stay in had a roof top bar that have a great view of the Acropolis. At night, we would head up and have a glass of wine and enjoy the views. Hotels and other buildings cannot be over a certain height and, now I can't remember if it is 5 or 6 floors, so views are good. We took a few days trips including a ferry ride to three islands (Hydra, Poros and Egina), a day trip to Delphi and of course just exploring the town of Athens. I would love to go back and this time hit up the island of Santorini! It's on the bucket list!
Naked salad: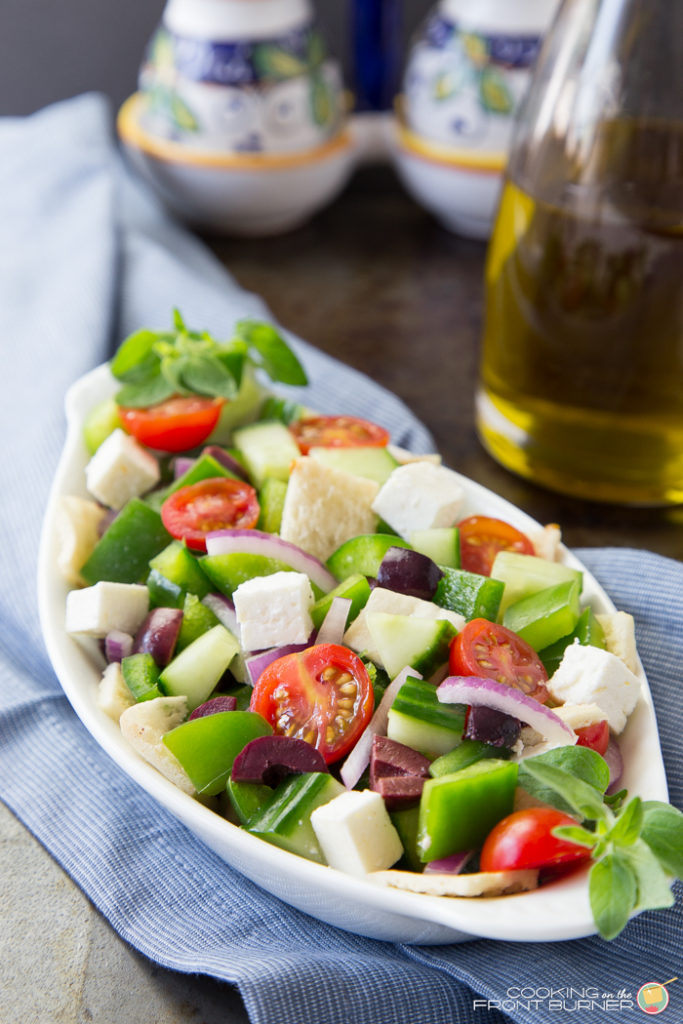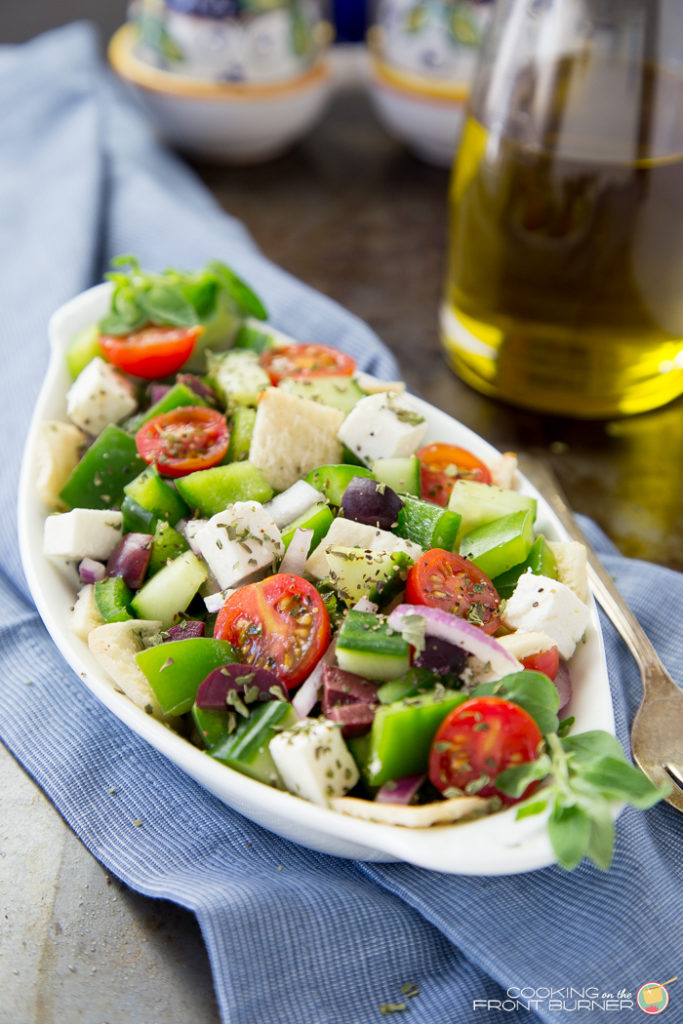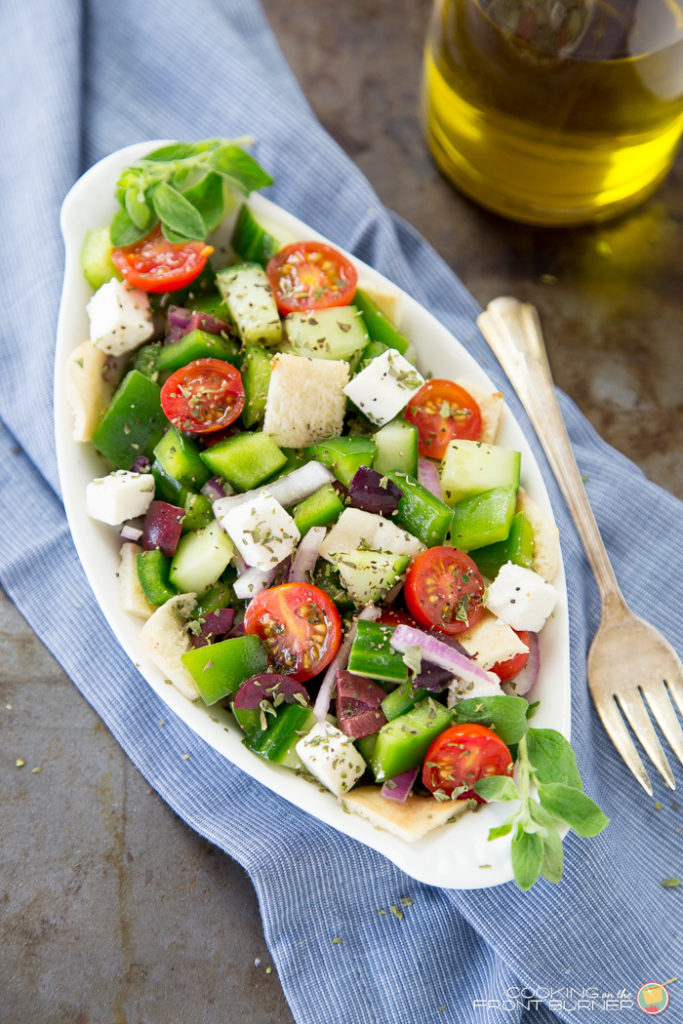 Look close-up on the fresh ingredients!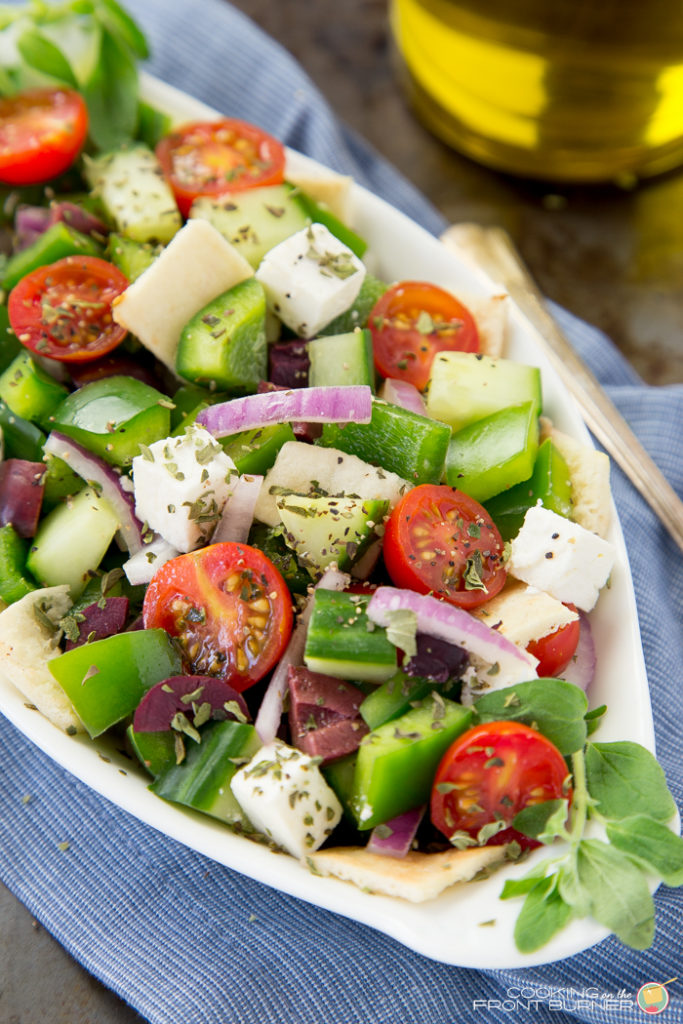 Get the Recipe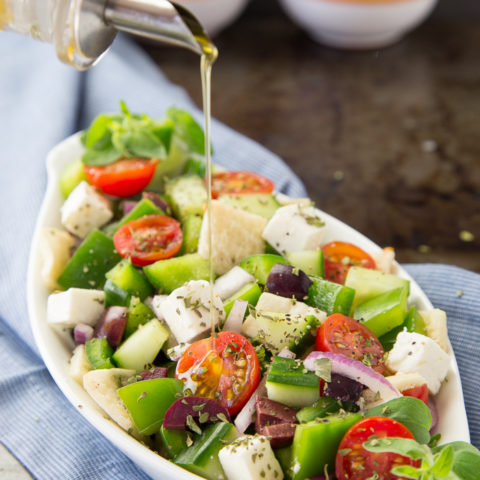 Chopped Greek Panzanella Salad
YUM - this easy salad is a winner for a quick lunch!
Ingredients
½ cup cubed feta cheese
½ cup chopped, pitted kalamata olives
¼ cup chopped red onion
1 large green pepper chopped
½ english cucumber chopped (do not peel)
1 cup cherry tomatoes cut in half
2 slices of pita bread cut into small squares
Olive oil
Pepper
Dried Oregano
Instructions
In a large bowl combine the feta, olives, red onion, green peppers, cucumbers and tomatoes
Season with pepper (and salt if desired)
Add about 1 to 1-½ teaspoon oregano
Drizzle with olive - this depends on how much you like. I only do it until everything gets coated and is not soggy
Toss gently
Can be served at room temperature or refrigerated until needed
Nutrition Information:
Yield:

4
Serving Size:

1
Amount Per Serving:
Calories:

224
Total Fat:

12g
Saturated Fat:

4g
Trans Fat:

0g
Unsaturated Fat:

7g
Cholesterol:

17mg
Sodium:

440mg
Carbohydrates:

25g
Fiber:

2g
Sugar:

4g
Protein:

7g
Nutritional information provided is computer-generated and only an estimate. You may want to do your own research with the ingredients listed if you have concerns about health or specific diets.
Other salads you might enjoy: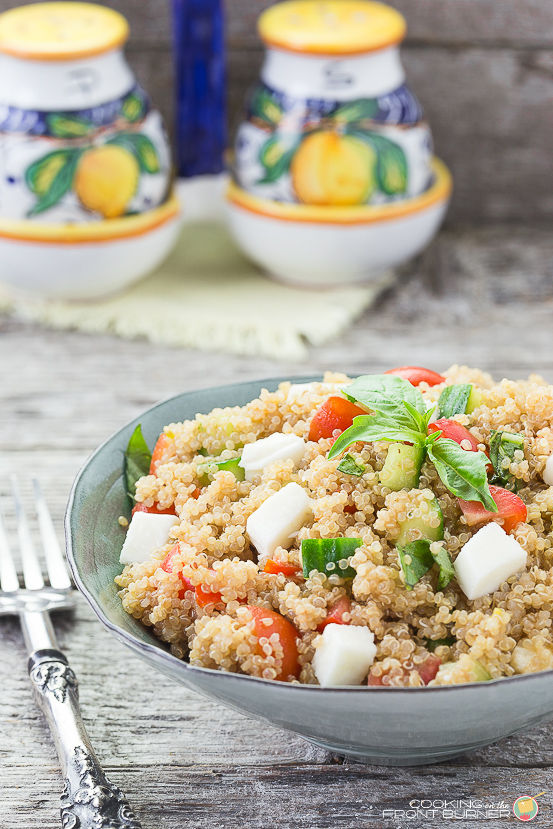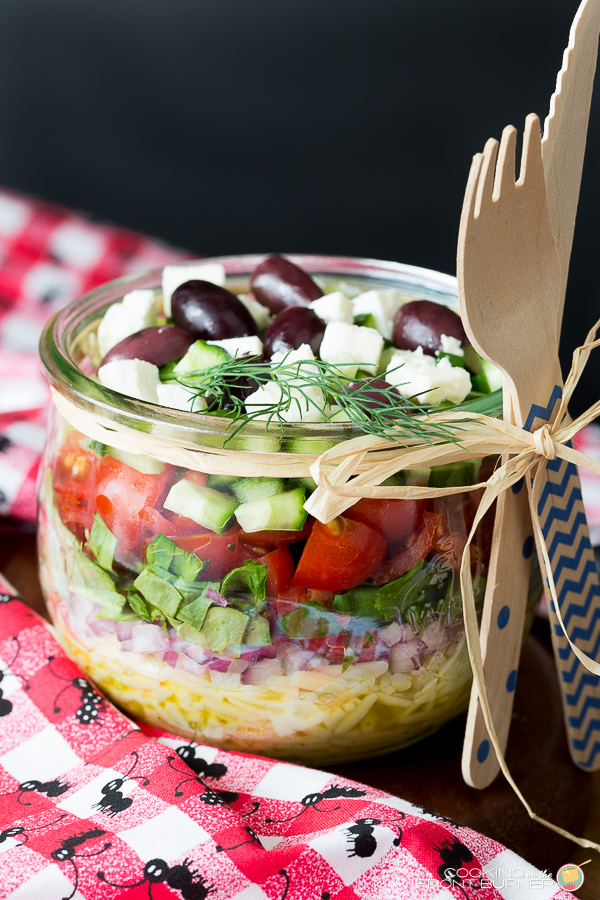 About the Author
Recent Posts
Recipe Index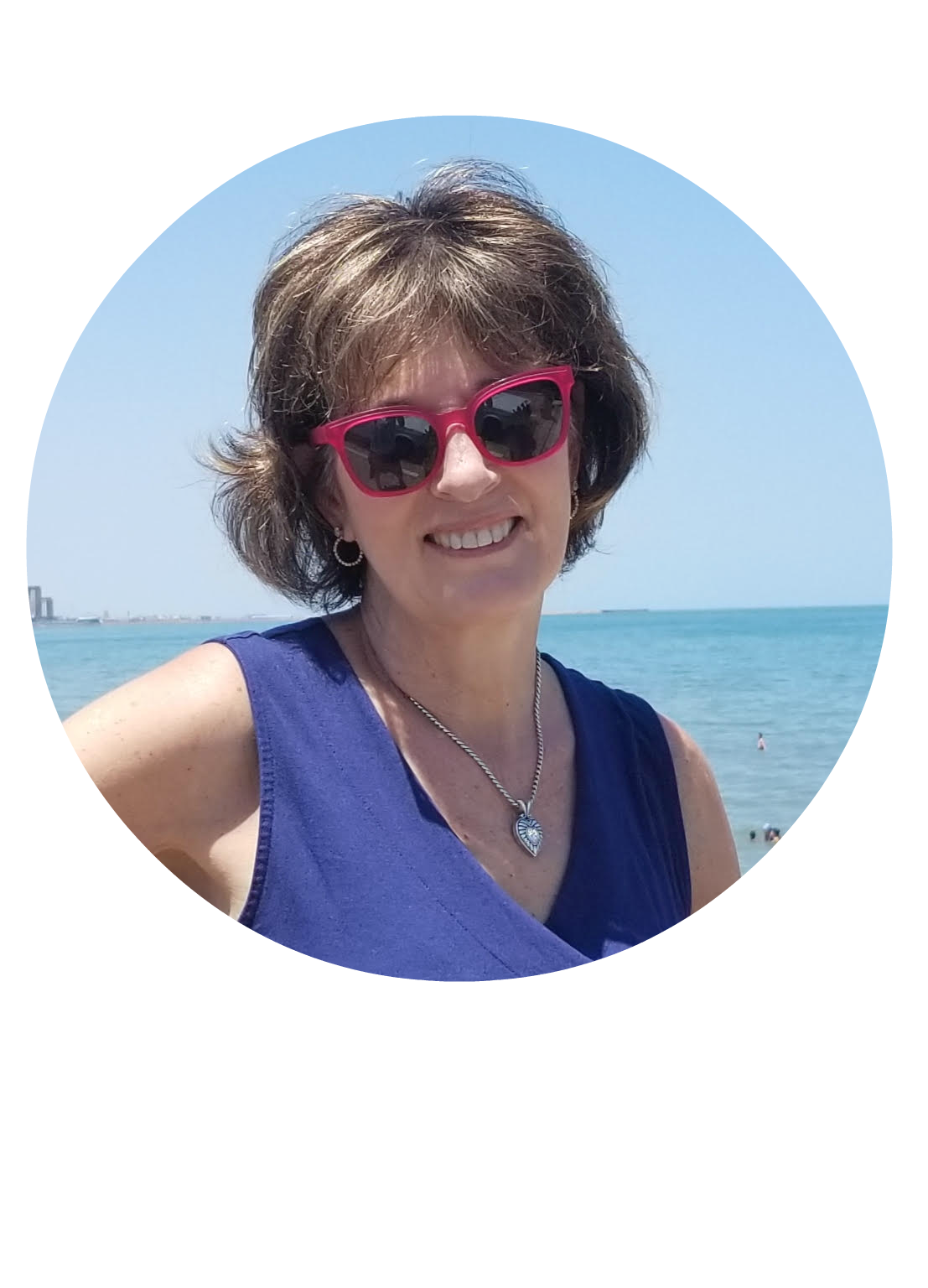 We are all about sharing our love of good food so on the blog you will find easy recipes to enjoy with your family and friends.  We hope to inspire you to host a gathering to create special memories.  Most recipes are step by step so you can feel confident in the kitchen.  Take a look around to find everything from breakfast to dinner and everything in-between!