This post may contain affiliate links. For more information, please visit my disclosure page.
This tangy cranberry salsa goes great with grilled shrimp to make a fantastic easy appetizer!  Perfect for your holiday party!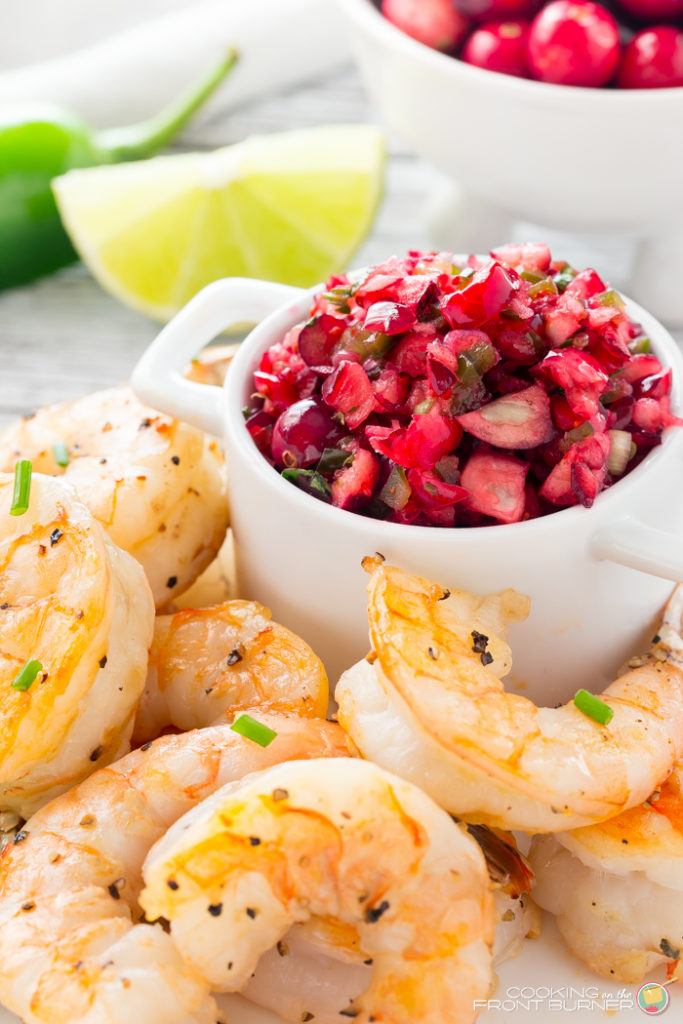 Almost time to ring in the new year and welcome 2017!  If you are looking for an easy appetizer that has a pop of flavor and looks kinda fancy, then you will love today's recipe.  This cranberry salsa comes together quick and goes perfectly with the grilled shrimp.  A great addition to your party table!
It's hard to believe that another year has passed and that we are talking about a new year starting.  How do you like to celebrate?  Do you just prefer to sit in, watch the ball drop at midnight and then head to bed?  Either have a party, go to a party or light up the town?
We have done all four over the years.  In our way back youth we used to get dressed up and go out on the town.  Loved all that celebrating with crowds of people.  The champagne flowing and dancing the night away.  Let's fast forward to when we had kids – the early years I'm pretty sure we just stayed home and went to bed BEFORE the ball dropped!  Those early mornings you know…
When the kids were about 5-6 years old we used to get together with the neighbors, their kids and went to a local ranch.  We would ride on wagons and the kids would get to hold bunnies on their laps.  We did some sledding and then headed home for hot chocolate.
We've also had parties where I would have dinner at my place then we would head next door to the other neighbors for games and watching the ball drop.  Now with grandkids we have done some babysitting and still manage to watch it strike midnight (though since we are in the midwest, we might watch it drop at 11 our time and call it a night!)
Whatever you do, I wish you a very happy new year and hope 2016 was great!  Another recipe you might enjoy are these Veggie Poppers.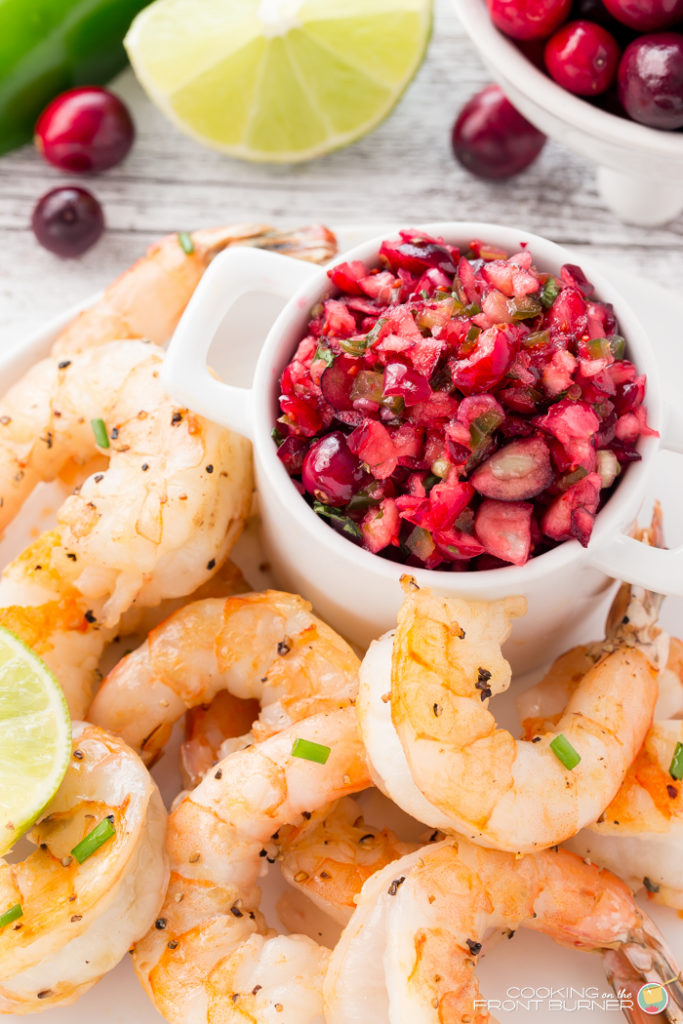 This salsa can also be very versatile.  Use it to top cooked chicken or fish and it even would taste great poured over a brick of cream cheese and served with crackers.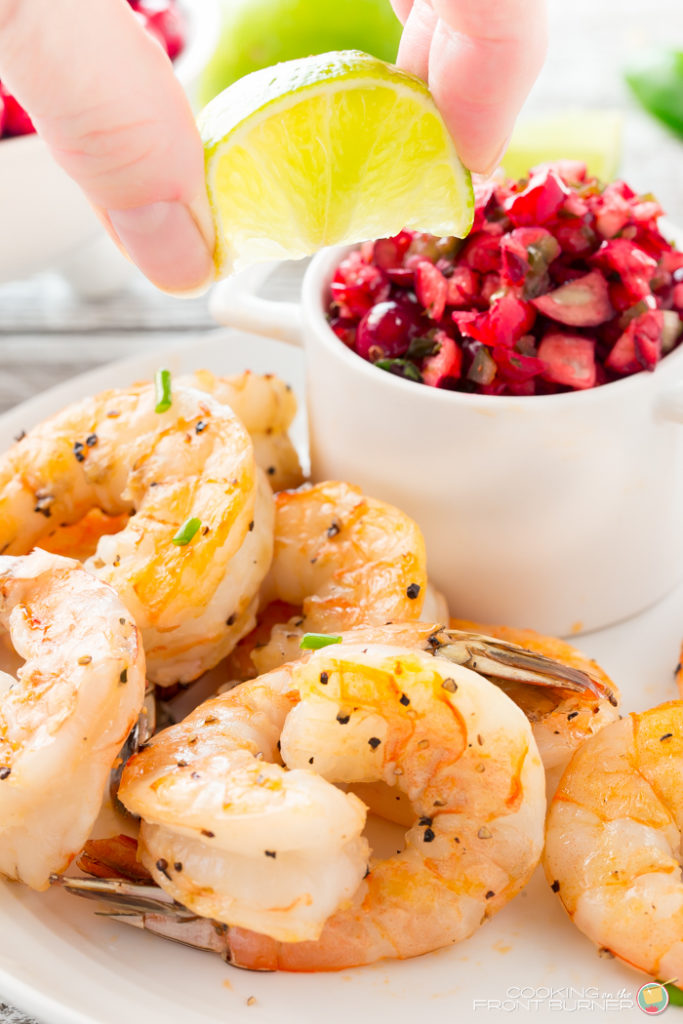 Grilled Shrimp with Cranberry Salsa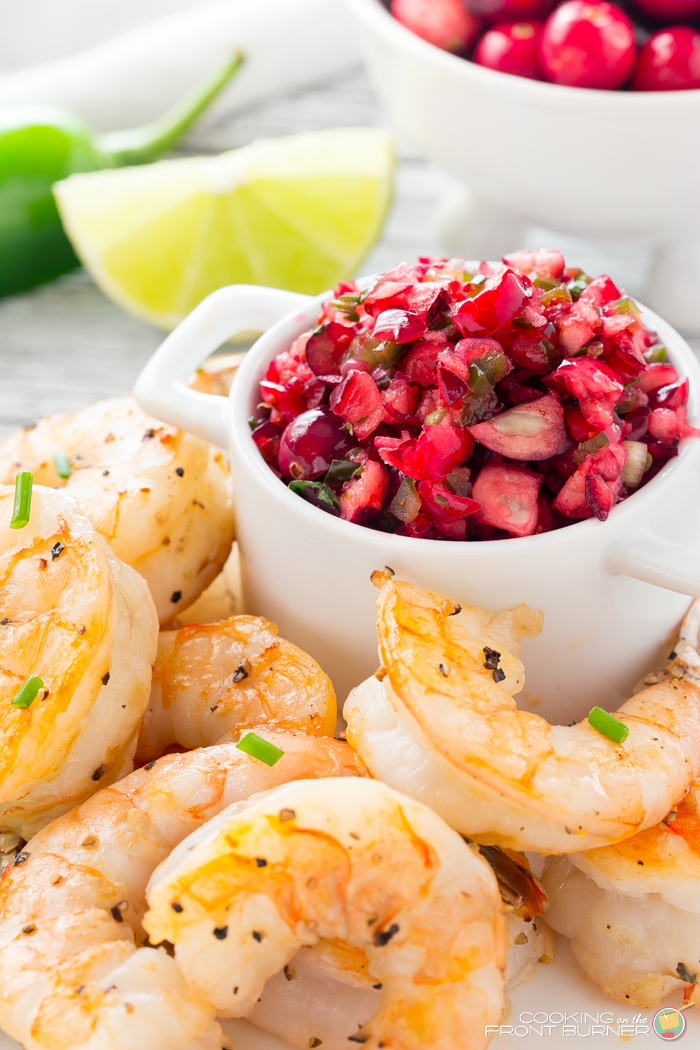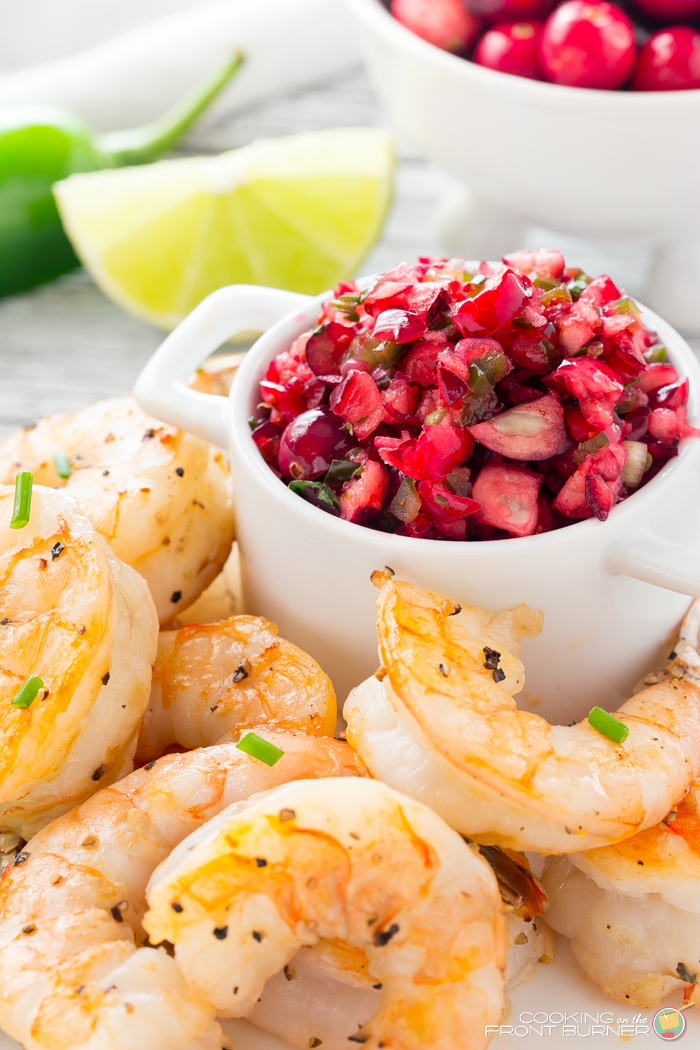 This tangy cranberry salsa goes great with grilled shrimp to make a fantastic easy appetizer!
Ingredients
15 large uncooked shrimp
1 teaspoon olive oil
salt
pepper
1 1/2 cup fresh cranberries
3 tablespoons honey
1/2 teaspoon lime zest
1 tablespoon fresh lime juice
2 tablespoons thinly sliced green onions
2 tablespoons chopped fresh cilantro leaves
1 jalapeno pepper seeded and minced (use gloves)
1/8 teaspoon cumin
1/8 teaspoon salt
Directions
In a food processor add the cranberries and pulse until they are chopped into small pieces
Place in a bowl and add the remaining salsa ingredients and set aside
For the shrimp - brush with olive oil and sprinkle with salt and pepper
Heat over medium heat a frying pan
When pan is hot, add shrimp and turn when the side becomes pink and opaque then cook other side
This could take 3-4 minutes on each side depending on thickness of shrimp
Serve warm with the salsa
Recipe Notes